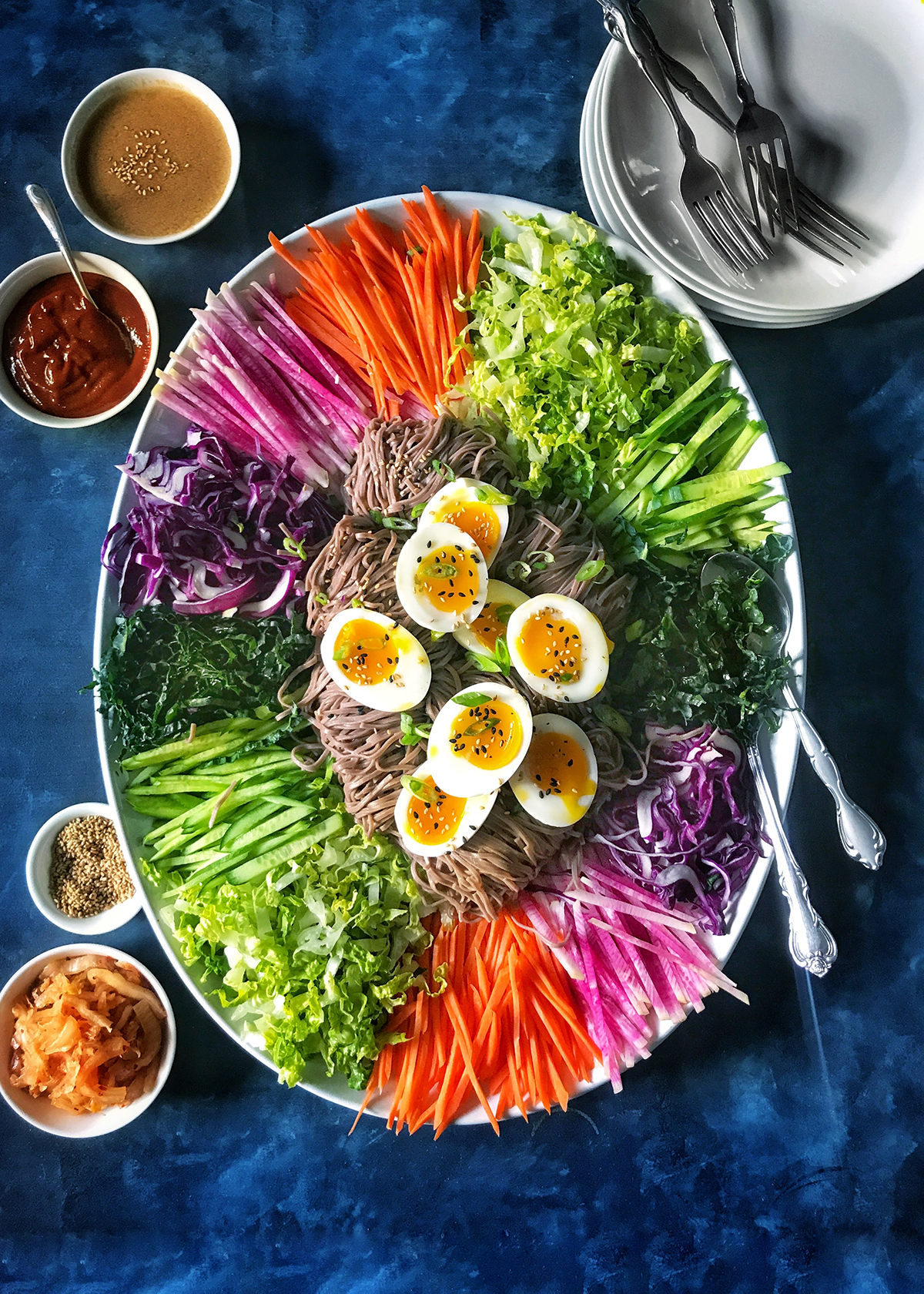 If I tell you that this Soba Noodle Salad recipe serves four, please know that I made the full recipe and ate the entire thing myself, one serving at a time over the course of four meals.
And putting an egg on a Soba Noodle Salad absolutely does it make it Breakfast Soba Noodle Salad, ok?
What is Soba?
Soba noodles are Japanese thin noodles made primarily of buckwheat flour. "Soba" actually translates to "buckwheat," though we use the Japanese term to refer to the buckwheat noodle.
Buckwheat gives soba noodles their characteristic color, texture, and flavor. Soba noodles range in color from light beige to dark brown, depending on what percentage of buckwheat flour is in the noodles. Unlike the bounce of thick udon noodles and spring and chew of ramen noodles, which are both made with regular wheat flour, soba has a texture that's tender and brittle. Their flavor is nutty and earthy and uniquely delicious.
The noodles sometimes have a squared off shape because of the way they are cut. Sometimes, the noodles have a round, tube shape. The shape does not define soba noodles.
Buckwheat is NOT Wheat
Though buckwheat has the word "wheat" embedded in its name, it is not related to wheat, or grains in general, at all. Buckwheat is actually the large seed of a plant in the rhubarb family.
When soba noodles are made with 100% buckwheat, they are gluten-free.
However, most soba noodles sold dried and packaged in grocery stores have some regular wheat flour to help with texture. If you eat gluten-free, make sure to read the ingredients list on the package.
Where to Buy Soba Noodles
Soba noodles are sold both dried and fresh and increasingly can be found in conventional grocery stores. I have seen soba noodles in "Asian" sections as well as in the pasta aisle at my grocery stores. Obviously, you can find soba noodles at Asian grocery stores, as well as online.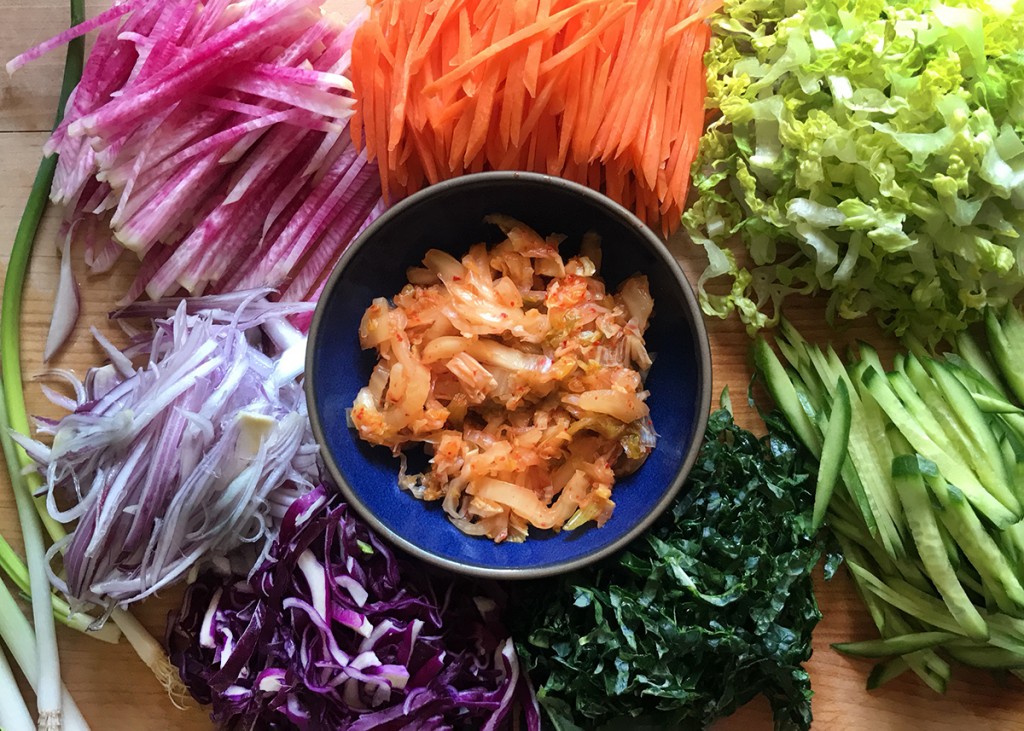 What You Need for Soba Noodle Salad
Soba Noodle Salad is nothing more than a mixture of buckwheat soba noodles and a combination of crisp and crunchy vegetables, many of which you probably already have in the crisper drawer of your refrigerator.
Buckwheat soba noodles. Buckwheat soba has a texture that works especially well cold or chilled in a salad
4-5 different crunchy salad vegetables. Julienned or shredded into the same width as the soba. Vegetables with great color and crunch factor are carrots, cucumbers, radish, romaine lettuce and purple cabbage. There are more suggestions for vegetables below!
Green onions or other onion.
Gochujang Dressing, recipe below. If you prefer something with less/no spice, try one of the other dressings linked below like Ginger Miso or Sesame Soy.
Toasted sesame seeds as garnish and flavor
Ingredients Notes and Substitutions
Buckwheat Soba. Buckwheat soba is my choice of noodles for this recipe. I have made Soba Noodle Salads with everything from 100% buckwheat noodles to noodles that had the barest tint of taupe to pale green "cha soba," a version of soba made with green tea blended in. If you can't find soba, try any long thin noodle, about the same diameter as cappellini pasta.
Radish. I like radishes that offer some color like watermelon radish. If you can find daikon, a long white radish that's commonly used in Asian cuisines, use that! Otherwise, the crunch and sometimes heat of any radish will work.
Carrots. Get crazy. Get rainbow carrots.
Lettuce. My first choice in lettuce is always Romaine because I love the high crunch factor, especially the thick center ribs of the leaves. Iceberg is a great alternative.
Cucumber. I use Persian cucumbers because they are always super crisp, and have the thinnest skin so require no peeling.
Cabbage. Always choose the most colorful option you can when it comes to vegetables, and cabbage is no exception. Purple cabbage has a different set of antioxidants that we probably don't get as much because purple is far less common than green in the produce section.
Green Onions. Red onions or any onion is a perfect substitute. Even pickled red onions will work here.
Additional Vegetables for Soba Noodle Salad
Sugar snap peas
Napa or green cabbage
Red or green bell pepper
Sprouts of any kind
Red onions
Pickled red onions
Lightly blanched broccoli
Sautéed shiitake mushrooms
Chopped kimchi
Tips and Tricks for Soba Noodle Salad
Make the salad a full, light meal by adding more protein:
Soba Noodle Salad is also great as a side dish for simple seared salmon.
Tools and Equipment You Need

There are no special tools required for this recipe. You only need a stable cutting board and a sharp knife because there's quite a bit of vegetable prep. Here are a few of the other tools I use when making this recipe, all of which you probably already have.
Soba Noodle and Buckwheat Noodle Recipes
Kimchi Soba Noodle Salad
Bibim Naeng Myeon Recipe | Korean Style Chilled Buckwheat Noodles with Spicy Sweet Gochujang-based Sauce
Mul Naeng Myun Recipe | Korean Style Chilled Buckwheat Noodles in Iced Broth
Dressings for Soba Noodle Salad
Sesame Soy Vinaigrette
Cilantro Lime Dressing isn't the first, second, or even third flavor profile I'd think of for a Soba Noodle Salad because Cilantro Lime leans Mexican for me, and soba noodles feel Asian. But I saw someone on social media drizzle Cilantro Lime over soba noodles and why wouldn't we combine flavors of any kind that taste good and are available to us?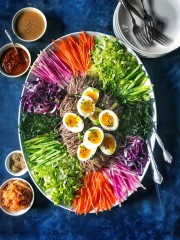 Print Recipe
Soba Noodle Salad Recipe
Soba noodles and a rainbow of colorful vegetables tossed with umami-rich dressing make for a crisp, refeshing salad perfect as a side dish, or a light meal on those warm weather days and nights
Ingredients
12

ounces

soba noodles

2

large

carrots, finely julienned

2

cupes

radish, finely shredded

2

cups

romaine lettuce, finely shredded

4

Persian cucumbers

2

cups

purple cabbage, finely shredded

2

stalks

scallions

1

cup

Gochujang Dressing

2

tablespoons

toasted sesame seeds

coarse ground

optional vegetables: blanched broccoli, sliced snap peas, sprouts, shredded kale, baby spinach, sauteed shiitake mushrooms

optional protein: 1 block roasted sesame tofu, 4 hard boiled eggs, 2 cups shredded cooked chicken
Instructions
Cook soba noodles according to package directions. Depending on the brand of soba noodles, cooking time can vary anywhere from 5 to 10 minutes. Drain cooked soba noodles and rinse with cold water.

While soba noodles are cooking, make the Gochujang Dressing and prep all the vegetables.

To serve, arrange the cooked soba noodles and vegetables on a large platter with high sides or a shallow bowl.

Drizzle Gochujang Dressing over the salad and sprinkle with ground toasted sesame seeds.

Mix noodles, vegetables, and dressing together. Divide salad onto individual bowls or plates.
Gochujang Dressing
The recipe for Gochujang Dressing here is enough for the Soba Noodle Salad recipe above that serves 4. For more detailed information about gochujang, the other ingredients in the dressing recipe, and how else to use the dressing, check out this post dedicated to Gochujang Dressing.
Gochujang is a spicy fermented Korean red chile pepper condiment/sauce/paste. It has a similar texture to miso. I think of gochujang as more of a deep, low spicy, as opposed to say the high-toned spicy of sriracha. There is no substitute for gochujang. People will tell you to use sriracha or chili oil in place of gochujang. These are all SO HUGELY DIFFERENT in taste and texture I couldn't, in good conscience, suggest you to make that substitution. It would be like telling someone that ketchup and marinara are good substitutes because they're both made of tomatoes. This is the brand of gochujang I use, available at H-Mart and online. It has no corn syrup and no wheat (which is sometimes used to ferment and for texture).