Maybe it's a little early in the season to start thinking about Bibim Naeng-Myeon and its cooling effect on the body and mind, at least early for LA, where it's spring year round and only gets cold-noodles-level hot in September.
Jump to:
What is Bibim Naeng Myeon
Bibim Naeng Myeon, sometimes spelled Bibim Neng Myun, is a Korean dish of chewy buckwheat-based noodles and fresh vegetables mixed with a spicy, salty, subtly sweet sauce. In some versions, Bibim Naeng Myeon also includes a chilled, sometimes icy broth that has a refreshing, cooling effect, especially in the high heat and humidity of summer.
Some parts of the word Bibim Naeng Myeon might look familiar. Bibim means "mix," which is in bibim-bap, Korean mixed rice, and bibim-guksu, Korean mixed noodles.
Naeng means "cold," and myeon refers to "noodles." There is also a Korean dish called Naeng Myeon, which is the brothy, no-spice sister of Bibim Naeng Myeon.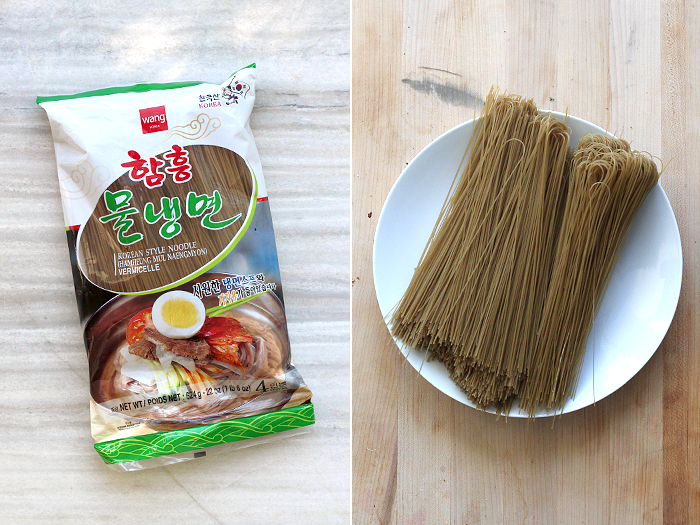 Ingredients You Need
Korean naeng-myeon noodles
Stock. beef, chicken, mushroom, or omit completely
Asian pear
Cucumbers
Radish
Eggs
Toasted sesame seeds
Green onion
Gochujang, Korean red pepper sauce
Gochugaru, Korean red pepper powder
Soy sauce or tamari
Sugar, if you can find date sugar, that is great!
Rice vinegar
Sesame oil
Onion
Garlic
Salt
What Kind of Noodles for Bibim Naeng Myeon
At the Korean market, you will find naeng-myeon noodles in the Asian noodle aisle or with Asian noodles in the refrigerated section. Many brands sell the noodles in packages along with powdered soup base and serving seasonings, kind of like packaged instant ramen.
Throw these packets out because 1) you don't need soup for Bibim Naeng-Myeon and 2) if you do need soup because you're making Mool Naeng-Myun, make the soup stock from scratch. Or at the very least, semi-scratch.
Naeng-myeon noodles consist primarily of buckwheat, but can also include arrowroot, corn, and sweet potato starches, as well as regular wheat flour. The different combinations will all differ ever-so-slightly in color, taste, and texture from one another. Here are the types of naeng myeon noodles you can look out for:
Buckwheat "Pyong Yang" style, light grey, sometimes mixed with potato or sweet potato starch to help hold its shape. This type is my favorite.
Buckwheat with sweet potato starch (함흥) "Ham Heung" style, named for the region in Korea where it originates, slightly chewier
Chik Naeng Myeon (칡 냉면) made with arrorwroot starch, these noodles are darker and much much chewier! I love foods with any kind of texture whether that's crisp, crunchy, or chewy, but personally these are a little too chewy for me.
The only noodles from which you want to differentiate for sure are dang-myun, which are thicker, more transparent like "cellophane," and more slippery and used for jap-chae and other soups and stews; and buckwheat soba, which are "squared off" and not bouncy/chewy.
Ingredients Notes and Resources
Stock: Beef stock is traditional, but I use homemade chicken bone broth that I keep in my freezer. This brand is in my pantry for emergencies.
Eggs from Lily's (they're brown, green and blue!), available at Wednesday Santa Monica and Sunday Hollywood Farmers' Markets
Salt. I use this brand of Kosher salt.
Korean Radish. Korean radish is much bigger than any regular radish, including the Japanese daikon radish. It is short, stout, and the "skin" is light green at the top. If you cant find Korean radish, Daikon radish is the next best thing, and if you can't find daikon radish, try a turnip! Lightly pickle the radish using this pickle brine recipe.
Asian pear. Asian pears are the big, round pears with light beige to brown skin. The texture is crisp but not hard, similar to a Honeycrisp apple, slightly sweet, and very refreshing. If you can't find Asian pears, any other crisp, not soft, pear will work.
Cucumbers. Use any thin-skinned, generally seedless cucumber. I like Persian cucumbers and they are easy to find around me here in Los Angeles. English cucumbers work well, too.
Roasted Sesame Seeds. Sesame seeds add some texture and when toasted, a layer of umami in addition to the toasted sesame oil. You can buy sesame seeds plain or toasted. Make sure the seeds are toasted. If they are not toasted, toss them in a hot, dry skillet over medium heat for about 90 seconds or until they are fragrant.
Bibim Naeng Myeon Sauce Ingredients
Frequently Asked Questions and Some Pro-Tips
Recipe Timing Recommendation: If you plan in advance, i.e. know at least the night before that you're going to make/serve/eat bibim naeng-myeon, do two things:
freeze vinegared light chicken stock into ice cubes for the bowl and
make the Bibim Naeng-Myeon sauce. All the intense flavors of the sauce ingredients (pictured directly above) can mellow into one another.
Best Bibim Naeng-Myeon Near Me
If you've never eaten naeng-myeon, try it in a restaurant or an experienced Korean cook's kitchen first because the taste, temperature, and texture together is something totally new and different. In cities that have a large Korean population or a designated "Koreatown," there might be restaurants that specialize in naeng-myeon, though many Korean restaurants that specialize in BBQ or a variety of other traditional foods will probably offer naeng-myeon, too.
These are some of the best naeng-myeon restaurants near me in Los Angeles. If you have a recommendation in another city/state/country for naneg-myeon, please do share!
Yu Chun Chic Naeng-Myun, 3185 W. Olympic Blvd., the OG in LA's Koreatown gets the most, and highest, raves
Ham Heung Naeng-Myun. 3109 W Olympic Blvd, Los Angeles, CA 90006
Hangari Kalguksu, 3470 West 6th St Suite 9 & 10, Los Angeles, CA 90020
Lee Ga, 698 South Vermont Aven, Los Angeles, California 90005. new-ish in Koreatown, with house-made naeng myeon noodles!
O Jang Dong, 4031 W 3rd St, Los Angeles outpost of a Seoul restaurant that's
Bibim Naeng Myeon Pronunciation
Naeng myun is sometimes spelled as "neng myun" which actually looks closer to the way it's pronounced.
Pronounce bibim like "bee-beem."
Pronounce naeng like "neng."
Myeon is such a weird spelling it actually sounds more like "myun," and yes you do pronounce the Y sound!
Don't let the pronunciation hold you back from making and eating Bibim Naeng Myeon though!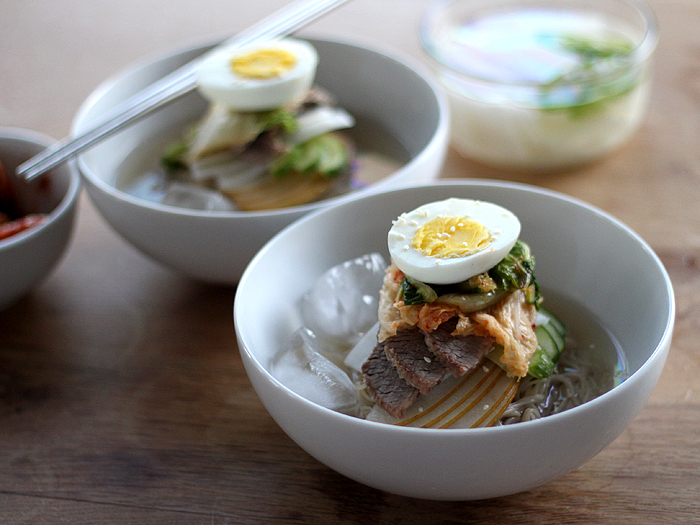 More Chilled Noodle and Noodle Salad Recipes to Beat the Heat
Try these chilled noodle dishes and salads to stay cool:
Mul Naeng Myun - Korean Chilled Buckwheat Noodle Soup, the soupy, savory sibling to this recipe
Spicy Soba Noodle Salad with Gochujang Dressing
Vietnamese-style Rice Noodle Salad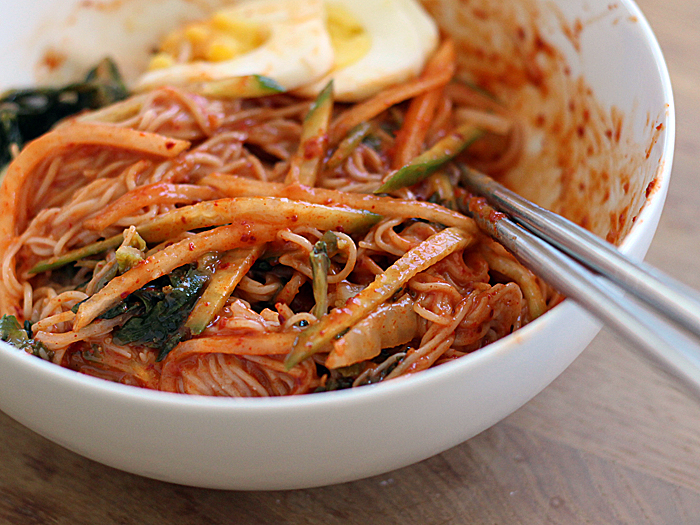 Print Recipe
Bibim Naeng Myeon Recipe
Spicy and icy cool, this chilled buckwheat noodle dish will make you sweat a little and cool you down!
Ingredients
Bibim Naeng-Myun Sauce
¼

cup

goh chu jang

Korean red pepper sauce

2

tablespoons

goh chu ga ru

Korean red repper powder

2

tablespoons

soy sauce or tamari

2

tablespoons

sugar

if you can find date sugar, that is great!

2

tablespoon

rice vinegar

1

tablespoon

toasted sesame oil

¼

small onion

finely minced

2

clove

garlic

finely minced

1

teaspoon

salt

plus more to taste
Bibim Naeng-Myun
1

cup

stock + 2 tablespoons rice vinegar

beef is traditional, chicken and muchroom are perfect. frozen into ice cubes

½

lb

package Korean naeng-myun noodles

1

teaspoon

sesame oil

1

small Asian pear

quartered, cored, and thinly sliced

2

Persian cucumbers

thinly sliced

½

cup

vinegar-pickled daikon radish julienned

thinly slice daikon radish, pickle using recipe here

2-3

hard boiled eggs

½ egg per serving thinly sliced

4

tablespoons

toasted sesame seeds

to garnish

1

green onion

chopped, to garnish
Instructions
Make Bibim Naneg-Myun Sauce
Grate the onion, garlic, and ginger on the smallest holes of a box grater, on a microplane, or process into a chunky puree in a food processor.

Combine onion/garlic/ginger with the remaining ingredients except the salt and additional water. Taste for seasoning and add salt if necessary. If you like the consistency thinner like ketchup rather than thicker like aioli, stir plain water into the Bibim Naeng-Myun sauce ½ teaspoon at a time until you get the consistency you like.
Cook Noodles
Right before serving, cook the naeng-myun noodles according to the package. Bring water in a large pot to a boil. Turn down the heat to medium and let cook for about 5 minutes. Drain into colander and rinse with cold running water several times while gently "massaging" the noodles.

Drizzle the rinsed and drained noodles with sesame oil and gently massage the noodles to distribute the oil.
Prep Naeng-Myun Bowls/Serve
Divide the cooked naeng-myun noodles among serving bowls right away because the noodles are somewhat "sticky" and start to clump together fairly soon (if they are left without liquid/broth).

Top the noodles in each bowl with 3-4 tablespoons of Bibim Naeng-Myun Sauce — the thick sauce will help to "anchor" the other ingredients on top. Add the julienned Asian pear, cucumber, and slices of half a hard boiled egg.

Add 2-3 chicken stock ice cubes to the bowls if you're using it. As the stock melts, it will mix with the thicker Bibim-Naeng-Myun red sauce and make it easier to mix the noodles, vegetables and sauce together in the bowl.

Garnish with toasted sesame seeds and chopped scallions. Serve with additional Bibim Naeng-Myun Sauce, vinegar, and kimchi on the side.