Mul naeng myun 물 냉면 is a traditional Korean chilled dish of buckwheat noodles in a vinegary, subtly sweet broth that has been cooled down with ice cubes. The entire dish from the ice to the buckwheat has cooling effects on the body.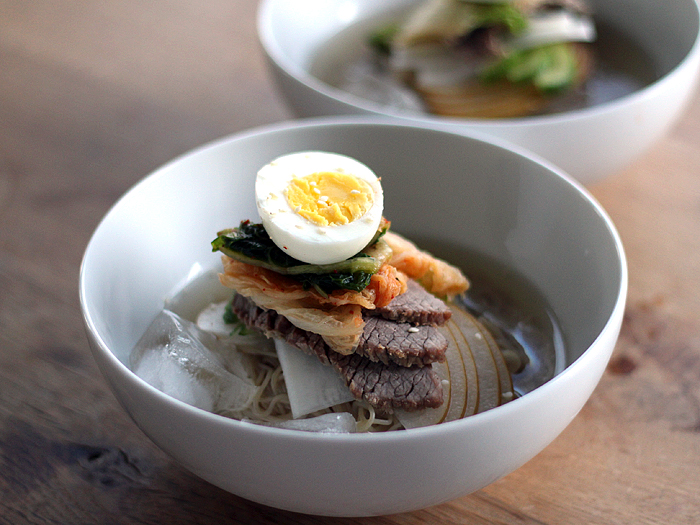 This recipe is a traditional version made with beef.
Jump to:
How to Pronounce "Naeng Myun"
Don't think too hard by looking at the English letters, especially the "ae." It sounds more like "neng." The u in "myun" is short, and rhymes with the first part of "Hyundai."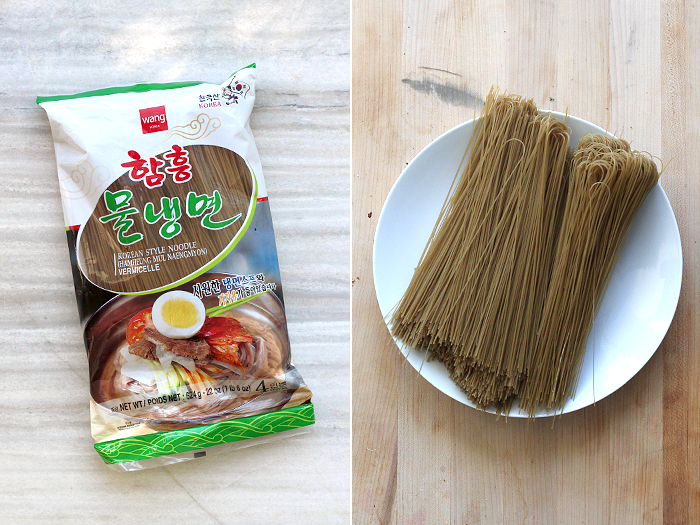 What is Naeng Myun?
Naeng myun is a traditional Korean dish of buckwheat noodles in a chilled, sometimes icy, savory broth. Asian pear, cucumber, and pickled daikon radish garnish the bowls. Often but not always, the bowls include kimchi, thinly-sliced beef brisket, and/or hard-boiled egg.
The two key components of the dish are the noodles and the broth.
Naeng myun noodles consist primarily of buckwheat. Because buckwheat is not related to regular wheat at all, the recipe can be and is often gluten-free. The noodles can also include arrowroot, corn, and sweet potato starches (also gluten-free). However, some noodles may contain regular wheat flour to help with texture. The different combinations of ingredients will make all the noodles differ ever-so-slightly in color, taste, and texture from one another.
The soup for is usually based on beef, and served chilled. My version of the soup, the "mul," which means "water," is clear, light, and tangy, making it refreshing to me. Other recipes use very rich stocks as the soup base. Often, this results in a somewhat frozen-but-gelatinous texture, since the soup is supposed to be cold. This is a little weird for me texturally, but people in my universe love it.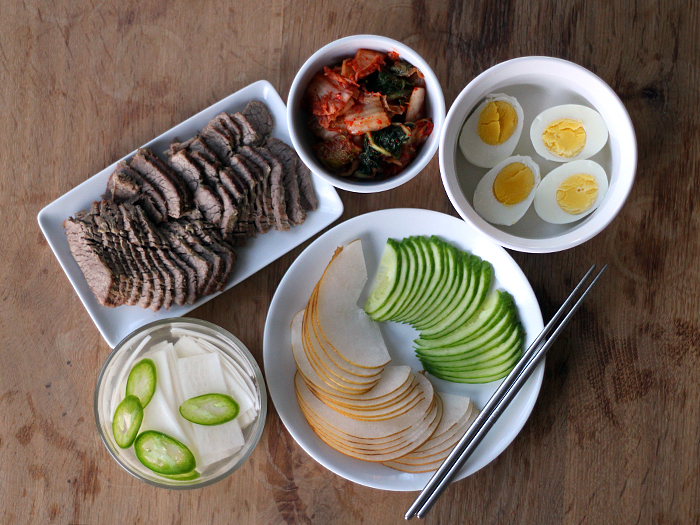 What You Need
To make this recipe, you will need:
naeng myun noodles
beef brisket
chicken and/or beef stock for the soup
aromatics for the soup: garlic, onion, ginger, daikon radish
seasonings for the soup: salt, pepper, and vinegar
Asian pear
cucumber
hard boiled eggs
kimchi
How to Make Naeng Myun
At a high level, there are only a few things to do to make naeng myun:
Make the soup
Chill the broth for a few hours
Cook noodles and rinse to make them chewy and bouncy
Assemble bowls with chilled broth, noodles, and garnishes
Where to Buy/Source Ingredients
At the Korean market, you will find naeng myun noodles in the dried noodle aisle or with Asian noodles in the refrigerated section. Many of the brands sell the noodles in packages along with powdered soup base and serving seasonings (kind of like packaged ramen). I throw these packets out and make the broth from scratch. There will be times when you are tempted to rely on the packaged seasonings. It won't taste as good, but go ahead. It's not like I'll find out and hate.
The only noodles from which you want to differentiate for sure are dang-myun, which is used for jap-chae and other soups and stews (thicker, more transparent like "cellophane," and more slippery), and buckwheat soba ("squared off" and not bouncy/chewy).
Is Naeng Myun Healthy?
For certain dietary restrictions and health needs, naeng-myun can be healthy!
Buckwheat, the main component of the noodles, is high in fiber and other bioactive compounds.
What is the Difference Between Naeng Myun and Soba?
Both dishes are made with noodles that are made from buckwheat. Naeng myun is a Korean dish, and soba is a Japanese word for a specific style of buckwheat-based noodle that can be served in many different ways.
Not to be too confusing, Korean cuisine also uses a buckwheat soba similar in style to the Japanese soba for other dishes.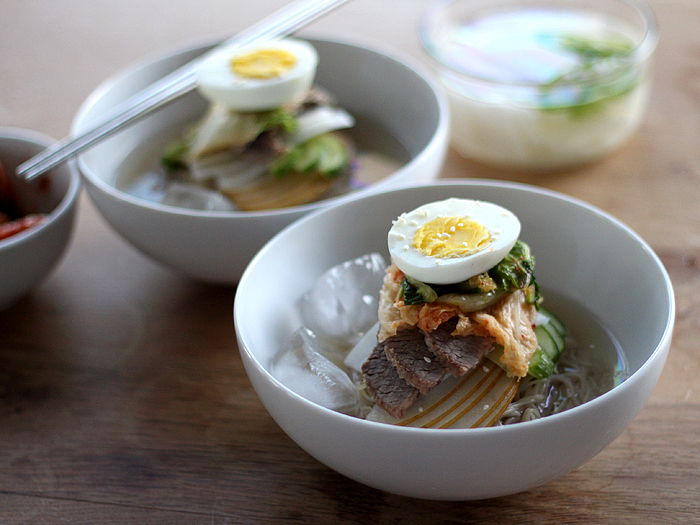 Where to Try Naeng Myun in a Restaurant
If you've never eaten naeng myun, try it in a restaurant first. The taste, temperature, and texture together is something to get used to. In LA, there are a few restaurants that specialize in naeng-myun, though many Korean restaurants that specialize in BBQ or serve a variety of traditional foods will probably have it, too.
More Noodle and Chilled Noodle Salads
Try these chilled noodle dishes and salads to stay cool:
Bibim Naeng Myun, Spicy Korean Chilled Buckwheat Noodle Salad
Spicy Soba Noodle Salad with Gochujang Dressing
Vietnamese-style Rice Noodle Salad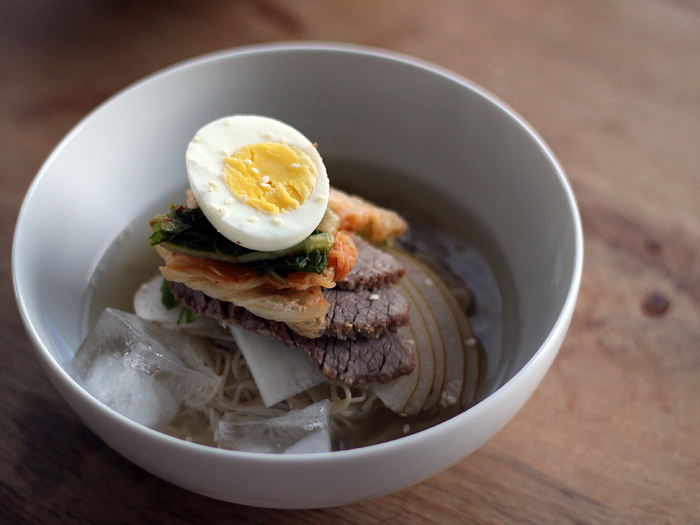 Print Recipe
(Mul) Naeng-Myun / Korean Chilled Buckwheat Noodles in Soup
Start the soup base first. You can wash/peel/slice/prep all the vegetables and make hard boiled eggs while the soup is cooking, and then chilling (could be a few hours!). Naeng-myun noodles take about 5 minutes to cook; cook them just before serving, and make sure to rinse them a few times to give them that chewy, springy bounce!
Ingredients
1

lb

beef brisket

1

quart

chicken stock + 1 quart filtered water

you can also used prepared beef stock in place of water if you have it for a much richer soup taste

4 to 5

cloves

garlic

peeled and smashed

1

inch

piece fresh ginger

peeled and smashed

1

medium onion

peeled and quartered length-wise through the root

3-inch

section of daikon radish cut into ½-inch rounds

1

teaspoon

salt

5-7

whole black peppercorns

¼

cup

rice vinegar

1-3

teaspoons

sugar

or to taste (optional)

1½

lb

package Korean naeng-myun noodles

1

teaspoon

sesame oil

1

small Asian pear

quartered and thinly sliced

1-2

Persian cucumbers

thinly sliced

vinegar-pickled daikon radish slices

thinly slice daikon radish, pickle using Momofuku brine, recipe here

cabbage kimchi

red pepper rinsed off under cold water

hard boiled eggs

half egg for each serving (how to make PERFECT Hard Boiled Eggs, recipe here)

to serve: toasted sesame seeds garnish, hot mustard oil or wasabi
Instructions
Make Soup Base
Rinse beef brisket, then place in a large pot, and cover with water by 1 inch. Bring to a rolling boil and allow it to boil out for about five minutes. Turn off the heat, carefully pour out the water with all the foam and fat, rinse off the beef and the pot. Wipe out any foam/scum that sticks to the side.

Add chicken stock, filtered water, garlic, ginger, onion, daikon radish, salt and peppercorns. Bring to a boil, the reduce heat and simmer for about an hour, covered, with just a little bit of space to let some steam out. The soup will reduce to about ¾ the original.

Once the beef is cooked, remove it to a plate and put in the refrigerator to chill and "set." When the beef brisket is cool enough to handle and more "solid," slice it against the grain as thinly as possible.

Strain the soup through a fine mesh sieve into a heat proof container. Chill the soup for a couple of hours in the refrigerator, you can also let it chill overnight.

Once the soup is chilled, stir in additional salt and pepper to taste, vinegar, and sugar.
Cook Naeng Myun Noodles
Cook the naeng-myun noodles according to the package. Bring water in a large pot to a boil. You can probably use the pot you used to cook the beef/make the soup. Turn down the heat to medium and let cook for about 5 minutes.

Drain into colander and rinse with cold running water several times while gently "massaging" the noodles. Drizzle the rinsed and drained noodles with sesame oil and gently massage the noodles to distribute the oil. Divide the cooked naeng-myun noodles among serving bowls right away because the noodles are somewhat "sticky" and start to clump together fairly soon (if they are left without liquid/broth).
Assemble Naeng Myun in Bowls
Top the noodles in each bowl with a few slices each of Asian pear, cucumber, rinsed cabbage kimchi, beef brisket, and half a hard boiled egg. Carefully ladle soup into bowl around noodles. Add ice cubes to the soup in the bowls. Garnish with toasted sesame seeds and serve with additional vinegar (using the pickling brine from the radish works well), hot mustard, and kimchi.