This is the spicy, savory, subtly sweet sauce that you absolutely must drizzle and mix into your Korean Bibimbap! Combine gochujang with just a few more ingredients to transform the basic spicy condiment to a savory, put-it-on-everything, so-good-it's-sip-able, yes sip-able!, Bibimbap Sauce. Shall we?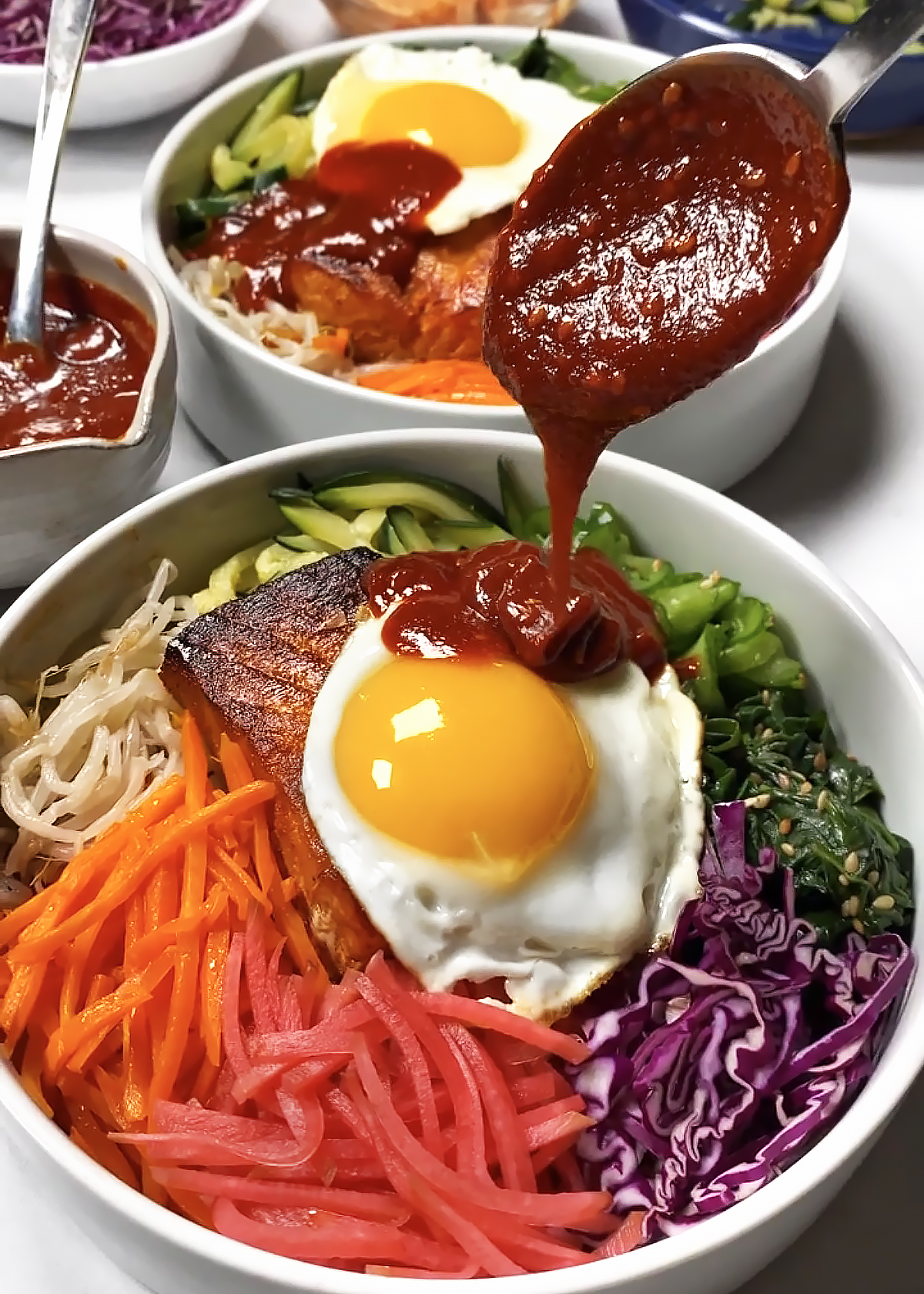 Jump to:
Ain't no shame in the straight up gochujang game to sauce up your Korean Bibimbap, but if you want to really take it to the next level, you want to use that gochujang to make Bibimbap Sauce.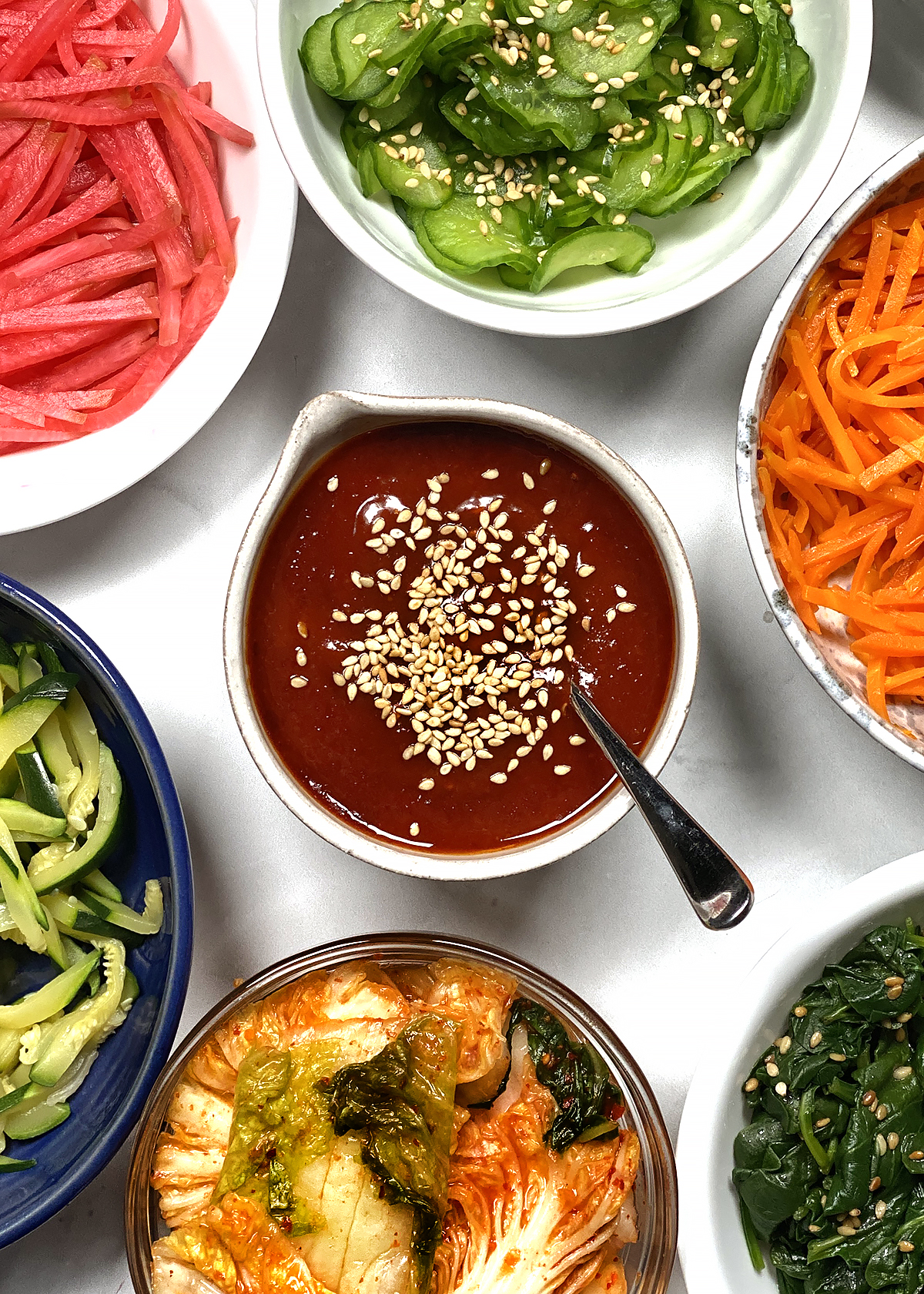 What is Bibimbap Sauce
So Bibimbap Sauce is a savory, spicy, subtly sweet sauce you drizzle all over and mix into your bowl of bibimbap. Bibimbap Sauce is made of gochujang, sesame oil, rice vinegar and a few other seasonings, and is essentially a thick, spicy dressing. What dressing is to salad, Bibimbap Sauce is to bibimbap, or any grain bowl for that matter.
Is Bibimbap Sauce the Same as gochujang?
Bibimbap Sauce is not the same thing as gochujang. Bibimbap Sauce is a final finishing sauce made with gochujang as the main ingredient, and a few other ingredients. Gochujang, though sometimes literally called a "sauce," is actually more a basic ingredient used to make and flavor marinades, sauces, soups and more, and not something you would use directly out of the container at the table to season a final dish.
Gochujang vs bibimbap Sauce is kind of similar to the way you would think about tomato sauce vs. pasta sauce. Tomato sauce is a base ingredient, and while you could technically use it straight up on its own, you usually add more ingredients to it to make it into a pasta sauce.
Don't get me wrong, gochujang straight out of the container is absolutely, perfectly fine to mix directly into your bibimbap. In fact, some recipes for Bibimbap do just that. However, combining gochujang with few ingredients will not only add more dimension in terms of flavor, it also makes the texture and consistency a little easier to mix into your bowl and makes the sauce more versatile in the kitchen.
Health Benefits of Bibimbap Sauce
Gochujang Has Probiotic-like Qualities. Gochujang, the primary ingredient in Bibimbap Sauce, is made by fermenting chili peppers with rice and/soybeans. Similar to its fermented sauce cousins like miso, gochujang contains gut-health promoting probiotic bacteria. That fermentation gives gochujang its umami flavor, that salty, savory deliciousness that's hard to pinpoint in foods.
Bibimbap Sauce Dietary Considerations
As long as you pay attention to the individual base ingredients in the gochujang brand you use, this recipe for Bibimbap Sauce is:
dairy-free
gluten-free
refined sugar-free—if you use maple syrup, honey or no sweetener at all!
low carb—though not keto, paleo, or Whole30 because gochujang itself contains trace grains for fermentation, soy, and sometimes alcohol
One thing y'all ask me is whether gochujang is part of an anti-inflammatory diet. In general, hot sauces made from chili peppers are a gray area because chili peppers are a nightshade and for some people, nightshades can exacerbate inflammation. If hot sauces, and chili peppers in general, don't cause issues for you, you're good to go!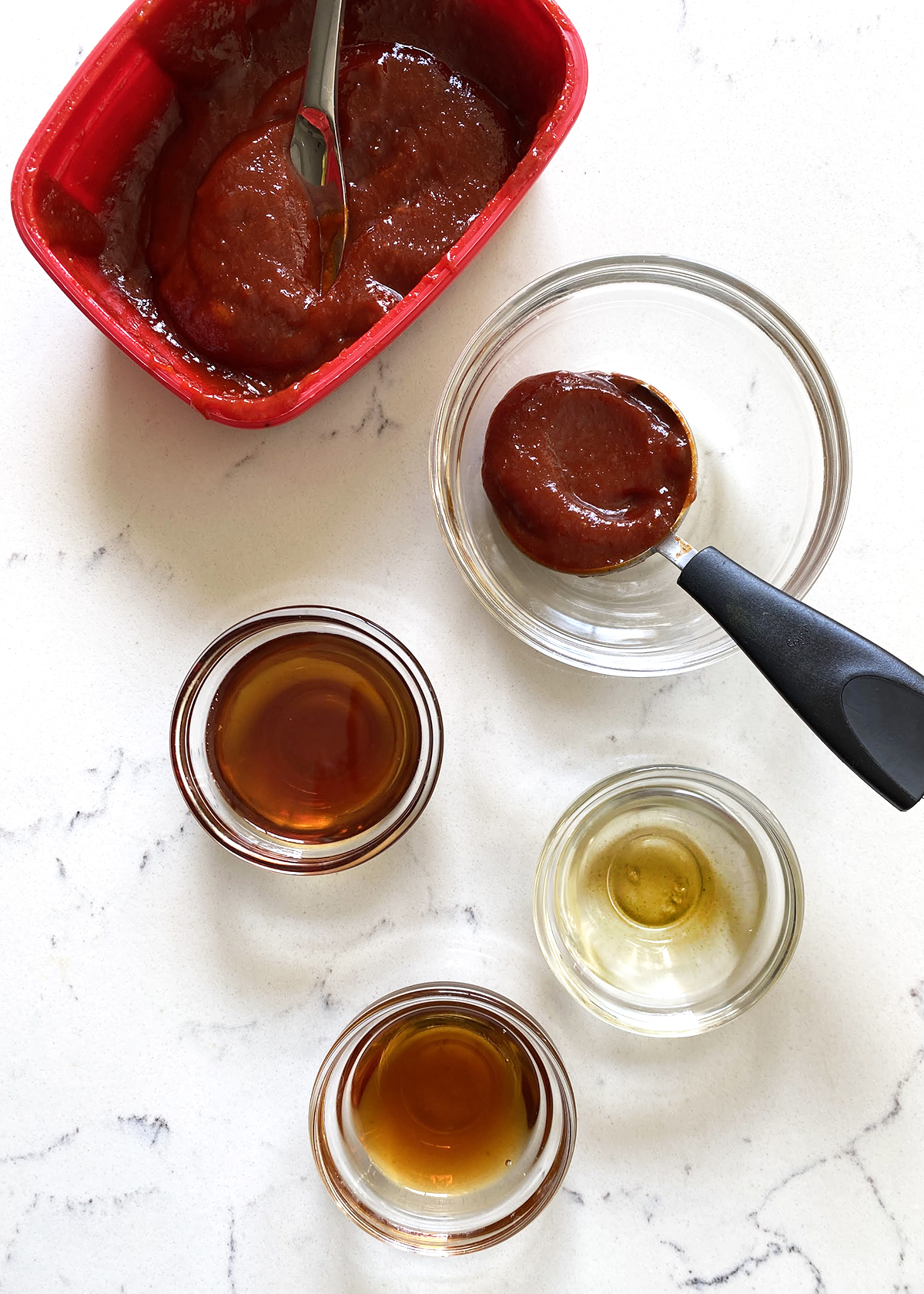 What Ingredients You Need for Bibimbap Sauce
For Bibimbap Sauce, you only need a few ingredients:
gochujang
sesame oil
rice vinegar
maple syrup
As an option, you can also add finely grated garlic to the sauce for extra garlicky oomph.
** Pro-tip: Leave the garlic out or make sure it's smashed into a paste if you want to serve or store the Bibimbap Sauce in a squeeze bottle like they do at Korean restaurants so the garlic doesn't get clogged up into the squeeze tip.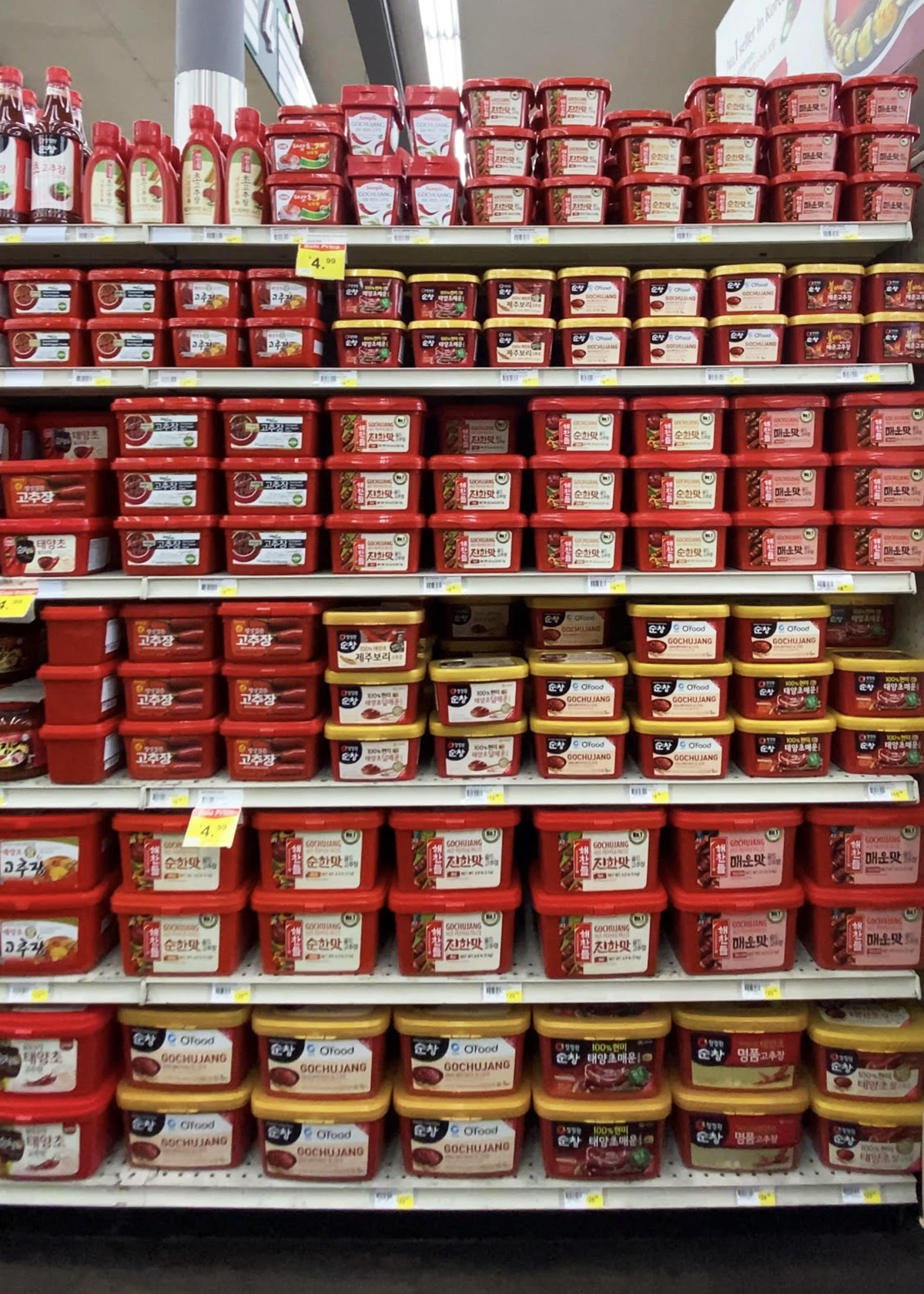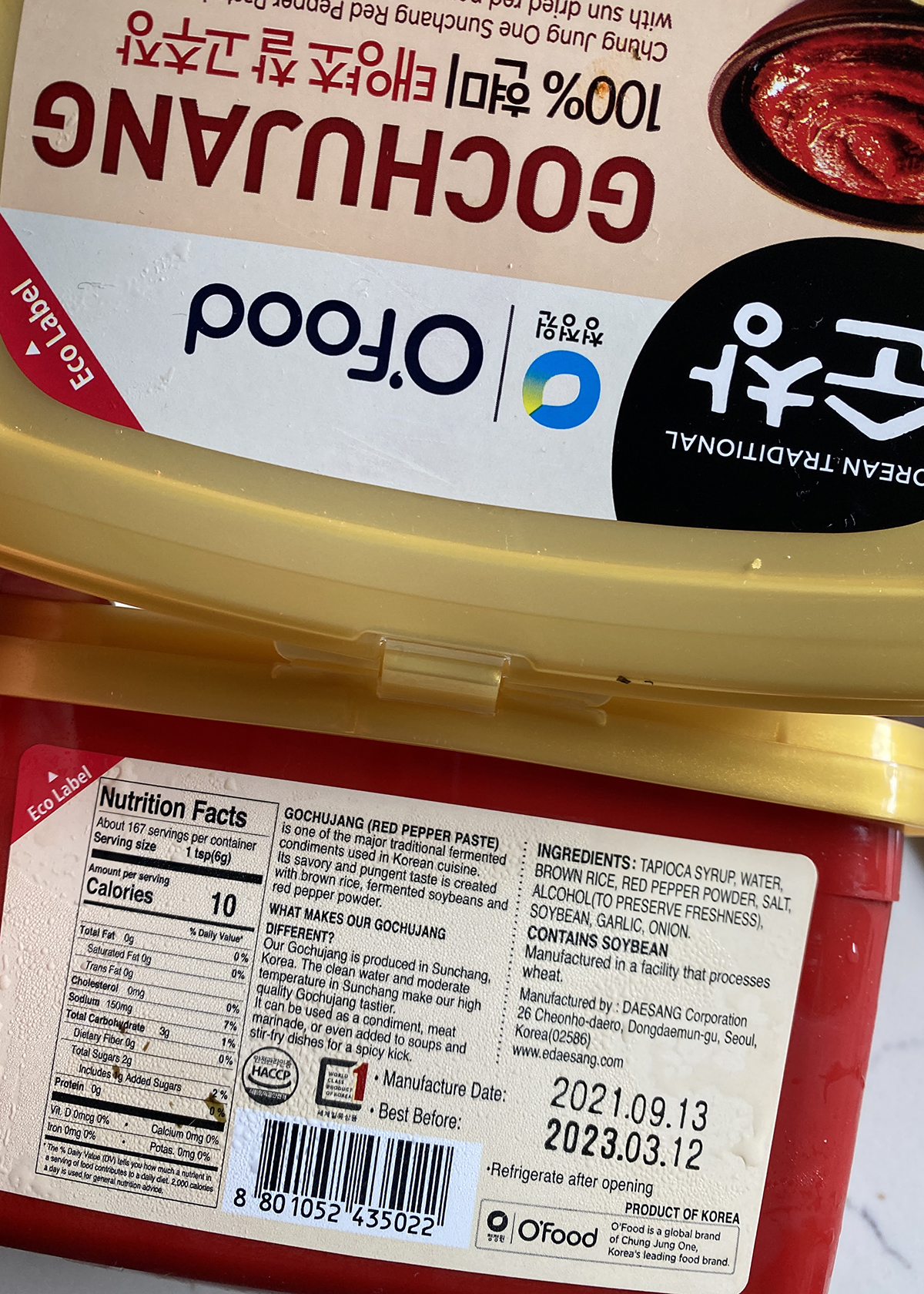 What Gochujang Should I Use
For a full breakdown on gochujang, check out this post, Gochujang 101. In the mean time...
For the most part, you can use any gochujang that suits your taste and preferred heat-level. These are brands of gochujang I actually use and recommend, mostly because I look for products with no corn syrup and no wheat:
Gochujang, like any condiment, varies in style, flavor, texture, and heat level across brands and recipes—yes! recipes because you can actually make your own gochujang. The base ingredients are red pepper powder and soybeans. From there, ingredients vary, including any kind of sweetener from brown rice syrup to high fructose corn syrup, seasonings like garlic and/or onion, sometimes grains like barley, rice or wheat, and possibly alcohol or other form of preservative. Read the labels to look out for any ingredients to which you are sensitive.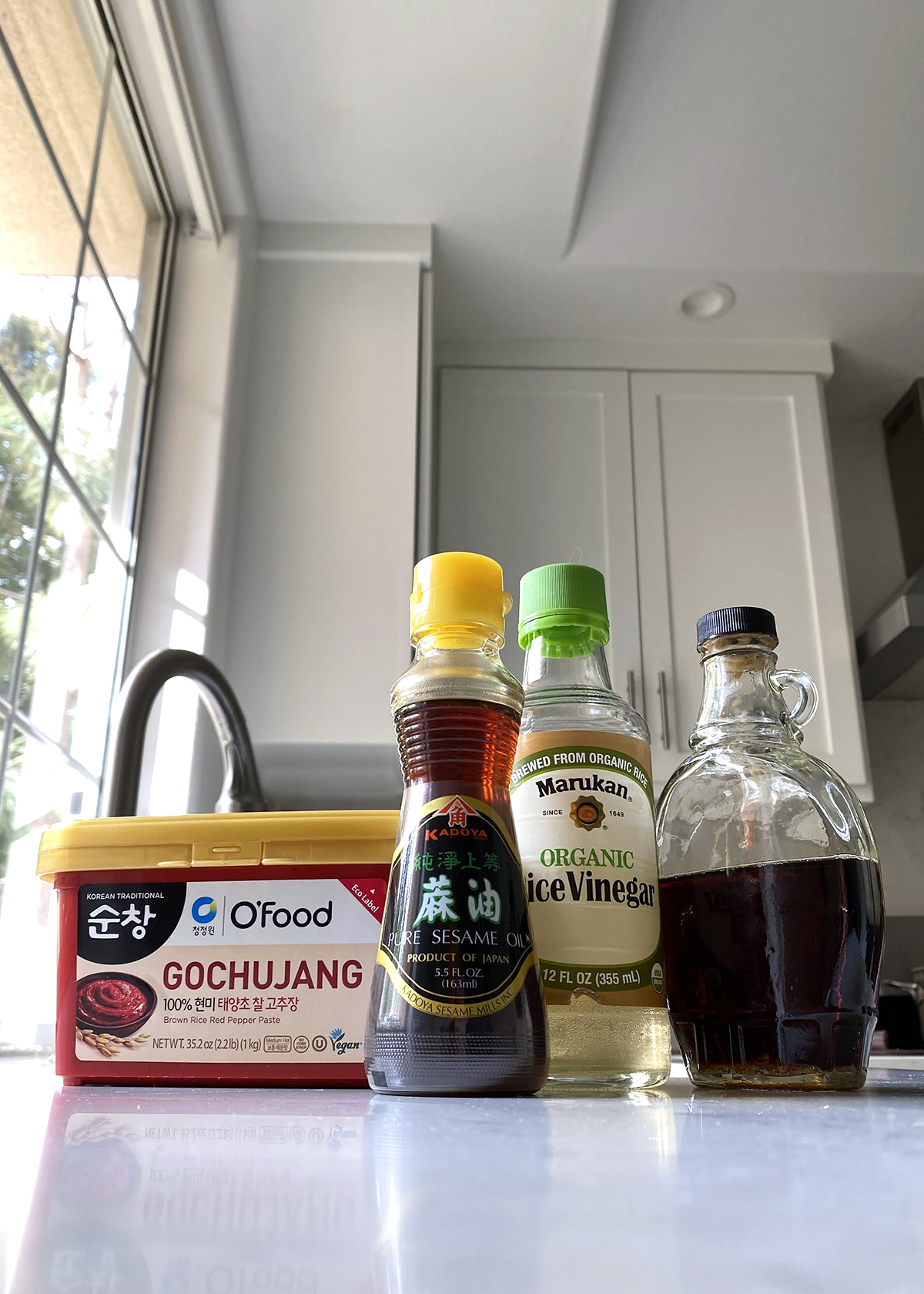 Additional Ingredients Resources and Notes
Sesame Oil. Toasted sesame oil is a finishing oil, added to dishes in small amounts just before serving for its flavor, rather than a cooking oil. It is darker in color and has a deep umami flavor. This is a reliable Japanese brand that I've been using since I was a kid. There are now many brands of toasted sesame seed oil available, even organic versions, at regular grocery stores.
Maple Syrup. Most gochujang already contains some form of sweetness—anything from brown rice and tapioca syrup to high fructose corn syrup. Read the label of your gochujang, then add sweetener to the marinade recipe based on your taste. I prefer the sweetness of natural maple syrup to refined sugars, and use a very little amount, if any at all. I use an organic maple syrup like this.
Rice Vinegar. Make sure to use rice vinegar, and not rice wine which is an alcohol, or mirin, which is a seasoned rice vinegar with salt and sweeteners. I use this organic rice vinegar. If you can't find rice vinegar, apple cider vinegar is a good substitute.
Roasted Sesame Seeds. Sesame seeds add some texture and when toasted, a layer of umami in addition to the toasted sesame oil. You can buy sesame seeds plain or toasted. Make sure the seeds are toasted. If they are not toasted, toss them in a hot, dry skillet over medium heat for about 90 seconds or until they are fragrant.
Any and all other herbs and produce from local farmers' markets or Whole Foods market
Grab any of the ingredients here: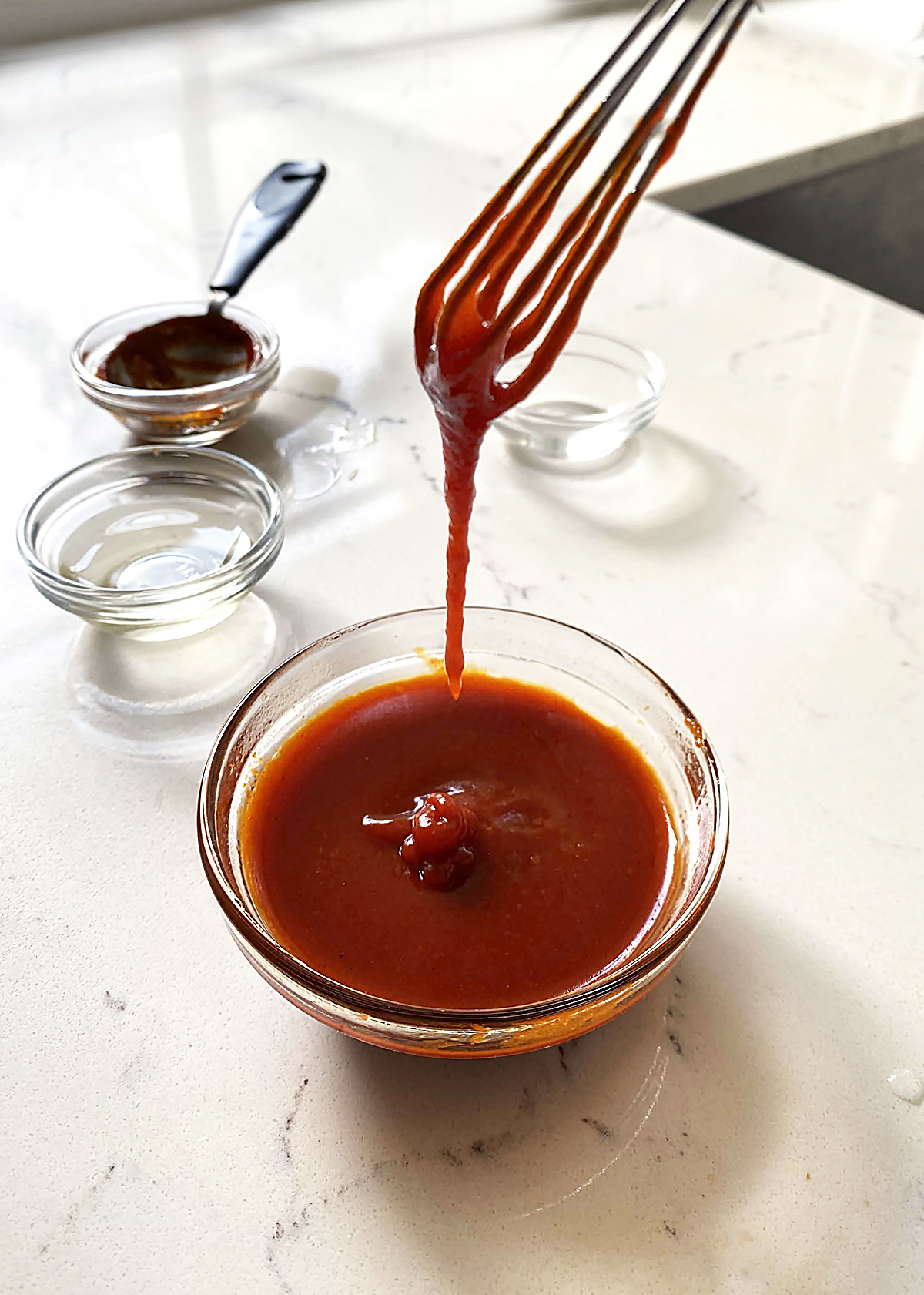 Tools and Equipment

As I always say, you don't need any special equipment to make almost any recipe. However, that's not to say there are a couple of gadgets and tools that might make it a LOT easier to get Bibimbap Sauce from your pantry to plate—.
** Pro-tip: Save your sriracha hot sauce bottles after you're done! When you make Bibimbap Sauce, pour it into an empty, clean sriracha bottle and you can squeeze the sauce directly over your bibimbap bowls just like they do at OG Korean restaurants!
One thing to note though is that you may not be able to use a sriracha squeeze bottle if you add the optional garlic to the Bibimbap Sauce recipe because the garlic will get stuck in the squeeze-top!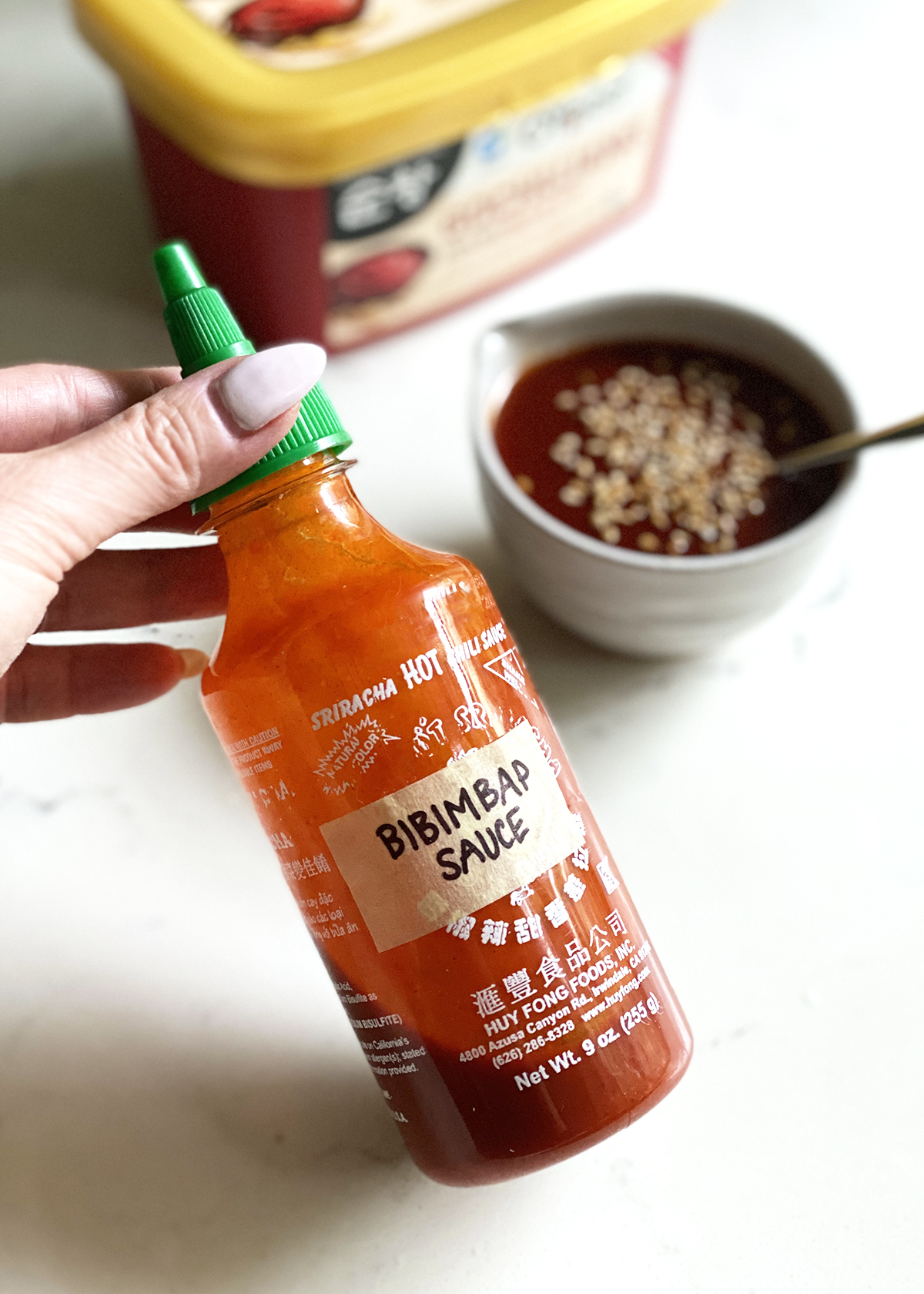 Advance Prep, Leftovers and Storage
Bibimbap Sauce will last in the refrigerator for up to two weeks if you use a clean utensil to take it out of its container or a squeeze bottle. So make it a week in advance, or store fresh leftovers for up to two weeks in an airtight container.
Freezer. You can freeze Bibimbap Sauce for up to 6 months in an air-tight container with as much air removed. Thaw in the refrigerator. Microwave thawing is not recommended. Stir the thawed sauce to re-combine the ingredients before serving.
Side Note: You can freeze straight-up plain gochujang for up to 12 months.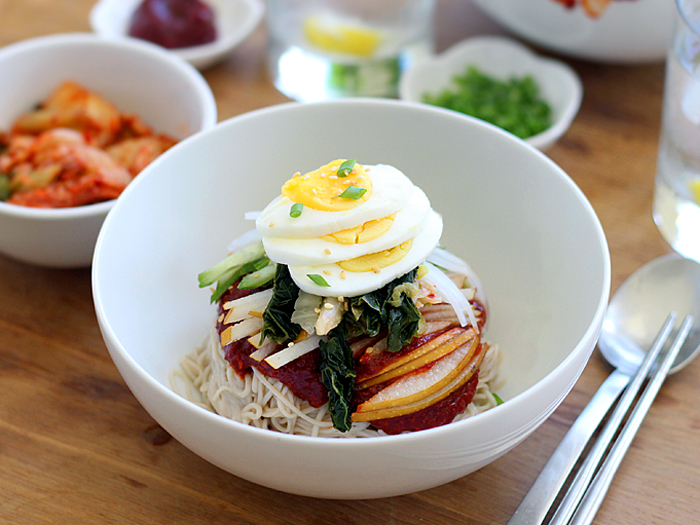 How to Use Bibimbap Sauce
You make Bibimbap Sauce for bibimbap, but you can use it a lot of different ways! If you have leftover Bibimbap Sauce—and that's a big "if!" because you'll probably eat it all the day you make it— try these:
THE sauce for Traditional Bibimbap and Salmon Bibimbap!
Use as the dressing in this Spicy Soba Salad
Use as an alternative sauce for Bibim Neng-Myun, the spicy, broth-less version of Korean chilled buckwheat noodles
Marinate salmon—the ingredients are similar to the marinade for this Spicy Gochujang Salmon, and if you have Bibimbap Sauce, you're more than 80% there! Depending on how much sauce you're starting with, you may need to stir in a teaspoon or two of tamari/soy sauce.
With any form of eggs, particularly stirred into the tomato-y base of Shakshuka
Stir into any grain bowl that needs a spicy, umami kick
Toss with hot pasta or noodles along with a tablespoon or two of butter
Drizzle over roasted vegetables like Charred Broccoli
Shake with more rice vinegar and avocado oil for an AWESOME salad dressing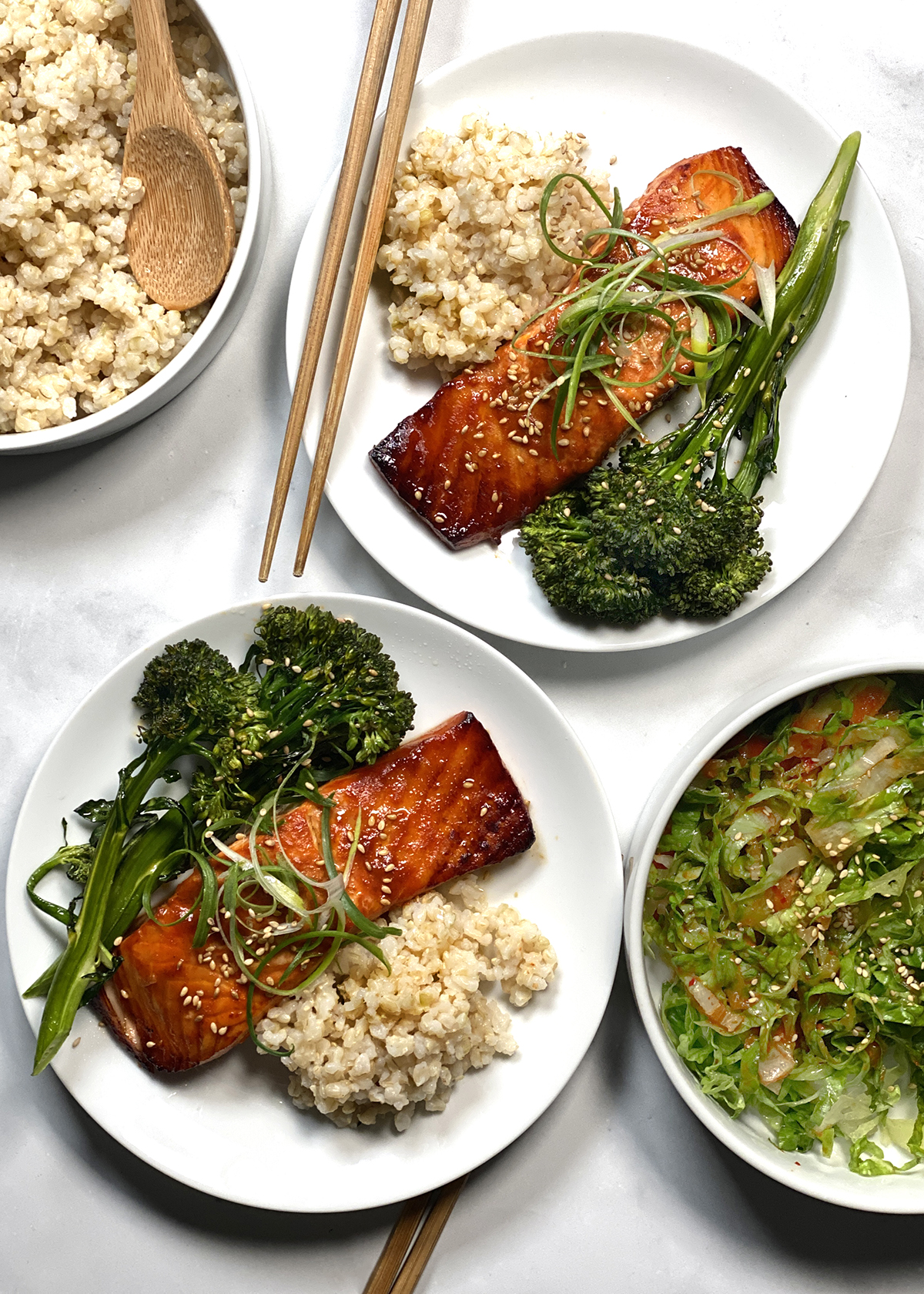 Gochujang on Your Mind? Try These:
Since you only need ¼ cup of gochujang for your Bibimbap Sauce, you'll have an entire of container of gochujang left to make these recipes!
Print Recipe
Bibimbap Sauce Recipe
Bibimbap Sauce with gochujang takes your bowl of bibimbap to the next level with just a few savory, spicy ingredients!
This recipe yields approximately ½ cup of Bibimbap Sauce, which is four servings or 2 tablespoons each.
Ingredients
¼

cup

(4 tablespoons) gochujang

2

tablespoons

sesame oil

1

tablespoon

rice vinegar

1

teaspoon

maple syrup, plus more to taste

optional: 2 teaspoons minced garlic, 2 tablespoon roasted sesame seeds
Instructions
Whisk all ingredients together in a small bowl. Use immediately and store leftovers in an airtight container in the refrigerator to use on demand.
Nutrition
Serving:
2
tablespoons
|
Calories:
56
kcal