Hot Honey Balsamic Vinaigrette Dressing is a subtly spicy version of your standard balsamic vinaigrette. It is the perfect balance of sweet, heat, and tang, which makes it an especially great dressing for salads with fruit, including tomatoes! With only a few ingredients, this dressing is also fast and easy to make. Shall we?
Hot Honey Balsamic Vinaigrette is:
gut health-friendly
refined sugar-free
plant-based/vegetarian (though not vegan because it includes honey)
Jump to: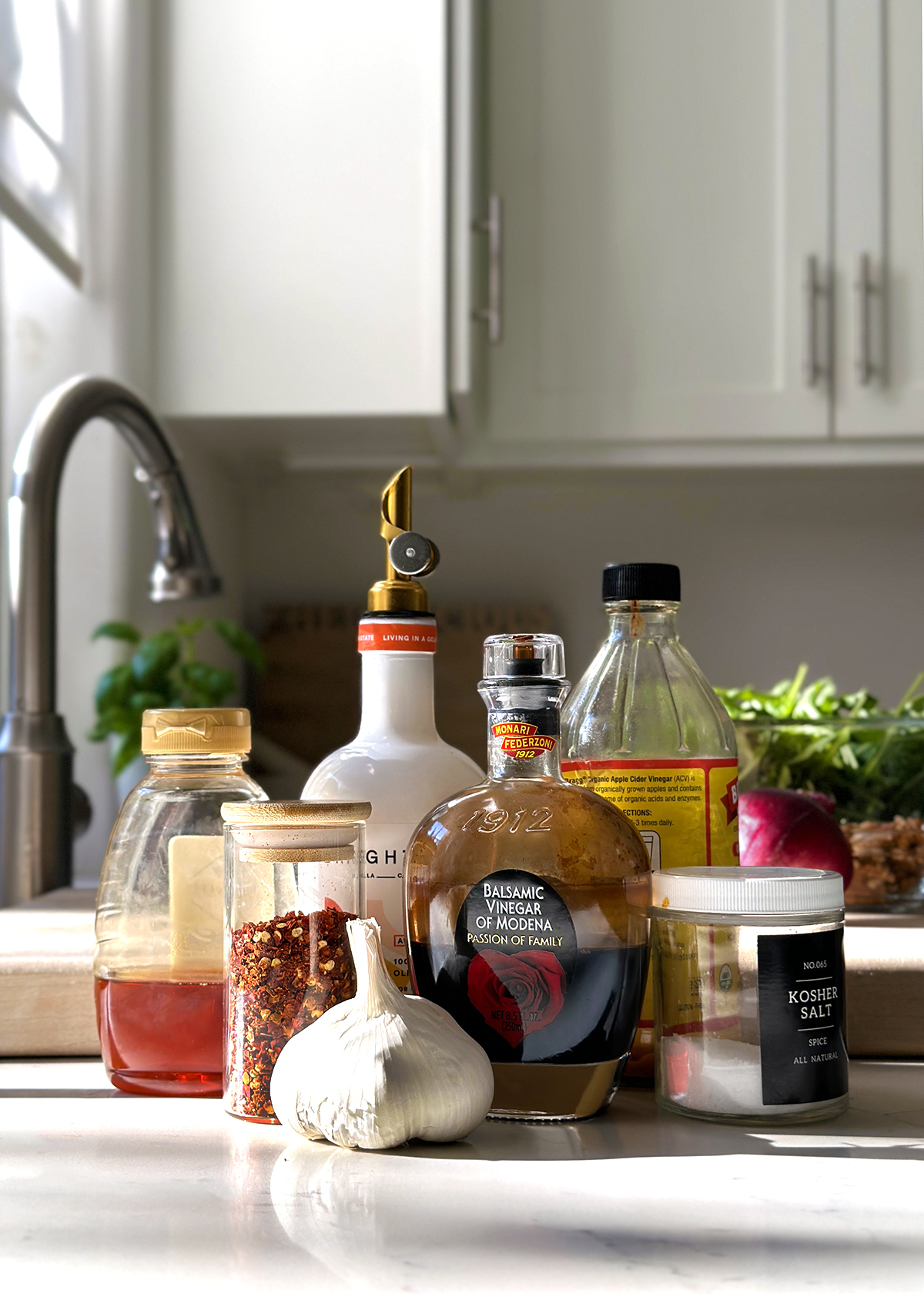 What Ingredients You Need for Hot Honey Balsamic Vinaigrette
Hot Honey Balsamic Vinaigrette has a few ingredients, most of which you probably have in your pantry, and if you don't already have balsamic vinegar, this dressing is the best reason to add it to your cart on your net grocery run!
For this Hot Honey Balsamic Vinaigrette recipe, you will need:
Balsamic vinegar, the recipe namesake of course!
Apple cider vinegar, for added acidity
Honey, for sweetness
Crushed or ground red pepper, for heat
Garlic
Olive oil
Sea salt
You may also need a few tablespoons of filtered water to thin out the dressing to a consistency that you like.
What is Balsamic Vinegar?
Balsamic vinegar is a natural vinegar made from grapes, which puts it in the same family as red wine vinegar, white wine vinegar, and other wine vinegars, though balsamic vinegar is truly in a class of its own.
Balsamic vinegar starts as grape "must," which is all the juice, seeds, and even stems of crushed grapes. The must gets reduced down by boiling, then naturally occurring bacteria ferments the reduced grape must into alcohol in the same kind of process that makes wine. A second fermentation converts the alcohol into acetic acid, which is what makes the fermented juice into balsamic vinegar.
What sets balsamic vinegar apart from other vinegars and distinguishes balsamic vinegars from one another is the aging process that follows fermentation, along with a few other key parameters.
What Kind of Balsamic Vinegar is Best for Salad Dressings?
Save the super-luxe Aceto Balsamico Tradizionale, which is only produced in Modena, Italy and aged for a minimum 12 years, for scenarios in which the balsamic vinegar is its own ingredient, e.g. drizzled over fresh berries, ice cream, aged cheese, or even sipped straight.
For salad dressings like this Hot Honey Balsamic Vinaigrette, use a commercial-grade balsamic vinegar, which has higher acidity suitable for dressing, and is more affordable. Generally, a balsamic vinegar off the grocery store shelf in the $12-$20 range will work. Anything lower in price may not be balsamic vinegar at all, but a regular wine vinegar cut with sweetener and caramel coloring (which you could just do yourself at home then).
Do You Need "Hot Honey?"
While there are pre-made products out there called "hot honey" like this brand that invented hot honey, this one, and this one infused with Chinese chili crunch, you don't need to use hot honey specifically for this recipe. We are putting the ingredients for "hot honey," honey and crushed red pepper, right into the dressing, minus the step of straining out the crushed pepper bits.
Of course, if you already have hot honey, use that in the same amount as the recipe, and only add crushed red pepper for extra heat to your taste.
Instructions for How to Make Hot Honey Balsamic Vinaigrette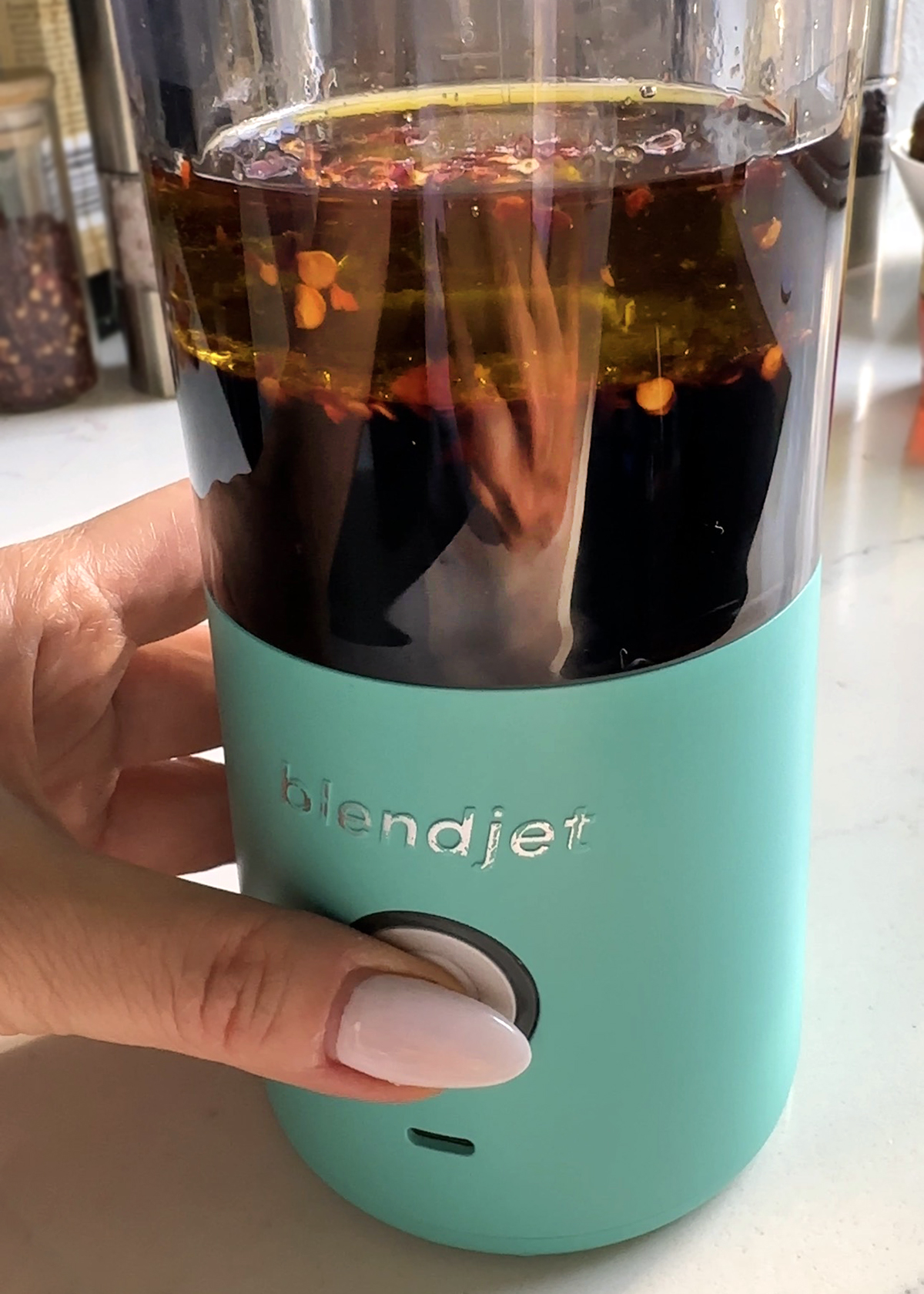 Put all of the ingredients in a blender or food processor, process, and voila, you've got Hot Honey Balsamic Vinaigrette. Taste and add more apple cider vinegar for acid, honey for sweetness, and/or salt.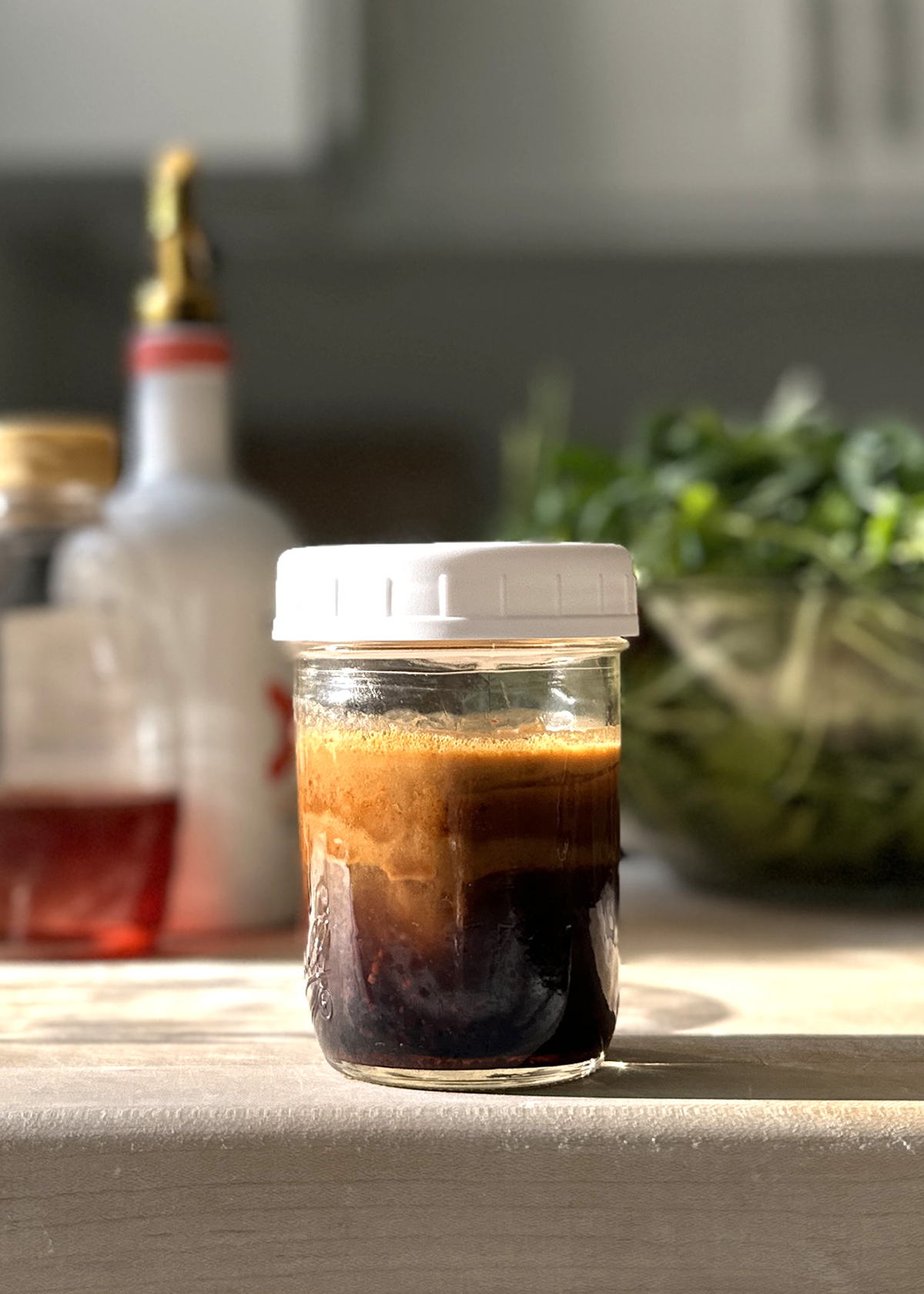 Alternative method: Put all of the ingredients in a mason jar with an air-tight lid and shake vigorously until emulsified.
Pro-tip: If needed, add water 1 tablespoon at a time until you get the consistency you like for a vinaigrette-style dressing. I like my vinaigrettes to be fairly thin, so I use 2 tablespoons water.
Ingredients Notes and Resources
Balsamic Vinegar. This balsamic vinegar was a gift and is very good.
Apple Cider Vinegar. I use this organic Apple Cider Vinegar. Use whatever brand works for you just make sure the vinegar has the "mother" which looks like a mysterious dark floating figure in the bottle. The mother is what causes the fermentation!
Honey. The honey in the photo is a California raw citrus blossom honey. Use any honey (in a squeeze bottle makes it easier to use!) you like for both sweetness as well as its own distinct honey flavor.
Crushed or ground red pepper. Any good Italian crushed red pepper works. I ran out an used Korean gochugaru and it was more than fine!
Olive Oil. Use the highest quality extra virgin olive oil you can afford, preferably with a recent Harvest Date on the bottle, not just the Expiration Date. I used this boutique brand of organic California olive oil for this recipe. This is a more widely available high quality olive oil that I use for every day cooking, though it is not organic.
Salt. This brand of Kosher salt is a great one that I use for every day cooking.
All other fresh herbs and produce like garlic from either the Santa Monica Farmers' Market on Wednesday, or Whole Foods Market when I can't find what I need at the farmers' market.
Quick Note on Black Pepper
Black pepper is absent from this dressing recipe and most other dressing recipes on this site. Unlike salt, which has no flavor itself but greatly enhances the flavor of other ingredients, black pepper has its own distinct flavor. It is a spice that should be thoughtfully added to recipes when needed. Treat black pepper as an optional table condiment that people can add to their final dish if they want, rather than an automatic, somewhat mindless, addition during cooking to a recipe.
Substitutions
Here are a few subs to fill in any gaps you might inadvertently have in your pantry, or fit into any dietary restrictions:
All Balsamic Vinegar - Use all balsamic vinegar if you want to go all-in on the rich flavor and sweetness of balsamic vinegar.
Other vinegar for the Apple Cider Vinegar - If you don't have apple cider vinegar, which adds slightly more acid to the vinaigrette than just balsamic vinegar alone, you can use a different vinegar. A natural complement would be red wine vinegar or white wine vinegar. You can also add the equivalent amount of lemon juice. Of course, you can always just use all balsamic vinegar.
Hot Honey. There is, indeed, a store-bought "hot honey," and if you have some, use that for the equivalent amount of honey in the recipe and leave out the crushed red pepper. Unless you're a hothead and want a spicier dressing!
Maple Syrup sub in for Honey, make it vegan - If you don't have honey, or don't want to use honey because you are 100% plant-based, use maple syrup! You can also stir in the equivalent amount of any other sweetener.
Other spice for Crushed Red Pepper. The recipe calls for Italian-style crushed red pepper, but I've made it using a number of other forms of heat when I couldn't find crushed red pepper in the mess of my spice pantry. Korean gochugaru has a smoky, fruity flavor, and the added benefit of being already pretty finely ground. Any other hot red chile pepper works, honestly.
Garlic. If you are sensitive to garlic, substitute with half a shallot, or omit the alliums.
Other Oil for Olive Oil - Olive oil has a distinct, sometimes intense flavor. For something more neutral, the best option imho is avocado oil.
Tools and Equipment

You don't need any special equipment to make Hot Honey Balsamic Vinaigrette. You can simply use a knife and cutting board to mince the garlic, and a bowl to mix the ingredients. However, that doesn't mean there are a couple of gadgets and tools that might make it even easier than it already is.
Advance Prep, Leftovers, and Storage
Hot Honey Balsamic Vinaigrette is absolutely a dressing you can and should prepare in advance. In fact, make double the amount in the recipe—which will be about the same as what you get in a store-bought bottle—and keep it in an airtight container in the refrigerator for up to one week. As if you won't drink it all up before the week is up. Shake or whisk the dressing each time before you use it, since it will separate into its oil and vinegar components.
This dressing can be frozen and will be ok when thawed, but why when it's so easy to shake together on the fly?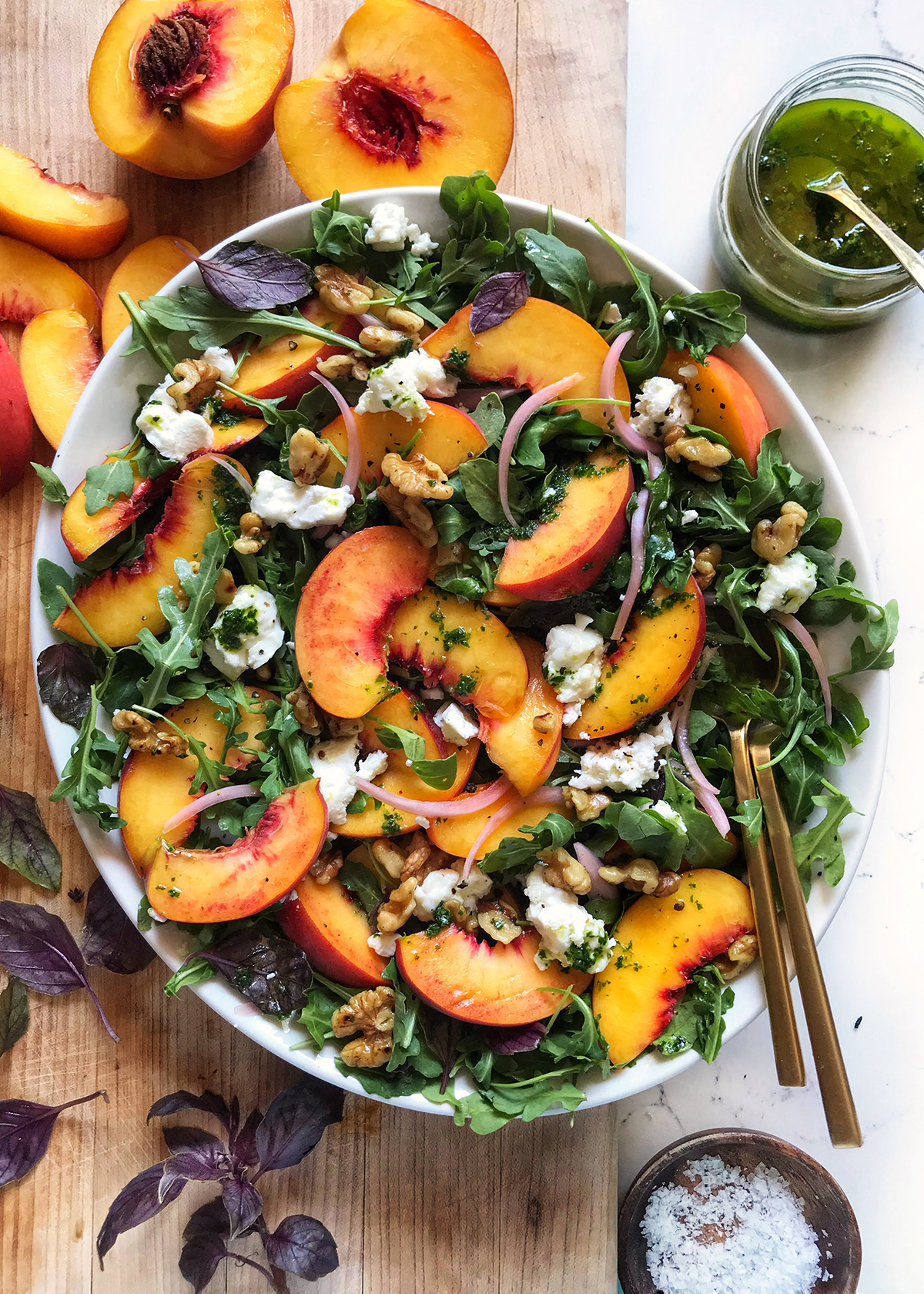 How to Use Hot Honey Balsamic Vinaigrette
Use Hot Honey Balsamic Vinaigrette as a go-to dressing for any salad. It can lightly dress delicate baby lettuces if you thin it out enough when you make it, as well as add big flavor to sturdier greens like Romaine lettuce, kale and roasted vegetables.
Even though I use Hot Honey Balsamic Vinaigrette year-round, I make a special effort to keep it on hand in the Summer because, well, it just matches the hot summer season. More importantly, once Summer hits, Hot Honey Balsamic Vinaigrette is a FANTASTIC dressing to keep in your refrigerator throughout the week to drizzle over meals that don't require any cooking. It will make it easier to throw together a no-cook salad for a quick meal on the busiest days.
Try Hot Honey Balsamic Vinaigrette on these salads:
Don't just stop at dressing salads with it though! Use Hot Honey Balsamic for a subtly sweet and sour marinade for chicken or fish, especially salmon.
If you have a hyper-fixation problem when it comes to foods like I do, then once you make this Hot Honey Balsamic Vinaigrette, you will use it on everything. I believe in you.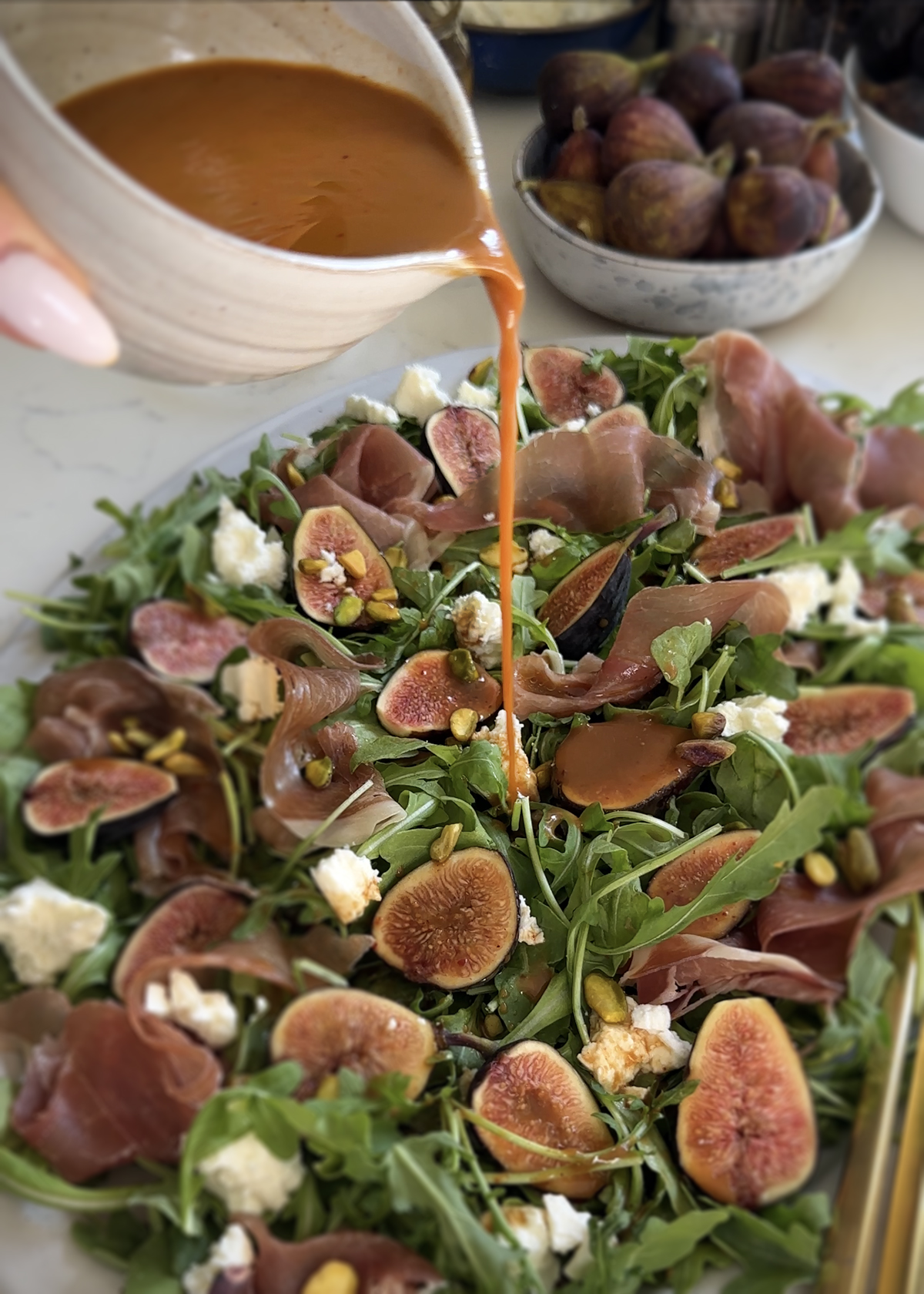 More Vinaigrettes and Dressings
If you're here looking for any and all manner of tart tangy sweet salty umami dressings, here are a few more that are on heavy rotation in this kitchen:
FAQs (mostly about balsamic vinegar)
Q: Does balsamic vinegar go bad?
Balsamic vinegar is high in acid, which means it sort of just preserves itself and technically, can last "forever," or at least for a very very long time, even beyond a printed expiration date. Bottles of balsamic vinegar sold in stores are printed with expiration dates between 2-5 years after the production date because the government requires an expiration date.
Q: Do you have to refrigerate balsamic vinegar?
No, you do not have to refrigerate balsamic vinegar. Just keep the bottle in a cool, dark place, definitely out of direct sunlight! However, you do have to refrigerate Hot Honey Balsamic Vinaigrette!
Q: I ran out of balsamic vinegar and don't want to go to the store! What can I substitute?!
Substitute just about any vinegar for the balsamic vinegar 1:1 tor this dressing. The closest substitute would be red wine vinegar, plus extra honey to account for the natural sweetness of balsamic vinegar. If you want the umami that comes from aging balsamic vinegar, add a few drops of soy sauce. Of course, it will no longer be "Hot Honey Balsamic Vinaigrette"; it will be "Hot Honey and Whatever Kind of Vinegar You Use Vinaigrette."
Q: Do you need hot honey for Hot Honey Balsamic Vinaigrette?
No, you do not need actual "hot honey," which is a store-bought honey that's already infused with hot chile peppers. This recipe uses regular, natural honey and crushed red chiles separately.
Q: My Hot Honey Balsamic Vinaigrette separated in the refrigerator, is it ok to eat?
Yes, separated dressing is totally normal and ok to eat (as long as it's within the week of making it). Just shake or re-whisk the dressing. Separation is normal for any vinaigrette or dressing made with mostly oil and vinegar, and especially in a dressing like this one that doesn't have emulsifiers like mustard or egg.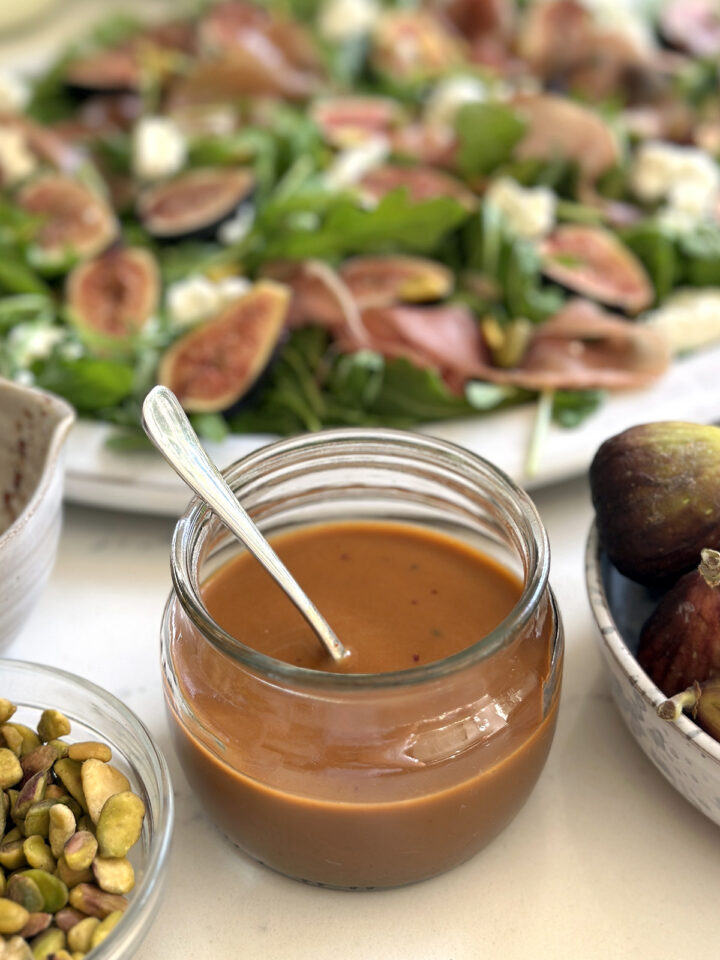 Print Recipe
Hot Honey Balsamic Vinaigrette Dressing Recipe
You may eat nothing but salads for an entire season if you have this HIGHLY DRINKABLE Hot Honey Balsamic Vinaigrette in your fridge! For a standard, non-spicy Balsamic Vinaigrette, omit the crushed red pepper.
Ingredients
4

tablespoons

balsamic vinegar

2

tablespoon

apple cider vinegar

2

tablespoon

honey

2

teaspoon

crushed or ground red pepper

2

cloves

garlic, very finely minced

4

tablespoons

olive oil

¼

teaspoon

sea salt, plus more to taste
Instructions
Put all the ingredients—balsamic vinegar, apple cider vinegar, honey, garlic, crushed red pepper, olive oil, and salt—in a blender or food processor and combine until emulsified. Alternatively, you can put everything in a small mason jar with a tight-fitting lid and just shake vigorously.

Add water 1 tablespoon at a time until the Hot Honey Balsamic Vinaigrette is the consistency you like for a salad dressing—I prefer vinaigrettes to be on the thinner side.

Taste for seasoning and add salt or honey as needed. Dressing will separate after a few hours, just shake or whisk to re-emulsify.
Nutrition
Serving:
2
tablespoons
|
Calories:
86
kcal
|
Fat:
7
g