Maple Mustard Dressing is the sweet, savory, and delicious answer to "what can I put on this salad or bowl to make me want to shovel it with a spoon?" With only four ingredients, it's also super fast and easy to make. Shall we?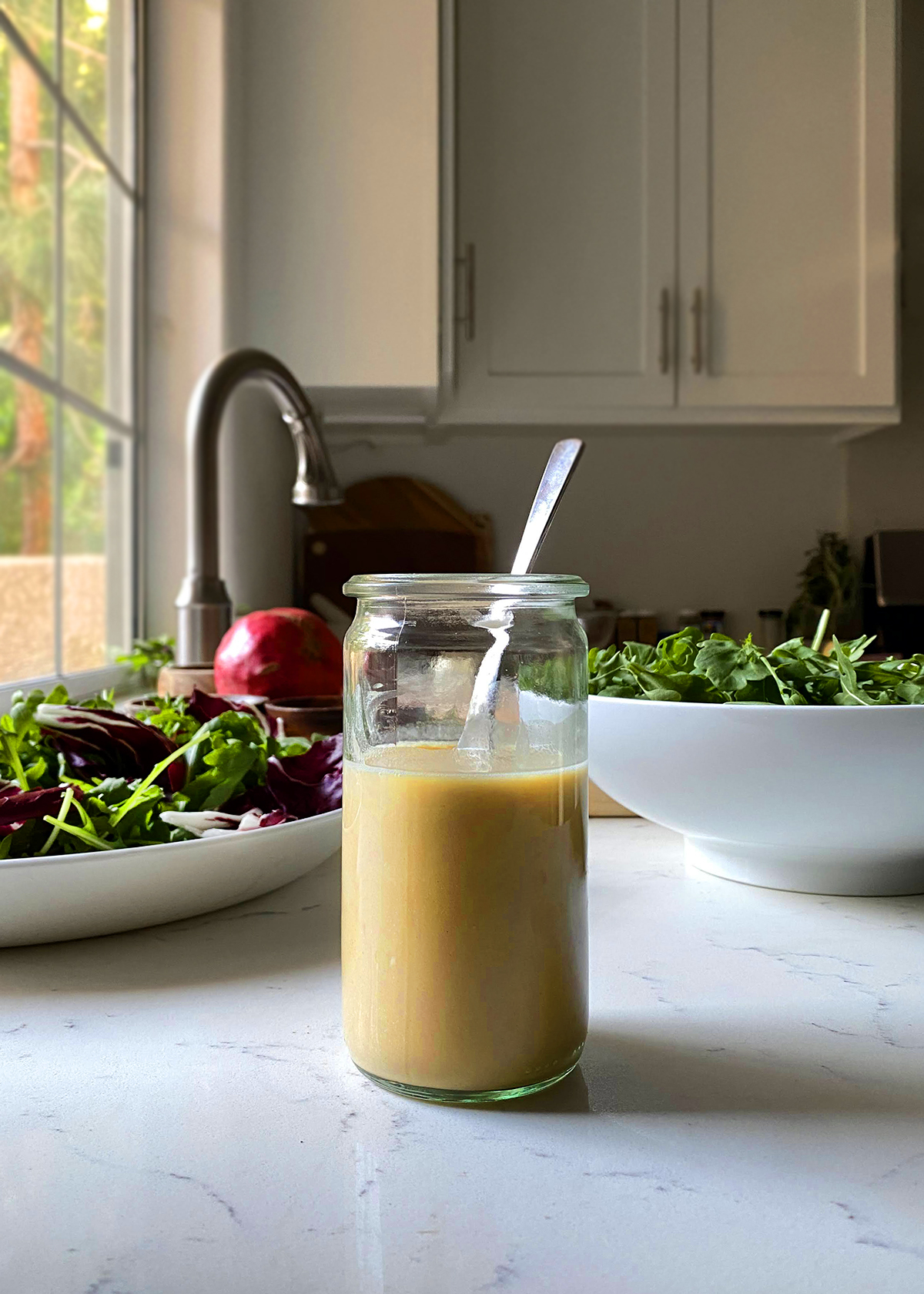 Maple Mustard is in the class of dressings we call Drinkable Dressings, the kind that are so good, you just want to drink it straight from the bottle or jar. They have to have the perfect pourable texture not too gloopy, and not be too sticky sweet. Maple Mustard is exactly all of that.
Jump to:
This recipe for Maple Mustard Dressing is:
dairy-free
gluten-free
refined sugar-free
plant-based/vegan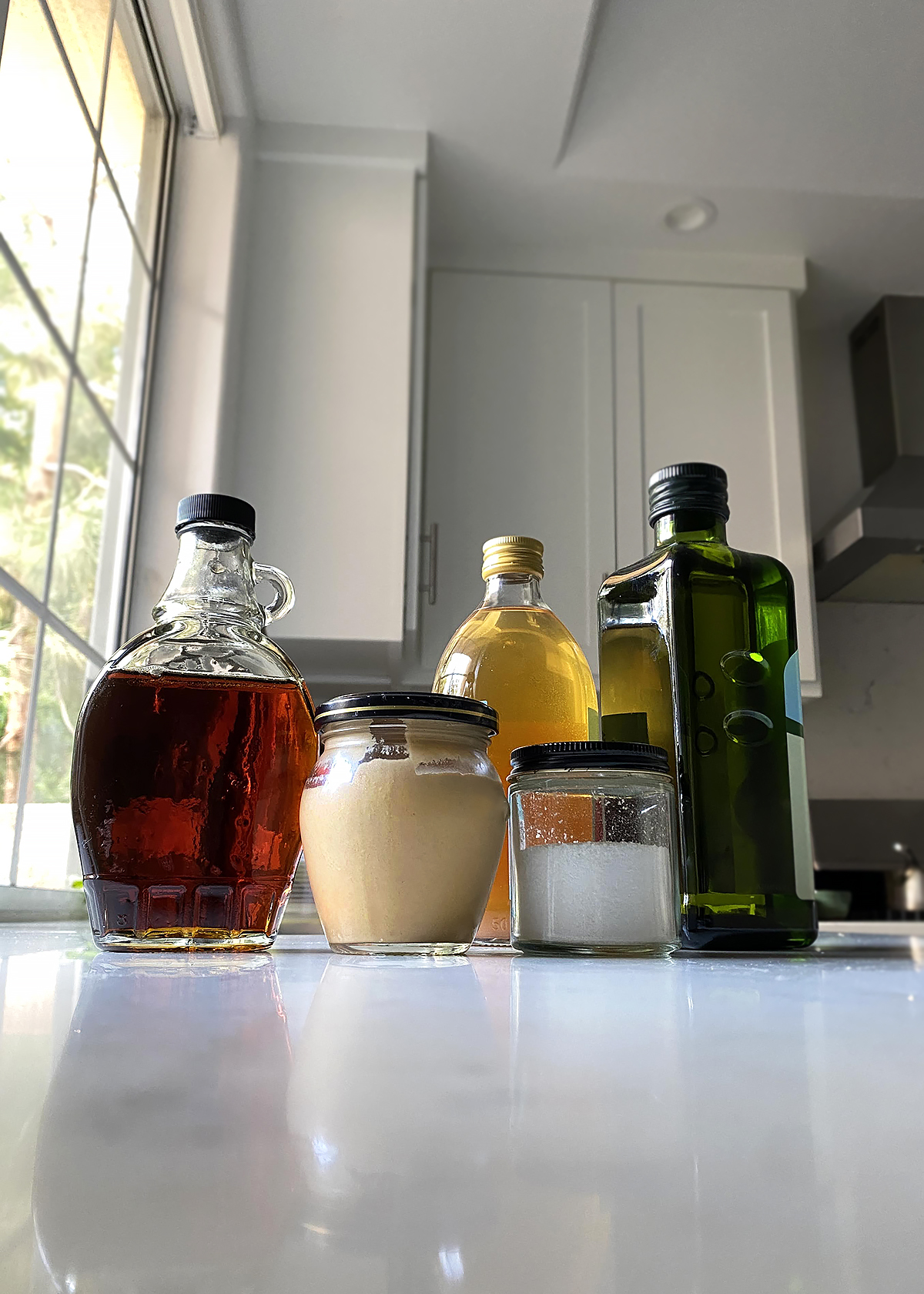 What Ingredients You Need for Maple Mustard Dressing
Maple Mustard Dressing has only a few ingredients, and the recipe pretty flexible in terms of substituting and adding. For this recipe, you will need:
maple syrup
mustard
apple cider vinegar ("ACV" for the real ones)
avocado oil or other neutral-flavored oil
And of course, the usual salt and optional black pepper.
As with most dressings and sauces, the recipe is totally flexible! Adjust amounts according to your personal taste preference.
Ingredients Resources and Substitutions
Maple Syrup. I use an organic maple syrup that is amber in color and more robust in flavor than lighter colored maple syrups. You can substitute with honey, though the dressing will no longer be vegan and will also be the usual Honey Mustard! or other sweetener of choice.
Dijon Mustard. This Dijon mustard brand has never failed me. Because the amount is fairly small, use whatever mustard you have. The mustard is obviously one of the predominant flavors, but more importantly, emulsifies the rest of the ingredients into one homogenous mixture.
Apple Cider Vinegar. I use this generic store brand of organic Apple Cider Vinegar. Use whatever brand works for you just make sure the vinegar has the "mother" which looks like a mysterious dark floating figure in the bottle. The mother is what causes the fermentation!
Avocado Oil. Has the mildest, most neutral flavor of the non-seed oils. This is the brand I prefer. This brand is good, too. Just look for an avocado oil that is cold-pressed, steam-refined, or expeller-pressed. If you want to use olive oil, try to use one that is "light."

Salt and Black Pepper. Salt is an obvious and ubiquitous ingredient. I use this Kosher salt. Black pepper, on the other hand, is absent from this dressing recipe, and most other dressing recipes on this site. I like to treat black pepper as an optional table condiment that people can add to their final dish if they want, rather than an automatic, somewhat mindless, addition during cooking to a recipe.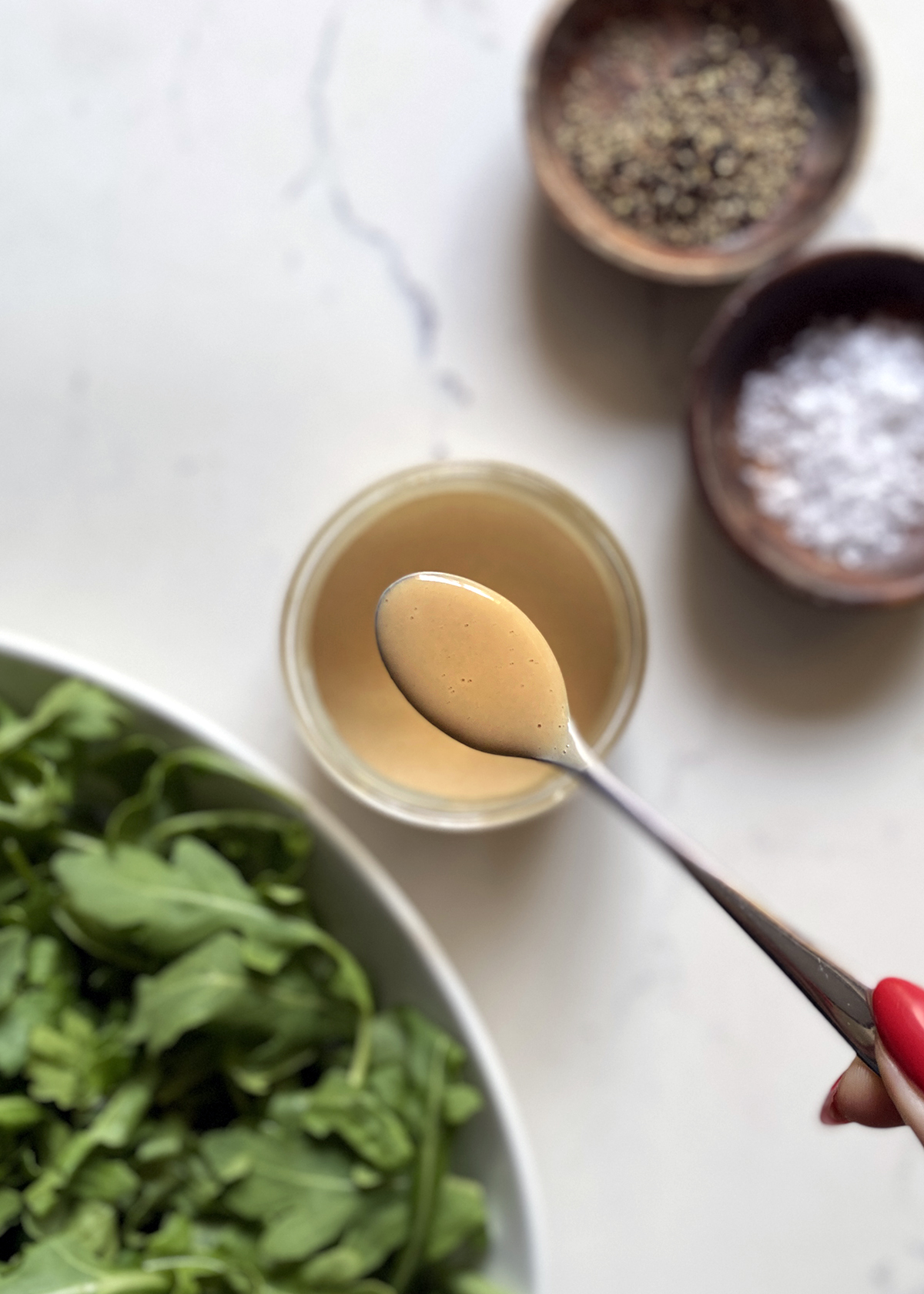 Tools and Equipment

You don't need any special equipment to make Maple Mustard Dressing. You can simply use a knife and cutting board to mince the garlic, and a bowl to mix the ingredients. However, that doesn't mean there are a couple of gadgets and tools that might make it even easier than it already is.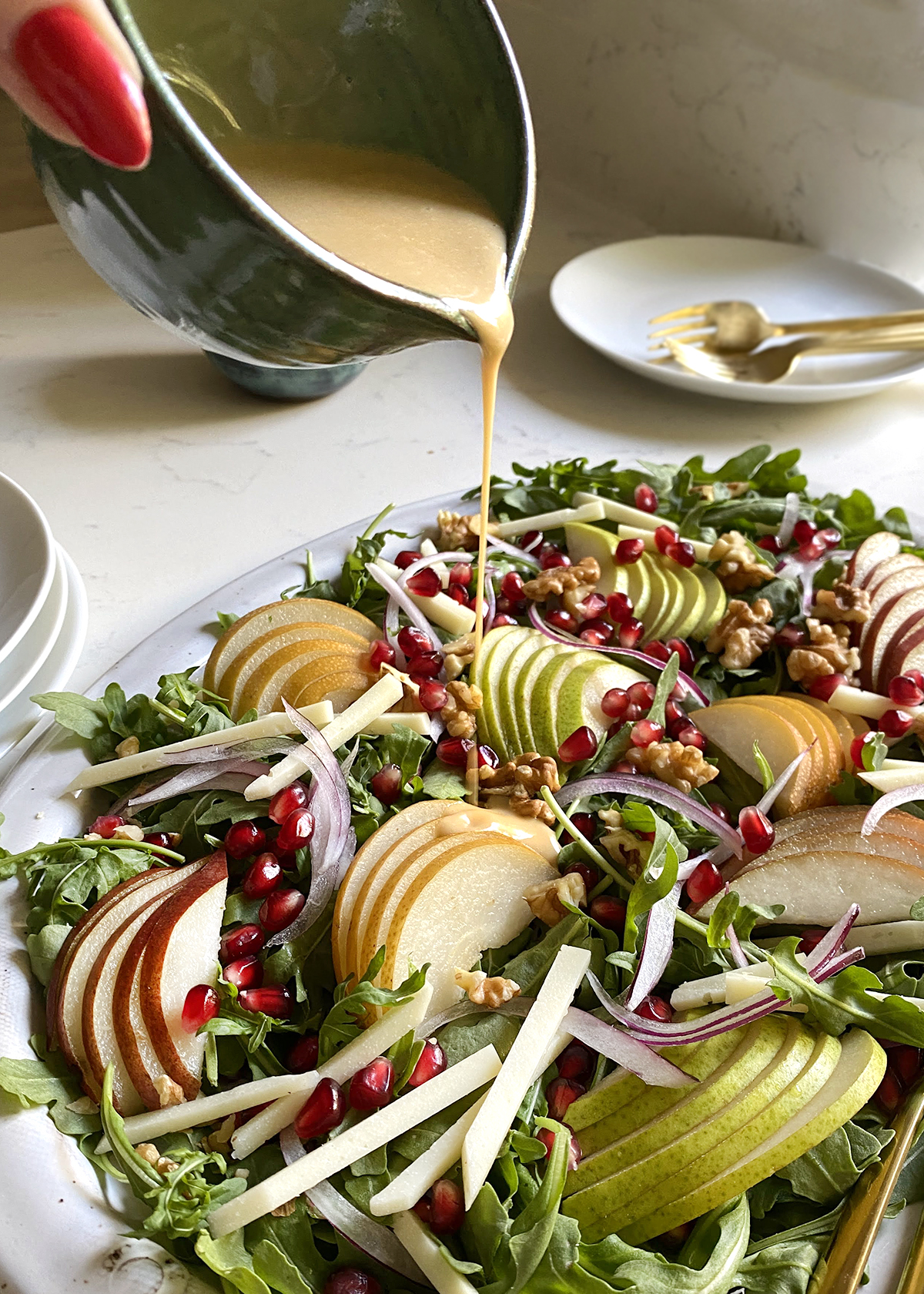 How to Use Maple Mustard Dressing
Toss with salad. Use Maple Mustard Dressing as a go-to dressing for any salad from lettuces to sturdier greens and vegetables like kale and roasted vegetables. The sweet maple and sharp mustard are perfect for any huge green salad you want to make for family dinners, parties, and of course, Thanksgiving. Use with these salads:
Drizzle over grain bowls. Even though I use Maple Mustard Dressing year-round, I make a special effort to prep it weekly in the Fall because, well, it just matches the season. I do, of course, say this about every season. More importantly though, once Fall, back-to-school, and the chaos of the Holidays begin, Maple Mustard Dressing is a MUST-HAVE in your refrigerator. It will make it easier to throw together a filling salad or grain bowl for a quick meal on the busiest days.
As a marinade or side sauce. Maple Mustard is the perfect flavor combination for salmon. Spoon Maple Mustard over grilled or pan-seared salmon on the plate, or serve alongside. You can also brush salmon before cooking with Maple Mustard, let it marinate in the refrigerator up to a couple of hours, then grill or roast in the oven. The maple syrup will develop a little caramelization that is *chef's kiss.
As a dipping sauce. Need I say more? Anywhere you would use Honey Mustard as a dipping sauce, for chicken fingers, beer-battered fish and chips, French fries, vegetables, you can, and should use Maple Mustard. Made exactly is, the recipe will be a little thin, but you can remedy that by cutting the oil in half.
FAQs (mostly about maple syrup)
Q: Is maple syrup healthy?
A: Yes! Maple syrup can be healthier if you are looking for a natural sweetener with a lower glycemic index than regular table sugar. It's also "healthy" in the sense that if a small amount makes a huge bowl of nutrient-dense greens and vegetables more palatable, you're getting the outsized benefit of those nutrients!
Q: What does the Grade A mean on maple syrup?
The Grade A actually doesn't really mean much anymore because all maple syrups sold to consumers are Grade A. In a previous era, there were actual different grades on maple syrups sold to consumers. The grades had less to do with quality, and more to do with the intensity of color and flavor which paralleled when the maple syrup was tapped. Grade A being the lightest in color and mildest in flavor, and Grade B darker and more robust. Now Grade A simply means it's made for consumers, and the difference are described in the name from "golden" to "amber" to "dark."
Q. So which maple syrup should I use?
A: If you, like I, prefer a more robust maple flavor as opposed to just the sweet taste, use a maple syrup labeled "amber."
Q: Should you buy organic for maple syrup?
A: If it fits into your budget, yes! Organic maple syrup is tapped from trees in a way that is more sustainable.
Q: What can you use instead of Dijon mustard?
A: Use any mustard, even the grainy kind if you have a blender! Even that neon yellow ballpark mustard is ok if that's all you have on hand. This time. But next time, get Dijon mustard, which has slightly more acid and heat :)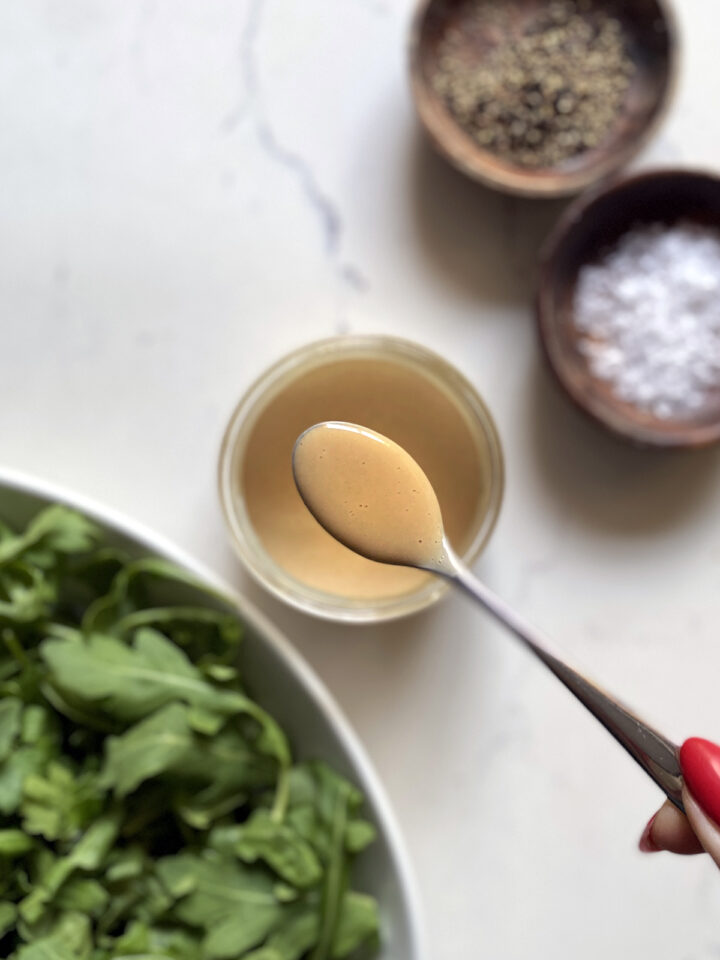 Print Recipe
Maple Mustard Dressing Recipe
The perfect sweet and sharp dressing that doubles as a dip. Only four ingredients and five minutes!
Pro-tip: If there are aturally sweet ingredients in your salad like apples, pears, or dried fruit, cut the amount of maple syrup in half to make it less sweet!
Ingredients
2

tablespoons

maple syrup

4

tablespoons

Dijon mustard

4

tablespoons

apple cider vinegar

4

tablespoons

avocado oil

1

teaspoon

sea salt

plus more to taste

optional: fresh cracked black pepper
Instructions
Place all ingredients, including black pepper if using, in a small bowl and whisk together until emulsified. Alternatively, place all ingredients in a mason jar, cover securely with lid and shake until well combined.

Maple Mustard Dressing will keep in an air-tight container in the refrigerator for 2 weeks.
Nutrition