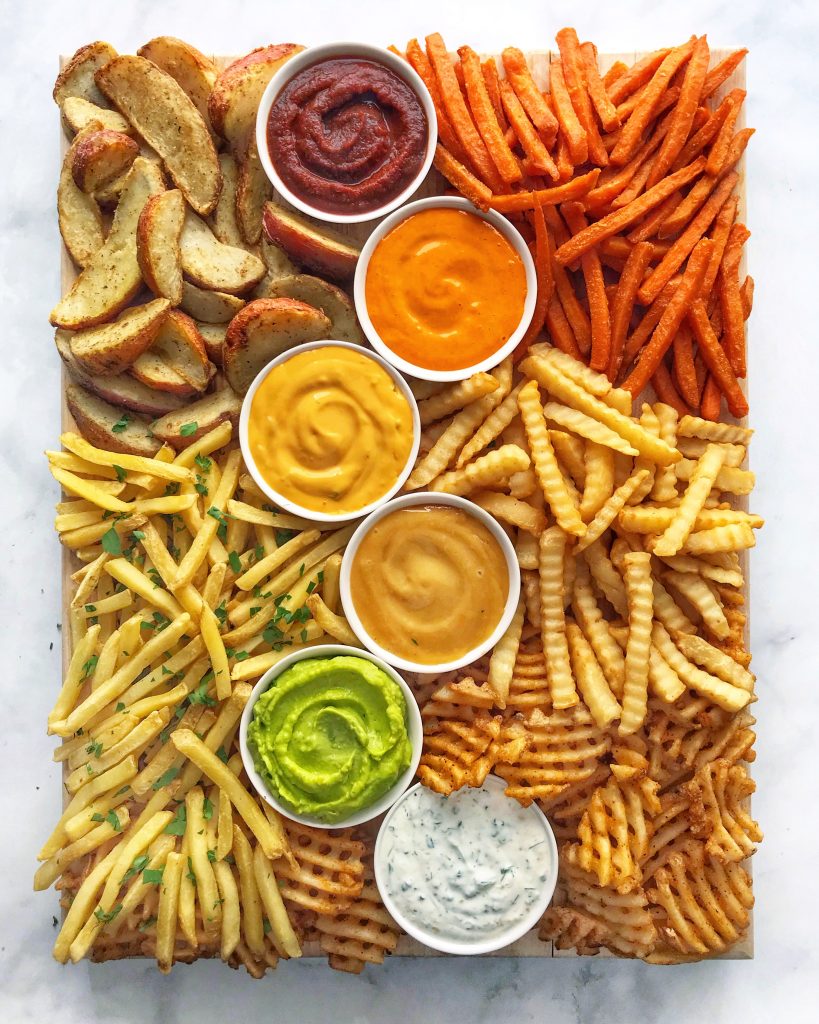 How-to make a French Fry Board or Platter first, followed by Shopping Resources and Additional Tips. My rambling thoughts and opinions that no one asked me about Fry Boards at the very end. I'm also sharing "hot new trends," social media virality, and whether a tater tot is a FRY.
Jump to: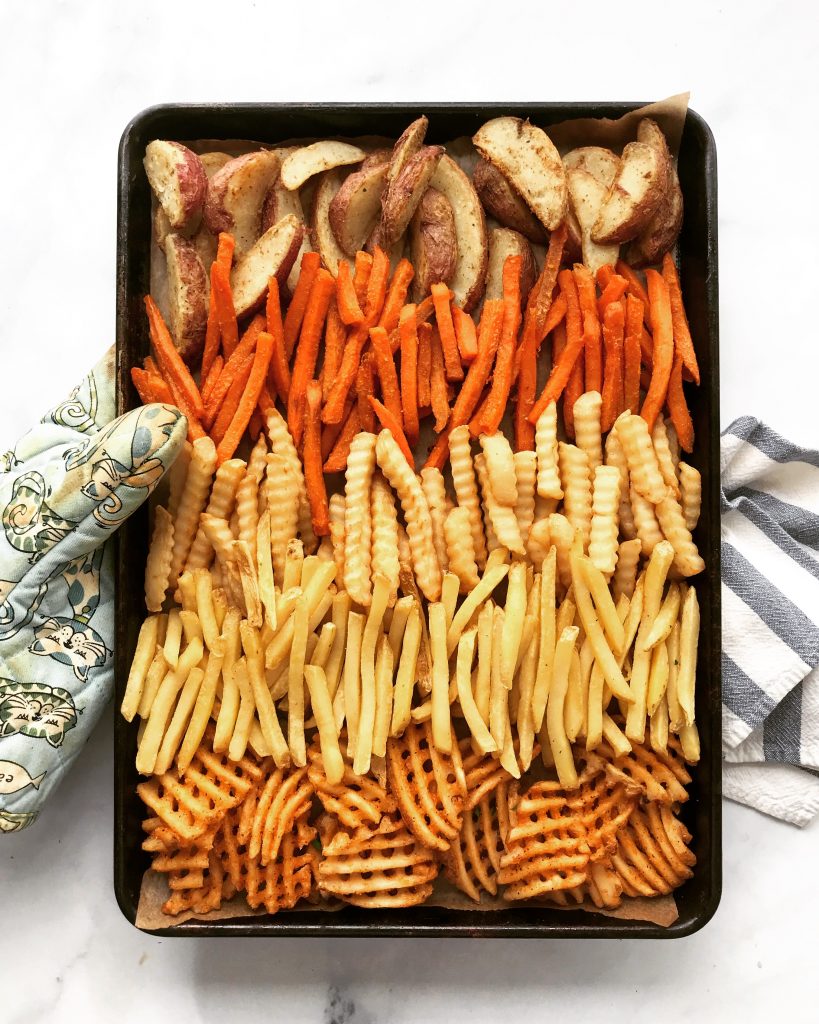 What is a French Fry Board?
A French Fry Board is essentially a platter with a few different types of fries and a variety of dipping sauces. The French fries don't have to be served on a literal "board." It's just the term! And in fact, the French fries might be better served on something else that will keep them warm. See below "Expert Tips."
A French fry board does need to consider the number of different types of fries, e.g. curly fries, crinkle cut fries, wedge fries, waffle cut fries, sweet potato fries, and even other vegetables cut and presented like "fries."
If you only serve one type, it's not a board, it's "just fries." If you choose too many different types, you 1) may not have enough space on your board and 2) overwhelm people with choices. My favorite fries are the types featured on the Fries Board in the photo. I am still undecided about whether a tater tot is actually a french fry and can be included on the board.
Ingredients Notes and Shopping Resources for French Fry Boards
FROZEN FRENCH FRIES. I used these frozen french fries, organic when available, for the boards in this post. Frozen french fries cook from frozen between 18-24 minutes depending on which kind/shape.
KETCHUP. The ketchup on the regular fry board is an organic, unsweetened ketchup with additional various vegetable purees added. Use ANY ketchup you like for your board. On the sweet potato fry board, it is everyone's favorite ketchup.
SRIRACHA AIOLI. I make the recipe below for an aioli that has no egg, then stir in a very generous amount of sriracha. You can also stir sriracha or any hot sauce to your taste into ¼ to ⅓ cup of regular mayonnaise.
CHILE CON QUESO. I used a jar of store-bought Chile Con Queso; I'm not sure I can name names so I'll just say the brand name rhymes with Most Tito's. Does that stuff have real cheese? Who knows, but it is delicious and every fancy, homemade, from scratch or otherwise queso I have had tastes like salty uncooked flour. 
HONEY MUSTARD. Just buy your favorite in a bottle or jar. Why waste your time.
WHIPPED GUACAMOLE. This is a guacamole that has no other "chunky" ingredients especially tomatoes which should NEVER be in ANY guacamole EVER anyway, and is whipped until smooth and airy so that it's easily dippable for french fries.
YOGURT RANCH. Without ranch, there are no fries. This version is made with all yogurt rather than mayonnaise and sour cream for the obvious reason that mayonnaise is absolute trash. For a Fry Board, especially one comprised of store-bought fries, keep it simple and use any and all dips from a bottle or jar you buy in the store, EXCEPT RANCH. Never use bottled ranch. Just never.
Tools and Equipment You Need for a French Fry Board
BOARD. You can use any board, platter, or tray that is large enough to hold the french fries and dips together, and is suitable for hot foods. For both the regular and sweet potato french fries boards in this post, I used a 15-inch x 20-inch Boos cutting board, which is slightly larger than a 13-inchx18-inch half sheet pan.
Dips and Sauces
These are all the suggestions from instagram and twitter for dips and sauces to go with french fries on a FRY BOARD. I will leave it to you to decide which ones you want to include. If I missed one, let me know in the comments or DM me on instagram:
BBQ sauce
blue cheese dressing, which is controversial on its own, but for fries? I can't believe I have to put this so high on this list just because it's alphabetical
chipotle mayo
cinnamon sugar butter
Dublin dip - I don't know what this is and when I googled it one of the results was from Urban Dictionary so now I really don't think I want to even know.
feta dip
fondue
fry sauce - 1:1 combo of ketchup and mayo. no comment.
garlic toum
ginger apricot jam, I don't know about this
gravy. like on poutine
green goddess
horsey sauce from Arby's lol
hot honey
hot mustard
hummus
In n Out spread, which according to research, looks like Thousand Island dressing, which is essentially a combination of ketchup and mayo
jalapeño sauce from Trader Joe's
malt vinegar
marinara
mayonnaise WHO DOES THIS
milkshake
special sauce from McDonald's or Sir Kensington's
sriracha ketchup
sweet and sour
tartar sauce, and someone specified Skippers
tzatziki
Other Types of French Fries
If it's not made of potatoes, it's not french fries. I firmly believe this statement, with the exception of sweet potatoes, which are not potatoes, but have so invaded the collective culinary consciousness that I have broken down. This all being said, there are circumstances in which you might want to make a Fries Board with "fries" made from other vegetables like cassava and yucca. Go ahead.
I have also seen fries made of asparagus, avocado, green beans, and mushrooms, which are all dipped in some sort of batter or breading for the crunch effect, but to me, these are tempura, not fries, but I am here to spread the gospel of crunchy vegetables dipped in salty deliciousness so do whatever you have to do to make that happen.
Here are some examples of alternative vegetable fries and how to make them:
ASPARAGUS fries - Dip spears in ultra light rice flour tempura batter and fry
AVOCADO fries - Cut not-quite-ripe avocado into long wedges, coat with breadcrumbs, and "oven fry," as avocado holds up better on a baking sheet than rollicking around in a pot of frying oil
GREEN BEAN fries - Like asparagus, dip in light batter, and deep fry
MUSHROOM fries - Slice portobello mushrooms caps into long "fries," dip in light batter and fry. Portobello mushroom caps also work with the "breadcrumb" coating too.
TOFU fries - Slice extra firm tofu into long strips. Press between layers of paper towels to drain out as much water as possible. Lightly coat in corn starch or flour (you probably don't need an egg wash). Fry.
FAQ and Expert Tips
Q: How do you keep fries hot/warm on a Fries Board for a party?
A: The best way to keep french fries hot for the longest time is to serve the fries on one of the hot metal baking sheet that you used for cooking them in the oven. The obvious problem here is, I don't know, maybe the hot metal baking sheet straight out of the oven that could sear the hand, wrist or forearm of any person who touches it. Position a kitchen towel or hot pads under the baking sheet in a way that people can see them, a signal that it's hot, and obviously warn your guests that the tray is hot. You can also just make sure you have enough guests who will eat all the french fries while they're still hot. This is not a "grazing" board that people pick at over the course of a few hours, it's an "eat it while it's hot" french fry board.
Q: How many different types of fries should you serve on a Fry Board for a party?
A: Choose anywhere from 3-5 different types of french fries, including a basic straight shoestring french fry. If you only serve one type, it's not a board, it's "just fries." If you choose too many different types, you 1) may not have enough space on your board and 2) overwhelm people with choices. My favorite fries are the types featured on the Fries Board in the photo. I am still undecided about whether a tater tot is actually a french fry and can be included on the board.
Q: What type of French fries are best for a Fries Board for a party?
A: You should always have at least the standard French cut fries. After that, the choices are open, though having somewhat thicker, more sturdy fries that can withstand the usual party manhandling is better. These include crinkle cut fries, waffle cut fries, and the very sturdy potato wedges.
TheDeliciousLife Fry Board in the News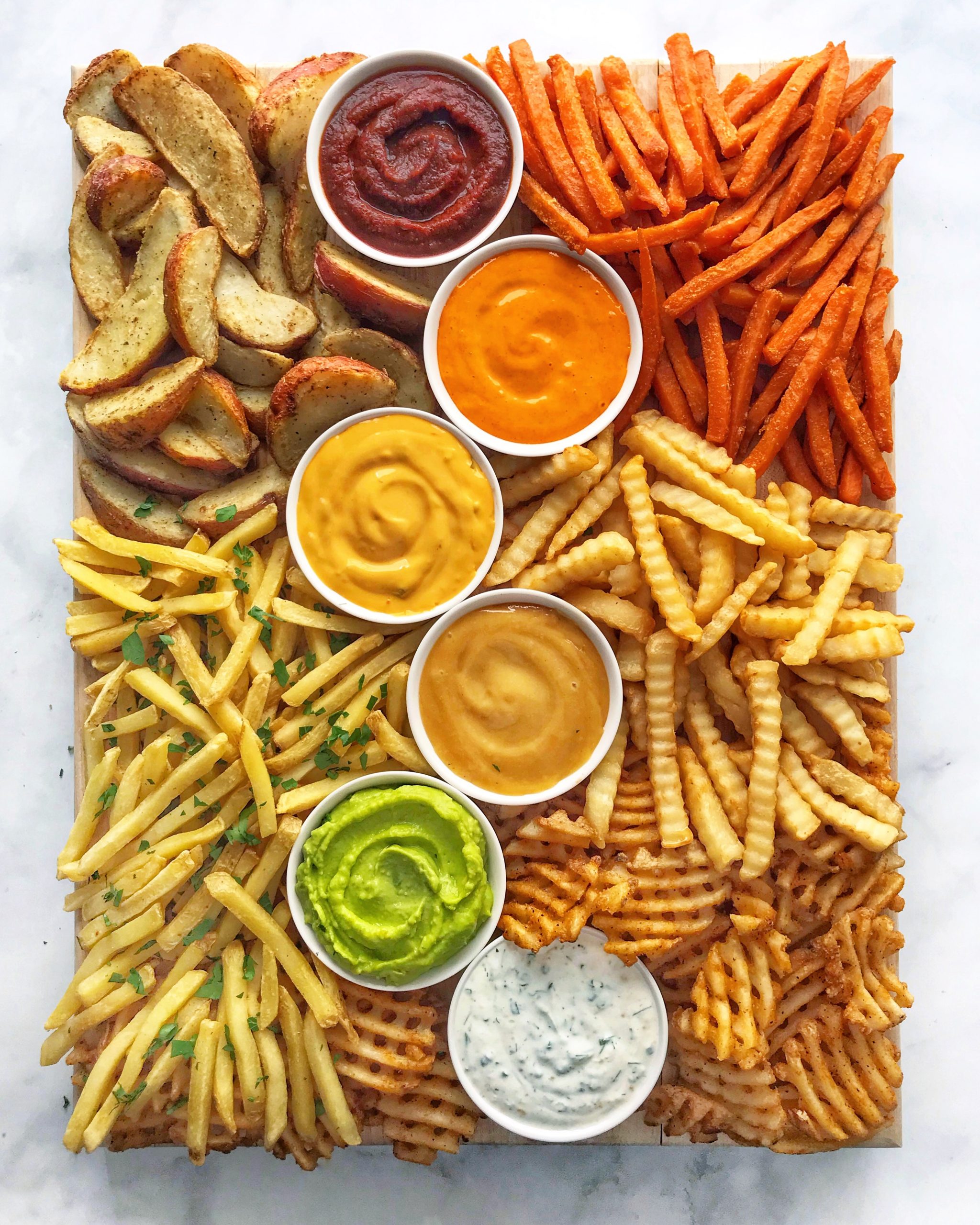 Print Recipe
French Fry Board Recipe
Ingredients
3-5

bags

frozen french fries in different shapes

regular shoestring, curly, crinkle-cut, waffle-cut, wedges, etc

⅓

cup

ketchup

⅓

cup

sriracha aioli

⅓

chile con queso

⅓

cup

honey or other mustard

⅓

cup

whipped guacamole

⅓

cup

yogurt ranch
Instructions
Prepare frozen french fries according to package instructions, which will be anywhere from 18 to 28 minutes. Allot about 1 cup of french fries per person, and make sure to include a variety of french fry shapes.

You may not need to cook all of the french fries, though it's pretty likely that you will need to cook the french fries on multiple baking sheets on more than one oven rack.

While the french fries are baking, prepare the dips. Put each dip in a small bowl or ramekin, then place on the serving board, tray, or baking sheet. I like to arrange them in a row down the center of the board in rainbow order, but that's just me and my weird OCCD (obsessive color coordination disorder). You do you. If your sauce placement is totally random though, I don't want to know about it.

When the french fries are cooked, remove them from the oven. Using tongs because the french fries are hot, immediately place them on the serving board around the sauces and dips.

Serve immediately.