There are so many ways to serve smoked salmon, but this is is THE simple, classic Smoked Salmon Platter that everyone and their mothers requests for any Holiday, dinner party, Sunday brunch, you name it. Shall we?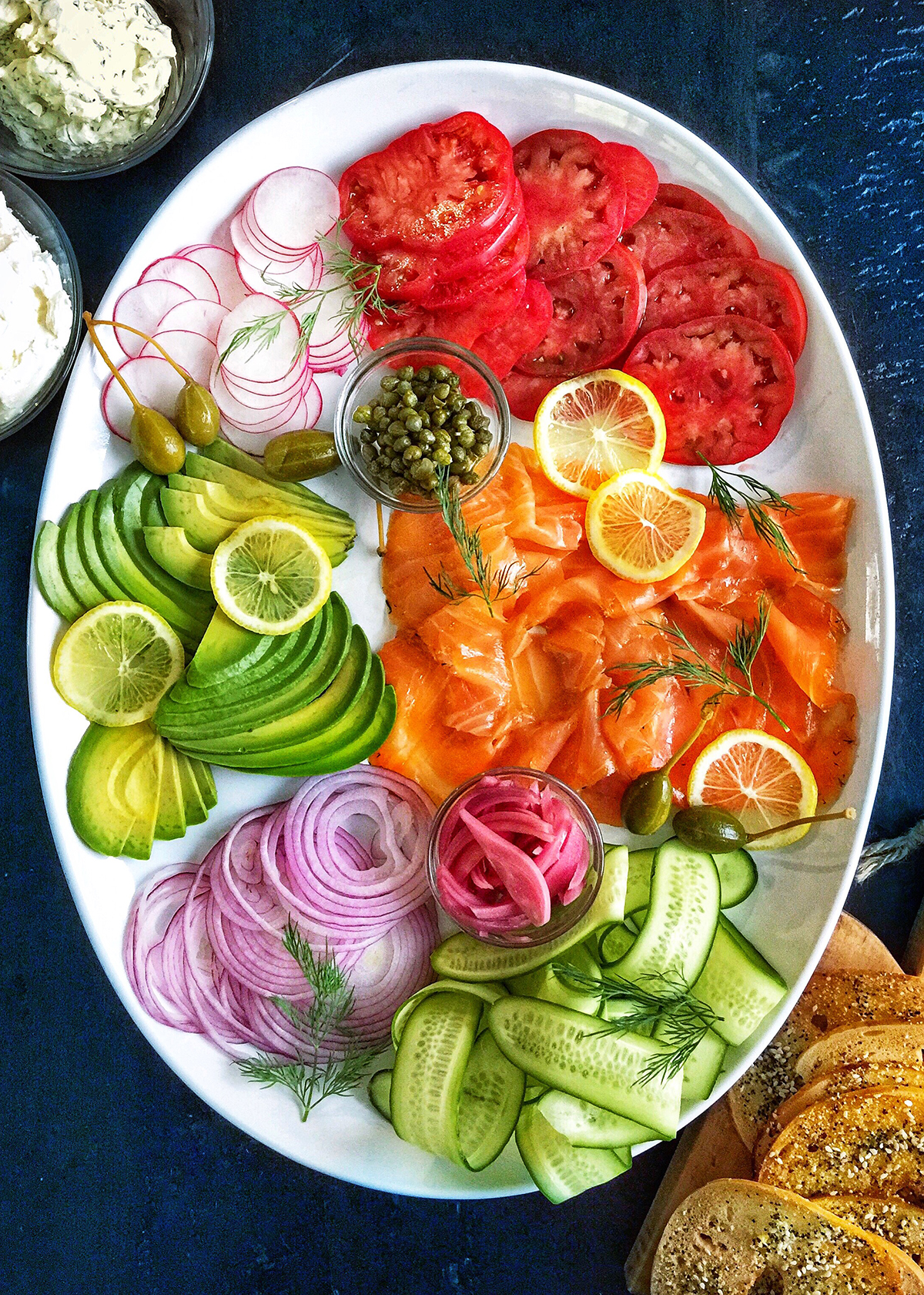 Jump to:
What Ingredients You Need for a Classic Smoked Salmon Platter
There are so many ways to assemble and serve a Smoked Salmon Platter. But when it comes down to a simple classic presentation, this is what you need:
smoked or cured salmon, whether it's gravlax, novalox, or hot smoked salmon
fresh vegetable accoutrements: avocado, cucumber, onions, radishes, and tomatoes
pickled and brined accoutrements like capers and pickled onions
fresh lemons for a squeeze of citrus brightness
fresh chives and dill
cream cheese and/or creme fraiche
crackers and breads, depending on the category of platter, it could be toast points, rye bread, mini croissants, or bagels
optional: soft-boiled eggs, salt-roasted carrot "lox" for vegetarians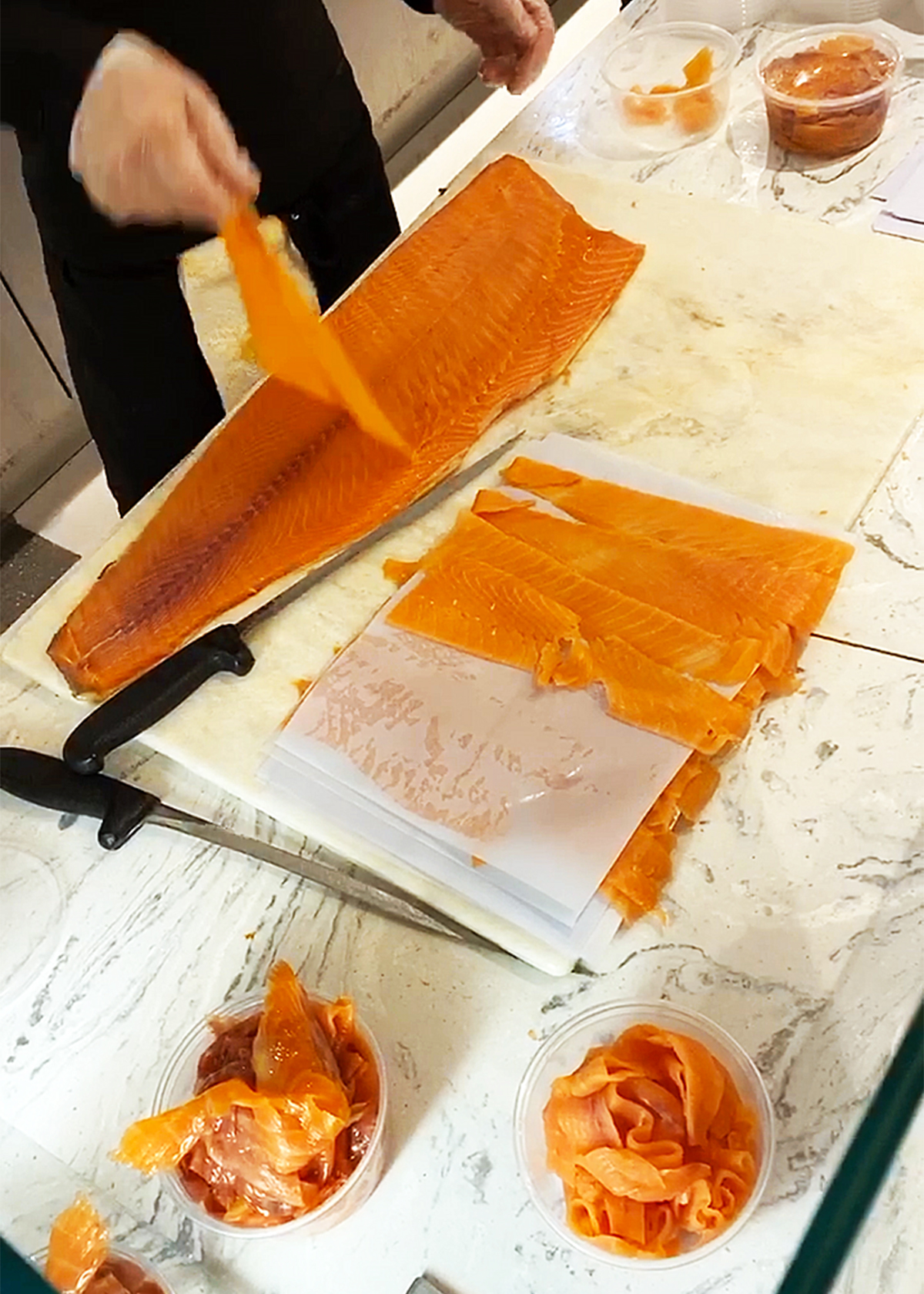 What Kind of Smoked Salmon for a Smoked Salmon Platter?
There are a number of different types of smoked salmon. Types vary in everything from the species of the fish—coho, king, sockeye etc—to the method of smoking. As if that weren't confusing enough, they are all called different things, but also called "smoked salmon": lox, nova lox, gravlax, which isn't even smoked, it's just cured in salt and spirits, etc.
For this particular type of Smoked Salmon Platter, we use a cold smoked salmon that is served super thinly sliced and has a silky, slippery texture. The cured salmon on this platter is smoked salmon lox from Wexler's Deli in Santa Monica.
If you want to get deep into cured and smoked salmon so that you know what to look for, what to ask for, and what you like, check out this post with Smoked Salmon 101, Everything You Wanted to Know About Smoked Salmon.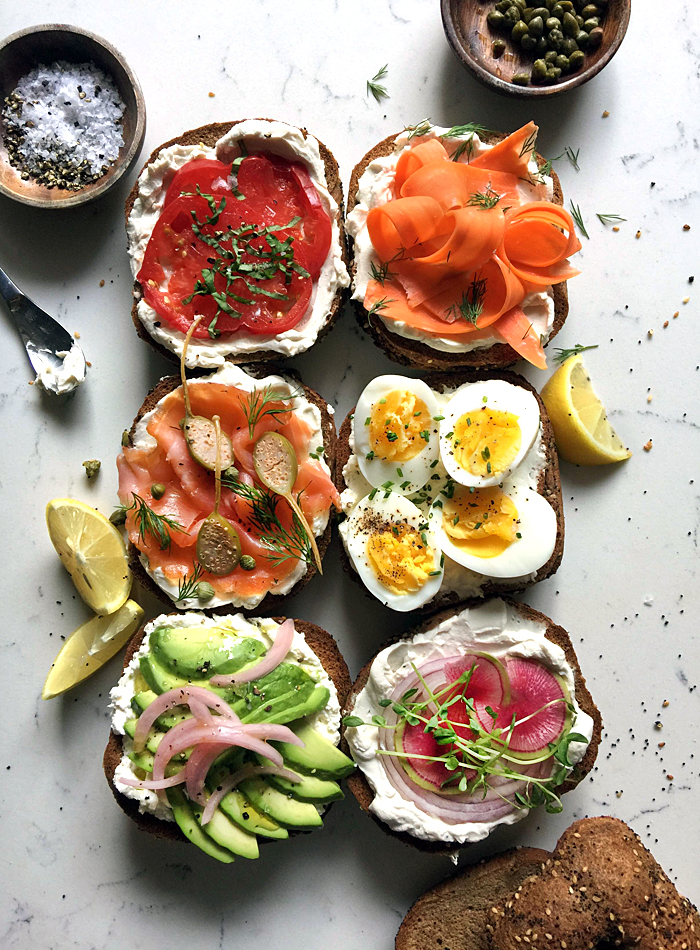 Additional Ingredients Notes and Shopping Resources
Pickled Onions: I make my own quick vinegar pickled onions.
Capers and Caperberries: I found non-pareil capers, the small pea-sized capers, in jars in the the same aisle where jarred olives and pickles are found in the regular grocery store. It is possible to find them, along with caperberries, the large, olive-shaped capers with stems attached, in the olive or antipasto bar at either Whole Foods or Bristol Farms, though caperberries are not easy to find anywhere. I found these at World Market!
Herbed Whipped Cream Cheese: Many delis and grocery store brands have ready-made herbed cream cheese. I made Herbed Whipped Cream Cheese by mixing about a tablespoon each of chopped basil, chives, scallions, and dill into an 8 ounce container of plain whipped cream cheese. It feels fresher to me that way.
Almond Milk Cream Cheese I use Kite Hill brand almond milk cream cheese, found at Whole Foods Market.
Bagels: You can use whatever bagels you like. I like using mini-bagels because 1) a whole regular-sized bagel seems too big for one person, and 2) mini bagels lets each guest try more combinations. We picked up bagels from Western Bagel, a small bagel bakery chain in Los Angeles with a location convenient to me. You may be able to find Sara Lee brand mini bagels in a bag in the bread aisle of a regular grocery store.
Everything Bagel Chips: Some delis and gourmet grocery stores may have bagel chips for purchase. You can also make them. Recipe coming soon.
All fresh herbs and produce from either the Santa Monica Farmers' Market on Wednesday, or Whole Foods Market when I can't find what I need at the farmers' market.
Tools and Equipment for Classic Smoked Salmon Platter
You know I will always say that no recipe ever requires specialty tools or equipment beyond a sturdy cutting board and very sharp knife. Or at least, not a recipe served up on this site! However, that doesn't mean that there might be a few things that will make it MUCH easier to get your Classic Simple Smoked Salmon Platter from the fridge to fork.
Here are some of the favorite items:
A note on the type of serving platter. While I serve large "put it together yourself" presentations like cheese, charcuterie, and crudité on wooden boards, I prefer using a regular ceramic platter or marble slab for a Smoked Salmon presentation because of the way the colors stand-out against the white. I also feel weird about fish directly touching wood; it has something to do with health and safety.
I know. It makes no sense.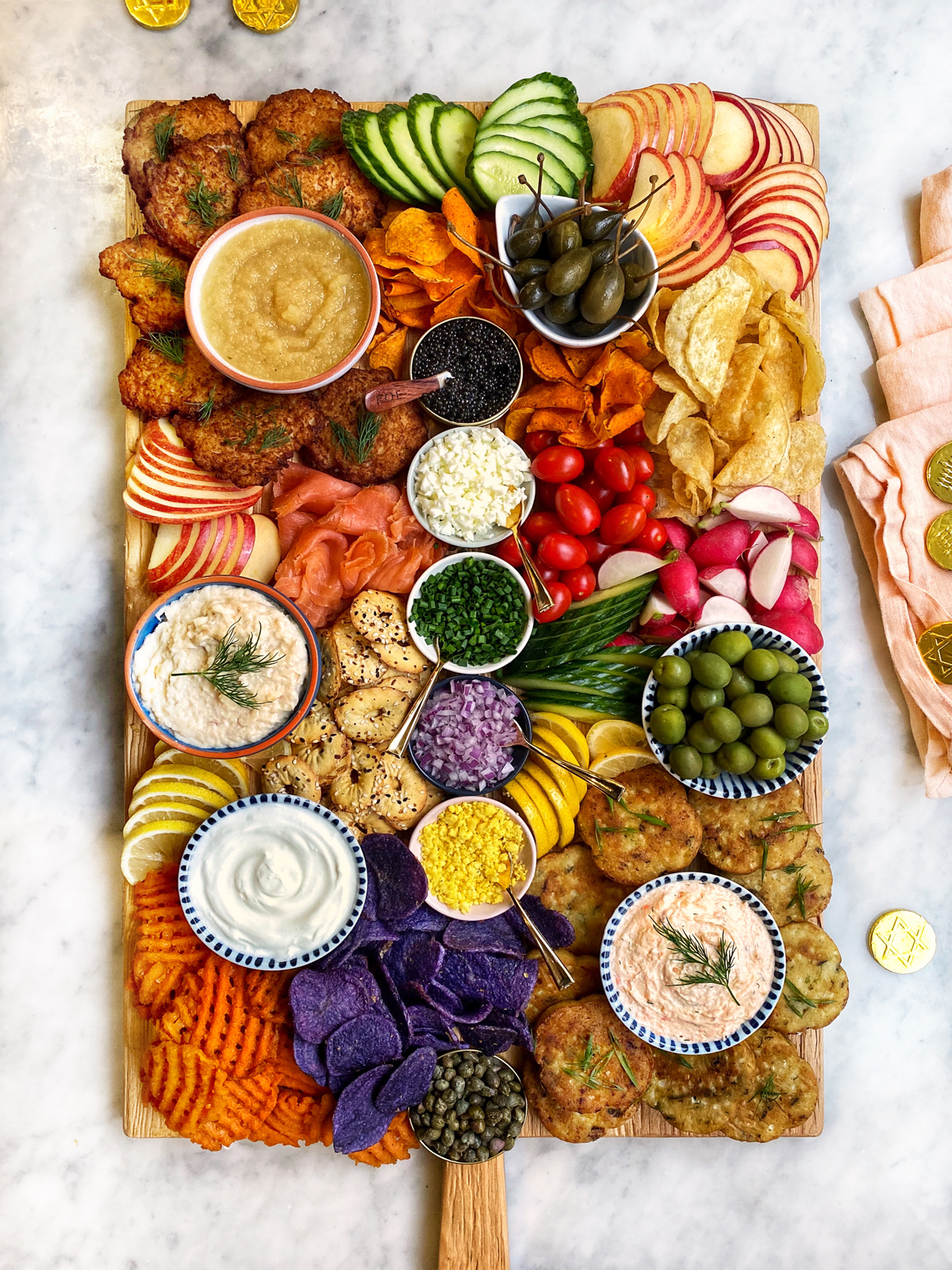 Substitutions and Variations
Once you start with a Classic Smoked Salmon Platter, the sky's the limit when it comes to making substitutions and variations. Here are some Smoked Salmon Platter Ideas: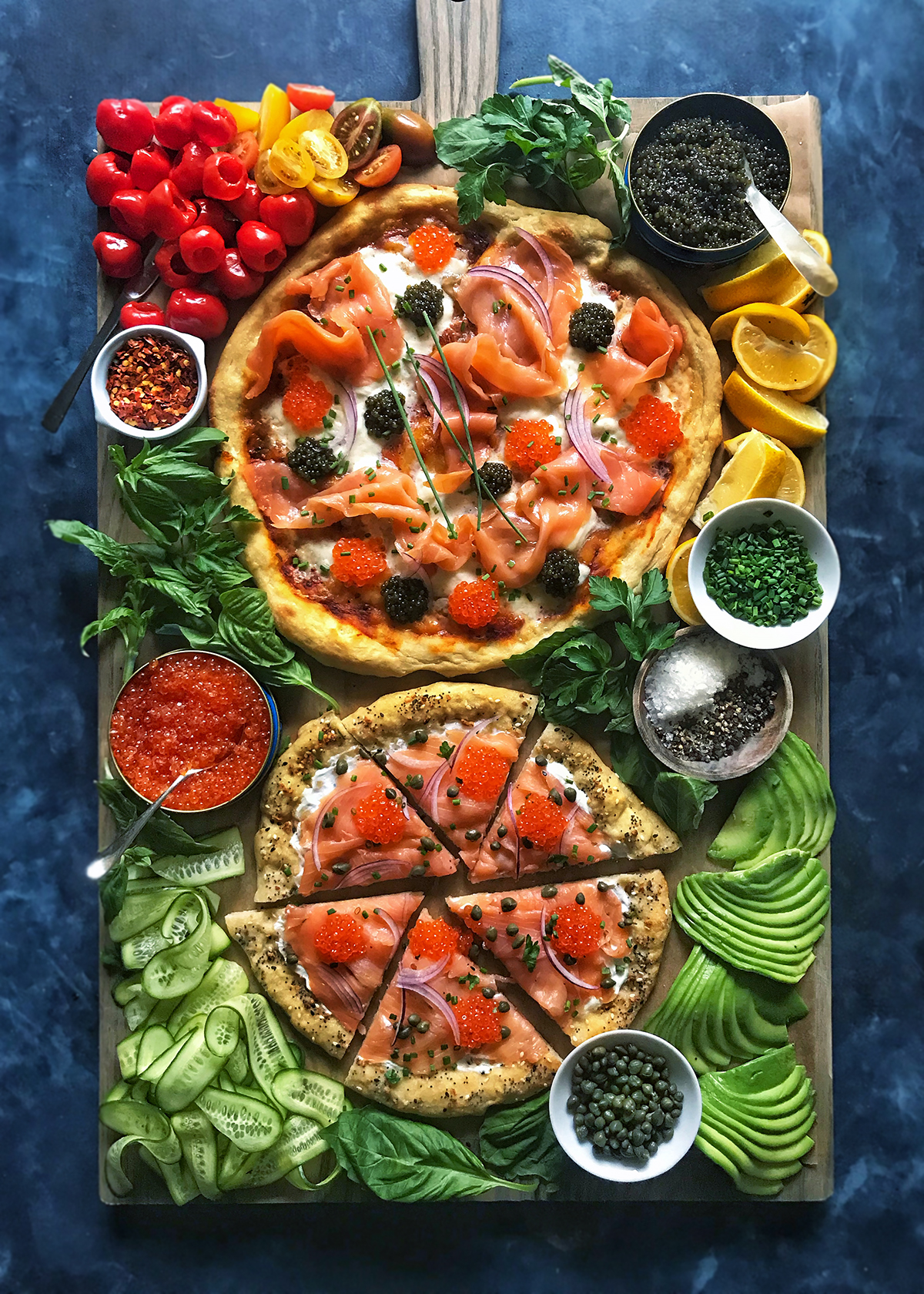 What Else You Can Make with Smoked Salmon
If you have extra smoked salmon after serving a Smoked Salmon Platter, here are a few recipes you can make that aren't just serving smoked salmon as is on a platter:
Learn everything you never wanted to know about smoked salmon and all of its variations, recipes, and more in Smoked Salmon 101.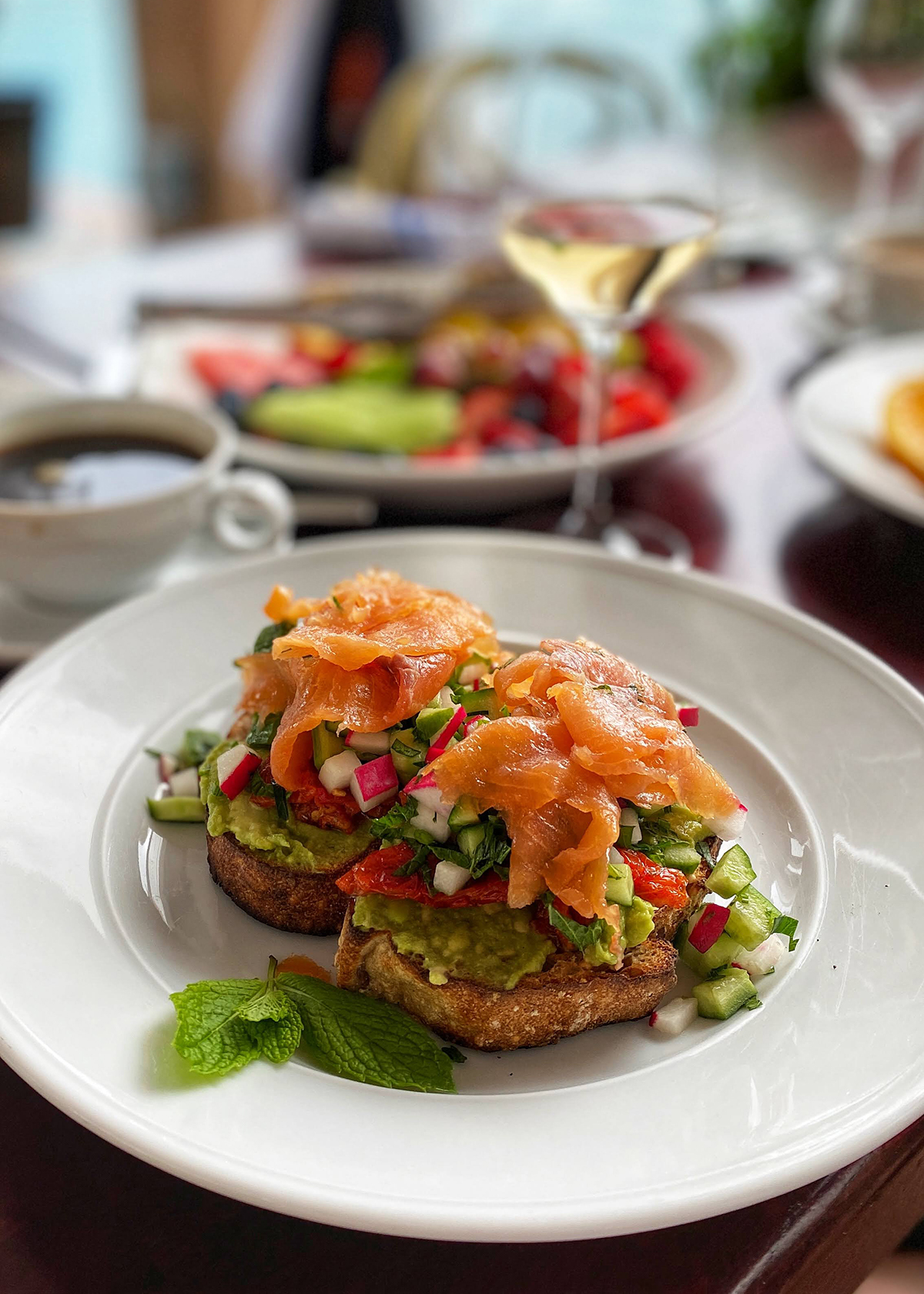 What Wine to Pair with Smoked Salmon
The briny, robustly flavored components on a Smoked Salmon Platter, combined with the automatic brunch association make it impossible for rosé, sparkling wine, or best of both, sparkling rosé, not to come to mind as a pairing.
If you're not a "sparkling wine person," first of all how dare you, and second of all, you have options for still wines. Look to bright, acidic, fuller bodied white wines and light-bodied Pinot Noirs with soft earth undertones.
Smoked salmon is:
salty
smoky
rich with natural oils in the salmon
and therefore pairs best with:
crisp sparkling to match the salt and smoke
high-acid, subtle citrus white wines to cut through the fat
full-bodied, dry rosé for balance
Best wines with smoked salmon:
Frequently Asked Questions
How do you serve Smoked Salmon for a party?
The best way to serve smoked salmon at a party is to present it as a Smoked Salmon Platter with all the accoutrements. Then, your guests can create their own smoked salmon bites custom to their personal tastes.

Pro-tip: Assemble all of the other ingredients on the platter, and add about half the smoked salmon when you first serve the platter. Keep the remaining half of the smoked salmon in the refrigerator. "When the smoked salmon on the platter starts getting low, "Refresh" the platter when the smoked salmon is almost all gone. This way, you won't be keeping a lot of extra salmon out at room temperature and potentially wasting it if it sits out too long.

Speaking of how long you can keep it out...
How long can you keep smoked salmon out?
According to the United States Department of Agriculture (USDA), smoked salmon can be left out for two hours.
What is one serving of Smoked Salmon?
As an appetizer, one serving of smoked salmon is approximately 3.5 ounces. As a main dish, one serving of smoked salmon is 4-5 ounces. This amount assumes there are some accoutrements served with the smoked salmon.
How much smoked salmon per person?
Estimate 3 ounces of smoked salmon per person as an appetizer or starter. If the Smoked Salmon is the main dish, increase the amount to 4-5 ounces per person. I generally err on the side of too much, since leftover smoked salmon can be kept well.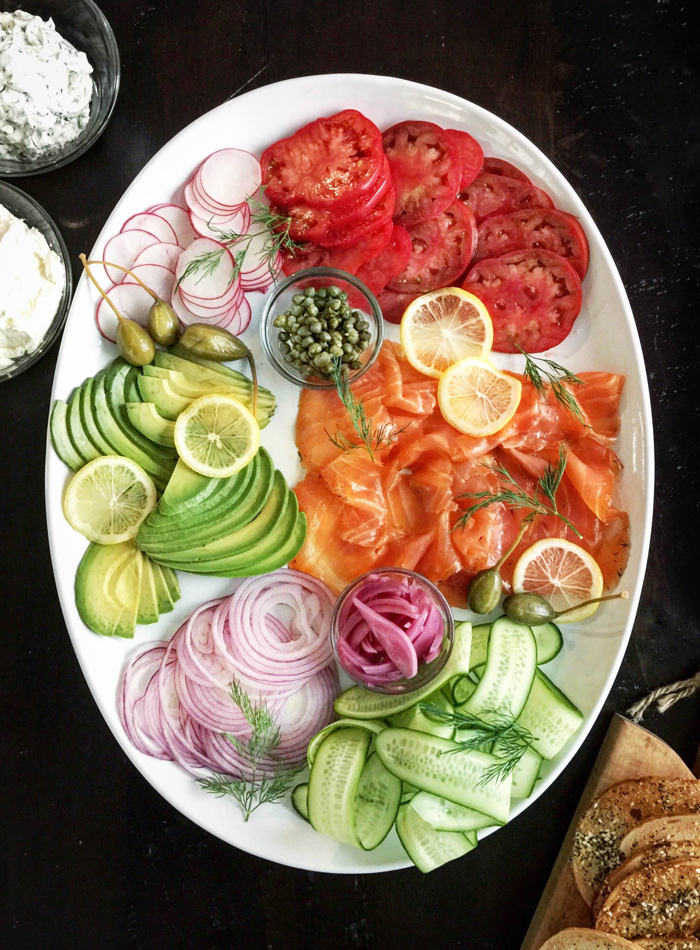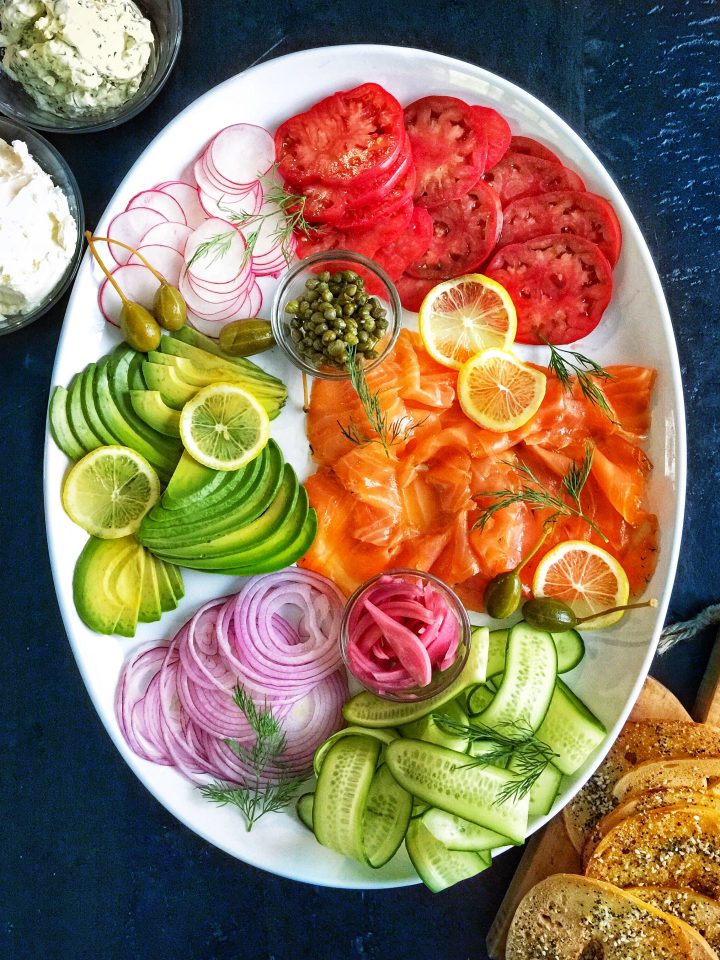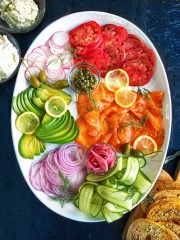 Print Recipe
Smoked Salmon Platter
Classic presentation of smoked salmon with cream cheese spreads and bagels
Ingredients
16

ounces

(1 pound) thinly sliced smoked salmon, salmon lox, or gravlax

2

medium red heirloom tomatoes

thinly sliced

4

radishes

thinly sliced

1

avocado

thinly sliced

1

Persian cucumber

thinly sliced lengthwise

½

red onion

thinly sliced cross-wise into rings

½

cup

pickled red onions

¼

cup

capers

6-8

caperberries

½

lemon thinly sliced cross-wise

the other ½ lemon

cut into wedges

fresh chives and dill sprigs

8

ounces

1 cup Herb Whipped Cream Cheese

8

ounces

1 cup almond milk cream cheese (vegan)

toasted bagels

Everything Bagel Chips

other options

not pictured: soft-boiled eggs, salt-roasted carrot "lox" for vegetarians
Instructions
Carefully arrange individual slices of smoked salmon on one area of a large platter. Lift and "ruffle" the slices on the platter to make it easier for guests to pick up individual slices.

Arrange the tomatoes, radishes, avocado, cucumber, and red onions around the platter.

Place small bowls on the platter for the capers and pickled onions. You can also place little piles of the capers and pickled onions directly on the platter.

Place lemon slices, lemon wedges, chives, and dill around the platter.

Serve the platter with Herb Whipped Cream Cheese, almond milk cream cheese, toasted mini bagels, and Everything Bagel Chips for guests to assemble their own open-face or regular bagel sandwiches.

If you have leftovers, wrap components separately in plastic wrap or in tightly sealed storage containers and keep in refrigerator for about 2 days.