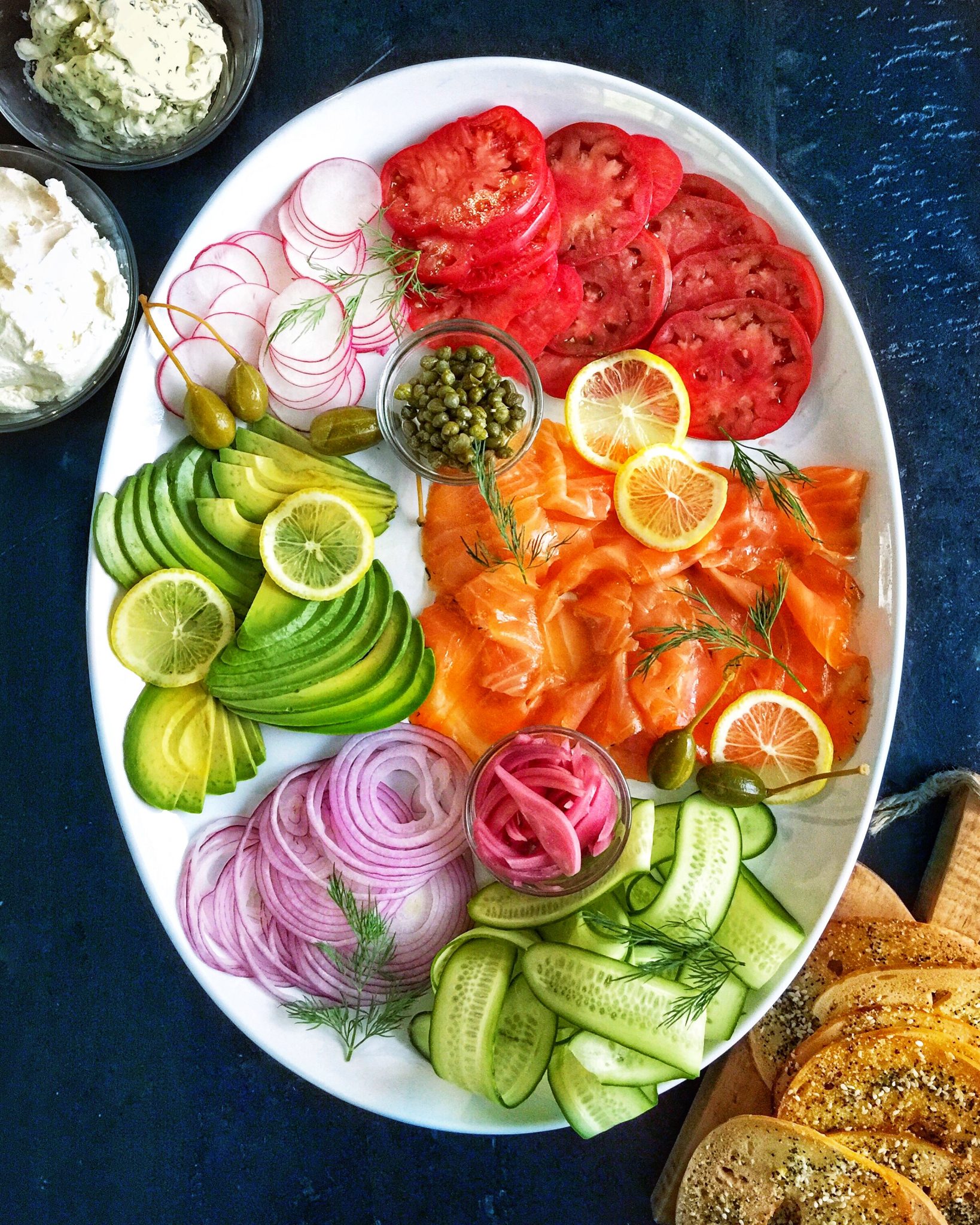 How to Assemble a Smoked Salmon Platter first. Shopping resources and personal notes follow.
What You Need for a Classic Smoked Salmon Platter
There are so many ways to assemble and serve a Smoked Salmon Platter, but when it comes down to a simple classic presentation, this is what you need:
smoked or cured salmon, whether it's gravlax, novalox, or hot smoked salmon
fresh vegetable accoutrements like avocado, cucumber, radishes, and tomatoes
pickled and brined accoutrements like capers and pickled onions
fresh lemons for a squeeze of citrus brightness
condiments, dips and spreads
crackers and breads, depending on the category of platter, it could be toast points, rye bread, mini croissants, or bagels
Tools and Equipment for Classic Smoked Salmon Platter
While I serve large "put it together yourself" presentations like cheese, charcuterie, and crudité on wooden boards, I prefer using a regular ceramic platter or marble slab for a Smoked Salmon presentation because of the way the colors stand-out against the white. I also feel weird about fish directly touching wood; it has something to do with health and safety. I know I know it makes no sense.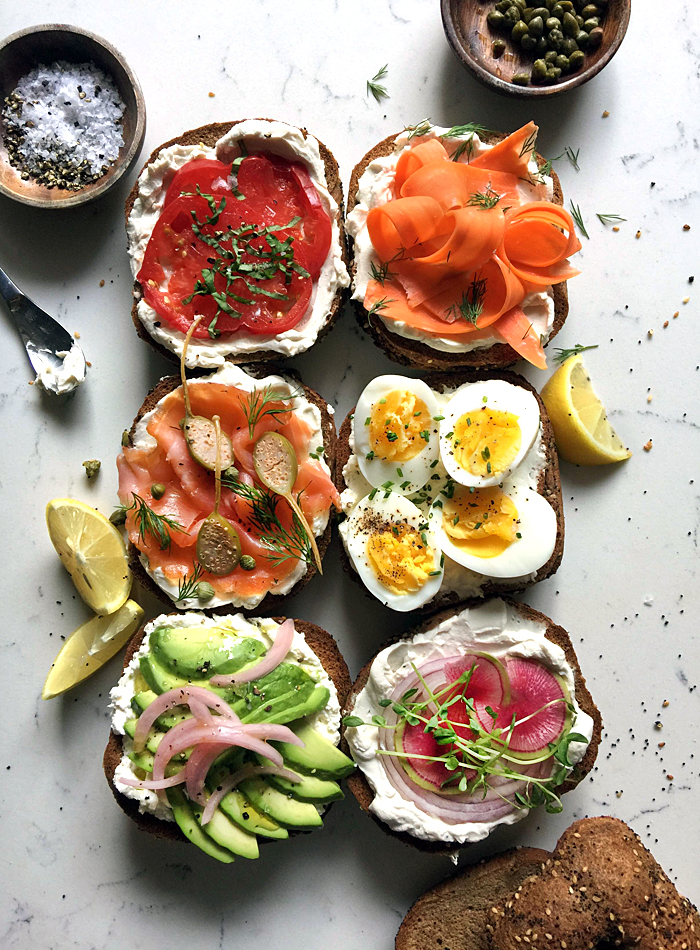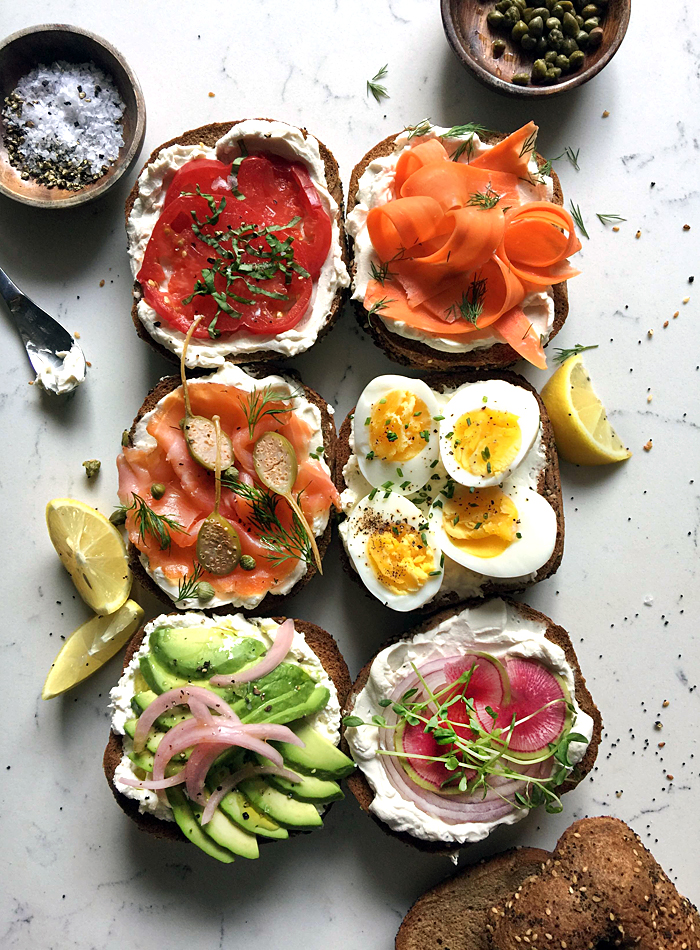 Ingredients Notes and Shopping Resources
Smoked Salmon: There are many different kinds of cured fish that we call "smoked salmon": lox, nova lox, gravlax (which isn't even smoked, it's just cured in salt and spirits), etc. The cured salmon on this platter is smoked salmon lox from Wexler's Deli in Santa Monica.
I make my own quick vinegar pickled onions.
Capers and Caperberries: I found non-pareil capers, the small pea-sized capers, in jars in the the same aisle where jarred olives and pickles are found in the regular grocery store. It is possible to find them, along with caperberries, the large, olive-shaped capers with stems attached, in the olive or antipasto bar at either Whole Foods or Bristol Farms, though caperberries are not easy to find anywhere. I found these at World Market!
Herbed Whipped Cream Cheese: Many delis and grocery store brands have ready-made herbed cream cheese. I made Herbed Whipped Cream Cheese by mixing about a tablespoon each of chopped basil, chives, scallions, and dill into an 8 ounce container of plain whipped cream cheese. It feels fresher to me that way.
Almond Milk Cream Cheese I use Kite Hill brand almond milk cream cheese, found at Whole Foods Market.
Bagels: You can use whatever bagels you like. I like using mini-bagels because 1) a whole regular-sized bagel seems too big for one person, and 2) mini bagels lets each guest try more combinations. We picked up bagels from Western Bagel, a small bagel bakery chain in Los Angeles with a location convenient to me. You may be able to find Sara Lee brand mini bagels in a bag in the bread aisle of a regular grocery store.
Everything Bagel Chips: Some delis and gourmet grocery stores may have bagel chips for purchase. You can also make them. Recipe coming soon.
All fresh herbs and produce from either the Santa Monica Farmers' Market on Wednesday, or Whole Foods Market when I can't find what I need at the farmers' market.
What Else You Can Make with Smoked Salmon
Build a

Smoked Salmon Lox and Bagels Platter

Make it Holiday by adding latkes with a Smoked Salmon Lox and Latkes Platter
Whip up a Rich Smoked Salmon Dip using silky cold-smoked salmon slices a la artist Claude Monet
Serve a luxe brunch with Smoked Salmon Eggs Benedict (aka Eggs Royale)
Put together a Salmon Cobb that has smoked salmon in place of bacon
Bake a

Smoked Salmon Pizza

a la celebrity chef Wolfgang Puck at his famous restaurant Spago and the Oscars' Governor's Ball
Learn everything you never wanted to know about smoked salmon and all of its variations, recipes, and more in

Smoked Salmon 101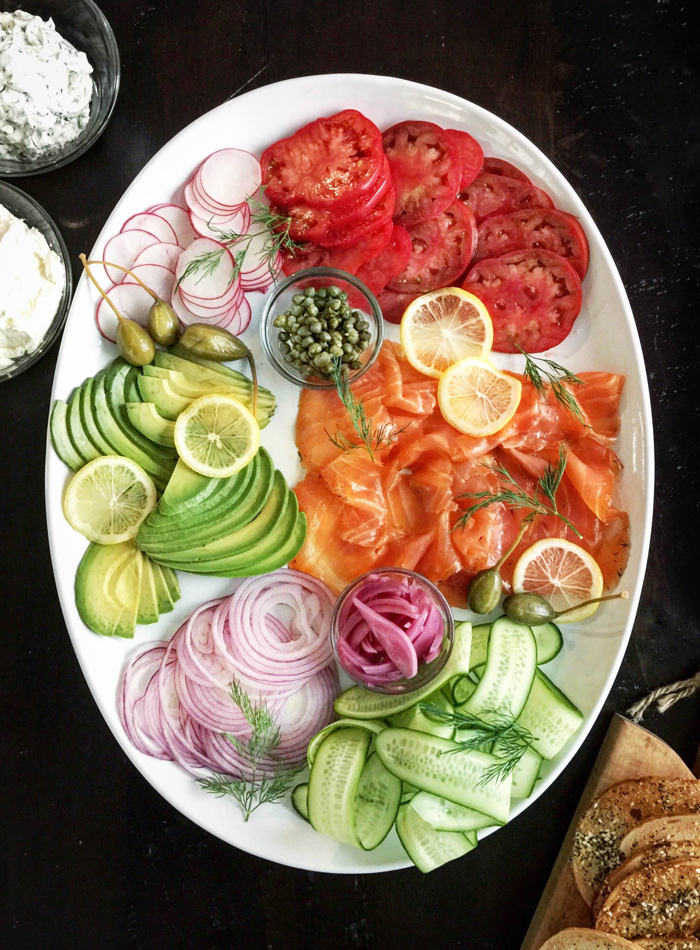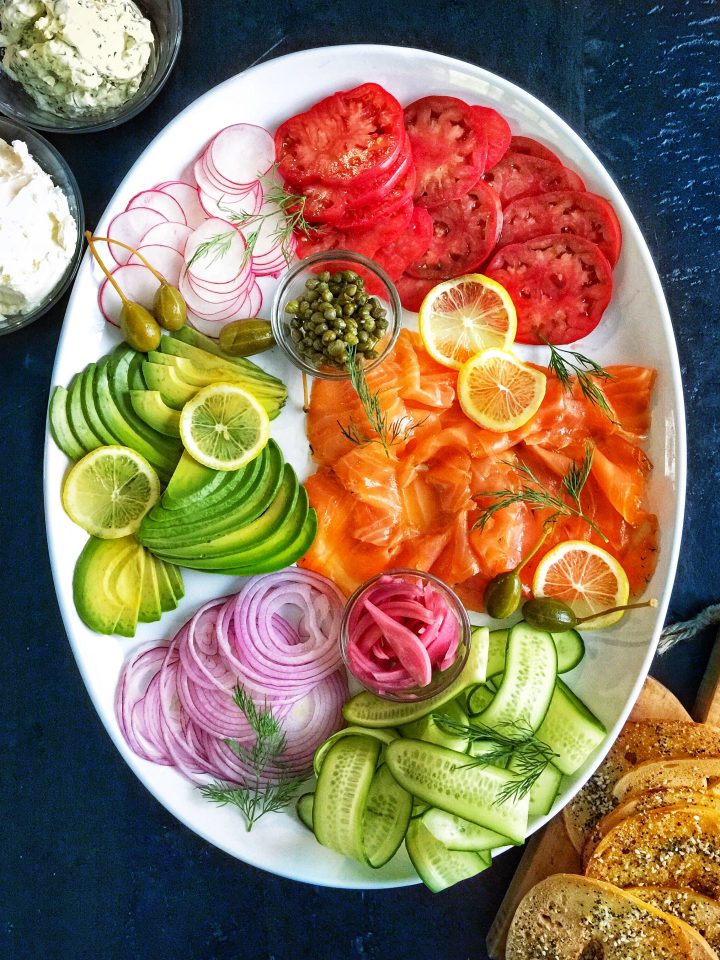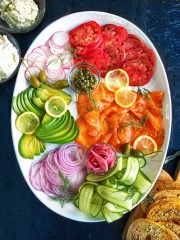 Print Recipe
Smoked Salmon Platter
Classic presentation of smoked salmon with cream cheese spreads and bagels
Ingredients
16

ounces

(1 pound) thinly sliced smoked salmon, salmon lox, or gravlax

2

medium red heirloom tomatoes

thinly sliced

4

radishes

thinly sliced

1

avocado

thinly sliced

1

Persian cucumber

thinly sliced lengthwise

½

red onion

thinly sliced cross-wise into rings

½

cup

pickled red onions

¼

cup

capers

6-8

caperberries

½

lemon thinly sliced cross-wise

the other ½ lemon

cut into wedges

fresh chives and dill sprigs

8

ounces

1 cup Herb Whipped Cream Cheese

8

ounces

1 cup almond milk cream cheese (vegan)

toasted bagels

Everything Bagel Chips

other options

not pictured: soft-boiled eggs, salt-roasted carrot "lox" for vegetarians
Instructions
Carefully arrange individual slices of smoked salmon on one area of a large platter. Lift and "ruffle" the slices on the platter to make it easier for guests to pick up individual slices.

Arrange the tomatoes, radishes, avocado, cucumber, and red onions around the platter.

Place small bowls on the platter for the capers and pickled onions. You can also place little piles of the capers and pickled onions directly on the platter.

Place lemon slices, lemon wedges, chives, and dill around the platter.

Serve the platter with Herb Whipped Cream Cheese, almond milk cream cheese, toasted mini bagels, and Everything Bagel Chips for guests to assemble their own open-face or regular bagel sandwiches.

If you have leftovers, wrap components separately in plastic wrap or in tightly sealed storage containers and keep in refrigerator for about 2 days.