Silky, salty smoked salmon with just a few ingredients are all you need for this Smoked Salmon Spread with Goat Cheese that you will be dipping, spreading, just straight up eating with a spoon from the bowl. Even better, it comes with some literal art history!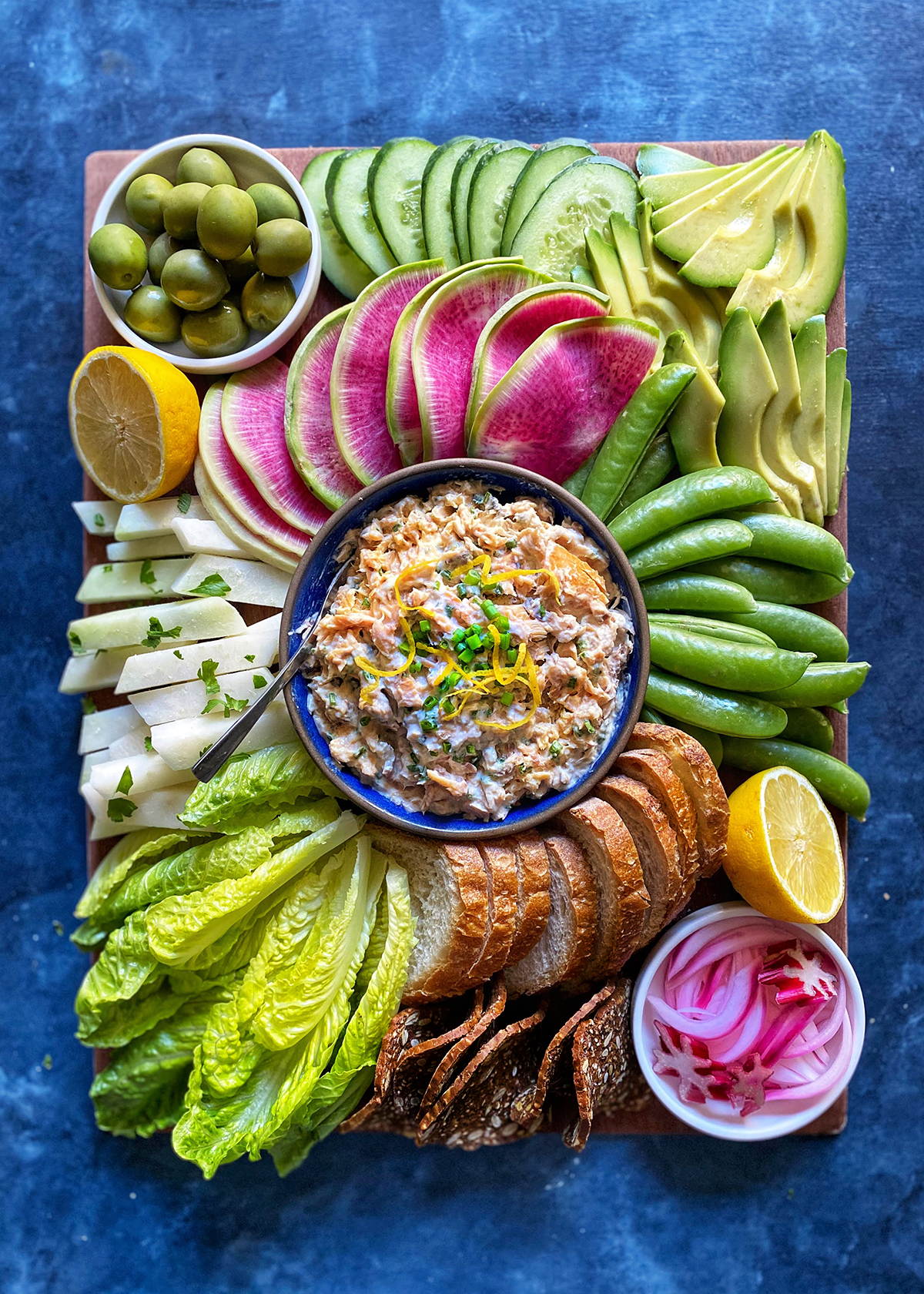 Since we can't go outside and explore nature and farmers' markets and whatever else, we're all seeking inspiration in different ways these days. I'm looking inside toward books and art. Not only am I finding inspiration, but actual recipes from authors and artists! This Smoked Salmon Spread recipe comes from Impressionist artist Claude Monet.
Yes, that Monet who painted the water lilies and all that, who was, apparently, quite the gourmand. So much so, in fact, that there is a Monet Cookbook with 60 of the artist's original recipes, published with reproductions of the artists' works and images of his home in Giverny, France.
What You Need to Make Monet's Smoked Salmon Spread
Smoked salmon, of course!
Goat cheese as the base
Half & half to thin our for texture
Chives
Thyme
Bread, crackers, crudites and whatever else you want to serve with the spread
Ingredients Notes and Substitutions for Smoked Salmon Spread
Smoked salmon. Norwegian smoked salmon is cold-smoked, shiny, slippery salmon you usually see served very thinly sliced, often in the context of bagels and cream cheese. You can use any smoked salmon, cold-smoked, hot-smoked, "lox"-style. Hot-smoked salmon, which is drier, and flakes into larger pieces, is my preference for dips and spreads, and the one I use in a different Smoked Salmon Dip recipe here that has a yogurt and cream cheese base.
Goat Cheese. Use a fresh goat cheese called "chevre" often shaped like a cylindrical log that is plain, not flavored or cubed and marinated in oil. Grocery stores carry it either in the refrigerator dairy case or in the deli department where they offer fancier "cheese board" cheeses and charcuterie. If you can't find goat cheese, use cream cheese, or even a thick, strained yogurt. The flavor will be different, but the vibe will be the same. This brand and this brand are reliable and available in Whole Foods Markets and online.
Half & Half. This is half milk, half cream. Use whatever milk or cream you have to thin the goat cheese to a consistency that makes it spreadable. You can also use a thinned out yogurt.
Chives and Thyme. Chives are the super thin dark green, mildest flavor of the green onions. If you can't find chives, use scallions (green onions). You can also use dried herbs for the spread, just use about half the amount, and try to make the spread a little in advance so the herbs have some time to rehydrate.
Bread and Crackers. Use whatever bread, somewhat sturdy crackers, vegetables you have to dip or spread. I always love cucumbers, snaps peas, and large slices of radish to use in place of crackers or bread. The crackers in the photo are these.
Wine Pairing for Smoked Salmon Spread
Sparkling wine is a perfect match to the salt and umami of the smoked salmon, and the wine's effervescence will cut through the richness of the goat cheese. Monet is French, so a French Champagne seems right here. The current house favorite Champagne is 2008 Cristal by Louis Roederer (100 points across the board, but that's not the point).
Cava (Spanish) and Prosecco (Italian) are sparkling wines from different parts of the world and a little more affordable.
Try these other smoked salmon dishes, too:
Smoked Salmon Dip is a different recipe we make often which uses cream cheese which is more widely accessible cream cheese, and hot-smoked salmon, which is usually sold as a large piece of salmon that flakes apart. Monet's recipe below uses cold-smoked salmon, the slippery, silky kind that is often sold as paper-thin slices, and you most commonly see on traditional smoked salmon platters.
Complete Smoked Salmon Guide has more info than you ever asked for on hot-smoked vs cold-smoked salmon, lox vs belly lox vs nova lox, and more!
Classic Smoked Salmon Platter recipe with traditional smoked salmon accompaniments, is great for a low-prep weekend brunch, lunch, or appetizer.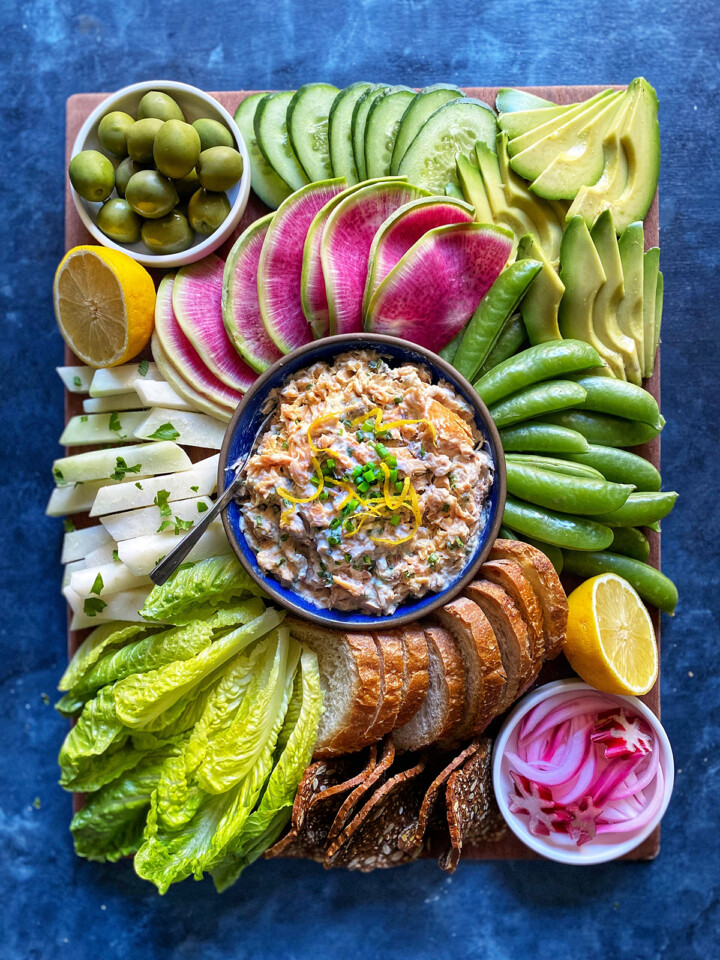 Print Recipe
Smoked Salmon Spread Recipe
recipe by Impressionist Claude Monet, as encouraged to make and share by auction house Christie's
Ingredients
1½

cups

fresh goat cheese

room temperature

3

tablespoons

half & half

2

tablespoons

snipped fresh chives

1

tablespoon

chopped fresh thyme

1

teaspoon

finely chopped lemon peel

¼

teaspoon

salt

¼

pound

Norwegian smoked salmon slices

roughly chopped

1

baguette

thinly sliced
Instructions
Place goat cheese, half & half, chives, thyme, lemon peel, and salt in a medium bowl.

Using a wooden spoon, mix well. Add salmon and fold in.

Transfer to a serving bowl, place on a platter, and surround with baguette slices.

Can be prepared one day ahead. Cover and refrigerate. Bring to room temperature before serving.