The BEST classic tuna salad that's perfect for topping a bed of greens, spooning into lettuce cups, making sandwiches, or just scooping up with sweet potato chips right out of the mixing bowl.
Jump to: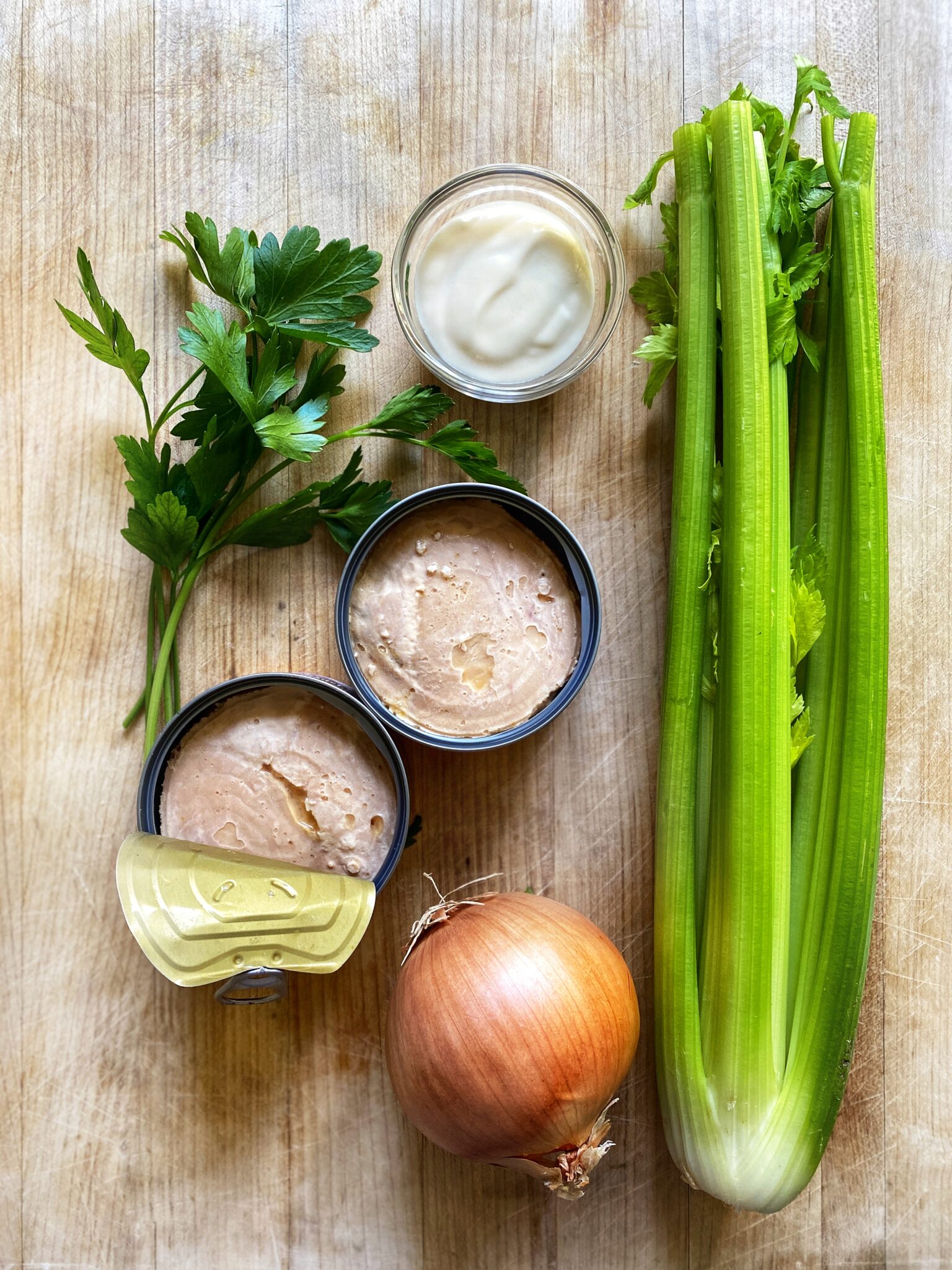 What You Need for Tuna Salad
For this recipe, you only need five ingredients, plus the yoozh salt and pepper. You probably have all the ingredients in your kitchen already. I know I always do. Here's what you need:
Canned tuna
Celery
Onion
Parsley
Mayonnaise
Salt and pepper
How to Make Tuna Salad
There is nothing too strict about how to make this tuna salad, just a few helpful pro-tips about the techniques. Shall we?
Wipe the can of tuna around the top where you will be opening it just to get rid of any dust from the pantry shelves!
Open and drain the tuna of either the water or oil. Because I use a low-sodium, water-packed tuna for tuna salad, I save the water from the can and drizzle a little spoonful of it over my pups' kibble.
Combine all the ingredients in a mixing bowl using a fork so you can more easily break and flake apart the tuna.
That's it! Now you can enjoy the tuna salad with a green salad, in a sandwich, or rolled into lettuce cups.
What Kind of Tuna to Use for Tuna Salad
If you're thinking a can of tuna is just a can of tuna, that might be why you liked tuna salad but didn't LOVE tuna salad until now. There are a few things to consider when it comes to the best canned tuna for tuna salad.
Water-packed vs. Oil-packed. Water-packed tuna sits in a brine inside the can, with or without salt added. With no added oils or fats, water-packed tuna is "lighter" than oil-packed tuna in terms of both fat and calories. It also has a milder flavor than oil-packed tuna. Water-packed tuna has a firm texture and is fairly dry, making it perfect for Tuna Salad, which adds back moisture in the form of mayonnaise or other binder/dressing.
Chunk "light" tuna vs solid. The choice between chunk light vs solid tuna generally comes down to the size of the pieces in the can. Chunk light comprises smaller pieces that are darker in color and more robust in flavor than solid tuna, which is one or two "solid" pieces in the can. The comparison is similar to white chicken breast meat vs dark thigh meat. Chunk light can be made from albacore, skipjack or yellowfin tunas, but solid tuna can only be made from albacore. If you want tuna salad that's very fine in texture, use chunk light. I like my tuna salad with a little more texture, so I use solid albacore.
Type of tuna. The species of tuna you're likely to see are albacore, bluefin, skipjack, and yellowfin. Albacore is associated with tuna that's lighter in color, milder in flavor, and packaged in the "solid format." Albacore and bluefin tuna have the highest levels of omega3s.
Environmental concerns. Look for "pole and line caught" which means the tuna was caught in a way that does not harm other ocean life, and slows down overfishing. "Troll-caught" or trolling is also ok. Currently all canned tuna are wild-caught; farm-raised tuna exists, but it is not yet commercially viable (as of 2023).
Mercury levels. Tuna as a category is considered high in mercury, but skipjack, which is used in chunk, light canned tuna, is lower in mercury than other types like albacore and yellowfin.
For this Tuna Salad, look for water-packed, solid albacore tuna, pole and line caught.
Ingredients Notes and Resources
Tuna. The tuna I used for this recipe is albacore tuna, wild caught in the Pacific, in its own juices. This is the brand, which is available in most grocery stores; I buy mine in bulk from CostCo.
Onions. I am a red onion advocate for its sharper taste, and of course the incremental health benefits from the color. However, if you prefer a gentler onion bite, use white onions, which are the mildest of all the round onions. Make no mistake though, a white onion is still an onion and will have a bite. If you're sensitive to onions, soak them in ice water for 15 minutes to take out some of the edge. You can also use shallots, which are much milder than all of the large round onions. As a side note, if you actually LOVE onions like I love onions, then go ahead and use red onions.
Parsley. Italian flat-leaf parsley is my preference, but if it's not available, curly parsley works just as well, especially because it's finely chopped. Parsley has extraordinary health benefits, and is one of my Top Ten Anti-Inflammatory Foods that I incorporate into my life regularly and frequently.
Mayonnaise. Mayonnaise is the dressing for this tuna salad. Not only does it add flavor, but it binds all the ingredients together. I use a plant-based mayo, either this brand or this brand. The reason I use plant-based is not that I'm vegan (obviously this is a TUNA salad), but that I am weirded the F out by raw egg, which is a primary ingredient in most regular mayonnaise. I also highly recommend that you use a product that's made with avocado oil or olive oil, which are generally better for supporting good health than seed-based oils (canola, soybean).
Substitutions for Mayo
Look. If, for whatever reason, you have an aversion to mayo, I 100% get it because I do, too. I HATE the flavor of the popular grocery store mayonnaise brands. I am also supremely weirded out by raw egg, which if you didn't know by now, is almost always a main ingredient in regular mayonnaise. In fact, raw egg in mayo is almost wholly why I stopped eating tuna salad for an unnecessary long time in my life. But these are all stories for another day.
The key point here is that you can absolutely make this Tuna Salad recipe by substituting out the mayo with ingredients that deliver similar binding qualities. Here are some great substitutes to use for Tuna Salad instead of mayo:
Plant-based/vegan mayo. If you want to substitute out regular mayo because of the raw egg, then use a plant-based/vegan mayo. There are increasingly more plant-based/vegan mayo options on grocery store shelves. Read the labels and select one that fits your dietary needs. Note that some plant-based mayonnaise products include sugar and aquafaba (made from chickpeas), which may not be suitable for certain diets. I use this brand of plant-based mayo made with avocado oil. This is another brand I like that has fewer ingredients.
Olive oil, lemon juice, and mustard, whipped together and emulsified into a thick dressing. This is basically your own homemade mayo without raw egg.
Avocado, mashed or whipped with a little water or extra olive oil to get it super smooth and creamy
Yogurt. If you eat dairy, try plain yogurt in place of mayo. The final Tuna Salad will have a tangier taste and creamier texture.
Quick last note: regular mayonnaise does not contain dairy. Though mayo looks "creamy," that consistency and texture comes from the chemistry of emulsifying oil with raw egg yolks.
Tuna Salad Variations
Once you have this classic Tuna Salad recipe down, take it one step further with these variations, which might make your tuna salad even better:
Add lemon juice and zest for flavor
Stir in some Dijon mustard along with the mayo for a little kick
Add chopped boiled eggs for added protein
Add chopped dill pickles or stir in a little pickle relish
Add capers and chopped olives
Substitute fennel for celery, and add fresh tarragon (herb) to bring out the anise (licorice) flavor
Make Spicy Tuna, and serve over steamed rice or with rice cakes
Tools and Equipment

As I always say, there are no specific tools and gadgets you need to make this recipe, but that doesn't mean there aren't a few things that might make it a little easier than it already it is.
How to Serve Tuna Salad
Lettuce Cups. The absolute best way to eat this tuna salad, if you're not just wholesale shoveling spoonfuls of it straight out of the mixing bowl, is by piling it into lettuce leaves and eating them like mini lettuce cups or tacos. Use super soft butter lettuce leaves, crisp iceberg lettuce leaves, and if you're feeling particularly health-inspired, crunchy, antioxidant-rich red cabbage leaves.
Tuna Salad Salad. If you want to be dainty about it, scoop the tuna salad onto a bed of greens. Nutrient-dense options are chopped kale, spinach, and wild arugula.
Scoop. The rumors are true. I sometimes treat this Tuna Salad like a dip and just scoop it up with sweet potato chips, cassava chips or sturdy all-nut-and-seed crackers.
Tuna Salad Sandwich. Obviously, you can pile the tuna salad between two slices of toasted bread and make a perfect Classic Tuna Salad Sandwich. I don't really eat sandwiches too much anymore, but given the right bread with very dark toasting-to-the-point-of-burnt, I can be convinced.
Tuna Melt. Add cheese to the above sandwich, sauté it, and you have a tuna melt. I have mixed feelings about a Tuna Melt, though. While theoretically it should be delicious because it's basically a beefed up—or rather "tuna-ed up"—grilled cheese, cheese and fish absolutely do not belong together. (We can talk about smoked salmon with cream cheese another day).
Health and Diet Considerations
You might have thought Tuna Salad is unhealthy, but the truth is, tuna salad can be one of the healthiest meals for you depending on your health needs.
If you're pursuing an anti-inflammatory diet/lifestyle like I am, this tuna salad is a perfect meal. Here's why this Tuna Salad recipe is health-promoting:
Lean protein. Canned tuna, especially when packed in water, is an outstanding source of lean protein
Omega3s. Tuna contains omega-3 fatty acids, but is low in overall fat. One thing to note is that different brands and different varieties of tuna have varying amounts of both omega3s and overall fat. The following common varieties are listed in order from most to least fatty: fresh bluefin, canned white albacore tuna, canned light tuna, fresh skipjack tuna, and fresh yellowfin tuna.
Glutathione. Onions, like its cousins in the Allium family, are sulfur-rich, which helps the body produce glutathione. Onions also contain a variety of phytochemicals, some of which have been shown to reduce the risk of certain cancers.
Phytonutrients. Parsley is one of the most concentrated sources of anti-oxidants and anti-inflammatory compounds, including high amounts of vitamins A, C, and K
This Tuna Salad recipe is:
dairy-free
gluten-free
anti-inflammatory
nightshade-free
keto-, paleo- and whole30-friendly
More Salads with Fish and Seafood
I can't think of a better combination to support and promote health than salad vegetables paired with protein- and omega3-rich fish:
Print Recipe
Tuna Salad Recipe
The all-time favorite Classic Tuna Salad that is light but protein-rich!
Ingredients
2

5-ounce cans

tuna packed in water, drained

1

stalk

celery, finely chopped

about ¼ cup

½

small onion (any color, my preference is red) finely chopped

about ¼ cup

2

tablespoons

chopped parsley

2

tablespoons

plant-based mayonnaise

plus more for texture as needed

1

teaspoon

salt

optional for serving: butter lettuce, iceberg, or red cabbage leaves
Instructions
Wipe tops of cans, open, and drain tuna of oil or water.

Place tuna and all remaining ingredients in a mixing bowl. Combine, using a fork to break apart the tuna into flakes. Taste and adjust with additional mayonnaise for texture or salt for taste.

To serve, spoon about 2 tablespoons into each lettuce leaf, or scoop onto beds of lettuce.
Nutrition
Serving:
1
serving
|
Calories:
251
kcal
|
Carbohydrates:
1
g
|
Protein:
32
g
|
Fat:
14
g
|
Fiber:
1
g