Californiçoise knows how to party... on a platter.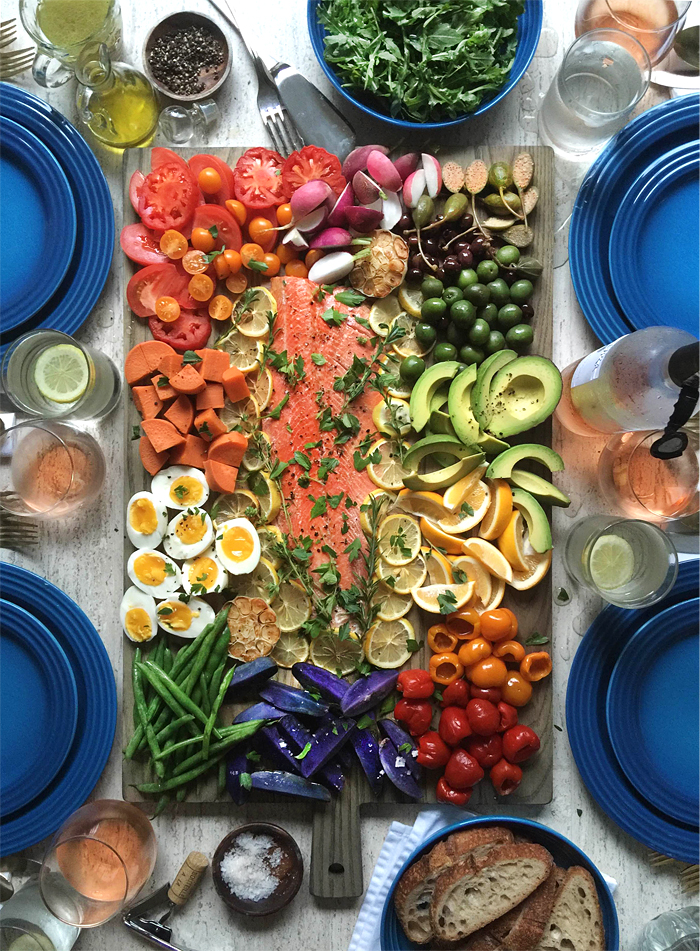 Recipe with Notes and Resources first, scroll down past the photos for the story after.

Notes and Resources
Salmon from Alaska. Literally. Someone's in-laws (not mine) went on that same Alaskan cruise that every retired couple goes on wearing North Face fleece and Moncler puffers, and sent back a ton of salmon for everyone in the entire extended family. If I weren't so lucky, then I would have gone to one of my favorite fishmongers, Santa Monica Seafood.
On salmon serving sizes: I generally allot 8 oz (half a pound) of salmon for each serving, which amounts to two pounds total for this recipe. That is actually quite a large serving, and most people will not eat that much because of all the other delicious little things on the board. However, leftover cooked salmon will keep for about three days in the refrigerator, or frozen for a few weeks, and is great for adding to your lunch and dinner grain bowls.
Pickled peppers, olives, and capers/caperberries from the somewhat over-priced olive bar at Whole Foods Market at 3rd and Fairfax, which has the widest selection with things like marinated feta, preserved lemons, and whole artichokes. I love it all and could probably eat for a week off it, except I'd die from sodium overdose.
All fresh herbs and produce from either the Santa Monica Farmers' Market on Wednesday, or Whole Foods Market when I can't find it at the farmers' market.
I use Anchovy Vinaigrette any chance I get. However, if anchovy is too strong for you, then what the hell are you doing making this salad based on FISH anyway? Ok, but a basic white wine, red wine, or Champagne vinaigrette, or even a lemony-slash-roasted-garlic vinaigrette would be ok, too.
I love Clark Street Bread, which is available from their location in Grand Central Market in downtown Los Angeles, or in limited quantities on the westside at Wally's Wine in Beverly Hills.
Speaking of wine, this rosé and this rosé are currently my fav fav fav, both made in California! This rosé is good, too, but I feel cheap and basic mentioning it because even though it is French, you can buy it at Costco. Then again, you can buy it at Costco, so hell yeah, go crazy basic bitch. Also, whom am I kidding with this whole paragraph anyway? Every rosé tastes fucking deeericious to me.
Salmon Niçoise Salad Recipe
Makes one giant salad to serve 4-6 people Check the "Notes and Resources" section that follows for technique tips, ingredient brands, stores/where to buy.
Ingredients
Ingredients for Lemon Herb Roasted Salmon:
1

1½-2 pound

side of wild King salmon

about 1½-2 pounds, skin-on

1

whole bulb of garlic

sliced in half around the middle (like the equator around the middle of the planet)

2

lemons

thinly sliced

handful of fresh herb sprigs

I chose oregano, savory, rosemary, and thyme

olive oil

salt and pepper
Ingredients for Salad:
4

eggs

2

sweet potatoes

or regular potatoes, you choose, peeled and cut into 1-inch pieces

2

handfuls of green beans

1

cup

pickled peppers

1

cup

olives

½

cup

capers or caperberries

4-6

cups

greens

arugula, butter lettuce, frisee, romaine, or any combination

heirloom tomatoes

sliced into wedges or rounds

cherry tomatoes

sliced in half

radishes

quartered

2

avocados

sliced into wedges

Meyer lemon wedges

The World's Greatest Anchovy Vinaigrette

https://www.thedeliciouslife.com/tri-colore-salad-with-anchovy-vinaigrette-pizzeria-mozza-recipe/

fresh flat-leaf parsley for freshy fresh flavor at the end
Instructions
Roast the Salmon:
Cut a piece of parchment paper to fit a large baking sheet that will hold the salmon. The parchment paper will make it easier to lift the salmon in one piece from the baking sheet to the board. Drizzle a little bit of olive oil on the parchment paper.

Place the salmon skin side down on the parchment paper. Season the salmon with salt and pepper. Arrange lemon slices and garlic bulb halves around the salmon. Drizzle the salmon, lemons, and especially the garlic halves with more oil. Place herb sprigs on top, pressing into the salmon to coat the sprigs with a little bit of the oil.

Roast the salmon until it is BARELY cooked through — when you poke the center of the fillet with the tip of a sharp, narrow knife and twist it, it is just opaque. Because thickness of salmon filet will determine cooking time, check the salmon with a knife after 10 minutes, then every few minutes until it's done.

Remove salmon from oven, and set aside to cool.
Cook Vegetables for Salad:
Fill a pot large enough to hold the potatoes with water and bring to a boil. The pot is too big for the eggs, but will save you from having to unnecessarily use extra pots and pans. Using a ladle, lower eggs into the boiling water one or two at a time, turn down heat to simmer, and cook eggs for 7 minutes. Remove eggs from simmering water with a slotted spoon, i.e. keep the water in the pot, and drop them into an ice-water bath. Turn the heat back up to bring the water back to a boil. When they become cool enough to handle, peel the eggs, and slice them into either halves or quarters.

Place the potatoes in the boiling water. Turn down the heat and simmer the potatoes until tender, about 7-8 minutes. Place green beans in the bottom of a large colander. Drain the hot water from the potatoes over the green beans, then gently pour the potatoes into the colander, too. Pour the green beans and potatoes into a large bowl and drizzle with a little bit of vinaigrette.

Whole, peeled cooked eggs, greens beans, and potatoes can be cooked a day ahead and kept in the refrigerator overnight. Simply take them out of the fridge an hour or so before to take the chill off. The cooked vegetables need to be neither piping hot nor chilled for this dish.
Assemble the Salad:
Using the parchment paper, lift and transfer the entire salmon fillet from the baking sheet to the serving platter or board. If the salmon flakes apart, don't worry, you can cover up any and all flaws with a shower of fresh herbs at the end. Once the salmon is on the board, cut away the excess parchment paper; you can leave whatever is under the salmon.

Arrange the cooked eggs, potatoes, green beans, pickled peppers, olives, capers or caperberries, tomatoes, radishes, avocado, and lemon wedges around the salmon on the board. If there is space on the board, add handfuls of greens that have been very lightly dressed with the vinaigrette. (Otherwise, you can serve the greens from a separate bowl.) Drizzle the entire board with the vinaigrette. Hit everything with black pepper and chopped fresh herbs including parsley.

Serve with additional vinaigrette, awesome bread and soft salty butter, and bottles of rosé. Everyone gets to dive in and make a plate for themselves.
I didn't get through my entire list of 93 Things to Eat, Drink, and Do This Summer yet, but despite the mark of Labor Day weekend as the unofficial crossover into Fall, rumours of PSLs (I refuse to actually acknowledge them by spelling out "p-u-m-p-k-i-n-s-p-i-c-e-l-a-t-t-e" until October), and lamentations about "the end," there are indeed fifteen days, OVER TWO WEEKS, of summer left.So I am out here lounging on a deck overlooking the Pacific, still dressed in my summer whites, still sipping on rosé, and still partying like it's July 1999.
And of course, still working through my Summer List, which includes a Nicoise Salad because nothing feels like Endless Summer than a bright, colorful salad of summer-farmstand-fresh vegetables, inspired by the south of France.
Recipe and post originally sponsored by Le Creuset a long time ago, but updated with new information!