Add new flavor to your rotation of salmon recipes with Miso Salmon, inspired by Nobu's Miso-Marinated Cod. The miso marinade has just a few easy-to-find ingredients, no refined sugar, and because we're using everyone's favorite fish salmon, super fast and healthy from frig to fork (or chopsticks)! Instructions for either the oven or an air-fryer! Shall we?
What is Miso Salmon | Health Benefits | Miso Salmon Ingredients | How to Make Miso Salmon | What Kind of Miso | What Kind of Salmon | Air Fryer vs Oven | Substitutions | Storing Leftovers | What to Serve with | Wine Pairing | RECIPE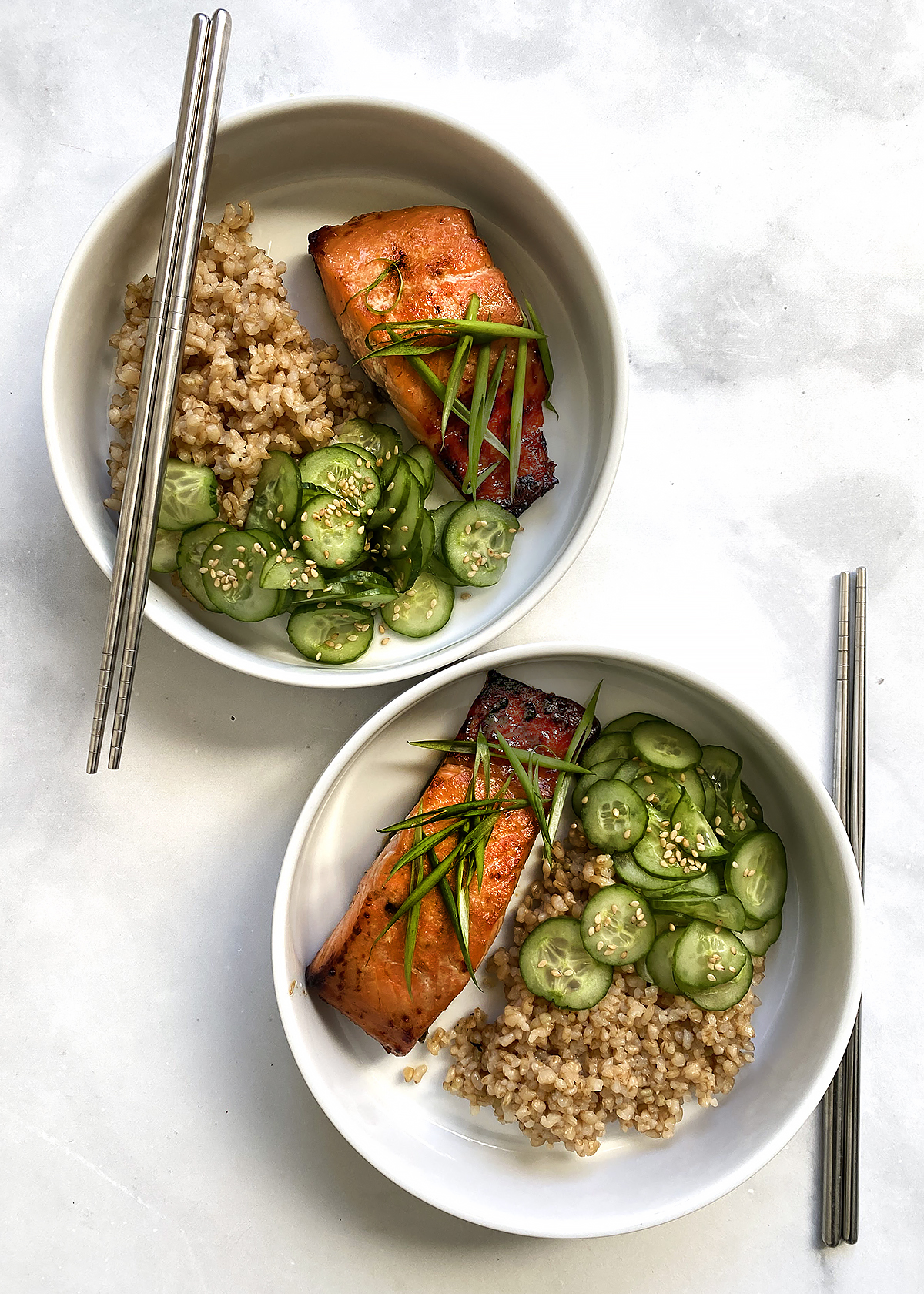 What is Miso Salmon
Miso Salmon is salmon, usually in fillet form, that marinates in a salty, umami-rich miso mixture for a short period of time, then bakes in the oven or in an air-fryer.
You might already be familiar with miso-marinated fish, which is a classic Japanese preparation, made a little more world famous by Chef Nobu Matsuhisa's Miso Black Cod at his Nobu restaurants. Yeah, you know the one, with the charred edges and the little pickled ginger stem as garnish. His dish inspired my own recipe for Miso Marinated Cod here, which is a great alternative if you prefer a lighter, flaky white fish to richer fuller flavored salmon.
The marinade in this recipe for Miso Salmon is similar, but a little easier because it doesn't require mirin, a Japanese seasoned rice wine, and uses salmon, which is almost always universally available.
Health Benefits of Miso Salmon
Omega-3s in Salmon. When we talk about the health benefits of salmon, we are almost always talking about the health benefits of omega-3 fatty acids, the all-star anti-inflammatory compound associated with supporting gut health and reducing the risk of heart disease, diabetes, and other inflammation-induced diseases. Salmon is one of the highest concentration, highest quality sources of omega-3 fatty acids, containing 2,150 mg per 3-ounce serving.
Nutrients in Salmon. Salmon is also one of the most nutrient-dense foods in the world. In addition to the high levels of above-mentioned omega-3s, salmon is an excellent source of vitamin B12 for cellular energy, vitamin D which our bodies cannot make on our own, and the essential mineral selenium that has antioxidant properties that protect the heart, reduce cognitive decline, and boost immunity. (source: NIH)
Miso Has Probiotic-like Qualities. Miso is made by fermenting soybeans. As a fermented food, miso provides gut-health promoting probiotic bacteria. That fermentation gives miso its umami flavor, that salty, savory deliciousness that's hard to pinpoint in foods. Miso makes food taste delicious, so adding it to healthy foods like salmon helps you eat more of those healthy foods!
This recipe for Miso Salmon is:
dairy-free
gluten-free if you use tamari instead of soy sauce
refined sugar-free
low carb (though not keto, paleo, or Whole30 because the marinade contains both soy and sake, which is an alcohol)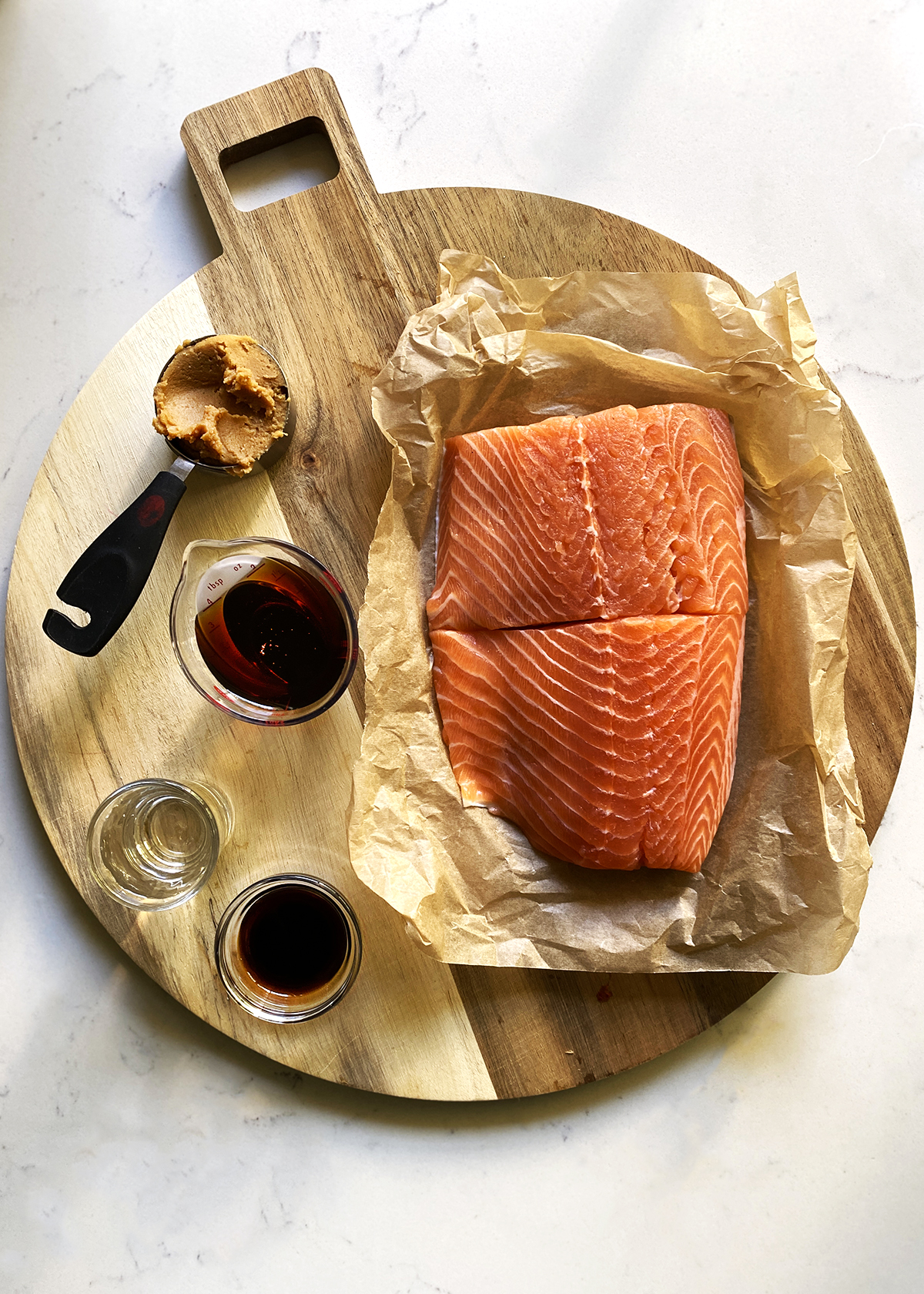 What Ingredients You Need for Miso Salmon
For Miso Salmon, you will need only a few ingredients:
Salmon
Miso
Sake
Maple syrup
Tamari (or soy sauce)
Instructions for How to Make Miso Salmon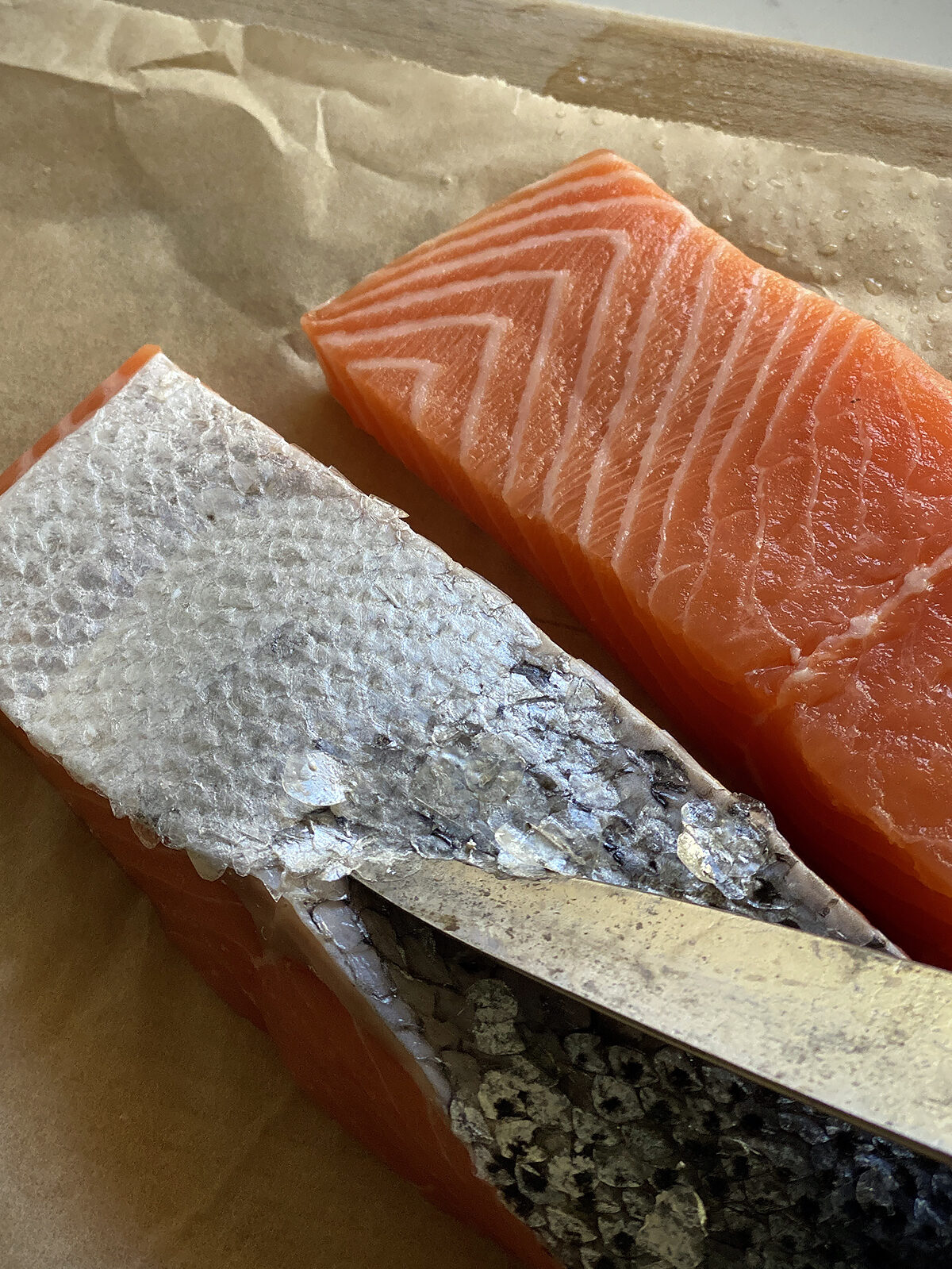 Pull any small pin bones from salmon fillets and remove scales if necessary. Rinse salmon and pat very dry with paper towels.
Whisk together miso, sake, maple syrup or other sweetener, and tamari in small bowl.
Marinade should have the consistency of a thin frosting.
Place salmon in glass or ceramic bowl and pour marinade over. Turn salmon pieces over in marinade to make sure all surfaces are coated. Cover and refrigerate for at least 30 minutes, up to 1 day.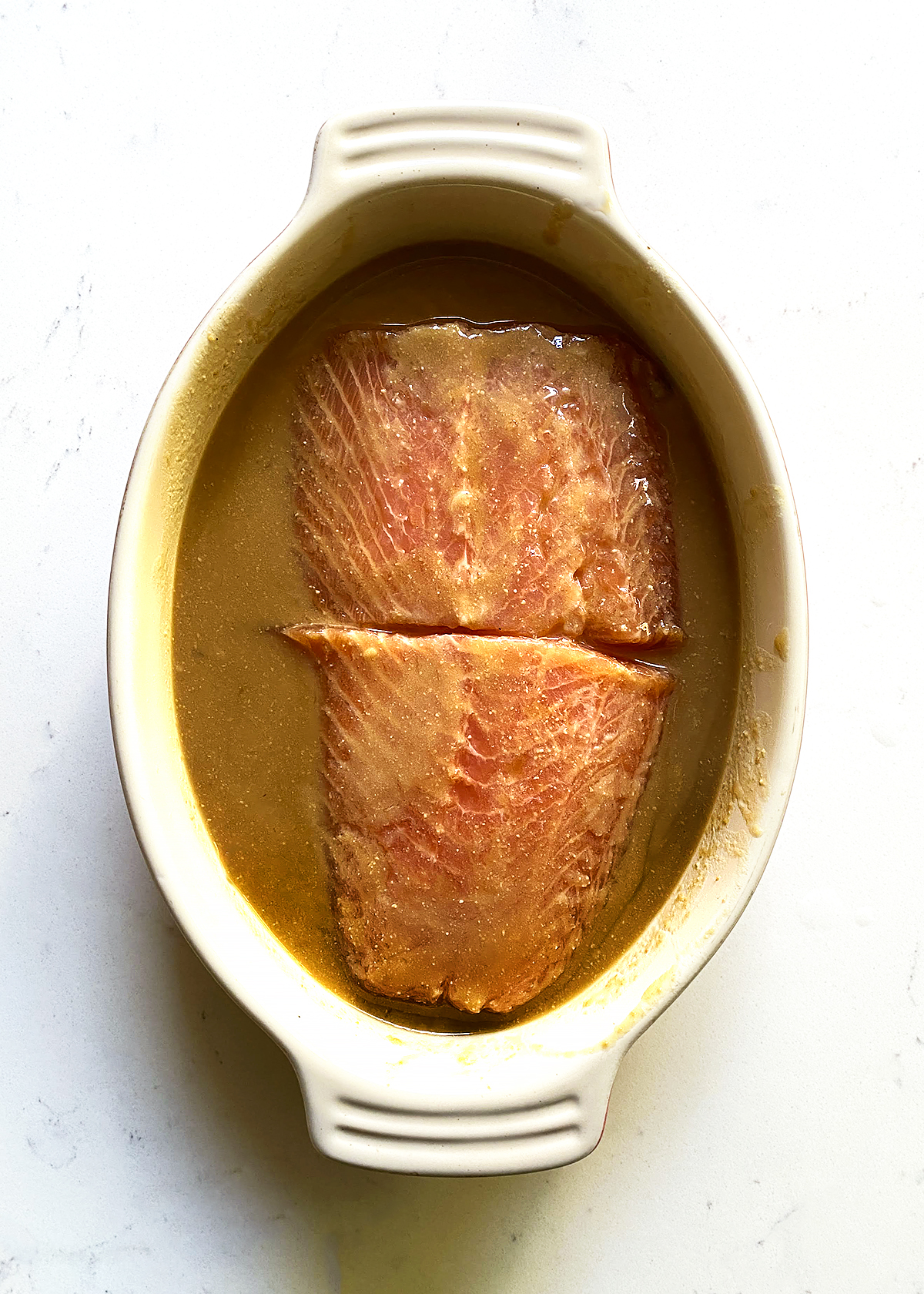 Remove marinated salmon from refrigerator 15 minutes before cooking and let it sit on the countertop to get the "chill" off.
Lift salmon out of marinade and wipe off excess miso marinade. You can use a spatula or spoon to do this, or just use your hands. Do not rinse the salmon.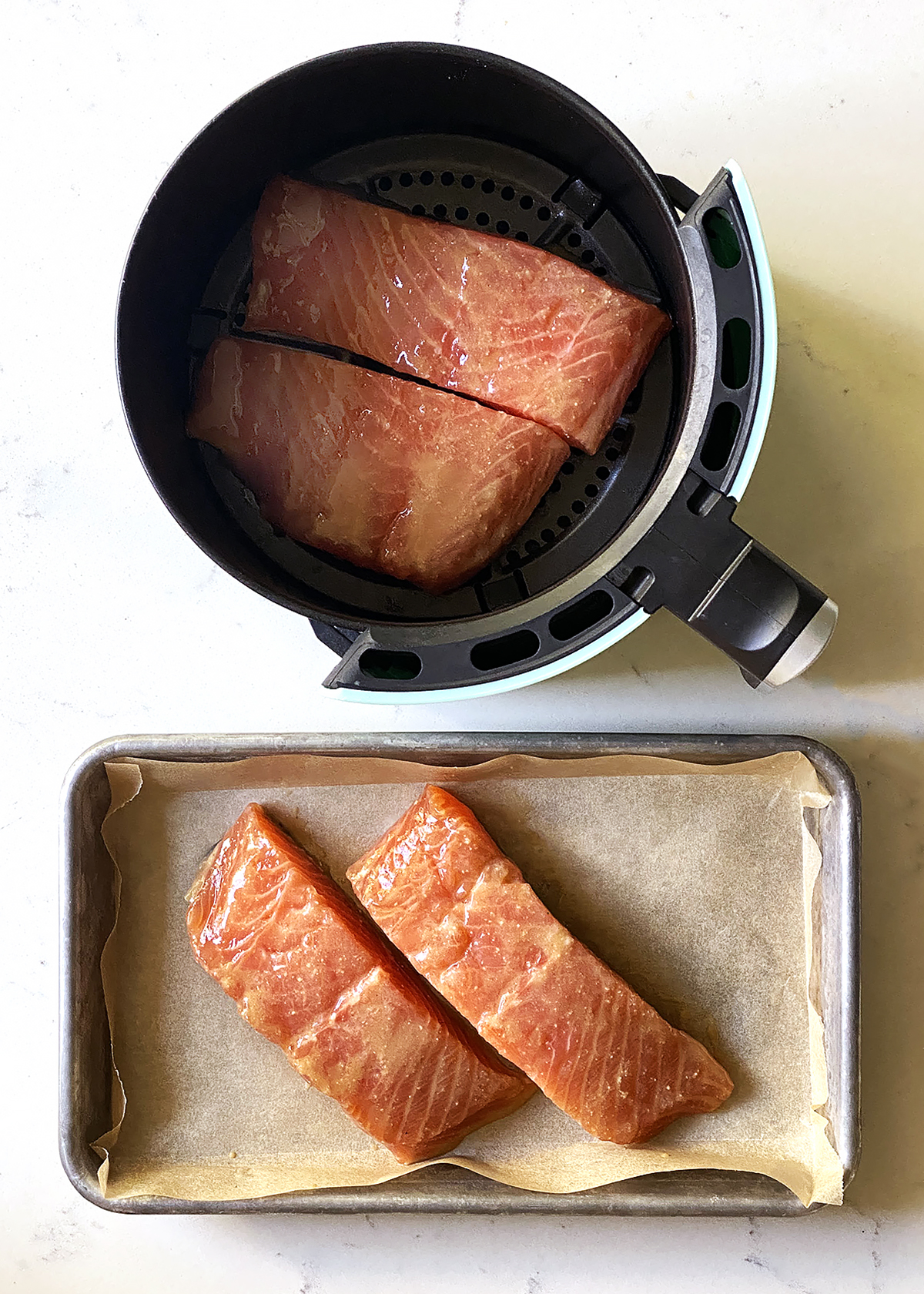 Place salmon fillet in basket of air-fryer OR on parchment-lined baking sheet, skin side down. Air-fry or bake in oven at 350° oven for 15 minutes.
Check for doneness. Salmon is cooked and ready when an instant read thermometer registers 145°F per USDA recommendations. You can also flake off a piece of salmon from the thickest part of the fillet and check for your preferred level of doneness. I like my salmon cooked all the way through.
What Kind of Miso Should I Use for Miso Salmon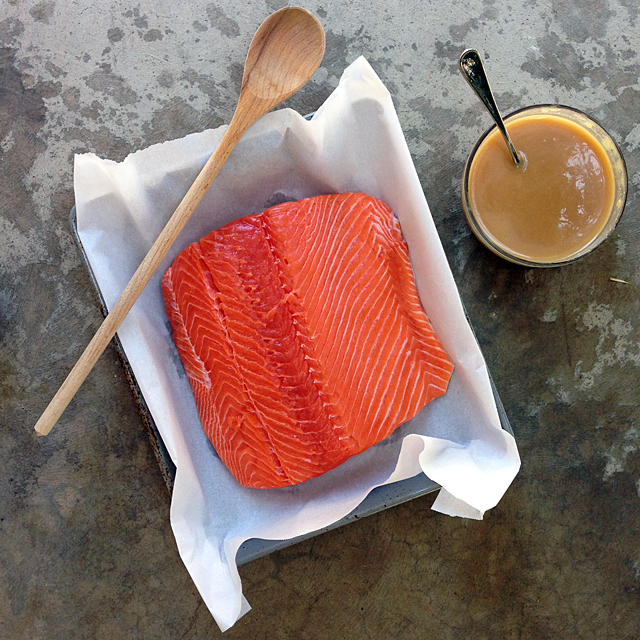 What Kind of Salmon for Miso Salmon
Additional Ingredients Resources and Notes
Sake. Sake, aka Japanese rice wine, is a type of alcohol made by fermenting rice. Just like regular wine made from grapes, sake comprises a wide variety of styles, brands, quality, and price points. As with any wine in cooking, use sake that you would be happy to drink. Sake is now fairly widely available in grocery stores in the wine section or in liquor stores. The organic sake pictured above is available here.
Maple Syrup. Most Miso Marinades contain sugar, and quite a bit of it. I prefer the sweetness of natural maple syrup to refined sugars, and use a very little amount. I use an organic maple syrup like this.
Tamari or Soy Sauce. Tamari is a Japanese-style soy sauce that is brewed without wheat so it is gluten-free. This is the brand I use, which is also organic. You can use regular soy sauce. If soy is not part of your diet, you can use salt, in about half the amount in the recipe.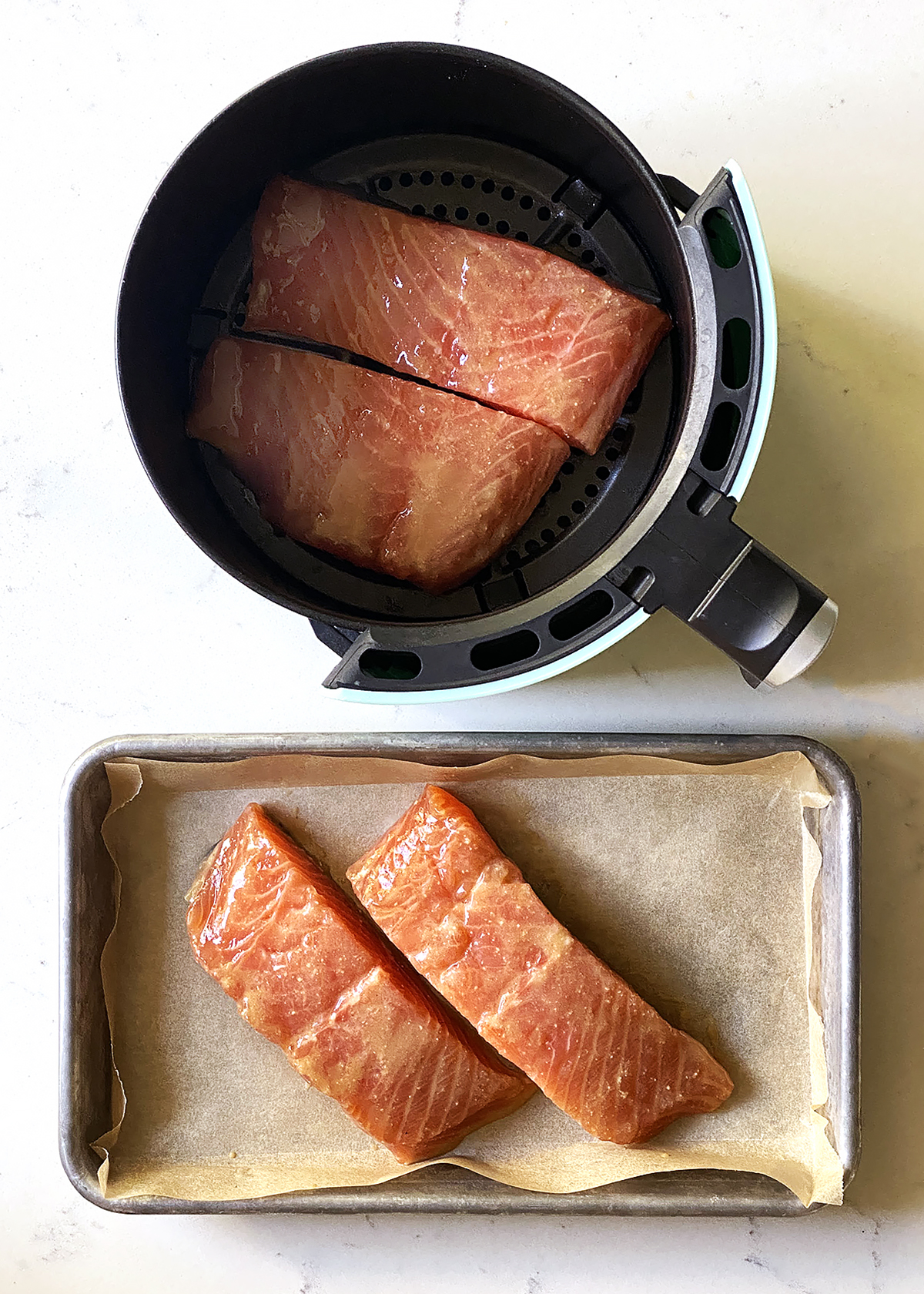 Miso Salmon in Air Fryer vs Oven
Tools and Equipment
As I always say, you don't need any special equipment to make almost any recipe. However, that's not to say there are a couple of gadgets and tools that might make it a LOT easier to get Miso Salmon from your fridge to fork (or chopsticks).
All-purpose 7-inch chef's knife to cut rolls in a single long stroke, rather than sawing back and forth, which will tear the nori and smash the roll.
Large Cutting Board. A large size cutting board is stable, sturdy, and has enough surface area to prep multiple vegetables
Glass mixing bowls
Rice cooker. Rice cookers run the full gambit of types, features, and prices. I have two, this standard Japanese brand, and this fancy Korean brand, which the NYTimes loves. This is a smaller, affordable version of the Korean one.
Substitutions and Variations
With so few ingredients in this recipe, there aren't a lot of substitutions. That being said, you can make small adjustments to suit certain diets or lifestyles:
Sugar-Free. To make Miso Salmon completely sugar-free, simply leave out the maple syrup or other natural sweetener. Miso, particularly white or "shiro" miso has an inherent natural sweetness, so you may not even miss the sugar anyway!
Keto-Friendly. To make this Miso Salmon recipe keto-friendly, leave out the sake, which is an alcohol and not compliant with keto lifestyles. You do not have to substitute a different ingredients, though you may need to add a couple of tablespoons of water to get the right consistency. You can substitute in rice vinegar (keto-compliant) since the marinating time is fairly short for this recipe, though the flavor substitution is not 1:1 and the taste of vinegar is much stronger than sake. Use half to one-third the amount of sake, so for this recipe, 1-2 tablespoons of rice vinegar.
Other Fish for Miso Marinade. You can absolutely substitute other fish for salmon in this recipe. In fact, the inspiration for this dish was originally made with black cod/sablefish, from Chef Nobu Matsuhisa. Some great substitutions for the salmon are: black cod aka sablefish, regular cod, and sea bass. Because these fish have a much milder natural flavor than salmon, marinate the fish for longer (up to 3 days!) to really amp the flavor.
Leftovers and Storage
Marinated raw Miso Salmon should be cooked within one day of marinating.
Refrigerator. Cooked Miso Salmon can be stored in an airtight container in the refrigerator for up to three days. Refer to the USDA for safe storage information for fish.
Freezer. Freeze and store cooked Miso Salmon in an airtight container, preferably with the air removed like in a zipper plastic bag, in the freezer for up to 3 months. Refer to the USDA for safe storage of fish and shellfish.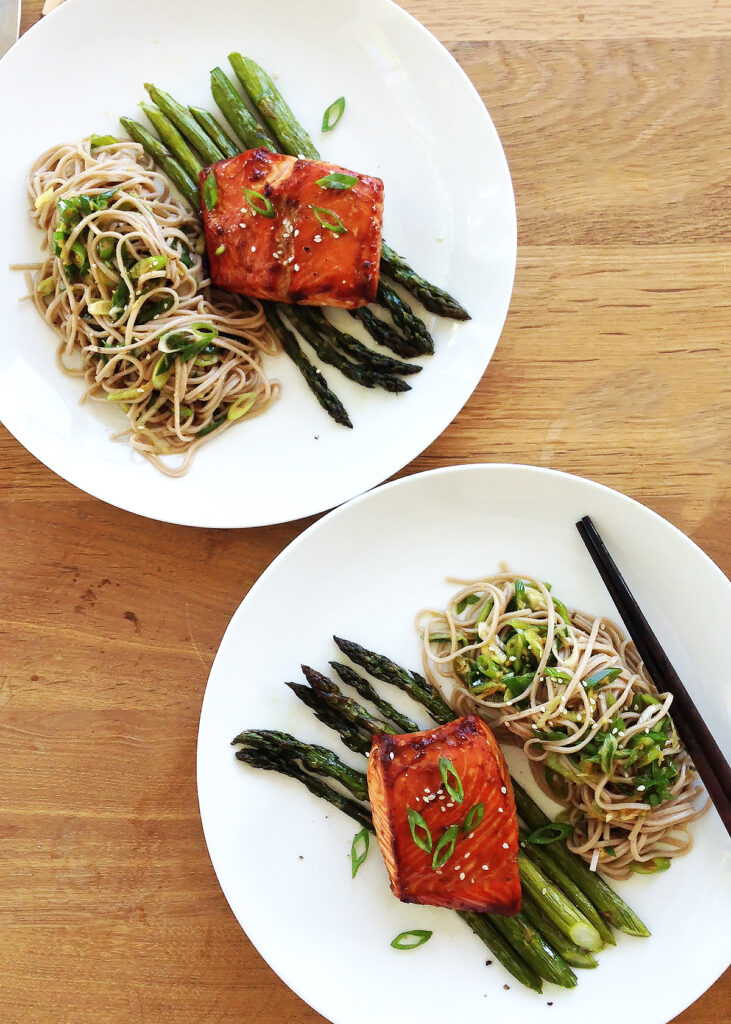 What to Serve with Miso Salmon
A generous serving of omega-3-rich salmon marinated in gut-healthy fermented miso served with brown rice and a green vegetable is a perfect meal to me! Here are some great suggestions to pair with:
Steamed Asparagus
Soba Noodles
Garlic Sauteed Spinach
Edamame in their pods
Wine Pairing for Miso Salmon
Add these Salmon Recipes to Your Repertoire
Yes, we are obsessed with omega-3-rich salmon in this house, why do you ask?
Galbi-marinated Salmon with Ssam Lettuce Wraps
Grilled Salmon with Cherry Salsa
What Else to Make with Miso? Try These:
Since you only need ¼ cup of miso for your Miso Salmon, you'll have an entire of container of miso left to make these recipes!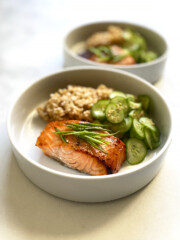 Print Recipe
Miso Salmon
Salty, umami-rich miso is the marinade for omega-3-rich salmon
Ingredients
2

6-8 ounce fillets

salmon

any kind, see notes for details

¼

cup

miso

any kind, see notes for details

¼

cup

sake, aka Japanese rice wine

1-4

tablespoons

maple syrup

1

tablespoon

tamari

or soy sauce

optional for garnish: sliced green onions, toasted sesame seeds
Instructions
Marinate Salmon
Rinse salmon, dry off thoroughly with paper towels, and remove scales if necessary. Place in a glass or non-reactive container, preferable if it has a tight-fitting lid.

Whisk together miso, sake, maple syrup, and tamari in a small bowl until thoroughly combined. Miso has a slightly grainy texture so the marinade will not be completely smooth.

Pour the miso marinade over the salmon in the container. Turn over the salmon fillets in the miso marinade to make sure all side are coated. Spoon some of the miso marinade over the top to make sure there is a layer sitting on the top surface. Cover the container, place in refrigerator, and marinate for at least 30 minutes, up to two days.
Bake Salmon in Oven
Heat oven to 350°F. Line baking sheet with parchment paper. Remove salmon in miso marinade from refrigerator, best if 30 minutes before cooking to allow salmon to take some of the chill off.

Lift salmon fillets from marinade, gently wiping off excess marinade from the salmon. ** Do not rinse ** You want to leave a thin layer of marinade on the surfaces of the salmon.

Bake the salmon for 15 minutes, then check for your preferred level of "donenes.." Because salmon fillet thickness varies so much, the best way to check if the salmon is done is to use an instant-read thermometer. For medium rare which is still raw/fresh in the center, aim for 120°F. The USDA recommends cooking fish to an internal temperature of 145°F. You can also just flake off a piece of salmon from the center of the fillet to see if it's cooked through to your preference.
Optional: Broil Salmon for Burnt "Char"
If you want a little bit of char on the salmon, turn the broiler to high in your oven. Place the cooked Miso Salmon under the broiler for 3-5 minutes until the edges have developed a char. ** Do not leave the kitchen during the broil step, do not leave the oven, in fact you should stand right in front of the oven and watch the salmon until you remove it from the oven. Miso marinade burns easily because of the sugar and you definitely don't want to waste a perfect piece of salmon! I share from experience.