Have you put together your Feast of Seven Fishes menu for Christmas Eve yet? If not, use this Guide to build your menu, plan, prep, and serve an EPIC feast, whether it's a multi-course dinner with an individual fish featured on each course, or one big pot of seven different fish and shellfish in a glorious stew. As always, absolutely perfect wine pairings included! Shall we?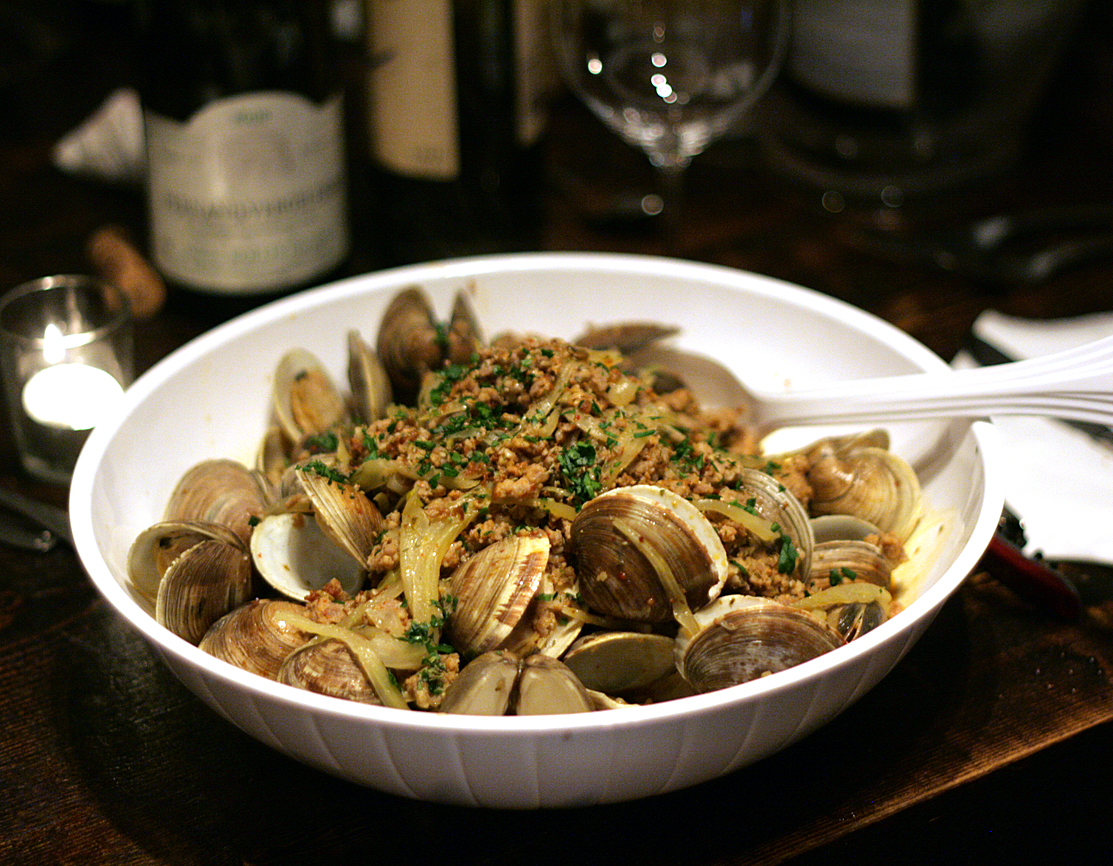 Jump to:
Grab some ideas from this classic Italian Feast of the Seven Fishes Menu we served at home, along with favorite wine pairings.
What is Feast of the Seven Fishes
The Feast of Seven Fishes is a classic Italian-American Christmas Eve tradition of serving seven different seafood dishes, or seven different kinds of seafood in any number of dishes. The key is the number seven! Of course, if you have the stomach for it (pun intended), you can always do more.
Feast of Seven Fishes Menu
The seven (7) dishes of fishes, count them! Use the links to skip ahead:
Check out my seafood charcuterie — seacuterie? — with seven different fishes on one board for a luxe Feast of Seven Fishes here.
There's a bonus recipe at the end for dessert. Don't worry, my Rosemary Olive Oil Cake doesn't have any seafood in it. The light, subtly sweet cake was the perfect ending to this Christmas Eve tradition!
Wine for Feast of Seven Fishes
Y'all know how I feel about multi-course tasting menus with different wine pairings for each course (that's a no from me, dawg) Nevertheless, I've included my picks for perfect wine pairings for each kind of fish or seafood, and it's not all just white wine. I wouldn't necessarily open seven different wines just to pair with each seafood dish here. These are options—pick and choose a few favorites, as most of these wines will enhance more than just one dish. As always, if you can only do one, do sparkling!
Read on for the details and wine pairings.
Feast of Seven Fishes Menu Details and Wine Pairings
1: Marinated Sardines and Cannellini Bean Puree (Italian white kidney beans) with Balsamic Bruschetta
What? Not starting the dinner party with a cheese board?! I know, but! But, other than smoked salmon with cream cheese on a bagel, seafood and cheese do not mix. And since this entire menu is seafood based, there's just no place for cheese at this table. Besides, who needs cheese when the Cannellini Bean Puree has a rich, creamy texture.
This is my favorite white bean "hummus" with roasted garlic and rosemary recipe. Spread the white beans on ultra toasted baguette slices, top with marinated sardines or marinated white anchovies aka "boquerones" and drizzle with balsamic reduction. If you really want to go for it, use vin cotto, a syrup made from reducing the grape skins and juice leftover from winemaking .
Wine pairing for Marinated Sardines or Anchovies
Sparkling wine is just generally a great way to start an evening, and because this is an Italian menu, I love Prosecco, a lighter, brighter sparkling wine produced in the Italian DOCG of Prosecco, made from the glera grape. My favorite bottle of Prosecco is by Bisson. Here is one that is similar.
2: Tuna Croquettes
I love croquetas of any kind and definitely would make an entire evening's meal out of these Tuna Croquettes. I have an easy recipe for croquetas here. The beauty of croquettes or croquetas is that they're usually made from canned tuna or salmon, so they're an easy pantry recipe. Fully-cooked croquettes also hold up perfectly in the freezer, requiring a quick re-heat if you're doing them for a party like Feast of the Seven Fishes.
Wine pairing for Tuna Croquettes
Because they're fried, tuna croquettes are going to be great with the previously mentioned Prosecco! However, if you're going the one-for-one route with courses and wine pairings, I'd still stay with sparkling, but try something a little richer like a sparkling rosé. Let's always remember, great rosé isn't just for summer! Here's an always reliable sparkling rose, and if you can get the 2008 vintage, well, you won't need to drink anything else the whole night.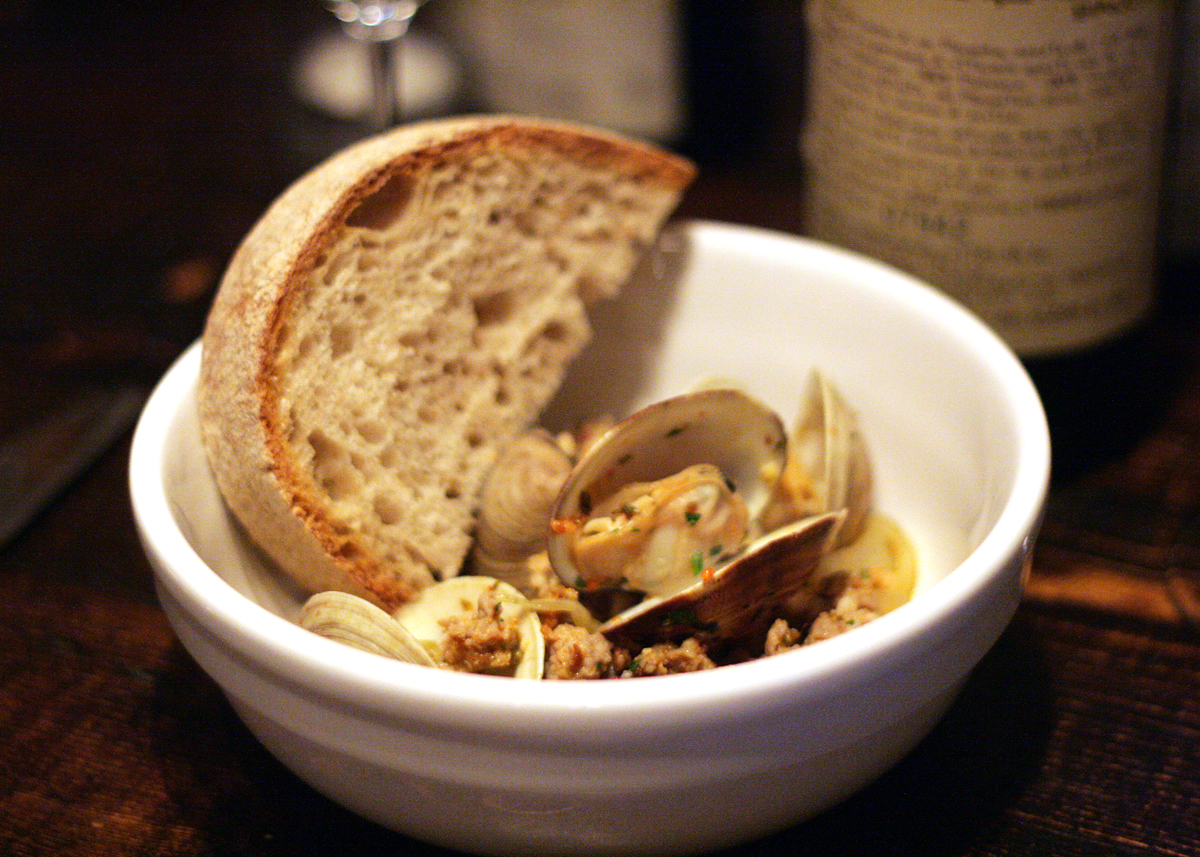 3. Clams and Spicy Italian Sausage in White Wine
Clams and Sausage in White Wine is another dish that could have been an entire meal by itself! Even though the clams were served over pasta, the grilled bread was perfect for soaking up the spicy, ocean umami-laced white wine broth, that was gently tinted a rosy orange from the spice.
Wine pairing for Clams and Spicy Sausage in White Wine
2010 Monastero Suori Cistercensi 'Coenobium', a blend of white grapes: trebbiano, verdicchio, malvasia, and grechetto. If you didn't catch it from "monastero" in the name, the wine is made in a monastery by nuns just north of Rome, Italy. Coenobium is an orange wine, or "skin contact" wine because the white wine grapes are left in contact with their skins longer than normal. The resulting wine develops a rose gold, or "orange" hue. Many orange wines fall under the "natural wine" category because they are unfiltered, but not all orange wines are necessarily organic. Coenobium is unfiltered and organic and has a subtle rustic funk that works with the clams and spice.
4. Shrimp in Tomato Sauce
No Feast of Seven Fishes is complete without at least one shrimp dish. This is a shrimp version of Lobster Fra Diavolo, but my fork didn't come within 10 feet of those histamine instigators. So if you have a shrimp allergy like I do, you can 100% leave out shrimp! There are no actual hard and fast rules about a Feast of Seven Fishes menu; we're just making this up as we go along.
Wine pairing for Shrimp in Tomato Sauce
The default wine pairing for seafood is a white wine, and with the acidic, spicy tomato sauce, a crisp, high-acid white like an Italian verdicchio (grape) is perfect. If you're unfamiliar with verdicchio, it is similar to a fruitier, citrus-forward sauvignon blanc (as opposed to grassy and herbal), but verdicchio has just a little more bite.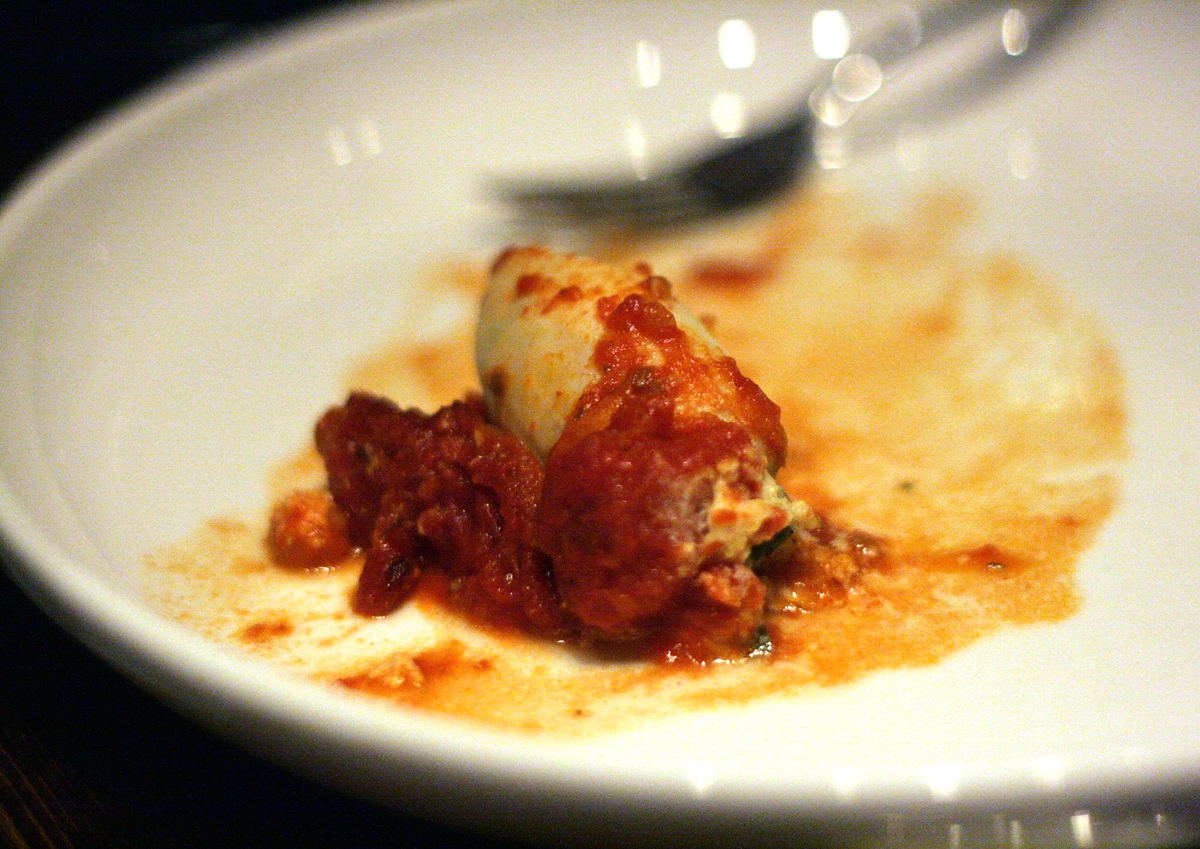 5. Stuffed Calamari Squid with Tomato Sauce
This dish is almost identical to the shrimp in tomato sauce, and the two could have been served together in the same bowl. But when someone has a shrimp allergy, and someone else doesn't play the squid game, we serve them separate.
Wine pairing for Stuffed Calamari Squid in Tomato Sauce
The tomato sauce with this recipe includes red wine, so a red wine pairing just seems right. I love sangiovese, a slightly thinner-skinned Italian red grape used in the one Italian red wine that everyone knows, Chianti. Rather than going as far as Chianti to pair with this dish, I pick a California sangiovese grown in the Santa Barbara wine region. Stolpman Vineyards "Love You Bunches" is made via carbonic maceration, which means the whole clusters of grapes are left intact, and juice ferments while still inside the grape skins, rather than being crushed and pressed out. The resulting wine is fruitier, less tannic, and ready to drink much sooner, "fresh."
6. Baccala in Tomato Sauce with Polenta
Baccala is a traditional Italian salted, dried cod. You have to prep the baccala in advance before cooking it by soaking the fish for three days to sort of re-hydrate it and changing out for fresh water a few times a day to remove the excess salt. The level of effort definitely makes Baccala a special occasion dish and perfect for the Feast of the Seven Fishes. This preparation with garlic, onion, and capers is pretty traditional, and with its stewy base, was served over creamy polenta (pictured below).
If you don't have easy access to a whole side of dried salted cod, use fresh cod, or any fresh fish really, cooked in a similar tomato sauce. Salmon in a spicy, briny Puttanesca sauce is one of my favorites.
Wine pairing for Baccala in Tomato Sauce
You're going to see how much I love sangiovese because Chianti is a perfect pairing with the baccala in tomato sauce. Chianti is acidic, so it can stand up to the acidity of the tomato sauce, but also cut through the richness of the polenta. This estate is a solid producer of Chianti Classico.
The sangiovese grape is also the sole grape used to make Rosso di Montalcino, and her older, longer-aged brother Brunello di Montalcino. If I could do a Feast of the Seven Fishes will all sangiovese-based wines, I would. (Brunello is pretty intense though and really drinks better with rich beefy braises and smoky grilled meats.)
7. Sautéed Sole with Olive Tapenade
You know that fish and olives are made for each other. The olive tapenade in this Saveur recipe for the sole fillets in the photo above is so similar to the Olive Salsa Verde I serve with salmon; it just uses intense kalamata olives instead of California green olives. Choose whatever fish looks the best at the market, and make either the fruitier, herb-forward Olive Salsa Verde, or the saltier, more intense Kalamata Olive Tapenade.
Wine pairing for Sole with Olive Tapenade
Would you be surprised to pair a fuller-bodied red wine with such a light, delicate fish like sole? This final dish is the absolute perfect example of one of my main philosophies when it comes to pairing wine with food, and specifically wine with fish. You will never go wrong following a tried-and-true "rule" like pairing a white Burgundy (chardonnay) with a fish like sole.
But almost more important—and more fun!—than the main ingredient of a dish, fish vs chicken vs beef, is how it is prepared and any accompanying sauce. That white burgundy will be fine with sole, but how much more interesting is it to pair a bold red wine with the super intense, briny flavors and meaty texture of the olive tapenade?
Of course, the other important rule is to stay with safe, classic wine pairings when you have dining guests who might not be as adventurous as you.
More Dishes to Consider for Your Feast of the Seven Fishes Menu
You don't have to be limited to Italian recipes for the Feast of the Seven Fishes. Here are some fish and seafood favorites that are great for a multi-course seafood dinner:
Feast of Seven Fishes Menu: Rosemary Olive Oil Cake with Olive Oil Ice Cream and Candied Rosemary for Dessert
The cake and candied rosemary are homemade. No bigs.
The olive oil ice cream is also homemade! BIGS. No, HUGES. Always-reliable chef and author David Lebovitz has a recipe for olive oil ice cream.
If I can bake a cake, you can, too. Of course, I've already had practice with a couple of different versions: Rosemary Olive Oil Cake, and Lemon Olive Oil Cake.
Print Recipe
Feast of the Seven Fishes Recipe
The perfect recipe for an epic Mediterranean Feast of the Seven Fishes for your Christmas Eve dinner
Ingredients
12

Marinated Sardines and Cannellini Bean Puree

12

Tuna Croquettes

1

Clams and Spicy Italian Sausage in White Wine

1

Shrimp in Tomato Sauce (Shrimp Fra Diavolo)

1

Stuffed Squid Marinara

1

Baccala in Tomato Sauce served over Polenta

8

Sautéed Sole with Olive Tapenade
Instructions
Prep Advance Components
Make Cannellini Bean Puree and toast crostini

Prep Tuna Croquettes to just before cooking

Prep filling and stuff squid
Assemble Dishes
Toast baguette crostini, spread each with Cannellini Bean Puree, and top with a sardine filet. Garnish with chopped fresh parsley.

Make Clams and Spicy Italian Sausage in White Wine

Make Shrimp in Tomato Sauce

Make Baccala in Tomato Sauce served over Polenta

Sauté Sole, plate filets, and top with Olive Tapenade