A DIY Sushi Hand Rolls Bar is one of the most impressive but least complicated ways to host a party, for both the host and the guests. Most of the ingredients are served raw and fresh—fish, seafood, and vegetables—so all the work you have to do as the host is cooking and making the sushi rice. Shall we?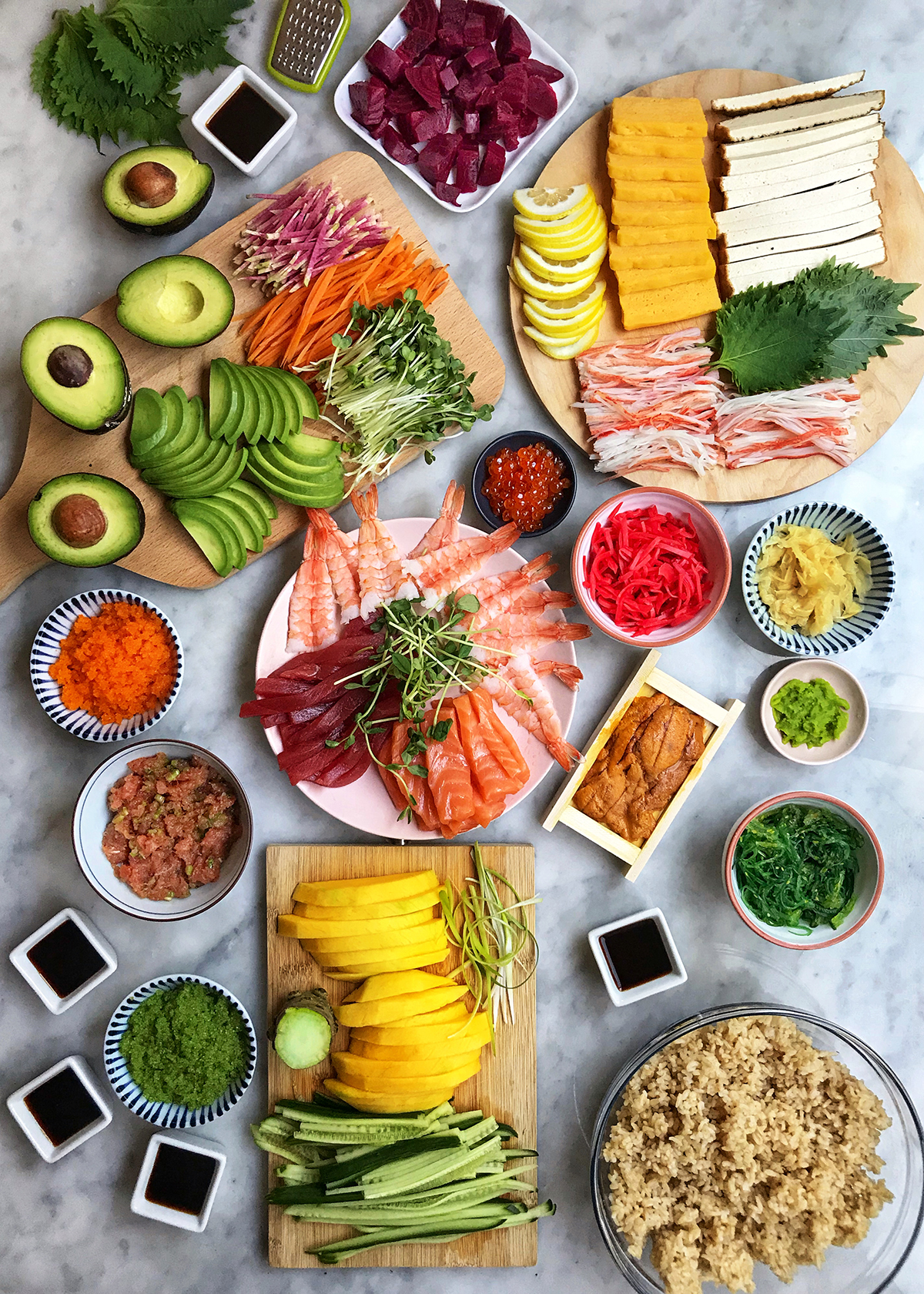 Jump to:
If you have it in you to cook even a little, you can make Baked Sesame Tofu and tamago, seasoned egg omelet, yourself, but even those are available ready-made at Japanese markets. Both the sesame baked tofu and the tamago in the photo above are store-bought.
Because hand rolls are literally rolled in your hands, there is no need for special tools like bamboo rolling mats. It's casual and lets guests get creative and make the flavor combinations they like.
Sushi Hand Rolls vs Regular Rolls
So, what's the difference betwee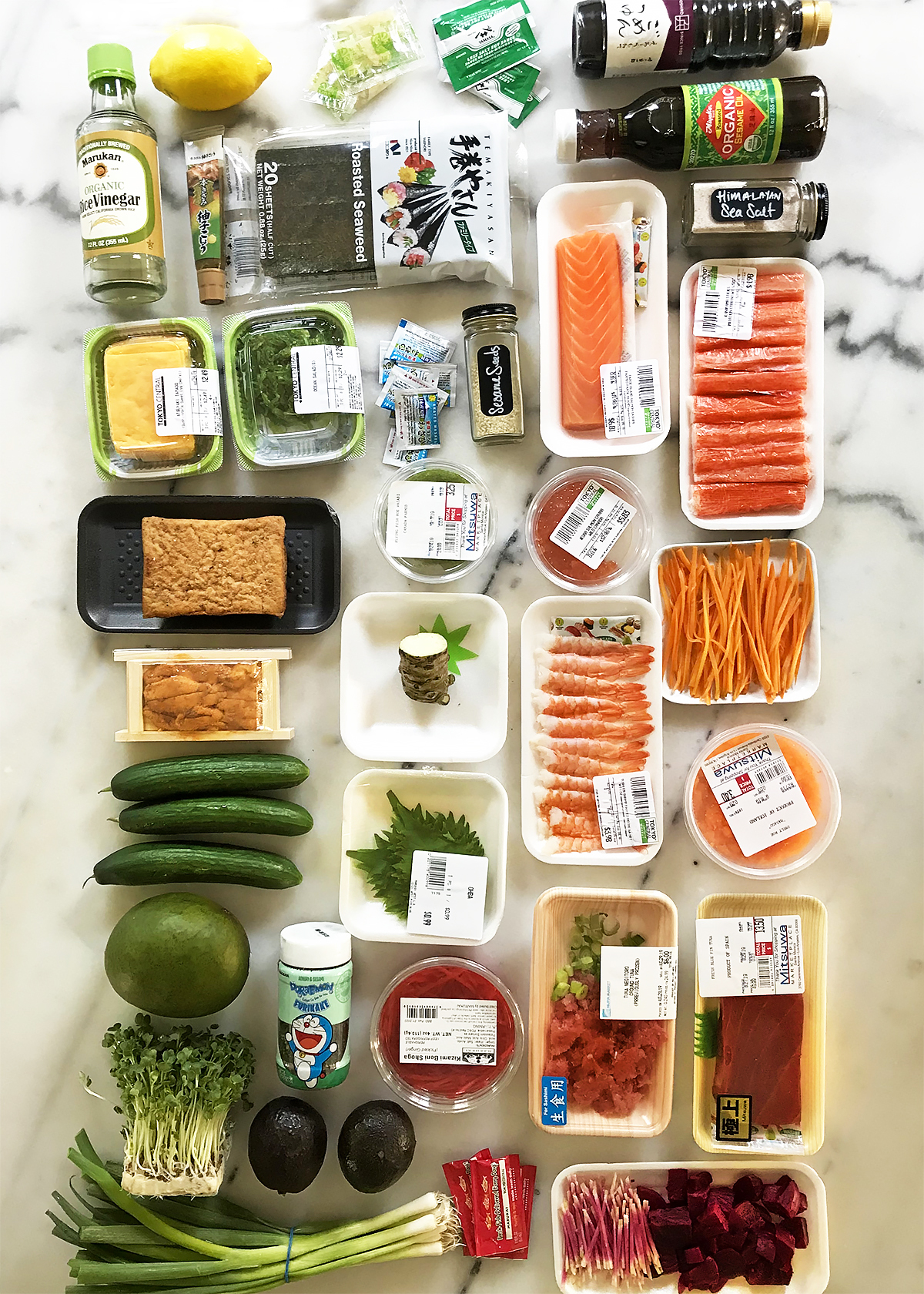 What Ingredients You Need for Sushi Hand Rolls
In larger cities, a regular grocery store might have some of the Japanese ingredients like tamari/soy sauce, sesame seeds, nori, and sashimi-grade fresh fish. If you have access to a Japanese grocery store, you can find many of the ingredients for a Sushi Hand Rolls party already prepared, even the seasoned sushi rice.
Sushi rice
Sushi nori (seaweed)
Rice vinegar
Tamari
Wasabi
Pickled ginger
Toasted sesame seeds
Fish and Seafood Sushi Hand Roll Fillings

Cooked Shrimp (Ebi)
Salmon, fresh
Tuna, fresh
Crab, cooked
Uni sea urchin
Roe and caviar

Vegetarian/Vegetable Sushi Hand Roll Fillings

Tamago/Egg
Roasted beet
Carrots
Mango
Avocado
Persian cucumbers
Shiso leaves
Lemons
Best Rice for Sushi Hand Rolls
Rice used for sushi is a naturally sticky, short-grain, and almost always white. In my home kitchen, I use a short- or medium-grain brown rice for that extra fiber boost. Any rice labeled "sushi rice," or "short-grain Japanese rice" works. Regular white rice and other types of medium- or long-grain rice like basmati or jasmine rice will not work as well for sushi as they are not "sticky" enough.
If you have access to a Japanese grocery store, look for organic Kokuho Rose Brown Rice from Koda Farms, which is a multi-generational Japanese rice farming family in California who grows the best rice. Koda Farms sells directly to consumers at the Santa Monica Farmers Market on certain Wednesdays and Hollywood Farmers Market on Sundays. I have seen 5-pound bags of the organic brown rice at Japanese grocery stores (Nijiya and Mitsuwa) and even at some Whole Foods Markets in Los Angeles.
How to Prepare Sushi Rice
Wash the rice in cold water until the water runs clear, about five times. Then soak the rice in filtered water with a pinch of salt overnight before cooking.
Traditionally, sushi rice is seasoned with a mixture of rice vinegar, sugar, and salt. It is this seasoned rice that is technically the "sushi" part of sushi. The instructions for making sushi rice are included in the recipe below. You can also find specific directions here.
Additional Ingredients Notes and Resources
Nori. Nori are the sheets of dried seaweed used to wrap up the sushi hand rolls. Use a high quality nori to make sure it stays crispy, not chewy. This brand is the best one, validated by a few local sushi chefs. It is available at Japanese markets, online, and in some Whole Foods.
Rice vinegar. This brand and this one are both made from organic brown rice. Both of them are available at Whole Foods. I have also tried Kikkoman and Nakano which must've been unremarkable since I didn't buy them again. If you cannot find rice vinegar, substitute apple cider vinegar. The flavor is different and the acidity is slightly stronger, so use half.
Tamari or Soy Sauce. Tamari is Japanese-style soy sauce brewed without wheat so it is gluten-free. This is the organic brand I use. You can use regular soy sauce.
Wasabi. Wasabi is Japanese horseradish that is served along with some sushi to add heat. The very best wasabi is grated fresh from a wasabi root, which you can find in a Japanese grocery store, or online via some small farms in northern California like Half Moon Bay Wasabi. You can also buy wasabi pre-prepared in jars and tubes in refrigerated sections of Asian grocery stores.
Pickled ginger. Containers of pickled ginger are in the refrigerated section of Asian grocery stores. Read the ingredients labels and look for the least number of ingredients, "young" or "baby" ginger, and a natural sweetener not aspartame, if any at all.
Toasted Sesame Seeds. Sesame seeds add some texture and when toasted, a layer of umami. Make sure the seeds are toasted. If they are not toasted, toss them in a hot, dry skillet over medium heat for about 90 seconds or until they are fragrant.
Fish and Seafood for Sushi Hand Roll Fillings
You can buy most of the fish, seafood, and other fillings already prepared for sushi if you go to a Japanese grocery store. If you have it in you to prep it yourself, even better!
Shrimp. Buy fresh shrimp labeled "jumbo" or "colossal," thread a thin skewer or long toothpick lengthwise through the shrimp to keep it from curling, boil, cool, then peil, split and flatten lengthwise. You can also find pre-cooked and packaged shrimp specifically for sushi at Japanese markets.
Fresh salmon, tuna, and yellowtail (hamachi). "Sashimi-grade" is not an actual, official term from the USDA or FDA. It is a way for a seller to indicate that they themselves have judged that their fish is safe to eat raw.
Spicy tuna, canned or fresh. Make your own spicy tuna mix with finely chopped fresh tuna and the same spicy tuna sauce in this recipe.
Crab, either imitation, which are the long sticks made from pollack fish, or actual cooked crab meat.
Uni aka sea urchin
Roe and caviar. The most common roe for sushi are ikura from salmon, masago from smelt, and tobiko from flying fish. They are all a orange or reddish color, and the latter two have a crunchy texture. Regular caviar can also be used for a more luxury experience.
Check out this post for detailed information about caviar and other roe, including a buying guide, how to serve, and how to eat.
Vegetarian Sushi Hand Roll Fillings
Tamago is a slightly sweet, fluffy Japanese egg omelet. There is a special technique for cooking tamago that requires a lot of practice!
Shiso are the palm-sized, heart-shaped leaves that have a slightly bitter, minty flavor used for garnish or small salads.
All other fresh herbs and produce from either the Santa Monica Farmers' Market on Wednesday, or Whole Foods Market when I can't find what I need at the farmers' market.
How to Make Sushi Hand Rolls
Show your guests how to make the first roll, and let them loose on their own after that!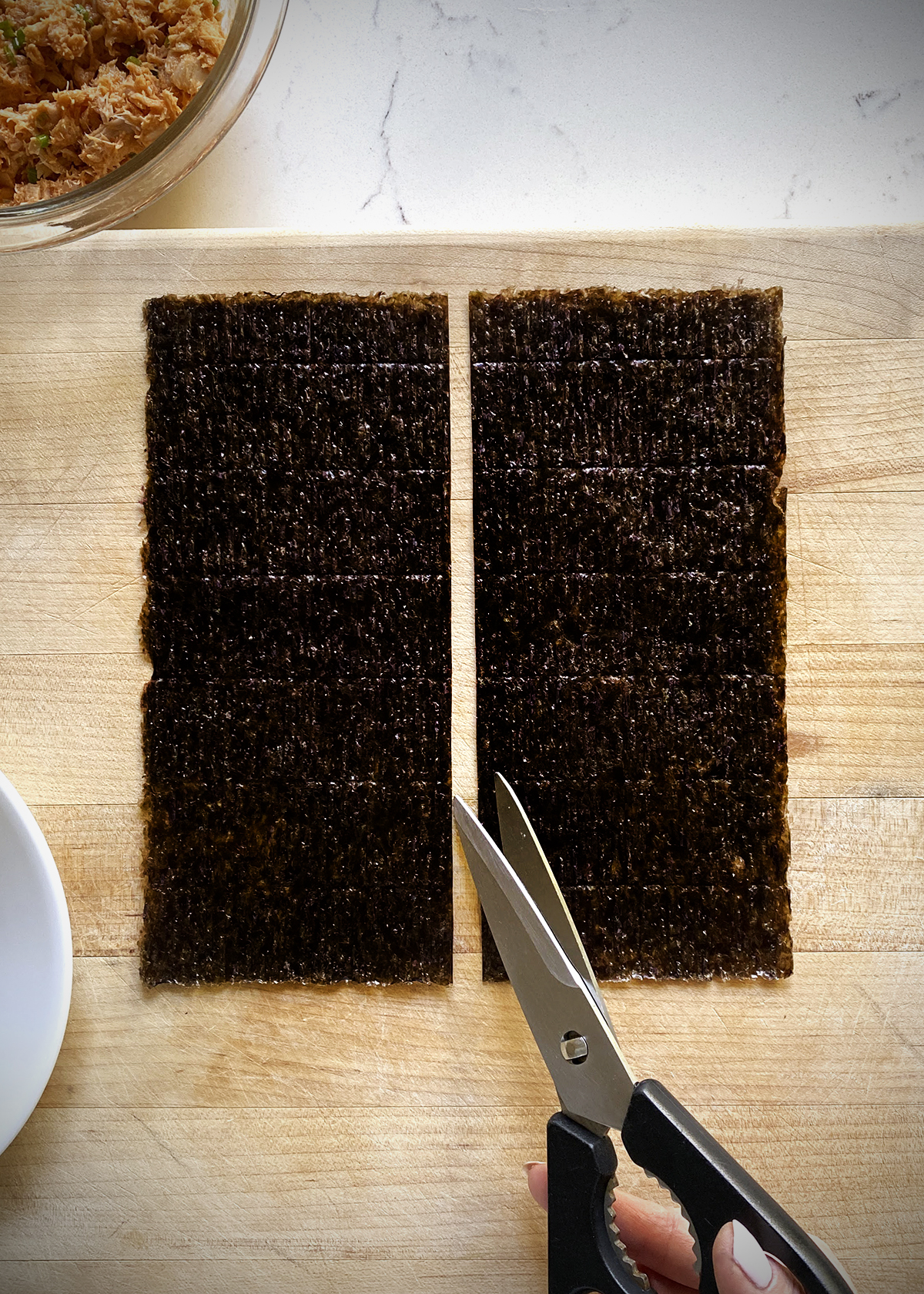 Cut toasted nori in half length-wise.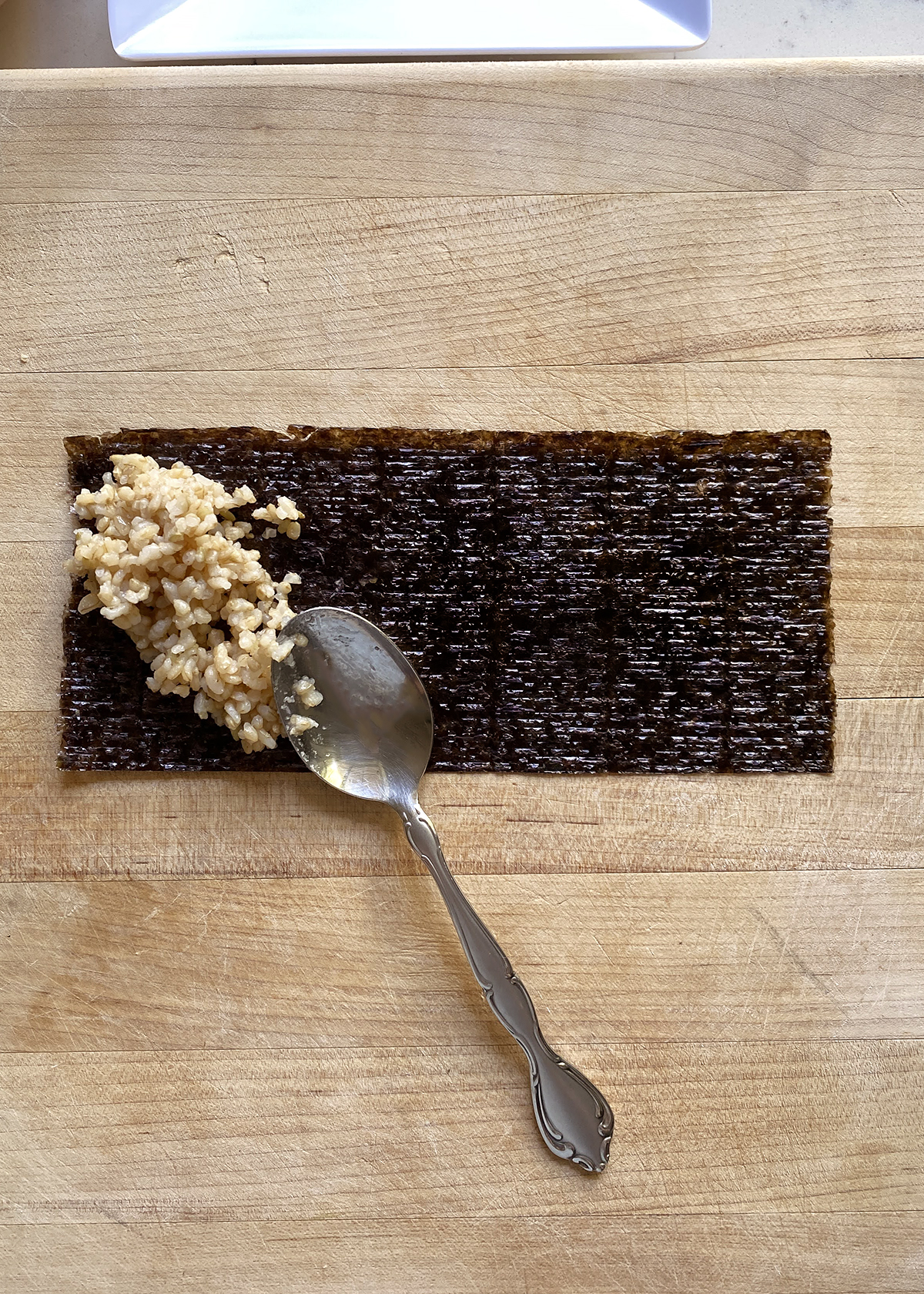 Lay down cut toasted nori on a work surface and place 2-4 tablespoons of cooked sushi rice at a 45 degree angle toward one corner of the nori.
Add 1-2 more fillings in lines on top the rice
Pull the bottom corner of the toasted nori over the fillings and continue rolling the hand roll into a cone shape.
Suggested Combinations for Sushi Hand Rolls
Some suggested filling combinations:
spicy tuna + cucumber
salmon + avocado + mango
crab + avocado + cucumber (California roll)
uni + caviar
Tools and Equipment
As I always say, you don't need any special equipment to make almost any recipe, and the beauty of Sushi Hand Rolls is that you don't even need the usual bamboo mat to roll sushi. However, there are a couple of other gadgets and tools that might make it a LOT easier to make and roll up your Sushi Hand Rolls.
Rice cooker. Rice cookers run the full gambit of types, features, and prices. I have two: this standard Japanese brand, and this fancy Korean brand, which the NYTimes loves. It is the most ridiculously expensive single-function kitchen tool I own but I couldn't successfully cook rice in a regular pot on the stovetop if my life depended on it. This is a smaller, affordable version of the Korean one.
All-purpose 7-inch chef's knife to cut rolls in a single long stroke, rather than sawing back and forth, which will tear the nori and smash the roll.
Large Cutting Board. A large size cutting board is stable, sturdy, and has enough surface area to prep multiple vegetables
Glass mixing bowls
Stainless steel chopsticks are dishwasher safe, don't warp, and are generally easier to keep germ-free.
What Else to Serve with Sushi Hand Rolls
Four to five generous Sushi Hand Rolls filled with rice and umami-rich seafood are enough to make a meal. But if you like to have something green as well, here are some side dishes and snacks to add to the table:
Miso soup
Steamed edamame
Seaweed salad
Tempura
Wine and Cocktails for Sushi Hand Rolls
You have several directions you can follow for wine or drink pairing with Sushi Hand Rolls. Either take the lead of the briny, umami-rich fish, or follow the sweet, tangy flavor of the rice. In either case, sake, a Japanese rice wine, is an obvious, goes-with-everything, choice.
Sparkling wine always works with sushi and sashimi.
Leftovers and Storage
Fresh fish should be consumed the day it is purchased.
Though leftover plain cooked rice can be stored for a few days in the refrigerator, seasoned sushi rice does not keep up well. It will still be edible after one day, but the rice won't have the same texture because of the vinegar.
Other ingredients that are pickled or cooked will keep for up to two days in individual air-tight containers in the refrigerator.
Sushi Hand Rolls once rolled, do not keep well as leftovers.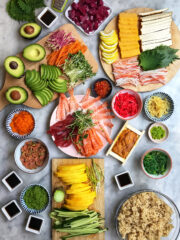 Print Recipe
DIY Sushi Hand Rolls Recipe
How to put together a DIY Sushi Hand Roll bar for the ultimate dinner party experience
Ingredients
5

tablespoons

rice wine vinegar

5

teaspoons

sugar

1½

teaspoons

salt

5

cups

hot, cooked sushi rice

cooked, seasoned rice, recipe below

6

sheets

sushi nori

cut into quarters, yielding 24 pieces
Fish and Seafood Sushi Hand Roll Fillings
6

large cooked shrimp

6

ounces

fresh, sashimi grade salmon

sliced into ½-inch strips

6

ounces

fresh, sashimi grade tuna

sliced into ½-inch strips

1

cup

spicy tuna

4

ounces

cooked crab

1

small box uni

sea urchin

various roe and caviar
Vegetarian Sushi Hand Roll Fillings
4

ounces

tamago

sweet, seasoned omelet recipe coming soon

1

roasted beet

1

carrot

julienned and blanched

1

mango

sliced and julienned

1

avocado

sliced

2

Persian cucumbers

julienned
Sushi Hand Roll Garnishes
6-12

fresh shiso leaves

toasted sesame seeds

lemon

sliced or cut into wedges
Sauces for Dipping Sushi Hand Rolls
½

cup

tamari

(or substitute soy sauce)

2

tablespoons

wasabi

½

cup

pickled ginger
Instructions
Whisk together rice vinegar, sugar and salt until sugar and salt dissolve. Drizzle the vinegar sugar mixture over hot cooked rice, and using a large wooden spoon or rice paddle, gently fold the rice until combined. It will take about five minutes. Cover and set sushi rice aside.

Place toasted nori, rice, and fillings in small bowls, on plates, and on serving platters. It is helpful to keep similar ingredients together, e.g. all the raw fish on one larger plate together, vegetarian fillings together. Let each person place about 2-4 tablespoons of sushi rice on a sheet of toasted nori, add their own fillings, and carefully "roll" into a cone.

Provide individual plates and small sauce bowls for soy sauce, wasabi, and pickled ginger to each person eating.
Notes
Some suggested filling combinations:
spicy tuna + cucumber
salmon + avocado + mango
crab + avocado + cucumber (California roll)