In case you haven't heard, Santa Barbara was named Wine Region of the Year by Wine Enthusiast last fall, and I can't think of a better reason to visit and explore the best of Santa Barbara wineries right now.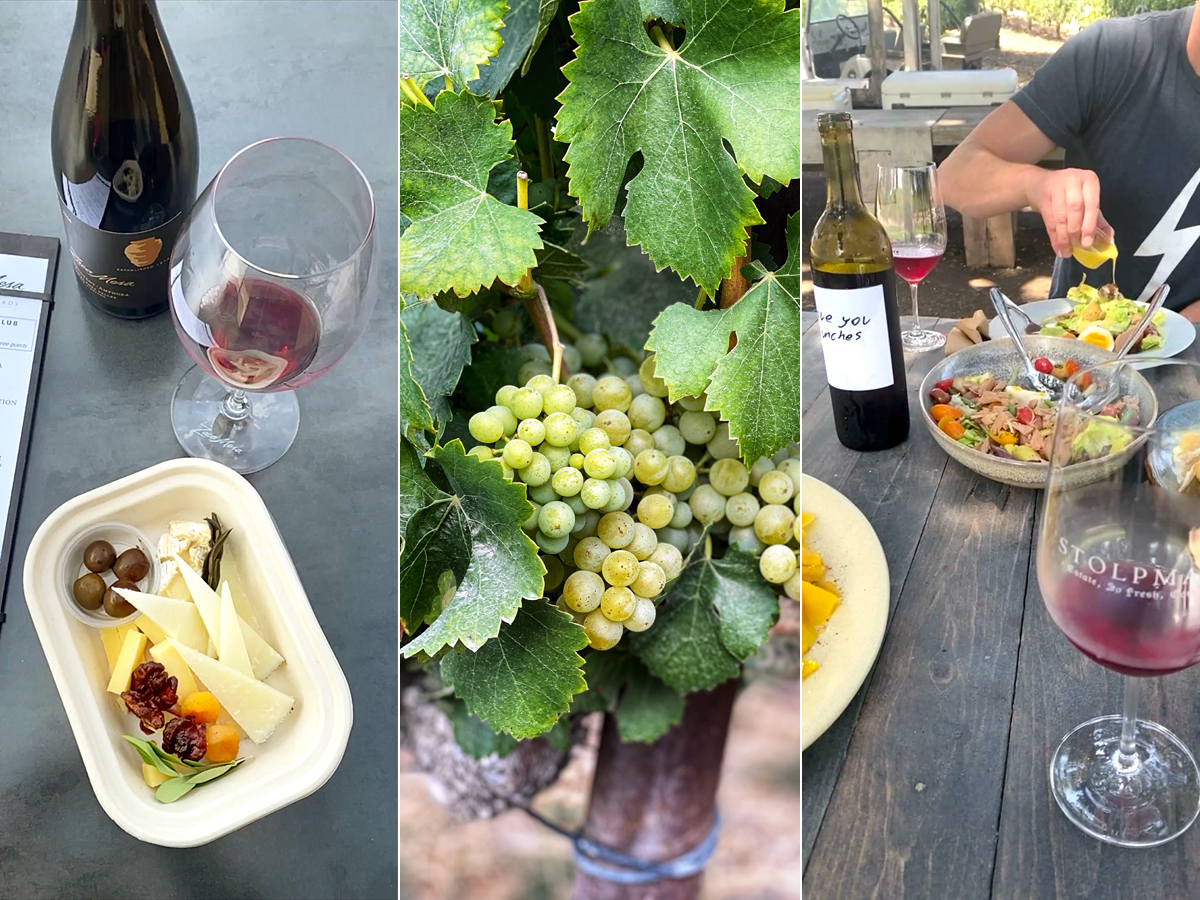 Jump to:
After visiting the region more than a few times, I've put together this guide to Santa Barbara Wineries. The guide has my personal reviews of wine tasting experiences both in the tasting rooms located throughout the city, as well as the wineries, vineyard estates, and tasting rooms spread across the surrounding wine country. Because you'll definitely want to explore the region for at least two days, there are recommendations for where to stay, where to eat, and what to do in Santa Barbara in addition to wine tasting, so you can plan your own perfect getaway as soon as this weekend.
And if you can't quite squeeze a trip into your schedule in the immediate future, I've included some specific food and Santa Barbara wine pairing recommendations at the end so you can experience Santa Barbara at home.
Table of Contents (links to jump ahead):
What/What is Santa Barbara | Where to Go Wine Tasting in Santa Barbara | Santa Barbara Wineries Guide | Urban Wine Trail | Wine Country | Santa Barbara Restaurants | Where to Eat in Wine Country | Things to Do | How to Get to Santa Barbara | Hotels and Where to Stay | Santa Barbara Food & Wine Pairing Suggestions
Where and What Exactly is Santa Barbara?
If you're just here for the (food and) wine, jump ahead to the Santa Barbara Wineries Guide below! Otherwise, keep reading...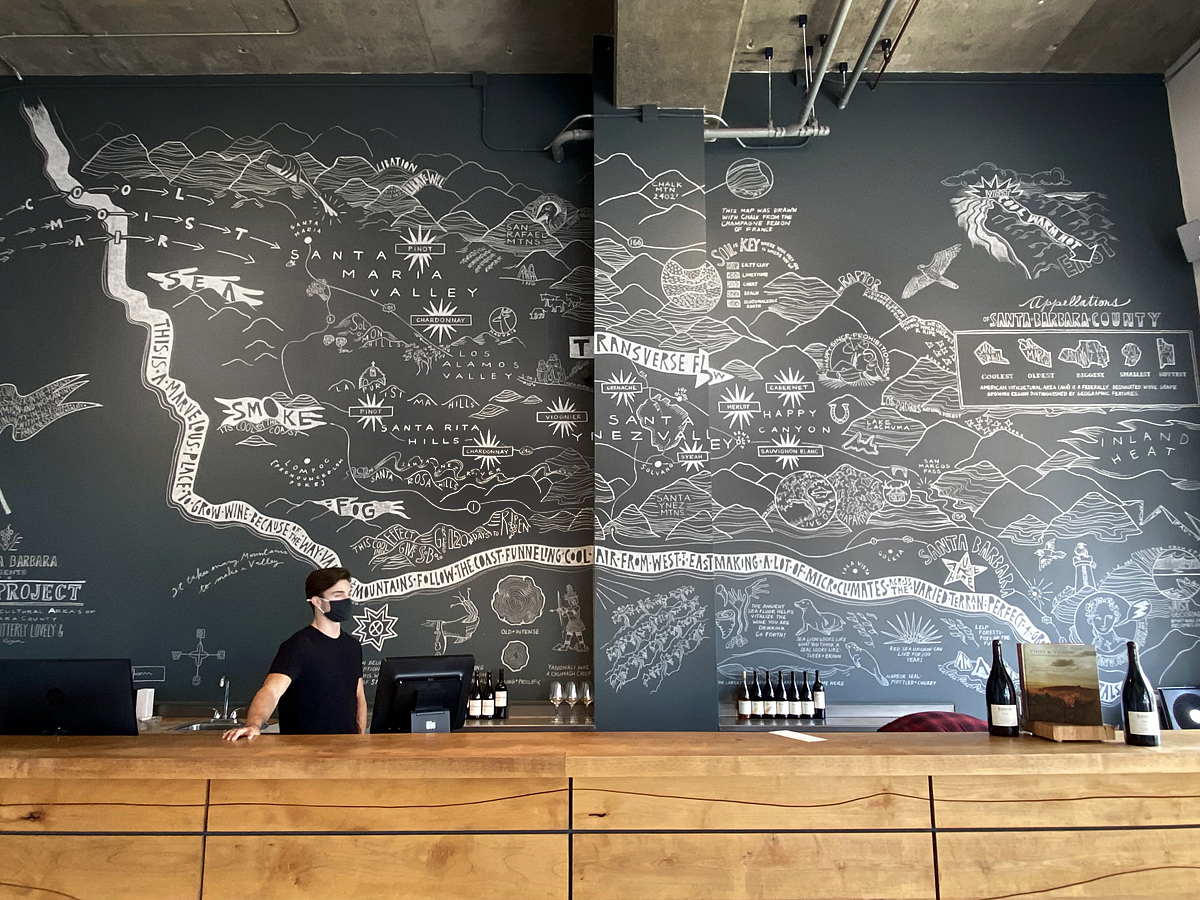 Santa Barbara County is a Wine Region
When wine enthusiasts refer to "Santa Barbara," they are talking about the 17,000 acres of vineyards and 200+ wineries spread across seven AVAs (American Viticultural Areas) nestled in and among the hills and valleys that lie just over the mountains and east of the Pacific Ocean. Santa Barbara is the southernmost wine region within the greater Central Coast wine region that includes Paso Robles, which I covered a couple of weeks ago, northward to Monterey. Santa Barbara is known for chardonnay, pinot noir and syrah, but the topography and climate vary so much that it grows over 80 different grape varieties.
Santa Barbara is a Coastal City
Santa Barbara, the coastal city, is aptly nicknamed the American Riviera for its enviable location on the stunning cool blue Pacific coastline, the warm California weather, and its low-key-surfer-meets-luxe-Mediterranean vibe. The local neighborhoods are home to famous people you might know like Oprah and ex-British royalty Megan Markle and Harry. And if you haven't heard of those celebrities, then maybe you've heard of the world famous seafood like Santa Barbara spot prawns and uni (sea urchin).
There are award-winning restaurants, a growing local craft brew scene, and of course, the dozens of tasting rooms from some of the best wineries in Santa Barbara county. Together, these tasting rooms, which are concentrated in some of the city's coolest neighborhoods, make up the Urban Wine Trail.
All of the previous, coupled with its location right on the US-101 on the way to the vineyard and estates in wine country, make Santa Barbara the city literally the perfect "gateway" to, well, Santa Barbara the wine region, and it's where I started my most recent exploration of some of the best tasting experiences and wineries in the area.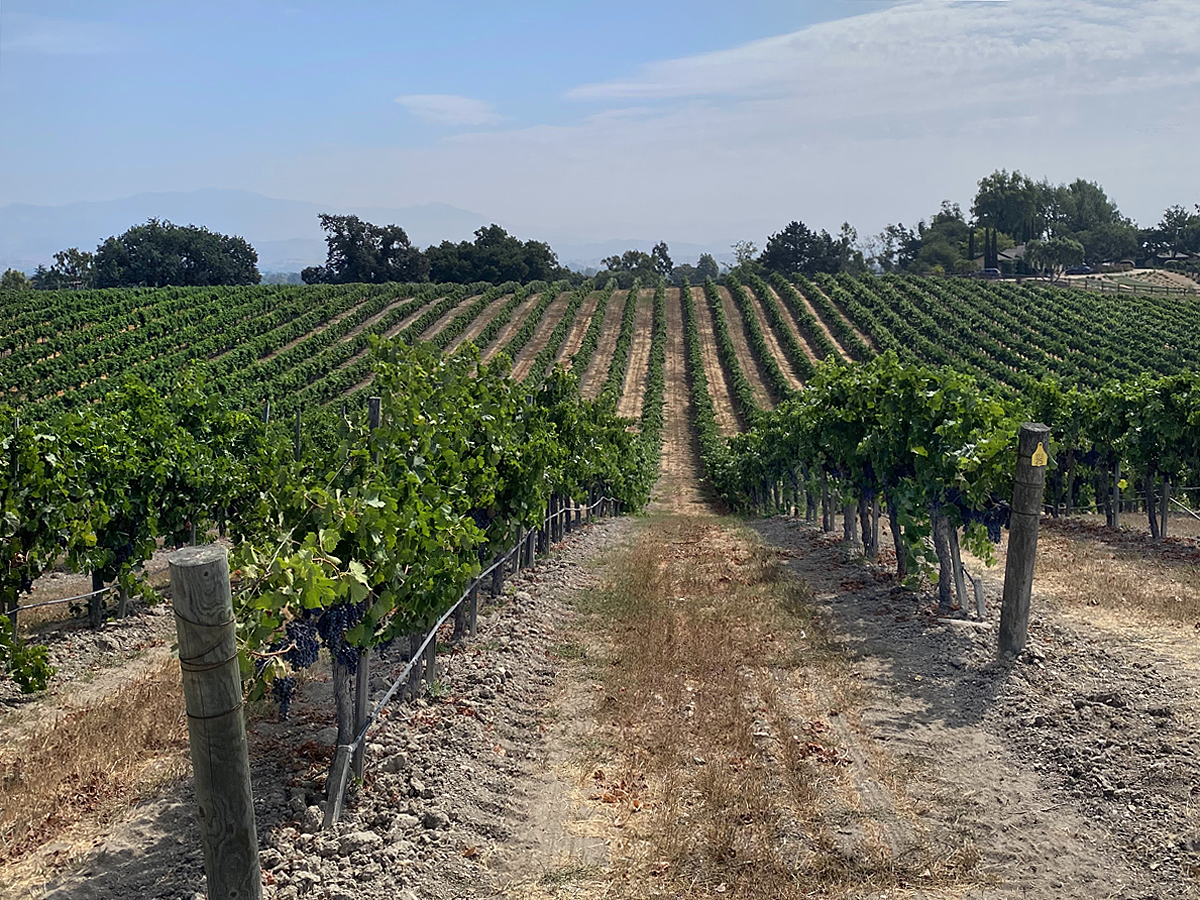 Where to Go Wine Tasting in Santa Barbara
There are two major areas for wine tasting in Santa Barbara: the Urban Wine Trail and wine country.
The Urban Wine Trail lies within the city of Santa Barbara and is one of the best ways to get to know the wines of Santa Barbara. Most of the 20+ tasting rooms are walkable to and from one another within the downtown neighborhoods. They are even generally walkable from one neighborhood to the next. You could make an entire Santa Barbara wine tasting trip out of the Urban Wine Trail alone, and never actually leave the city of Santa Barbara!
However, you really should carve out at least one day to drive 40 minutes over the mountains to wine country, if not to taste at a few of the 200+ estates and wineries, at the very least to see and experience the landscape. If you're on a greater Central Coast road trip, more than likely you'll be driving through this particular piece of wine country anyway. Because wine country is spread out across a pretty sizeable area, planning for wine country requires just a little more consideration.
Best Santa Barbara Wineries Guide
This list of the Best Wineries in Santa Barbara is culled from my most recent exploration with California Wines, previous personal visits to Santa Barbara, and a few highly reliable recommendations from trusted friends and experts.
Click any link in the outline to jump ahead.
Santa Barbara Urban Wine Trail, Santa Barbara, CA

The Funk Zone neighborhood

Kunin Wines and The Valley Project
Margerum Wine Company and Barden Wines
also try: Melville Winery (vineyards and winery in Sta. Rita Hills)

In The Presidio neighborhood

Grassini Family Vineyards Santa Barbara Tasting Room
also try: Au Bon Climat (winery located in Santa Maria)

Santa Barbara Wine Country

Grassini Family Vineyards in Happy Canyon
Stolpman Vineyards and Stolpman So Fresh, Ballard Canyon and Los Olivos Tasting Room
Buttonwood Farm and Winery in Los Olivos District
Dragonette Cellars, Los Olivos tasting room and Buellton winery
Hitching Post Wines in Buellton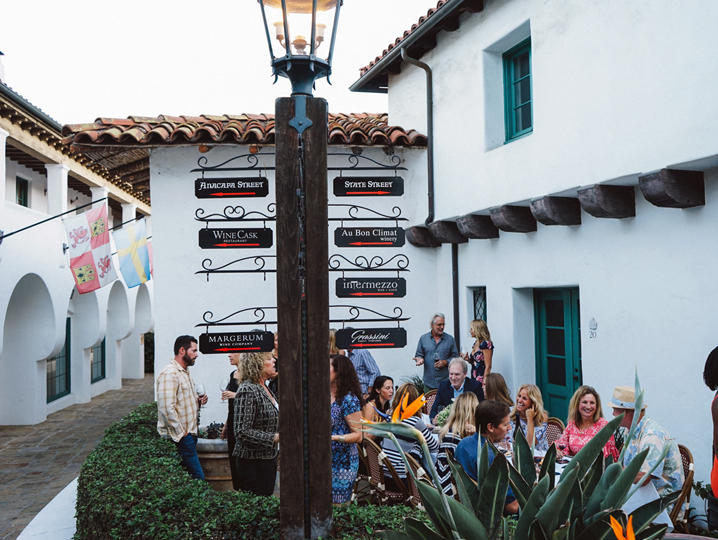 Santa Barbara Urban Wine Trail
The Funk Zone
Some of Santa Barbara's best wineries are clustered in a 13-block mixed-use neighborhood known as the Funk Zone. Old warehouses and factories from its heyday as an industrial manufacturing hub in the 19th century have been transformed into spaces for artists and artisans alike. There are artists' studios, galleries, wine tasting rooms, craft breweries' tap rooms, boutiques and restaurants. The Funk Zone is right near Santa Barbara's waterfront, east of State Street and is easy to identify with its colorful wall murals.
Kunin Wines and The Valley Project
Magan Kunin leads the charge at Kunin Wines, founded in 1998 by her late husband Seth Kunin. The wines are primarily Rhône varieties -- syrah, zinfandel and viognier. They gradually added grenache, mourvèdre, rousanne, sauvignon blanc and chenin blanc over the years as the winery grew. Magan sources grapes from premier vineyards around Santa Barbara, and produces 5,000 cases a year of critically-acclaimed wine out of a winery just north of Santa Barbara.
Kunin Wines shares its Funk Zone tasting room with The Valley Project, the second wine label that Seth and Magan started in order to experiment with different, lesser-known and lesser-grown grapes. The Valley Project Wines are a sort of education into the wide variety of micro-climates as well as the different soil compositions that make up the terroir of the Santa Maria and Santa Ynez Valleys. You can actually see and touch the soil types from a display on tasting room wall!
Magan was gracious enough to spend a large part of her afternoon with me using the wall mural in the tasting room, visual soil samples, and of course the wines to give me a really good sense of Santa Barbara. Before she had to run out to pick up her kid from school -- you know I love a badass working wine-making mom! -- we tried:
Kunin 2020 'Phoebe 2.0' Rosé, grenache-based, named for Magan and Seth's daughter Phoebe
Kunin 2019 Sauvignon Blanc McGinley Vineyard, tasted like "passionfruit, lemongrass, dandelion, and tropical fruit"
Kunin 2016 'Pape Star Blonde,' alluding to France's Chateauneuf-de-Pape, blend of primarily grenache blanc with roussanne and marsanne
Kunin 2016 Pape Star Rouge Rhône-style Santa Ynez Valley red blend
Kunin 2018 Syrah Alisos Vineyard
A really cool thing Magan let me do is taste three different bottlings of her chenin blanc side-by-side-by-side so I could really get a feel for how the same grape can be interpreted in different ways. She jokingly referred to the tasting as a "deep-dive" as if it might be a little wine-nerdy, but personally I love tasting wine this way. One of the best ways to understand all the nuances of a wine is to taste it against itself, the way science experiments are set up with subtle differences in a single variable.
The chenin blanc grapes come from the famous Jurassic Park vineyard, no relation to the movie, but 100% relation to the pre-historic soil. The chenin blanc wines we tasted:
Kunin 2019 Natural Chenin Blanc Jurassic Park, rated 92 points by Robert Parker, rated 174 points by TheDelicious
Kunin 'Zero' Sparkling Chenin Blanc Jurassic Park, made in the traditional style of Champagne with zero dosage, which means zero sugar added to the wine. rated 93 points by Antonio Galloni
Kunin 2018 Chenin Blanc Jurassic Park, a classic expression of chenin blanc
I walked out of Kunin Wines with all three chenin blancs, the Pape Star Rouge, and bottle of The Valley Project rosé because it has the drawing of Santa Barbara printed directly on it. Keep an eye out for a "deep-dive" post on the chenins.
If you're new to Santa Barbara wineries, Kunin Wines and The Valley Project tasting room is one of the best places to start. Tastings are outside in the courtyard, and the winery is dog-friendly.
Kunin Wines and The Valley Project
Tasting Room in the Funk Zone
28 Anacapa Street, Santa Barbara
(805) 963-9633
www.kuninwines.com | @KuninWinery
Margerum Wine Company and Barden Wines
We walked through the Funk Zone toward the ocean from Kunin, hopped over some railroad tracks, and stepped onto the patio of the Margerum Wine Company tasting room, which is located within the Hotel Californian.
Doug Margerum handcrafts primarily Rhône and Burgundian style wines for his first label Margerum Wine Company, as well as his second label, Barden Wines ("Barden" is Doug's middle name).
Tastings are on the patio, and spill out onto tables and chairs along the sidewalk. There is an indoor space with a bar that makes Margerum feel like an actual wine bar. Availability inside depends on current local covid restrictions. The Margerum tasting room is one of a few tasting rooms on the Urban Wine Trail that offers its own full food menu.
Hot tip from a local: if the duck toast is on the menu, absolutely get it.
We tasted:
Margerum Riviera Rosé
Margerum Sybarite Sauvignon Blanc
Margerum M5 White
Margerum Cinsault
Barden Sta. Rita Hills Pinot Noir
Margerum Wines and Barden Wines
Tasting Room in the Funk Zone
19 E. Mason Street, Santa Barbara
(805) 845-8435
www.margerumwines.com | margerumwine
The Presidio
From SantaBarbaraCA.com: "A vibrant few blocks in the heart of Santa Barbara, centered around the historical site of one of the last Spanish fortresses (or 'presidios') to be built in California, the Presidio is now home to intriguing, locally owned shops, wine-tasting rooms and restaurants. Walking the neighborhood rewards the visitor with discoveries of hidden walkways, courtyards and fanciful architectural details, such as the 'Street in Spain,' with its many colored flags, located in El Paseo, California's first shopping center."
Grassini Family Vineyards, Tasting Room in The Presidio, Santa Barbara
Grassini Family Vineyards is an estate winery, which means it produces wines made exclusively from grapes grown on their own estate. Their vineyards are located in Happy Canyon, one of the sevens AVAs in Santa Barbara. Grassini focuses on Bordeaux varietals cabernet sauvignon and sauvignon blanc.
What we tasted at Grassini Family Vineyards Santa Barbara Tasting Room
Grassini Family Vineyards Happy Canyon Sauvignon Blanc (pictured above)
Grassini Family Vineyards 2018 'Articondo' Proprietary Red Blend
Grassini Family Vineyards 2018 'Equipo' Red Blend
Grassini Family Vineyards 2017 Estate Cabernet Sauvignon
The tastings are at tables and chairs that are very safely spread out around an outdoor courtyard. Grassini is walking distance to other Presidio tasting rooms as well as some acclaimed restaurants like Bibi Ji and less than two blocks from our hotel, the Canary. The courtyard is dog-friendly.
Grassini Family Vineyards
Tasting Room in the Presidio
24 El Paseo, Santa Barbara, CA 93101
(805) 897-3366
www.grassinifamilyvineyards.com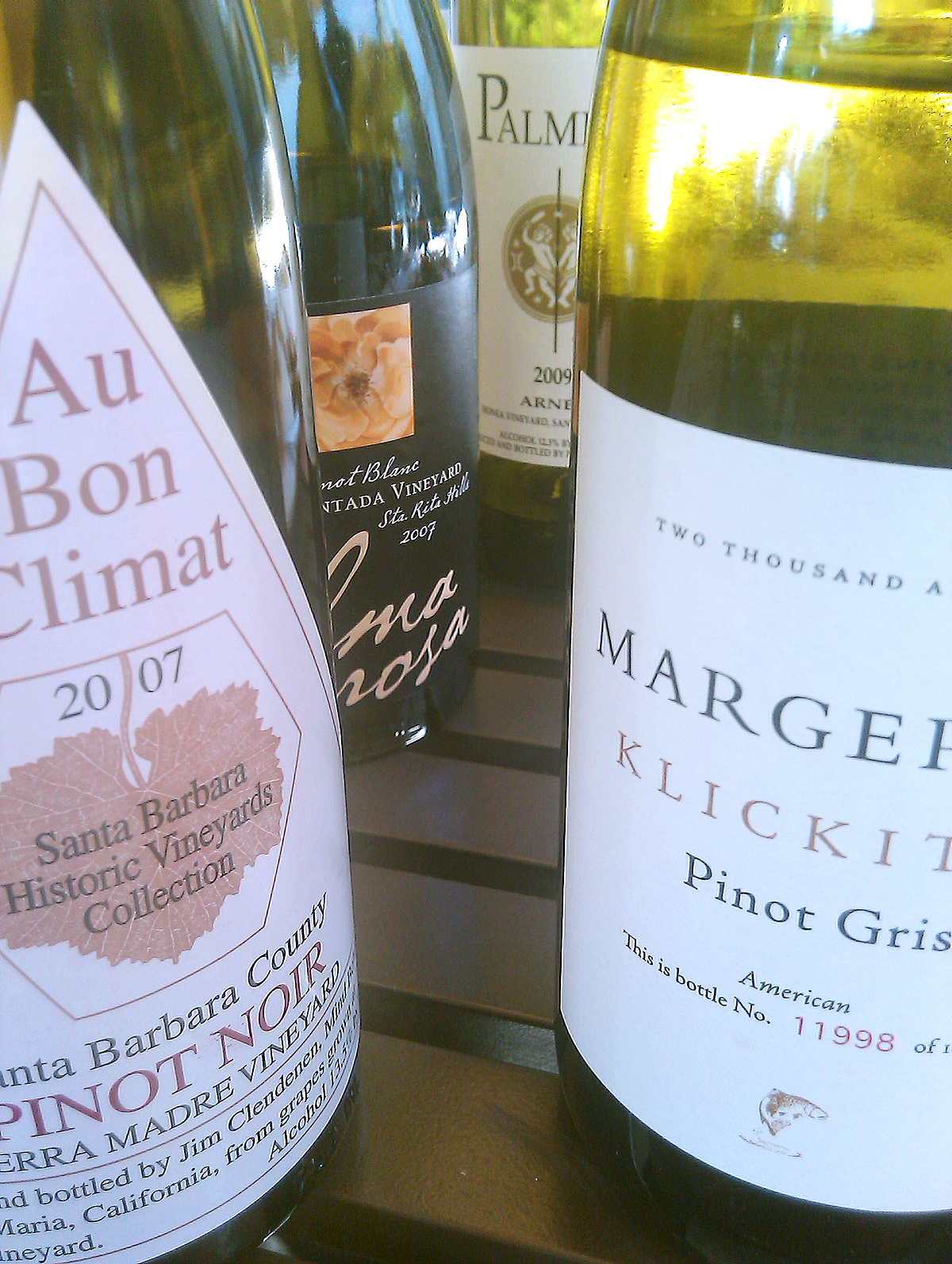 Additional Winery Recommendations in The Presidio
Au Bon Climat
813 Anacapa Street, 5B, Santa Barbara, CA 93101
(805) 963-7999
www.aubonclimat.com
How to Make a Day Trip to Wineries in Santa Barbara Wine Country
From the city of Santa Barbara, wine country is an easy 40-minute drive over the mountains (except for fog in the early morning) and definitely worth it. Tasting rooms and winery experiences are generally clustered around a few towns: Buellton, Solvang, and Los Olivos. Some wineries hold tastings at their vineyard estates, which can offer gorgeous settings for tasting with stunning views of hills covered with vineyards, tours of wine-making operations inside the facilities, and walks among the vines to get closeups of the grapes.
Plan on visiting three wineries a day on this type of itinerary. Maaybe four if you're able to be militant about keeping to your schedule. There's a lot of "open space" on the map between towns which makes it seem like there's a lot of actual driving — but the distance between them is at most 6 or 7 miles. Some of the roads are two lanes through canyons so going can be careful.
Make absolutely sure you assign a designated driver or hire third party transportation.
Buttonwood Winery & Vineyard
If you're down for a short hike up a gentle hillside, you can do a walk through the vineyards of Buttonwood Winery and Vineyards. From the top of the highest hill on the Buttonwood property, we had a full 360-degree view of the valley from Lompoc in the west, around to the San Rafael mountains. Karen Steinwachs, Buttonwood's winemaker (hell yeah for another lady winemaker!) and a couple of four-legged vineyard friends walked and talked me through syrah, grenache, cabernet franc, and merlot vines. I tasted berries (what the pros call individual grapes) straight off the vine and learned why smaller grapes with less juice and thicker skins are better for wine because flavors are concentrated, as opposed to table grapes, which we like huge, juicy, with thin crisp skins. I am a winemaker now.
Karen had been in a successful career in technology in Los Angeles, but burned out. As so many of us dream of doing but never do, she actually escaped to wine country. She worked one harvest at Foley Estates, and basically never looked back. Karen is now the head winemaker at Buttonwood, crafting their Bordeaux and Rhône style wines with a real feel for the earth and environment.
Tastings at Buttonwood Winery and Vineyards take place in the garden surrounding the small house at the entrance to the property.
We tasted through:
Buttonwood Sauvignon Blanc
Buttonwood Syrah Rosé
Buttonwood Classic Cuvée red blend, a table wine that I identified as a "Tuesday night wine" when Karen described it to me and she immediately responded that she refers to it as a "Wednesday Night Wine," which I like better for the alliteration
Buttonwood Cabernet Franc
Buttonwood 'Hop On' white wine barrel-fermented with hops grown on the property, super unexpected and interesting!
In addition to growing wine grapes, Buttonwood is a working farm and grows almonds, peaches, pomegranates, and a bounty of other produce. In the summer, Buttonwood sells the produce from a farmstand across the street. It felt almost too cute to be real.
Buttonwood Winery & Vineyard
1500 Alamo Pintado Road, Solvang 93463
(805) 688-3032
www.buttonwoodwinery.com | @ButtonwoodWinery
Stolpman Vineyards and Stolpman So Fresh
Though the official Stolpman Vineyards tasting room is in Los Olivos, I had the rare privilege of heading out to the Stolpman estate in Ballard Canyon to peep the vineyards and chat with second generation Stolpman, Mr. Peter Stolpman. The vineyard is technically not open open to the public, i.e. you can't just drive up to the estate, but it is "open" to Club members who have access to events on the property. You can arrange for a private tour of the vineyard and winery depending on covid protocols for Santa Barbara county when you visit.
The majority of the vineyards at Stolpman, like others in the Ballard Canyon AVA, are planted with syrah. However, Stolpman also grows 14 other varieties, like the sangiovese and roussanne I saw on the vine. Wines vary in style, from the original Stolpman Vineyards label's classic expressions of syrah to the SO FRESH brand's exploration of light, youthful, creative re-interpretations of traditional techniques that are "new again" like non-extractive carbonic fermentation.
At Stolpman Vineyards, we tasted through:
Stolpman Vineyards 'Uni' unfiltered roussanne and chardonnay that I immediately located at a couple of local wine shops upon my return home from Santa Barbara. In Los Angeles, I found Stolpman Uni at: Fancy Free Liquor in Burbank, K&L Wines in Hollywood, Stanley's in Culver City and Ester's Wine Shop in Santa Monica. I also noticed the wine on the menu at some restaurants including Ester's and The Rose in Venice.
Stolpman So Fresh 'Love You Bunches' carbonic sangiovese, light, fresh, highly drinkable and now a personal "house red," especially because it's meant to be served chilled
Stolpman 'La Cuadrilla' 2019 red blend, profits from bottle sales are shared with the full-time vineyard crew
Stolpman Vineyards Estate Syrah
Stolpman Vineyards has a very hands-on approach to farming, and in order to do that, they employ a full-time vineyard crew of 30 people, who also share in the profits from the sale of the 'La Cuadrilla' bottling. I haven't done a lot of research into the operations of vineyards in general, but it seems really cool to take care of your team like that!
Stolpman Vineyards
Tasting Room in Los Olivos
2434 Alamo Pintado Ave, Los Olivos CA 93441

Vineyard (open for vineyard hike!)
2001 Ballard Canyon Rd, Solvang, CA 93463
805-688-0400
www.stolpmanvineyards.com | @StolpmanVineyards
Pro-tip: Internet was spotty for me in the canyon around Buttonwood and Stolpman (I have Verizon). Take a screenshot of googlemaps of the area before you go in. I LITERALLY had to zoom in on the photo I took of the chalk wall mural of Santa Barbara from the Kunin tasting room to figure out how to get out of there.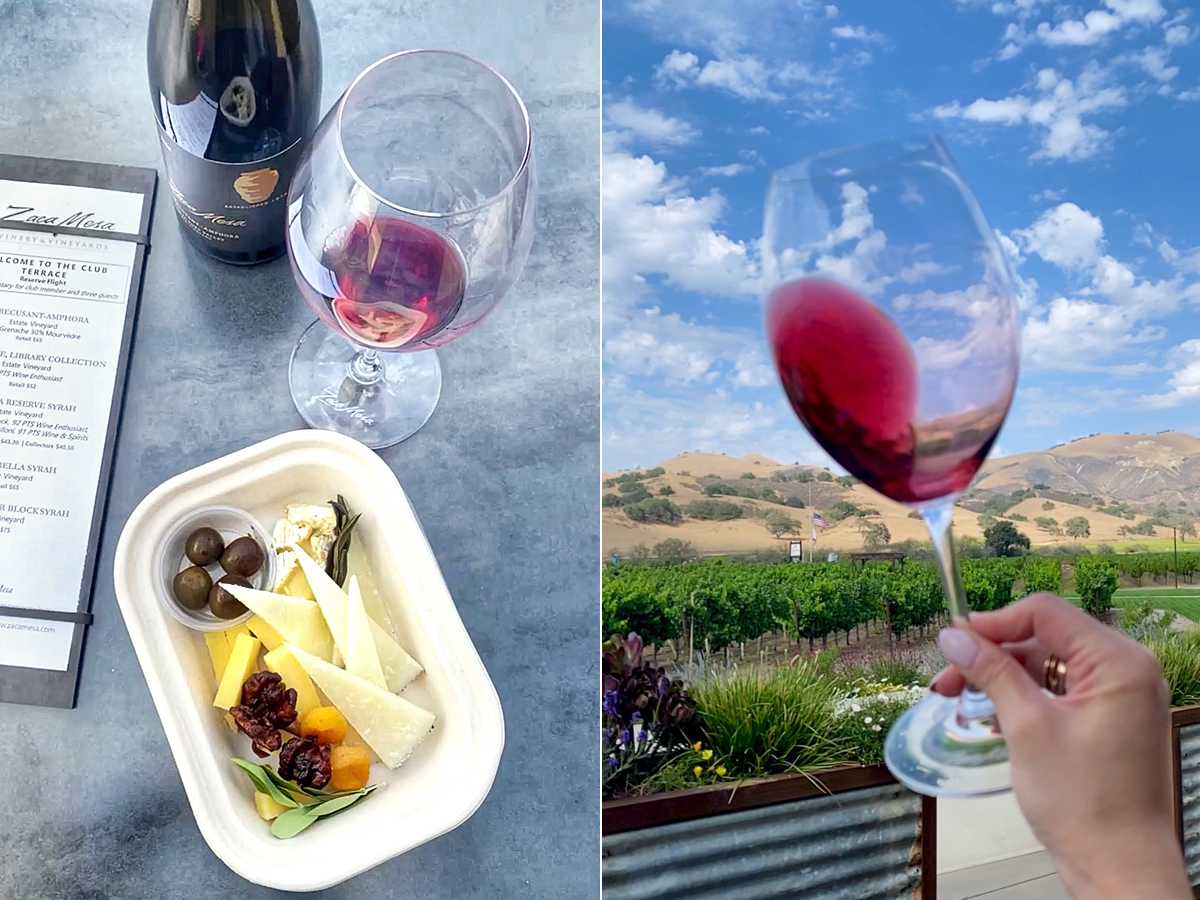 Zaca Mesa Winery & Vineyards
Zaca Mesa Winery is located a little further out in Santa Barbara wine country along the Foxen Canyon Wine Trail against the backdrop of the San Rafael Mountain range. The single-vineyard Rhône-style wines are made with grenache, mourvèdre, syrah, and viognier grapes grown on the estate since 1973. OG!
For our tasting, we sat on the fairly new terrace that overlooks grenache vineyards with a view of a sunflower field. The entire Zaca Mesa property is so picturesque, you just know it's booked every covid-safe weekend for events like weddings and parties. There is no food menu for the wine tastings, but you can order cheese and charcuterie, curated by local cheese shops. The cheese board was perfect, especially the little olives that really helped drive home the olive notes in one of the wines.
Zaca Mesa Winery & Vineyards
6905 Foxen Canyon Rd, Los Olivos, CA 93441
(805) 688 – 9339
www.zacamesa.com | @ZacaMesaWinery
Additional Recommended Santa Barbara Wineries in Wine Country:
These are a few Santa Barbara wineries I visited and are highly recommended!
Dragonette Cellars
Tasting Room in Los Olivos
2445 Alamo Pintado Ave, Los Olivos, CA 93441
805.693.0077
www.dragonettecellars.com | @DragonetteWine
Hitching Post Wines
at Hitching Post 2 Restaurant
420 East Highway 246, Buellton, CA 93427
(805) 688-0676
www.hpwines.com | @hitchingpost2
If you have strong opinions about any wineries in Santa Barbara that are not mentioned here, please share them in the comments so I can add them to my future travel plans and to this Guide.
Where to Eat in Santa Barbara
After a day of tasting at Santa Barbara wineries, whether nearby on the Urban Wine Trail or cruising the vineyard estates in wine country, these are the best restaurants to come back to and have a wine-centric (or not!) meal, from fine dining restaurants to standing-room only taquerias and all the best in between.
Finch & Fork
You can't stay at the Canary Hotel and not have at least one meal at Finch & Fork! And in fact, you could have a meal at Finch & Fork, and get a pretty good feel for Santa Barbara wineries just by exploring their wine list. Almost every winery I visited was represented on their list.
Finch & Fork's food is simple California cuisine that showcases the bounty of Santa Barbara. Produce comes from local farms, and the fish and seafood, which has a solid presence on the menu, is wild-caught right out of the ocean a few blocks away!
At Finch & Fork, we had:
Sea Bass (Local-caught!) with Cranberry Beans, Haricot Verts, and Salsa Verde
Halibut (Local Catch of the Day!) with Polenta, Squash, and Meyer Lemon Beurre Blanc
Buffalo Cauliflower with Point Reyes Blue Cheese Mousse - you know how much I love my California-made cheese!
Deviled Eggs with Caviar - let's just call this a luxury dose of omega-3s
Fig, Melon, Pancetta, and Goat Cheese with Vincotto
Finch & Fork at the Canary Hotel
31 W. Carrillo Street, Santa Barbara
(805) 879-9100
finchandforkrestaurant.com | @finchandfork
Boathouse at Hendry's Beach
One of the most stunning views of the Pacific Ocean from a restaurant table in Santa Barbara is at the Boathouse at Hendry's Beach, which is an all-American, California-ish seafood restaurant. It's a five to 10-minute drive from "downtown" Santa Barbara and is located literally on the sand of what is officially named Arroyo Burro Beach. Every table has a view of the water.
The Boathouse doesn't take reservations, and because the restaurant is, for obvious reasons, so popular, the wait time for a table at prime dinner time during high season can be upwards of two hours. Here's a tip from a local: go earlier in the evening -- before 6 -- put your name down on the list to grab a pager, and then stroll the beach.
This stretch of beach in front of the Boathouse is dog-friendly, so if you're traveling with your pup, you can bring him/her to the beach. Dogs are not allowed inside the restaurant or on the restaurant's covered patios where people are eating. You can have dogs with you at the outside (no coverage) sidewalk seating, but the tables are limited, so be prepared to wait for one of those. My pom Bruno sat at one of these tables.
Pro-tip: Dress very warmly. Even in the summer. You think you're good? No. Whatever you're wearing, you need one more layer, trust me.
Boathouse at Hendry's Beach
2981 Cliff Drive, Santa Barbara
(805) 898-2628
Boathousesb.com | sb_boathouse
La Paloma Café
One of the vibiest patios in Santa Barbara, perfect for sipping on a pitcher of margaritas before dinner of a uniquely Santa Barbara cuisine that combines California and Mexico over a wood fire.
These are the dishes we ordered, tried, and liked (if it's not listed here, either we didn't order it, or I don't think it was that remarkable):
Santa Maria Style BBQ Snake River Farm Wagyu Tri-Tip with Pinquito Beans
extra side of Pinquito Beans because I loved them
Pork Shoulder Carnitas with Black Beans and Cotija Cheese, served with tortillas
Crispy Cauliflower and Potato "Chorizo" Tacos
Esquite Style Shishito Peppers with Garlic Aioli
La Paloma Salad
702 Anacapa Street
Santa Barbara, California 93101
805.966.7029
lapalomasb.com | @lapalomasb
Lucky Penny
Lucky Penny is a wood-fired pizzeria in Santa Barbara's Funk Zone, making it a great place to stop for a food break between wine-tasting stops on this section of the Urban Wine Trail, which includes Kunin Wines, The Valley Project, and Margerum Wines. Order at the register inside, grab a number, and sit down at any of the number of tables in the cute outdoor courtyard set-up in what was once the parking lot shared with Lucky Penny's sister restaurants.
Shockingly, I ordered neither the Italian Chopped Salad nor the Little Gems Caesar from Lucky Penny's menu, my "Always Orders." HWHAT. I know. Instead I went with the seasonal salad that had strawberries, pistachios and fennel. My farmers' market pizza was one of the most vibrant I've ever seen with Tutti Frutti heirloom tomatoes, Calabrian chili, and both green and purple basil.
Lucky Penny's courtyard is dog-friendly. Six-pound Bruno even met a new 60-pound Golden Retriever ladyfriend.
Fun fact: The outside of Lucky Penny's building is overed with 164,456 real copper pennies; now you know where to go if we really do have a post-pandemic coin shortage!
Lucky Penny
127 Anacapa St., Santa Barbara
(805) 284-0358
luckypennysb.com | @luckypennysb
La Super-Rica Taqueria
Everyone who goes to Santa Barbara has to go to La Super-Rica Taqueria at least once in their lives because they just do. Because it's La Super-Rica Taqueria.
I knew La Super-Rica was one of Julia Child's favorite restaurants but beyond that, I had no idea what to expect. I didn't want any third party expectations-setting, so I did almost no research in advance other than looking up the address and hours. They are closed on Tuesdays and Wednesdays, so I planned my very limited itinerary around that, leaving for Santa Barbara two hours earlier than scheduled so I could squeeze in my La Super-Rica "pre-lunch" before my actual lunch lunch somewhere else.
I'm from Los Angeles so "tacos" could mean a $200 dinner with skinny margaritas in a restaurant, or it could mean eating off a paper plate standing in an empty parking lot next to a gas station. La Super-Rica is something in-between: you wait in line that spills out the front door onto and at some times, down the sidewalk, when you get inside the neon turquoise trimmed building you order through a window, you walk out the other side to the back covered patio and wait with your number, you pick up your tray when your number is called, then either stand at a bar around the perimeter of the inside patio, or small tables outside.
The person at the register recommended a couple of popular dishes. It may sound like my order of "only" three tacos was small, but this was a huge amount of food (for me), mostly because the tacos are blanketed with melted cheese. The Super-Rica Especial is almost an entire plate, three tortillas with roasted pasilla chiles, grilled pork, and melted cheese. Taco de Adobada is grilled marinated pork and Taco de Rajas is the chiles. So basically I had the exact same things — tortillas, pork, roasted pasillas, and cheese–three different ways, and I wasn't mad about it. When you go, get the Super-Rica Especial for sure.
La Super-Rica Taqueria
622 N Milpas St, Santa Barbara, CA
(805) 963-4940
street parking
Trusted Santa Barbara Restaurant Recommendations:
Places to Eat Out and Around Santa Barbara Wine Country
S.Y. Kitchen, Santa Ynez
If I were a restaurant, I'd be S.Y. Kitchen. Lunch from S.Y. Kitchen could not have been more on-brand for me than if I had cooked it myself. We had a bright, sunshiny shaved yellow beet salad with goat cheese and hazelnuts (ok, so maybe not the hazelnuts since I'm allergic), Prosciutto di Parma with melon, and of course one of my all-time favorites, Tuna Niçoise.
I swear I did not actually look at the menu until writing this story and S.Y. Kitchen has Salmon Puttanesca!!! I can't believe this place isn't called S.J.G. Kitchen.
Every dish paired perfectly with Stolpman Vineyards 'Uni' (roussanne) and Stolpman So Fresh 'Love You Bunches." But you knew they would.
Fun fact: S.Y. Kitchen's big sister restaurants are Toscana/Bar Toscana and Nerano/BG back at home in Los Angeles!
S.Y. Kitchen
1110 Faraday St, Santa Ynez CA 93460
805.691.9794
www.sykitchen.com/ | @SYKitchen
Hitching Post II, Buellton
You can't visit Santa Barbara without trying a quintessential Santa Barbara food, Santa Maria BBQ. This is a style of barbecue that originated in California's Santa Maria Valley, just north of the city of Santa Barbara. And if you're going to try Santa Maria BBQ, why not try it at Hitching Post II, an OG restaurant mainstay in Solvang, made famous by the movie Sideways.
Hitching Post II
420 East Highway 246, Buellton, CA 93427
(805) 688-0676
www.hpwines.com | @hitchingpost2
Bob's Well Bread Cafe and Bakery
If you're going to drink fermented grape juice, might as well go all in and eat fermented, too. Bob's Well Bread has carts full of sourdough bread in their adorable Ballard Bakery and Cafe, which is basically "on the way" to or from or between any winery in the Santa Ynez Valley.
For lunch, I couldn't not order the Avocado Toast with pepitas, pickled shallots, and Aleppo pepper. We also tried the Molinari & Sons salami, provolone, and basil-walnut pesto on ficelle bread, and a kouign-amann. All of it was perfect sitting under a striped umbrella out on the front patio. We took a huge box of pastries to go, which barely made it home uneaten. Bob's Well Bread is obviously known for, well, its bread, but damn, the caneles deserve some love.
Pro-tip: Take a loaf of the olive bread home, freeze one half, and use the other half for incredible avocado toast for the next few mornings. Some day down the line, your future-self will remember you have that half loaf of olive bread in the freezer and will thank you.
Fun fact: Bob has his own line of wines, a grenache rose and a sauvignon blanc, made by Doug Margerum of Margerum Wine Co. (mentioned above). The Well Bread wines are available at the bakeries.
Bob's Well Bread in Ballard
2449 Baseline Avenue, Ballard CA 93463
(805) 691-9549
Bob's Well Bread in Los Alamos
550 Bell Street, Los Alamos CA 93463
(805) 344-3000
www.bobswellbread.com | @bobswellbread
Other Food Things in Santa Barbara
Santa Barbara Farmers' Markets
State Street Farmers Market: Tuesday 3 pm – 7 pm
Santa Barbara and Cota Street Market: Saturday 8 am – 1 pm
Santa Barbara Saturday Fish Market
Local fishermen bring in wild-caught sea bass, black cod, ling cod, yellowtail, rockfish, halibut, swordfish, tuna, king salmon, crab, shrimp, lobster, and world famous Santa Barbara spot prawns and Santa Barbara uni (sea urchin, pictured above) on Saturday mornings to the Santa Barbara Harbor. If I were heading home right after this, I definitely would have picked up sea bass or black cod to make a Miso-Marinated Sea Bass, salmon for Roast Salmon with Green Olive Salsa, and all the shellfish for a killer Classic Cioppino!
Check the Fish Market's website for what's currently in season/available.
Taste of Santa Barbara Event
Santa Barbara Culinary Experience in partnership with local food, wine, and culinary education groups put on Taste of Santa Barbara, a multi-day event in the spring. The event highlights the best of the best of Santa Barbara with special restaurant menus, farm and garden tours, farmers' market tours, film screenings, panel discussions, wine tastings, and more!
---
How to Get Santa Barbara
You can get to Santa Barbara by driving, taking the train, or flying.
Making a longer road trip out of the Central Coast, including Paso Robles, San Luis Obispo and Monterey, is highly recommended!
Driving to Santa Barbara
Santa Barbara is a two-ish hour drive from most starting points in Los Angeles. If you time your departure right like I did on a Monday morning, you can get to Santa Barbara in 90 minutes, which is shorter than some commutes I've done to Orange County.
From San Francisco: the fastest route from northern California is taking US-101 south, which is a direct line and will get you to Santa Barbara in five hours on a good day. The 101 also gives you the option, if you have the time to take it, to veer slightly off course onto Highway 1, and take the scenic route along the Central Coast. The coastal route will tack on an additional hour-and-a-half of driving, if you're not tempted to stop to take in views, photos, meditation, what have you.
From Los Angeles: Hop on US-101 North. Boom, you're there.
Taking the Train to Santa Barbara
Amtrak's Pacific Surfliner runs between Los Angeles and Santa Barbara in about two-and-a-half hours. If you're comfortable with walking, cycling (many hotels have a fleet of beach cruisers and bikes for their guests to borrow!), and otherwise taking public transportation once in Santa Barbara, a train is a generally no-hassle, affordable way to get to Santa Barbara. If you plan on venturing out to wine country or anywhere beyond the city of Santa Barbara, drive your own car. Parking is easy and if not free, pretty inexpensive in Santa Barbara.
Train to Santa Barbara from San Francisco/Bay Area is not recommended unless you have a billion hours to kill.
Flying to Santa Barbara
Major commercial airlines fly into Santa Barbara (SBA), making it virtually inexcusable not to visit. There are direct flights from as far away as Chicago on American Airlines and United Airlines.
Best Hotels and Lodging Options in Santa Barbara
Kimpton Canary Hotel
The Kimpton Canary Hotel is a boutique luxury hotel very conveniently located in the heart Santa Barbara, literally just steps from the action of State Street, which has recently converted into a pedestrian promenade with shopping, outdoor dining, and nightlife. I've now stayed at the Canary on multiple visits.
From the valets who handled the car to the front desk associates who checked us in, the service was helpful without being intrusive, high-class without being pretentious. The room was comfortable, the bed even more so, especially after long days of walking around town and wine-tasting. Bruno appreciated that as a "pet-friendly" hotel, the Kimpton Canary doesn't just tolerate dogs, but they really do love them there. It must be a job requirement?
Here's why you want to stay at the Kimpton Canary:
Covid-19 precautions, including reminder signs to all guests about masks, social distancing, one party in elevator at a time, etc so you're not in the awkward position of having to ask strangers. As a passive-aggressive germophobic introvert, I appreciate this immensely.
100% pet-friendly, one of the most pet-loving hotels we've stayed in.
Finch & Fork, the on-site restaurant, serves breakfast and dinner (see above!)
Roof-top pool. I had a tight itinerary so I didn't get to take advantage of the rooftop pool, but I will next time!
Gold's Gym next door to work out
complimentary bikes to get around town
Kimpton Canary Hotel
31 W. Carrillo St, Santa Barbara
(805) 884-0300
CanarySantaBarbara.com | @canaryhotel
Santa Barbara Food and Wine Pairings
If you can't wait to head out to Santa Barbara, pick up a couple Santa Barbara wines from your local wine store or order directly from the wineries, and do your own "Santa Barbara Tour" at home, paired with these recipes:
Explore More California Wine Regions
---
Buttonwood Farm and Winery, Grassini Family Vineyards, Kunin Wines, Margerum Wines, Stolpman Vineyards, Zaca Mesa, Lucky Penny, and the Canary Hotel were part of a tour coordinated and hosted by California Grown and California Wines. All opinions are our own. Thank you for supporting our partners who keep The Delicious Life well fed!