If you're here, that means you already know that Santa Ynez, Solvang and Los Olivos wineries within Santa Barbara county deserve their own special exploration. Let's get into the best of the best of why Santa Barbara was named Wine Region of the Year last year, plus where to eat and what to do for your next trip to the SYV. And if you can't quite travel to Santa Ynez, what to drink at home! Shall we?
Jump to:
This guide covers the Santa Ynez Valley, specifically Solvang and Los Olivos wineries, and one special detour to the Santa Maria Valley. The guide has my personal reviews of wine tasting experiences both in the tasting rooms located among the towns within the Santa Ynez Valley, as well as wineries and vineyard estates spread across the surrounding wine country.
Because you'll definitely want to explore the region for at least two days, there are recommendations for where to eat, and what to do in addition to wine tasting, so you can plan your own perfect getaway as soon as this weekend.
And if you can't quite squeeze a trip into your schedule in the immediate future, there are specific food and wine pairing recommendations at the end so you can experience the Santa Ynez Valley at home.
If you're just here for the wine, jump ahead to the Solvang and Los Olivos Wineries Guide below! Otherwise, keep reading...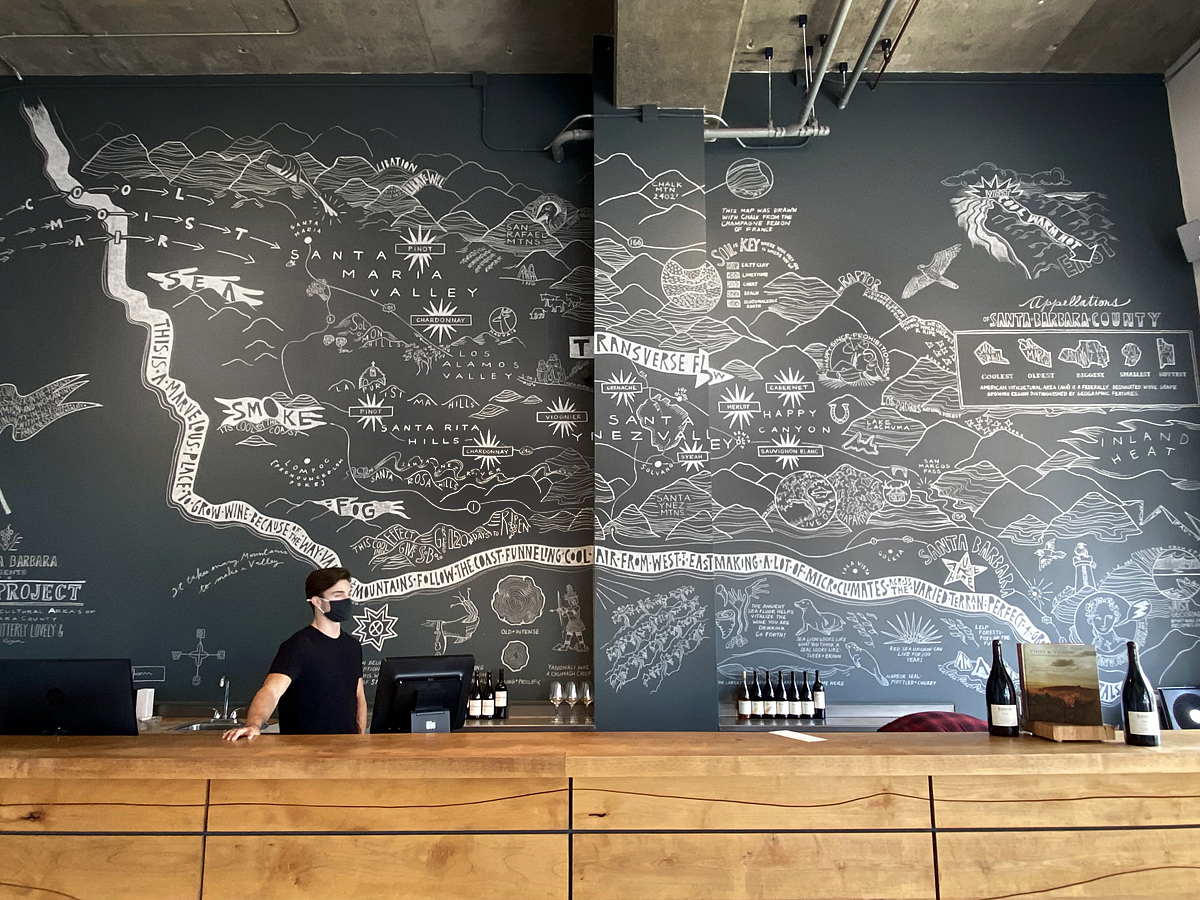 Where and What Exactly is the Santa Ynez Valley?
Santa Ynez Valley is a wide valley that runs transverse west-east from the Pacific Ocean on the western edge to inland valleys in the east. It is located on the northern end of Santa Barbara County, about 120 miles north of Los Angeles, just over the mountains from the beaches of Santa Barbara.
The five major towns in the Santa Ynez Valley—and we're using the term "major" pretty loosely here—are Ballard, Buellton, Los Olivos, Solvang, and Santa Ynez, which is its own town, not to be confused with the surrounding Santa Ynez Valley.
What Wine Region is Santa Ynez Valley?
Santa Ynez Valley itself is one of seven American Viticultural Areas (AVA) within the larger Santa Barbara region, which in turn, is part of California's Central Coast AVA.
Santa Ynez Valley also surrounds smaller, more specific sub-AVAs from west to east: Sta. Rita Hills, Ballard Canyon, Los Olivos, and Happy Canyon.
So, there are officially five AVAs in the Santa Ynez Valley.
For context, these are all seven AVAs of Santa Barbara, generally in order of when they were established:
Santa Maria Valley AVA established in 1981, the oldest AVA in Santa Barbara, and second oldest by mere months in California, known for Chardonnay and Pinot Noir
Santa Ynez Valley AVA established in 1983, known primarily for Chardonnay, Sauvignon Blanc, Viognier, and Syrah

Sta. Rita Hills AVA part of Santa Ynez Valley, established in 2001, furthest west and closest to the ocean, really put the entire region on wine critics' radar, known for critically acclaimed Pinot Noir and Chardonnay
Ballard Canyon AVA established 2013 known for Rhone varietals like Syrah, Grenache, Sangiovese, Viognier and Roussanne
Happy Canyon established 2009 furthest east/inland, known for warmer climate Bordeaux varietals like Sauvignon Blanc and Cabernet Sauvignon
Los Olivos District AVA established 2016, known for Bordeaux varietals Cabernet Sauvignon, Sauvignon Blanc, Semillon, and Merlot

Alisos Canyon AVA, established August 2020 near Los Alamos, known for Pinot Noir, Chardonnay, and Grenache Syrah blends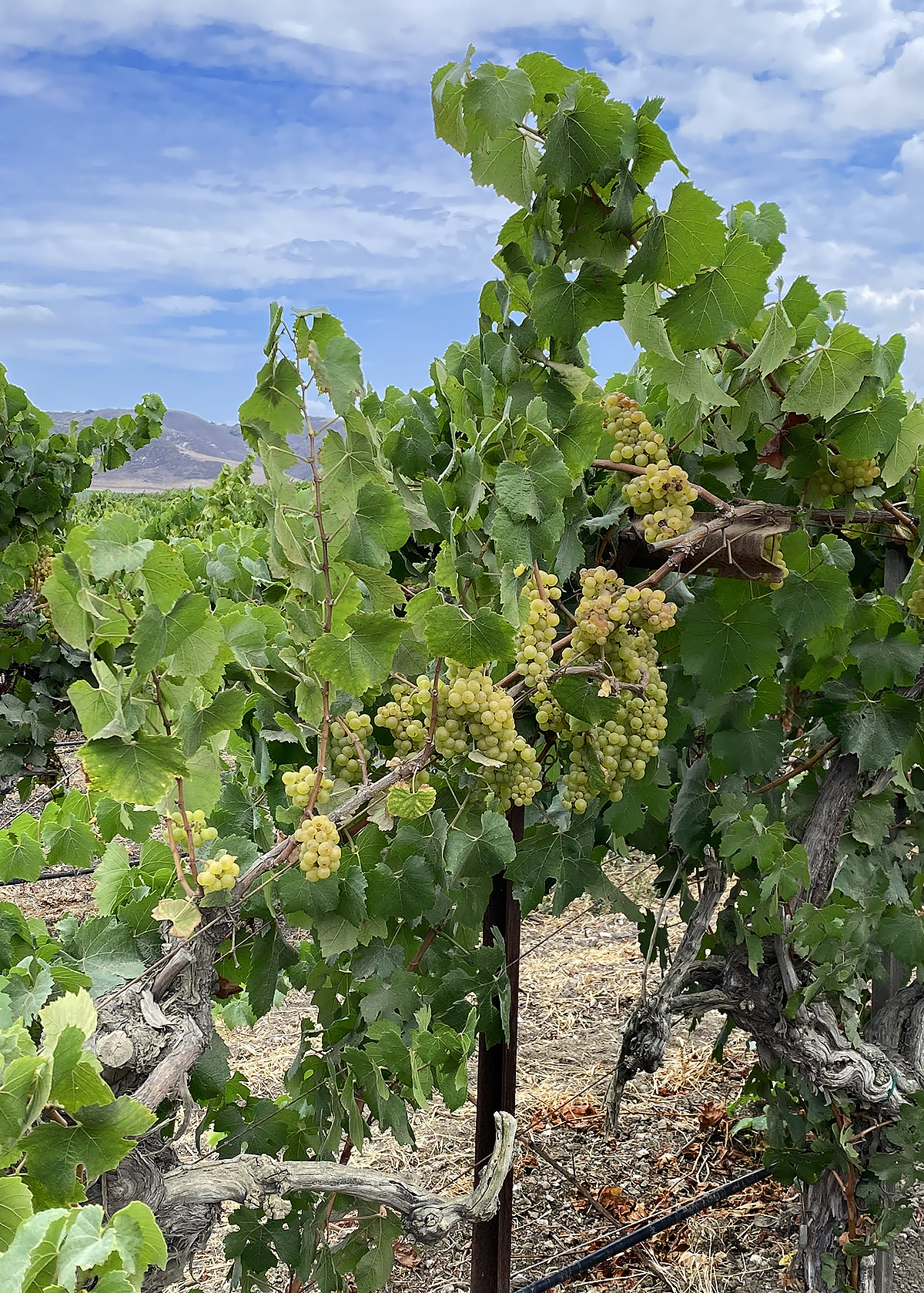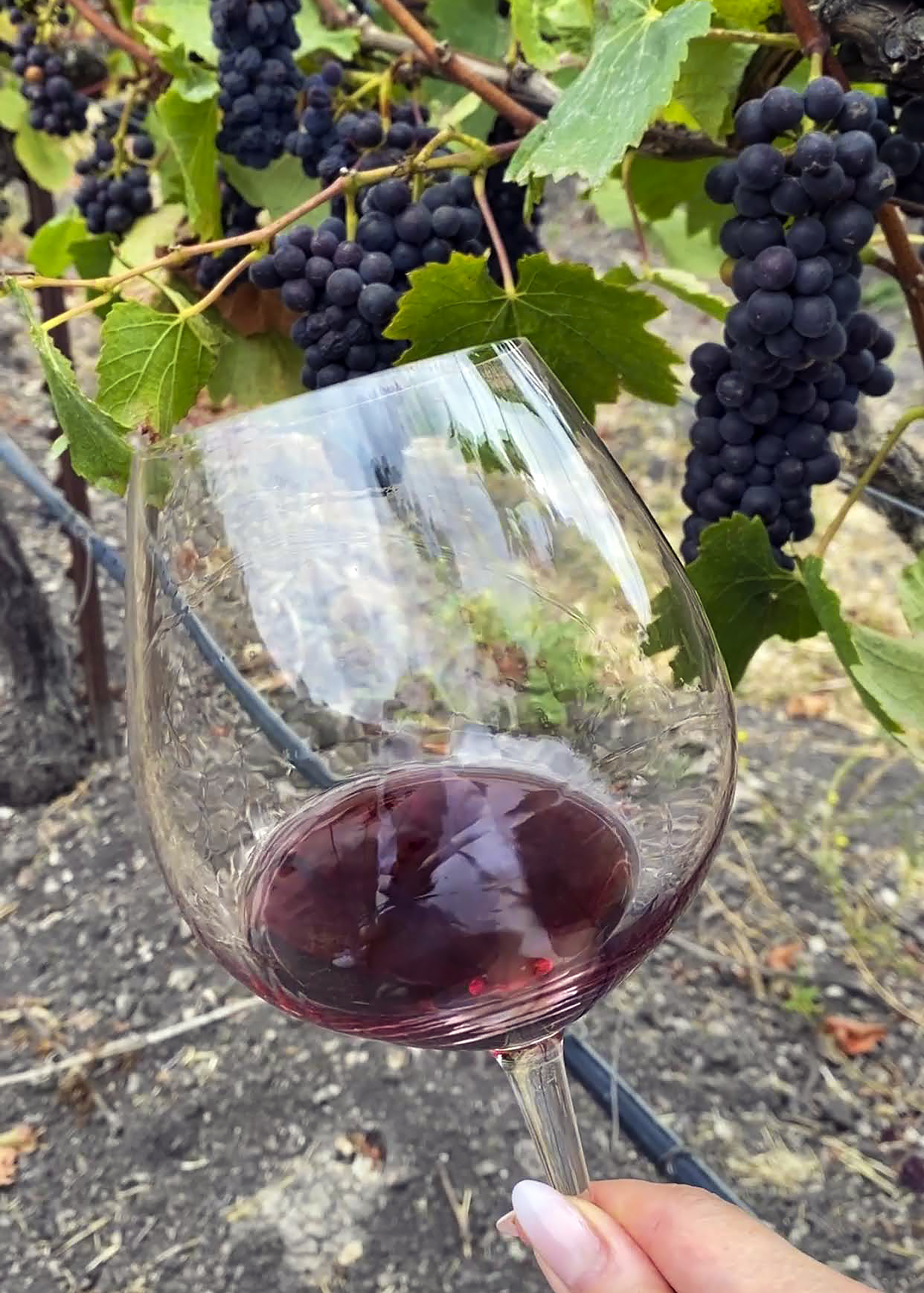 What Wines are Produced in Santa Ynez Valley?
The entire Santa Ynez Valley is known for Chardonnay, Pinot Noir and Syrah, but the topography and climate vary so much that the region grows anywhere between 50 and 65 distinct varietals. The reality is, if you think of any wine, there is probably someone, somewhere in the Santa Ynez Valley at least experimenting with a few vines of it.
We already know why there is such a diversity of wines: the Valley's wide funnel shape and unique transverse orientation. Fog and cool winds off the Pacific Ocean pour into the wide end of Valley funnel, and flow east through the Valley. Because of this effect, the region is famously one of the coolest grape growing regions in California, even though it is on the southernmost end of the Central Coast. Average high temperatures peak around 80°F during the day and drop to around 50°F at night. These climate phenomena extend the growing season by as much as a month longer than other regions in California, with harvest going as late as October. The longer growing season means grapes can fully ripen on the vines without building up excessive sugar levels from heat.
Here are wines that are well known in specific AVAs:
Santa Maria Valley AVA very cool climate, known for Chardonnay and Pinot Noir
Santa Ynez Valley AVA Chardonnay, Sauvignon Blanc, and Syrah

Sta. Rita Hills AVA cool climate Chardonnay and Pinot Noir
Ballard Canyon AVA warm climate grapes like Syrah, Grenache, Sangiovese, Viognier and Roussanne
Happy Canyon warm Bordeaux-based grapes like Sauvignon Blanc and Cabernet Sauvignon
Los Olivos District AVA Cabernet Sauvignon, Sauvignon Blanc

Alisos Canyon AVA Chardonnay, Pinot Noir, and Grenache Syrah blends
Chardonnay
The most widely planted grape in the Santa Ynez Valley is global favorite Chardonnay, a cool climate-loving white wine grape.
Pinot Noir
The most well-known and critically-acclaimed wine in the Santa Ynez Valley, like its parent region Santa Barbara overall, is Pinot Noir. These delicate, thin-skinned grapes grow well in the cool microclimates within the Valley that are naturally regulated by the breezes and fog off the Pacific Ocean. Diurnal temperature variation, the difference between the lowest temperature and highest temperature of the day, is wide in the Valley. The warmer daily temperatures and longer summers are when sugar and flavor develop in the grapes. But the cool temperatures and fog help Pinot Noir growers develop acid to keep the grapes balanced.
Pinot Noir is the primary red wine produced in sub-AVAs closest to the ocean and its cooling effects. The Pinot Noir from Sta. Rita Hills typically exhibit bright fresh cherry flavors with a high degree of minerality and acidity.
Syrah
Not nearly as widely planted as Pinot Noir and Chardonnay, Syrah is no less important in the Santa Ynez Valley. The red Rhône varietal thrives in the warmer sub-AVAs like Ballard Canyon, Happy Canyon, and Los Olivos.
How Many Wineries are in Santa Ynez Valley?
There are more than 275 wineries in the Santa Ynez Valley. It has the highest concentration of wineries in Santa Barbara.
This past year, Discover California Wines sent me all around the state of California to explore wine regions other than Napa and Sonoma. Paso Robles? A rustic gem. Monterey? Was beyond delighted to learn there's a lot more than just golf and the aquarium there. Anderson Valley? Still almost peacefully undiscovered. But perhaps my favorite, or at least the region I keep going back to, is Santa Barbara. More specifically, the vast wine country within Santa Barbara County, the Santa Ynez Valley.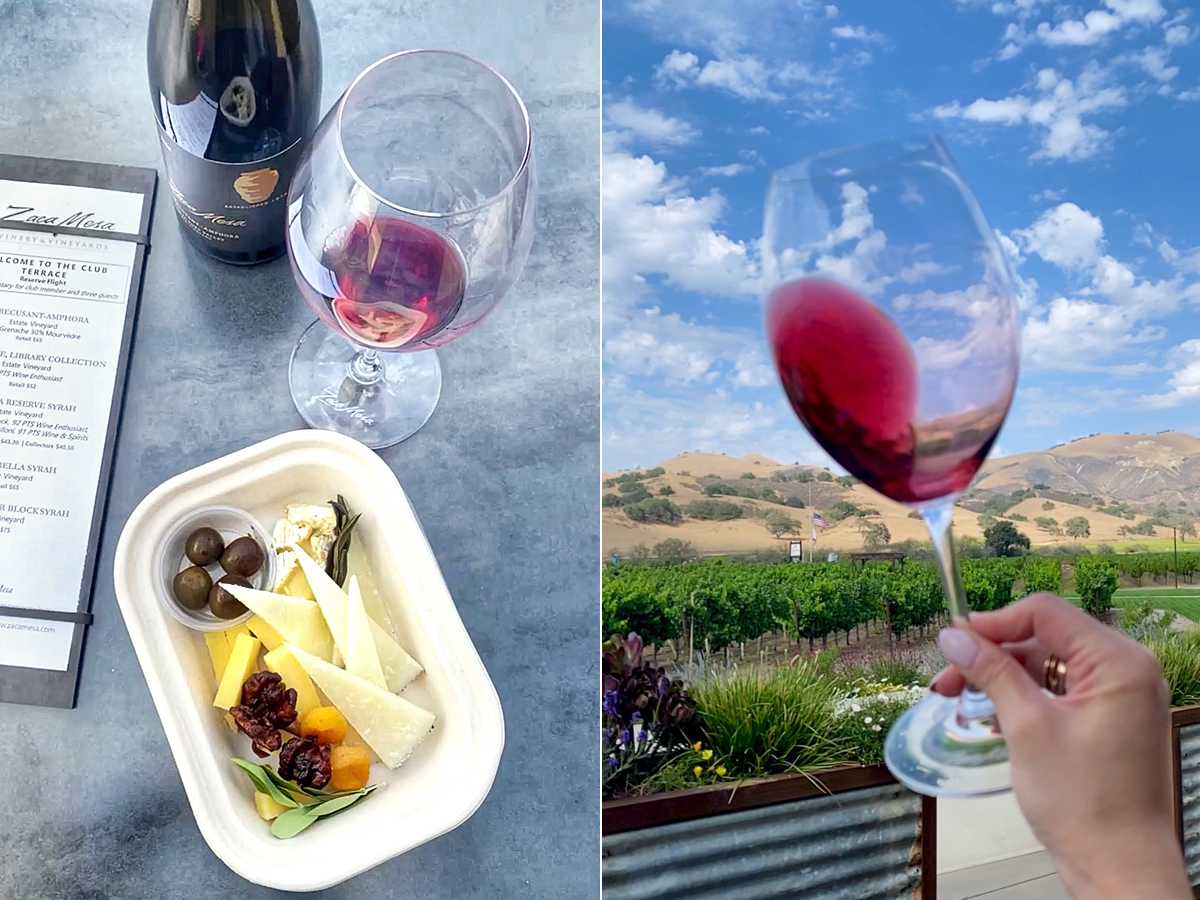 How to Go Wine Tasting in the Santa Ynez Valley
There are two general types of tasting experiences in and around the Santa Ynez Valley: estate tastings and tasting rooms.
Estate Tastings
Larger, usually longer established wineries offer tastings at their vineyards/estates, which afford gorgeous settings with stunning views of hills covered with vineyards, tours of wine-making operations inside the facilities, and walks among the vines to get closeups of the grapes.
Tasting Rooms
Many smaller and/or newer wineries that don't have large estates or vineyards have tasting rooms. These tasting rooms are clustered around a few towns. These include Buellton, Solvang, and Los Olivos wineries
Recommended Tasting Schedule
My recommendation is to schedule a tasting at a vineyard or winery estate out in the countryside as your first appointment of the day, around late morning. After, grab lunch if you'd like, then come back to one of the towns and visit a few of the tasting rooms that are clustered together so you can walk. That way, you won't have to worry about driving after multiple tastings.
If you do it right, you can also make dinner reservations at a restaurant in the same area. Win win. Or is it win wine.
Where to Go Wine Tasting
Plan on visiting three wineries a day on this type of itinerary, four if you're able to be militant about keeping to your schedule. There's a lot of "open space" on the map between towns in the Santa Ynez Valley which makes it seem like there's a lot of actual driving — but the distance between them is at most 5 to 7 miles. Some of the roads are two lanes through canyons so going can be careful.
Make absolutely sure you assign a designated driver or hire third-party transportation.
Best Santa Ynez Valley, Solvang, and Los Olivos Wineries Guide
This list of the Best Santa Ynez Valley, Solvang, and Los Olivos Wineries is culled from my most recent explorations with California Wines, previous personal visits to the region, and a few highly reliable recommendations from trusted friends and experts.
Click any link in the outline to jump ahead.
Los Olivos Wineries and Tasting Rooms
Solvang Wineries and Tasting Rooms
Santa Ynez Valley Wineries and Beyond
---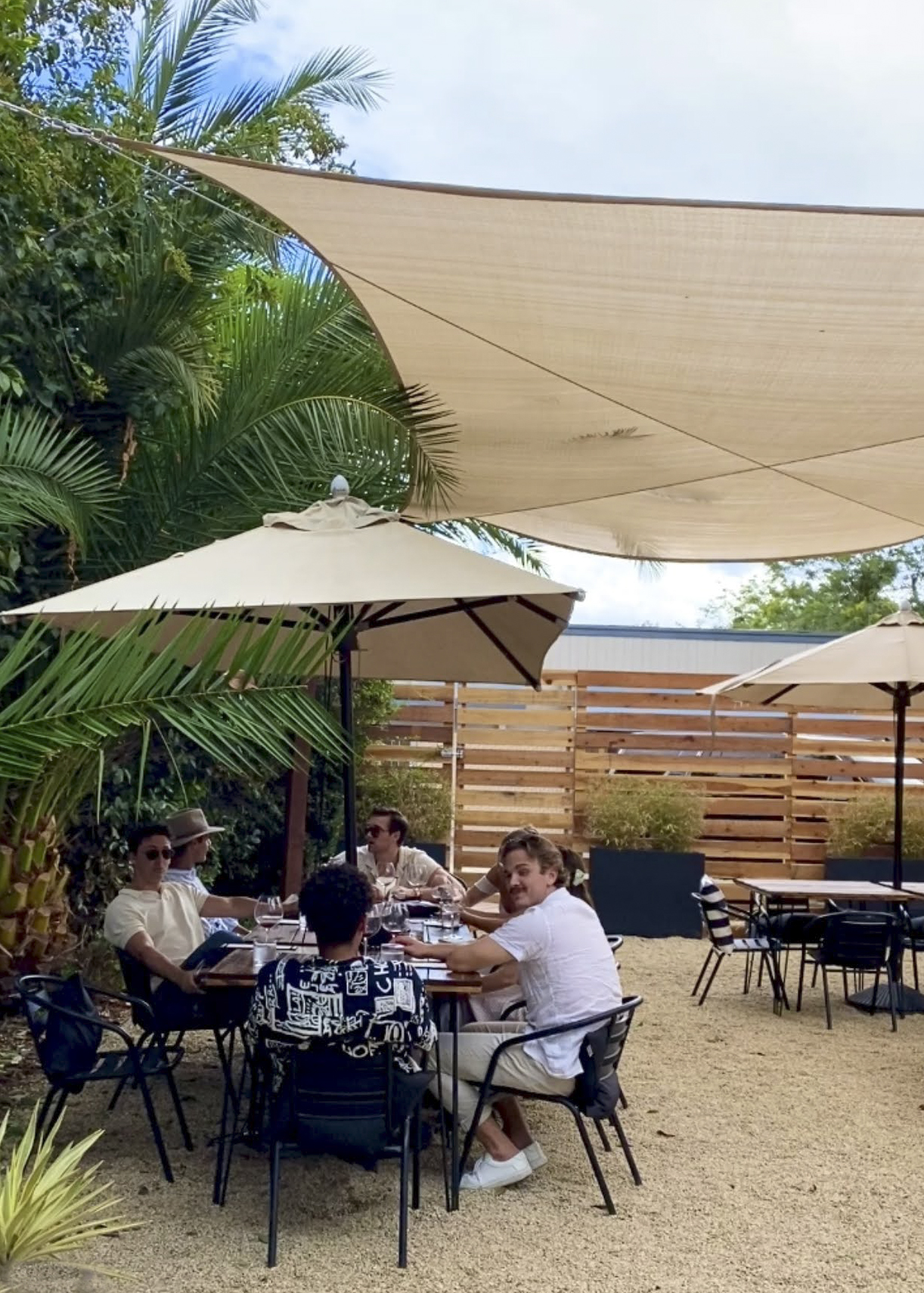 Brewer-Clifton, Los Olivos Tasting Room
Brewer-Clifton is a Chardonnay and Pinot Noir specialist that reflects the unique geography, geology and climate of the Sta. Rita Hills vineyards where the grapes are grown. Founder Greg Brewer was named 2020 Winemaker of the Year. The wines are rich, complex and highly rated by critics.
Winery operations are in Lompoc just west of the Sta. Rita Hills in a somewhat industrial pocket that is home to a number of wineries. However, the Los Olivos tasting room is sleek and modern with a small garden area with shaded tables in the backyard.
Here's what we tasted:
2017 vs 2009 Brewer-Clifton 3D Chardonnay, which was a fun study in how aging affects Chardonnay
2020 Brewer-Clifton 3D Pinot Noir
2009 Brewer-Clifton Ampelos Pinot Noir
2017 Brewer-Clifton Machado Pinot Noir
Diatom 2017 Machado Chardonnay
bonus: Ex Post Facto 2020 Syrah
You can find higher production Brewer-Clifton wines with the 'Sta. Rita Hills' appellation online and in retail stores. Vineyard specific wines are available directly from Brewer-Clifton, and the most sought-after wines are available by allocation to members only.
Address: 2367 Alamo Pintado Ave, Los Olivos, CA 93441
Open for Tastings: Thursday through Monday, 10am – 4pm
Reservations: required, book online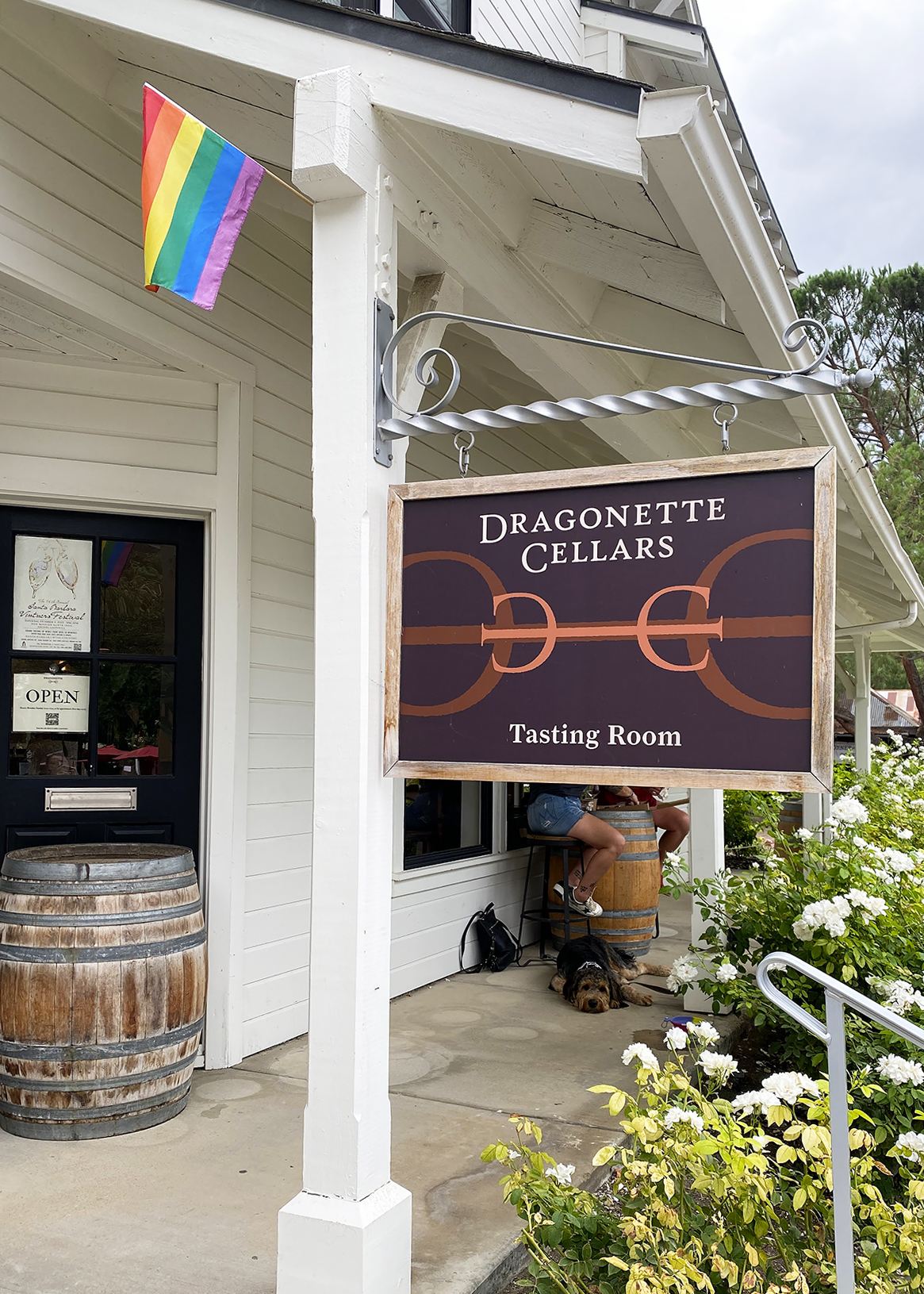 Dragonette Cellars, Los Olivos Tasting Room
Dragonette Cellars is a small-production, family-owned winery that makes Pinot Noir, Sauvignon Blanc, and Syrah "of interest and distinction" with a commitment to mindful farming of the land, fermentation with native yeasts, and minimal manipulation in the cellar. The red wines are bottled unrefined and unfiltered, which lets the wines truly reflect the the soil and climate of the region.
The Rosé was my first introduction to Dragonette waaay back at a restaurant in Costa Mesa. Rosé is never bad, and this one was so accurately paired with the food that I took note.
Dragonette Cellars offers "deep-dive" tastings at their winery operations in Buellton, about a 15-minute drive from Los Olivos, which I did last year and loved. I highly recommend! But if you want to taste on an itinerary with other Los Olivos wineries, you can visit Dragonette's satellite tasting room.
My tasting at Dragonette Cellars included:
2020 Dragonette Rosé, Santa Ynez Valley
2018 Sauvignon Blanc, Vogelzang Vineyard <-- we bought the most bottles of this
Dragonette Chardonnay, Duvarita Vineyards
Dragonette Pinot Noir, Sta. Rita Hills
2018 Syrah, John Sebastiano Vineyard
Dragonette 'MJM' Syrah blend
Some of Dragonette's higher production wines are available via online retailers. You can also get most current releases direct from the winery. Limited production wines are available to members only.
Address: 2445 Alamo Pintado Ave, Los Olivos, CA 93441
Open for Tastings: daily 11am -5 pm
Reservations: recommended, book via tock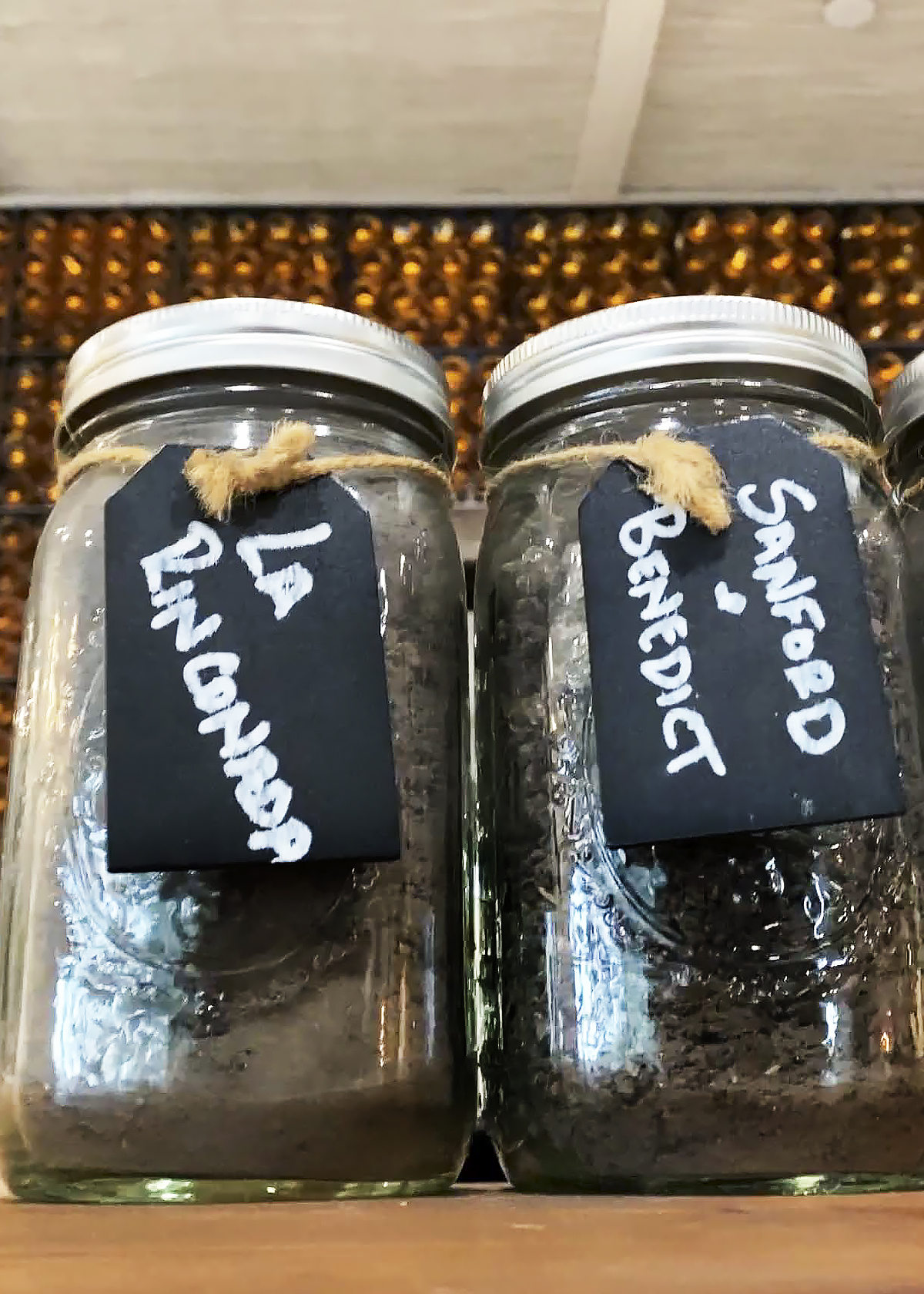 Liquid Farm, Los Olivos Tasting Room
Liquid Farm is a relatively new winery, founded in 2009. Production of their Chardonnay-focused operation is based in Lompoc. However, their charming tasting room/wine bar and lounge/boutique/board game living room is located amongst other Los Olivos wineries on the main drag. The winery name is a reflection of the founders' philosophy that wine is a product of farming. There is very little intervention in the winemaking process, minimal or no new oak, no additives, and no machine manipulation. The final product is a highly drinkable, lower alcohol, higher acidity wine.
My friend and I somehow ended up playing board games with a hilarious group of ladies on a girls' getaway weekend, made all the more entertaining after tasting through Liquid Farm's flight:
2021 Liquid Farm Rosé of Mourvédre
2021 Liquid Farm La Hermana Chardonnay
2020 Liquid Farm White Hill Chardonnay
2020 Liquid Farm 'Four' Chardonnay
2021 Liquid Farm 'SBC' Pinot Noir
Address: 2445 Alamo Pintado Ave Suite 101 Los Olivos CA 93441
Open for Tastings: Sun-Thu-11am - 5pm, Fri-Sat 11am - 7pm
Reservations: not required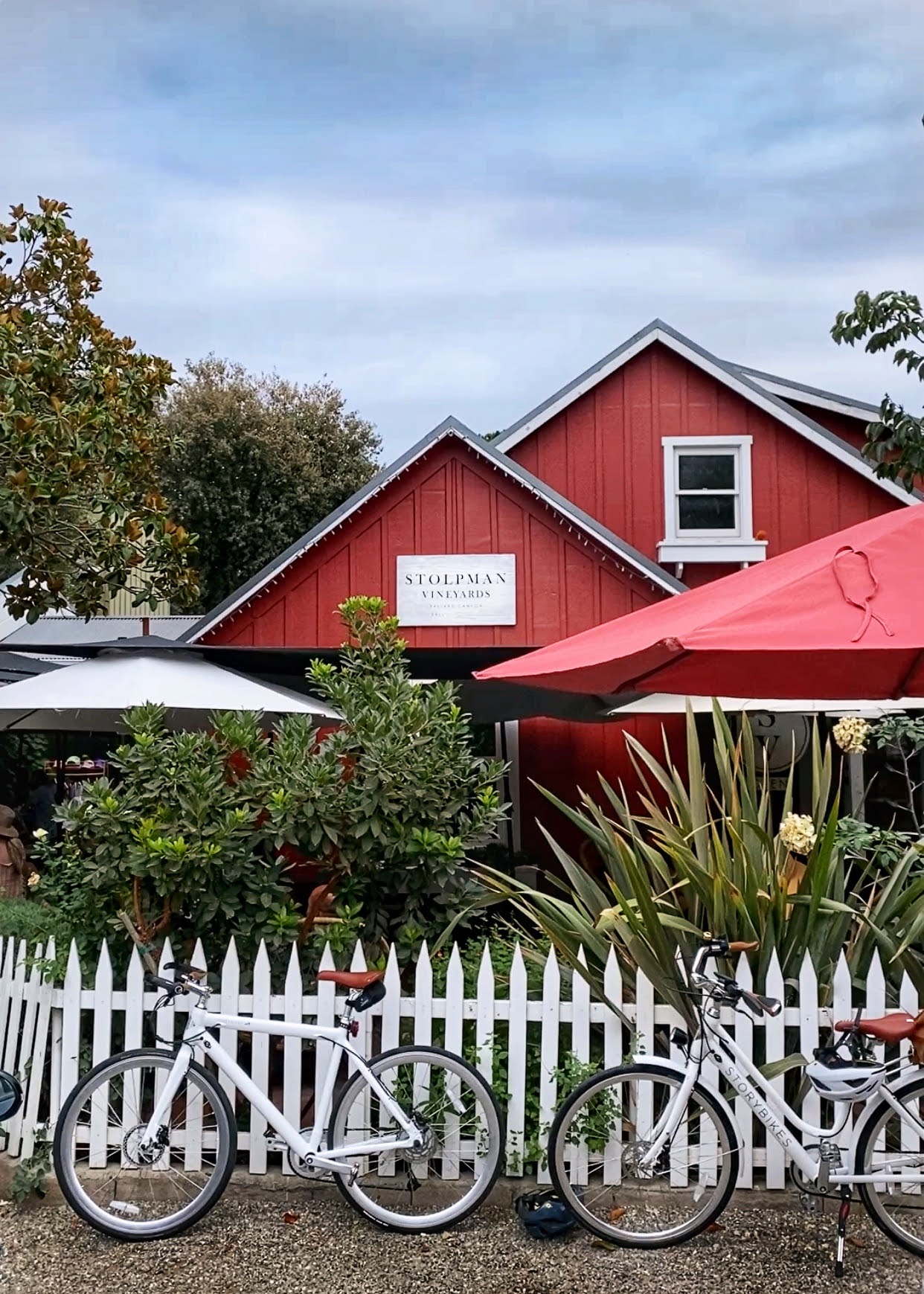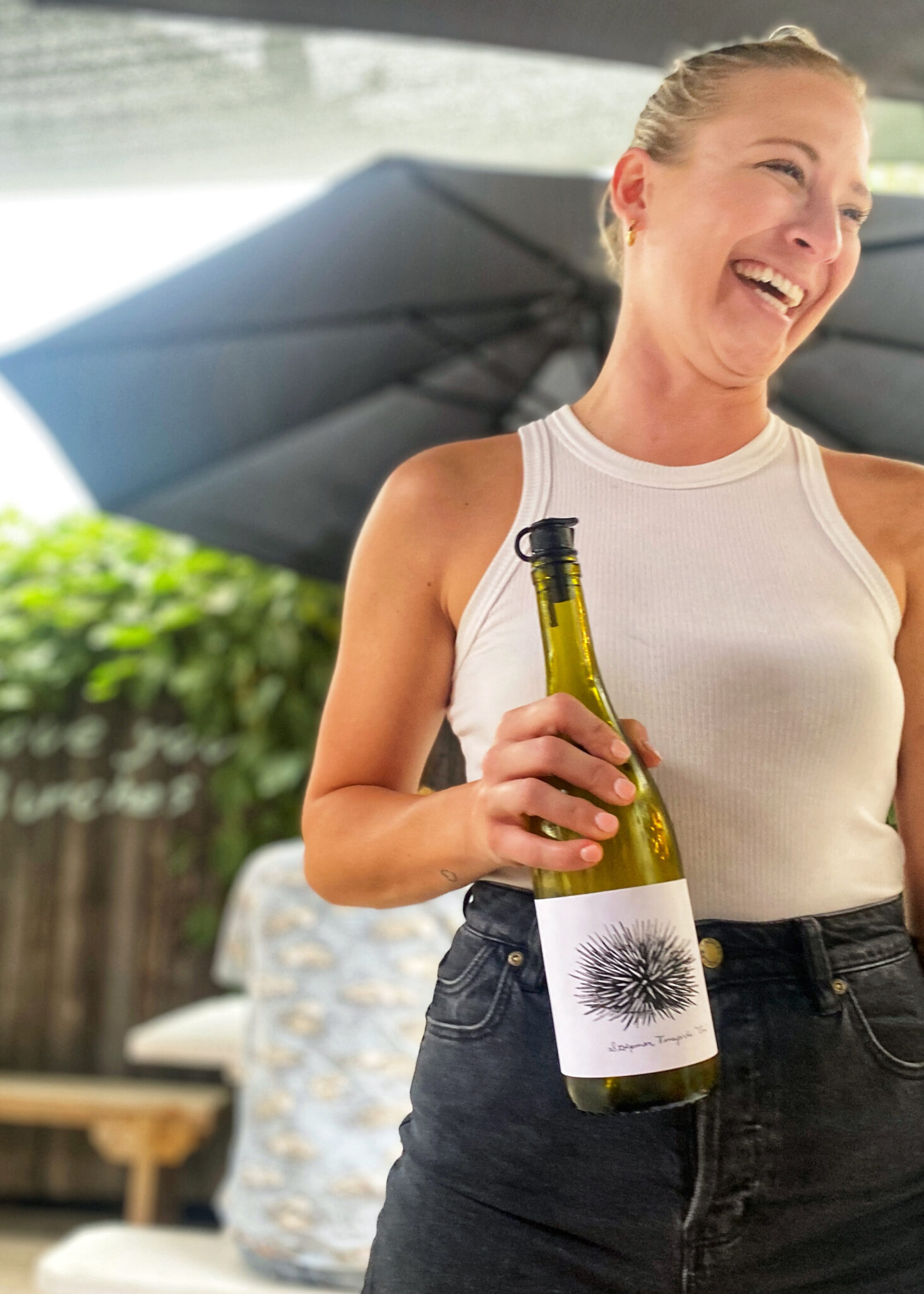 Stolpman Vineyards and Stolpman So Fresh, Los Olivos Tasting Room
Stolpman Vineyards is a large-scale family operation based in Ballard Canyon. Vineyards are planted primarily with warm-climate Rhône varietals like Syrah and Rousanne, as well as Sangiovese. The satellite tasting room in Los Olivos has a patio for the classic Stolpman Vineyards wines, and a garden area dubbed the Garage for the 'So Fresh' lines.
We tasted through the So Fresh flight:
2021 'Uni' made with Roussanne, originally created for Uchi restaurant to pair with sushi.
2021 'Love You Bunches' Sangiovese, carbonic fermentation, a personal favorite
Combe Trousseau
So Fresh 'GDG' Gamay
So Fresh 'Crunchy Roastie' Syrah blend
The fresh, highly drinkable 'Love You Bunches' carbonic sangiovese and rosé are "house wines" here.
Address: 2434 Alamo Pintado Ave, Los Olivos CA 93441
Open for Tastings: Los Olivos patio daily 11am-5pm, So Fresh "Garage" Fri-Tue 11am-5pm
Reservations: required, book online
Once you've hit all the Los Olivos wineries, it's time to move on to Solvang wineries, tucked into the charming Danish-themed village with shops, Danish restaurants, and even a windmill!
Alma Rosa, Solvang Tasting Room
Alma Rosa is the second winery founded by legendary Richard Sanford, who planted the first Pinot Noir vineyard in the Sta. Rita Hills in 1971, the now iconic Sanford & Benedict vineyard. From that vineyard sprung critically acclaimed Sanford Winery, also made famous by its cameo in the movie Sideways (for all you movie buffs out there).
After 25 years with his namesake winery, Richard moved on just a little further down the road to start Alma Rosa, with a commitment to organic farming and sustainable winemaking. Alma Rosa is a Chardonnay and Pinot Noir specialist with its own estate vineyards, most notably El Jabali, the first certified organic vineyard in Santa Barbara county.
Alma Rosa offers tasting both at their estate out in the Sta. Rita Hills, as well as in their Solvang tasting room and spacious courtyard patio. We tried:
2021 Grenache Rosé, Two Wolves Vineyard, fun fact about Two Wolves Wine and vineyard: it's owned by the musician Pink
2020 Pinot Gris, La Encantada Vineyard
2020 Pinot Noir, Sta. Rita Hills
Pinot Noir, Bentorck VIneyard
2019 Pinot Noir 'Barrel Select' from Bentorck, El Jabali, Radian, and Rancho La Vina vineyards
Address: 1623 Mission Dr, Solvang, CA 93463
Open for Tastings: Sunday to Wednesday 11am-6pm, Thursday to Saturday 11am-7:30pm
Reservations: recommended, book online
Insider Tip: Cailloux cheese shop in the same plaza as Alma Rosa provides little cheese plates for purchase to go with your tasting!
Buttonwood Farm and Winery, Estate Tasting
Though Buttonwood Winery's tastings are held at their idyllic Farm and Vineyards, and not in a satellite tasting room in Solvang, its address is technically Solvang so it's included here. I visited Buttonwood last fall, toured the vineyards, and tasted wines with the winemaker herself, Karen Steinwachs. Read the details and my review on the Santa Barbara Wineries Guide.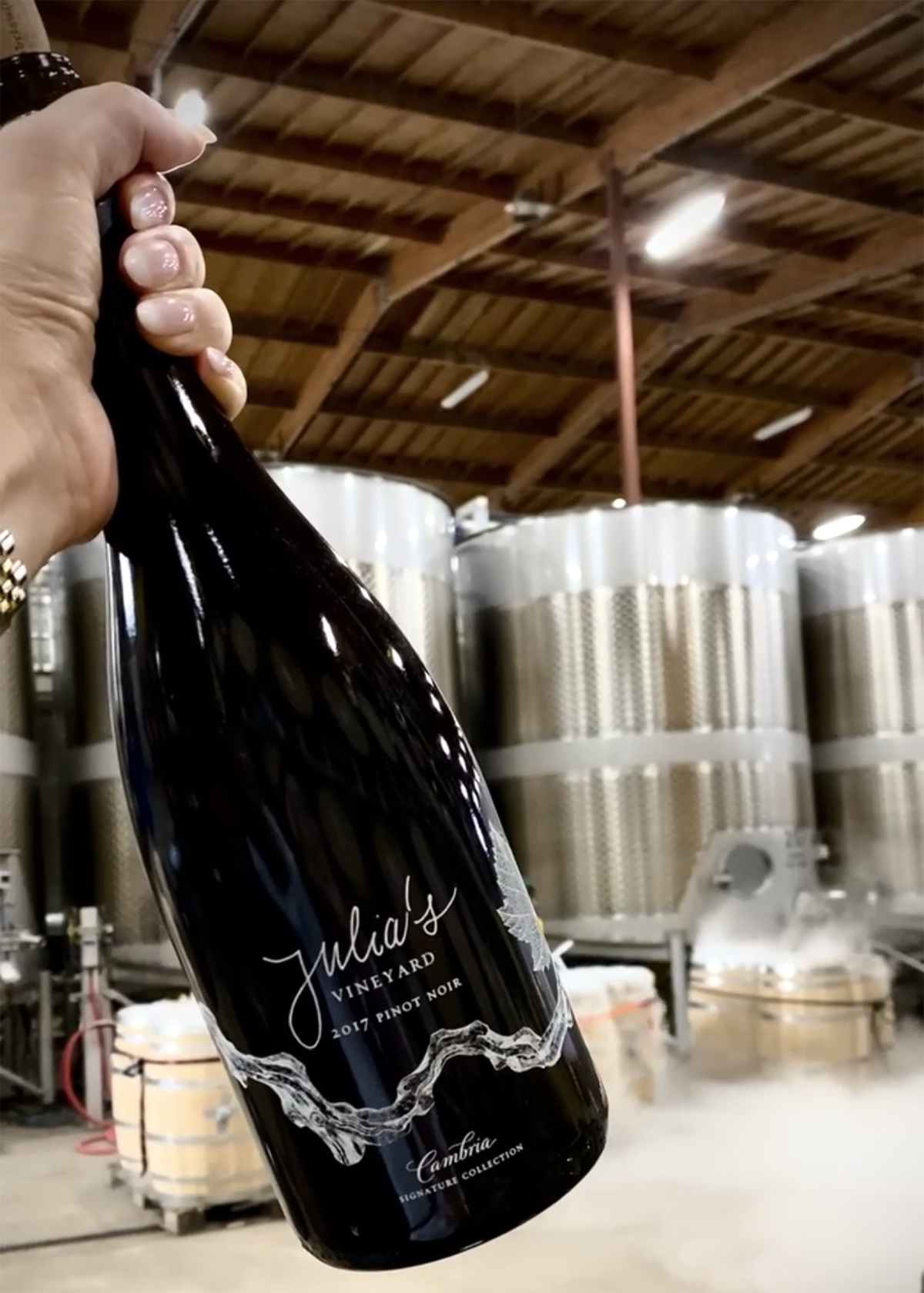 Cambria Wines, Santa Maria
Technically, Santa Maria Valley is a stand-alone AVA in Santa Barbara, near but separate from the AVAs of the Santa Ynez Valley. However, I couldn't post about the Santa Ynez Valley without visiting one of the first wineries in one of the first AVAs in all of California, Cambria Wines.
Proprietors and sisters Katherine and Julia Jackson and current winemaker Julia Russell are the woman-led team that made Cambria a SIP Certified and CCSW (Certified California Sustainable Winegrowing) accredited winery as of 2014. Lady-led team with respect to Mother Earth? Here for it.
When I visited Cambria, they were still putting the finishing touches on their complete remodel of the estate winery and tasting room. I got a sneak peek, and then got to go through a tasting while walking the vineyards, planted with some of the oldest commercial vines in the region.
As of publication of this article, the completely remodeled tasting room and winery at Cambria are fully open!
Cambria wines are fairly widely distributed making it easy to get acquainted with the Santa Maria Valley and its cool climate wines at home first.
Address: 5475 Chardonnay Ln, Santa Maria, CA 93454
Open for Tastings: Thursday - Monday 10am - 4pm
Reservations: required. book online
Fun Personal Fact: One of the first wines I ever posted back when I was a baby wine blogger was 2006 Julia's Vineyard Pinot Noir, which was awarded first place on Wine Enthusiast's Top 100 Wines List that year!
Sanford Winery & Vineyards, Sta. Rita Hills
Sanford Winery might be the winery that really made wine critics sit up and pay attention to Santa Barbara. The first Pinot Noir vines in the region were planted in 1971 in what is the iconic Sanford & Benedict vineyard. From the vineyard sprouted Sanford Winery, known for pioneering and championing cool climate Pinot Noir and Chardonnay in the Sta. Rita Hills. The wines taste true to the original founders' goal of producing refined Burgundian style wines that reflect their own California geography, soil, and climate.
Tastings take place at the Sanford estate in the Sta. Rita Hills, looking out over the sprawling La Rinconada Vineyard, planted adjacent to Sanford & Benedict a few years later. If history, farming, and making the connection between what we consume and the land is important to you, tour the legendary vineyards on an ATV like we did. Our tour guide Joann drove us through the vineyards, educating us on the history of the region, the vineyards and the winery while we sipped on tastes. Every so often we stopped to get a closer look at the grapes and taste wines right there among the vines from which they grew. Joann also showed us cool little things that you normally wouldn't think about as a casual wine consumer, like where water for the grapes comes from and how vineyard pests are controlled with hawks and owls.
Address: 5010 Santa Rosa Rd, Lompoc, CA 93436
Open for Tastings: daily 10am-5pm
Reservations: required. book online
Contact: (805) 735 5900 or [email protected]
Insider Tip: if she's available, do your tasting with Joann Saldana for a warm, extremely informative host!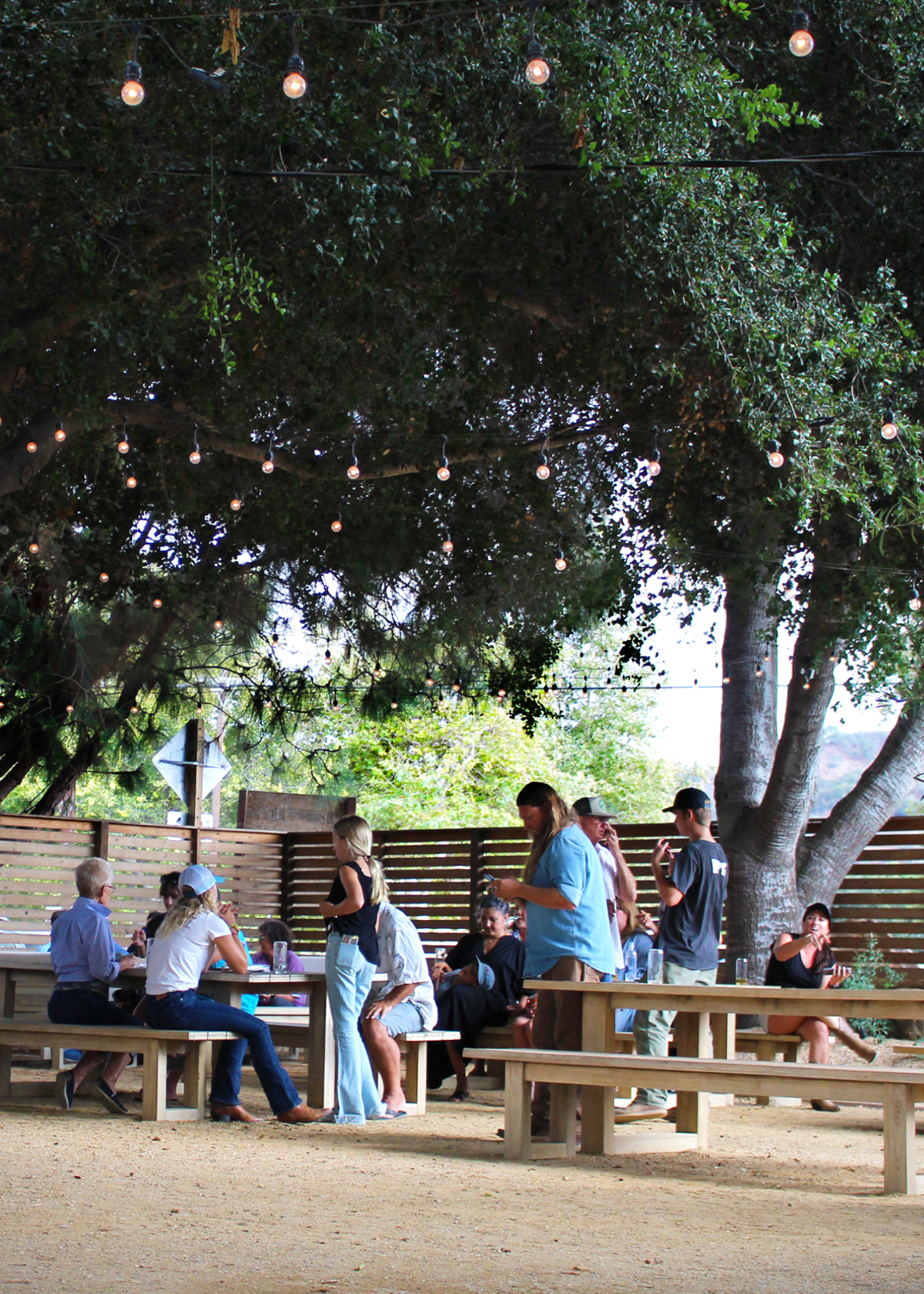 Additional Recommended Wineries in Santa Ynez
Hitching Post Wines
at Hitching Post 2 Restaurant
420 East Highway 246, Buellton, CA 93427
(805) 688-0676
www.hpwines.com | @hitchingpost2
If you have strong opinions about any wineries in the Santa Ynez Valley or even the greater Santa Barbara County that are not mentioned here, please share them in the comments so I can add them to my future travel plans and to this Guide.
Restaurants in Solvang, Los Olivos, and Greater Santa Ynez Valley
After a day of tasting at Solvang and Los Olivos wineries, these are the best restaurants to come back to and have a wine-centric (or not!) meal, from Michelin-starred fine dining to Santa Maria BBQ and all the best in between.
Los Olivos Restaurants
Bar Le Cote is a new modern seafood focused bar and tavern. Definitely a must-try, if you can get a table. The vegetarian green "paella" was fun enough that it's on my list to re-create at home. I loved the branzino, but my favorite part was the boquerones with olives. I could have eaten plates of them all night with sparkling wine.
2375 Alamo Pintado Ave, Los Olivos, CA 93441
Open Wed-Sun 11am-3pm, 4pm-5:30pm, 4pm-8:30pm
Reservations: highly recommended
www.barlecote.com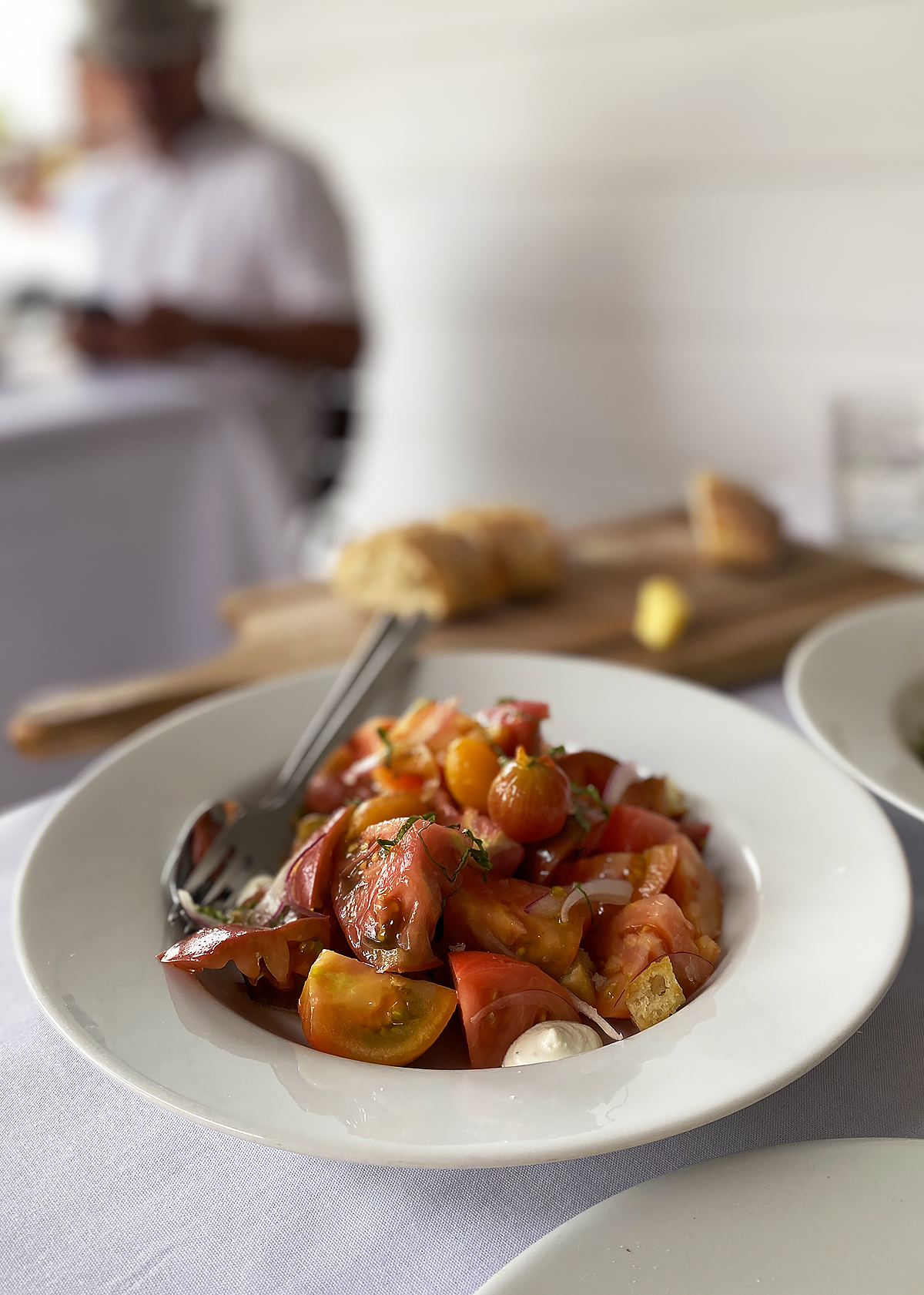 Nella Kitchen and Bar is a new-ish coastal Italian restaurant from the same people who own S.Y. Kitchen in Santa Ynez and Toscana and Nerano in Los Angeles. It is located in the Fess Parker Wine Country Inn. We had a pleasant, salad and sparkling wine lunch on their patio.
2860 Grand Avenue Los Olivos, CA, 93441
Open: daily 11:30am - 10pm
Reservations: recommended
nellakitchen.com
Solvang Restaurants
Coast Range is a nouveau steakhouse from chef Lincoln Carson of Bon Temps in Los Angeles. It's dark and feels old school with leather booths. The usual steakhouse fare starting with caviar, oysters and chilled shellfish, Caesar salad, and "steakhouse sides" like creamed corn, baked potato, and French fries to go with grilled meat.
1635 Mission Dr., Solvang, CA 93463
Coast Range
More Santa Ynez Valley Restaurants
Bell's, Los Alamos. One Michelin star restaurant from husband and wife team Greg and Daisy Ryan
Bob's Well Bread, Ballard and Los Alamos. Artisan bread, pastries, and counter-service salads and sandwiches for lunch. A must-visit.
Hitching Post II, Buellton. Made even more famous with its appearance in the movie Sideways. Santa Maria BBQ and good wine.
Peasant's Feast, 487 Atterdag Road, Solvang, CA 93463
S.Y. Kitchen, Santa Ynez. Fresh, easy California wine country cuisine.
Lucky Hen Larder, Santa Ynez. Market and deli for cheese and charcuterie picnics to-go.
How to Get to the Santa Ynez Valley
You can get to Santa Ynez Valley by driving, taking the train, or flying.
Making a longer road trip along California's Central Coast, including Santa Barbara, Paso Robles, San Luis Obispo and Monterey, is highly recommended!
Driving
The towns of Solvang, Buellton, and Los Olivos in the Santa Ynez Valley are a 2½-ish hour drive from most starting points in Los Angeles. If you time your departure right like I did very early Friday morning, you can get to Santa Ynez, the first town that's part of the Santa Ynez Valley loop, in about 2 hours.
From San Francisco: The fastest route from northern California is taking US-101 south, then CA-154 east to Los Olivos. The drive time is about 4½ hours. The 101 also gives you the option, if you have the time to take it, to veer slightly off course onto Highway 1, and take the scenic route along the Central Coast. The coastal route will tack on an additional hour-and-a-half of driving, if you're not tempted to stop to take in views, photos, meditation, what have you.
From Los Angeles: Hop on US-101 North and cruise through Santa Barbara. From the city of Santa Barbara, take CA-154 for an easy 40-minute drive over the mountains (except for fog in the early morning). Depending on your final destination within the Santa Ynez Valley, you can turn west onto CA-246 to Solvang, or just go straight to Los Olivos on CA-154.
Taking the Train
Amtrak's Pacific Surfliner runs between Los Angeles and Santa Barbara in about two-and-a-half hours. From the Santa Barbara Station, you take Amtrak's Thruway Bus. The entire train trip door-to-door from Los Angeles can take up to 10 hours.
Train to Santa Ynez from San Francisco/Bay Area is not recommended unless you have a billion hours to kill.
Flying
Major commercial airlines fly into the city of Santa Barbara (SBA), making it virtually inexcusable not to visit. There are direct flights from as far away as Chicago on American Airlines and United Airlines. From Santa Barbara, rent a car and drive into the Valley.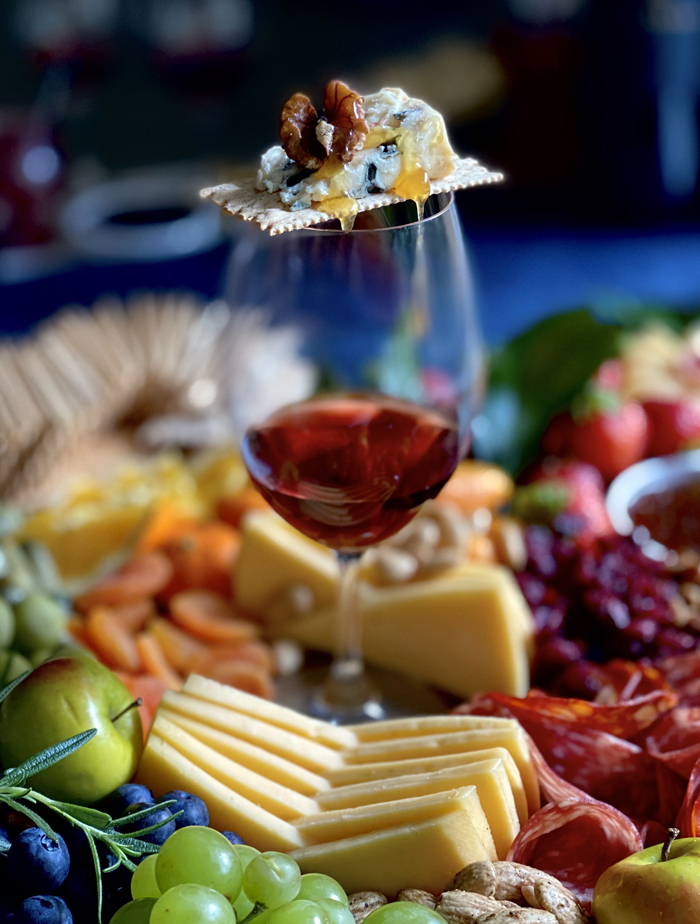 Food and Santa Ynez Valley Wine Pairings
If you can't wait to head out to Solvang, Los Olivos and the surrounding Santa Ynez Valley, grab a couple of wines and do your own wine tasting tour at home! A wine-friendly cheese and charcuterie board is always a great background for a wine tasting and one that features California cheeses, fruit, and nuts is a natural fit with California wines.

A full meal is an even better way to get a holistic feel for how a wine's vibe: how it tastes, smells, and pairs with a wide variety of food.
Here are some recipes and suggested pairings with wines from Solvang and Los Olivos wineries. It's not a coincidence that the recipes lean heavily toward fish and seafood. Santa Ynez Valley vineyards are influenced by the Pacific Ocean, both from above as fog and morning marine layers and from below in the diatomaceous soils. It's no wonder the wines are a natural match for Central Coast fish and seafood. Salmon, sablefish, albacore tuna, halibut, rockfish, crab, and oysters, and of course Santa Barbara uni (sea urchin) are just some of what's local to the area throughout the year.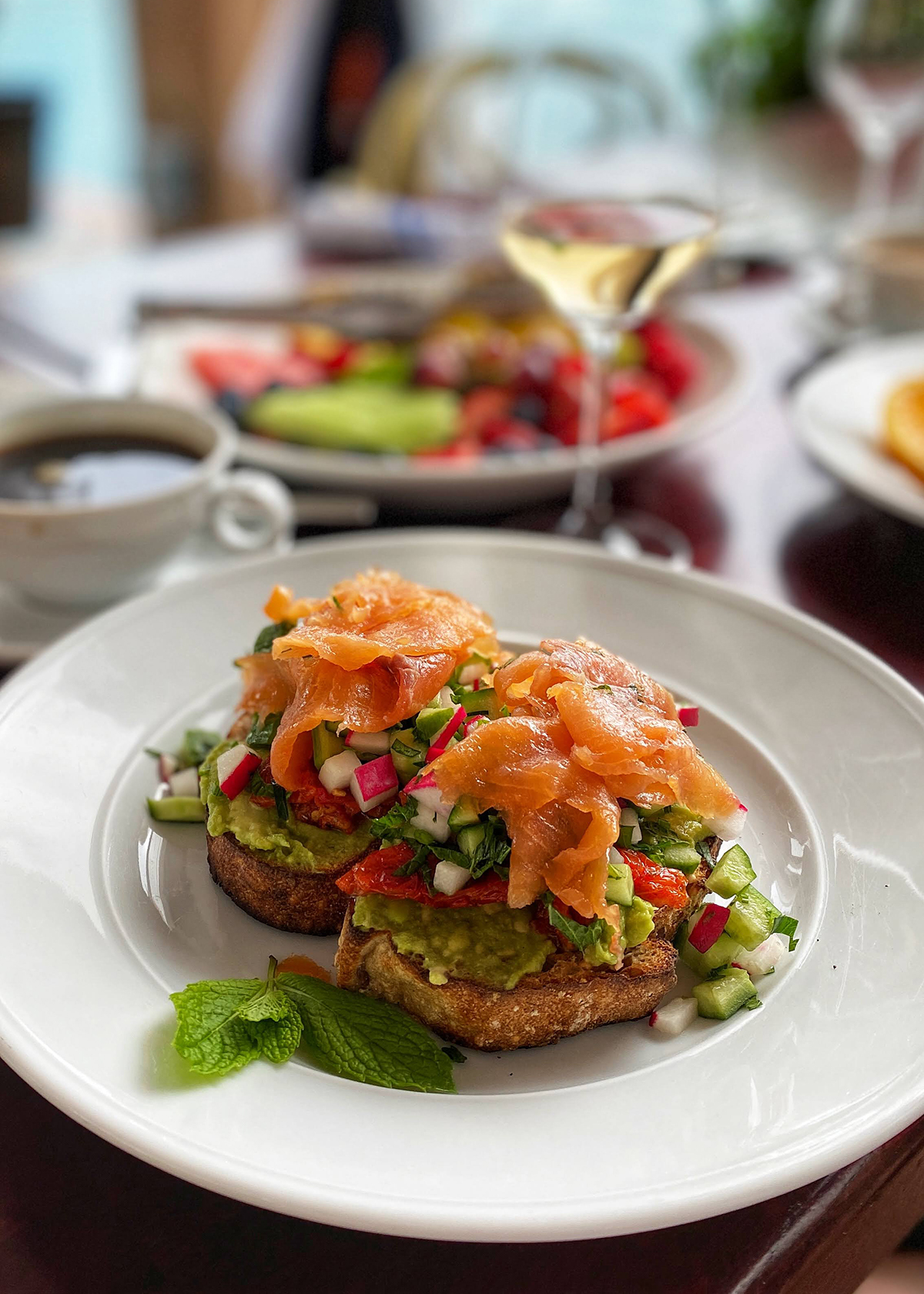 Explore More California Wine Regions
Ready for more? Explore these California wine regions, from the furthest north to south:
Pro Tips and FAQs
Q: Which town is the best town to stay in for wine tasting in Santa Ynez Valley?
A: The town that has the most available lodging at a wider variety of styles (inns, airbnbs, newer hotels) and price points is Solvang. However, all of the towns of the Santa Ynez Valley are only a few miles apart so you can effectively stay anywhere.
Q: Do you need a car in Solvang and Los Olivos?
A: It is nice to have a car in Solvang and Los Olivos since wineries, vineyards, and tasting rooms are spread out among a few towns and to be honest, ride share services like Lyft and Uber can be fewer and farther between during busy seasons. HOWEVER, if you are wine tasting, you need a designated driver. Otherwise, use a car service.
Q: How many wineries should you go to in one day?
A: My personal recommendation is to visit three wineries in one day, maybe four if you are militant about keeping to a timed itinerary. However, the number of wineries isn't strictly about logistics and timing. Consider whether you will actually be drinking the wines you are tasting, and if so, how much wine that actually is. Even though a "taste" is not a full glass of wine, it adds up.

Additionally, you may be tempted to schedule more tastings if the tasting rooms all located within walking distance of one another, which is the case in towns like Los Olivos and Solvang. However, tasting 5-7 wines in each tasting room means your palate is going to be overstimulated. My personal recommendation: better to take it slow and absorb the moment!
Why Trust The Delicious Life?
Sarah is a professional recipe developer, writer, and digital content creator with almost 20 years of experience cooking and eating food specifically to pair with wines and vice versa, selecting wines to pair with food on the table. She has traveled to and tasted wine in Burgundy, France and throughout the many diverse wine regions of California.
This post was created in partnership with California Wines and California Grown to celebrate California Wine Month, which is every September. All opinions and recipe adaptations are my own. Your and our sponsors' support is what helps us live The Delicious Life so thank you!