Any sangria is a summer sangria in my world, but there are a few ingredients and tweaks that can make your favorite wine cocktail recipe into a real poolside Summer Sangria Recipe. We're talking summer melon that's so sweet you don't need to add sugar to your sangria, sparkling wine for the fizz to make it feel refreshing, and a splash of ginger beer for spice. Shall we?
Jump to: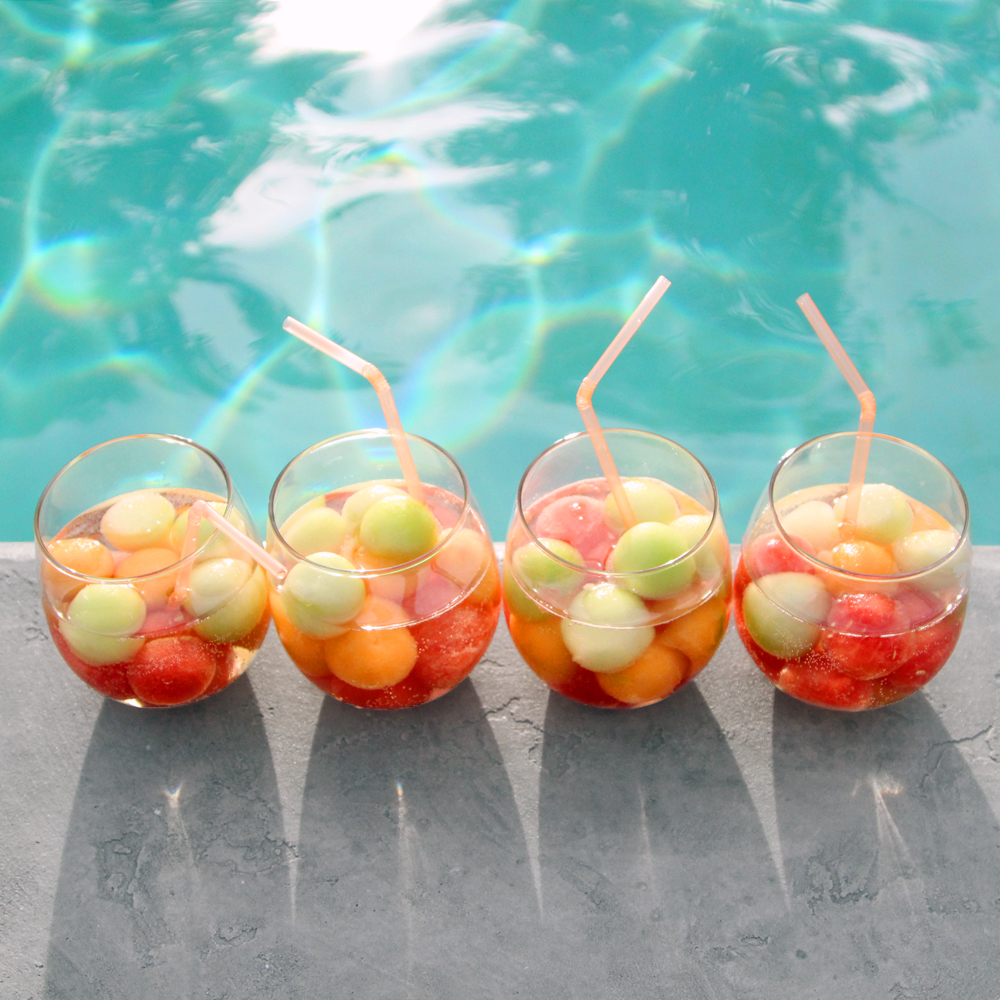 Ingredients You Need
For a pitcher of the most refreshing Summer Sangria, and any other sangria really, you will need:
sparkling wine
vodka
ginger beer
any combination of sweet, ripe, fresh cantaloupe, honeydew melon, and watermelon
simple syrup if you like extra sweetness
the yoozh ice, and garnishes like lime wheels, mint leaves, and candied ginger
A pitcher of sangria is good for 2-4 people in one sitting. The recipe is easily scalable up, so if you're hydrating more people or sipping poolside all afternoon, account upwards.
For a traditional red wine sangria, hit this recipe that uses brandy, triple sec, and if you're into it, Fanta.
Best Wine for Sangria
The best wine for sangria is the wine you like to drink, whether it's red, white, or sparkling. Transforming that wine into sangria makes it all the more crushable. For this particular Summer Sangria recipe, we're using sparkling wine.
Though Champagne is the first wine that comes to my mind when someone says "sparkling," true Champagne from France is probably a little too flavorful for sangria, never mind that it's normally too expensive at $75+ to pour into a pitcher with a bunch of other liquor, juice, fruit, and maybe even ice. Save Champagne for a glass by itself, and make sangria with an affordable cava from Spain, prosecco from Italy, or my favorite, a light bright sparkling wine from California.
Don't mistake "affordable" with "cheap," though. Cheap wine and bottom-shelf liquor are why you have somewhat hazy and altogether horrible memories of sangria from your 20s. Or 30s. Or last week or whatever. We're grown-ups now so go with a higher quality wine in the $25-$40 range. These are some good bottle recommendations to pop for a Summer Sangria:
These bottles are great to drink straight up, too. Stay tuned for more sparkling wine recommendations that cover a broader spectrum of tastes, textures, and budgets.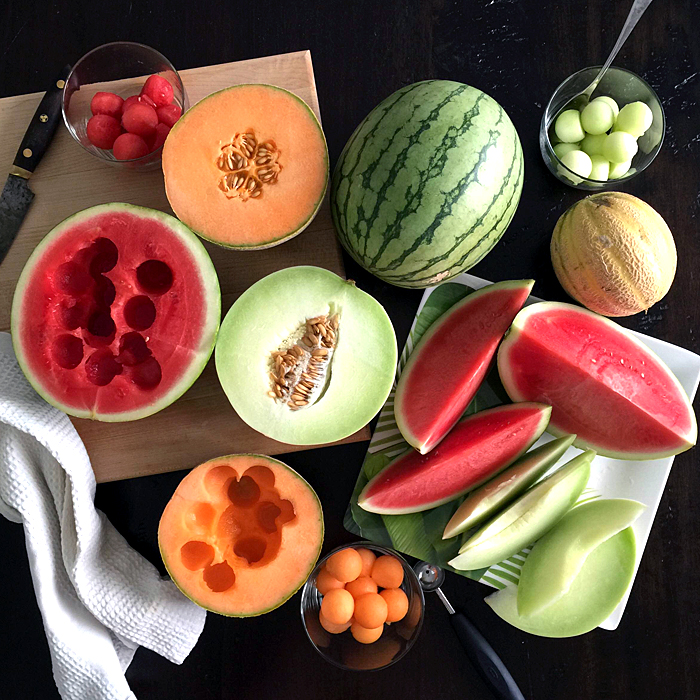 Ingredients Notes and Resources
Here are some recipe notes, brand recommendation, shopping resources, and answers to Frequently Asked Questions about ingredients for this recipe:
Vodka. Traditional sangria recipes incorporate brandy and/or a citrus-based liqueur like Triple Sec. For this recipe, we're letting the natural melon flavor and sweetness shine by using a neutral spirit like vodka. Stick with a higher quality brand. I like Tito's (made with corn).
Ginger Beer. For the ginger flavor, I LOVE Fever Tree ginger beer, not ginger ale. Ginger beer is not alcoholic, but has a more pronounced ginger flavor. Any brand of strong-ish ginger beer will work. If you can't find ginger beer, or find the ginger taste too strong or spicy, use ginger ale.
Melons. Use whatever melons are ripest in season where you are. If you can't find a good mix, use all watermelon, which is usually the easiest to find, and almost always reliably the sweetest.
Sweetener. I don't add any sugar to my sangria except what comes naturally from the melons and the ginger beer. However, if you prefer your sangria sweeter, add ½-1 cup of simple syrup to the pitcher. A word of warning: too much sugar in the form of soda, juice, or you know, just sugar, can be a very large contributing factor to why people feel not-so-great after drinking alcohol.
More Refreshing Drinks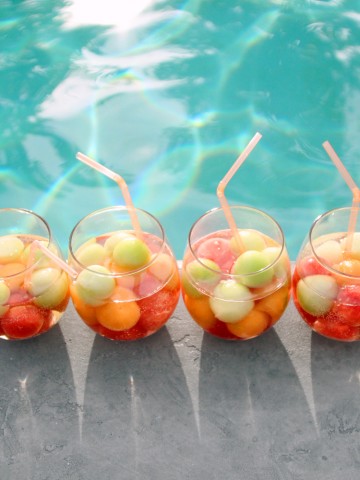 Print Recipe
Summer Sangria Recipe
a truly refreshing sangria perfect for poolside, with sparkling wine, ginger, and ripe summer melon
Ingredients
1

750 mL bottle

sparkling wine

like Cava, Prosecco, or California sparkling wine

1

cup

vodka

1

12-ounce bottle

bottle of ginger beer

1 to 1½

cups

each of cantaloupe, honeydew, and watermelon balls

to serve: ice, fresh mint leaves, lime wheels, and candied ginger
Instructions
Pour the sparkling wine, vodka, ginger beer, and melon balls into a large glass pitcher. The glass pitcher is solely for aesthetics — you can see the bright, colorful melon. Cover the pitcher tightly, and refrigerate — overnight is best but even just a few hours in the refrigerator is better than nothing.

Right before serving the sangria, add ice, fresh mint leaves, and lime wheels to the pitcher.

This sangria does not keep, not because it won't taste good the next few days, but you will probably drink half of it by yourself before you even serve it, and then what.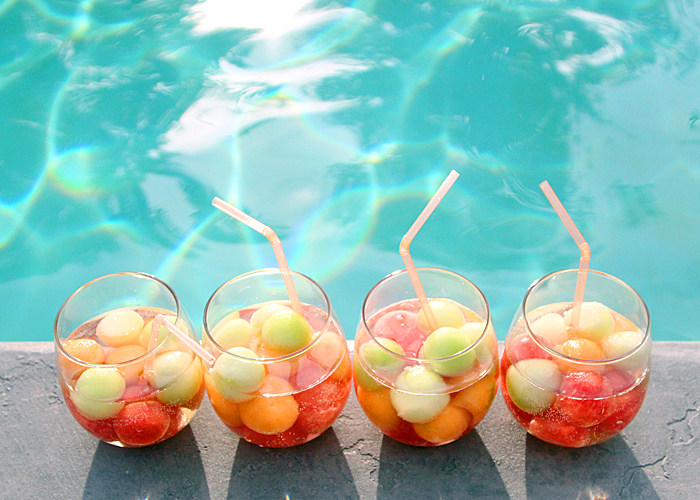 {"White Sangria" is Number 67 on my List of Things to Do This Summer}