Cranberry Moscow Mule is a sweet, tart, and subtly spicy seasonal take on the Moscow Mule and the perfect cocktail for fall, winter, and all the Holidays! Partly because it's bright and beautiful, mostly because it's uncomplicated. Shall we?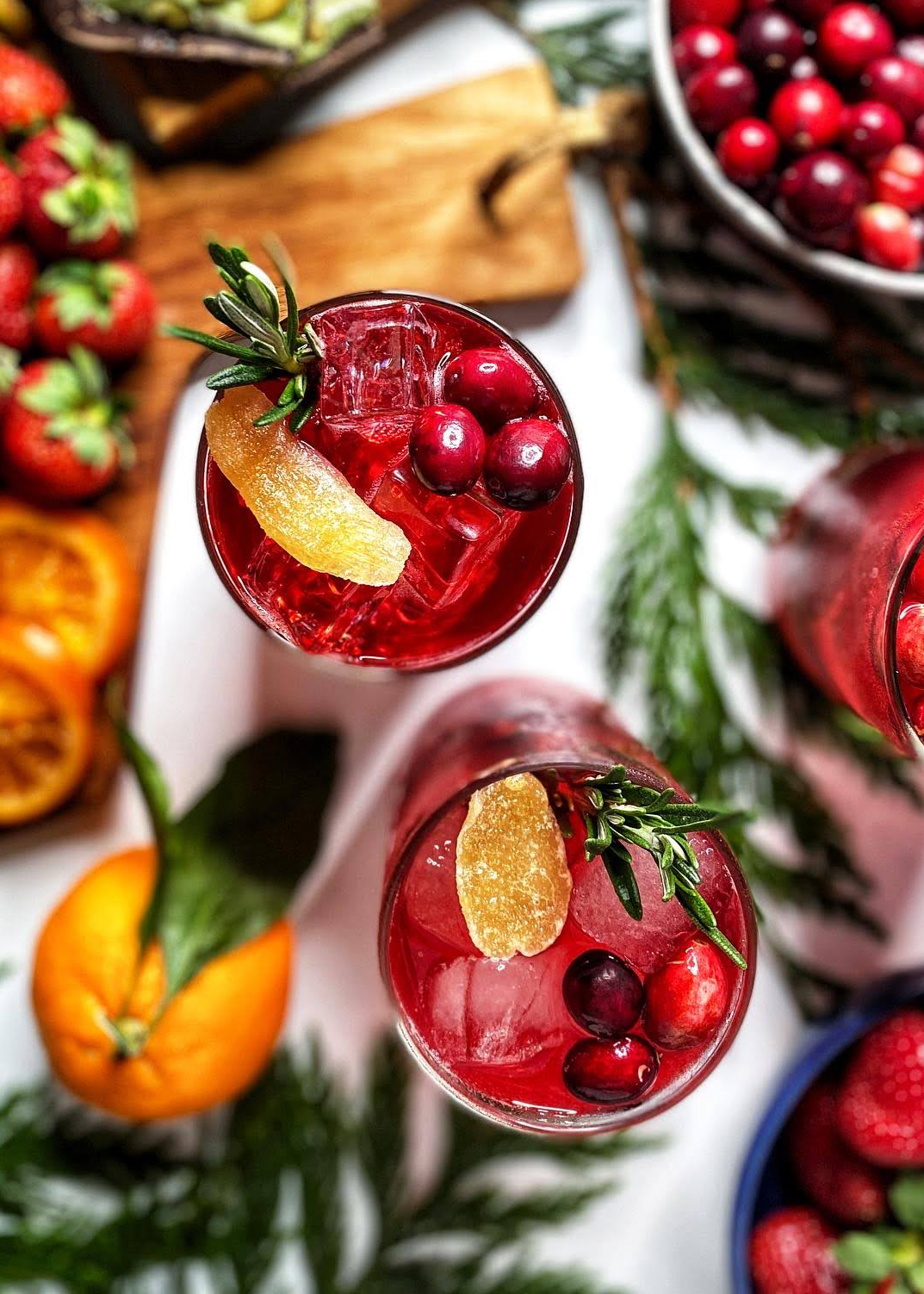 Jump to:
What is a Cranberry Moscow Mule?
By now everyone has at least seen someone drinking out of a copper mug that's dripping condensation everywhere. It's a Moscow Mule, a cocktail made with just three ingredients, vodka, ginger beer, and lime juice.
The Cranberry Moscow Mule is a more colorful version of that, dressed up for the Holidays with a splash of sweet tart cranberry juice, and garnished with festive, seasonal ingredients. The cranberry juice makes it a natural flavor match for kicking off Thanksgiving dinner, the bright colors are perfect for the Holidays, or just any given night in the fall and winter!
And because we like the bright red color of the cranberry to shine, we actually don't need those copper mugs. Clear glasses are better!
What Ingredients You Need for Cranberry Moscow Mule
vodka
cranberry juice
ginger beer
limes
fresh cranberries, rosemary sprigs, candied ginger for garnish
Ingredients Notes, Resources and Substitutions
Vodka. Use any vodka that you like. This the "house" vodka here for cocktails with high-intensity flavors. It is available in pretty much every grocery store and drinks retailer.
Cranberry Juice. Use 100% pure cranberry juice that is unsweetened, not a bottle labeled only "100% juice" which can include other fruit juices, or "cocktail" which has added sugars. To be quite honest, the 100% pure cranberry juice doesn't taste great right out of the bottle because cranberries are tart AF. But it's fantastic for cocktails because you can control the sweetness of the final drink. This Cranberry Moscow Mule includes ginger beer, which is sweet, and lime juice, which has natural sweetness.
Ginger Beer. Though they are both non-alcoholic fizzy drinks that taste like ginger, ginger beer is the one you want, not ginger ale. Ginger beer is more intensely gingery than ginger ale, that weak overly sweet stuff you get on the airplane. I used to drink ginger ale when I was a little kid, and surprise surprise, I am OBSESSED with ginger beer now. This is my all-time favorite ginger beer and the one I always return to, even after trying new ones all the time.
Candied or Crystallized Ginger. You can usually find candied and crystallized ginger in the same grocery store aisle where the nuts and dried fruit are. Candied ginger is any ginger that has been soaked in sugar syrup to make it sweet. Crystallized ginger, which is the one I use for my cocktails, has the sugar crystal coating. If you really want to go for it, you can make your own Homemade Candied Ginger!
Limes, Cranberries, Rosemary and any and all other fresh produce from my local farmers' markets or Whole Foods.
Ice. This is a luxury ingredient, but if you want to afford it, you can buy pre-made, crystal clear, perfectly cut ice cubes. In Los Angeles and Orange County, this company delivers, and also sells in some high-end retailers.
How to Make a Cranberry Moscow Mule
This cocktail is an easy one to make with no muddling, no shaking, no fancy stuff.
Fill your glass with ice
Pour in the vodka, cranberry juice, ginger beer, and lime juice
Garnish and enjoy!
Best Moscow Mule Variations
The classic Moscow Mule is made with vodka, so that's the alcohol we kept in the translation to the cranberry version. That's not to say the cocktail couldn't work with different kinds of alcohol, though. In fact, swapping out the type of alcohol in the classic Moscow Mule creates some well-known drinks already! Last year, I used Bourbon and the deep, slightly sweeter aromas worked really well with the other flavors in the cocktail! Also try:
Copper Mugs? And Other Tools and Equipment

Copper mugs. Those copper mugs traditionally associated with Moscow Mules are super cool looking, and they also help keep your drink ice cold, but they're not required! In fact, the cranberry juice in the Cranberry Moscow Mule makes the drink a gorgeous color that needs to be seen in a clear glass! But if you're into the tradition, these copper mugs have clean, modern lines.
Cocktail glasses. Super simple clean, clear double old-fashioned glasses here.
Ice cube trays. Ice right out of the ice maker in your freezer is fine, but if you want to make perfect geometric cubes, use these silicone trays. I have them in a variety of sizes for different kinds of cocktails.
Jigger. This one has two sides so you can measure out ½ ounce amounts easily.
Mini measuring cup. I like the jigger for the cocktail culture, but I come from cooking, so I love a liquid measuring cup. This mini one measures up to ¼ cup, or 2 ounces.
Glass pitcher. For big batch cocktails for a crowd.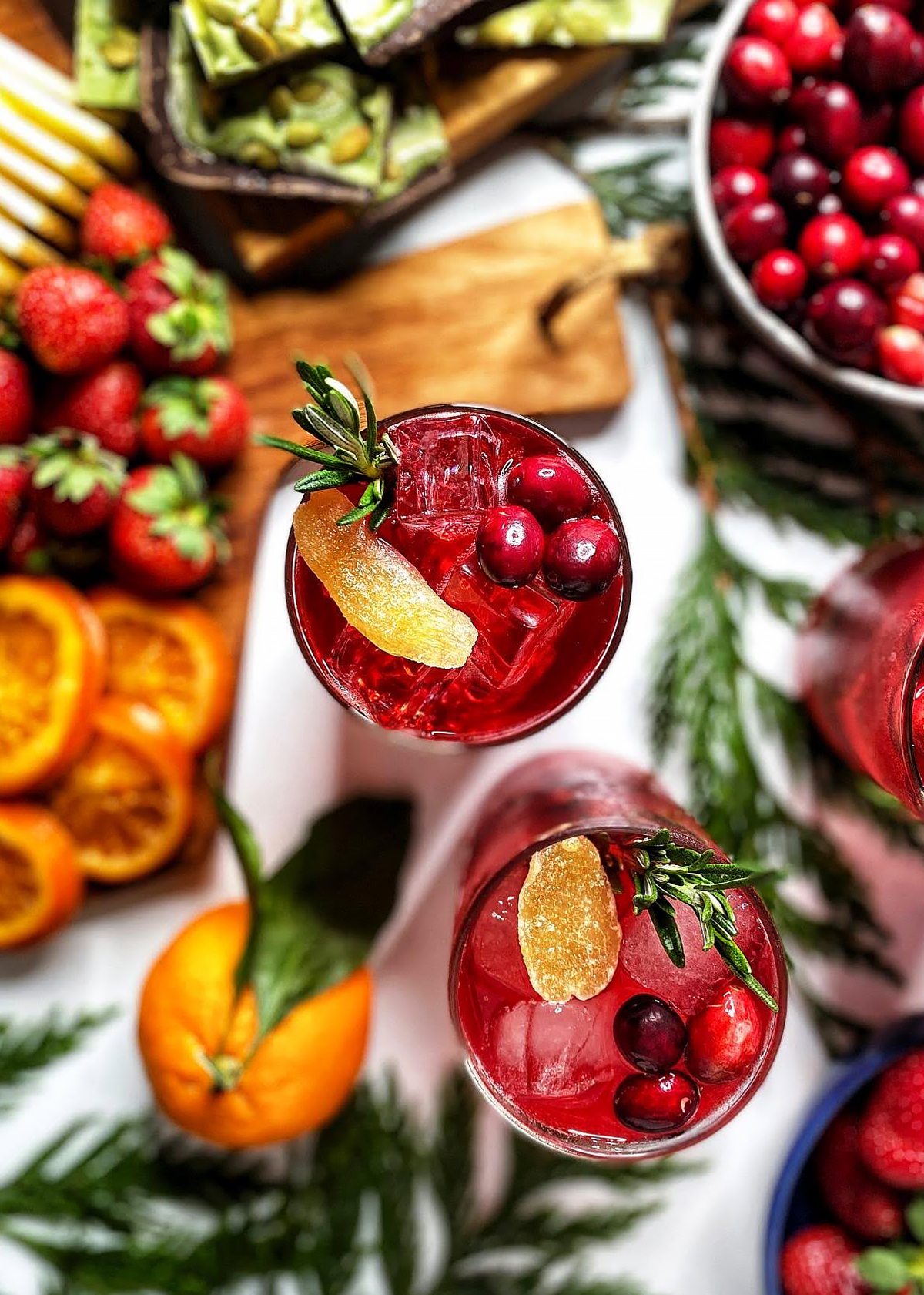 Every Vodka + Cranberry Cocktail to Know
My vodka + cranberry life started with the Sea Breeze, which makes me think of high school skin care. Happy to have graduated from that, both the tonic and the toner! But still love the occasional Sea Breeze cocktail!
Cape Cod: vodka + cranberry juice
Madras: vodka + cranberry juice + orange juice
Sea Breeze: vodka + cranberry juice + grapefruit juice
Bay Breeze: vodka + cranberry juice + pineapple juice
Cosmopolitan: vodka + cranberry juice + cointreau + lemon juice
How to Make a Big Batch in Advance
If you want to make a big batch of Cranberry Moscow Mule cocktails for a party, ratio up the vodka, cranberry juice, and lime juice and combine in a pitcher without the ginger beer in advance. Just before serving, pour in the ginger beer. You don't want to add the ginger beer too far in advance or it'll go flat!
So, for a large pitcher that holds at least 3 quarts of liquid, which will be the final equivalent of 16 cocktails:
3 cups vodka
4 cups cranberry juice
1 cup lime juice
4 cups of ginger beer on the side or added just before serving
** Entertaining Host Pro-Tip: Set-up a serve-yourself cocktail station with the big batch Cranberry Moscow Mule in the pitcher, ice in a bucket, and garnishes in little bowls. Type up a small card with "instructions" for guests. Your sanity will thank me.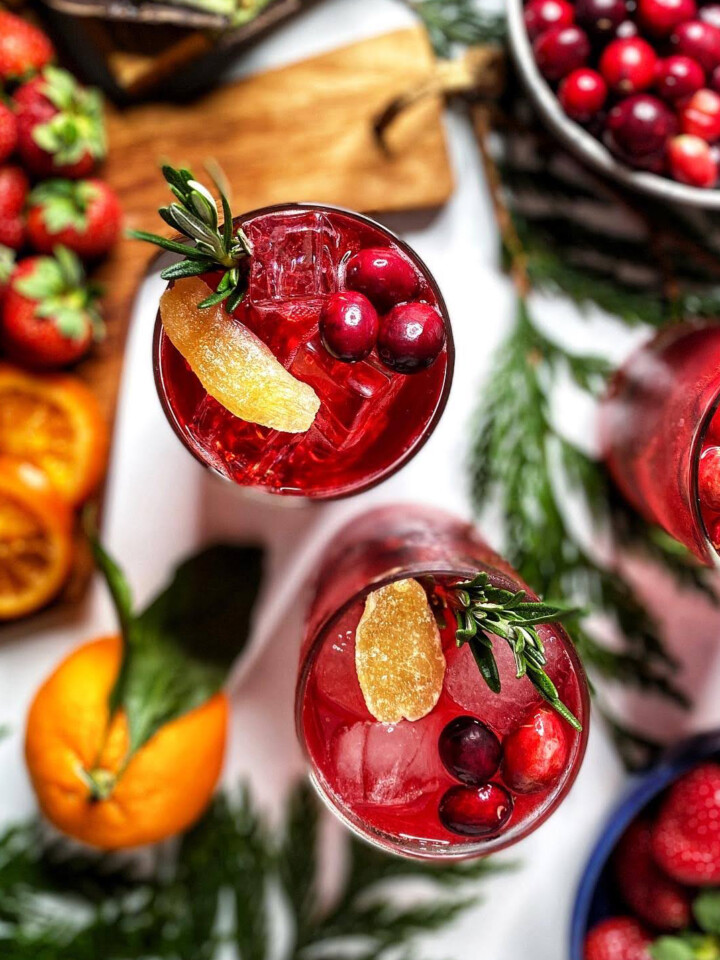 Print Recipe
Cranberry Moscow Mule Recipe
A little sweet, a little spicy, the Cranberry Mule is the perfect cocktail for the holidays!
Ingredients
1 ½

ounces

vodka

2

ounces

cranberry juice

2

ounces

ginger beer

squeeze

from half lime

(½ ounce/1 tablespoon)

garnish options: fresh cranberries, rosemary sprig, candied ginger, lime wedges
Instructions
Fill glass with ice. Add vodka and cranberry juice.

Add splash of lime and ginger beer.

Garnish with your choice of fresh cranberries, rosemary, candied ginger and/or lime wedges.