If you're trying to get more turmeric into your diet, Turmeric Juice is one of the best ways to do it! Adding carrot and tangerine juices will make it highly drinkable.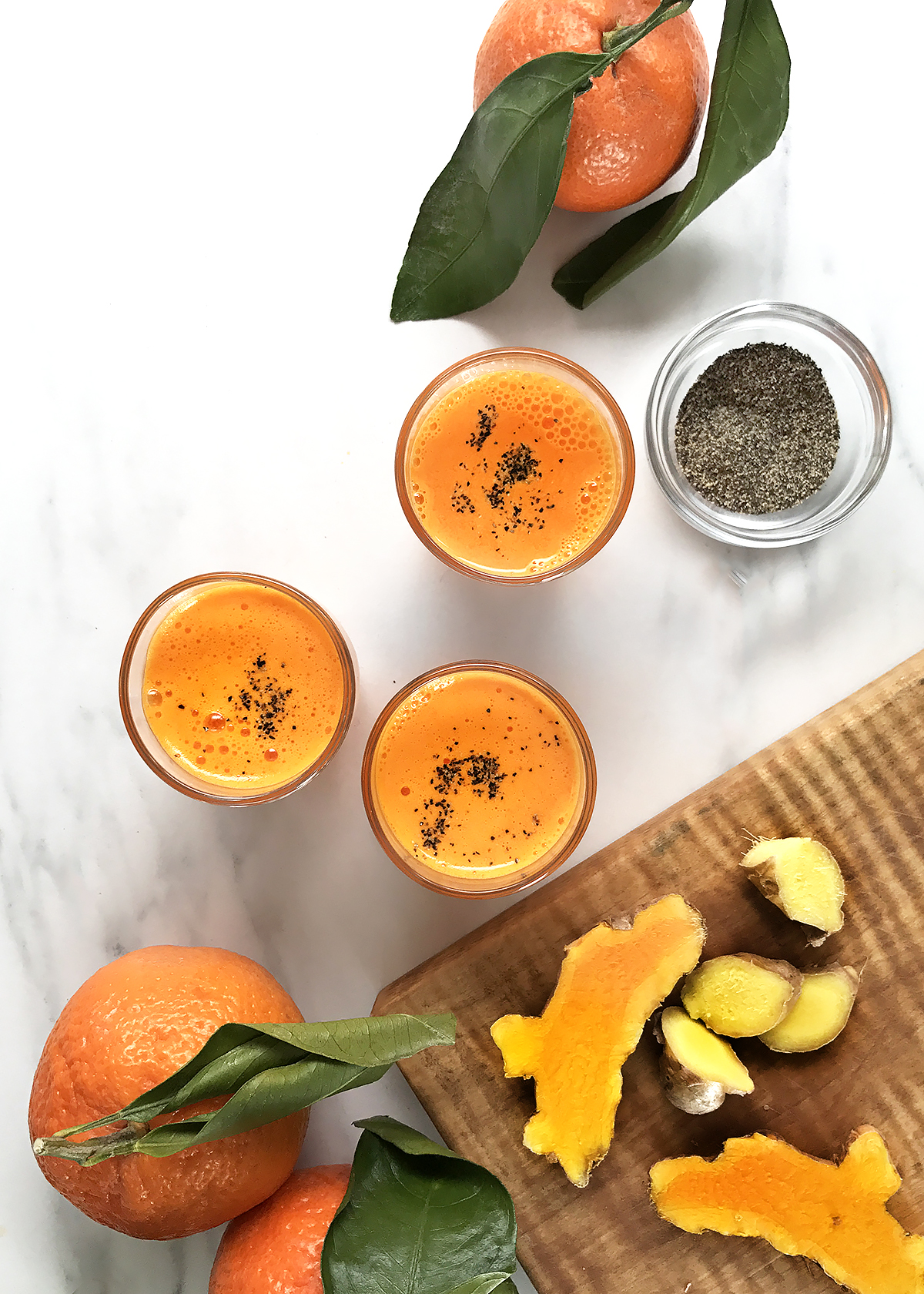 I don't generally drink orange juice unless it's in a mimosa, in which case I generally request my mimosa "hold the orange juice."
But when it comes time "to juice," the January verb related to those New Year New You resolutions, I still don't drink straight up orange juice, but I do use very-in-season citrus and other vegetables to sneak huge, healing doses of fresh turmeric into my system.
Jump to:
What is Carrot Tangerine Turmeric Juice
Carrot Tangerine Turmeric Juice is a subtly sweet juice made with beta carotene-rich ingredients. The key ingredient is the turmeric, with the carrots and tangerines mostly added to make the turmeric easier to stomach.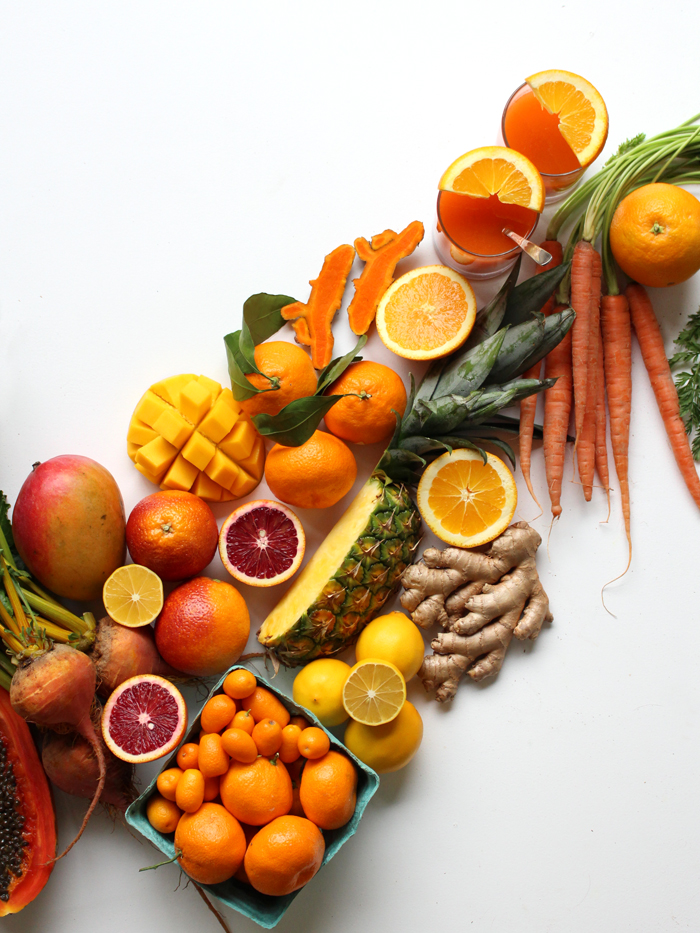 What Ingredients You Need for Carrot Tangerine Turmeric Juice
Turmeric, fresh root
Carrots
Tangerines
optional: Fresh ginger, lemon, pineapple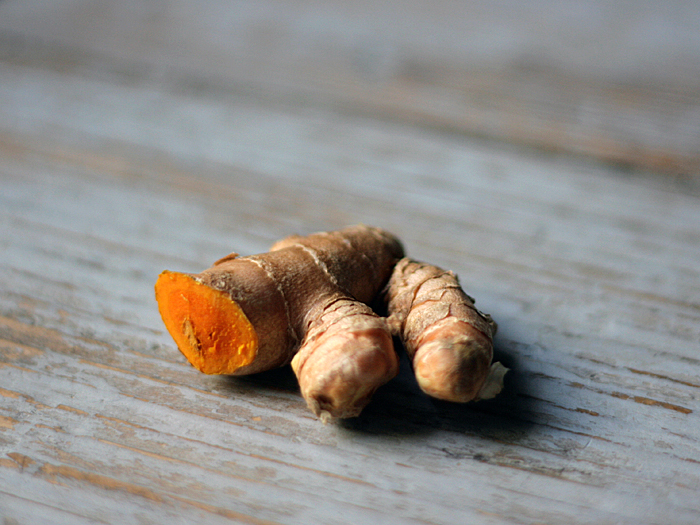 Turmeric is one of what I call the "Super Spices," which include cinnamon, cloves, and ginger (basically, pumpkin spice latte). The active compound in turmeric, curcumin, is what gives turmeric its yellow orange color and is what gives the spice such potent anti-oxidant and anti-inflammatory properties.
Some people drink pure fresh turmeric shots, saying it has an "earthy" flavor, but you know what else has an earthy flavor? The earth, which is made of dirt, and turmeric tastes like straight dirty dirt to me and I can't stand it by itself. So, I have to bury turmeric's flavor deep inside citrus juice or carrot juice or both.
Or curry.
Or, I just don't eat turmeric at all and powerdose it in pill form.
(Ginger, on the other hand, has an intense heat, but tastes "sweet" to me.)
Recipe for my favorite "orange" juice with turmeric, below, followed by an easy visual if you're punching out a quick juice for one.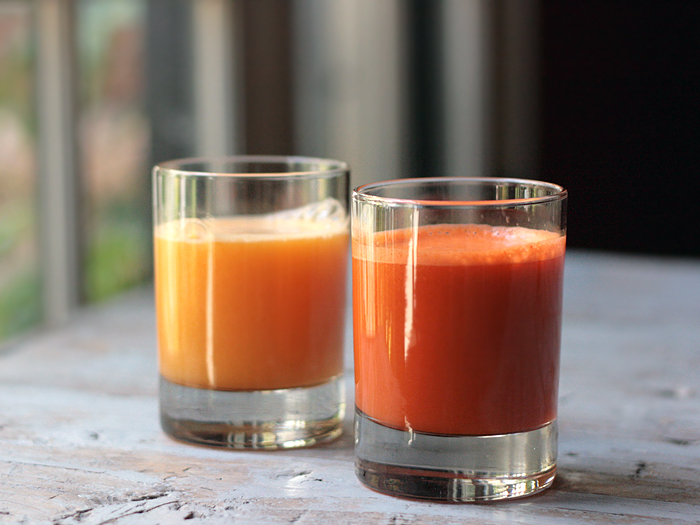 Pro Tips and Techniques for Carrot Tangerine Turmeric Juice
Keep fruit and vegetables in refrigerator before juicing: Fresh juices taste best when cold, especially all-green juices, so starting with cold fruit and vegetables helps.
Advance Prep. Though juice is always best in terms of nutrient retention immediately after juicing, you can make the juice up to tow days in advance and keep in airtight containers in the refrigerator. See section below for additional details.
What order to juice the ingredients. The general rule for all juices is to send fruit and vegetables through the juicer in the following order:

Leafy green and lettuces first
Soft fruits and vegetables like citrus and melons
Hard fruits like apples, and vegetables like carrots and ginger or tumeric
Tools and Equipment
As I always say, you don't need any special equipment to make any recipe. You can simply use a knife and cutting board to make almost anything. However, in the case of Carrot Tangerine Turmeric Juice, you do need either a juicer or a high-power blender. The rest of the tools will just make the process a little easier.
Juicer. If you are very very serious about extracting the maximum nutrition from mostly tough leafy greens and hard vegetables and plan to make and drink fresh juice daily for the rest of your life, a slow, masticating juicer is worth the sizeable investment. However, if you want to drink juice to lightly supplement your lifestyle, a basic juicer is fine. This is the centrifugal juicer I have had for YEARS, which works well for the types of fruit and vegetables I prefer for juice, softer and more water-based fruits and vegetables like citrus, celery, and cucumber, with the occasional kale.
High power blender. This is the high-power blender I have. This is the popular brand that everyone else likes.
Salad spinner. This is the salad spinner I have had for YEARS, and buy for everyone I know who doesn't already have one. If you want to stay away from plastics, the bowl of this one is glass.
Colander. This over-sink colander has made it easier to wash larger fruits and vegetables and drip dry.
Fruit and vegetable wash.
Chef's knife.
Cutting board.
Strainer.
Storage
Though juice for health is always best immediately after making, you can store fresh juice in airtight jars or containers in the refrigerator for up to two days.
You can also freeze the juice for up to one month. To thaw, place in refrigerator overnight. The juice will actually taste great if still slightly frozen like a slushie.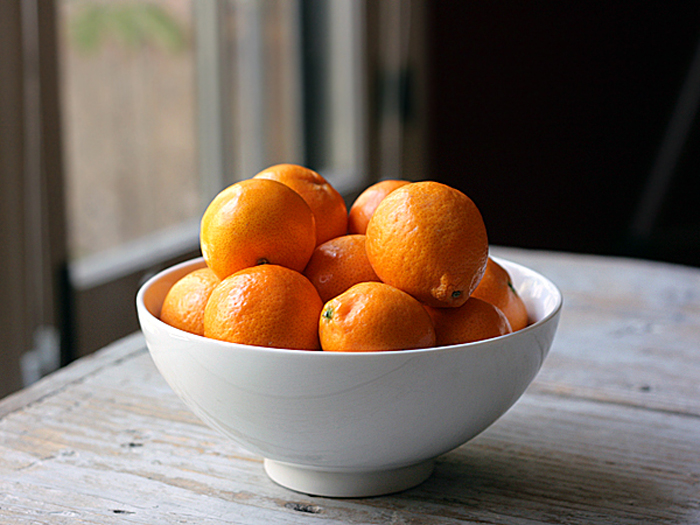 More Juices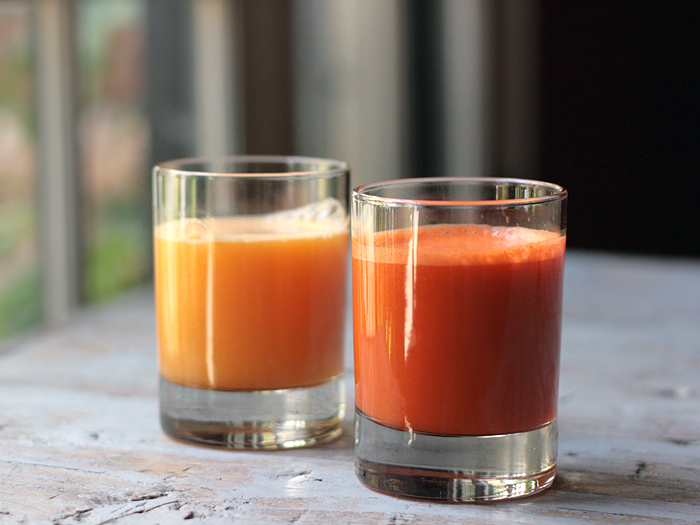 Print Recipe
Carrot Tangerine Turmeric Juice
The ultimate anti-inflammatory mix of ginger and turmeric in a juice that to fight fire with fire!
Ingredients
4-6

large carrots

scrubbed (no need to peel)

2

whole peeled tangerines

1

2-inch

piece of fresh turmeric

optional: 1-inch piece of fresh ginger, whole peeled lemon, spear of fresh pineapple
Instructions
Wash everything and make sure they're all dry. It's great if the fruit and vegetables come straight out of the fridge so the juice is cold.

Send everything through the juicer one by one. Start with the "softest" vegetables like tangerines (and lemons) first, and end with the turmeric.

Stick your juice in the freezer for 10 minutes to chill it down before drinking it.