If ever there were a time that you could legitimately pull off looking like the Mistress of the Dark with all-black talons with nail tips long enough for red polish on the underside to show at all, it's now. Halloween. Autumn. (Though it's over 80 degrees in LA this week.)
Glossy black and bright red polishes are easy to find from any brand — I used Zoya and OPI, see below for details — though Christian Louboutin launched his own line of polishes, leading with that iconic red named 'Rouge Louboutin,' saying that the red sole on his shoes was originally inspired by nail polish. More recently, Christian Louboutin released 'Loubi Under Red," which is specifically aimed at painting a red underside of the nail — the polish is equipped with an ultra fine tipped brush to make the polish application easier and cleaner. At $45 - $50 a bottle, the polishes are just as ridiculously priced as his shoes.
Fourrier Gevrey-Chambertin 'Les Cherbaudes'
Mani with a matching pair of shoes? Obviously. Mani paired with a matching wine? Next level. Wine details here: Fourrier Gevrey Chambertin Les Cherbaudes

Zoya 'Raven' and Sephora by OPI 'And a Cherry on Top'
Paint the underside of your nails first: one coat of white polish as a base on the underside of your nails before adding two coats of red so the color stands out (especially with this particular shade of red, which is slightly sheer).
Use a base coat before painting nails with black polish (otherwise they will stain). Paint with two coats black polish, then top coat.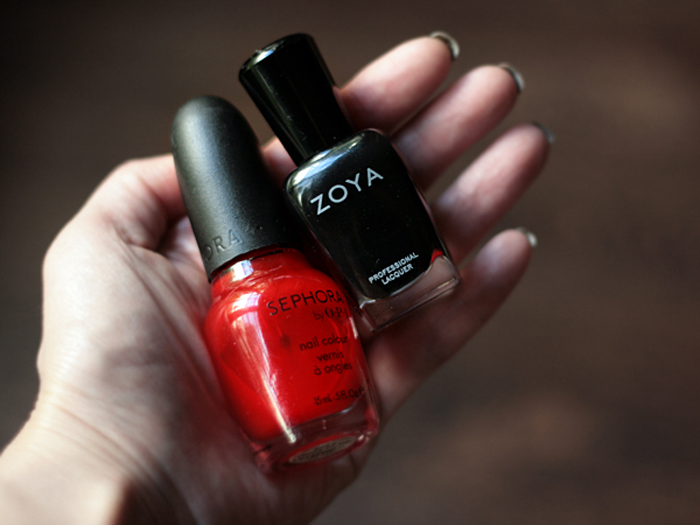 Resources
~ Christian Louboutin 'Very Prive' peep-toe platform pumps at Neiman Marcus
~ Domaine Fourrier Gevrey-Chambertin 1er ("premier") Cru 'Les Cherbaudes' from Rosenthal Wine Merchant
~ Zoya 'raven' at zoya.com and Ulta
~ Sephora by OPI 'And a Cherry on Top' at Sephora
Manicure Inspired by:
~ dinosquarerobot
~ Adele rocking the Louboutin mani on DropDeadGorgeousDaily
~ Birchbox
~ AllLacqueredUp (back in 2007!)