Currently obsessed with all things Puttanesca, whether it's this Salmon Puttanesca, traditional tossed with pasta, spread onto flatbread, massaged into my neck and shoulders... whatever.
What is Puttanesca | What You Need for Any Puttanesca | What You Need for Salmon Version | Pro Tips and Tricks | Tools and Equipment | What to Serve | Wine Pairing
What is Puttanesca
Puttanesca is always some ratio of garlic, anchovies, olives, and capers in tomatoes. This is a good starter recipe for Puttanesca, from which you can make adjustments to suit your taste. I almost always amp the garlic and anchovies. And the olives and capers. And the red pepper and salt. So in the end, I am basically making anchovy olive caper stew. It is delicious.
What You Need for Any Puttanesca (the Basics)

Garlic. You can use any form of garlic for Puttanesca: chopped, simply smashed (might need slightly longer cooking time), but I like slicing garlic cloves super thin so they "melt" with the anchovies into the tomatoes. If you use a razor and know that reference, well, we should have dinner some time.
Olive Oil. I used this olive oil that's pretty widely available, though it is not organic.
Anchovies. I use this jar of anchovies for everything. If you are sensitive to anchovies, you can leave the anchovies out of the recipe, but you kind of miss the point of what Puttanesca is. Your choice.
Tomatoes: I used a box of Pomi Italian tomatoes because that's what I had in the pantry. If you use whole canned tomatoes, just throw the tomatoes into the pan with the juices and crush them gently with your cooking spoon. There is no need to make Puttanesca sauce super-fine like a marinara;. Puttanesca is meant to have texture and be somewhat "rustic."
Olives. My favorite olives are the bright green, relatively mild, buttery Castelveltrano olives, but use whatever you like, green or black. Kalamata olives are more intensely briny and oily. California ripe olives, which I used in these pictures, are milder. Starting with pitted olives is easier, but if you have whole olives, just lightly crush them with the side of your knife, and pit them by hand. You don't need to chop the olives any more than that.
Capers. Use the small, non-pareil capers in liquid brine. If you use capers in dry salt, soak the capers in plain water for about 15 minutes. This store brand is organic.
Oregano. I use an organic dried oregano that looks like this, on the stems, but any very good organic dried oregano works. If you use fresh oregano, triple the amount.
All other fresh herbs and produce from either the Santa Monica Farmers' Market on Wednesday, or Whole Foods Market when I can't find what I need at the farmers' market.
What You Need for Salmon Puttanesca
Salmon: Wild king salmon is my favorite, and is generally in season May-September. In Los Angeles, I get my seafood from Santa Monica Seafood. As of publication of this post, Whole Foods seafood department has fresh (not previously frozen) wild King salmon for $26.99/pound. If wild king salmon is not available, substitute almost any other firm fish. Cod, a firm, flaky white fleshed fish, is a great choice.
Pasta: Traditionally, pasta puttanesca was made with long noodles like spaghetti, but traditionally, it was also made on a whim with whatever the original cook had in the kitchen. In the same spirit, use what you have. Even a short, shaped pasta will be great, maybe even better because the curves will catch the good bits of the sauce.
Tips and Techniques for Salmon Puttanesca
On salmon serving sizes: I generally allot 6-8 oz (half a pound) of salmon for each serving, which amounts to two pounds total for this recipe. Eight ounces is actually a pretty large serving, and most people will not eat that much because of all the other delicious little things on the table. However, leftover cooked salmon will keep for about three days in the refrigerator, or frozen for a few weeks, and is great for adding to your lunch and dinner grain bowls.
Advance Cooking. You can make the Puttanesca sauce in advance. It will keep in the refrigerator in a sealed container for about three days. However, the recipe comes together so quickly, there's no need to do anything too far in advance.
Parmesan. No. Do not put cheese of any kind on this dish. I will disown you. Cheese and fish do not belong together. Not only is the main ingredient salmon, there are anchovies in the sauce. No parmesan.
Tools and Equipment
What Else to Serve with Salmon Puttanesca
A generous piece of omega-3-rich salmon in antioxidant-rich tomato sauce can be an entire meal! But if you like to have something either green or starchy as well, here are some great suggestions to pair with:
Caesar-ish tri-colore salad with an Anchovy Vinaigrette, staying right in the ocean theme
LOVE a roasted broccoli, or steamed if you want to keep all your cooking on the stovetop
boil some pasta and toss it right into the Puttanesca sauce, of course
garlic bread, or even just a darkly toasted slice of bread to dip in the salty, tangy, umami-y Puttanesca sauce
Wine for Salmon Puttanesca
You have a couple of directions you can follow for wine pairing with Salmon Puttanesca. Either take the lead of the salmon, or follow the briny, umami-rich flavors of the puttanesca sauce.
Fish almost always calls for a high-acid white wine, but salmon is rich so it can handle a light- to medium-bodied red. My favorite Italian red grape, Sangiovese, which is used in familiar Chianti and Rosso di Montalcino, is a great example of a medium-bodied red wine that works well with food. And certain, lighter, fruitier wines made from sangiovese are perfect with spicy saucy tomato-based dishes like a Puttanesca. I love this Rosso di Montalcino, shockingly affordable.
For something a little more fun, this wine is made from California-grown sangiovese, and fermented as whole clusters in a process called carbonic maceration so the wine has a slight natural fizz.
For more tips on pairing wine with food, check out this post about wines from Paso Robles, California, and this post about wines from Santa Barbara, California.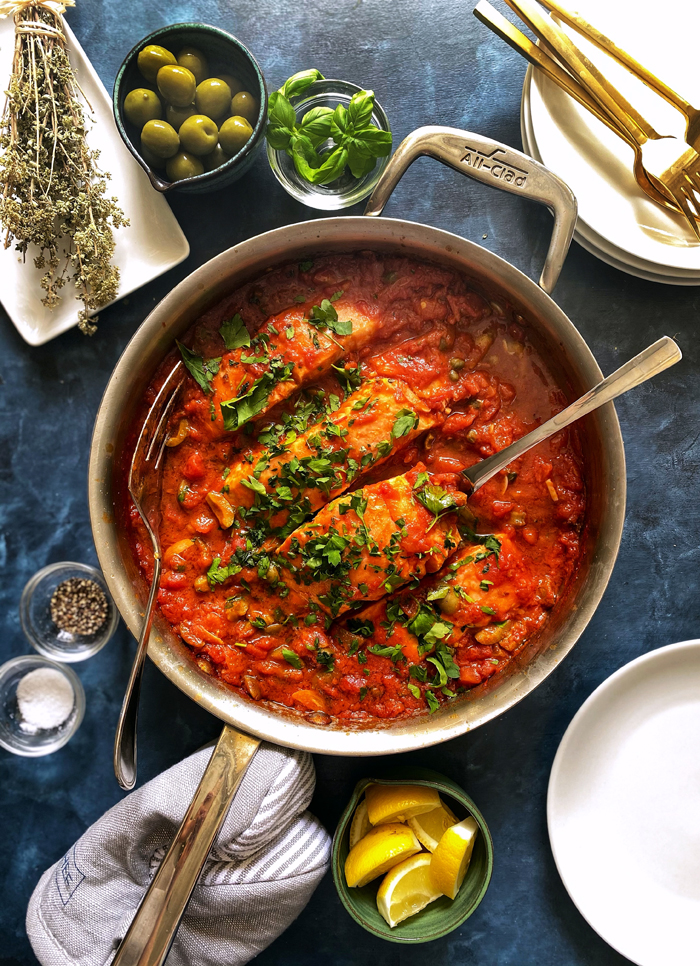 Print Recipe
Salmon Puttanesca Recipe
a shining example of why the Mediterranean diet is so good, Salmon Puttanesca is antioxidant rich from the tomatoes, and full of anti-inflammatory omega-3 fatty acids in the salmon
Ingredients
for Puttanesca Sauce:
2

tablespoons

extra virgin olive oil

4

cloves

garlic

sliced razor thin

6

oil packed anchovy filets

chopped

1

tablespoon

+ more to taste crushed red pepper

1

28-ounce can

crushed tomatoes

½

cup

olives

pitted and sliced length-wise

2

tablespoon

capers

1

tablespoon

dried oregano

¼

teaspoon

salt or to taste
Instructions
Heat olive oil in a pan with high sides over medium-high heat.

Add garlic and stir until just fragrant. Add anchovies and crushed red pepper to pan. Using your stirring spoon, smash anchovies with garlic and red pepper into the pan.

Pour crushed tomatoes into pan and stir to combine. Bring to a boil (you might have to increase stovetop heat temporarily), then turn down the heat to simmer. Stir in sliced olives, capers, and dried oregano. Season with about ½ teaspoon salt to start, then taste and adjust. You may not need too much salt if your anchovies, olives and capers are salty.
If you are making SALMON PUTTANESCA:
Add 4 4- to 6-ounce pieces of salmon to pan, cover pan, and cook until salmon flakes apart easily, about 15 minutes.
If you are making PASTA PUTTANESCA:
Cover pan and cook Puttanesca sauce for 15 minutes. Add cooked pasta to pan, gently toss with sauce, then serve.

Garnish with chopped fresh basil and parsley.