Charred Broccoli isn't an accident! Roast your broccoli with the intention of getting all those dark, delicious crispy bits! You'll never make broccoli another way.
Charred broccoli was an accident, but some of the greatest recipes ever created were done by accident right? I'm not saying burnt broccoli is as great an accident as chocolate chip cookies but I'm not not saying that either...
Jump to:
This was meant to be a simple weeknight roasted broccoli recipe — broccoli florets tossed with nothing but a little olive and salt right on the sheet pan, then roasted at the usual temp. But somehow I accidentally cranked the temperature of the oven, left the broccoli in the oven too long, and ended up with what my nephews now lovingly refer to as my "Burnt Broccoli."
And guess what? After having this super crispy, crunchy roasted broccoli that has that kind of umami that comes from char, my nephews (and I!) will never go back to basic broccoli. And honestly, if charring broccoli gets my nephews to eat more, I'm happy to accidentally burn my broccoli every time.
How to Make Charred Broccoli
This recipe is so easy. This is a high-level how-to:
Cut broccoli into florets first, then wash.
Wash the florets. Like I always say about prepping vegetables, wash thoroughly, and in the case of broccoli, use a produce wash that helps remove some of the natural waxiness. This organic vege wash is my fav that I've been using for almost 10 years.
Wash the florets. Oh did I mention "washing" twice? It's so important, I meant to.
Dry the florets. Dry the florets thoroughly, using a salad spinner if you have one. If you have to dump the florets out onto a kitchen towel to get them really dry, do it. When roasting anything to get a crisp texture, the key is actually starting with ingredients that are totally dry so the dish doesn't ending up steaming itself instead.
Toss with olive oil and salt, roast, and enjoy!
Ingredients Notes and Resources
Broccoli. There are a few different varieties of broccoli, and they're all delicious. The broccoli that we're most accustomed to seeing, big fluffy crown on a sturdy stalk, is what I usually use. Broccolini or baby broccoli, which have small crowns on longer, thinner stems usually sold bunched together, works great and doesn't event need to be cut or broken into florets. The one type I would make a special note of is "broccoli raab" or rapini, which is generally bitter (on purpose) and while you will love it, other people and kids may need some time to get used to the flavor!
Avocado Oil. I use this avocado oil for roasting. You can use any neutral-flavored oil suitable for high-heat roasting like a light olive oil or grapeseed oil.
Salt. I use this kosher salt. Use any fine-ish grain salt. If you use regular table salt, start with about half the amount listed because it tastes saltier, and season the broccoli again after roasting if needed.
Cooking Tips and Tricks
Cut the florets "flat." Instead of pulling the florets apart by hand and leaving the florets "rounded" like little shrubs, cut them with a knife in half length-wise so that at least one side is flat. The flat side has more surface area to come in contact with the hot baking sheet to char.
Can you eat the broccoli stems? Yes! Don't be afraid to leave more of the broccoli stem on the florets than you're used to. The stem of the broccoli has almost the same nutritional value as the florets, so it's a waste not to eat it!
Can you eat the broccoli stalk? Yes! In fact, you should even eat the thick center broccoli stalk! If you don't want to use the stalk with this recipe, peel and steam it then: finely dice it into broccoli "rice," puree it into soup, or blend it with garlic, lemon, olive oil, walnuts to make a super power pesto.
Is Burnt Broccoli Bad for You?
No, burnt broccoli is not bad for you. One of the biggest questions that gets asked is "Is burnt broccoli bad for you?" referring mostly to the fear that the burnt parts can cause cancer. A quick google search and the answers seem to be all over the place, but let's look to scientific experts. According to this medical doctor, "The carcinogens you're talking about, called heterocyclic amines (HCAs), are specific to meat; they show up when beef, pork, poultry and fish are truly charred."
In fact, if a little bit of textural interest and umami from the char makes broccoli taste better so you actually eat it, that's great!
How to Serve Charred Broccoli
The Charred Broccoli is pretty good by itself right out of the oven because that extra char, or the "burn flavor," adds an element of umami. We have been known to pick florets off the baking sheet while they're cooling, and almost finish it all before we even start dinner! Plus the burnt bits are as crunchy as chips so they're too easy to snack on in the same way.
Charred broccoli by itself in a fancy serving platter is great for big family dinners like Thanksgiving and Holidays. However, you can dress up charred broccoli in a multitude of ways. These are some of my favorites:
Super bright and lemony. Drizzle Charred Broccoli with fresh squozen lemon juice and lemon zest. This is a great side dish for salmon, especially salmon piccata.
Spicy garlic. Sprinkle Charred Broccoli with crushed red pepper and sizzled garlic. A perfect complement to an Italian or Mediterranean main dish like salmon puttanesca
Ginger miso. One of my all-time favorite dressings, ginger miso vinaigrette, adds a huge dose of flavor to an already intensely flavorful vegetable!
Toasted sesame. If you don't have all the ingredients for the full Ginger Miso Vinaigrette, simply drizzling Charred Broccoli with a teaspoon of toasted sesame oil and a tablespoon of toasted sesame seeds is great!
Anchovy vinaigrette. Toss with a few tablespoons of anchovy vinaigrette and some shredded parmesan for the most umami-packed Broccoli Caesar you've ever had.
Tools and Equipment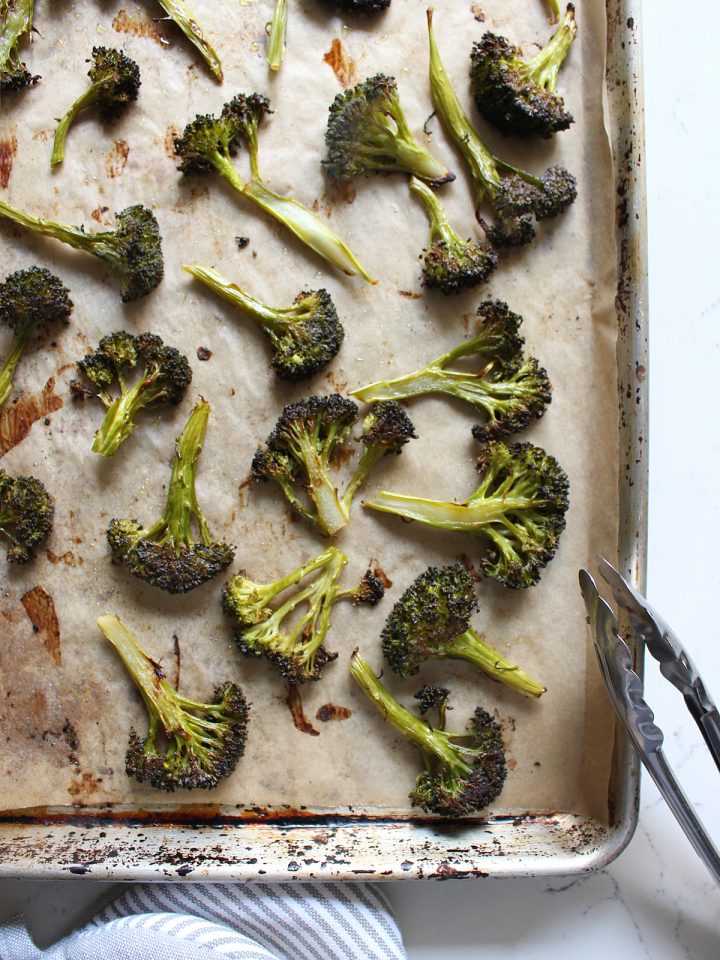 Print Recipe
Charred Broccoli Recipe
Just a couple of tweaks to the usual roasted broccoli and you get broccoli that's crispier, crunchier, and has that "umami" that you only get from a good char
Ingredients
2

heads

broccoli

— about 5 cups of florets

3

tablespoons

olive oil

— plus more if needed

½

teaspoon

fine sea salt
Instructions
Preheat oven to 425°F/220°C

Line baking sheet with parchment paper

Toss broccoli florets with olive oil and sea salt. You can do this in a separate bowl, or save yourself the extra dishwashing and do it right on the baking sheet. Spread the broccoli florets in a single layer on the baking sheet.

Roast at 425°F for 15 minutes until broccoli is charred on the bottom, then flip the florets. Roast for additional 10 minutes until charred on the other side.