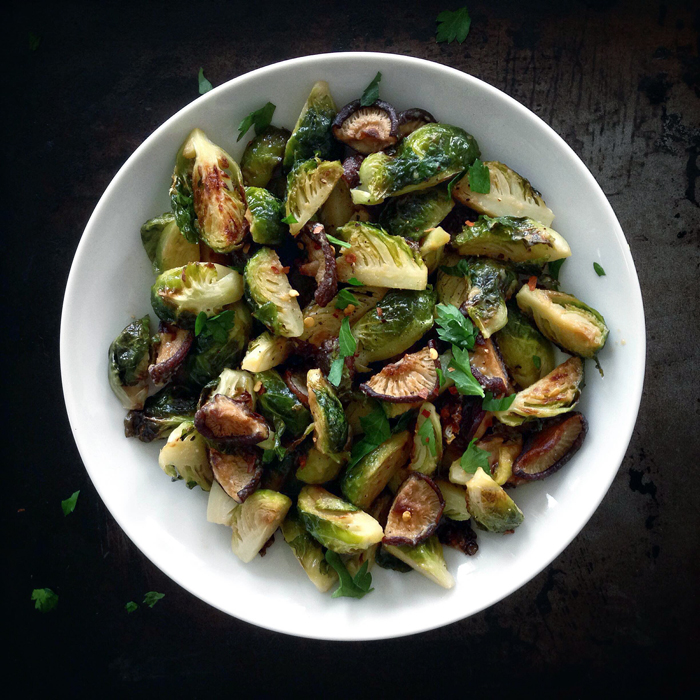 These Miso Brussels Sprouts are roasted on the stove-top to keep the recipe faster and more efficient. You roast the Brussels sprouts and shiitake mushrooms if you're using them, on the stovetop first. Then, toss the Brussels sprouts with an umami-packed salty and subtly sweet miso sauce. The Brussels sprouts are perfect as is, but they definitely welcome a flash of heat from crushed pepper, togarashi, or my current favorite, Calabrian peppers.
If you're making these Brussels sprouts for an easy weeknight dinner, then why go to the effort of turning on the stove? You get the same roasted effect in an almost dry pan on the stovetop. And if you're making these Brussels sprouts as a side dish for a big party, then your oven is probably already occupied.
Pan-Roasted Miso Brussels Sprouts recipe (with shiitake mushrooms as a bonus health booster) first, personal notes and shopping resources follow.
Pan-Roasted Miso Brussels Sprouts and Shiitake Mushrooms Recipe
Equipment
10" - 12" stainless steel pan
Ingredients
2

pounds

Brussels sprouts

1

pound

shiitake mushrooms

2

tablespoons

grapeseed oil or other neutral flavored oil for high-heat cooking

(you may need more)

¼

cup

shiro white miso

white miso

2

tablespoons

rice vinegar

1

tablespoon

maple syrup

1

small garlic clove

very finely minced

¼

teaspoon

salt

plus more to taste depending on how salty miso is

optional: crushed red pepper or togarashi

Japanese chili spice
Instructions
Wash Brussels sprouts and peel off any wilted or browned outer leaves. Trim the base of each Brussels sprout, then cut into quarters length-wise. Wash shiitake mushrooms, trim off stems (save stems for vegetable stock or other use later). Cut shiitake mushrooms into roughly the same size as the Brussels sprouts quarters. For small/baby shiitakes, cut caps into halves; for larger shiitake mushrooms, cut caps like you would a pizza, into quarters.

Heat grapeseed oil in large pan over medium heat. When hot, add the Brussels sprouts, turning the quarters so one of the cut sides faces down. Allow to cook until starting to brown, about 3 minutes, then turn each Brussels sprout so the other cut side is down. Allow to cook for another 3 minutes.

While the Brussels sprouts are cooking on their first side, whisk together the miso, rice vinegar, maple syrup, and minced garlic in a small bowl. Set aside.

Turn the heat under the pan to medium-high. Add the shiitake mushrooms to the pan with the Brussels sprouts. Cook while stirring so the shiitake mushrooms do not stick to the pan. Once the shiitake mushrooms are browned and the Brussels sprouts are just starting to char, remove the pan from the heat. Pour in about half the miso mixture and stir to coat the Brussels sprouts and shiitake mushrooms. Taste a Brussels sprout. Add more miso mixture if necessary. Season with salt to taste. Miso is salty so you may not need any salt.

Transfer Brussels sprouts and shiitake mushrooms to large shallow serving bowl (or serve straight from skillet). If you are using chili pepper or togarashi for heat, sprinkle over Brussels sprouts and shiitake mushrooms.
Storage Instructions
Leftovers will keep in a tightly sealed container in the refrigerator for about 2 days.
Miso Brussels Sprouts Cooking Notes
Pan-roasting versus oven-roasting: There is a good reason I choose to pan-roast this dish for larger Holiday-type dinners like Thanksgiving, Christmas, and Easter. The oven is likely going to be occupied first by a large main dish like turkey or prime rib, then by any number of side dishes that need quick re-heating in the oven once the main dish comes out to rest.
Oven-roasting the Brussels sprouts. If you have the oven space, this dish is easily adaptable to an oven-roast. Toss the Brussels sprouts and shiitake mushrooms with about 3 tablespoons grapeseed oil. Spread out onto a baking sheet lined with parchment paper. Roast in a 400ºF oven for about 25 minutes. Give the pan a shake or stir the sprouts and shiitake once about halfway through roasting. Toss the roasted sprouts and shiitakes with the miso mixture and serve.
Shiitake mushrooms: There is a mushroom farmer at the farmers markets here in Los Angeles who sells baby shiitake mushrooms, which are not actually babies, they are just really small. If you can find these, they work great because they are about the same size as the Brussels sprouts. Baby vegetables are just so fucking cute. Otherwise, any size shiitake mushrooms cut to the same size as the Brussels sprouts works.
Miso. Use whatever you can find at the grocery store. I used to go to the Asian market for it, but here in Los Angeles, even a regular grocery store carries miso. You can find it in the refrigerated section where tofu and cheese are.
I toss the Brussels sprouts and shiitake mushrooms with the miso mixture after they are roasted, rather than before they cook. I haven't done a deep-dive into the science, but it seems like "cooking" the miso would kill any of the probiotic benefit of the miso. Even for soup, miso is whisked into hot liquid after it has been removed from the cooking heat, so I figure there must be a reason.
All fresh herbs and produce from either the Santa Monica Farmers' Market on Wednesday, or Whole Foods Market when I can't find it at the farmers' market.