Apple Cider Vinaigrette is so light, bright, and delicious, it will make it too easy to eat a giant bowl of greens and grains for every meal. With only five ingredients, it's also super fast and easy to make.
Apple Cider Vinaigrette is:
gut health-friendly
refined sugar-free
plant-based/vegan
Jump to:
What Ingredients You Need for Apple Cider Vinaigrette
Apple Cider Vinaigrette has only a few ingredients, and is pretty flexible in terms of substituting, adding, and even completely omitting! For this recipe, you will need:
apple cider vinegar ("ACV" for the real ones)
high quality olive oil
maple syrup
garlic
mustard
salt
What is Apple Cider Vinegar
Apple cider vinegar is a natural vinegar made from fermented apple juice or apple cider. Naturally occurring bacteria ferments apple juice into alcohol, in the same kind of process that makes wine. A second fermentation converts the alcohol into acetic acid, which is what makes the fermented juice into apple cider vinegar.
Apple cider vinegar can range in color from light amber to a deep caramel color, and can be filtered and pasteurized or raw and unfiltered. The filtered version is translucent. The raw unfiltered version, which is what I use, is cloudy and contains "mother," which is that dark, mysterious figure floating in your bottle consisting of the acetobacter aceti bacteria that created the vinegar, cellulose and enzymes. These are good things you want to have!
Ingredients Resources and Substitutions
Apple Cider Vinegar. I use this generic store brand of organic Apple Cider Vinegar. Use whatever brand works for you just make sure the vinegar has the "mother" which looks like a mysterious dark floating figure in the bottle. The mother is what causes the fermentation! You can substitute up to half the apple cider vinegar with fresh lemon juice for additional layer of flavor and sweetness.
Olive Oil. Use the highest quality extra virgin olive oil you can afford, preferably with a recent Harvest Date on the bottle, not just the Expiration Date. I used a limited production boutique brand of organic California olive oil for this recipe. This is a more widely available high quality olive oil that I use for every day cooking.
Maple Syrup. I use an organic maple syrup that is dark in color and more robust in flavor than lighter colored maple syrups. You can substitute with honey (though the dressing will no longer be vegan), or other sweetener of choice.
Garlic. If you are sensitive to garlic, substitute 1 tablespoon finely minced shallot. I would not use garlic powder. You can also completely omit garlic.
Dijon Mustard. This Dijon mustard brand has never failed me. Because the amount is fairly small, use whatever mustard you have. The mustard adds some degree of flavor, but more importantly, emulsifies the rest of the ingredients into one homogenous mixture. You can omit the mustard if you don't have it. I have made this Apple Cider Vinaigrette both with and without the mustard.
Salt. Salt is an obvious and ubiquitous ingredient. I use this Kosher salt. Black pepper, on the other hand, is absent from this dressing recipe, and most other dressing recipes on this site. I like to treat black pepper as an optional table condiment that people can add to their final dish if they want, rather than an automatic, somewhat mindless, addition during cooking to a recipe.
Tools and Equipment

You don't need any special equipment to make Apple Cider Vinaigrette. You can simply use a knife and cutting board to mince the garlic, and a bowl to mix the ingredients. However, that doesn't mean there are a couple of gadgets and tools that might make it even easier than it already is.
How to Use Apple Cider Vinaigrette
Use Apple Cider Vinaigrette as a go-to dressing for any salad. It can lightly dress delicate baby lettuces as well as add big flavor to sturdier greens like Romaine, kale and roasted vegetables.
Even though I use Apple Cider Vinaigrette year-round, I make a special effort to keep it on hand in the Fall because, well, it just matches apple season. More importantly, once Fall and the Holiday season begin, Apple Cider Vinaigrette is a FANTASTIC dressing to keep in your refrigerator throughout the week and replenish on meal prep days. It will make it easier to throw together a filling salad for a quick meal on the busiest days. The flavors of apple and maple are perfect for any huge green salad you want to make for family dinners, parties, and of course, Thanksgiving.
Try Apple Cider Vinaigrette with:
If you have a hyper-fixation problem when it comes to foods like I do, then once you make this Apple Cider Vinaigrette, you will use it on everything. I believe in you.
FAQs (mostly about apple cider vinegar)
Q: Why is my apple cider vinegar cloudy?
A: If your ACV is labeled as "raw, unfiltered" and "with the mother," it is supposed to be cloudy! Unfiltered apple cider vinegar, which is the kind you want, still has the naturally occurring sediment from the fermentation process that makes the vinegar.
Q: What is that that dark, mysterious figure floating in the bottle of apple cider vinegar?
That's "the mother" which consists of the acetobacter aceti bacteria that created the vinegar, plus some bits and bobs of cellulose and enzymes. If you've ever drank kombucha and seen a wispy web floating toward the bottom, it's the same thing. It is harmless.
Q: Does apple cider vinegar go bad?
Apple cider vinegar is very high in acid, which means it sort of just preserves itself and technically, can last "forever," or at least for a very very long time, even beyond a printed expiration date. Bottles of apple cider vinegar sold in stores are printed with expiration dates between 2-5 years after the production date because the government requires an expiration date.
Q: I ran out of apple cider vinegar and don't want to go to the store! What can I substitute?!
For this dressing, you can substitute just about any vinegar for the apple cider vinegar 1:1 with the exception of pure white distilled vinegar, which is just a little too sharp. Of course, it will no longer be "Apple Cider Vinaigrette"; it will be "Whatever Kind of Vinegar You Use Vinaigrette." You may need to add a touch more maple syrup to account for the natural sweetness in apple cider vinegar. Just taste and adjust. The closest in acidity and natural sweetness is rice vinegar.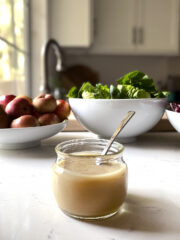 Print Recipe
Apple Cider Vinaigrette Recipe
Apple Cider Vinaigrette is a light, bright dressing that dresses salads, bowls, and even works as a marinade! It's so fast and easy to make, keep a jar in your fridge all the time.
Ingredients
1

clove

garlic

very finely minced

¼

cup

apple cider vinegar

¼

cup

olive oil

1

tablespoon

maple syrup

½

teaspoon

Dijon mustard

½

teaspoon

sea salt
Instructions
Combine all ingredients—in bowl and whisk, mason jar and shake, or blender and blend—until well incorporated.
Notes
Store leftover dressing in an air-tight container in the refrigerator for up to 1 week. Ingredients naturally will separate. You will need to either shake or stir the dressing right before using to re-incorporate.