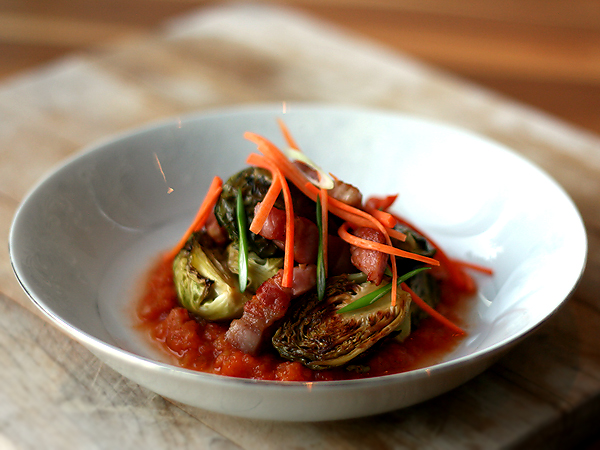 Not only did I just brush my teeth, but I flossed.
And not only did I floss, but I flossed with all that sudsy toothpaste in my mouth to get those scrubbing bubbles between my teeth ...
While this may seem like too much information with too little importance, it is, in fact, quite significant. Improving dental hygiene, with one practical application of flossing before bed every night, is one of my new year's resolutions.
Of course, I flossed at 2:00 in the afternoon, but that's still technically "before bed."
Small steps, people. Small steps.
It is not the specific resolution itself, but the very existence of any resolution at all, that is a reminder that I have yet to write the obligatory post about my forward-looking New Year's Resolutions because I have not yet posted my backasswards-clinging Old Year's Review, and though one of my goals for 2012 is to let go of manymanymany things, including a self-inflicted painful expectation of timing perfection, i.e. allow myself to do/write things as they come, I have not yet gotten to that part in the sequence, so you see why one of my other New Year's Resolutions is to cut my run-on sentencing self off at the first comma.
I'm having trouble breathing right now, are you?
It should have started about a month-and-a-half ago, back in mid-December, when the rest of the normal blogosphere starts to roll out the Year-in-Review posts. Those types of summaries and lists can even be done legitimately through the middle of January, when people who haven't seen one another since last year still say "Happy New Year" without sounding like total fools. I, however, missed that six-week window by more than a longshot. Just yesterday, I greeted the Bristol Farms bagger with "Happy New Year!" and he looked at me like a 15-year-old looks at a crazy 37-and-a-half-year-old cat lady in tattered "yoga" pants trying to talk about Harry Potter with him because it's a young adult book so she thinks it makes her hip and relevant.
Sorry. Haven't had a chance to work on that run-on sentence problem since two paragraphs ago.
Unlike most normal bloggers who can just click backwards through their archives — because that is what a blog is, a chronological web-log (wow, remember when we had to explain that every time?!) of thoughts or opinions or life — and cull together an interesting list of posts that fairly accurately reflect their past year, I don't have those archives.
Because I didn't post anything that has anything to do with anything.
But that's not to say that I didn't do anything!
Oh, I did stuff. Really cool! interesting! noteworthy! enviable! stuff.
Like sprout an avocado pit.
(Which, by the way, with more than a dozen leaves, is coming along gorgeously).


Life last year was incredible. That's really the only word that comes to mind. Ok, maybe "amazing," "awesome," and "awesome," do too. And I'm not just talking about the way we use those words somewhat flippantly to describe things that were really really really good, but what they really mean. I can't believe the year I had last year, I am still astonished/surprised by last year, I am overwhelmed with admiration for everything about last year. It is hard to believe that this new year could actually be better.
In a previous career, when we would sit around heavy wooden conference tables in our business casual attire to do our big, formal fancy Corporate Year-End Summaries, "great year!" always meant that we had surpassed sales goals or expanded production or opened new office or surpassed any goal that had a number attached to it.
Now, as I sit back in my economy class Costco knockoff of a fancy deskchair and really think about what made 2011 a "great year!" I can't pinpoint any specific people, events or things. TasteSpotting didn't sign any huge advertising and sponsorship deals (but we'd really like one or two for 2012! interested? email me!) , we didn't launch any new sites, and the google analytics have just been slowly and steadily growing as it has been for the last five years. In fact, my two sites didn't reach any major milestones, any grand goals.
But I did.
Be happy.
Last year was so good because I was happy. I wasn't unhappy before, and I'm not saying I was overjoyed and bubbling over with sunshine and sugar free marshmallows 365 days. Sure, there were some unsavory moments like finding that inchworm in my salad, getting into a three-day long fight with myself, and a few more-than-the-flu health scares, but all of the people, places, events, and things blur together into what I can just say is an overwhelming underlying theme of happiness for what was the Year of Le Lapin.
That being said, I'm still listing out a few key moments from last year because that was the original point of this post.
January: visited Virginia and New York
February: ate oatmeal for a month, was mentioned in The Atlantic, celebrated a first anniversary (!)
March: was in The LA Times
April: made it to the final round of the Saveur Food Blog Awards, spoke at a conference
May: traveled to France (!), discovered a gray hair (!!!)
June: road tripped to Scottsdale, threw foie gras and Flannery's dinner parties on our patio, celebrated my birthday
July: threw a big 3rd of July Party, celebrated another birthday
August: broke the macro lens (yes, it was big enough a deal to be called out in a Year-End-Review), fished in Punta Mita, had Alice Fiering over for dinner, and speaking of natural, ate an inchworm, followed by a pack of silica gel, which is also "natural" but you're not supposed to eat it
September: started a tumblr, met La Grande Dame, realized I am going to die
October: traveled to New York (again!), set up a new computer, bought a tv, ate 8 courses of foie gras, followed along in my Dad's PowerPoint presentation of the State of the Gim Union, tasted K(eller's)FC for the first time while dressed up as the White Stripes
November: created a foodnerdy spreadsheet, TheDailyMeal says TasteSpotting is a Top 25 Food Blog of 2011, ate at the new Pizzeria Mozza in Orange County
December: presented an award at the KoreAm Unforgettable Gala, lost my wallet/found my wallet, TasteSpotting is a trendsetter, UCLA says I feed Hungry Eyes
Now I'm off to go gargle for a full 30 seconds with a prescription (read: "expensive") rinse from my dentist. When I'm done, I'll post the rest of my New Year's Resolutions, which of course, after writing all of the above about not having nor reaching any goals last year, no longer apply.
Brussels Sprouts with Kimchi and Bacon Recipe
inspired by Momofuku by David Chang, serves 4
Ingredients
1

pound

Brussels sprouts

¼

pound

bacon cut into 1- to 1½-inch long batons

1

cup

napa cabbage kimchi

pureed

2

tablespoons

unsalted butter

Kosher salt

fresh ground pepper

1

cup

julienned carrots

sliced scallions
Instructions
Preheat oven to 400°F.

Remove and discard loose outer leaves from the sprouts, and cut the sprouts in half lengthwise through the core.

Put the bacon in a wide, oven-safe saute pan or skillet and cook over medium heat, stirring occasionally until just about crisp, 5 minutes or so. With a slotted spoon, transfer the bacon to a paper towel-lined plate and reserve.

Drain off most of the fat from the pan and add the sprouts, cut side down. Raise the heat to medium-high and sear until the sprouts begin to sizzle. Put the skillet in the oven and roast until the sprouts are deeply browned, 8 minutes or so, then shake the pan to redistribute them. Pull the pan from the oven when the sprouts are bright green and fairly tender, 10 to 15 minutes more.

Return the pan to the stovetop over medium heat and stir in the butter, bacon and salt and pepper to taste. Toss the sprouts to coat them.

Divide the kimchi among four shallow bowl. Use the back of a spoon to spread kimchi puree out so it covers the bottom of the bowls. Divide the sprouts among the bowls, arranging them in a tidy pile on top of the kimchi.

Garnish each with a pile of julienned carrots and sliced scallions, and serve.