Recipe for Grilled Avocado, Lobster, and Corn on the "Cobb" Salad Board with Avocado Green Goddess Dressing first. Shopping resources, additional recipe suggestions and tips, and personal notes follow.
What You Need for Lobster Cobb Salad
You will need all of the classic ingredients that make a traditional Cobb Salad a Cobb like avocado, bacon, and hard-boiled eggs, with a few small tweaks:
Lobster subs in for the usual cooked chicken
Avocado
Corn on the—wait for it—Cobb
Other peak summer vegetables including cucumbers, tomatoes, and snap peas
Pickled onions, which is my preference for the onion component, but you can use fresh red onions or chives
Arugula or other salad greens
Lemon wedges
Bacon
Boiled eggs
Avocado Green Goddess Dressing to dress and dip
Melted butter as an option for the lobster
Ingredients and Shopping Resources
Live Maine lobsters from Santa Monica Seafood, $18/pound. I have a whole story about cooking live lobsters. It is for another day. This post is about the salad. You can also likely buy pre-steamed lobster from local fish markets.
Avocados are at their peak in the summer. For this recipe, allot ½ a large avocado per person.
Corn is from the farmers' market. You can cook the ears of corn by steaming/boiling, or even grilling them in their husks, which keeps the corn kernels juicier, but then you don't get the charred look and flavor on the kernels.
Bacon from the somewhat over-priced butcher at Whole Foods Market.
Eggs are pasture-raised eggs. I use Vital Farms Alfresco Eggs, available at Whole Foods Market
Salad Greens: According to sources, the original Cobb Salad was served with watercress, which is a small, tender leafed green with a bit of a bitter/spicy kick. But this is almost nothing like the original Cobb Salad, so use whatever the hell greens you like, if any at all. The greens in these photos are wild arugula, which are tender in texture, spicy in flavor.
All other fresh herbs and produce from either the Santa Monica Farmers' Market on Wednesday, or Whole Foods Market when I can't find it at the farmers' market.
The original Cobb Salad has blue cheese, which I LOVE, but I used feta here because some people are weirded out by the very strong smell of blue cheese. Not that feta is any milder, as it still has tang, but not as much funk as blue.
Lobster Cobb Salad Preparation and Cooking Notes
On lobster serving sizes: I generally allot half a lobster per person, which is a LOT of lobster per person given the other hearty ingredients in the salad, but it makes it easy for serving — how would you split a lobster four ways? who gets the coveted claws?! Most people will not eat all of the lobster, because of all the other delicious little things on the board. However, leftover cooked lobster meat will keep for about three days in the refrigerator, or frozen for a few weeks, and is a great protein addition to your lunch and dinner grain bowls. Let's not even get started on Lobster Nachos.
Wavy Bacon. To make magazine-cover wavy bacon like we did here, use this recipe for roasting bacon in the oven on a wire rack.
If the Avocado Green Goddess is too thick/creamy as a dressing for you or your guests' taste, serve it separately as a dip, and dress the salad with a basic white wine, red wine, or Champagne vinaigrette, or even a lemony-slash-roasted-garlic vinaigrette would be ok, too.
Best Wine Pairing for Lobster
Speaking of wine, my favorites to drink with this salad are rosé, chenin blanc, and light bright sparkling white wines. This rosé and this rosé, like avocados and this salad, are both made in California and are two of my favs.
Lobster Cobb Salad Recipe
This Lobster Cobb Salad with Avocado Green Goddess Dressing recipe draws inspiration from the original Cobb Salad created at the Brown Derby restaurant in Hollywood, tweaks it by charring the cooked ingredients and throwing everything onto an epic platter. Most Cobb Salad dressings are a simple base of red wine vinegar, but because we're dipping here instead of dressing, we're making a Green Goddess that uses avocado for the smoothness factor.
Ingredients
2

large firm-ripe California avocados

allot ½ avocado per person

2

ears of corn

shucked and silk removed

2 1½- to 2-

pound

whole Maine lobsters

boiled or steamed

1

package bacon

cooked (about 12 slices)

4

eggs

hard boiled and sliced in half lengthwise

1

pound

heirloom tomatoes

sliced into wedges or rounds, and/or

1

cup

cherry tomatoes

sliced in half

4

small lemons

cut into halves

2

Persian cucumbers

thinly sliced

1

cup

sugar snap peas

½

cup

pickled red onions

¾

cup

blue or feta cheese

crumbled

4-6

cups

greens

arugula, frisée, romaine lettuce, watercress or any combination

2

cups

Avocado Goddess Dressing

see below

chopped fresh herbs like basil

chives, dill, and parsley

¼

cup

melted butter for lobster

optional ingredients to include on board: sliced fresh red onions, pickled peppadew peppers, olives, capers or caperberries
Instructions
Grill Avocado, Corn, and Lobsters
Heat grill to medium-high.

Slice each avocado in half lengthwise and remove pit. Rub the cut sides of the avocados, including the "divot" from the pit, with grapeseed or other neutral, high-smokepoint oil.

Rub shucked ears of corn with oil.

Place avocados cut side down, and corn, on hot grill. Cook the avocados and the corn for 8-10 minutes, until dark grill marks appear on the avocado. Do not move the avocados around on the grill. Rotate the corn every few minutes so they grill on all side. Remove avocados and corn from grill onto a plate and set aside to cool.

Cut each cooked lobster in half lengthwise, all the way through the shells. Rub the cut sides with grapeseed or other neutral, high-smokepoint oil. Place lobster halves cut side down on grill. Allow the lobsters to develop color, 8-10 minutes. Do not move the lobsters around except to peek underneath for grill marks. Remove from grill onto a plate and set aside to cool while assembling the remaining ingredients for the salad.

Grilled avocado, bacon, corn, and whole, peeled cooked eggs can be cooked a day ahead and kept in the refrigerator overnight. Simply take them out of the fridge an hour or so before to take the chill off.
Assemble the Lobster Cobb Salad
Place the grilled avocado, corn, and lobsters on a very large serving platter or board.

Arrange the cooked bacon, cooked eggs, tomatoes, lemons, cucumbers, snap peas, pickled red onions, cheese, and any other optional salad ingredients you might be using artfully around the avocados and lobsters on the board. Dress the greens very lightly dressed with the Avocado Goddess Dressing, then tuck handfuls of the dressed greens into spaces between the other ingredients on the board.

(Optionally, you can serve the greens from a separate bowl.)

Hit everything with black pepper and chopped fresh herbs including parsley.

Serve Lobster Cobb Salad with Avocado Goddess dressing in small bowls alongside, awesome crusty grilled bread with soft salty butter, and bottles of rosé. Everyone gets to dive in and make a plate for themselves.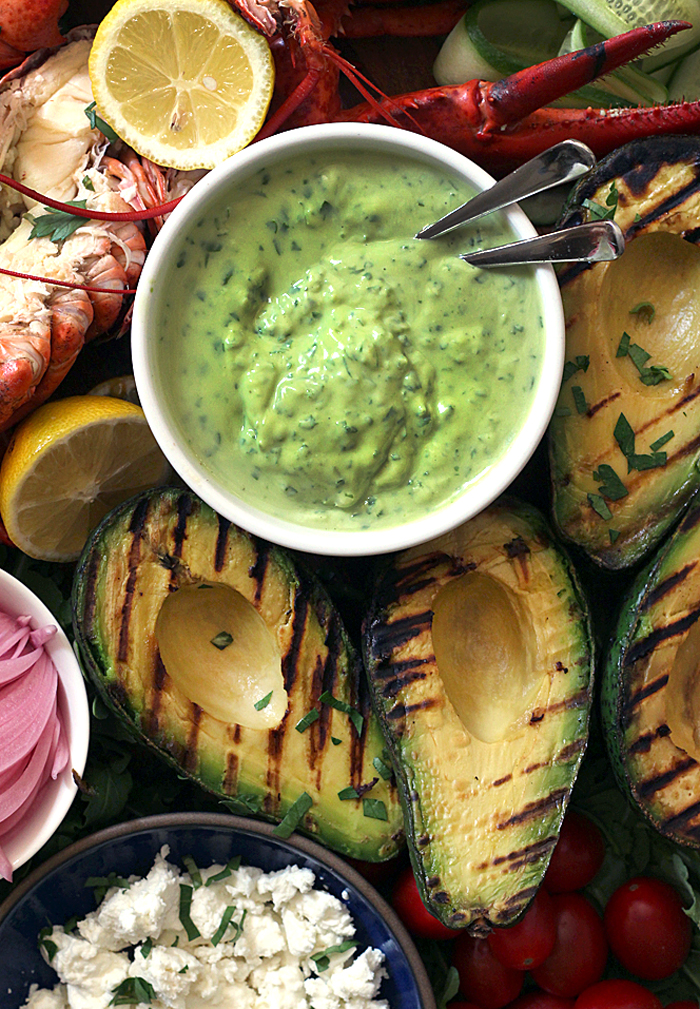 Avocado Green Goddess Dressing Recipe
The fastest and easiest method for making this Avocado Green Goddess Dressing is with a food processor. However, if you don't have a food processor, don't fret. As long as you have a good knife, you can mince, chop, mash, and stir everything by hand. However if you don't have hands, I got nothin' for ya.
Ingredients
2

garlic cloves

3

anchovy fillets

½

cup

Italian flat-leaf parsley

leaves and tender stems

½

cup

basil

¼

cup

scallions or chives or combination

2

tablespoons

dill

½

large ripe avocado

½

cup

full fat plain Greek yogurt

juice of 1 lemon

1

tablespoon

Champagne or white wine vinegar

½

teaspoon

salt

more to taste

water

1 tablespoon at a time, as needed for consistency
Instructions
To Make the Dressing in a Food Processor:
Chop garlic and anchovies on medium/low speed in a food processor. Add herbs, and some of the lemon juice to "help" the ingredients process. Add the avocado, yogurt, lemon juice, vinegar, and salt, and process until smooth — processing avocado gives the dressing a fluffy, mousse-like consistency. Taste, and add additional salt to taste (only if needed). With the food processor running, add water one tablespoon at a time to thin out the mixture to a pourable dressing-like consistency (as opposed to a thicker, dip-like consistency).
To Make the Dressing by Hand:
Make the Dressing by Hand: Very finely mince garlic cloves and anchovy fillets, using the side of the knife to press and scrape the garlic and anchovies into the cutting board to create a coarse paste. Place minced garlic and anchovies in a bowl.

Finely chop Italian parsley, basil, scallions and/or chives and dill, then add to bowl.

Using a fork, mash the avocado into the minced ingredients in the bowl using a fork. Vigorously stir in yogurt, lemon juice, and vinegar. Stir in salt, then taste. Add more salt to taste.

Stir in water as needed to thin the consistency of the dressing.

Dressing will keep, tightly sealed, in the refrigerator for five days.
This post originally created for California Avocado Commission. Updated July 2022.