With only a handful of ingredients, this Roasted Beet Dip with Yogurt is a dip that has the highest flavor, not to mention visual aesthetics, reward for the lowest effort. Bright pink tinted tart yogurt with an earthy umami background note, Beet Dip with Yogurt, which we casually call "Beetziki" will be the star on a crudités platter, a mezze platter, spread on toast...shall we?
Jump to:
What is Roasted Beet Dip?
Roasted Beet Dip with Yogurt is exactly that: a creamy, tangy, yogurt-based dip infused with roasted beets and garlic.
In this house, we call it "beetziki," because it's similar to regular tzatziki, but with roasted beets instead of cucumber, and totally puréed instead of stirred, so really not anything like tzatziki and more like "Roasted Beet and Yogurt Dip."
Still going to call it "Beetziki" though.
Use Beetziki as a dip for pita bread and crudites as on the Epic Mediterranean Mezze Board, or as a base spread on toast, grilled flatbread, or pizza piled with other vibrant vegetables.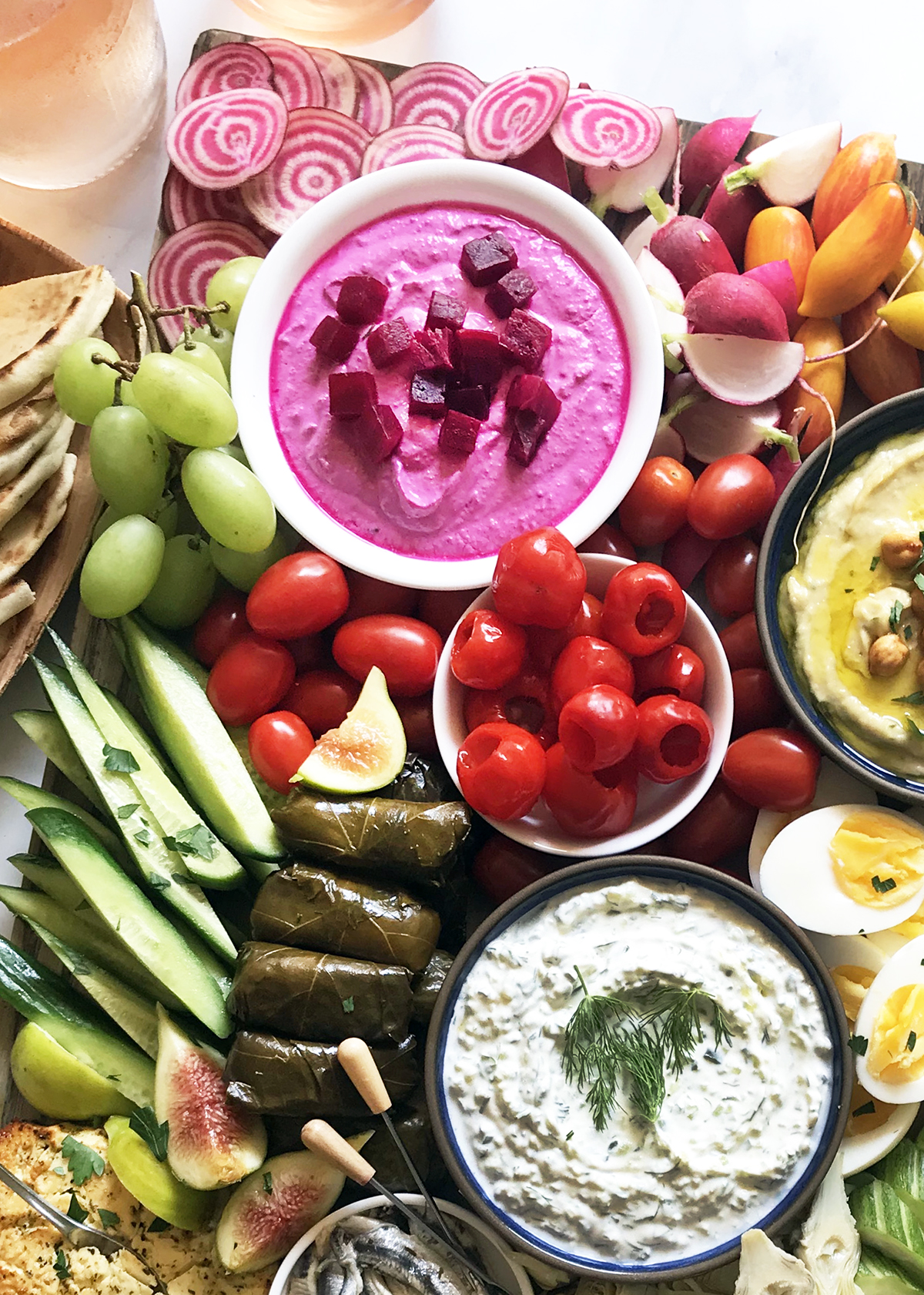 Health Benefits and Dietary Considerations of Roasted Beet Dip with Yogurt
This Roasted Beet Dip with Yogurt recipe as presented is:
vegetarian
vegan-adaptable if you substitute out the regular dairy yogurt with plant-based yogurt
gluten-free, sugar-free
keto-friendly (with this amount of beets)
From a nutrition perspective, Roasted Beet Dip with Yogurt is a great source of protein from the dairy, as well as fiber and antioxidants from the beets.
What Ingredients You Need for Roasted Beet Dip
The three main ingredients for Roasted Beet Dip with Yogurt are beets of course, garlic for flavor, and yogurt as the main dip component! You also need olive oil for texture and salt.
beets
garlic
yogurt
olive oil
salt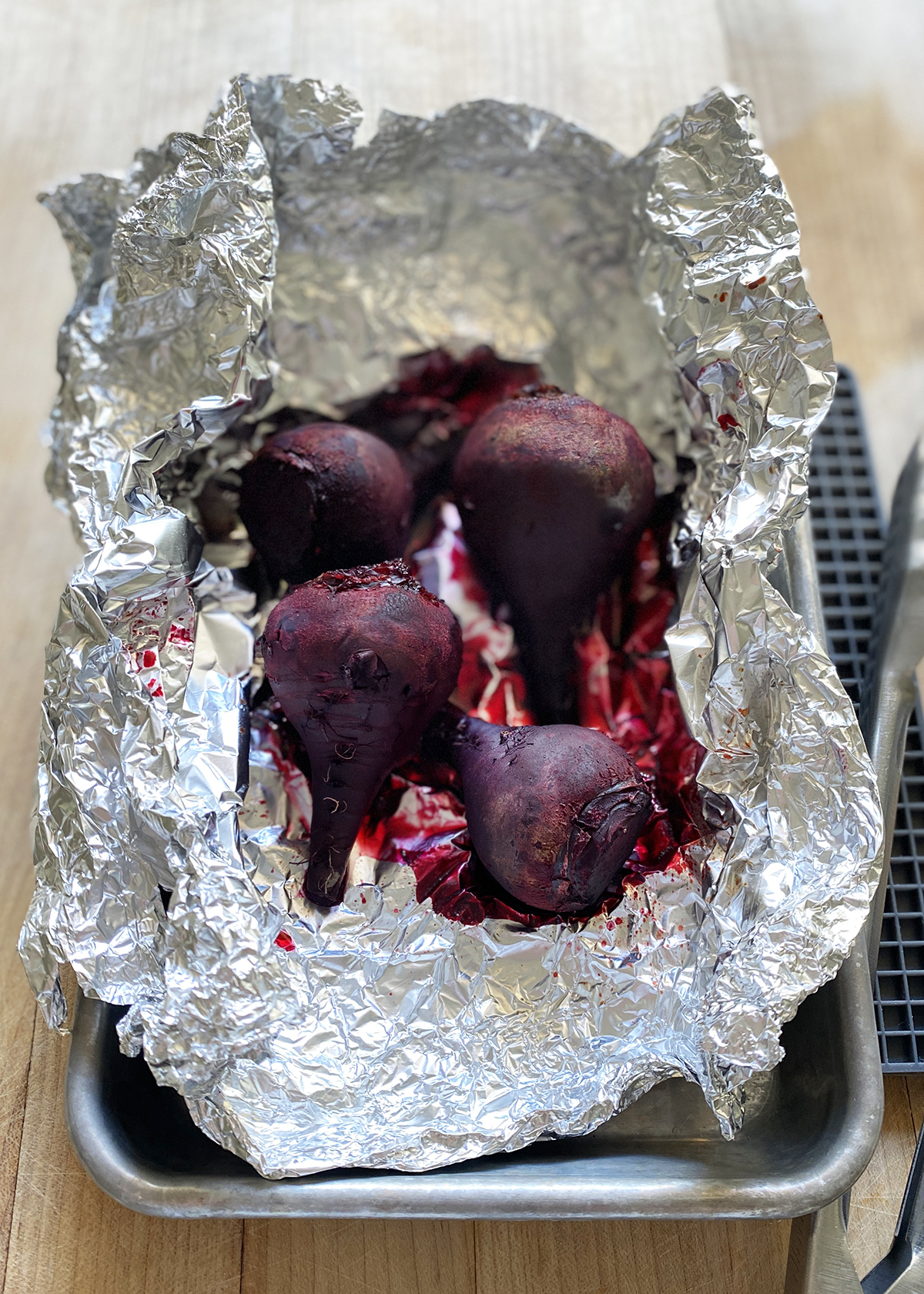 Ingredients Notes and Resources
BEETS. Though grocery stores carry beets year-round, they are technically "in season" in the cooler months, starting in October in the northern hemisphere. This makes beets a colorful prize in the winter produce games when bright colored fruits and vegetables might be less available.
I use red beets for this, though beets come in a lot of colors and varieties. Golden beets would work just as well for the earthy flavor, and not stain everything in their wake. If you can find candy stripe beets, they roast beautifully, but would be a waste of their pretty striped visuals if you were to blend them into the dip. Slice candy -stripe beets and use them as "chips" for the dip!
"1 large beet" can mean anything, especially in the late winter when beets can get to be the size of a small melon; see the photo below of the biggest beet I've ever encountered. You're looking for a beet that will render about 1 cup after roasting, peeling, and chopping. To roast a beet, generously rub it with olive oil, wrap it tightly in a foil packets, and roast in a 400°F oven for about 45 minutes, or until a knife can pierce through to the center without resistance.
YOGURT. Depending on the brand, the "type" of yogurt, and the fat percentage of your yogurt, your product just before it's final might be thinner or thicker than you prefer. Always err on the side of thicker because it's easier to thin out with water or oil later. Regular yogurt is thinner; Greek and Icelandic skyr yogurts are thicker styles. Use a full fat yogurt (for better flavor) and strain it as much as you can in a sieve lined with three or four layers of cheesecloth, or a paper coffee filter. You can drain the yogurt while you roast your beet.
How to Make Beet Dip
There isn't a whole lot to making Beet Dip, just whizzing all the ingredients in a food processor! Here are the basic steps:
Roast Beets. You can roast beets yourself or go the path of least resistance any buy beets already roasted at the grocery store either pre-packaged or from the salad bar.
Combine in Food Processor. Combine the ingredients in a food processor and whizz until smooth!
Tools and Equipment
SIEVE. I have a set of three different sizes, and use the medium one to drain yogurt. (The larger one is great for sifting flours and straining stock).
FOOD PROCESSOR. I have been using my small 4-cup Cuisinart FOR YEARS. I will only "upgrade" when this one falls apart because it still works like a dream, but most importantly, it's easy to clean and PUT AWAY. This 4-cup capacity is the right size for small jobs like dips and spreads.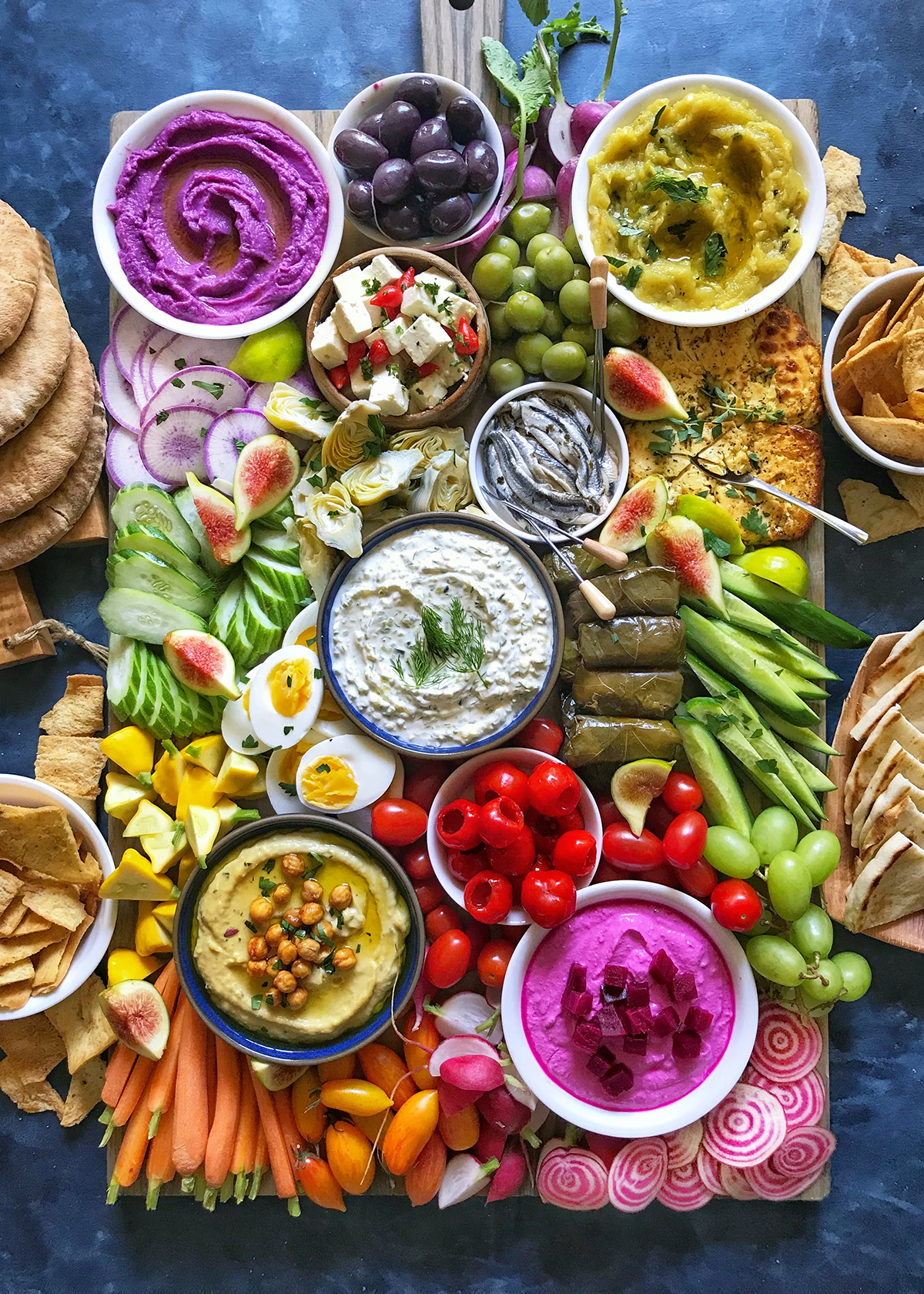 What to Serve with Beet Yogurt Dip
You may be perfectly happy, as I am, to just scoop Beet Dip out of the food processor with a spoon and eat it straight up. However, there are more civilized way to serve, eat, and otherwise use Beet Dip. Here are some favorites:
More Dippable Dips and Spreads
Hummus Dips
Vegetable-Based Dips
Cheese- Cream- and Yogurt-Based Dips
Smoked Fish and Meat Spreads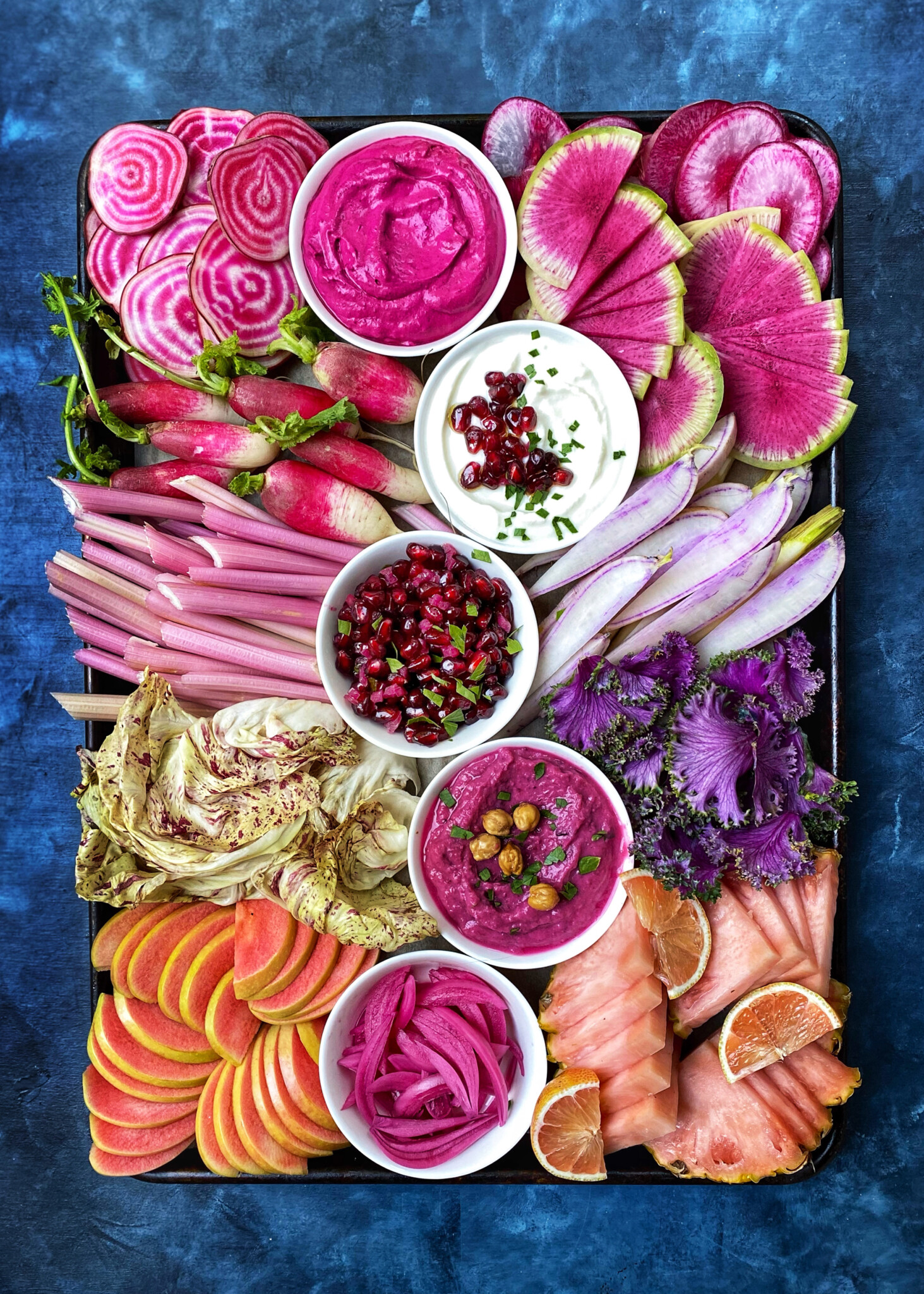 Print Recipe
Roasted Beet Tzatziki
Ingredients
1

large beet

roasted and peeled (see below NOTES and RESOURCES for how)

1

clove

garlic

2

cups

full-fat yogurt

strained (see below NOTES and RESOURCES for how)

1

teaspoon

salt + more to taste

2

tablespoons

olive oil

optional for serving as dip: extra chopped roasted beets

chopped fresh parsley or other green herbs like scallions and dill, crumbled feta, toasted walnuts

serve with: vegetable crudites

grilled flatbread
Instructions
Roughly chop roasted, peeled beet. Set aside 1-2 tablespoons of chopped beet for garnish if you'd like.

Place garlic, remaining chopped roasted beet, yogurt, and 1 teaspoon of salt in food processor. Pulse, then process until smooth. Drizzle in olive oil 1 tablespoon at a time, until the beet yogurt is the consistency of hummus. If you prefer a little thinner, add more olive oil.

Transfer Beetziki to bowl, taste, and season with additional salt if necessary.

If serving Beetziki as a dip, transfer to serving bowl, drizzle with olive oil, and sprinkle optional garnish ingredients in center.

Beetziki will keep in refrigerator in tightly sealed container for three days. Use a container that will not stain (e.g. glass).