Requiring only five ingredients and 90 seconds in a blender or food processor, Whipped Feta is the easiest, biggest flavor bang for your lowest effort buck when it comes to dips for fluffy pita and vegetables or condiments for toast and grain bowls. Shall we?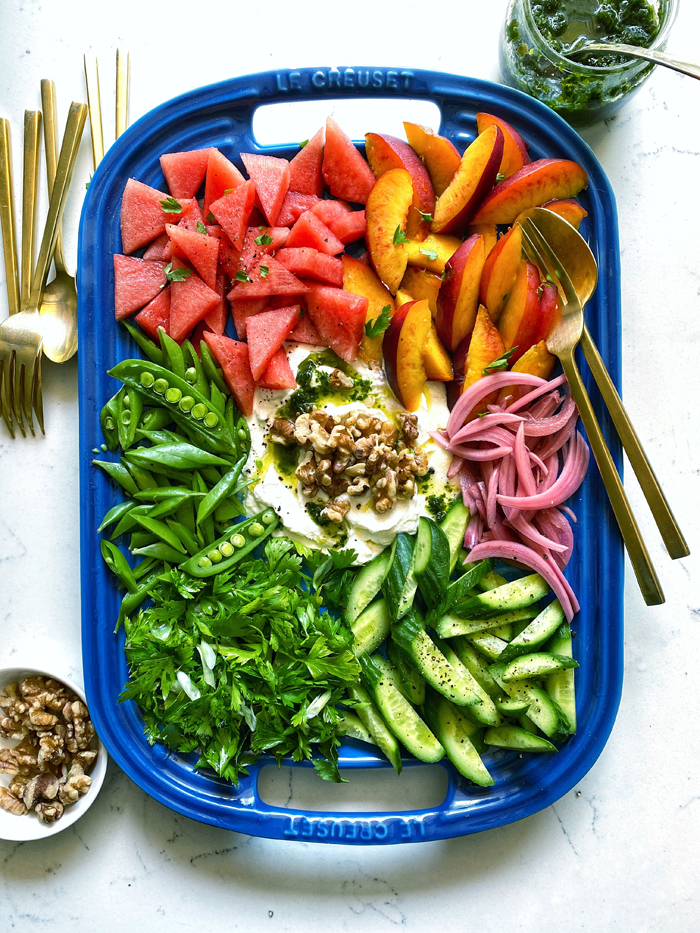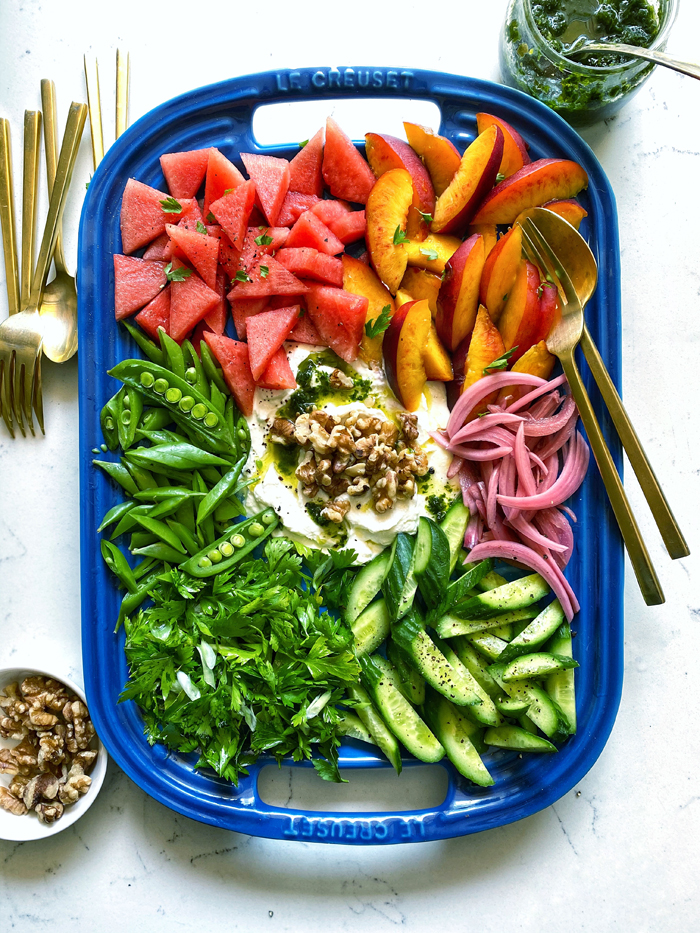 Jump to:
The first time I ever tasted Whipped Feta, a decidedly Mediterranean-sounding dish, I was not, in fact, sitting cliffside overlooking the Mediterranean sea in a coastal city in Greece. It was YEARS ago, and I was, strangely enough, in a ski lodge in Aspen in the dead of winter, scraping up every last bit of Whipped Feta drizzled with hot chili honey from the plate with torn-off pieces of pita bread as pillowy soft as the down puffer I was wearing.
Suffice it to say, I have been o-b-s-e-s-s-e-d with Whipped Feta, any season, any where, ever since.
What is Whipped Feta
A simple combination of garlic, feta cheese, Greek yogurt, lemon and olive oil, Whipped Feta is a salty, tangy, umami-rich dip, spread, condiment, or whatever you want to call something you will use in as many ways as you can. Aside from just scooping it up with fluffy pita as part of a mezze spread, you can slather it on toast to anchor your avocado, spoon it into a copycat Cava Mediterranean bowl, or dollop it onto a platter of roasted vegetables.
Whipped Feta Health Benefits
This Whipped Feta Recipe has:
protein from the feta and yogurt! One ounce of feta cheese has 4 grams of protein and one ounce of nonfat Greek yogurt has 2 grams of protein!
probiotic properties from the yogurt
antioxidants in the garlic
It may seem counter-intuitive because it's mostly cheese, but Whipped Feta can promote health by making it easier and more delicious to eat a tray full of fruit and vegetables!
Ingredients You Need for Whipped Feta
There are only five ingredients for whipped feta. You probably have most of the ingredients, and if you're like me, you always have a block of feta in the refrigerator.
feta
yogurt
garlic
lemon
olive oil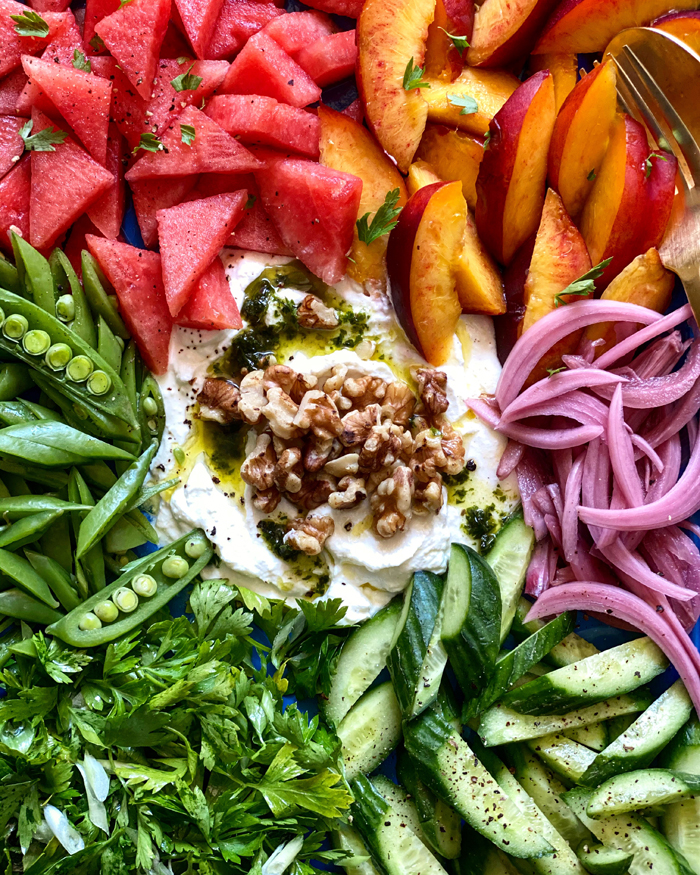 Optional Garnishes
Feta is fairly salty on its own, so additional sea salt is optional. The final Whipped Feta is PERFECT on its own, but here are a few of my favorite optional garnishes:
chopped fresh herbs like parsley, basil, mint, and oregano
drizzle of hot honey
chopped toasted nuts like almonds, pistachios or walnuts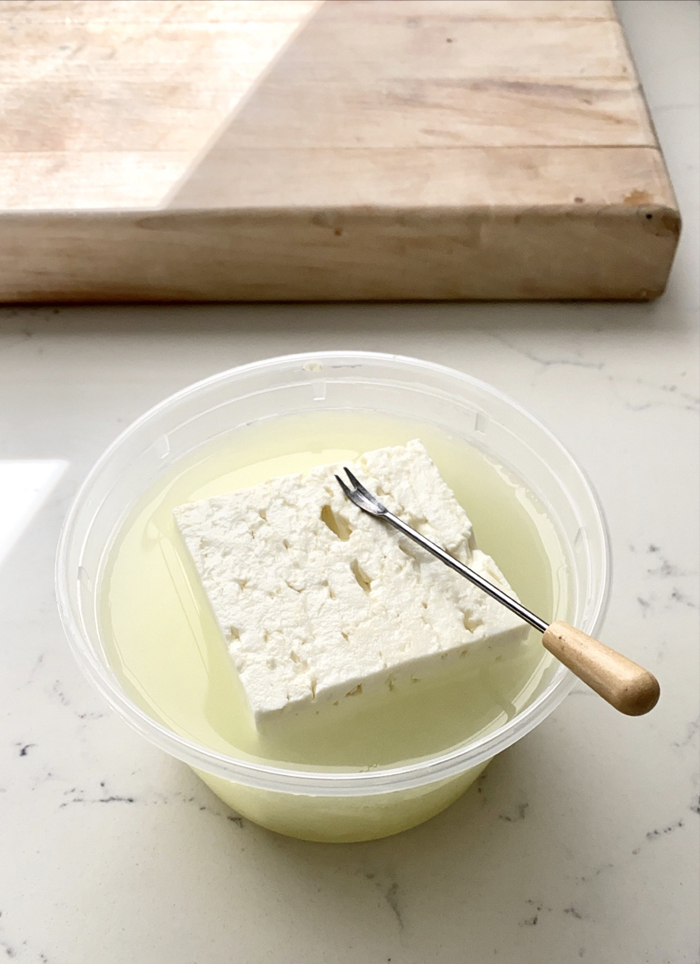 Ingredients Notes and Resources for Whipped Feta
FETA. This kitchen goes through feta like it goes through avocados, so I get the largest whole block I can find at the grocery store, looking for organic goat or sheep's milk. Whole Foods Market's in-house brand has a 16-ounce block of feta in brine in a sealed white plastic container, which makes it easier to have delivered. It is not organic, and does not specify sheep's milk, but it works when I can't find anything else.
YOGURT. Depending on the brand, the "type" (regular, Greek, Icelandic) and the fat percentage of your yogurt, your final product might be thinner or thicker than you prefer. Always err on the side of thicker because it's easier to thin out with water or oil later. Use a full fat yogurt (for better flavor) and strain it as much as you can in a sieve lined with three or four layers of cheesecloth, or a paper coffee filter.
KOSHER SALT. I use Diamond Crystal brand, which is in the burgundy red box.
OLIVE OIL. The olive oil here is more for consistency and texture, not for flavor, so use an everyday olive oil like California Olive Ranch.
How to Make Whipped Feta
There is nothing scientific about making Whipped Feta here. Just throw all the ingredients into a blender or food processor and let 'er rip until you get something the consistency of hummus.
A few pro-tips:
Start with minimum amount of yogurt and olive oil and add more, about a teaspoon at a time, as needed for consistency and texture.
Because feta cheese is inherently a little crumbly, the final texture of the Whipped Feta will be slightly grainy, no matter how long you blitz it in a high-power blender or food processor. To get it as silky smooth as possible your only option is to pass the whipped feta through a very fine mesh strainer.
How to Use Whipped Feta
Tools and Equipment You Need
Sieve to drain yogurt or feta. I have a set of three different sizes, and use the medium one to drain yogurt. (The larger one is great for sifting flours and straining stock).
Garlic press.
Citrus Juicer.
Food processor. I have been using my small 4-cup Cuisinart FOR YEARS. I will only "upgrade" when this one falls apart because it still works like a dream, but most importantly, it's easy to clean and PUT AWAY. This 4-cup capacity is the right size for small jobs like dips and spreads.
Chef's knife, the BEST workhorse in the kitchen
Cutting board
Flexible cutting boards
Mini serving bowls
Mini serving spoons
Substitutions and Variations
If for some reason you don't have access to yogurt, you can substitute in the following as the "creamy" component of Whipped Feta, starting with ¼ cup and adding more as you blend:
heavy whipping cream
whipped cream cheese
creme fraiche
The best way to vary Whipped Feta is with the garnish or topping. However, no one ever said "no" to adding a whole jalapeño pepper into the blender with the other ingredients for a "crazy" spicy version!
Print Recipe
Whipped Feta Recipe
makes about 2 cups
Ingredients
1

clove

garlic

8

ounces

feta cheese

4 + 4

ounces

(½ + ½ cup) Greek yogurt

see Notes about yogurt types and textures

1

tablespoon

lemon juice

1

tablespoon

olive oil + more for serving

Kosher salt
optional garnishes
chopped fresh parsley or other green herbs like scallions and dill

toasted pistachios or walnuts

fresh cracked black pepper for garnish

more crumbled feta

yes, this is a little over the top but it's feta so who cares

serve with: vegetable crudités and grilled flatbread
Instructions
Place garlic, feta, 4 ounces of yogurt, lemon juice, and olive oil into food processor. Pulse a few times to combine the ingredients, then process until smooth.

If the mixture is too thick, add the remaining yogurt 1 tablespoon at a time, until the whipped feta is the consistency of hummus. The consistency will depend on the yogurt. If you prefer a little thinner, add more olive oil.

Transfer Whipped Feta to bowl, taste, and season with additional lemon juice and salt if necessary.

If serving Whipped Feta as a dip, transfer to serving bowl, drizzle with olive oil, and sprinkle optional garnish ingredients in center.

Whipped Feta will keep in refrigerator in tightly sealed container for five days.
Nutrition