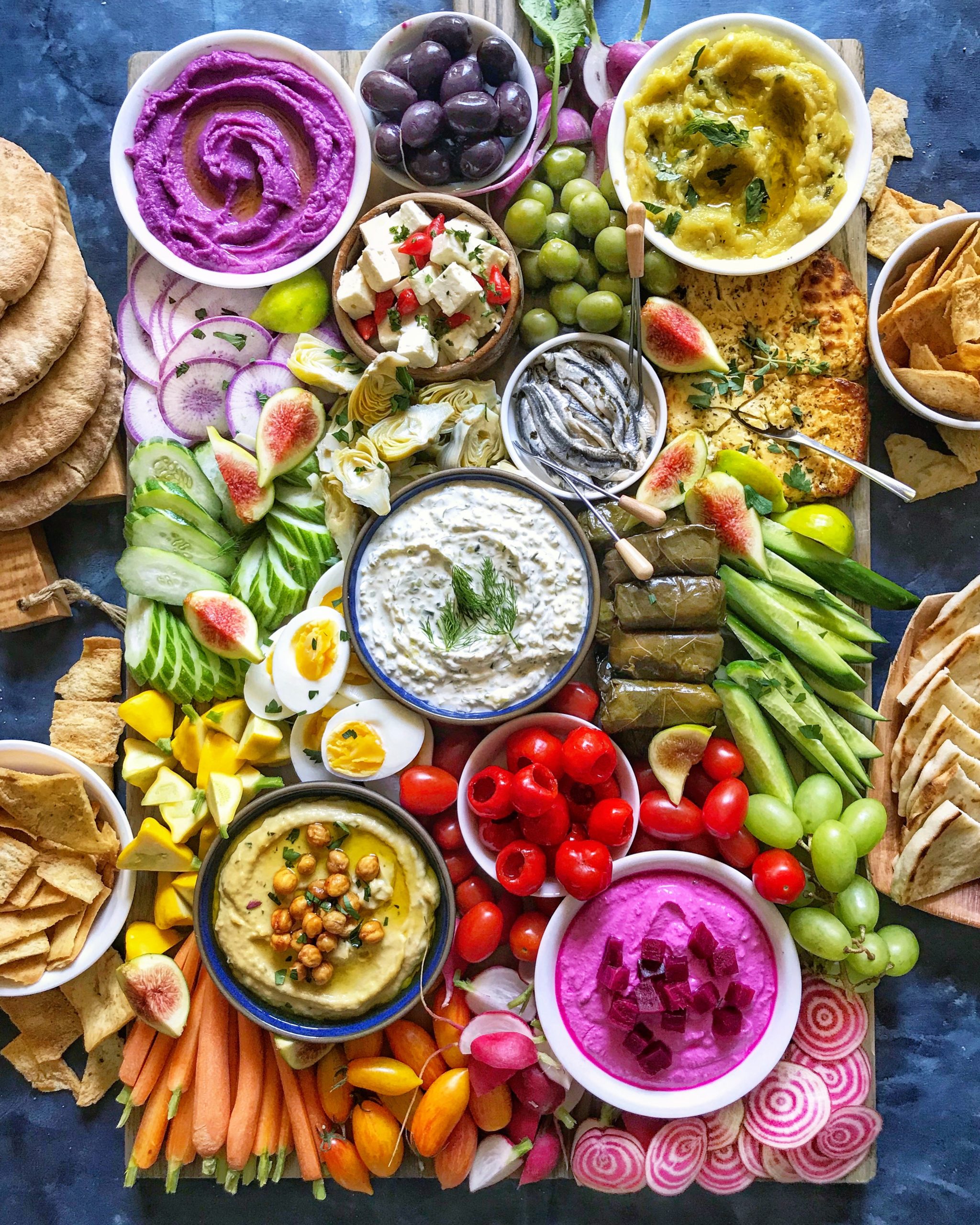 Was going to spend the entire summer island-hopping around the Mediterranean on my omega-yacht but plans got derailed this year because of coronavirus and also because I don't actually have my own omega-yacht. So it looks like an Epic Mediterranean Mezze Board at home is going to have to do.
Unless you have a megayacht; in which case please DM me.
How to put together an epic Mediterranean Mezze Board, which is mostly a list of items for the board, and links to recipes or favorite store brands of the dips and spreads!
EPIC MEDITERRANEAN MEZZE BOARD
serves 4
Use this "recipe" as a guide and a starting point for your own shopping list, as most of the items here are served as they are, not used as ingredients to actually make something. You can substitute anything and everything based on what you may already have, what's available at the store, and what's in season. With the exception of the Grilled Halloumi, everything is meant to be served room temperature, or even straight out of the refrigerator, which means this Board is perfect for those hot summer nights when you don't want to cook.
INGREDIENTS
DIPS
1½ cups Beetziki, recipe here
2 cups Classic Hummus, recipe here
2 cups Tzatziki, recipe here
2 cups zucchini ghanoush, recipe here
1½ cups purple sweet potato skordalia, recipe here
CHEESES
1 cup marinated feta, recipe here
grilled halloumi cheese, see below Resources for instructions
COOKED, MARINATED and PICKLED
4 hard cooked eggs, halved or quartered
10 cooked, stuffed grape leaves
1-2 cups Castelveltrano (mild, buttery green olive) or any other olives
1 cup marinated artichokes, quartered if whole
1 cup peppadew peppers
1-2 dozen marinated white anchovies
FOR DIPPING
6 toasted pita breads, or make your own Magic 2-ingredient Flatbread
3-4 cups pita chips
baby carrots
a variety of cherry tomatoes
round or French breakfast radishes
candy stripe beets, sliced into "chips"
baby sunburst squash, quartered or halved
sliced cucumber
FRESH FRUIT
grapes
figs
DIRECTIONS
Put everything on the board. The end.
NOTES and RESOURCES
HUMMUS. If you have it in you, and I know you do, make your own homemade hummus, which is inexcusably easy, especially if you use canned chickpeas (I like this Organic brand). If you start with dried chickpeas, well damn, you don't even need to be reading this do you. Get a Classic Hummus recipe with canned chickpeas here, and a Classic Hummus with Dried Chickpeas here.
STORE-BOUGHT HUMMUS. There are SO MANY brands of prepared hummus out there, and generally, they're all preeeeetty good, so if you're going the route of store-bought, buy whichever one you like best. Just make sure the hummus is made from non-gmo ingredients.
BEETZIKI. Beet Tzatziki is basically a very strongly garlic-heavy yogurt dip with pureed beets. I have not seen it sold ready in packages at regular grocery stores (but if you know of a resource, please let me know!). I am not a huge fan of beets because they taste a little too "earthy" for me, but I love them added to this dip. Get the Beetziki recipe here.
TZATZIKI. Garlic-infused yogurt with cucumber and any number of additional herbs, spices, and seasonings, is called different things in different places. I love them ALL. This version of Tzatziki with Chopped Cucumbers is my ALL-TIME FAVORITE because it keeps 1-2 lightly smashed garlic cloves whole and in the yogurt overnight while it and/or salted cucumbers are draining, then removed right before serving. The cucumbers are diced into tiny ⅛-inch dice, rather than shredded.
ZUCCHINI GHANOUSH. Essentially baba ghanoush, but substitutes roasted zucchini for eggplant because I have a slight eggplant intolerance.
SKORDALIA. Skordalia is garlicky potato purée used as a dip or spread, sometimes with added bread or nuts for body and flavor. This one is made with purple sweet potatoes, partly for color, partly for the added health benefit of sweet potatoes over regular potatoes for some of us. Get the recipe for Purple Sweet Potato Skordalia here.
FETA. I used a cubed, marinated feta on this particular board, but laying out feta in any format -- a whole brick, crumbled, whipped -- works because feta. You can find ready-marinated feta in the prepared food section of the grocery store where they used to have serve-yourself olive and antipasti bars. Otherwise, you can very easily marinate your own cubed feta in a jar of olive oil seasoned with marinated peppers, gently crushed dried chili, and citrus zest. If you don't mind having one more dip on your board, I highly recommend Whipped Feta, recipe here.
GRILLED HALLOUMI. Halloumi cheese is made with goat's and sheep's milk, and because it doesn't melt (like feta), can be broiled or grilled. Buy a package of halloumi cheese. Right before serving your board, make a small "tray" out of a couple layers of heavy duty foil, drizzle with a little olive oil, place the halloumi in it, and broil it in a toasted oven until the cheese is brown and bubbling. To serve, carefully slice the broiled halloumi without tearing the foil tray, then place the entire foil tray with the cheese on your board.
STUFFED GRAPE LEAVES. For the purposes of a big board, I usually buy rice-stuffed grape leaves (different names with different filling from different cultural cuisines!) either from the prepared foods section in some of the bigger flagship Whole Foods Markets, or from a Greek (called dolmades) or Middle Eastern restaurant (called dolme, tolme, and few other names depending on the specific country/region).
OLIVES. I have never met an olive I didn't like, but I have a particular fondness for the large, firm, mild Castelveltrano olives from, you guessed it, Casteleveltrano in Sicily. 
ARTICHOKES. I actually prefer buying whole, unmarinated artichokes, usually in a can, quartering, and very lightly dressing them myself with olive oil, red wine vinegar, lemon juice, and salt. 
PEPPADEWS. These are large, round, thin-skinned and fairly mild bright red peppers. I used to get these from the self-serve olive and antipasti bar at Whole Foods or natural foods markets, but now buy them in the same department of the grocery store packaged by the store in to-go containers, and increasingly in jars in the same aisle where olives are. 
WHITE ANCHOVIES. Marinated white anchovies, also called "boquerones," are different from the dark brown, super salty anchovies in cars or small jars. These are vinegary and tart and my mouth is watering just typing this out right now. You may have seen these on your Caesar salads. The brand I use is Agostino Reccha, which makes a lot of other preserved fish, and is found at Eataly. White anchovies are usually considered perishable so you'll find them with other fresh fish, as opposed to the canned fish aisle.
PITA BREAD and CHIPS. Get the fluffiest pita bread you can find, which for me, is actually from a local Middle Eastern restaurant. You can also make your own 2-ingredient Flatbread in a skillet here. For pita chips, I like the kind of pita chips that look like someone made them in-house and packaged them in clear plastic clamshell containers. They're thicker, sturdier, and usually a little oiler because they are literally fried like chips. They are also a little more expensive than the ubiquitous Stacy's brand in bag, but if you can find them (look on lower shelves in the chips or crackers aisles), get them.
VEGETABLES and FRUITS. All fresh produce I get first from the Wednesday Santa Monica farmers' market. Whatever I can't find there, I supplement with produce from either Bristol Farms and Whole Foods.
TOOLS and EQUIPMENT
Large Ash Wood Board BQ ("Before Quarantine") I used this large 28-inch x 16-inch board for everything. Depending on how tightly you pack the ingredients and how often you replenish, this board can serve anywhere from 2 to 20.
4-inch Condiment/Dip Bowls Four-inch diameter is the perfect size for dips and spreads. If you're a baker you can use 4-inch (6- or 8-ounce capacity) ramekins. I prefer the ones I've linked because they look more modern with smooth outsides rather than the classic ridges.