You can throw garlic, cucumber, yogurt, salt, and fresh dill together in any format, and it will always be good, but if you have the time to look after some details, you've got to make this recipe for Tzatziki with Chopped Cucumbers. Shall we?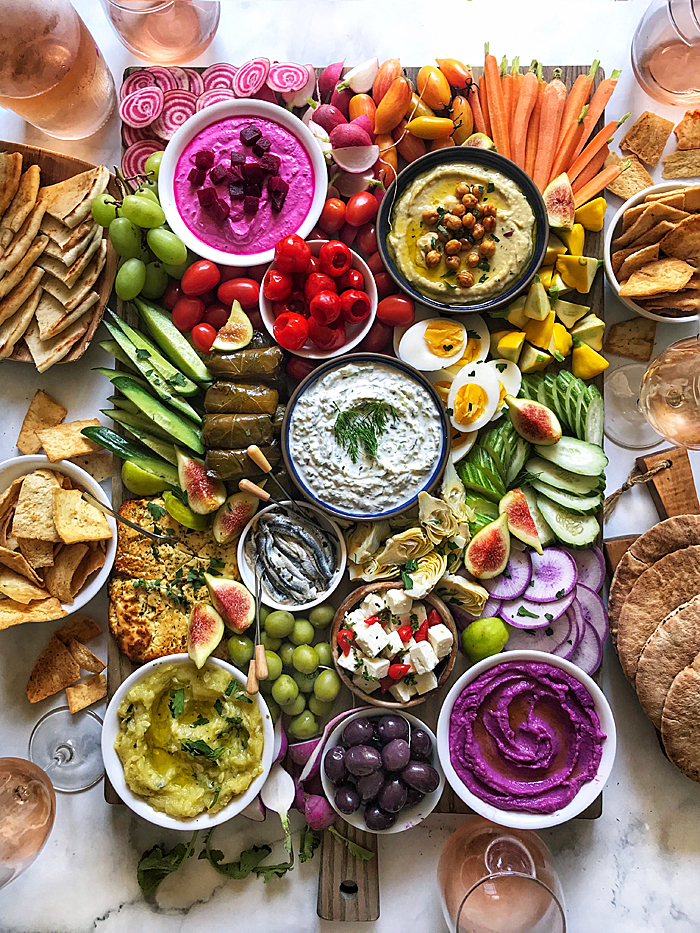 Jump to:
What is Tzatziki
Tzatziki is a salty, yogurt-based dip or sauce infused with cucumbers, garlic, and olive oil, and often with lemon and fresh herbs. Mediterranean and Middle Eastern cuisines include versions named differently. Tzatziki is Greek.
Use Tzatziki as a dip for pita bread and crudités as on the Epic Mediterranean Mezze Board pictured above, as a sauce for grilled meats and vegetables, as a spread for toast, flatbread, or pizza piled with other vibrant vegetables, or as a therapeutic.
Health Benefits and Dietary Considerations of Tzatziki
Tzatziki is a great source of protein and probiotics from the strained yogurt. Cucumbers, though "drained" of excess water, still provide hydration. And if tzatziki is the reason you dip and eat a plate full of fresh vegetables, I'd call that a huge healthy win!
As presented, this Tzatziki recipe is:
gluten-free
sugar-free
100% vegetarian
low carb and keto-friendly
Ingredients You Need for Tzatziki
Thankfully, tzatziki only requires a few ingredients:
Yogurt
Cucumbers
Fresh Dill
Garlic
Lemon
Olive Oil
What Kind of Yogurt for Tzatziki
Greek yogurt is the easiest to find in regular grocery stores. It is thicker than yogurt that's labeled as simply "yogurt" because it has been strained of some of its water. Depending on the brand and the fat percentage of your Greek yogurt, your final product may be thicker or thinner. Always err on the side of thicker because it's easier to thin out with water or oil later.
Use a full-fat plain (unsweetened) Greek yogurt for better flavor. If the one you have seems thin, strain it for 15-30 minutes in a sieve lined with three or four layers of cheesecloth, or a paper coffee filter. You can drain the yogurt with the smashed garlic in it, and while you chop the cucumbers.
If your dietary needs call for lower fat, use a low-fat Greek yogurt. There is not a significant enough difference in flavor to compromise the health benefit.
Traditionally, tzatziki uses goat or sheep's milk, yogurt, so if you have access to those, try them! Goat milk yogurt and sheep's milk yogurt have different levels of lactose, protein, and fat.
What Kind of Cucumbers for Tzatziki
The best cucumbers for Tzatziki are the small, thin-skinned "seedless" Persian cucumbers. I get Persian cucumbers from the local farmers market, or organic at the grocery store. I have also seen similar small cucumbers at regular grocery called "baby cucumbers." They work as long as they have a lighter, thinner skin, as do the much larger English seedless cucumbers.
What does not work as well are dark, thick-skinned conventional cucumbers with large seeds. If those cucumbers are the only ones you can find, peel them, scrape out the seeds with a spoon, the way you'd remove seeds from a cantaloupe or honeydew melon, then proceed with chopping and the rest of the recipe.
The deeply curvy, striped cucumbers in the photo above are Armenian cucumbers sometimes available during mid- to late-summer at some of the local Southern California Farmers' Markets. Because they are so pretty, I sliced them and put them on the board to use for dipping. 
How to Prep Cucumbers for Tzatziki
Many recipes direct you to grate or shred the cucumbers, which is quite honestly much faster than dicing cucumbers not only by hand, but into microscopic pixels.
However, something about the long shreds of cucumber in tzatziki made me feel a little like I might end up flossing my teeth. I also don't love the way yogurt coated strands of shredded cucumber look when they hang from pita wedges or chips when tzatziki is eaten as a dip. It is a weird, very personal pet peeve. If you shred or grate your cucumber, that's cool, I will probably never know. If you dice your cucumber into tiny pieces, I will definitely know about it because you will email or DM me about how your tzatziki life has changed.
Additional Ingredients Notes and Resources
Garlic. This recipe calls for whole cloves of garlic, lightly smashed and then buried into the yogurt to infuse the yogurt with flavor. Most other recipes use grated, minced or chopped garlic, but I find that biting into an accidentally large piece of chopped raw garlic, while fine for a garlic-phile like me, might be a little too strong and/or spicy for others. Make your tzatziki based on who will be eating it.
Olive Oil. The olive oil here is more for consistency and texture, not for flavor since the garlic flavor will be pretty strong, so use an everyday olive oil like California Olive Ranch. Of course, if you have a Greek olive oil, use it! I used this olive oil that's pretty widely available, though it is not organic.
Salt. I use this brand, which is in the burgundy red box.
All other fresh herbs and produce from either the Santa Monica Farmers' Market on Wednesday, or Whole Foods Market when I can't find what I need at the farmers' market.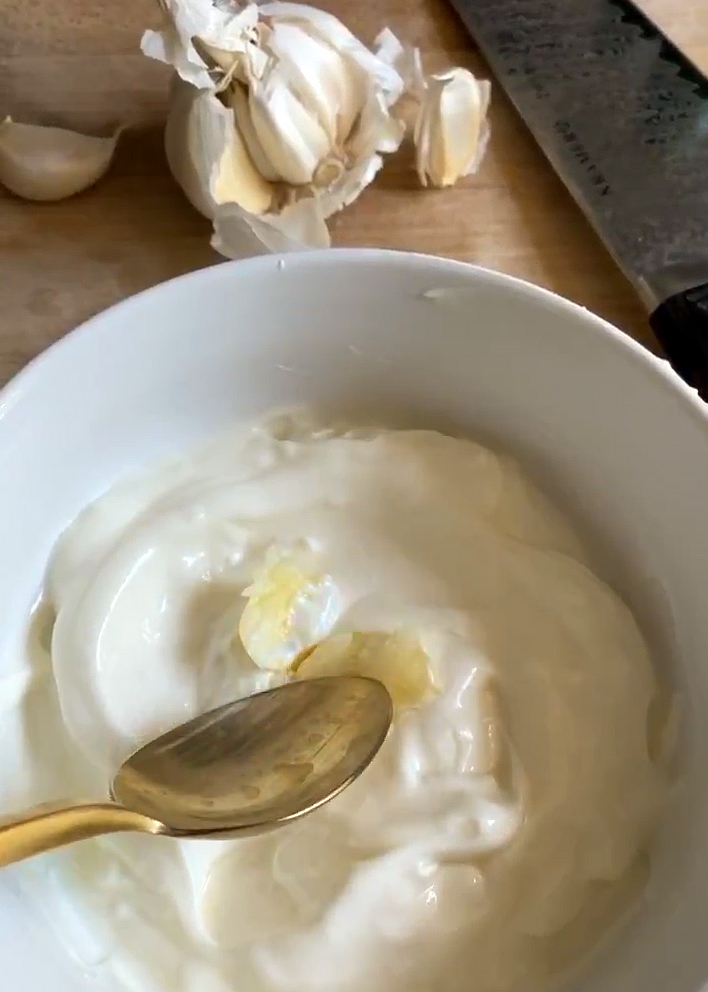 How to Make Tzatziki
Chop cucumbers into tiny dice (or simply shred on a box grater), salt, drain, and squeeze out excess water
Season yogurt with garlic
Stir together prepped cucumbers, garlic yogurt, chopped fresh dill, lemon juice and olive oil
Drizzle with additional olive oil, garnish with more chopped dill, and serve with crudites, warm pita, Mediterranean grain bowl, the options are innumerable!
Pro-tip: Prep the cucumbers the night before, since chopping and draining cucumbers are the longest step. And letting the cucumbers drain for a little longer won't affect the final tzatziki.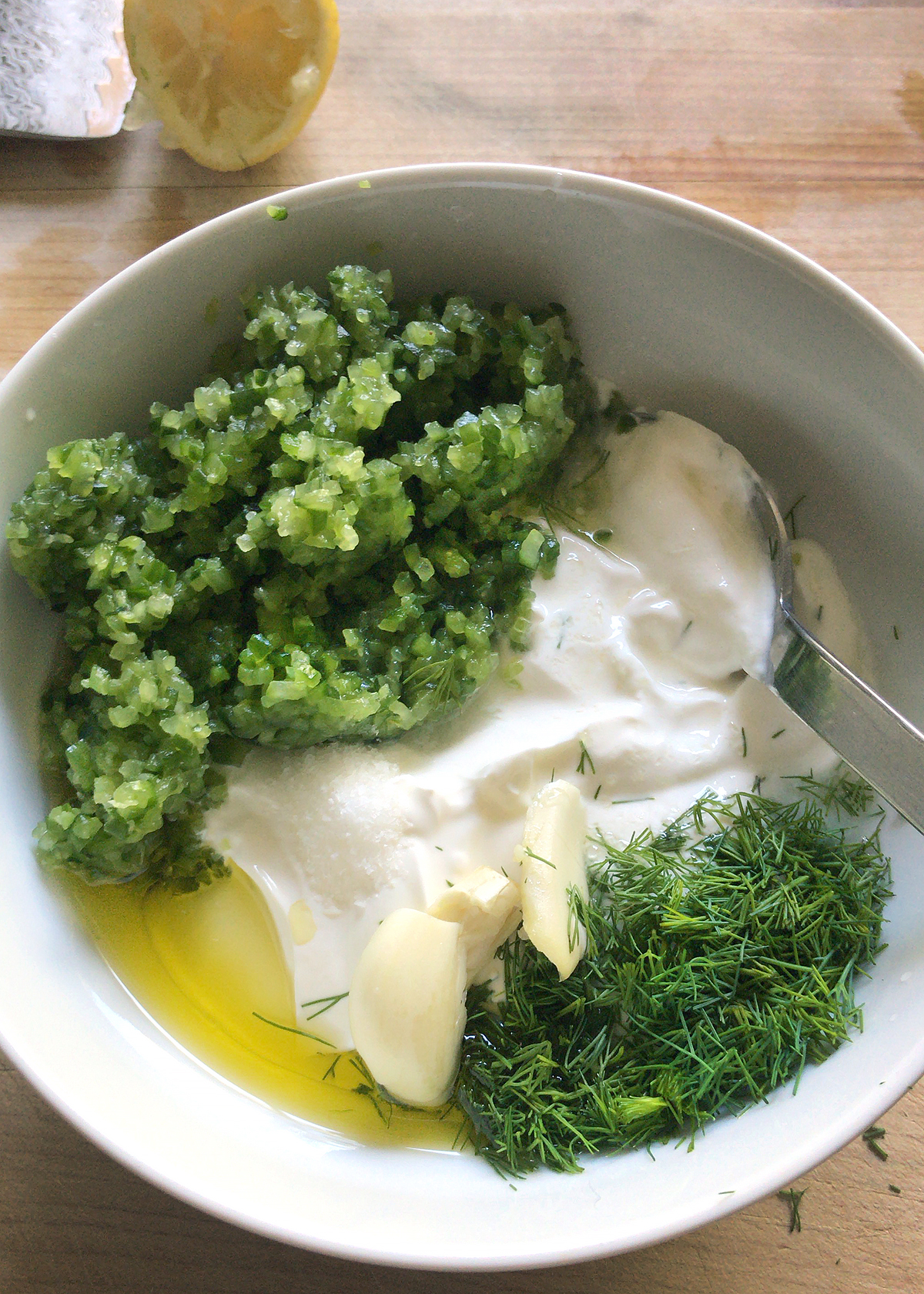 Tools and Equipment
As I always say, you don't need any special equipment to make almost any recipe. However, that's not to say there are a couple of gadgets and tools that might make it a LOT easier to get Tzatziki from your pantry to pita chip!
Advance Prep, Leftovers, and Storage
Tzatziki will keep in a tightly sealed container in the refrigerator for up to three days.
You can make the Tzatziki up to three days in advance, which will give the garlic more time to infuse the yogurt with its flavor. Just make sure that you eat all the tzatziki by the third day after it's made.
Tzatziki does not freeze well.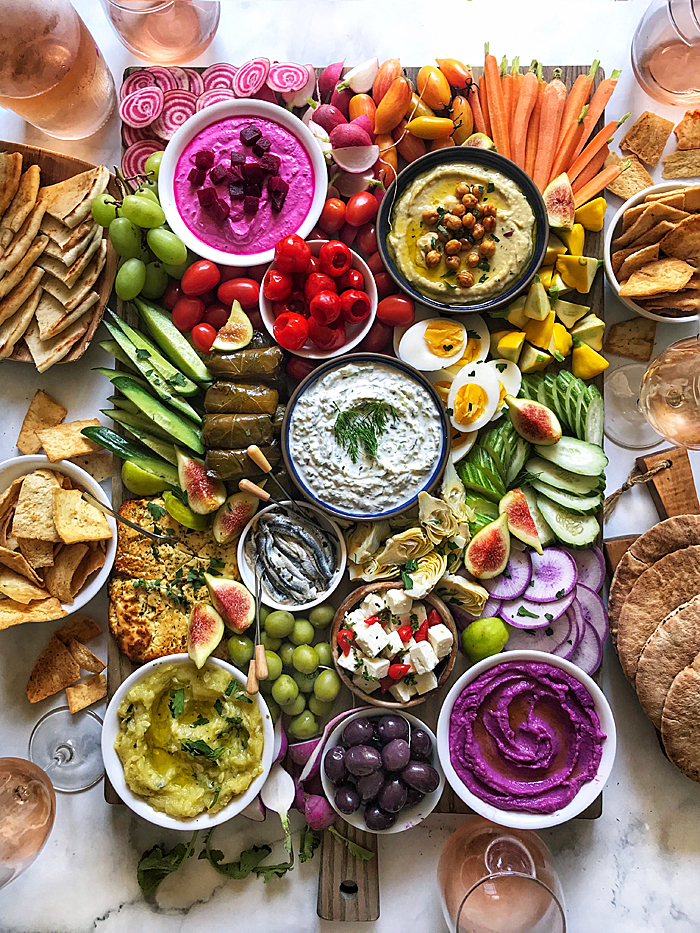 What Else to Serve with Tzatziki
Honestly, it's hard to do better than just a big bowl of tzatziki and a stack of warm, fluffy pita or a pile of pita chips. Here are some more ideas of how to use Tzatziki, and what else you can serve with it: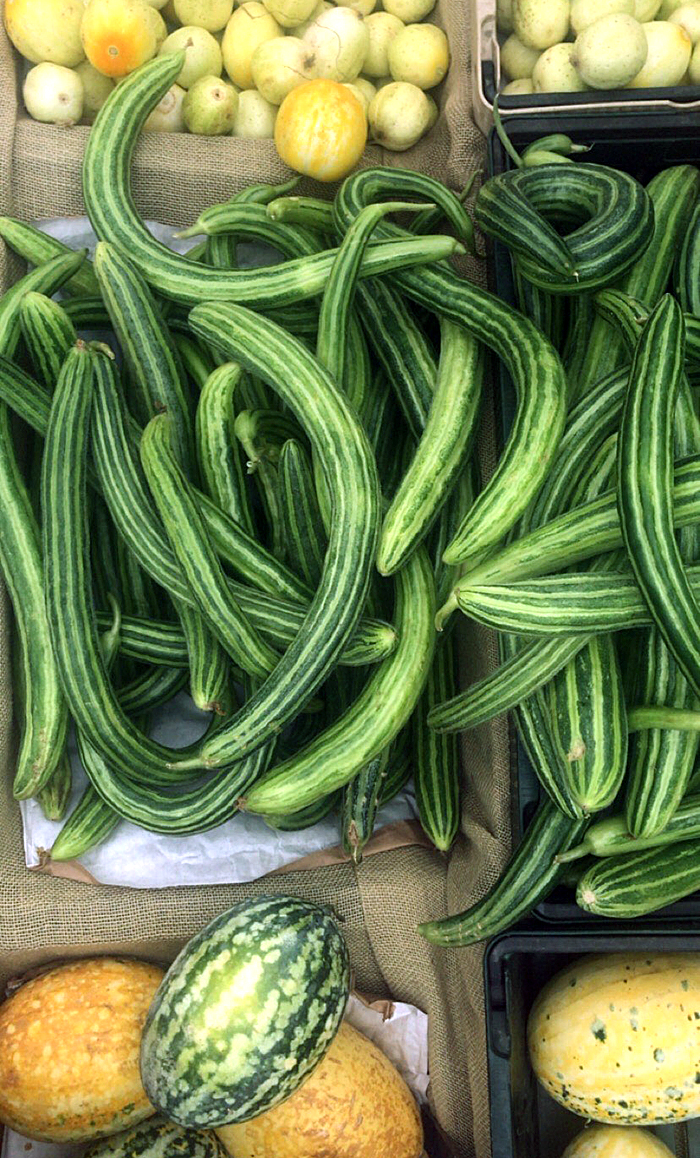 Print Recipe
Tzatziki Recipe
makes about 2½ cups, easily ratio'd up or down
Ingredients
2

cups

Greek yogurt

see Notes if you can't find Greek yogurt

2

cloves

garlic

peeled and lightly smashed

2

Persian cucumbers

1

teaspoon

salt + more to taste

1

teaspoon

lemon juice

1

tablespoon

olive oil + more for drizzling

optional: 2-4 tablespoons chopped fresh dill and/or mint

optional garnish for serving as dip: chopped fresh dill and/or mint

serve with: vegetable crudites, grilled flatbread, just itself
Instructions
Push smashed garlic cloves into yogurt and set aside.

Finely dice cucumbers into the smallest pieces you can; I go for ⅛-inch, which is a little smaller than half a centimeter. It takes a long time for me to cut it this way and is almost pointless because the cucumber's shape is overwhelmed by the yogurt, but I do it anyway because I can.

Toss the diced cucumbers with 1 teaspoon salt, put into a mesh strainer set over a bowl, and let sit at room temperature for about 30 minutes to draw out as much water from the cucumbers as possible. You can also do this the night before and let the salted cucumbers sit in the strainer in the refrigerator. Some liquid will drain out on its own.

Transfer the cucumbers to several layers of cheesecloth, a clean dish towel, or even a couple of layers of sturdy paper towel, gather up the corners and gently wring/press out as much remaining water from the cucumbers as possible.

Stir the drained cucumbers, lemon juice, and olive oil into the yogurt. Cover and put in the refrigerator to allow the flavors (especially the garlic) to combine.

When ready to serve, stir in the fresh chopped dill and or mint if using. Taste and adjust the salt. The tzatziki may not need any additional salt because of the salt already on the cucumbers.

Remove the garlic cloves, and transfer to a serving bowl. Garnish with additional chopped fresh herbs.
Notes
Tzatziki will keep in a tightly sealed container in the refrigerator for up to three days.