No yeast. No special equipment. You don't even need an oven. This Three-Ingredient Yogurt Flatbread is the perfect "bread" recipe for someone who doesn't bake bread. Shall we?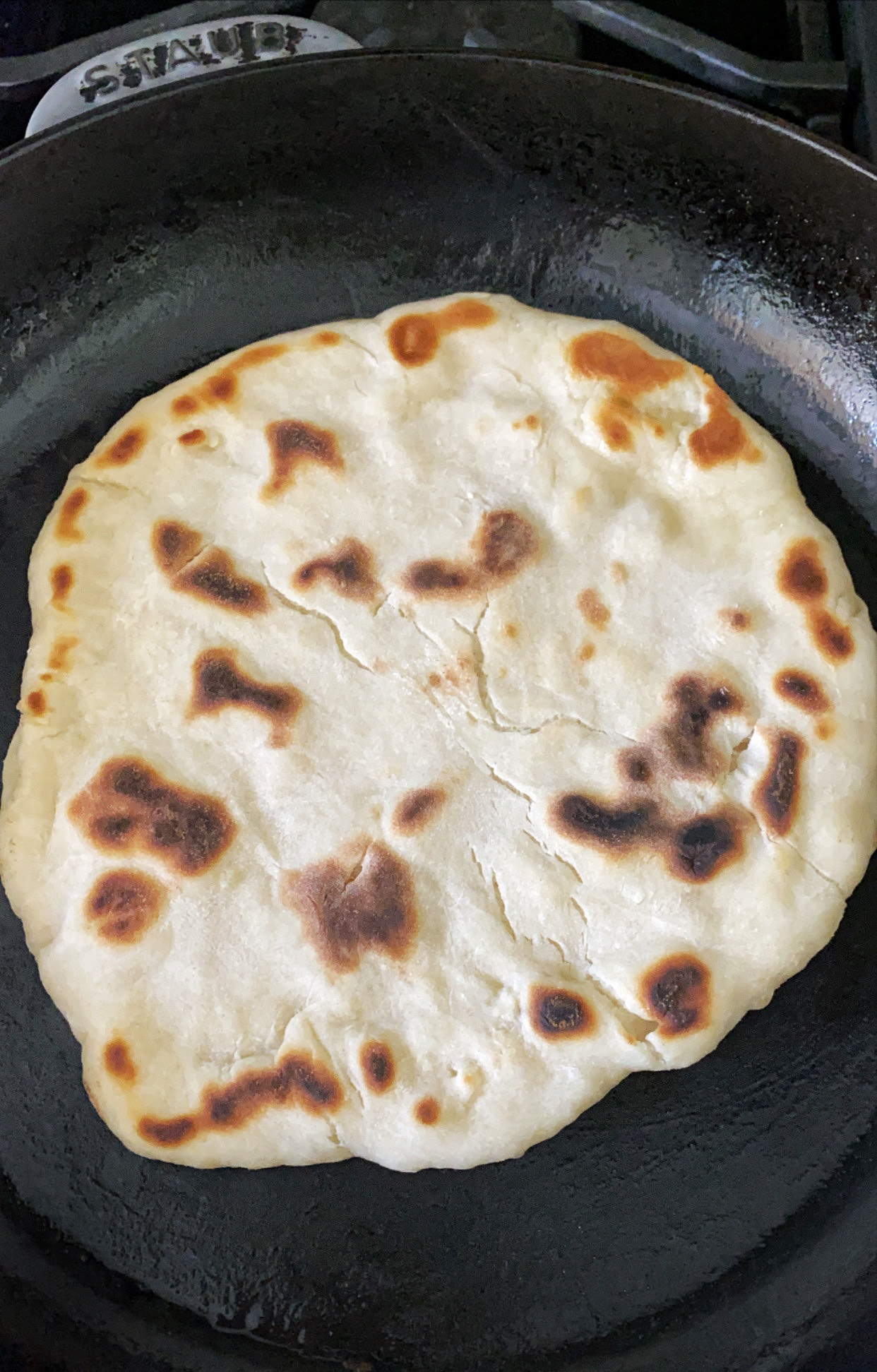 These yogurt flatbreads are great cut or torn into wedges to eat with dips, as a stand-in for traditional south Asian naan, or used whole and topped with any number of spreads and toppings.
You can also use the uncooked flatbread dough as an easy substitute for pizza dough and make a "skillet pizza," with the understanding that the crust is definitely different in taste and texture from a regular yeast-raised pizza dough.
Jump to:
Ingredients You Need for Yogurt Flatbread
Here is what you need to make Yogurt Flatbread:
all-purpose flour
baking powder
yogurt
And of course, water and salt.
Water and salt are not usually considered "ingredients" in many recipes because they just are.
If you have self-rising flour, which is just regular all-purpose flour and baking powder already combined, this is technically a TWO ingredient flatbread recipe! I have included this note in the recipe.
Notes and Ingredients Resources for Yogurt Flatbread
ALL-PURPOSE FLOUR. I use Bob's Red Mill organic all-purpose white flour. These flatbreads are pretty forgiving with respect to bread so go ahead use whole wheat flour, cake flour, whatever you have. I doubt you have cake flour if you're not a baker and are making these flatbreads though.
SELF-RISING FLOUR. Self rising flour is just regular flour with the addition of salt and baking powder already mixed in. This brand is one of the most reliable for flours.
YOGURT. Depending on the brand, the "type" of yogurt (regular, Greek, icelandic) and the fat percentage, your dough may be stickier or drier. Always err on the side of sticky, which is harder to roll out, but will result in a less tough flatbread.
KOSHER SALT. I use Diamond Crystal brand kosher salt, which is in the burgundy red box.
OLIVE OIL. The olive oil here is more for consistency and texture, not for flavor, so use an everyday olive oil like California Olive Ranch.
Tools and Equipment You Need for Yogurt Flatbread
Ideas How to use Yogurt Flatbread
Mezze Platter. Serve Yogurt Flatbreads alongside an Epic Mezze Platter to tear and dip into hummus, tzatziki, and other dips.
Hummus. Perfect for scooping up all kind of hummus for a simple snack
Naan. Brush cooked Skillet Flatbread with melted butter and sprinkle with very finely minced garlic and chopped parsley for a garlic naan effect to go with Indian and South Asian dishes
Pizza. Spread cooked Skillet flatbread with tomato sauce, shredded cheese, and vegetable toppings, then throw under the broiler until cheese melts and bubbles for a flatbread pizza
Smoked Salmon Flatbread. Spread cooked Skillet Flatbread with creme fraiche or yogurt since you already have it from making the flatbread, layer with smoked salmon, avocado, and sliced cucumber. Go full Spago if you can and dollop caviar or salmon roe over the smoked salmon!
Print Recipe
Yogurt Flatbread Recipe
makes two 8-inch flatbreads, can, and probably should, be doubled.
This flatbread is also known as "Two-Ingredient Flatbread" because you can make it with only self-rising flour and yogurt. "Self-rising flour" includes baking powder and salt in generally the same proportions as listed in the ingredients below.
Ingredients
1

cup

all-purpose flour

1½

teaspoons

baking powder

½

cup

full-fat plain strained Greek yogurt

strained Greek yogurt

1

teaspoon

salt

water as needed
Instructions
In a large bowl, combine flour, baking powder, and salt. Add yogurt and gently toss everything together with a spoon (or even your hands) until a ball comes together in the middle of the bowl. Add water 1 tablespoon at a time if the dough is too dry. The dough should be just sticky enough to stick but pull away from your hands, but not so sticky that it actually sticks and doesn't come off.

Transfer the dough and as much of the bits from the bowl to a floured work surface and knead until the dough comes together into a sticky, lumpy ball. Divide the dough into two roughly equal pieces. Cover the dough loosely with plastic wrap or an overturned bowl and let rest for 20-30 minutes.

Lightly flour a clean work surface. Take one dough ball and using whatever rolling pin, wine bottle, or tall glass (I used a pint glass here) gently roll the ball out into an 8-inch diameter round, or about as close to round as you can get it.

Heat 1 tablespoon olive oil in a cast iron skillet over medium heat. (You can heat the skillet while you roll out your first ball of dough.) Carefully pick up the rolled out dough from your work surface with your hands and lay it down in a single layer in the skillet.

Cook the flatbread until bubbles form on the top and the underside has deep golden brown spots, about five minutes. Flip the flatbread over and cook until you see the same deep dark spots. At this point, you can use tongs as the flatbread will have become more sturdy. Remove flatbread to a plate, cover with a clean towel to keep warm. Wipe out the cast iron skillet with a damp paper towel.

Continue rolling and cooking the second flatbread in the same way.
Notes
Yogurt Skillet Flatbreads will keep in the refrigerator tightly sealed for a couple of days. Re-heat both sides in a hot skillet for a few minutes.