Get the indulgence of cream cheese AND the probiotic gut-health benefit of yogurt in this homemade labneh recipe, with one step!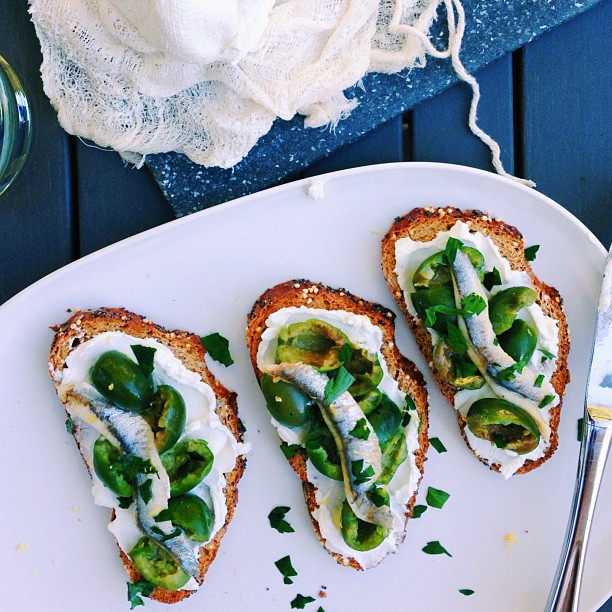 In advance of what it coming next month — yes next month! really? do I really have to say out loud "cleanse," "detox," "fitness," "health," or the one-word catch-all, "resolutions?" — I am building up a portfolio of basic food things to keep in the Casalicious Kitchen, if not to overhaul my lifestyle, at the very least to help keep me on track for a mere 30 days just to say that I did: whole grains, canned beans, tofu, eggs, oil-packed tuna and sardines, herbs and nuts for pesto, fresh vegetables washed and prepped before they even go into the refrigerator, and other little things that will be components of what will likely be some version of bibimbap every day...
What is Labneh?
Labneh, which is thick, strained yogurt that is common in Mediterranean cuisines, won't necessarily be on "the plan" next month because I am going to (try to) eat vegan during the month of January except for the one day that was long ago devoted to my nephew's 7th birthday at the restaurant of his choosing, Lawry's Prime Rib. However, I am not so naive to think that I will be able to make the drastic change from the last 60+ days of buttercheesecarbs and fatty fat-fried sugar-filled everything to a month of eating vegan in a single night that is going to start with Champagne and caviar. I started early and have been easing into the transition since Christmas Day.
Yes, labneh is a dairy product, but it is yogurt, so with the benefit of probiotics, it's a healthier (for me) way for me to experience "cheese" than regular cheese. A realistic baby step between the near daily cheese board I've been assembling for myself since Halloween and completely cheese-free cooking/eating until Valentine's Day.
How to Use Labneh
Use Labneh as you would any soft, fresh cheese like cream cheese, ricotta cheese, or goat chevre. Here are some suggestions:
on a Mezze Platter as a dip or spread for pita bread
on a Crudités Platter as a dip, sprinkled with salt, fresh herbs, and spices
on a cheese and charcuterie board
slathered on toast
as the cheese base for a flatbread pizza
Homemade Labneh | Strained Yogurt
Ingredients
2

cups

full-fat plain yogurt

¼

teaspoon

salt
Instructions
In a bowl, stir together the yogurt and salt. Scrape into a square of quadruple layer cheesecloth, at least 8- by 8-inches square.

Pull the sides and corners of the cheesecloth up to make a little bundle. Tie the cheesecloth closed around the yogurt with kitchen twine.

Place the bundle in a small strainer set over a bowl, place in refrigerator, and allow yogurt to drain for at least 8 hours, up to 3 days. The longer you drain the yogurt, obviously the thicker it will become.

You can also "hang" the bundle from a skewer or chopstick into a very deep bowl to drain, which is what I did because somehow I got it into my head that the weight of the yogurt hanging freely is a more effective way to drain, but I failed college physics twice.

After the yogurt has drained, remove the thickened labneh from the cheesecloth and use as you would cream cheese or soft goat cheese, or serve in a bowl drizzled with olive and spices as a dip/spread.

Store any leftover labneh in an airtight container in the refrigerator for up to three days.