A Dessert Charcuterie Board is in the Top 3, if not the #1 dessert that gets the highest "wow!" return for whatever investment of effort you put in. Bake brownies and cookies, make chocolate bark, and even whip up your own homemade chocolate dip, or you can make it easy on yourself and buy everything from the store.
They say the best way to get out of going to All! Those! Holiday parties! this season is...to throw your own holiday party at home.
And since the whole point is to keep your life simple and stress-free, the last thing you want to worry about when you're busy bedazzling your cocktail sweatpants is what to feed your guests. There is nothing easier than buying a bunch of fruit, cheese and sweets, and nothing more impressive than throwing them on an enormous board and effortlessly arranging them into a gorgeous dessert charcuterie board.
I know. You're welcome. But don't blame me when everyone expects you to host eight more parties before the end of the year now.
Jump to:
What Exactly *IS* a Dessert Charcuterie Board?
For some people, actual cheese, and sometimes charcuterie, is the best dessert to end a meal. But that's "cheese and charcuterie for dessert."
A Dessert Charcuterie Board, on the other hand, is all the sweet and bite-sized desserts served on a board like cheese and charcuterie, but probably with much less actual cheese or charcuterie, if any at all.
But throwing six cookies and a half dozen brownies on a plate isn't a dessert board, it's a cookie platter. To really make it a Dessert Charcuterie Board, you have to add a variety of things, and of course, serve it on a board!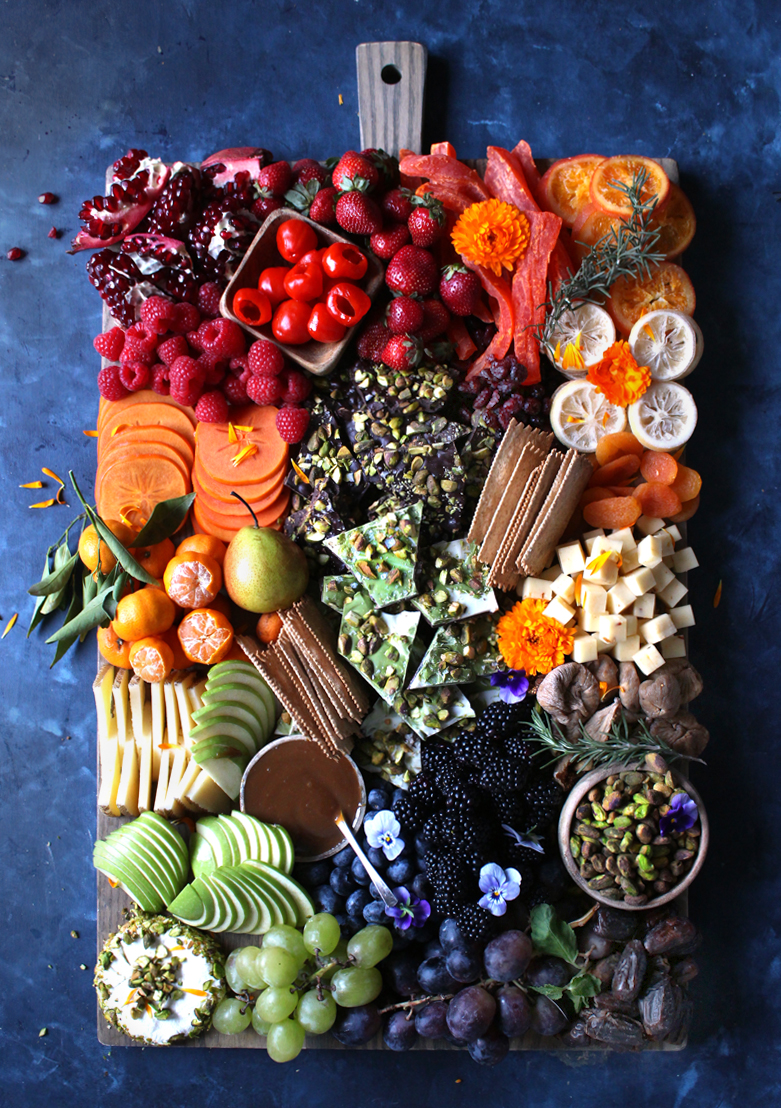 What You Need for a Dessert Charcuterie Board
Every dessert charcuterie board is different, but for the most part, they all have a few of the same types of things. For example, the board right above is another Dessert Charcuterie Board with different dips, and it does have actual cheese!
Depending on the season, the holiday, your personal taste preferences, and visual aesthetic, the specific ingredients might vary. Here are the major types of things you need for a Dessert Charcuterie Board:
Pro-Tips and Tricks
With a huge board overflowing with brightly colored fruit and sweet treats, you can't really go wrong. However, there are a few tips and tricks that will help it go very very right. Here are the tips and tricks I've learned over the many iterations of Dessert Charcuterie Boards I've made and served:
Dessert Charcuterie Pro-Tip: Sturdy cookies and brownies
Serve cookies and bars that are generally sturdy, hold together well, are not "dusted" with any sort of powdered sugar or loose sprinkles, and are free from soft or sticky sections. Essentially, any cookie, bar, or baked good that is fragile, needs space, or a single layer on a cookie plate is not going to work well on this kind of Dessert Charcuterie Board. Snowballs aka Mexican wedding cookies, lemon bars, and brownies with soft frosting are examples of cookies and bars that don't hold up as well on a Dessert Charcuterie Board.
The cookies and bars that do work well are:
Dessert Charcuterie Pro-Tip: Candy and chocolate at least 1-inch
Serve candy and chocolate that's at least 1-inch big so it's easy to grab without touching too many other things on the board. Even if you provide tiny serving utensils for the board, someone will inevitably grab off the board with their bare hands of questionable sanitation. It's better to have larger pieces that are easier to pick off rather than small pieces like, for example M&Ms or gummy bears, that people will have to shove their hands into a bowl to take. If they're individually wrapped, even better. Some of the candy and chocolate that work particularly well on a Dessert Charcuterie Board
Dessert Charcuterie Pro-Tip Extras
And speaking of sweet wine....
Best Wine Pairing with Dessert Charcuterie Board
The general rule for wine pairing is that the wine should taste sweeter than the food to which it's being paired. For dessert then, the best wines are those that are actually identified as a "dessert wine."
There are hundreds of styles of dessert wines, but most of them fall into a few categories: sparkling sweet wines, naturally light sweet wines, naturally rich sweet wines, and fortified wines. Dessert wines are such a broad category that deserve their own post, so I'll just stick with a few specific bottle recommendations:
** For more wine pairing guidelines, especially with cheese boards, check out this comprehensive Wine and Cheese Pairing Guide, using specific bottles as examples.
Ingredients Notes and Resources
Honey Yogurt. To make honey-sweetened yogurt, mix 1 part honey (or other sweetener) to 4 parts plain, Greek yogurt, i.e. ¼ cup honey +1 cup yogurt. Add a drop or two of vanilla.
Chocolate Dip. Make this Chocolate Spread that has a secret weapon ingredient that makes the spread refined sugar-free, and added fat-free! My recommendation will ALWAYS be to make your own of anything if you can, mostly because you can control what ingredients go into it. This is especially important in the case of commercial chocolate dips and spreads, which are grossly high in sugars, sometimes high fructose corn syrup, and less desirable oils. If you have to buy, make sure to read labels of any chocolate dips you buy from the store (ahem, nutella).
Cookies, Bars, and Biscotti. Everything is store-bought.
Dark Chocolate Bark. Easy to find at the grocery store, and also dead-easy to make yourself (you can use the microwave oven) with this Chocolate Bark with Nuts Recipe.
Pink Apple. There are a couple of different varieties of the pink-fleshed apple: Hidden Rose, Lucy Glo, Mountain Rose, and Pink Pearl. They are not as accessible in regular grocery stores. Look for them at specialty produce suppliers, and of course, local farmers' markets. These are Lucy Glo apples I got from the produce section at Eataly.
All other produce from Whole Foods or my local farmers' markets.
Dessert Charcuterie Shopping List Spreadsheet
Here is a downloadable spreadsheet that has a comprehensive Shopping List of ingredients for a Dessert Charcuterie Board from fresh fruit, dried fruit and nuts, to baked things that are sturdy enough to work on a board.
You can use this list as a starting point, and just pick and choose the ingredients for your board based on the season, holiday, theme, and your personal taste preference.
Print Recipe
Dessert Charcuterie Board Recipe
easy and endlessly flexible dessert charcuterie board for any dinner party, gathering, or holiday
Ingredients
Bars, Cookies, and Sweet Baked Things
6

large chocolate dipped almond biscotti

8

pizzelles or stroopwafel cookies

4

madeleines
Fresh Fruit
1

cup

fresh strawberries

1

cup

fresh raspberries

2

blood oranges, sliced into wedges

1

hidden rose apple

or other pink/red flesh apple

½

pomegranate

broken into 1-inch pieces
Dried Fruit and Nuts
½

cup

dried cherries or cranberries

½

cup

dried apriots

1

cup

dried prunes

8

dried persimmon slices

8

candied dried citrus slices

½

cup

roasted almonds

½

cup

toasted walnuts
Garnishes (optional)
honey for yogurt

mint and rosemary

edible flowers
Instructions
Place yogurt and chocolate dip in small serving bowls and place on board.

Arrange bars, cookies, and other sweet baked things on board around bowls, then candy and chocolate

Add dried fruit and nuts, preferable closest to bars and cookies to create a "barrier" between baked ingredients and fresh fruit, which may drip or "leak" onto the baked goods and make the soggy.

Add fresh fruit last, making sure to keep "juicy" fruits like fresh citrus away from baked goods.

Garnish with honey or honeycomb, fresh herbs, and edible flowers.