Matcha White Chocolate Bark is the low-key, high-dazzle sweet that's perfect to put on a dessert board or give as a Holiday gift, or eat as a (healthy!) midnight snack. If you really want to make it festive and special, add bright green pistachios! Shall we?
Matcha White Chocolate Barks are so pretty and luxurious with their swirly base studded with nuts, no one will suspect you threw them together in just a few minutes, no exaggeration. It requires max 10 minutes because you melt the chocolate in the microwave oven. You can use any kind of nuts that are roasted, salted, and already shelled. I love pistachios during the Holidays because they're a little bit of luxury, and the green color is so striking.
The recipe is so fast and easy, I always make at least four batches, sometimes six, at once because it doesn't take any longer to make more!
Jump to: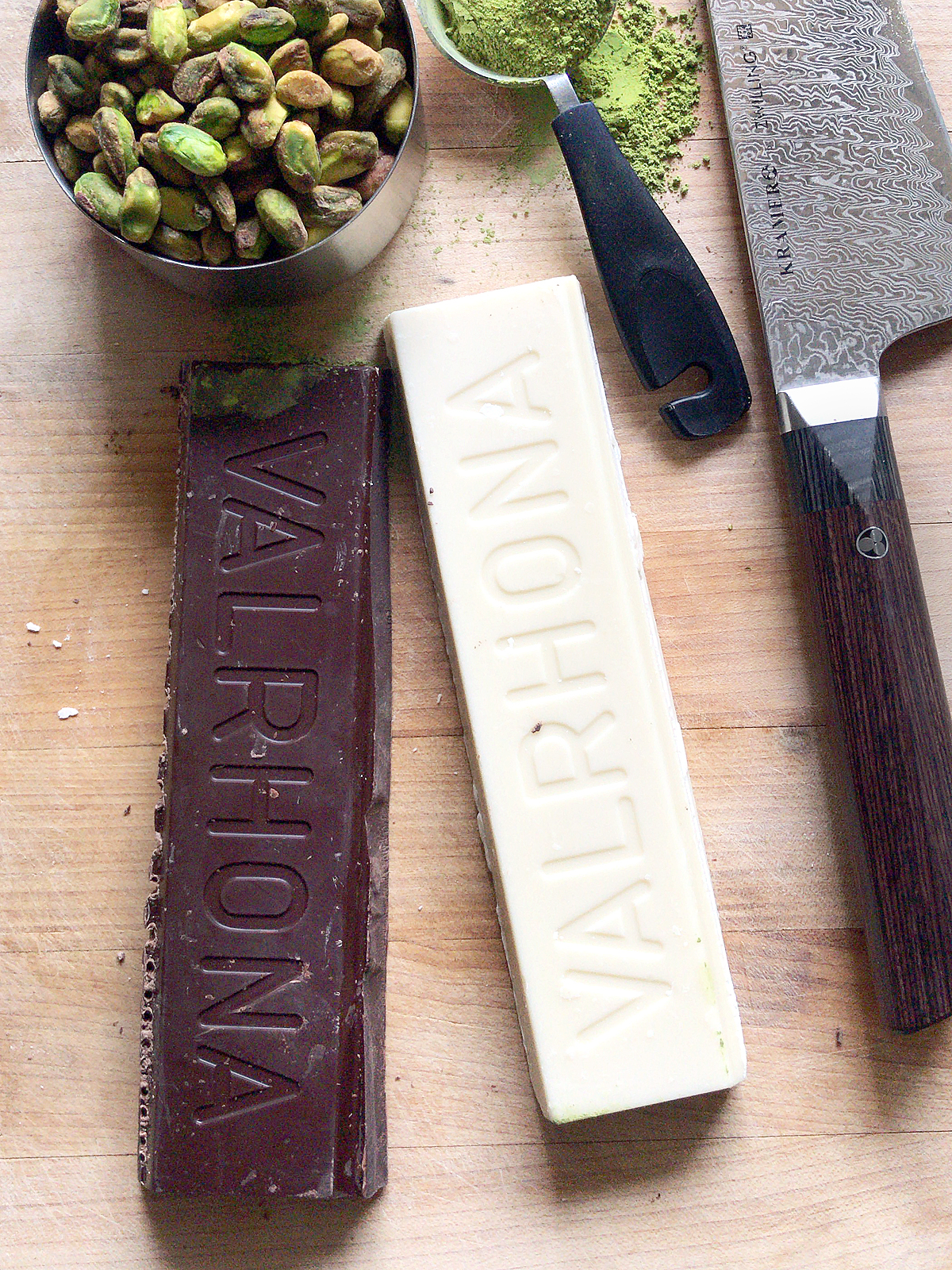 Ingredients You Need for Matcha White Chocolate Bark
This recipe only has five ingredients!
matcha green tea powder
white chocolate
chocolate or dark chocolate
roasted salted nuts
flaky sea salt
What is Matcha
Matcha is a Japanese green tea powder made from dried Camellia sinensis tea leaves, the same tea leaves used to make regular brewed green tea, white tea, and black teas. Rather than brewing the leaves and drinking the liquid like regular tea, for matcha you whisk the fine powder into liquid—it doesn't dissolve—and consume all of it.
What distinguishes matcha from other teas from the same plant are how they are grown, which leaves are harvested, when they are harvested, and how they dried and processed. All of these details in the processing of matcha ensures that the vibrant green color is retained in the final product, but more importantly the health benefits.
Like most teas, matcha has a slightly bitter, tannic taste. Different types and style of matcha can range in flavor from very herbal to almost sweet.
For this Matcha White Chocolate Bark, the differences in taste among matcha powders will not be as noticeable, but color will. Generally, "ceremonial grade" matcha is the brightest green and will create the most vibrant bark. However, it's more expensive. Culinary grade matcha is totally fine; the green will just be slightly less verdant.
What is White Chocolate
Is white chocolate actually chocolate? Though it has the word "chocolate" in it, white chocolate actually does not contain any cocoa solids or cacao nibs, the compounds that are normally associated with chocolate and give regular chocolate its characteristic brown color.
However, pure white chocolate IS made with cocoa butter, so technically white chocolate is derived from cocoa, the same plant that makes regular chocolate! The key here is, of course, "pure" white chocolate, which is what you want for this recipe.
There are products that look like white chocolate and call themselves white chocolate, but have tons of unnecessary added oils, fillers, and preservatives. They may not even have cocoa butter in them. These are essentially just oil and sugar confections. Avoid.
Ingredients Notes and Resources
Matcha. Use the freshest ceremonial grade matcha you can afford. This is the brand I have been drinking for years.
White Chocolate. Use the highest quality pure white chocolate you can afford. I prefer using pure white chocolate in bar format, but high quality white chocolate chips are ok, too as long as they are actual white chocolate. Look for "cocoa butter" as the first ingredients on the ingredients list. Stay away from white chocolate sold as "candy melts," which usually isn't a super good quality. I used Valrhona for the bark in these photos, sold in bulk bar format (by the pound) at a specialty culinary/gourmet retailer in Los Angeles.
Chocolate. Use the highest quality dark chocolate you can find. I prefer using chocolate in bar format, but chocolate chips are fine. I used Valrhona for the dark chocolate for the bark in these photos, sold in bulk bar format (by the pound) at a specialty culinary/gourmet retailer in Los Angeles.
Nuts. I used pre-shelled, roasted salted pistachios, which are ideal for this because they are roasted, salted, and HAVE NO SHELLS. They are available in most grocery stores. In my local grocery store, pistachios are in the produce section.
Flaky Sea Salt. This brand of sea salt has the biggest, crunchiest salt crystals.
How to Make Matcha White Chocolate Bark
The recipe can't be too complex if it only has five ingredients! To make Matcha White Chocolate Bark:
melt chocolate in one bowl and spread onto parchment
divide white chocolate and melt in two separate bowls
stir matcha powder into one of the melted white chocolate bowls
dollop white chocolate and match white chocolate on top of dark chocolate
swirl
add toppings
The hardest part is waiting for it to cool and harden! Once that's done, just break it into pieces that are ready to eat!
Melt chocolate in microwave-safe bowl in microwave in short bursts
Shell and "peel" pistachios or other nuts if they're not already!
Stir half the nuts into the melted chocolate
Spread onto a parchment-lined pan pan or baking sheet, top with nuts and salt
Pro-Tips and Techniques
Cacao Percentage %. You can use any % cacao dark chocolate your taste can handle, but I stay between 60% and 70% for both the flavor and the health benefits. Any cacao percentage lower percentage has too much sugar and is too sweet for my taste, and any higher percentage is hard to melt and generally a little toooo bitter for other people's tastes! You don't get any of the anti-inflammatory benefits if you don't eat it!
Melting Chocolate. Of course you can melt the chocolate in a double-boiler setup, you culinary candy-making genius, you! I use a microwave oven because I'm afraid of double-boilers.
Nuts Prep. You can take a little bit of time to peel off the outer papery skin from some of the pistachios to show off the bright green color inside. This is purely for aesthetics, and a great job for little kids with their tiny hands. You can also do this for other nuts that have the inner skin like almonds or walnuts just for texture.
Tools and Equipment
This Matcha White Chocolate Bark doesn't require any special tools or equipment, but it helps if you have a microwave oven to melt the chocolate! Here are the basic tools you need, and probably already have!
chef's knife for chopping chocolate
sturdy cutting board
microwave safe bowls
sifter
baking sheet or pan
parchment paper
Variations
For a different twist, decrease the amount of pistachios sprinkled on top to half, and replace with
½ cup of dried fruit like cherries, cranberries, or apricots
½ cup of freeze-dried fruit like strawberries
chopped crystallized ginger
chopped candied lemon peel
freeze-dried raspberries and dried rose petals work particularly well with pistachios and matcha.
A variation that warrants its own full recipe is Dark Chocolate Bark with Pistachios, which isn't really a variation so much as the original Chocolate Bark recipe!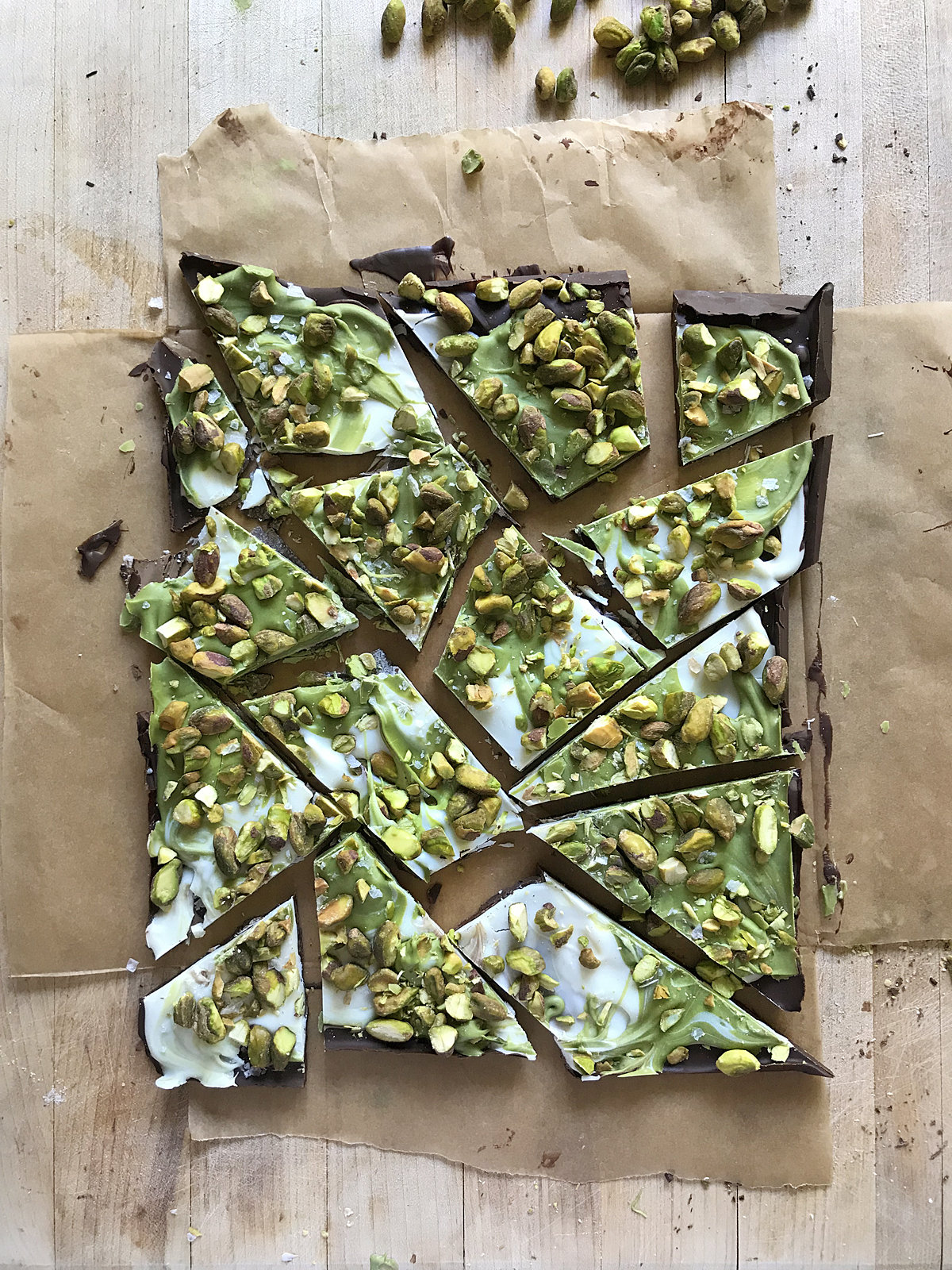 Health and Dietary Considerations
I don't eat a lot of desserts simply because I outgrew a pretty intense sweet tooth right after high school. But I love chocolate for other reasons. The health benefits are obvious and don't need to be repeated, and I do love that this Chocolate Bark is a perfect opportunity to add some plant-based omega-3s in the form of nuts, and a dose of antioxidants via the matcha.
As published, this recipe for Matcha White Chocolate Bark is:
vegetarian
gluten-free
antioxidant-rich
Quick note: Though dark chocolate can be dairy-free, thereby making it vegan-friendly, white chocolate is almost always made with regular dairy milk or milk solids so it is not suitable for vegans.
How to Use Matcha White Chocolate Bark
Print Recipe
Matcha White Chocolate Bark Recipe
makes 1¼ pounds of bark, about 12-14 pieces
Ingredients
8

ounces

high quality dark chocolate

at least 60% cacao

2

cups

Pistachios Roasted & Salted

roughly chopped

8

ounces

high quality white chocolate

1

tablespoon

matcha powder

optional: flaky sea salt for garnish
Instructions
Line a baking sheet with parchment paper.
Prepare Chocolate
Melt the dark chocolate in a microwave-safe bowl in 30-second intervals in a microwave oven, stirring between each interval. Stop microwaving once 80% of the dark chocolate is melted. Stir until all of the dark chocolate is melted. My microwave oven melted the dark chocolate in 2:30 minutes.

Stir half the chopped pistachios (1 cup) into the melted dark chocolate.

Spread melted dark chocolate with pistachios on parchment-lined baking sheet in an even layer about ⅛" thick, shaping sides into a rectangle if you can.
Prepare Matcha and White Chocolate
Divide the white chocolate into two microwave safe bowls. Melt white chocolate in both bowls in the same way as the dark chocolate, in 30-second intervals in a microwave oven, stirring between each interval. Stop microwaving once 80% of the white chocolate is melted. Stir until all of the white chocolate is melted. My microwave oven melted the white chocolate in 2:00 minutes (four 30-second intervals).

Sift the matcha powder into one of the bowls of melted white chocolate, then stir well until the white chocolate is a uniform green color.

Alternately drop large spoonfuls of the melted white chocolate and matcha chocolate in a random pattern over the dark chocolate. Using a toothpick, and without touching too much of the dark chocolate underneath, lightly swirl the white and matcha chocolates into a marble pattern. Scatter the remaining pistachios on top, and lightly press into the chocolate. Sprinkle with flaky seat salt if using.

Let chocolate cool completely for about 2 hours at room temperature (or about a half hour if you can fit your baking sheet into the refrigerator). Gently break or cut into pieces.

Pistachio Matcha Dark Chocolate Bark will keep for about a week stored in a cool place in an airtight container between layers of parchment. Do not refrigerate.