For those of us who need some lower fat or refined sugar-free, or both, alternatives for chocolate right now, this Chocolate Spread recipe is the answer. With cocoa powder, a splash of coffee for depth of flavor, and a touch of sea salt to balance the sweetness, you have an addictive Chocolate Spread to slather onto toast, serve on Dessert Charcuterie Boards, or just eat straight up with a spoon.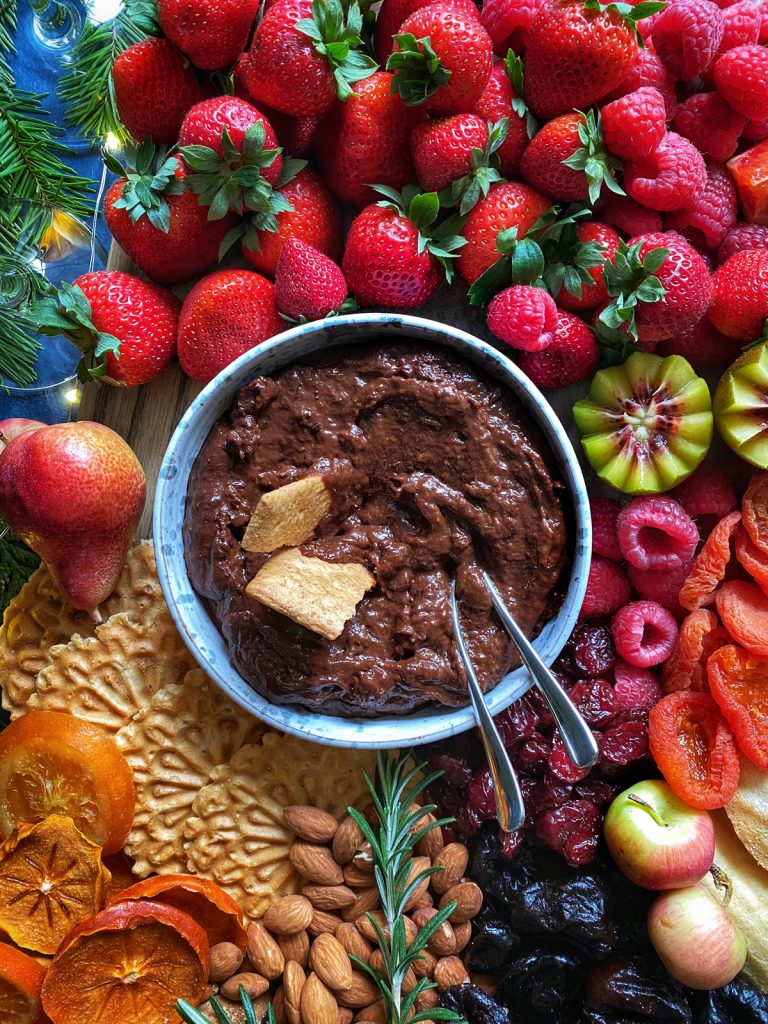 This Chocolate Spread is similar to that chocolate nut butter that we all know (and used to love), Nutella, but better for certain dietary needs. Unlike Nutella, which has "sugar" and "palm oil" listed as its first two ingredients (!), this healthy homemade version has no refined sugars and no added oils. It's also nut-free, so if you're allergic like me, well, you know.
So what makes this Chocolate Spread lower in fat and refined sugar-free? Let's get into it!
Jump to:
Lower in Fat, Refined Sugar-Free
The secret to making this chocolate spread healthier for people who are monitoring their fat intake and/or refined sugar is a cup of dried plums aka prunes. I know! Who knew? Well, now all of us.
Prunes are dried plums. When prunes are rehydrated, they don't just go back to being plums again. They're even better, with their natural fiber broken down into a soft, caramel-like texture. We normally add oil to things like chocolate spreads for that smooth, buttery consistency, but re-hydrated, puréed prunes have a similar texture, without fat.
When plums are dried into prunes, their flavor and natural sweetness intensifies, and that's all the sweetness we need for this Chocolate Dip/Spread.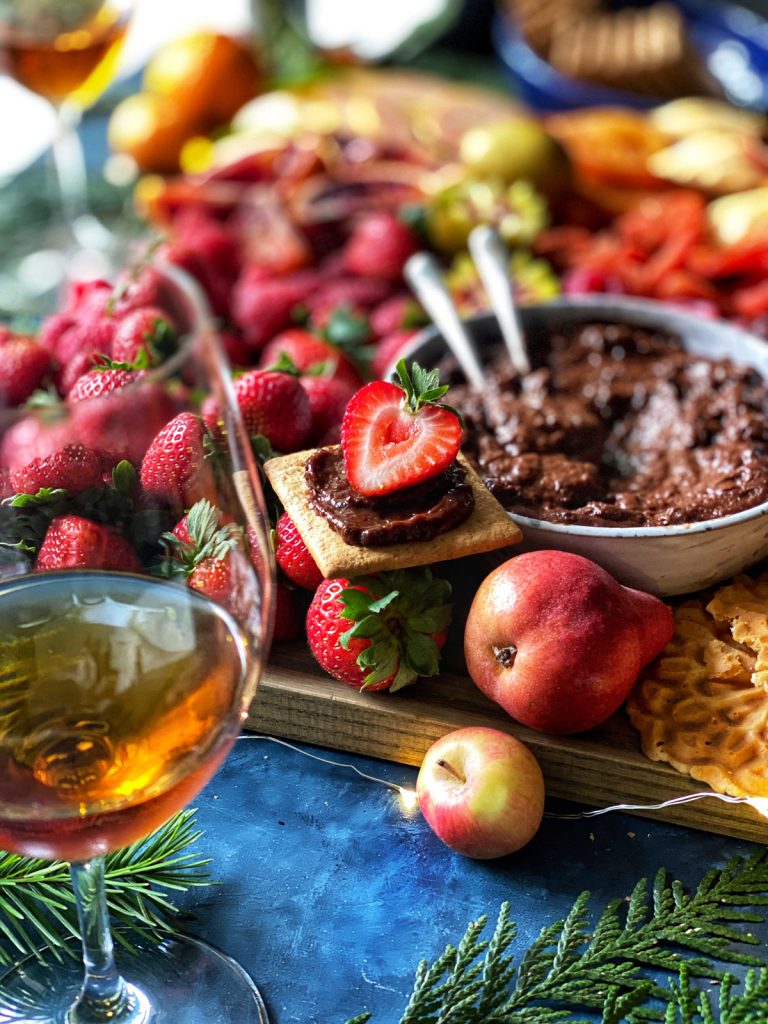 What Ingredients You Need for this Chocolate Dip/Spread
You only need a few ingredients for this chocolate dip, and you probably already have most of them:
Prunes: I used California prunes for this recipe. If you're eating prunes in the United States, they're almost certainly from California, which grows 99% of the prunes in the US and 40% of the prunes in the world. You can find prunes in every grocery store near the fresh produce department, or in the snack aisle.
Coffee. You only need a couple of tablespoons of brewed coffee, without sugar or any lightener, obviously. Just save about a quarter cup from your morning pot of coffee and use it for this recipe. You can also use espresso; the Chocolate Spread will just have a slightly more intense coffee undertone.
Cocoa Powder. I used an organic natural cocoa powder. If you are watching your fat intake, make sure to read the nutrition labels. All cocoa powder has some natural fat, but some brands have more than others.
Vanilla Extract. You really do need a drop or two of vanilla in the dip to bring out the "chocolate." I use this organic brand of pure vanilla extract. Don't use imitation vanilla flavoring.
Salt. Adding salt to sweets isn't to make them taste salty. Salt not only brings out the natural sweetness of the prunes, it balances the sweetness, too.
How to Make Healthy Chocolate Spread
There are only a couple of steps to make this Chocolate Spread, and the longest step is just waiting for the prunes to soak!
Soak prunes in coffee up to overnight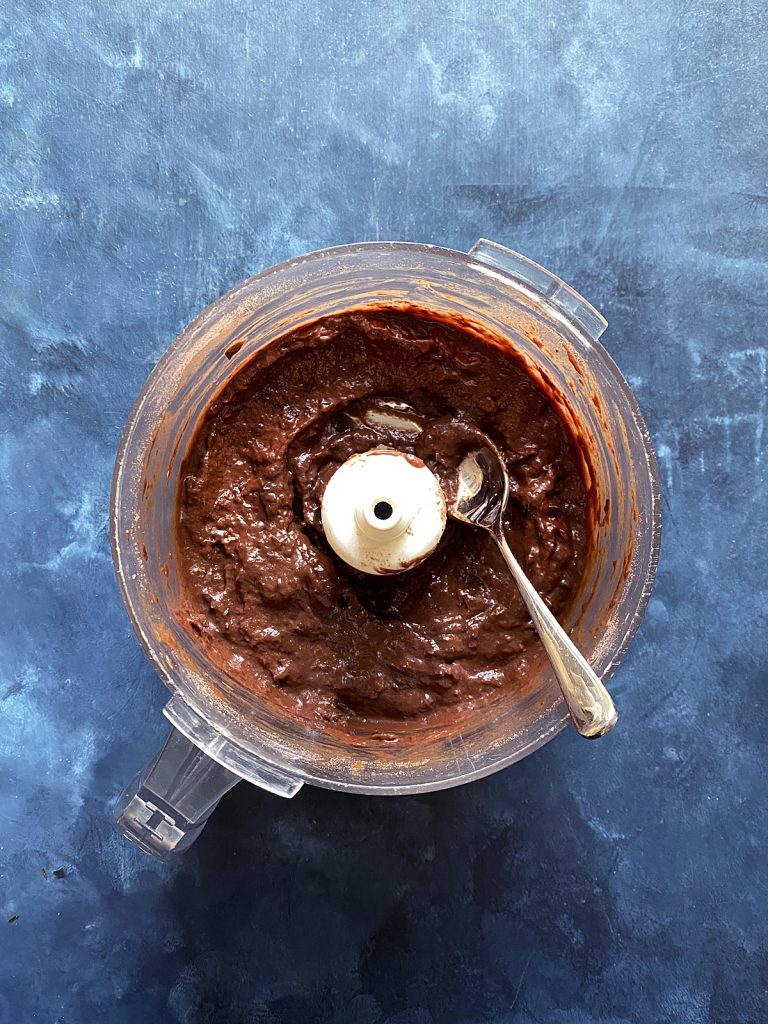 Puree prunes with cocoa and other ingredients
Can I Make Ingredient Substitutions?
Substitute Coffee. If you're sensitive to caffeine or to coffee in general, substitute with an equal amount of

water

. Prunes have such an intense flavor on their own, you can get away with that substitution.
Cocoa Powder. If you don't have cocoa powder, but already have some other form of chocolate on hand like baking chocolate bars or chocolate chops, you can substitute an equivalent amount of it for the cocoa powder by melting it and stirring it into prune puree. However, the sugar and fat content of the Chocolate Dip will change based on the sugar and fat content of the chocolate.
For a prune-based jam without chocolate, try this Prune Jam infused with red wine, also great for cheese boards and dessert charcuterie boards!
How to Use Healthy Chocolate Spread
Anywhere you would dip, spread, slather a chocolate spread, you can use this Healthy Chocolate Spread. Here are some specific ideas:
Spread Healthy Chocolate Spread on whole grain toast
Dollop onto oatmeal
Swirl into yogurt
Serve on a Dessert Charcuterie Board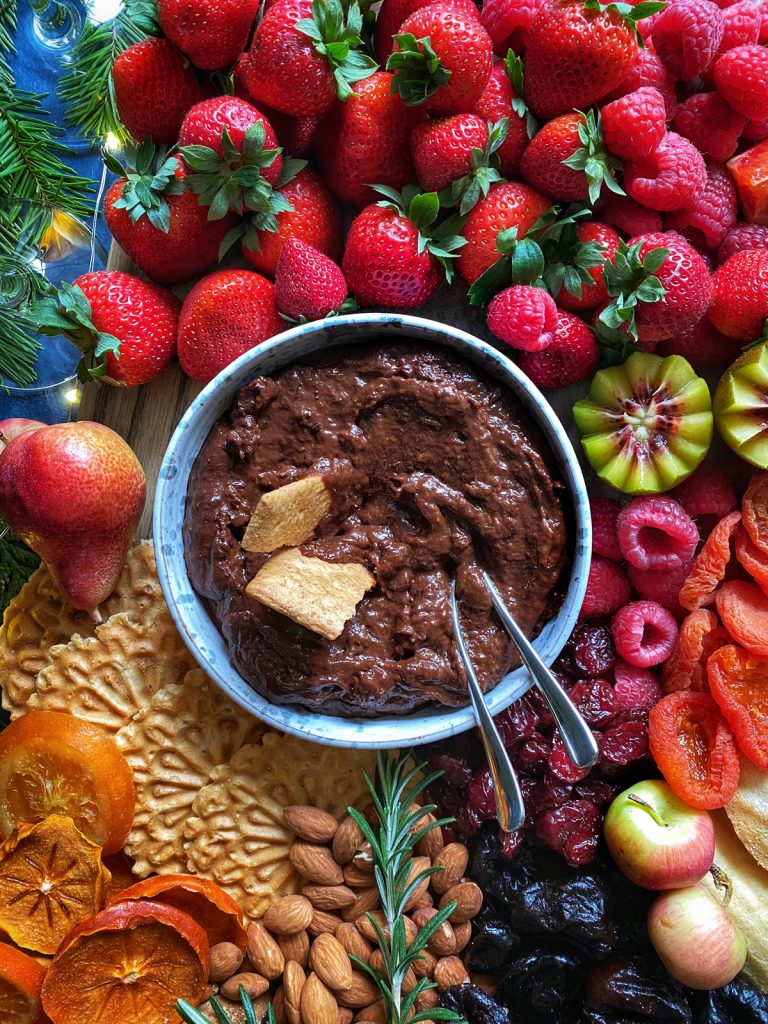 Print Recipe
Chocolate Spread Recipe
A homemade, healthier alternative to nutella that's refined sugar-free and lower in fat!
makes about 1½ cups Chocolate Spread
Ingredients
1

cup

California prunes

½

cup

hot coffee

¾

teaspoon

vanilla extract

¼

cup

cocoa powder

¼

teaspoon

sea salt
Instructions
Place prunes and hot coffee in a heat-proof bowl. Cover with a kitchen towel or a plate. Allow prunes to sit in coffee to re-hydrate, at least a couple of hours, overnight is best. It does not have to be refrigerated while re-hydrating.

Drain off and save any remaining coffee. Place drained prunes and vanilla extract into food processor. Pulse then process to puree prunes, adding reserved coffee (or water) one tablespoon at a time if the mixture is too thick to spin.

Remove lid of food processor, add cocoa powder and salt. Cover the feed tube of the food processor with your hand (so any loose cocoa powder doesn't come flying out). Pulse prune cocoa mixture until well combined, adding reserved coffee or water a teaspoon at a time to thin out consistency.

Transfer Chocolate Spread to container with air-tight lid. If serving on a Dessert Charcuterie Board, transfer to a small bowl.

Store leftover Chocolate Spread in air-tight container in the refirgerator for up to two weeks.
Recipe developed in partnership with California Grown. Check out their website for more health information and recipes, and follow @CAGrownOfficial on instagram to stay up to date!