Is it a decadent breakfast? Or is it a healthy dessert? It's both! Brownie Baked Oatmeal takes everyone's easy breakfast favorite and adds chocolate, transforming a simple bowl of oatmeal into something that tastes as rich as a fudge brownie. Shall we?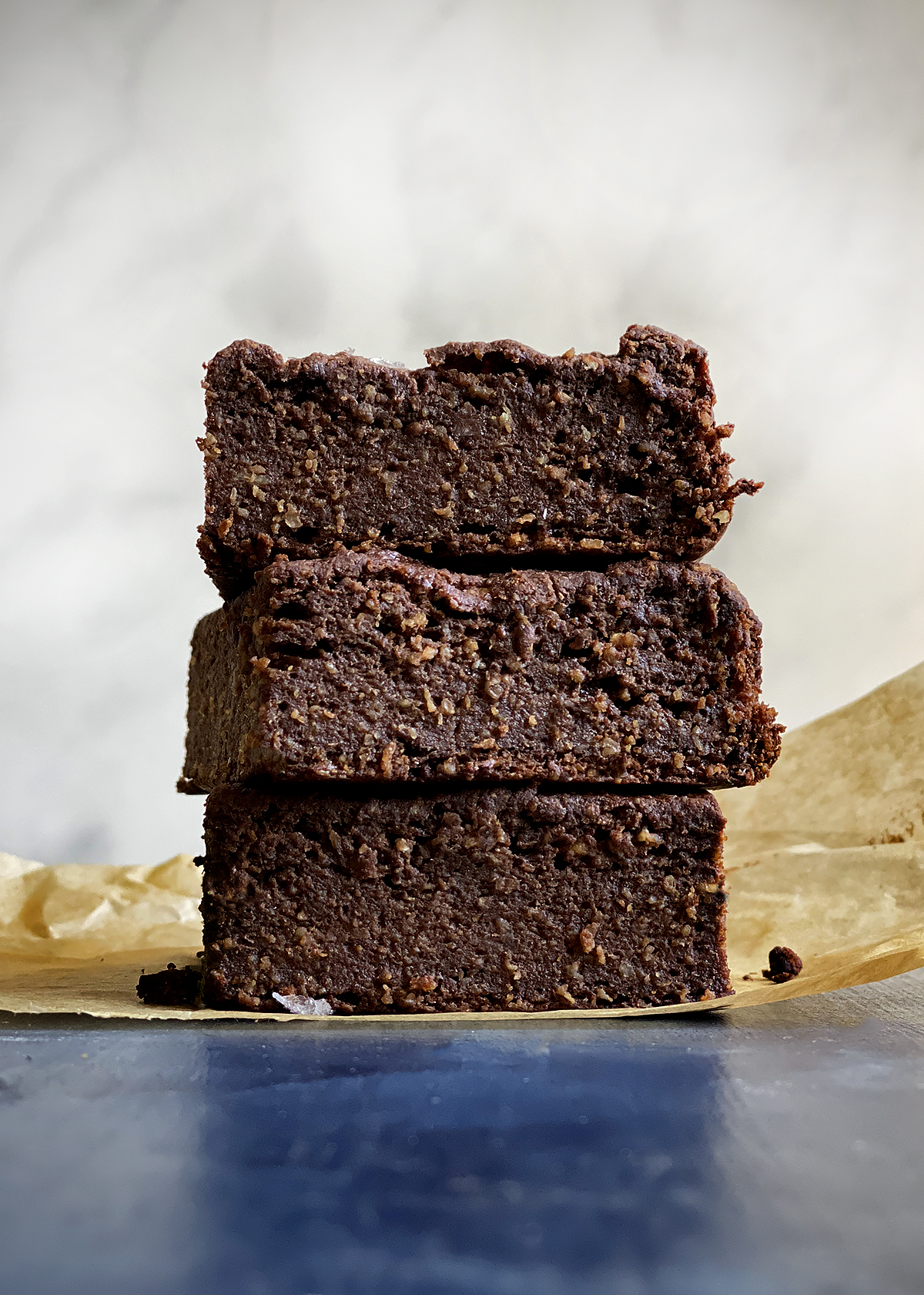 What is Brownie Baked Oatmeal?
Brownie Baked Oatmeal is essentially your morning bowl of oats baked in a pan or casserole dish with a few minor tweaks to the ingredients. You end up with something more solid that you can cut into pieces rather than the soft spoonable porridge you make on the stovetop. As a breakfast option, Brownie Baked Oatmeal is great for you if you like biting into chewy, textured breakfast foods or if you want to be able to take a bar-like breakfast to go, perfect for busy back-to-school and back-to-work mornings!
But you don't have to restrict Brownie Baked Oatmeal to breakfast in the morning. Because it's truly sliceable into squares just like traditional brownies, treat it like a dessert that's subtly sweet, fiber-rich and all around healthier for you than the original.
Jump to:
With naturally sweet, nutrient-dense California prunes substituting for eggs and most of the sugar, this recipe for Brownie Baked Oatmeal is a healthy, refined sugar-free, plant-based must-make.
Why Add Prunes to Recipes
Adding prunes to recipes, especially baked goods, is an easy way to increase the health factor. Prunes are naturally sweet so they are a great substitute for refined sugar. When re-hydrated and pureed, prunes can be used as both a replacement for butter or oil and as a binding replacement for eggs in baked goods. If you're looking for ways to replace refined sugar with lower-glycemic sweeteners, or reduce fat from butter, oil, or eggs, or even just move toward a more plant-based diet, prunes are an excellent way to do that.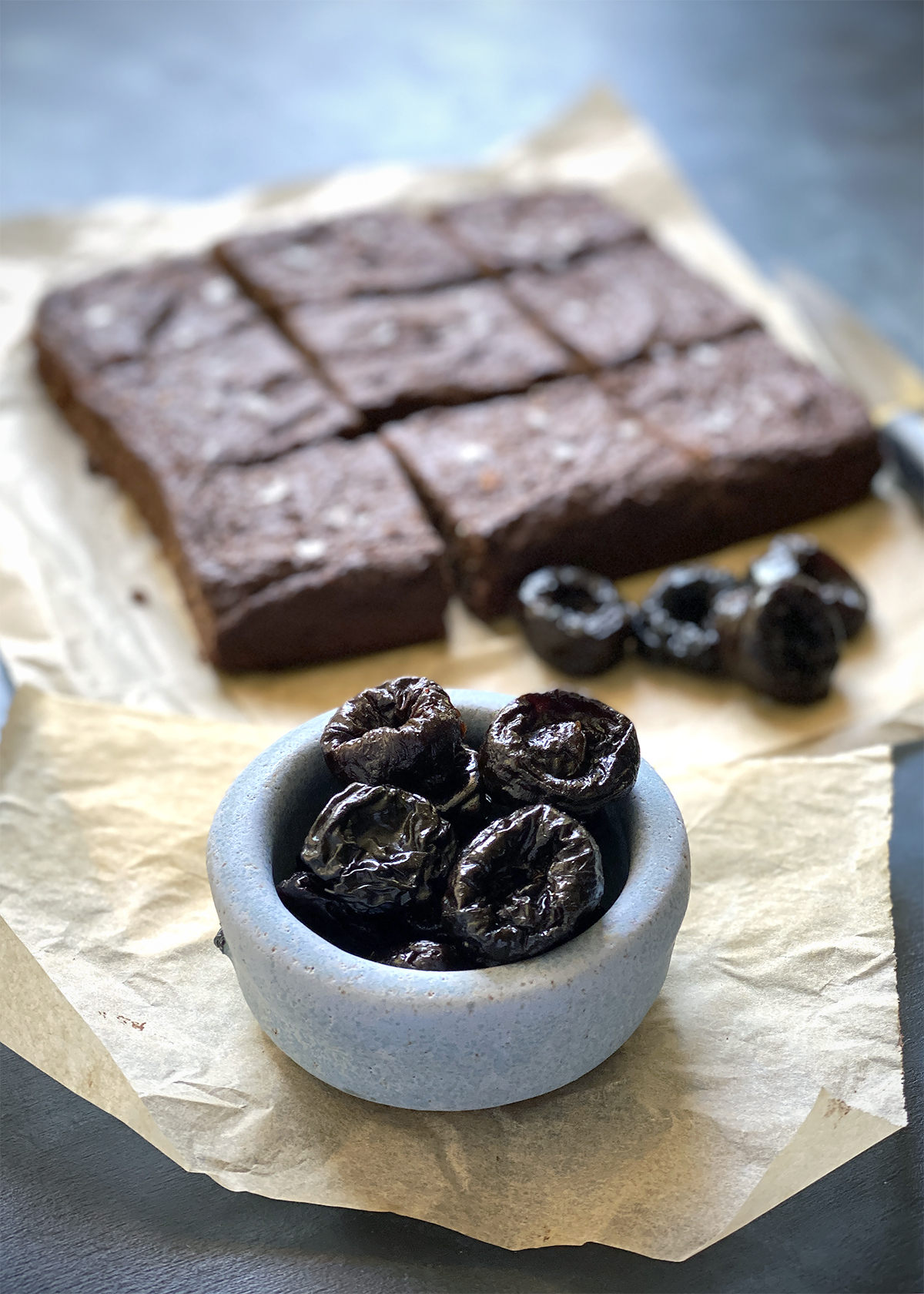 Health Benefits of Prunes*
One 38-gram serving of prunes, which is 4-5 prunes:
provides 3 grams of both soluble and insoluble fiber
has

only 90 calories per serving

is a good source of vitamin K, providing 20% RDA
provides more antioxidants per serving than a serving of dried cranberries!
Low-glycemic index at 29
* nutritional information provided by California Prunes
Dietary Considerations and Health Benefits of Brownie Baked Oatmeal
This recipe for Brownie Baked Oatmeal as published, is:
100% plant-based/vegan
vegetarian
dairy-free
gluten-free
refined sugar-free
What Ingredients You Need for Brownie Baked Oatmeal
You only need a few ingredients for this recipe, and you probably already have most of them:
Prunes
Rolled oats
Cocoa powder
Baking powder
Sea salt
Coconut milk
Maple syrup
Olive oil
Vanilla extract
These are optional ingredients for mixing into or topping the brownies (and are not included in final nutrition calculations):
Dark chocolate chips or chunks
Almonds or walnuts
Flaky sea salt for topping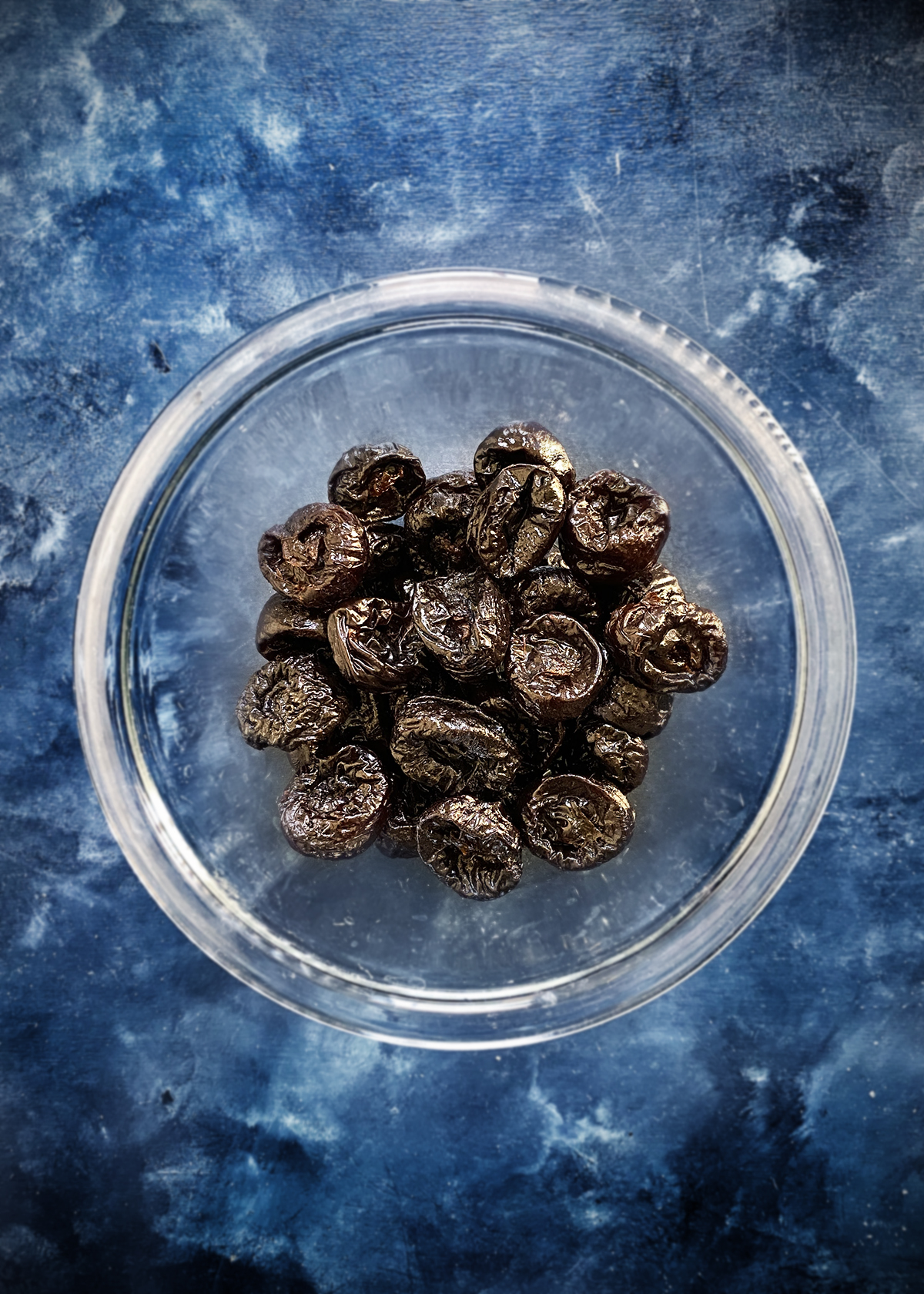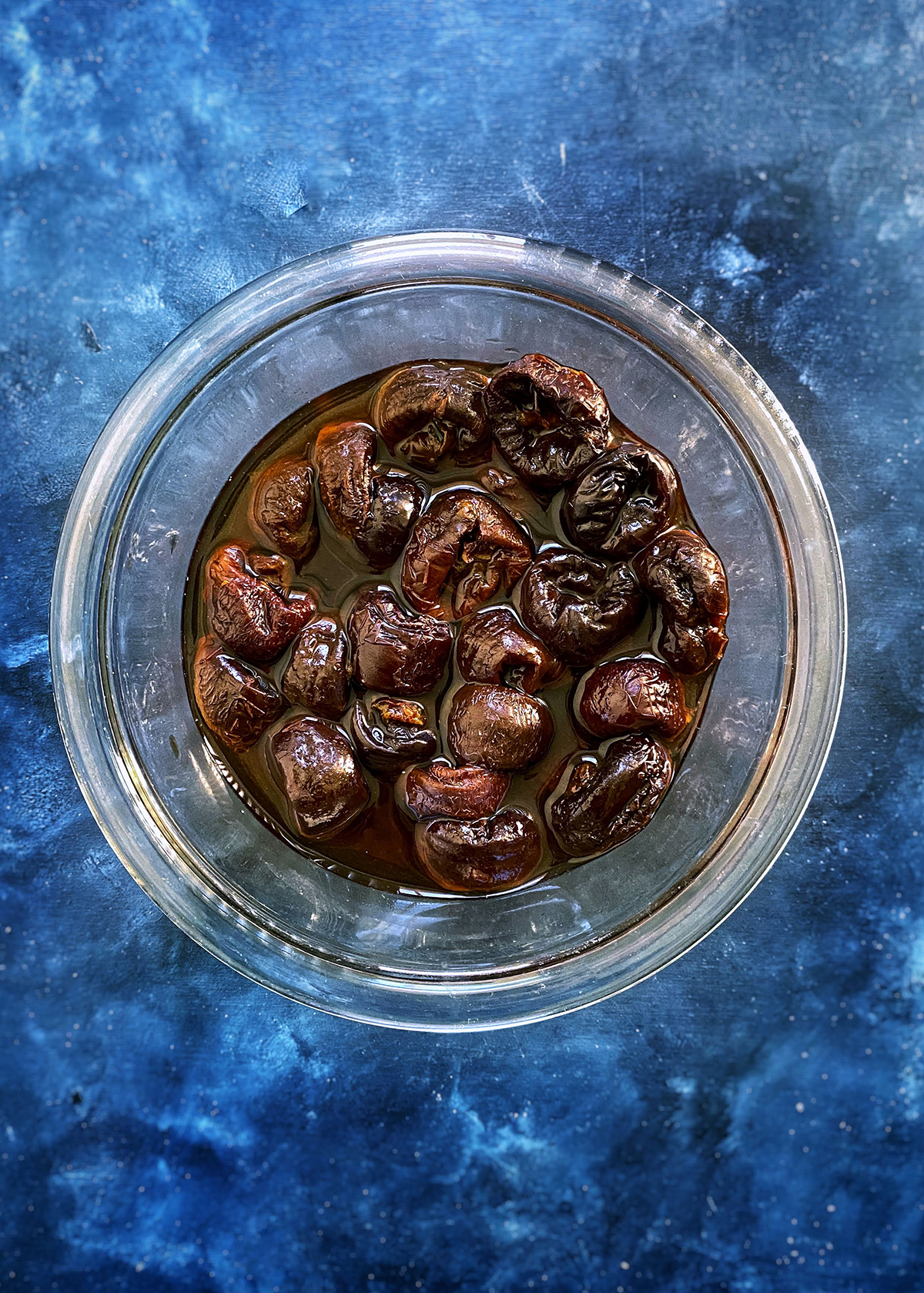 What Kind of Prunes?
Use California prunes for this recipe. If you're eating prunes in the United States, they're almost certainly from California, which grows 99% of the prunes in the US and 40% of the prunes in the world. You can find prunes in every grocery store near the produce department since prunes are, in fact, a dried type of plum! And because prunes by themselves can be a healthy, subtly sweet snack, you can also find them in the snack aisle.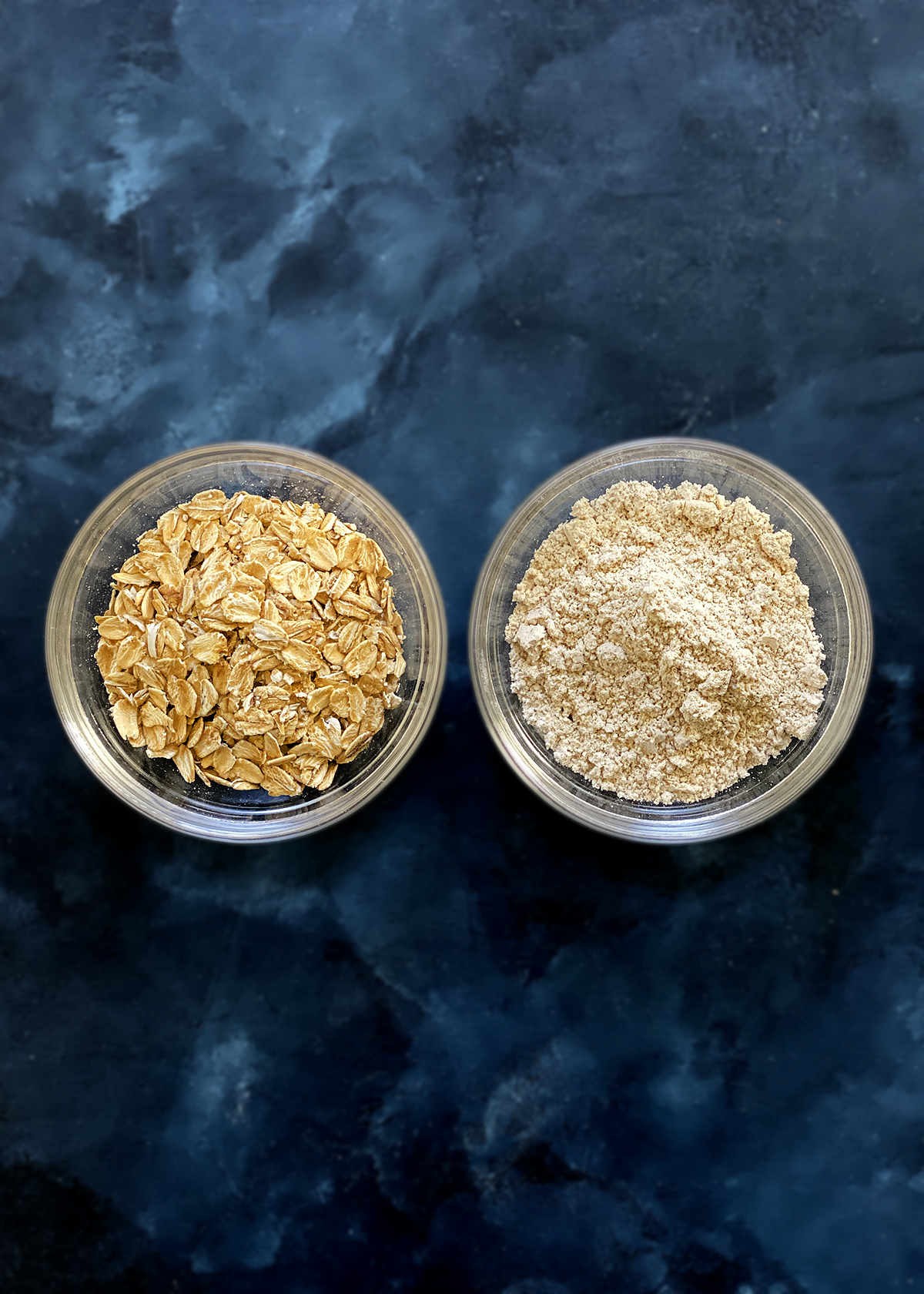 Rolled Oats vs Oat Flour
Use organic rolled oats, which you will process into a fine flour in a high-powered blender or food processor. Oats are available in a few different formats. Steel cut, rolled, quick-cooking, and instant oats are the most commonly available in grocery stores.
Steel-cut oats are whole oats that have been coarsely "cut" or chopped into smaller pieces for easier cooking. Steel-cut oats are not ideal for this recipe, as they are difficult to process into oat flour in your home blender. Rolled oats are whole oats that have been "rolled" over and flattened, making them even easier and faster to cook than steel-cut oats. You can use regular or quick cooking rolled oats for this recipe.
Additional Ingredients Notes and Resources
Cocoa Powder. I used this California-produced 100% premium cocoa powder. If you are watching your fat intake, make sure to read the nutrition labels. All cocoa powder has some natural fat, but some brands have more than others.
Coconut Milk. Coconut milk comes in a wide variety of formats. Use a plain, unsweetened coconut milk or other alternative plant-based milk that fits into your health and dietary needs. The coconut milk we use in this recipe is sold in shelf-stable 32-ounce boxes, not the full-fat coconut milk that's partially solid and sold in cans.
Maple Syrup. Prunes replace most of the refined sugar in a traditional oatmeal or brownie recipe, but their sweetness is subtle. A little bit of maple syrup adds that extra boost of sweetness. I use this organic maple syrup that is amber in color and more robust in flavor than lighter colored maple syrups. You can substitute with honey, though the recipe will no longer be vegan.
Olive Oil. Regular brownie recipes usually call for quite a bit of melted butter or oil, but this recipe replaces almost all of it with the prunes. For the small amount of oil this recipe, I use this California-grown olive oil.
Vanilla Extract. You really do need a drop or two of vanilla in the recipe to bring out the "chocolate." I use this organic brand of pure vanilla extract. Don't use imitation vanilla flavoring.
Salt. Adding salt to sweets isn't to make them taste salty. Salt not only brings out the natural sweetness of the prunes, it balances the sweetness, too.
Instructions for How to Make Brownie Baked Oatmeal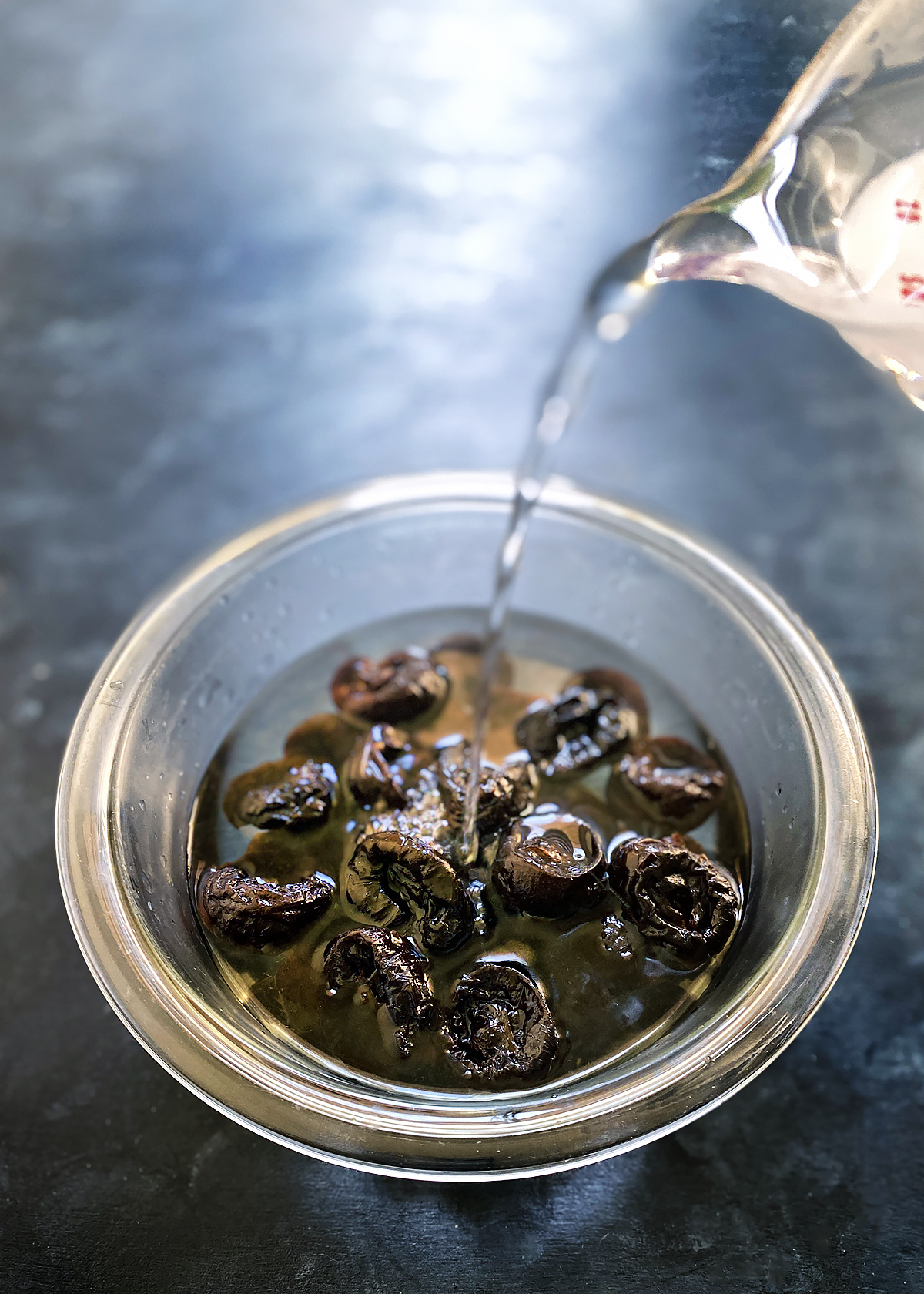 Pour boiling hot water over prunes and allow prunes to soak and plump, at least 1 hour, up to overnight.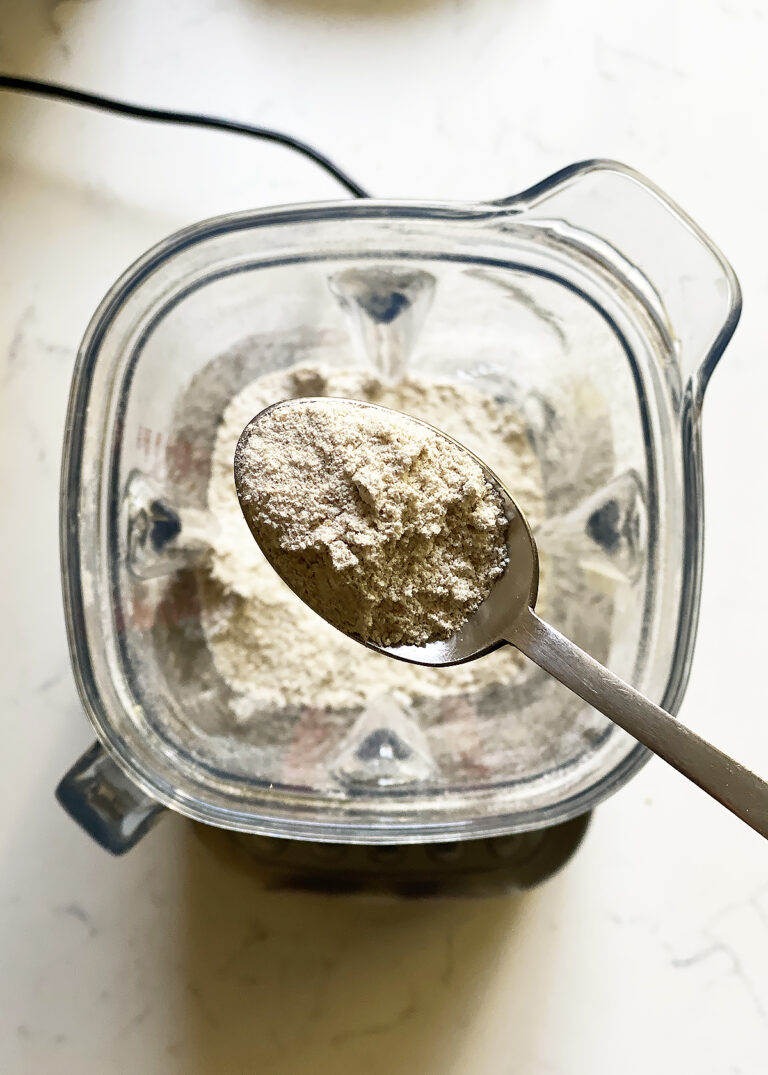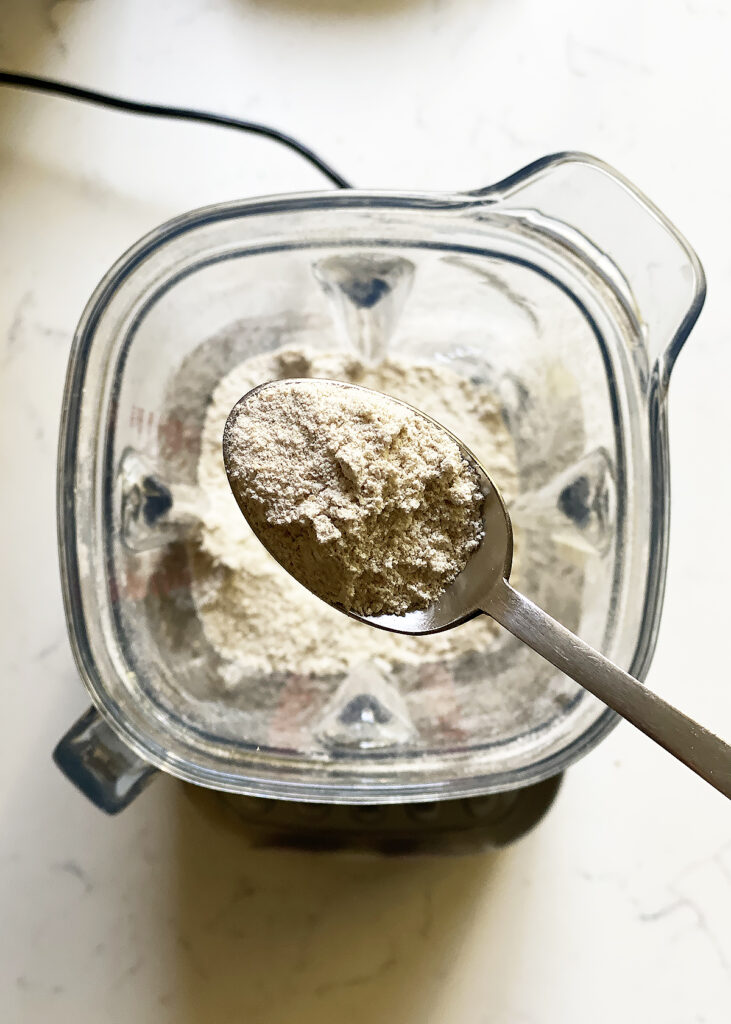 While prunes are soaking, blend rolled oats into a flour in a high power blender.
Remove oat flour from blender to a large mixing bowl. Stir in cocoa powder, baking powder, and salt.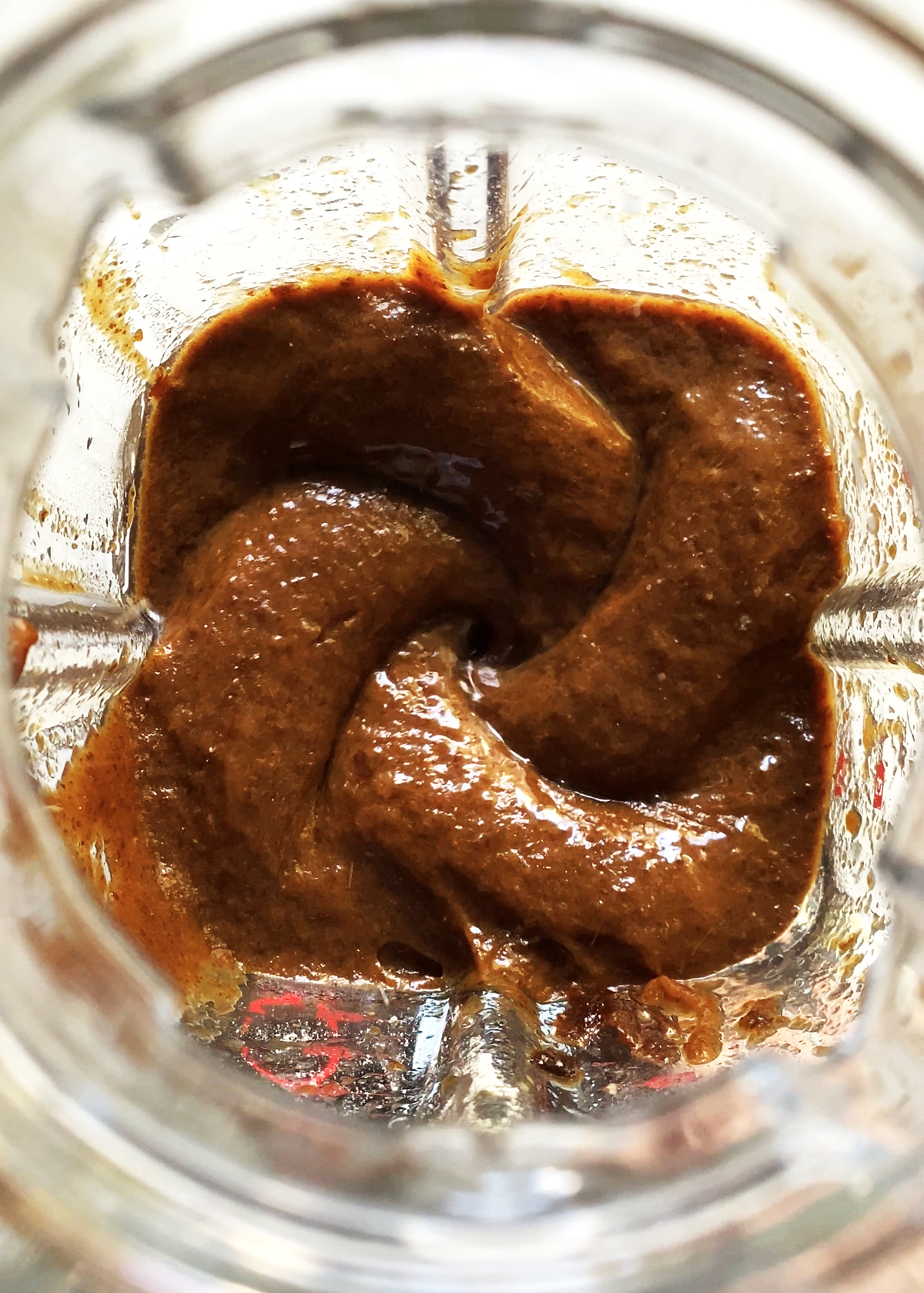 Blend plumped prunes and soaking liquid in a high power blender until prunes are pureed to the consistency of ketchup. Add coconut or other plant-based milk, maple syrup, and vanilla extract to the prune puree and blend until combined.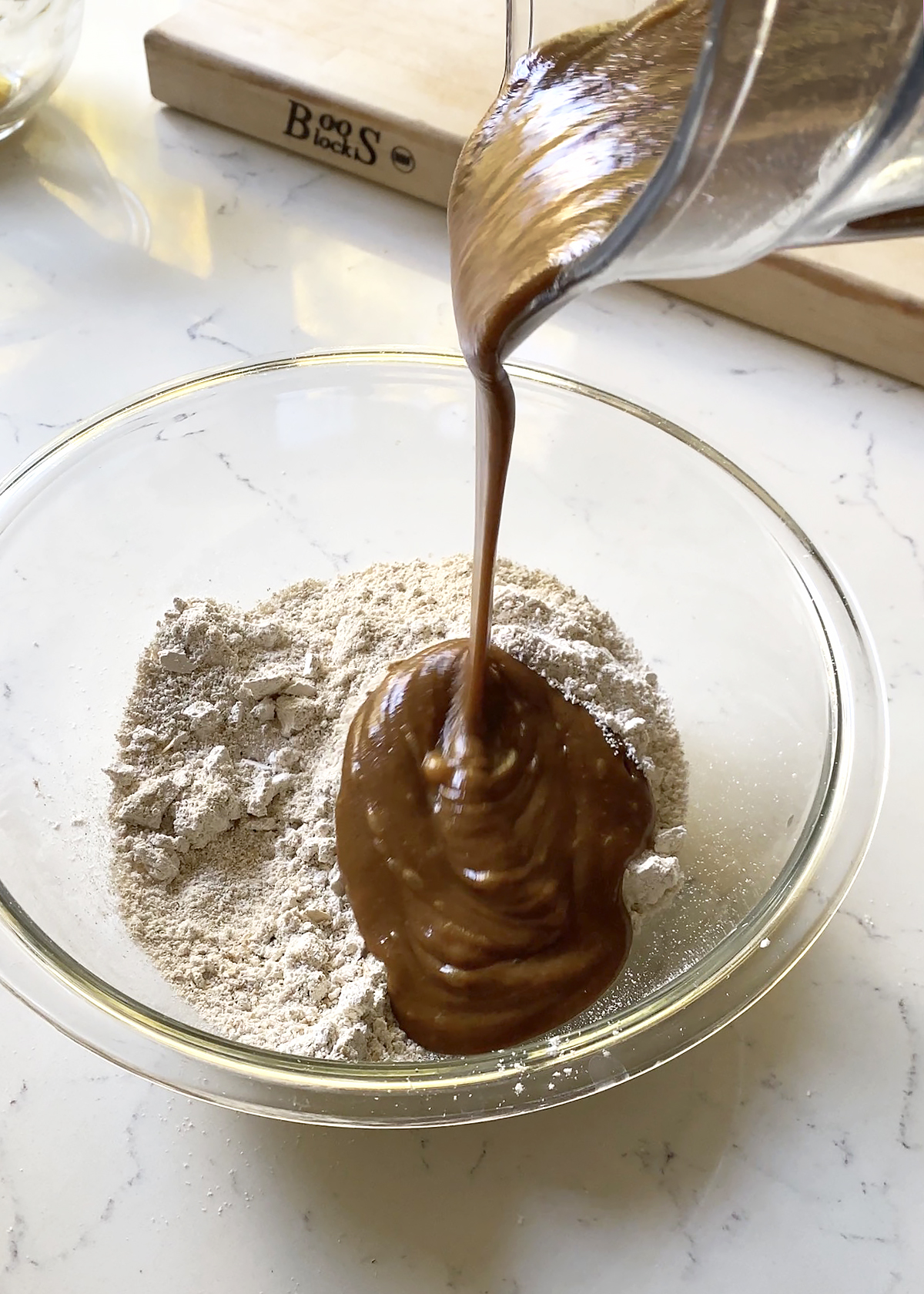 Pour prune mixture from blender into mixing bowl with dry ingredients. Gently stir together until combined.
Scrape batter into parchment-lined 8x8 baking pan. Sprinkle top with chopped chocolate or nuts if using. Place Brownie Baked Oatmeal in 350°F oven and check after 30 minutes. Because oven vary, check for doneness with a toothpick inserted into center.
Cool Brownie Baked Oatmeal in pan for at least 15 minutes, then gently lift out of pan using parchment paper and cool completely on wire rack.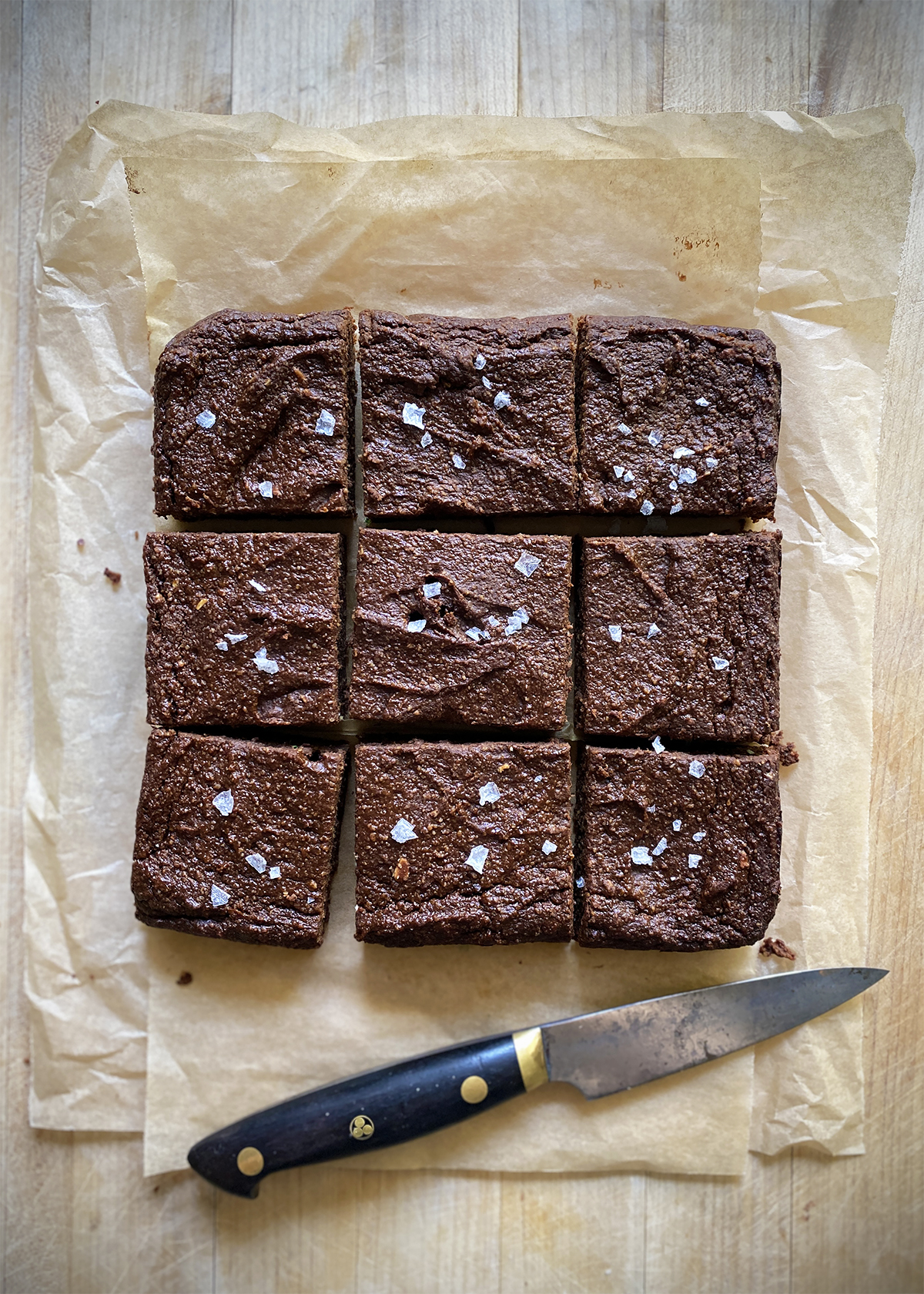 Slice Brownie Baked Oatmeal into nine (9) 2½-inch x 2½-inch squares. Sprinkle with flaky sea salt.
Pro Tips and Techniques for Brownie Baked Oatmeal
Double the Sweetener. This recipe uses only ¼ cup maple syrup in addition to the prunes to replace refined sugar, so the Brownie Baked Oatmeal is appropriate for breakfast with subtle sweetness. If you normally eat fairly sweet dishes for breakfast, or want to eat the Brownie Baked Oatmeal as a true dessert, double the maple syrup to make it sweeter.
Double Prune Puree. Make double the amount of the Prune Puree by soaking double the amount of prunes have extra to use for a LOT of other uses. Use half for the Brownie Baked Oatmeal. Store the remaining half in an airtight container in the refrigerator for up to two weeks.
Can I Make Ingredient Substitutions?
Substitute Coffee for Water. For a stronger, more dark chocolate-y flavor, substitute hot coffee for the hot water to soak the prunes. Because coffee is bitter, the Brownie Baked Oatmeal will take on a slightly more bitter flavor so you may need to double the amount of added maple syrup (or alternative sweetener).
Substitute Melted Chocolate for Cocoa Powder. If you don't have cocoa powder, but already have some other form of chocolate on hand like baking chocolate bars or chocolate chips, you can substitute an equivalent amount of it for the cocoa powder by melting it and stirring it into prune puree. However, the sugar and fat content of the recipe will change based on the sugar and fat content of the chocolate.
Tools and Equipment
High power blender to blend the oats into flour and the prunes. The popular brand works great, but this is the brand I have and use.
Glass mixing bowls

8x8-inch square baking pan

Parchment paper
Silicone spatula
Food processor
Measuring cups
Measuring spoons
Leftovers and Storage
Refrigerator. Leftover Brownie Baked Oatmeal will keep in an airtight container in the refrigerator for five days. Do not keep the brownies on the countertop at room temperature.
Freezer. Leftover Brownie Baked Oats can be stored for the longer term in the freezer. Cut brownies into individual portions and store in an airtight, freezer-safe container. Leftover Brownie Baked Oats can be frozen for up to 3 months. Thaw in refrigerator overnight, or pop into a toaster oven or air-fryer for a few minutes.
For More Recipes with Prunes
If You're Here for the Brownies
Print Recipe
Brownie Baked Oatmeal Recipe
Is it an indulgent breakfast? Or is it a healthy dessert? It's both! Made with that good morning staple, oats, and naturally sweet, nutrient-rich prunes, this recipe for Brownie Baked Oatmeal, aka Breakfast Brownies is an absolutely deliciously healthy must-make!
Ingredients
1

cup

prunes

1

cup

hot water

plus more for texture

2

cups

old-fashioned rolled oats

½

cup

cocoa powder

1

tablespoon

baking powder

1

teaspoon

sea salt

1

cup

unsweetened coconut or other plant-based milk

¼

cup

pure maple syrup

2

teaspoons

vanilla extract

optional: chopped dark chocolate, ½ cup chopped almonds or walnuts, flaky sea salt for top
Instructions
Place prunes and hot water in a heat-proof bowl. Cover with a kitchen towel or a plate. Allow prunes to sit in hot water to re-hydrate, at least a couple of hours, overnight is best. It does not have to be refrigerated while re-hydrating.

Line an 8x8-inch square baking pan with parchment paper with an overhang to make it easier to lift brownies out of the pan. Spray parchment of side of pan with baking spray.

While prunes are plumping, blend oats into oat flour as fine as your blender or food processor will get it. It make take several minutes to get oats from a coarse meal to something resembling a flour.

Add cocoa powder, baking powder and sea salt to blender or food processor and pulse a few times to combine all dry ingredients, making sure no clumps of cocoa remain. Remove dry ingredients to a mixing bowl.

Pour prunes with any soaking liquid that's left into blender or food processor. Pulse until prunes are chopped, stopping the blender or food processor to scrape down sides with a spatula if needed. Add more water 1 tablespoon at a time until prunes have the consistency of a thick cake batter.

Add coconut milk, maple syrup, and vanilla extract to the blender and pulse a few times until incorporated into the prune puree.

Pour contents of blender or food processor into bowl with dry ingredients, using a spatula to scrape out sides if needed. Gently stir prune mixture and dry ingredients together until well-combined.

Scrape brownie batter into prepared baking pan and smooth top with spatula. Sprinkle chocolate chunks and optional chopped nuts over the surface and then lightly press them into the batter with your hands or a spatula. Sprinkle with flaky sea salt.

Bake at 350°F for 25 minutes, or until a toothpick inserted into the center comes out with a few sticky brownie bits.

Allow brownies to cool in pan for at least 15 minutes. Gently lift brownies out of pan with parchment paper, and allow to cool completely before cutting into squares.
Nutrition
Serving:
1
brownie
|
Calories:
155
kcal
|
Carbohydrates:
34
g
|
Protein:
4
g
|
Fat:
2
g
|
Saturated Fat:
1
g
|
Polyunsaturated Fat:
0.4
g
|
Monounsaturated Fat:
1
g
|
Sodium:
277
mg
|
Potassium:
301
mg
|
Fiber:
5
g
|
Sugar:
13
g
|
Vitamin A:
151
IU
|
Vitamin C:
0.1
mg
|
Calcium:
128
mg
|
Iron:
2
mg