This Christmas Charcuterie Board with all the naturally red and green ingredients for the season has high wow-factor for relatively low effort, which is exactly what you want during the hectic Holidays. Bonus time saver: a grocery list in spreadsheet format that you can download for excel or google sheets and sort by category and color! Shall we?
Jump to the printable recipe and grocery shopping list in spreadsheet format you can download for excel or google sheets and sort.
Happy Forking Holidays!
Jump to: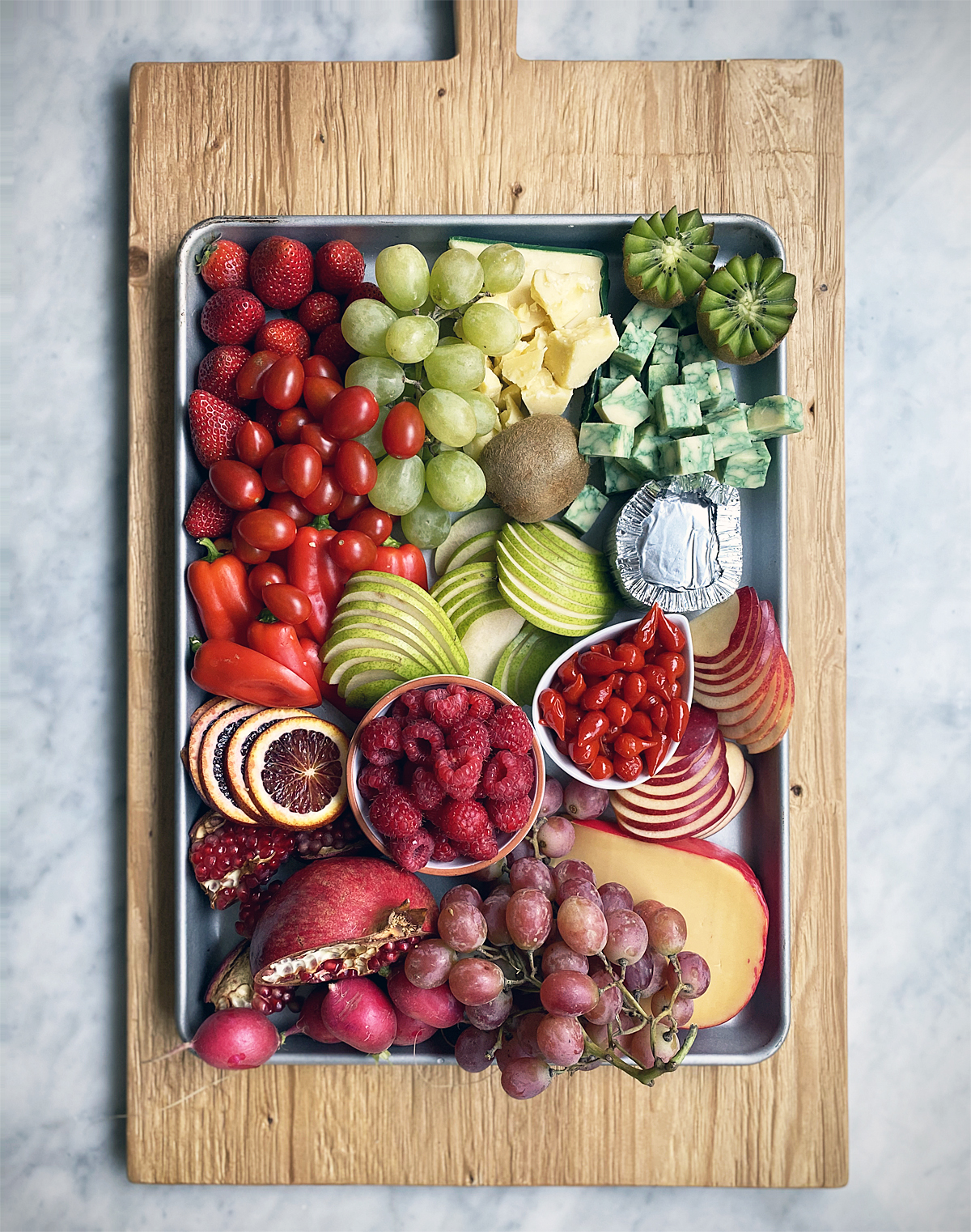 What You Need for a Christmas Charcuterie Board
Normally I stick to silver and white for a "winter wonderland" theme for anything Christmas, but the challenge of finding enough green, let alone green cheese for a charcuterie board, was too fun to pass up. Who knew there was actual cheese that's meant to be green? Now, we all do!
Aside from green cheese, here are the categories of things you need for a Christmas Charcuterie Board:
large board or platter
charcuterie, which will be the bulk of your "red" on the board
3-5 cheeses, most of which fall into the "white" category
all the red, green, and white accompaniments
winter and christmas-themed cookie cutter if you want to create shapes from the cheese to add some "flair" to the board
Detailed recipe and instructions for the Christmas Charcuterie below!
Red and Green Christmas Charcuterie Board Grocery List
And to make things EVEN EASIER for you because who couldn't use some help during the Holidays, I put the Grocery List of all the possible ingredients in a download-able spreadsheet so you can pick and choose the things you like or substitute ingredients that may or may not be available.
The grocery list is color-coded, categorized by grocery store department so you won't be dashing back and forth through the store. The list includes specific brands so you can find some of the ingredients that might not be as widely available in chain grocery stores. Hello, green cheese? Peep the list for the resource.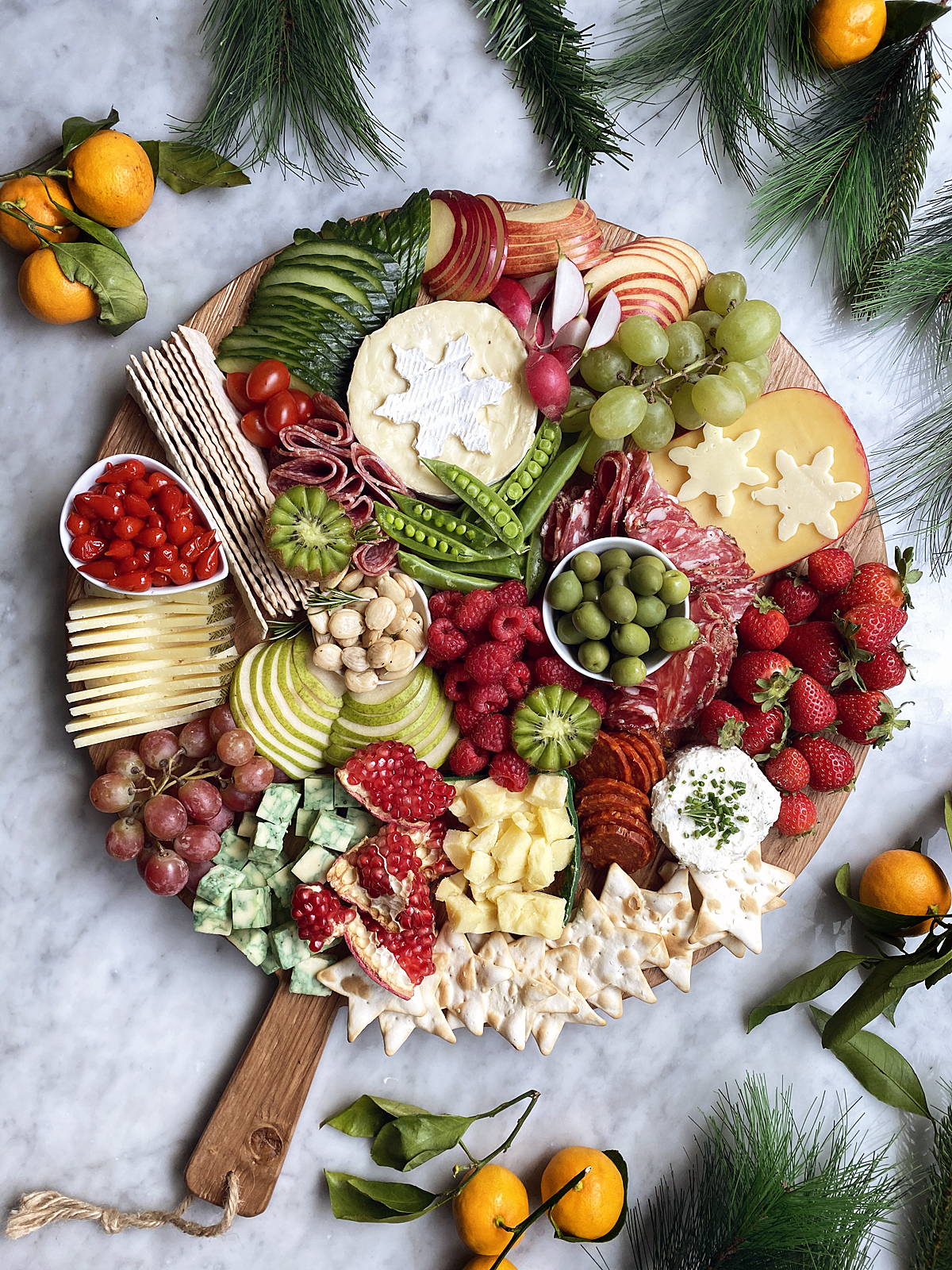 Pro-tips for Christmas Charcuterie Board
Charcuterie and cheese boards are generally pretty obvious and self-explanatory—gather the ingredients then put them on a wooden board!—but here are a few pro-tips for making it a little easier when prepping for entertaining.
Colors. Took a minute to figure out how not to make a rectangular cheese board with red, green, and white look like the flag of Italy or Mexico, but we got it all to work by creating diagonal "stripes" of color on the board.
Advance. Prep all the ingredients in advance, which includes washing vegetables and fruit AND cutting some of the sturdier cheeses.
Parchment paper. If using a wooden board, lay down a sheet of parchment paper or butcher paper first. This not only makes clean-up easier, but also protects the board from stains from oils in the charcuterie and cheese, as well as ingredients like beets.
Let cheese loosen up on the counter. Let cheese "loosen up" at room temperature for about 30 minutes before serving. If you're putting together a large board like this one, that 30 minutes might be "built-in" to the time that you're building the board.
How to Make Festive Cut-Out Brie Cheese
To make the cut-out shapes on the Brie or other soft, bloomy-rind cheese, make sure the wheel of cheese is cold, straight from the refrigerator. If the Brie is already soft, you can put it in the freezer for about 20 minutes. It is much easier to slice and cut soft cheeses when they are cold. Carefully slice the top rind off the wheel of cheese. Use a cookie cutter—metal cookie cutters work best here but a sharp plastic cookie cutter is ok—to cut a shape out of the rind. You can either replace the rind on the brie with the negative cut-out space and leave it as is, or place the shape on the wheel (as pictured on the boards here).
Watch a Video of Building the Board
Does it feel like the Holidays go by at warp speed? They do, just watch this video of building a Christmas Charcuterie Board.
Tools and Equipment
These are some of the tools and gadgets that make assembling a Christmas Charcuterie Board so much easier! Click the pix below or use the list that follows:

Prep for Upcoming Holidays with these Boards
Print Recipe
Christmas Charcuterie Board Recipe and How-to
6-8 people as an appetizer
This recipe is specifically for both the rectangle and round boards as pictured here.
Ingredients
Cheeses
1

wheel

Brie or other soft, bloomy-rind cheese

1

wedge

Manchego cheese or other semi-firm sheep's milk cheese

1

wedge

Champagne cheddar

with green wax rind (not edible)

1

block

Sage Derby (marbled green cheese)

1

wedge

gouda

or other cheese with red rind
Charcuterie
16

ounces

various charcuterie
Charcuterie Accompaniments - Fruit
1

cup

raspberries

1

cup

strawberries

1

blood orange

sliced

1

apple

cored and sliced

1

green Bartlett pear

cored and sliced

½

pomegranate

broken into 2-inch pieces

1

small bunch red grapes

1

small cluster green grapes

2

kiwi

sliced
Charcuterie Accompaniments - Vegetables
4-6

mini red and green bell peppers

1

cup

cherry tomatoes

1

cup

round red radishes

1

Persian cucumber

sliced

1

cup

snap peas
Charcuterie Accompaniments
½

cup

sweet drop peppers

1

cup

Castelveltrano olives

2

cups

nuts

like Marcona almonds and cashews

crackers

fresh rosemary

for garnish
Instructions
Prep Brie or other soft-bloomy-rind with cut-out shape, and place on board. Place Champagne cheddar on board and break apart into pieces and pile inside the rind. Cut Sage Derby into cubes and create pile on board. Slice and arrange remaining cheeses on board.

Shape charcuterie into ruffles or layers and place on board.

Arrange remaining ingredients on board. If crackers fit on the board, add them, otherwise serve crackers alongside board.

Garnish with fresh rosemary sprigs and small cut-out shapes from cheeses.