Look. There is a time and place for a fancy cheese and charcuterie board, but when it comes to football game day, well, ok, I'm still going to serve a fancy ass cheese and charcuterie board. But this is the one chance a year to serve the ULTIMATE Game Day Cheese and Charcuterie Board that isn't so much about cheese and charcuterie, as it is about game day snacks.
Game Day Board Love Goes Way Back
In most normal places, when September rolls around, the air gets cooler, the days get shorter, and slowly but surely, summer slips into autumn. Not so in southern California. September and October are warm enough to have an evening wedding outdoors without heatlamps. Our fall season doesn't really get started until November. We have "winter" for about two weeks in February, and that's only because we want to stay cozy inside, curled up next to our wall-switch-to-turn-it-on fireplace when it rains. Then the weather turns right back into spring and summer.
I'm not complaining about 70° average weather year-round. I just miss autumn.
Autumn smells different. It feels different. There are a few times when something in the air, even in LA, triggers some autumn memory of my childhood days back in Michigan and Ohio. No matter that the faint smell of smoke and something burning is actually the wind carrying smoke over the hill from wildfires in the valley (40% contained! – what the hell does that mean, anyway?) – it still reminds me of raking leaves into giant piles and burning them.
And when I think of fall, it reminds me of going back to school. There is no "back to school" season anymore, especially no tin southern California. I only know it's "Back to School" because there is a huge spike in the daily traffic with school buses, crossing guards, and Bruins jamming up the g*dd**n !@#$% Sunset exit off the 405 in their Daddy's Range Rovers.
LA's going back to school sucks.
Back-to-school everywhere else, though, means getting thicker tights to wear with your pleated skirt and riding boots. It means trying out for the fall semester school play. It means band practice (not me, I wasn't a band-dork), field hockey practice, writing campaign speeches for the school election, and for me, it means trying on my cheerleading uniform to make sure it still fits.
Back then. Trying it on back in high school.
I was a cheerleader, and that is what I miss so much about fall. High school. Cheerleading. Practice. Pep rallies on Friday nights. Football games. Tailgating. Victory parties. Imaginary flirting with the star quarterback whom I had to tutor in what I prefer to call the Language of Love, but everyone else called AP Spanish. He was the beauty with the number 10 on his jersey and I was the brains that scored a perfect 5 on all my AP tests.
Cheerleading and The QB are probably a good explanation of why I wake up early on weekend mornings in September and October to watch football. But as much as high school is a reason why I first fell in puppy love with football, what has turned that crush into a true, committed love now, though, is Game Day Food.
I don't tailgate because, well, like happy hour and pro football, LA just doesn't do it. But I love to have the game on at home, and even more I love Game Day Food at home.
Nachos.
Potato skins drowning in sour cream and bacon.
Dragon-fire Buffalo cauliflower wings?!
Yes. Cauliflower florets served like Buffalo chicken wings. Celery sticks with ranch. Carrots, cucumbers, snap peas, and any other crunchy fresh vegetables I can find.
Not raw broccoli though. I'm not a monster.
What You Need for the Ultimate Healthy Game Day Cheese and Charcuterie Board
These are the high level categories of things you will need for your Ultimate Game Day Cheese and Charcuterie Board
Sports Bar-esque hot appetizers that taste great even if served/eaten room temperature. We used wings (cauliflower), chicken tenders, and soft pretzels because they work great on a board that will be out for the duration of your party.
Dips and Spreads to pair with the appetizers above, and for chips and vegetable crudités
Vegetable Crudités that are easy to eat with the dips and spreads
Chips will probably have an entire VIP section on the snack table to themselves, but I include them on a giant board like this one because they go so well with the dips and spreads here.
Cheese, obviously.
Charcuterie, also obviously, and depending on your guests, you can keep it real with things like beef jerky and chicharrones, or offer fancier options like prosciutto for guests who might prefer that over, say, nachos.
More Game Day Snacks and Appetizers for Tailgating or Super Bowl
Can you tell I really like nachos?
Chicken Skin Nachos Recipe - if you're keto/paleo/low-carb-ish and don't want to eat regular chips
Greek Nachos - Pita-chos Recipe
Baked Chicken Parm Tendies
Buffalo Cauliflower Wings
Ingredients and Grocery Resources for Game Day Cheese and Charcuterie
SOFT PRETZELS. We used frozen, fully-cooked soft pretzels. If you want to be the MVP, you can make soft pretzels from scratch, but a Cheese and Charcuterie Board is a team sport, so let's just make it easy. Most grocery store freezer sections and Amazon carry this brand of frozen soft pretzels.
CHICKEN TENDERS. You can make chicken tenders from scratch. You can also save yourself the stress and just buy ready-made chicken tenders because this is a Game Day Board for tailgating or a Super Bowl party, not high tea with the Queen. Shockingly, the chicken tenders in the hot food/deli section of my local Ralphs grocery store are very good.
BLUE CHEESE DIP. Blue Cheese is my dip choice for any type of Buffalo wings including cauliflower. It's pretty easy to make at home because it doesn't have too many ingredients. You can also just buy a bottle or jar from the store. p.s. I love blue cheese dip, but I still have to have Ranch for everything else.
YOGURT RANCH. Without ranch, there is no board. This version is made with all yogurt rather than mayonnaise and sour cream for the obvious reason that mayonnaise is absolute trash. Use any and all dips from a bottle or jar you buy in the store, EXCEPT RANCH. Never use bottled ranch. Just never.
HUMMUS. The creamiest, fluffiest, BEST EVER HUMMUS recipe here. Use this hummus straight up, not with other "flavors."
BUFFALO HUMMUS. This Organic Buffalo Hummus was a last-minute find. You could also stir a tablespoon of Frank's Red Hot Sauce and a few dashes of Worcestershire sauce into a classic hummus.
HONEY MUSTARD. Just buy your favorite mustards in a bottle or jar. Why waste your time. At this point you should know by now, there is very little homemade on a Game Day board like this.
GUACAMOLE. This is a guacamole that has no other "chunky" ingredients especially tomatoes which should NEVER be in ANY guacamole EVER anyway.
KETCHUP. The ketchup I use on most boards is an organic, unsweetened ketchup with additional various vegetable purees added, but I don't actually eat ketchup, so use ANY ketchup you like for your board. This one is everyone's favorite ketchup.
CHILE CON QUESO. We used a jar of Tostitos Chile Con Queso. I don't even know if that stuff has real cheese but it is delicious and every fancy, homemade, from scratch or otherwise queso I have had tastes like salty uncooked flour.
ADDITIONAL TIPS and TRICKS
BOARD. You can use any board, platter, or tray that is large enough to hold the snacks and dips together. The board I have is 16x28 inches available here. It comes in a smaller version available on the same page.
SERVING HOT. The best way to keep the hot, cooked foods like Buffalo cauliflower and chicken tenders hot for the longest time is to place them on the board last. Make the space for them on the board using a bowl as a placeholder. It also helps to keep the amount of each hot ingredient one small (just a few at a time), and replenishing with fresh, hot ones once they run out. That being said, snacks like buffalo wings and chicken tenders aren't too bad when they're room temperature, too.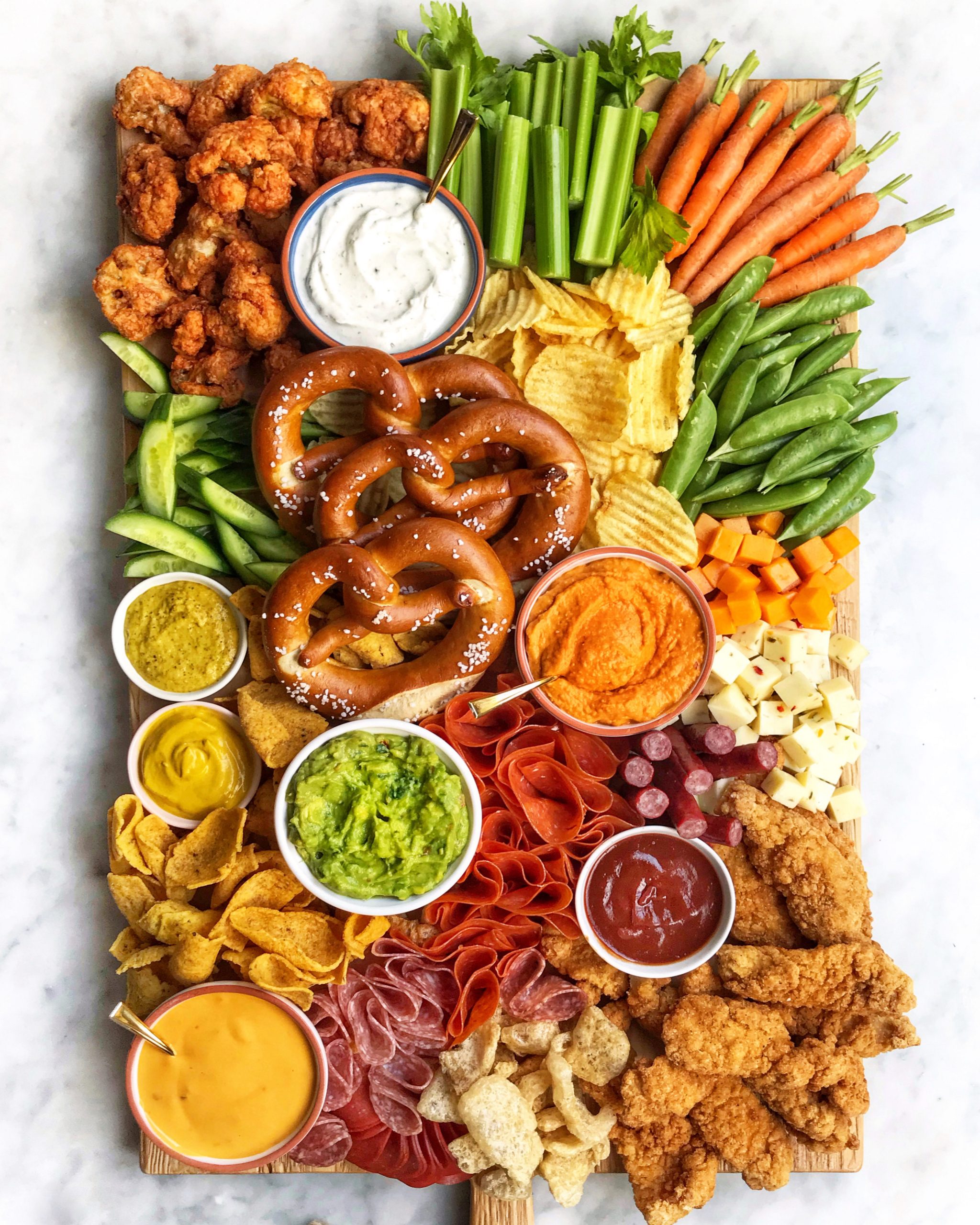 Print Recipe
How to Put Together the Ultimate Game Day Cheese and Charcuterie Board Recipe
Ingredients
Hot Appetizers
Buffalo cauliflower "wings"

soft pretzels

see above for resource

chicken tenders
Dips and Spreads
Ranch or blue cheese

spicy + honey mustards

Buffalo hummus

guacamole

ketchup or BBQ sauce for chicken tenders

chile con queso
Vegetable Crudites
carrots

celery

Persian cucumbers

cut into spears

snap peas
Chips
ruffled or kettle potato chips

corn chips
Cheese
cheddar cheese

Monterey jack or spicy pepper jack cheese
Charcuterie
traditional charcuterie like Genoa salami, soppressata, and prosciutto

"game day" meat like beef jerky, chicharrones, pepperoni, and turkey pepperoni
Instructions
Prepare Buffalo cauliflower and chicken tenders according to recipes, and frozen soft pretzels according to package directions.

While the soft pretzels are heating, prepare the dips. Put each dip in a small bowl or ramekin, then place on the serving board or tray.

Place the remaining vegetables, chips, cheeses, and charcuterie on the board around the dips, placing them near the dips or sauces with which they naturally match, and leaving space for the hot Buffalo cauliflower, soft pretzels, and chicken tenders, e.g. Buffalo cauliflower and celery with blue cheese dip, vegetables with Ranch or hummus, corn chips with guacamole and chile con queso.

Set aside about one-third to one-half of each of the hot foods and place in a low oven to keep warm until you have to refresh the board. Place the Buffalo cauliflower, soft pretzels and chicken tenders on the board in their reserved spots.

Serve immediately.