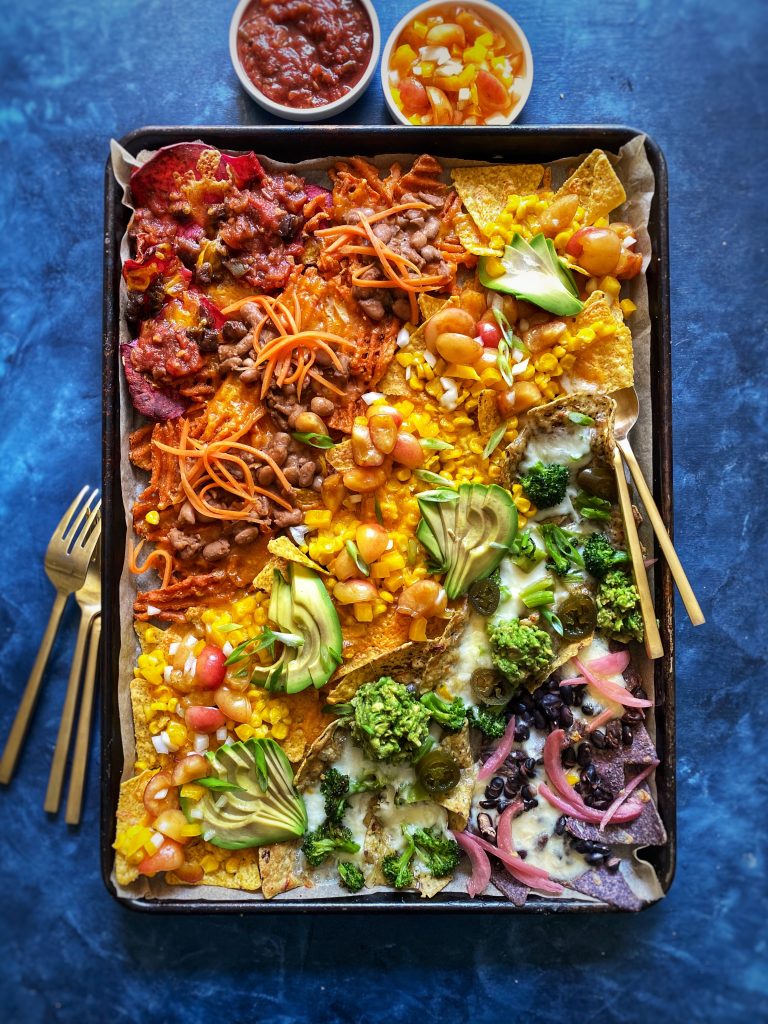 You're not here for a full recipe for Rainbow Nachos because nachos don't require a recipe beyond this: spread out some chips on a baking sheet, shower with shredded cheese, add optional cooked steak and/or chicken for omnivores, heat under broiler until cheese melts, then add all the toppings.
Ok! So this is a shorter post than I thought.
But actually. Those are general directions for nachos, and every time you follow them, you will get good nachos, and even if they're not good, they're still good because they're salty crunchy chips with melted cheese. You can, however, make GREAT nachos, with a little more detail, embedded within the instructions for Rainbow Nachos provided below, followed by a list of my favorite brands and shopping resources for ingredients and tools.
What You Need for Rainbow Nachos
Some nachos work well as layers of chips and cheese piled into a cascading melting mess in a cast iron skillet or on a plate. But not Rainbow Nachos. For Rainbow Nachos, you need to spread the nachos out in a single layer on a sheet pan. This will show each color of the rainbow. Here are the high-level categories of what you need to make Rainbow Nachos:
Chips in five different colors of the rainbow. The chips can be tortilla chips, potato chips, or something else that works as a "chip." Whatever chips they are, make sure they are their natural color, e.g. blue tortilla chips made from naturally blue corn, or dyed naturally with things like beets or greens. Don't use chips of any kind that use artificial coloring. If you can't find a certain color, better to just use the usual yellow or white corn tortilla chips.
Beans, chopped vegetables or animal protein in the different colors of the rainbow.
Two different color cheeses that melt well. I like a mild cheddar which is orange, and Jack, which is white. If you want to use a flavored cheese, you can try to match one of the rainbow colors. For example, pepper jack, which has little flecks of red hot pepper, could melt on the red part of the nachos.
Other toppings that match the colors of the rainbow like olives, jalapenos, scallions, pickled onions, and julienned radish
Salsas and guacamole in different colors of the rainbow. You may not want to put salsa directly on the nachos because it will make the nachos soggy, but you can serve roasted dark red, red, and green salsas, pico de gallo, and guacamole alongside the cooked nachos.
Ingredients Notes and Shopping Resources for Rainbow Nachos
Tools and Equipment
Rainbow Nachos Recipe
serves 4 to 6 depending on serving size
Ingredients
2

handfuls red potato or tortilla chips

2

handfuls orange sweet potato chips or cooked sweet potato fries

2

generous handfuls yellow corn tortilla chips

2

handfuls green tortilla chips

1

handful blue potato or blue corn tortilla chips

1½

cups

shredded cheddar or other yellow cheese

1½

cups

shredded jack

mozzarella or other white melting cheese

½

cup

chopped cooked steak or carne asada

½

cup

cooked pinto beans

½

cup

cooked corn

1

cup

cooked broccoli

½

cup

cooked black beans

1

cup

tomato salsa

¼

pickled carrots

1

cup

yellow cherry or yellow tomato pico de gallo

½

avocado sliced

½

cup

guacamole

use the other half of above avocado

½

cup

tomatillo salsa verde

pickled sliced jalapeños

pickled onions
Instructions
Heat the Nachos
Heat broiler in oven to low.

Spread the chips in a single layer with slight overlap on a baking sheet in rainbow order: red chips, orange sweet potato chips or fries, yellow tortilla chips, green chips, blue potato or corn chips.

Top the chips as follows: carne asada on red chips, pinto beans on sweet potato chips or fries, corn on yellow corn tortilla chips, broccoli on green chips, black beans on blue potato or blue corn chips.

Sprinkle shredded cheddar cheese over the red, orange, and half the yellow chips. Sprinkle the jack or mozzarella cheese over the other half of the yellow chips, green chips, and blue chips. You melt the cheese over the cooked toppings to "anchor" them to the chips.

Place sheet pan under broiler until cheese melts, and starts to bubble and brown in places. Remove from oven.
Assemble the Nachos
Top the hot melty cheesy nachos as follows: salsa on red chips and carne asada, pickled carrots on pinto beans and sweet potato chips or waffles, yellow cherry or tomato pico de gallo and sliced avocado on corn and tortilla chips, spoonfuls of guacamole and pickled sliced jalapeño on broccoli and green chips, and pickled onions on black beans and blue potato or blue corn tortilla chips.

Serve immediately with extra salsas and guacamole in bowls alongside.

The nachos, once heated with melted cheese, do not keep well. Eat it all now.