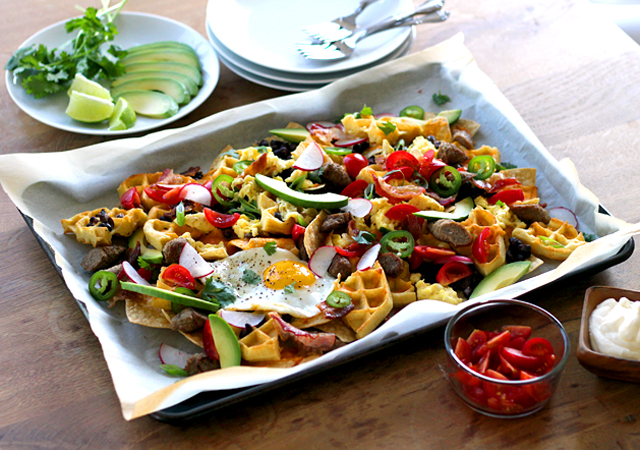 Not to be confused with Pancake Breakfast Nachos, which I have made before, and are composed of almost entirely the same ingredients, except with quartered Belgian waffles instead of quartered buttermilk pancakes. The Belgian waffles are probably a better choice overall for Breakfast Nachos because they are thicker, sturdier, and can capture all that horrifyingly delicious black beans mixed with bacon and melted cheese in their little waffle divots.
Number 71 on the Summer To-Do List is not "Eat Nachos."
Like sleeveless mock turtleneck sweaters and gray wool gabardine pantsuits, nachos are seasonless and simply go without saying. Anything. In life. Forever.
No, Number 71 on the Summer To-Do List is actually "Watch World Cup." But really now? Would I watch the World Cup? By my own choice? Just for the love of the game of soccer? For the thrill of the sport?!
It was only two World Cups ago that I didn't even know what World Cup was until my then-boyfriend explained that of course I didn't hear anything about it for the last few years because it only occurs every four years. Even now, eight years later, I still don't completely understand how World Cup works, as it seems rather like a ball-chasing free-for-all. (No comments re: Tinder.)
How do the countries enter? Who decides who plays whom? Why so much anger? Why so much violence? Which team is mine?!
Do I support Korea because I'm ethnically Korean? Do I cheer for America because I was Born in the USA? What if they play against each other? Will I be a traitor if I'm happy about the winning team? How do I deal with the shame of the losing team?!
MY GOD. It's like my own personal identity crisis symbolically playing out on the field.
Anyway. Belgium vs. USA.
If Belgium wins, Belgian Waffle Breakfast Nachos!
If USA wins, Belgian Waffle Breakfast Nachos! Because come on, Belgian Waffles are as Belgian as French fries. (Wait...what?)
So, here again, a recipe for a dish that 1) I have made in many previous iterations, and 2) needs a recipe like a peanut butter and jelly sandwich needs a recipe.

I Have a Nachos Problem
PANCAKE Breakfast Nachos, same as above, but with buttermilk pancake quarters:


Basic Breakfast Nachos (with Sausage and Bacon) vs. Domaine de la Pépière 'Pépie Bulles' sparkling wine:


Irish Nachos (nachos made with with french fries):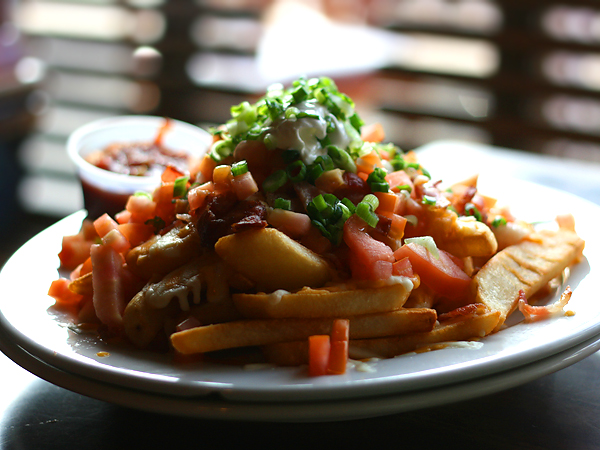 Chicken Skin Nachos:


Chilaquiles - not really nachos, but they sure look like breakfast nachos drowning under red salsa to me: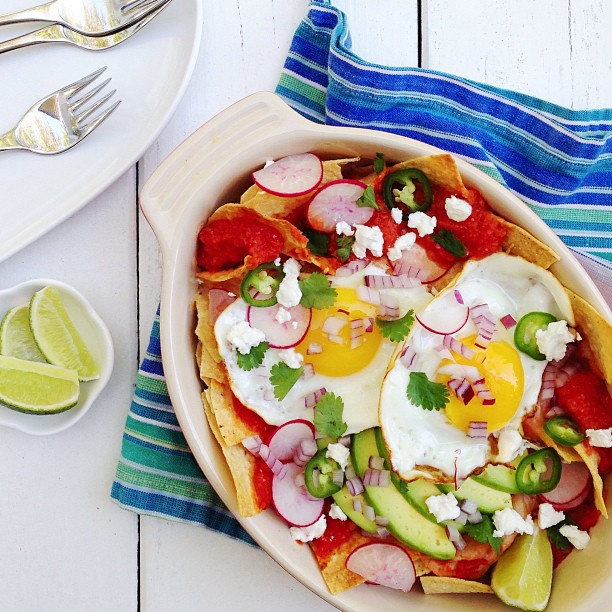 Fully Loaded Game Day Nachos (the original!)
Print Recipe
Breakfast Nachos with Waffles Recipe
Substitute out chips with waffles, add some sunny eggs, and you have the best way to spend a relaxing weekend morning, eating through a sheet pan of Breakfast Nachos! And Breakfast Nachos for dinner? Even better!
Ingredients
Belgian waffles cut into quarters

tortilla chips

shredded cheese

black beans

recipe for black beans here, along with Huevos Rancheros

cooked spicy breakfast sausage

cooked

chopped bacon (you're turning on the oven for the nachos, so cook the bacon in there first!)

chopped tomatoes

sliced fresh avocado

or guacamole

sliced jalapeños

sliced radishes

sliced scallions

chopped fresh cilantro

3-5

large eggs

scrambled and/or sunny side up

serve with: salsa or additional chopped tomatoes

sour cream, lime wedges. (I have no idea what the lime wedges are for. They just seem to go with everything else.)
Instructions
Turn on broiler in oven to high. Line an ovenproof baking sheet with parchment paper for easier cleanup.

Spread out a layer of tortilla chips mixed with the cut waffles. Top chips and waffle quarters with black beans and shredded cheese.

(If you are using pre-cooked/leftover bacon and sausage, you can add to the nachos now so they warm as the cheese melts in the oven. Just be sure to watch closely so the cooked bacon and sausage don't cook so much more to the point of burning.)

Place sheet under broiler, about 6-8 inches from the heat. Watch carefully, and remove once the cheese has almost completely melted. It's okay if the chips get toasted on the tips. Ours took about 4 minutes.

While the chips and cheese are broiling, cook the eggs.

Remove the baking sheet from the oven. If you are using a separate serving plate, slide the chips/pancakes/melted cheese onto it.

Top with cooked breakfast sausage and cooked bacon.

Place the eggs on top.

Add tomatoes, sliced avocado, jalapeños, radishes, scallions, and cilantro if you want to taint your plate of nachos with that stuff.