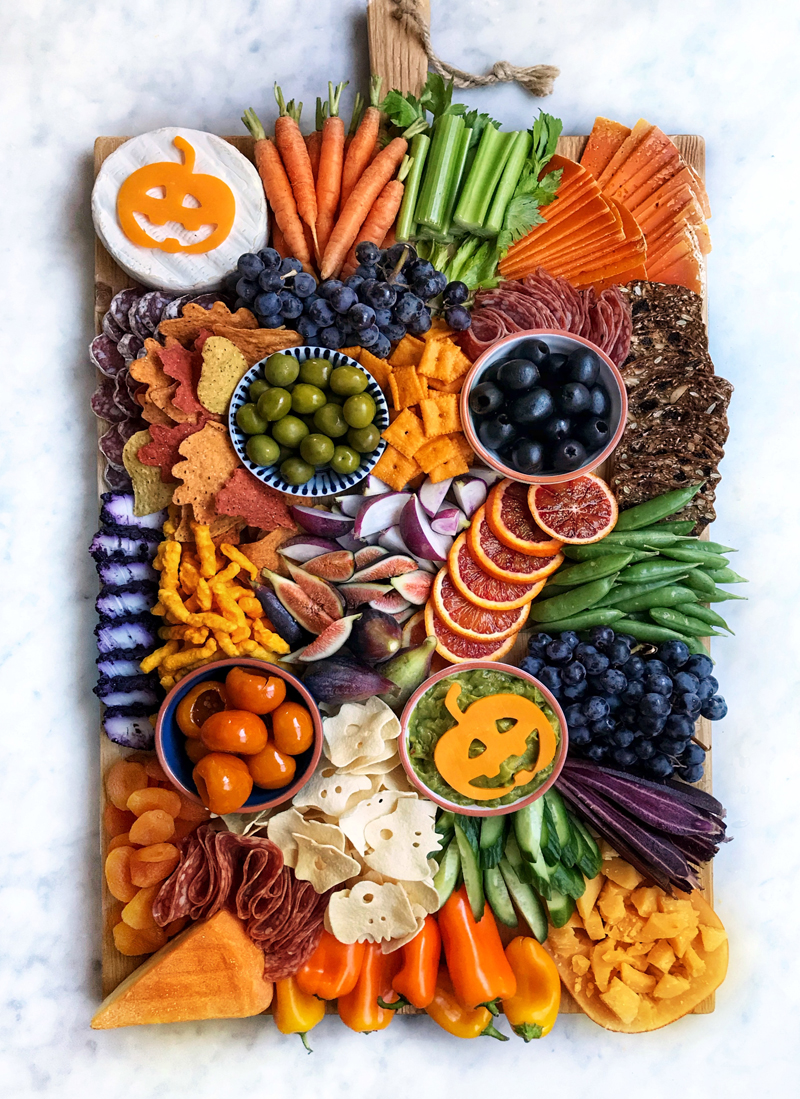 You're already going to have plenty of sweet candy and chocolate for Halloween, so balance it out with savory salumi, cheeses, and fresh vegetables on an epic Halloween Charcuterie Board.
As with sandwiches, salads, and bowls of cereal, I am of the belief that cheese and charcuterie boards don't require an actual recipe. Grab some cheese. Get some crackers. Put them on a board. Maybe for the sake of Mindy Kaling there's a 12 paragraph introductory story about how your great grandfather wore shoes made out cheese rinds to walk 40 miles to school.
But other than that, you don't really need a recipe.
That being said, visual guides and grocery shopping lists are always helpful when planning and putting together a charcuterie board for holidays and parties. Use the photos here as idea starters and visual guides. Download the grocery shopping list to your own excel spreadsheets. I categorized by color and category so you can sort and filter the ingredients as you like. If a Recipe format works better for you, scroll down. Print whichever version works best for you, get shopping, building, and partying!
What You Need for a Halloween Charcuterie Board
Your Halloween Charcuterie Board can be as cozy or epic as you want/need. Here are the high-level categories of ingredients you need:
charcuterie, of course!
cheeses
crackers, bread, and chips
olives and pickled things
fresh fruit and vegetables
dried fruit
candy, as a garnish!
Best Types of Charcuterie for Halloween
Any charcuterie works for this board so use your favorites. If you need some ideas, these are some all-around crowd pleasers that I include on most of my boards:
capicola or coppa
prosciutto
Genoa salami
bresaola
spicy sopressata
Best Cheeses for Halloween Charcuterie Board
For a Halloween Charcuterie Board that is built by color, look for orange cheeses. Though the orange color isn't technically "natural," aged Gouda, Cheddar, and mimolette all fall in this color category.
Because it's Halloween, here's an extra treat: an all sweet candy board shaped like, what else, a Jack-o-lantern. For that, you really don't need a recipe. The cute Halloween-themed gummies can be found at most grocery stores around this time.
Printable Grocery Shopping List
The Grocery Shopping List includes a brainstorm of orange, green, purple, and black ingredients to get you started. Not everything on the Grocery Shopping List appears on the board in the photo above. It is... a lot.
Copy and paste the table below into your own spreadsheet or grab the downloadable shopping list here
Charcuterie Board FAQs
How much charcuterie should I buy/serve?
If your charcuterie board is an appetizer or part of a larger spread, estimate 2-3 ounces of charcuterie per person. If the charcuterie board is the main attraction along with the usual accompaniments like bread and crackers, estimate 5-6 ounces of charcuterie per person.
How much cheese should I buy serve?
Estimate 5 ounces of cheese per person, give or take 2 ounces based on how much of the other non-cheese accompanying ingredients there are.
How far in advance can you assemble a charcuterie board?
You can assemble the charcuterie board up to 24 hours in advance, as long as you cover it and keep it refrigerated until just before serving. You can leave the assembled charcuterie board out at room temperature (serving) for up to two hours.
Pro-Tip: If you plan to have your charcuterie board out for more than two hours, assemble it with only half the cheese and charcuterie to start, and keep the remaining half in the refrigerator. After two hours, replenish the board with "fresh" cheese and charcuterie from the refrigerator.
Tools and Equipment for Halloween Charcuterie Board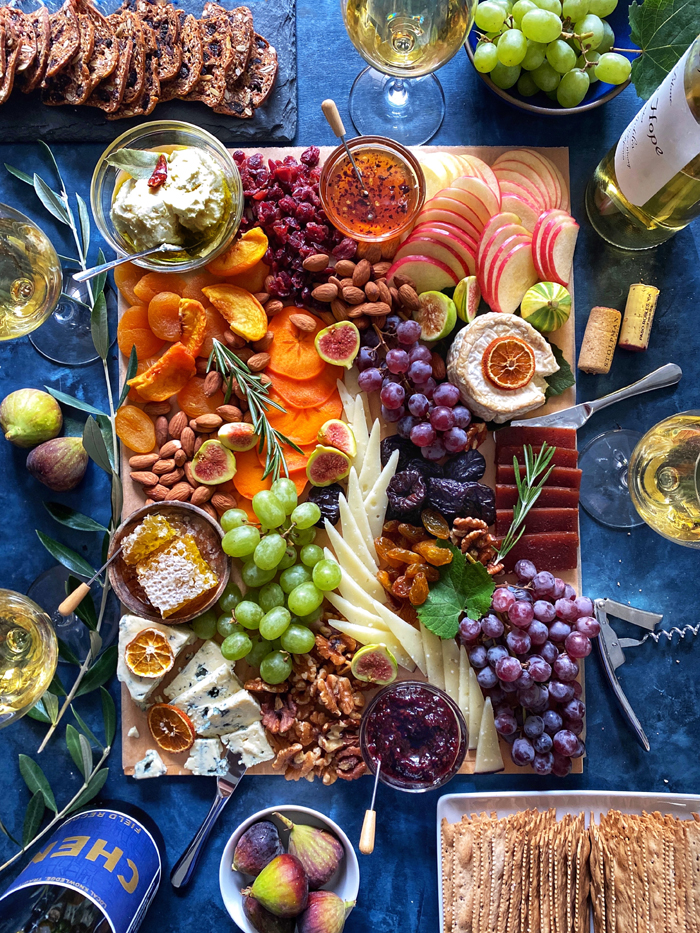 Prep for the Fall Season and Upcoming Holidays with these Boards
Halloween Charcuterie Board
Fill a Halloween Charcuterie Board with savory cheese, charcuterie, and tons of fresh fruit and vegetables because you're going to have enough candy already!
Ingredients
Charcuterie
12

ounces

various charcuterie

thin and thick
Cheese
1

6-ounce wheel

Brie cheese

Mimolette

aged Cheddar or Gouda cheese

orange washed rind cheese

1

4-ounce

blueberry goat chevre

4

slices

mozzarella or provolone cheese (white)

4

slices

Cheddar cheese (orange)
Chips, Crackers, and Bread
fig and olive crackers

plain white crackers

blue corn tortilla chips

autumn leaf-shaped tortilla chips

ghost- and bat-shaped potato chips

cheese puffs

cheez-its
Olives and Pickles
1

cup

black olives

1

cup

green olives
Vegetables Crudités
carrots

orange mini bell peppers

green bell pepper

celery

Persian cucumber

purple "ninja" radish
Fresh Fruit
blood orange

tangerine

persimmon

green grapes

black/purple grapes

figs

blackberries

blueberries
Dried Fruit
dried apricots

dried mango

dried persimmon
Candy and Sweets
candy corn

chocolate

black licorice

gummy candies

e.g. skulls
Instructions
Prepare the Cheeses
Slice the mimolette wedge into thin triangles with a very sharp knife. Slice the blueberry chevre log into rounds using a cheese harp or twine.

Using a ghost-shaped cookie cutter, cut out ghosts from the mozzrella or provolone cheese slices. Using a jack o'lantern cookie cutter, cut out shapes from the Cheddar cheese slices. Set the slices aside.
Assemble Charcuterie Board
Place the aged Gouda in one corner of the board and "crumble" out large pieces with a small, sturdy knife or fork. Place the Brie cheese, washed rind wedge, mimolette slices, and blueberry chevre slices around the edges of the board.

Arrange the charcuterie around the board, followed by the remaining ingredients on the list.

Garnish the board with ghost and bat cutouts.