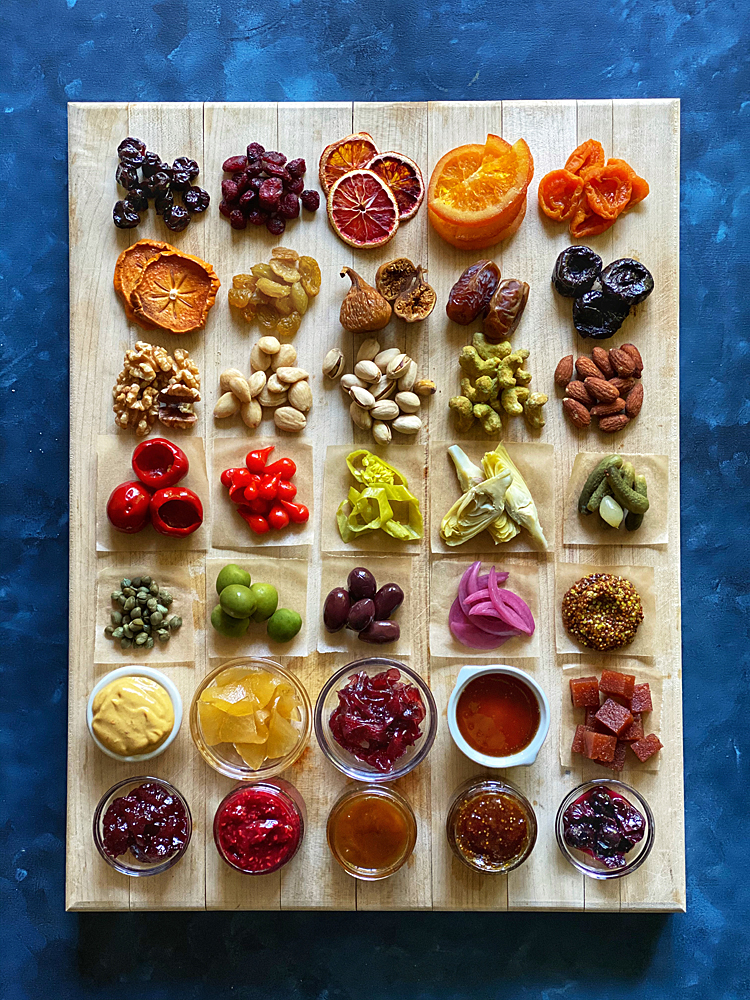 What. You don't have a well-stocked, meticulously organized "Cheeseboard Pantry" in which you keep all the dried fruit, nuts, spreads and other (mostly) shelf-stable or at least long-storing accompaniments to go with cheese and charcuterie?!
Thank God you know me. This is a list of the best ingredients you can put on a cheese and charcuterie board from dried fruit and nuts to sweet jams and savory spreads, with descriptions as well as recommendations of my favorite brands or recipes. Almost everything is covered but if you see that I've left something out, let me know. I'll just ignore you because this list is perfect.
I almost always include seasonal fresh fruit on cheese and charcuterie boards, but this list is for foods that are generally from the pantry (dried, preserved, etc.)
List of accompaniments first, mostly in order of how it's pictured above. Storage and organization resources after.
DRIED FRUIT for an Epic Cheeseboard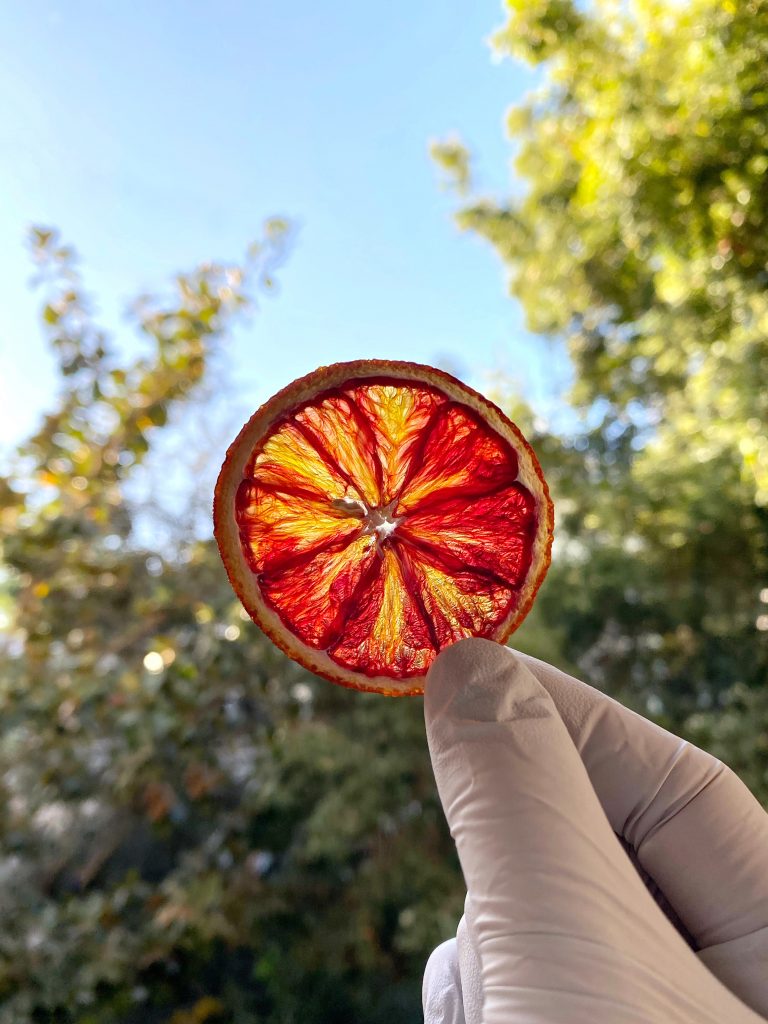 I keep all dried fruit in sealed bags or containers in the dry pantry because this house goes through them pretty fast. If you keep opened dried fruit packages for longer than say, a month, keep them in the refrigerator or freezer,
Tart Cherries. After having dried tart cherries, I can never go back to dried cranberries. Except when I have no money, since dried tart cherries cost about 850 times more than dried cranberries, which is the result of dried cherries' not being as easy to find as dried cranberries. I have found dried cherries at Whole Foods. Try this: a crumbled chunk of Fiscalini Farmstead 'San Joaquin Gold' with a couple of dried tart cherries, but only a couple because like I said, they are a billion dollars.
Cranberries. You can find dried cranberries anywhere, though some brands' cranberries are shinier and brighter. If you're going purely for aesthetics, go with that national brand that everyone knows. However, if you want organic, you're going to have to settle for the duller, drier cranberries.
Apricots. Current favorite dried apricots are the Blenheim variety, sometimes called "california" or "fancy" or "slab," shown in the photo above, which can be found at farmers' markets, as well as some boutique/independent grocery stores. Dried Blenheim apricots are flatter, drier and not as sweet as the plump, softer and much sweeter dried apricots we are used to seeing. If you can't find Blenheim apricots, try to find unsulphured regular apricots, which taste as soft and sweet as the regular dried apricots, but are dark in color without the preservatives. There are organic ones here.
Dehydrated Citrus Crisps. Dehydrated citrus is different from dried and candied citrus. They are sliced and dehydrated as is, with no added sugar or other ingredients, so they are not sweet. The white pith and zest (peel) make these bitter to taste, which is probably why I love them. You can buy dehydrated citrus online, but if you have the time, you can very easily make them at home in an oven with [this recipe], and what else do we have in this world right now but time?
Candied Citrus and Citrus Peel. Dried citrus at the markets are usually candied as well, so they're very sweet, with the added subtle bitterness of the pith and peel. This is easy to follow, but like above dehydrated citrus, requires time. It's like orange marmalade in a chewy form, and works really well with strong or extra aged cheeses. Try this: half a candied orange slice with Gorgonzola Dolce, a medium-strong cow's milk blue cheese from Piedmont, Italy.
Dried Persimmons. Dried persimmons are chewy and don't have a lot of sweetness, kind of like a very mild-flavored fruit leather. I use dried persimmons on boards for visual interest, and encourage people to take bites of them between cheeses. You can buy dried persimmons online.
Sultanas/Golden Raisins. All grapes turn dark when they dry into raisins, so sultanas and golden raisins, unfortunately, retain their bright golden color with preservatives. Oh well, sometimes you gotta take a preserved one for the beauty of the board team. I find golden raisins at the southern California Farmers Markets, but you can buy golden raisins online here, and that national brand that everyone knows makes golden raisins that you can find in grocery stores.
Dried Calimyrna Figs. Sometimes called "smyrna," these are the lighter colored figs, which I prefer over the black Mission figs on a cheeseboard. If you have access to fresh figs, use those first; save dried figs for the fall/winter. This brand is organic, online.
Dates. Huge, sticky sweet Medjool dates are my favorite, but as in romantic life, so too in cheeseboard life, whatever dates you can find, take them. You can find dates in the produce section. And again, as in romantic life, so too in cheeseboard life. When you put dates on a cheeseboard, slice them in half length-wise, remove the pit, and if the dates are exceptionally plump, slice again into quarters. A whole date is kind of a lot. As in romantic life...Do I need to write a book on dating with dates.
Prunes. At one point, prunes' publicist tried to call them "dried plums," but any consumer is going to see through a superficial name change and know it's still a prune. Prunes' branding needs a complete overhaul, starting with cheese boards, because they are PERFECT to pair with strong, salty cheese. They are perfect on their own, too, but that's not the point.

NUTS (and SEEDS) for an Epic Cheeseboard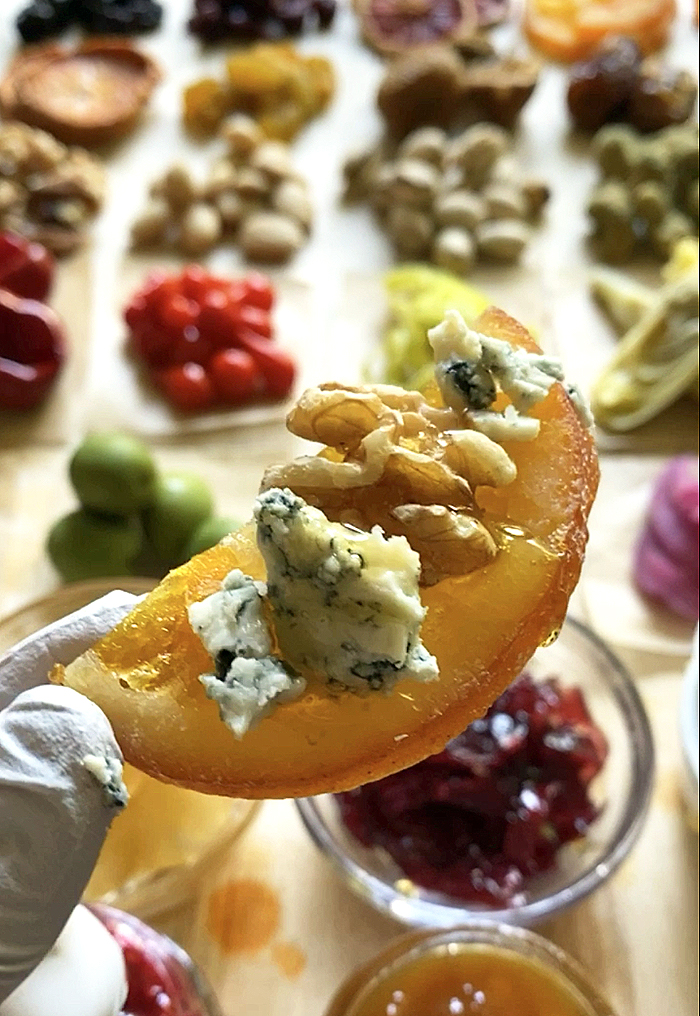 There are so many nuts out there, and we're talking about the actual food. I always have organic raw walnuts and roasted salted Marcona almonds, the large, flat light colored almonds, in my cheeseboard pantry, but do whatever works for you: California roasted almonds, cashews, pecans, more. There is even a time and place for peanuts, honey-roasted, of course.
Like dried fruit, nuts are fine in the dry pantry. However, if you buy in extreme bulk, or keep opened packages for longer than a month, keep nuts in the freezer.
Raw Walnuts. Perfect for everything. I would make a cheeseboard with nothing but raw walnuts. I buy organic raw walnuts because I eat them by the handful for the health benefits, and can toast them myself for a cheeseboard or a recipe. However, you can definitely buy walnuts that are already toasted. Pro-tip: keep all nuts in the freezer; their high (good) fat content will stay fresher longer. Try this: blue cheese like Oregon's Rogue River Blue, with a raw walnut and maybe a drizzle of honey. [pictured directly above]
Roasted Salted Marcona Almonds. I can't live without roasted, salted Marcona almonds, and have at least three bags of them in my Cheese Board pantry at all times. Marcona almonds are a bit more luxurious than regular roasted salted almonds, but if you're going to splurge, better to go big on an $8 bag of Marconas over regular almonds than a $800,000 Ferrari over a Prius. Try this: California's Point Reyes Toma, a dollop of fig jam, and Marcona almond.
Pistachios. I LOVE pistachios and Santa Barbara Pistachio Company produces my favorite pistachios of all-time. If you live in Southern California, you can find them direct from the farm at farmers' markets. Otherwise, they are available at Whole Foods. If you want to include pistachios on a board, make sure to provide a bowl, or indicate a way, to discard the shells, the same as olive pits.
Flavored Nuts. If the cheeses on your board are fairly mild and you don't have a lot of other accompaniments on the cheese board, then spicy, herbal, and sweetened nuts do double duty as flavor and crunch/texture. Because my cheese and charcuterie boards already have a lot of different flavors and textures, I only add flavored nuts for a specific reason, e.g. candied nuts or a brittle on a Dessert Cheese Board, someone asking specifically for homemade lavender-spiced almonds, etc.
PICKLED THINGS for an Epic Cheeseboard
All of the pickled things for cheese and charcuterie boards used to be available in the bulk Olive Bar sections of grocery stores, which made it convenient to buy a little of this and little of that for a one-time cheeseboard. Now that self-serve bars are closed -- hopefully forever to be honest I always thought those places, like cruise ship buffets, were pathogen-spewing saunas -- most of these things can be found either pre-packaged, weighed, and sealed in that same grocery store section, or in jars in the same aisle as jarred olives and pickles.
Most pickled foods are shelf-stable until opened, after which time, keep them in the refrigerator for about two weeks.
Peppadews. These are large, bright red, round peppers that are sweet and a little spicy. I used to eat peppadews straight out of the container with a tiny cocktail fork and they were my all-time favorite until I found...
Sweet Drop Peppers. These are tiny, bright red to reddish orange peppers shaped like tear drops (hence, the name). Like peppadews, Sweet Drop Peppers are sweet, a little spicy, but have a very subtle smokiness/umami to them. Sweet Drop Peppers are not as widely available as the Peppadews, but I have found them in small jars by Les Trois Petits Cochons and DeLallo at some smaller, regional grocery stores. Try this: either a peppadew or sweet drop peppers and a sliver of a slab of extra salty feta cheese.
Artichoke Hearts. Not usual for a standard cheeseboard, but for a board that leans Italian, or has a lot of other Italian antipasto, artichoke hearts are great. They are available marinated in olive oil with herbs and spices, but you can buy artichoke hearts in cans which are much more affordable, and marinate them yourself with olive oil, herbs, and spices that you likely already have at home.
Peperoncini. Like artichoke hearts, great for an Italian-leaning cheeseboard or antipasto board. I like to buy peperoncini whole and slice them lengthwise into quarters, rather than serving them as rings, which you can cut yourself if you need them in that format for a different purpose (like an Antipasto Chopped Salad).
Castelveltrano and Cerignola Olives. These are big, buttery, mild green olives. I will eat any olive placed in front of me, but there are people out there who don't love olives, and Castelveltrano olives are a friendly, non-intrusive olive to have on a cheese and charcuterie board.
Capers and Caperberries. I have never paired capers or caperberries with cheese, nor with any cured meat for that matter, but including them in this list seemed like the right thing to do. Capers and caperberries do, however, have a permanent place on a classic smoked salmon plate.
Cornichons. Cornichons, also called "gherkins," are tiny pickles, which are related to the larger cucumbers, but are different in taste, and well, obviously, they're pickled. Cornichons are best when paired with cured meats in addition to cheese. Try this: slice of any saucisson sec (dried sausage) with a dollop of seeded mustard and a cornichon.
Pickled Red Onions. I don't know a single thing, cheese or otherwise, that doesn't improve with a little sliver of hot pink pickled onion. I have never seen pickled onions sold in a store except for tiny white cocktail onions, for martinis, so make your own pickled onions. After you make them once, you will make them once a week for everything. Here's the easiest, most perfect Pickled Onions recipe ever.
Purple/Black Olives. Olives are separated by color on my boards because it's me and I like things separated by color. For a cheese and charcuterie board, any oil-cured, marinated black or purple olive is great. If you want to keep things very very tidy, you can crush the olives and remove the pits, then marinate them with garlic, citrus, herbs and spices in some olive oil for a perfect between-cheeser.
SWEET FRUIT JAMS and SPREADS for an Epic Cheeseboard
Any sweet jam, jelly, preserves, chutney, compote or type of fruit spread will work on a cheeseboard, except maybe your kid's Smuckers Concord grape jelly. Then again, I've never actually tried Smuckers Concord grape jelly with cheese, so who knows, it could be a great (grape? ugh) discovery! (To be fair, I actually do not like grape-flavored anything except wine, and well, actual grapes.)
For a handy visual reference on the different types of fruit spreads (preserves, jam, jelly, marmalade, compote, conserve, chutney, and even more), check out this visual reference from Cook's Country.
Sour Cherry Spread. Sour cherry spread is my new fav new alternative to the usual fig jam in the small, oval jars, made by the same companies, Dalmatia and Divina. In the summer, put fresh cherries on your board. In every other season, put either dried tart cherries or Sour Cherry Spread.
Raspberry or other Red Berry Jam. This is something super easy to make with fresh raspberries or strawberries that are about to go bad. Just throw the berries and a seeded sliced jalapeno pepper in a small, heavy-bottomed pot with some sugar and a few tablespoons of water, bring to a boil, then simmer until all the raspberries have broken down. Allow it to cool, then refrigerate. This method makes a refrigerator/freezer jam (as opposed to a "canned" jam), so it won't keep for more than a week in the frig. Whatever you don't serve on your cheeseboard, throw in the freezer where it will keep for a couple of months.
Membrillo (quince paste) or guava paste. Quince are fruit that look like a cross between an apple and a pear, and has a fragrance that can be described similarly. I have never tasted quince fresh, only as membrillo, which is a fruit spread that is so thick, you can slice it into cubes or thin slabs. I have this brand in my frig right now. If you have access to fresh quince, you can definitely make your own membrillo. Try this: aged Manchego and a sliver of membrillo on a fig & olive Raincoast Crisp (the dark, super seedy, nutty crackers).
Marmalade. Orange and other citrus marmalade doesn't appear on the above board because I didn't have any at the time because marmalade is not a frequent guest on my boards. I usually stick with the dried/candied or dehydrated citrus crisps for cheese boards, and leave the marmalade to the great aunts' afternoon tea and scones.
Apple Pear Mostarda. Is made with fruit, but also mustard, so it can be considered savory, but it's included here because it is. Mostarda is essentially whole or large pieces of fruit that are candied all the way through, and then made savory with the addition of mustard oil/essence. Traditional methods of making it require quite a bit of patience because the fruit goes through several cycles of simmering in syrup and overnight or multi-day marinating. You can kind of "cheat" and make a quick version with this recipe.
Mango Chutney. This doesn't appear in the above visual guide, and to be honest, I don't know that I've ever actually added mango chutney on one of my own boards, BUT including it in this comprehensive list is the right thing to do, especially if you are serving cheese and wine that have a tropical vibe.
Fig Jam. The one that everyone knows in the small, rounded jar costs about $8 at any grocery store (this challenger brand is pretty good, too). However, you can also MAKE fig jam if you have dried figs. But if you have dried figs, why wouldn't you just throw a handful of dried figs on the board? One tip: if you have fig jam, you probably don't need to also have a fig/almond cake (pan de higo), and dried figs, and fresh figs.
Blueberry Compote. Blueberry compote makes me think of pancakes at IHOP, but somehow, it has made its way onto a cheeseboard, mostly because it pairs well with goat cheese. Try this: Vermont Creamery goat's milk 'Bonne Bouche' with Blueberry Compote, which even match a little in color!
HONEY for an Epic Cheeseboard
Originally, honey and honeycomb were part of "Sweet Spreads" above, but honey is just so special, and obviously not made with fruit, so it gets its own section. You could write an entire dissertation about the different types of honey based on the flower, how the honey is produced (collected from wild honeybee colonies vs domestic hives), whether the honey is raw or pasteurized and more, but I stick to simply categorizing honey into two types: just straight-up golden, clear honey and honeycomb.
Keep honey in glass containers, ideally the one in which you bought it, with a tightly sealing lid. Honey does not have to be refrigerated, even after opening. Just keep it away from heat and light. The pantry is perfect.
Honey. I like bright, light-colored, acacia honey, which has a "light" honey taste and mostly adds sweetness to cheese bites. There are very dark honeys with strong honey flavor and white "creamy" types out there as well. Choose whatever you like, and when you can, buy honey from a local producer to you.
Honeycomb. I will probably get expelled from cheeseboarding school for this, but while honeycomb on a board is visually cool and aesthetic and interesting, and the slightly chewy wax of the actual honeycomb is 100% completely, fully, totally edible, I am a little weirded out about eating it myself. I have tried honeycomb many times, and chewy textures obviously don't bother me at all (what else is dried fruit), but something about eating the bees' house makes me feel Idon'tknowmaybesad. I know there's nothing wrong with it and though I will judge you on MANY things, I do not judge anyone for eating honeycomb. When I do put honeycomb on a board for other people, this is the one I use. One note of caution: it is better to buy honeycomb at the grocery store as opposed to online; the honeycomb itself can get damaged during shipping.
Flavored Honey. If you already have a lot of other "flavors" on your cheeseboard, make sure you have a plain honey before you add any flavored honeys. When you serve a flavored honey on the board, use a garnish that indicates what the flavor is, especially if it's a "hot honey" like this very popular brand.
SAVORY JAMS and SPREADS for an Epic Cheeseboard
Mustard. I used to think mustard on a cheese and charcuterie board was for the cured meats, but with the right kind of cheese, mustard can cut through fat and really bring out and complement flavors. There are so many different kinds of mustard, and even more when you include mustard flavored with herbs, spices, and sweeteners. For a cheeseboard, I like to keep mustard fairly simple, eschewing flavored versions like honey mustard since it's likely there will already be honey on the board. A smooth Dijon mustard works on a board by itself, and of course, if there's honey on the board, you can basically mix your own "honey mustard." Try this: slice of aged Gruyere and a tiny dollop of Dijon mustard, and if there's honey on the board, a drizzle
Seeded Mustard. Up until a few years ago, I didn't eat whole seed mustard because I have no idea why, but I am now OBSESSED and will put whole seed mustard on any- and everything, and have been known to just straight up scoop it up out of the jar with, yes you're about to read right, a kettle chip. As above, I wasn't sure how to use whole seed mustard with cheese but it works really well with aged, harder cheeses. Try this: extra aged gouda like Beemster XO and a cocktail spoonful of whole seed mustard (this brand is my current fave).
Rosé Caramelized Onion Jam. Technically, Rosé Caramelized Onion Jam isn't wholly "savory," as caramelized onions are naturally sweet and there is added sugar in the recipe. However, the jam is made with onions which I consider savory, so here we are. I have seen some caramelized onion and "French onion" jams in stores, but this recipe adds a splash of rosé wine for fun. For something a little more extra, you can try this Bacon Onion Jam recipe. Try this: a wedge of Cowgirl Creamery triple cream Mt. Tam or other Brie-type cheese with caramelized onion jam. [pictured above]
TOOLS and EQUIPMENT for your CHEESEBOARD PANTRY