Chia Seed Jam is a naturally sweet, dramatically delicious way to get more fruit and chia seeds into your life, both of which are absolutely packed with health benefits. With only a few whole super food ingredients and a couple of active steps, this Chia Seed Jam is super easy to make in under 10 minutes! Shall we?
This Chia Seed Jam recipe is:
refined sugar-free
dairy-free
gluten-free
100% plant-based, suitable for vegans
100% vegetarian
keto- and paleo-adaptable
Jump to:
What is Chia Seed Jam?
Chia Seed Jam is a spreadable fruit jam, but instead of a ton of sugar and a long cooking time to reduce it down to a thick, sticky, jam-like consistency, it uses chia seeds! Chia seeds form a natural "gel" when they hit liquid, which is why you see them as chia seed pudding.
Because it relies on natural thickeners and sweeteners, Chia Seed Jam is a little thinner than regular sugar-laden jams and jellies, and much less sweet. Perfect if more fruit and less sugar is ... um... your "jam." (Sorry, had to.)
What Ingredients You Need for Chia Jam
Berries—blackberries, blueberries, raspberries, and strawberries all work well here!
Chia seeds
Lemon juice
Maple syrup
A pinch of salt is optional, and I always add it because salt somehow makes sweet things taste sweeter without, obviously, adding any additional sugar.
What Kind of Berries are Best for Chia Jam?
For this Chia Seed Jam, you can use any berry—blackberries, blueberries, raspberries or strawberries—whichever is most convenient for you. And you can use either fresh or frozen berries; I have made this jam perfectly with both fresh and frozen of all the berries!
As far as the "best" berry, it truly depends on your personal taste preference, and perhaps a little bit on your health concerns and goals. Here are some considerations:
Blackberries. Make the Chia Seed Jam with blackberries if you're in it for the highest antioxidant bang for your buck! All red and dark blue and purple berries are full of anthocyanins, the antioxidant that gives them their color, and blackberries have some of the highest concentration, with the least amount of sugar.
Blueberries. Of all the berries that you can easily find in a regular grocery store, blueberries actually have the highest concentration of antioxidants, even more than blackberries! But blueberries are also higher in natural sugar content, so if you're going for a little more natural sweetness, go with blueberries. Incidentally, wild blueberries, which are usually found frozen, are more antioxidant rich than their cultivated cousins.
Raspberries. Make Raspberry Chia Seed Jam for the highest fiber and personally, flavor. My personal favorite flavor for Chia Seed Jam is raspberry, which is seems contradictory because raspberries are my least favorite berry to eat when fresh. I love the flavor of raspberries, but I don't like the texture. They are too soft, don't have enough acid, and generally just don't taste "refreshing" the way other fruits do, so I generally eat raspberries out of obligation. But with the addition of tart lemon juice, I love Raspberry Chia Jam as the best way to get raspberries into my life. As far as health content, raspberries have a whopping 8 grams of fiber per cup, more than the other berries in this list.
Strawberries. Strawberries are usually the most available and affordable of all the berries on this list, and luckily, they are also the highest concentration of vitamin C, providing 94% of the recommended daily value of vitamin C per cup! (source: USDA)
Additional Ingredients Notes and Resources
Chia Seeds. You can find chia seeds in a regular grocery store in a few places because chia seeds can be used in a number of different ways. Chia seeds can be found in:
rice/grains aisle
nuts/seeds/dried fruit section
vitamins/supplements aisle.
This lifestyle goes through a lot of chia seeds, so I get mine in bulk from Costco. This is the organic brand I currently have in my pantry.
Maple Syrup. You can use any maple syrup, but a lighter colored maple syrup, usually labeled "amber" or "golden" will keep the jam a bright color. I use this brand of organic maple syrup.
Lemon Juice. Lemon juice adds a little bit of tartness to the jam, and keeps the jam bright. Raspberries are naturally a little tart, so you can skip the lemon juice. If you use a different berry like blueberries, that doesn't have as much acid, you will definitely need lemon juice for balance.
Salt. Using a pinch of salt in something sweet highlights the sweetness so you can use a little less sweetener! I use this brand of salt for everything.
Instructions for How to Make Chia Seed Jam
This Chia Seed Jam is so easy it's almost embarrassing to post a recipe, but here's the high level breakdown of how to do it!
Break down berries
Stir in chia seeds, lemon juice, maple syrup, and pinch of salt
Let the chia seeds "gel"
Very thoroughly wash berries and remove any stems and leaves. If using strawberries that are particularly large, roughly chops them into smaller, uniform pieces.
Place fruit in saucepan over medium heat, making sure to keep an eye on it and stirring so the fruit doesn't burn. Cook 5 to 10 minutes, mashing the berries with the back of your stirring spoon or a vegetable masher.
Remove cooked berries from heat. You can leave the berries in the pot or remove to a separate bowl to cool faster. Stir in maple syrup and lemon juice. Taste and add more maple syrup or lemon juice as needed, since berries have different levels of sweetness. Stir in chia seeds, then let "gel" for 10 minutes.
Allow jam to cool before transferring to glass jars for storage.
That's it! Once the chia seeds do their job, the Chia Seed Jam is ready to enjoy!
Substitutions and Variations
Fresh vs Frozen Berries. Both fresh and frozen berries work perfectly for Chia Seed Jam especially if you choose not to cook down the berries since freezing always "breaks down" the natural structures of the fruit. Use the same quantity of frozen berries as fresh.
Different Types of Berries. You can absolutely use all different types of berries—blackberries, blueberries, boysenberries, strawberries—for Chia Seed Jam! Use this recipe as a template and simply substitute any berry or even combination of berries, in an equal amount. The one caveat is that the final texture and sweetness may vary slightly because some berries have less natural pectin and less natural sugar than raspberries. Add more chia seeds ½ teaspoon at a time to get the texture you want.
Honey or other sweetener instead of maple syrup. I use maple syrup in this recipe to keep it 100% plant-based and suitable for vegans. If you prefer honey or any other sweetener, make the substitution!
Lime juice instead of lemon juice. Lime juice in the equal amount as this recipe is a GREAT variation from lemon juice, especially with the blueberries and blackberries!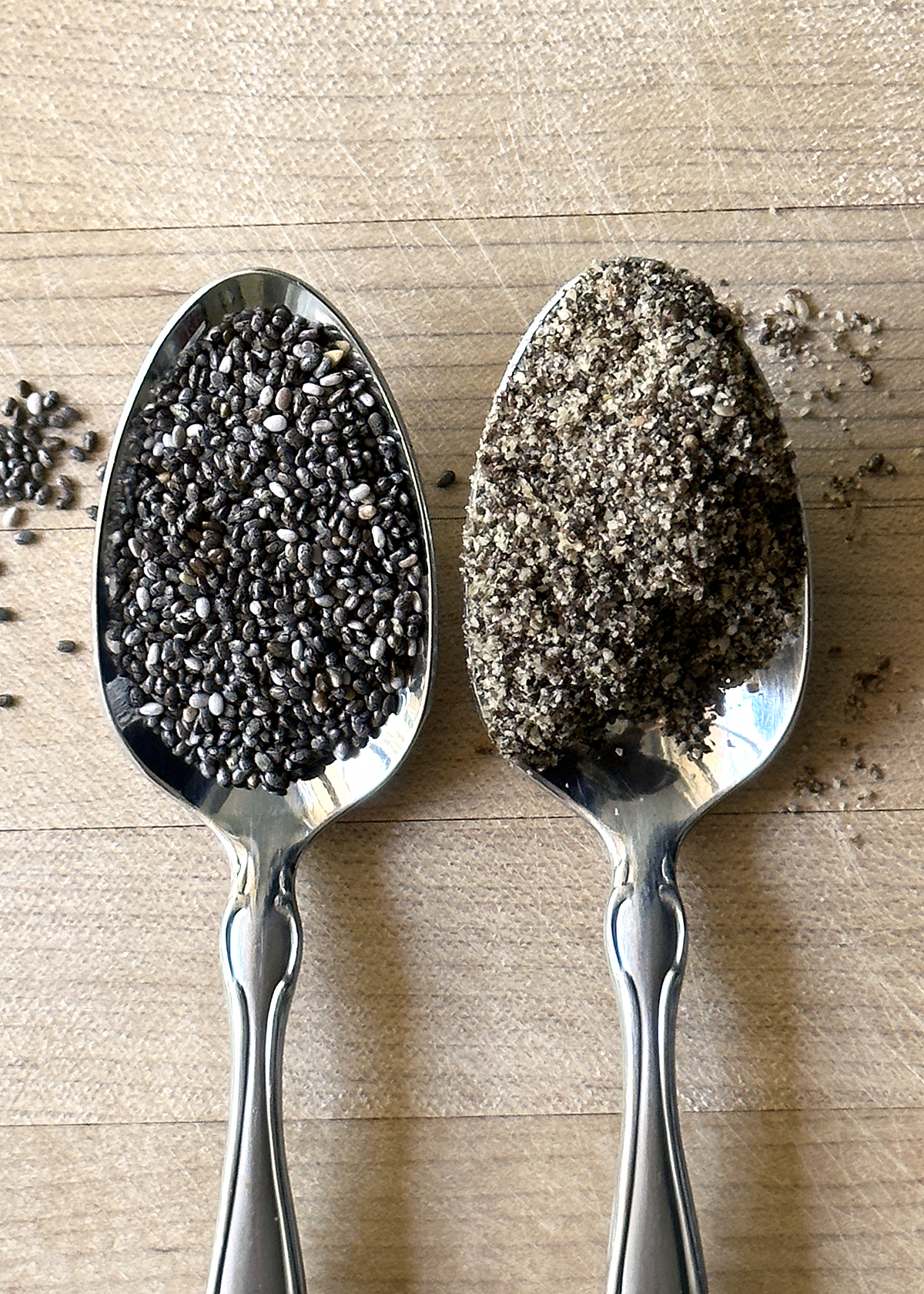 Pro Tips and Techniques
Smoother texture: For a smoother texture, blend or grind your chia seeds! You can do this directly to the chia seeds before you add chia seed powder to the berries, or just throw all the ingredients together into a high power blender and blend from there. The jam will still have a little bit of texture. Raspberries themselves have small seeds as well, so if you really do want to a smoother texture, blend the raspberries, too.
No-cook Chia Seed Jam. You can skip the cooking step entirely and make this a No-Cook Chia Seed Jam. Simply blend or process the fresh berries, then add the chia seeds to gel. The jam will be "looser" than a cooked version because you won't be cooking off any of the juice from the fresh berries, but it'll still taste great fresh.
Tools and Equipment
As I always say, you don't need any special equipment to make almost any recipe. However, that's not to say there are a couple of gadgets and tools that might make it even easier to get Chia Seed Jam from farmstand to fridge!
Small colander to rinse berries
Fruit and vegetable wash
Heavy bottom pot
Citrus juicer for lemons
Mason jar lids
** Pro-tip: Save all the small glass jars after you finish condiments, pickles, olives etc. They are perfect for saving and storing Chia Seed Jams!
Storage
Chia Seed Jam will last in an airtight container in the refrigerator for one week.
You can also freeze Chia Seed Jam in a freezer-safe storage container for up to 6 months, taking care to protect the jam from freezer burn.
How to Use Chia Seed Jam
Chia Seed Jam is going to taste pretty amazing right out of the jar with a spoon! That given, use Chia Seed Jam how you would use any fruit jam, jelly, or preserves. Here are some more great ways to use it:
spread Chia Seed Jam onto (very dark!) toast with Whipped Ricotta
dollop onto fluffy pancakes or crisp waffles to add texture and a nutrition boost!
sandwich Chia Seed Jam between two slices of bread along with your favorite nut butter for an alt PB&J
drizzle Chia Seed Jam over a bowl or oatmeal
swirl Chia Seed Jam into yogurt
serve Chia Seed Jam on a Cheese and Charcuterie Board — obviously my favorite way to use it.
FAQ
Can you make Chia Seed Jam without cooking?
Yes you can make a no-cook Chia Jam! Simply blend or food process fresh berries, then stir in the remaining ingredients. The jam will be slightly looser because the liquid from the fruit and sweetener will remain rather than evaporate via cooking. However, the Raspberry Chia Jam still tastes great. You can also add an additional teaspoon or two of chia seeds to thicken the jam.
What if I don't like the seeds in jam?
If you don't like the texture of seeds, you can run the whole chia seeds through a high power blender to make them into a finer powder. After stirring into the raspberries, you can blend the entire jam again to break up the seeds even further, including the raspberry seeds. Just be aware that Chia Jam will always have a slight texture versus a traditional jam made with only fruit and sugar.
Can I use different fruit for Chia Seed Jam?
Yes, you can use different fruit other than berries for Jam! Though some fruits may be better suited for Chia Jam because of their water content, structure, sweetness, and natural pectin levels. Stone fruits like apricots, cherries, nectarines, peaches and plums are great for Chia Jams. You can also try kiwi (which is actually a berry anyway).
What fruit should not be used for Chia Seed Jam?
Fruits that might not be great candidates for Chia Jam are any that have very high water content, simply because the chia seeds will not have enough gelling power by themselves to make a jam-like texture. For example, watermelon might not make a great chia seed jam. However, adding chia seeds to a Watermelon Agua Fresca is a great idea!
More Deliciously Healthy Recipes to Try:
If you're here for sweet and savory-sweet condiments, try these:
If you're here for that happy healthy boost from chia seeds and other "super seeds":
Print Recipe
Chia Seed Jam Recipe
The fastest and easiest way to get that subtly sweet tart flavor of a berry jam without any refined sugar and a huge nutritional boost from chia seeds is this Chia Seed Jam.
Makes about 1½ cups
Ingredients
2

cups

any kind of berries, e.g. blackberries, blueberries, raspberries, strawberries

washed and prepped

1-2

tablespoons

maple syrup

1-4

tablespoons

lemon juice

2

tablespoons

chia seeds

pinch

sea salt
Instructions
Place 2 cups of berries or other fruit in saucepan over medium heat, making sure to keep an eye on it and stirring so the fruit doesn't burn. Cook 5 to 10 minutes, mashing the berries with the back of your stirring spoon or a potato masher.

Remove cooked berries from heat. You can leave the berries in the pot. Stir in 1 tablespoon each of maple syrup and lemon juice. Taste and add more maple syrup or lemon juice as needed, since berries have different levels of sweetness.

Stir in chia seeds, then let it sit to "gel" for 10 minutes. Allow Chia Seed Jam to cool before transferring to glass jars for storage.
Nutrition