Adding cocoa powder to chia seed pudding makes breakfast a little more indulgent, or adding chia seeds to chocolate pudding makes dessert a little healthier. You decide! Shall we?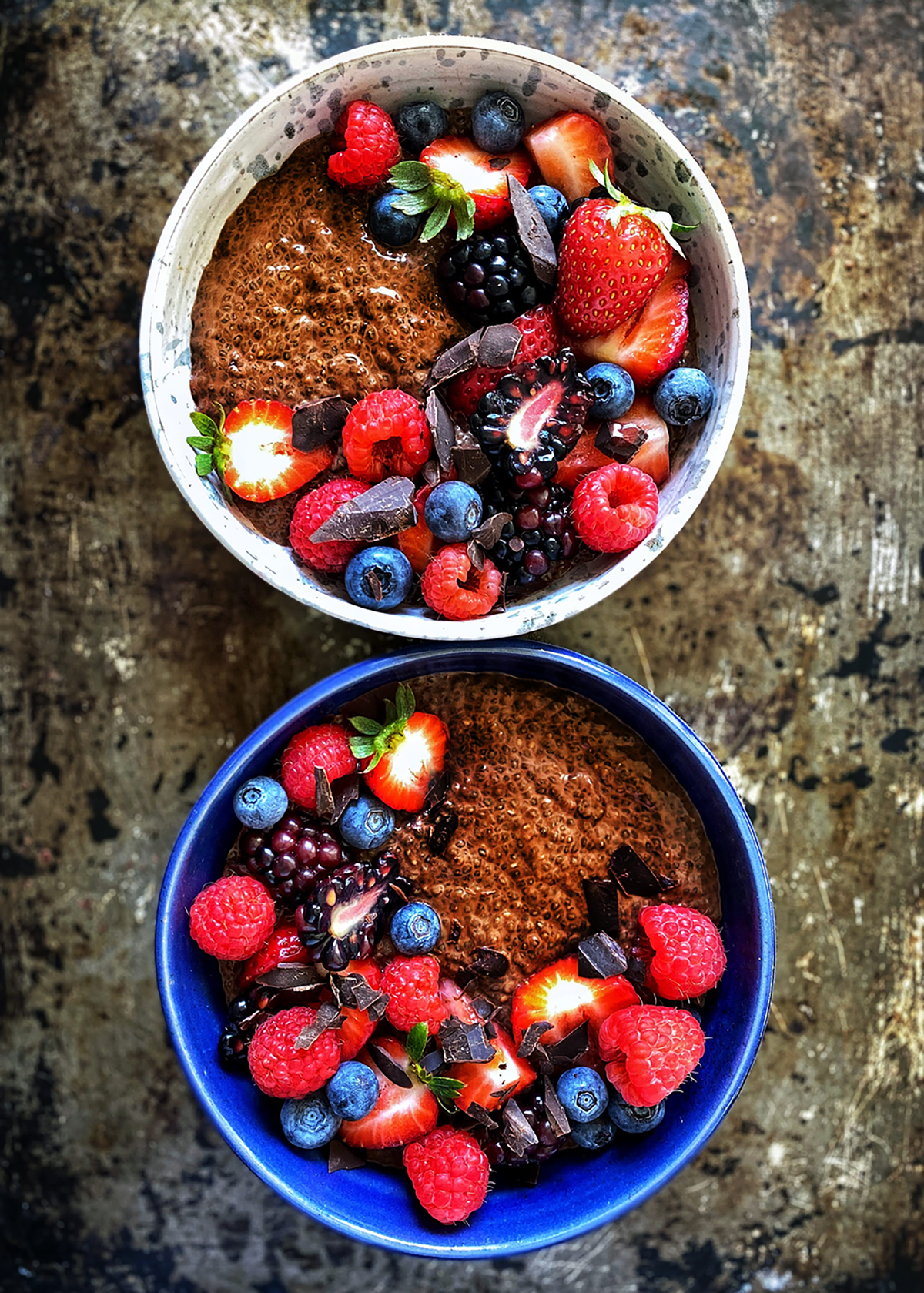 Jump to: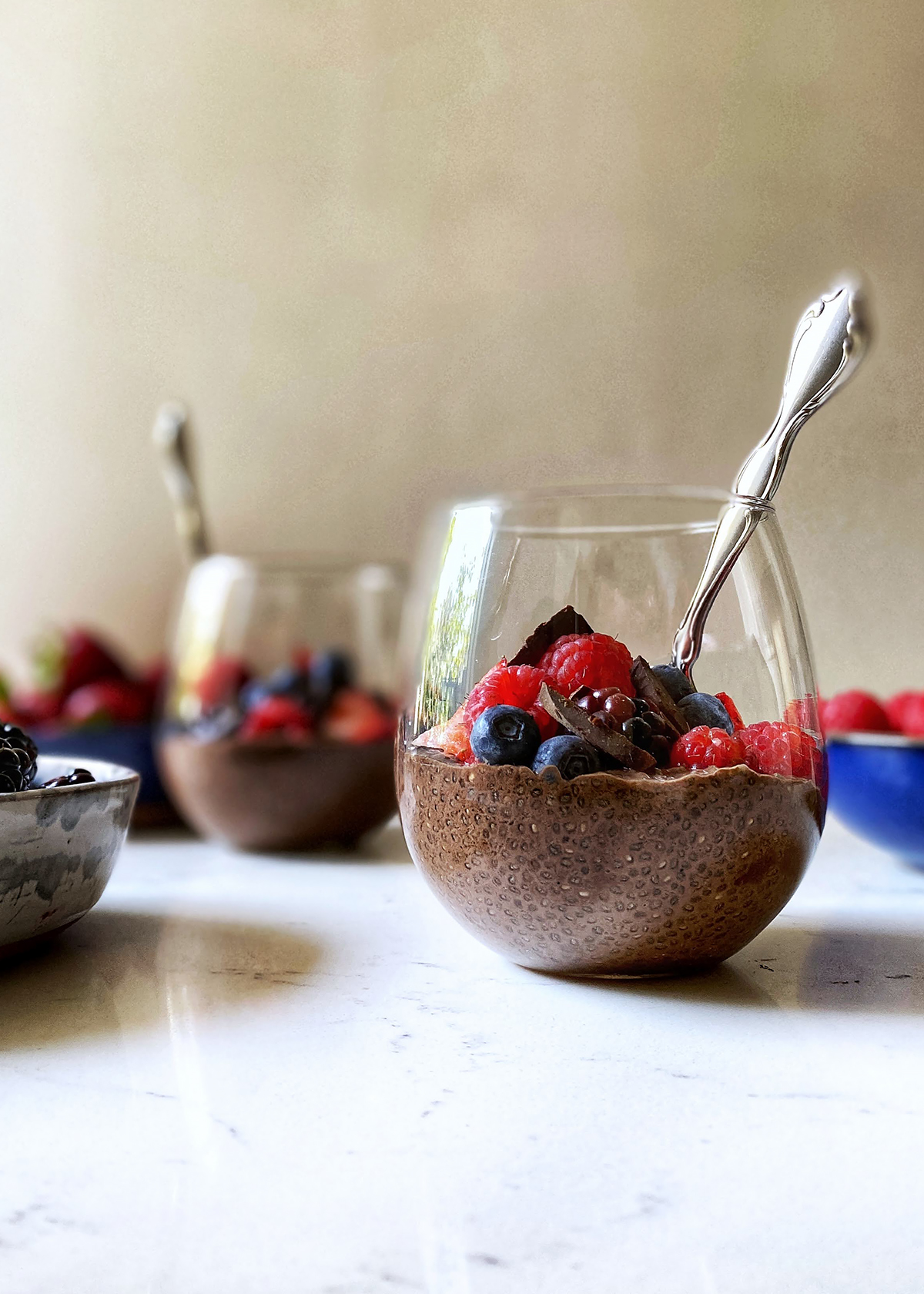 What is Chocolate Chia Seed Pudding
Chocolate Chia Seed Pudding is exactly what it sounds like. You take your usual chia seed pudding made with your favorite alternative milk, then add unsweetened cocoa powder for both the flavor and antioxidant boost that comes from cacao.
Most people eat Chia Seed Pudding as breakfast, sometimes a snack. However, adding the chocolate takes Chia Seed Pudding to the dessert category. Make no mistake though. Even though it looks like dessert, this recipe for Chocolate Chia Seed Pudding has no refined sugar.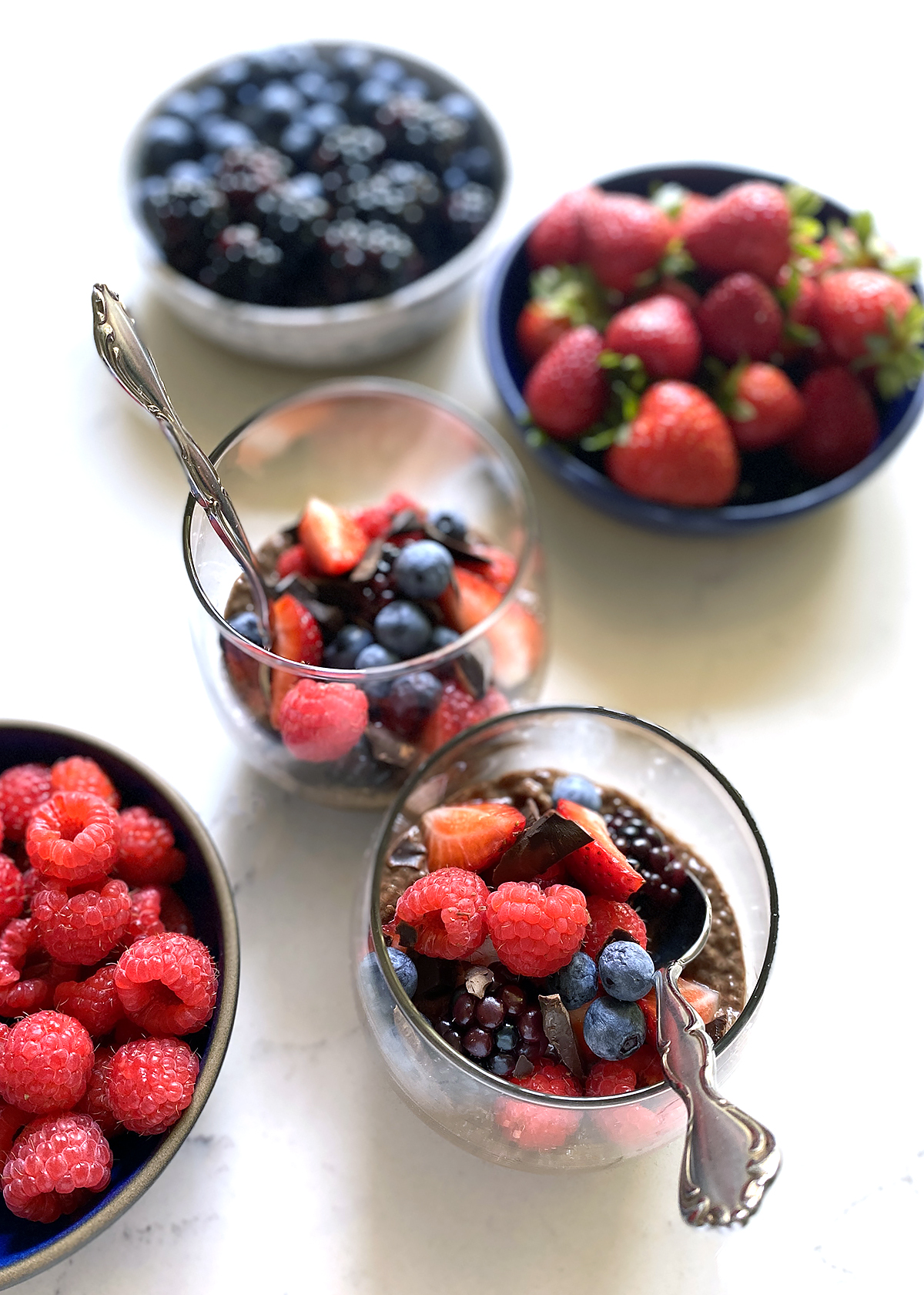 Health Benefits and Dietary Considerations of Chocolate Chia Seed Pudding
The health benefits of Chocolate Chia Seed Pudding come not only from the fiber- and omega3-rich chia seeds, but the antioxidant in the cocoa!
One 1-ounce serving of chia seeds, which is about two tablespoons of dry chia seeds, provides:
10 grams of fiber
5 grams of protein
4.2 grams of plant-based omega-3 fatty acids
This recipe for Chocolate Chia Seed Pudding is:
100% plant-based / vegan
vegetarian
dairy-free
gluten-free
refined sugar free
keto-, paleo-, and Whole30 friendly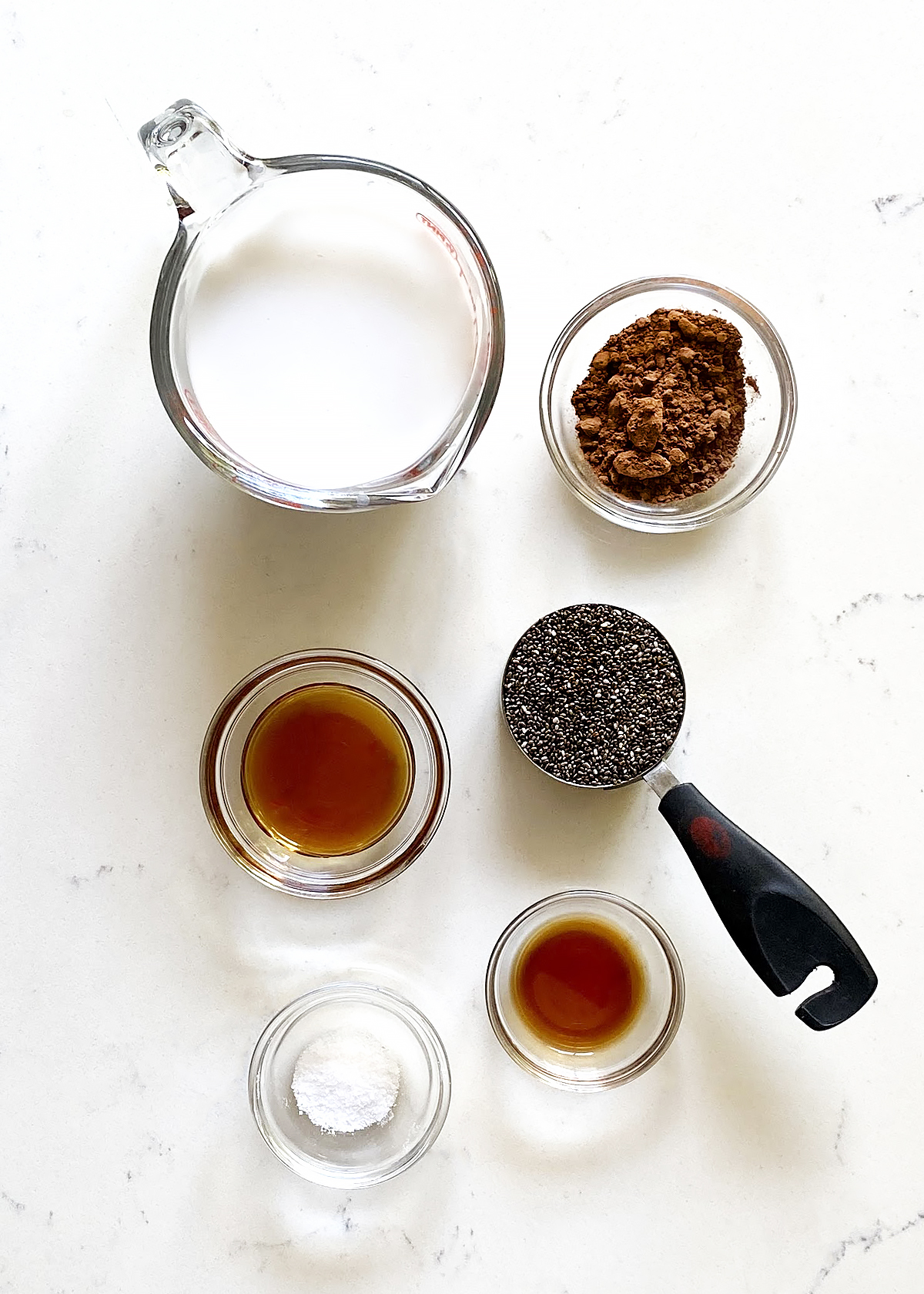 What Ingredients You Need for Chocolate Chia Seed Pudding
Chia seeds

Cocoa powder

Coconut or alternative milk
Maple syrup
Vanilla
Sea salt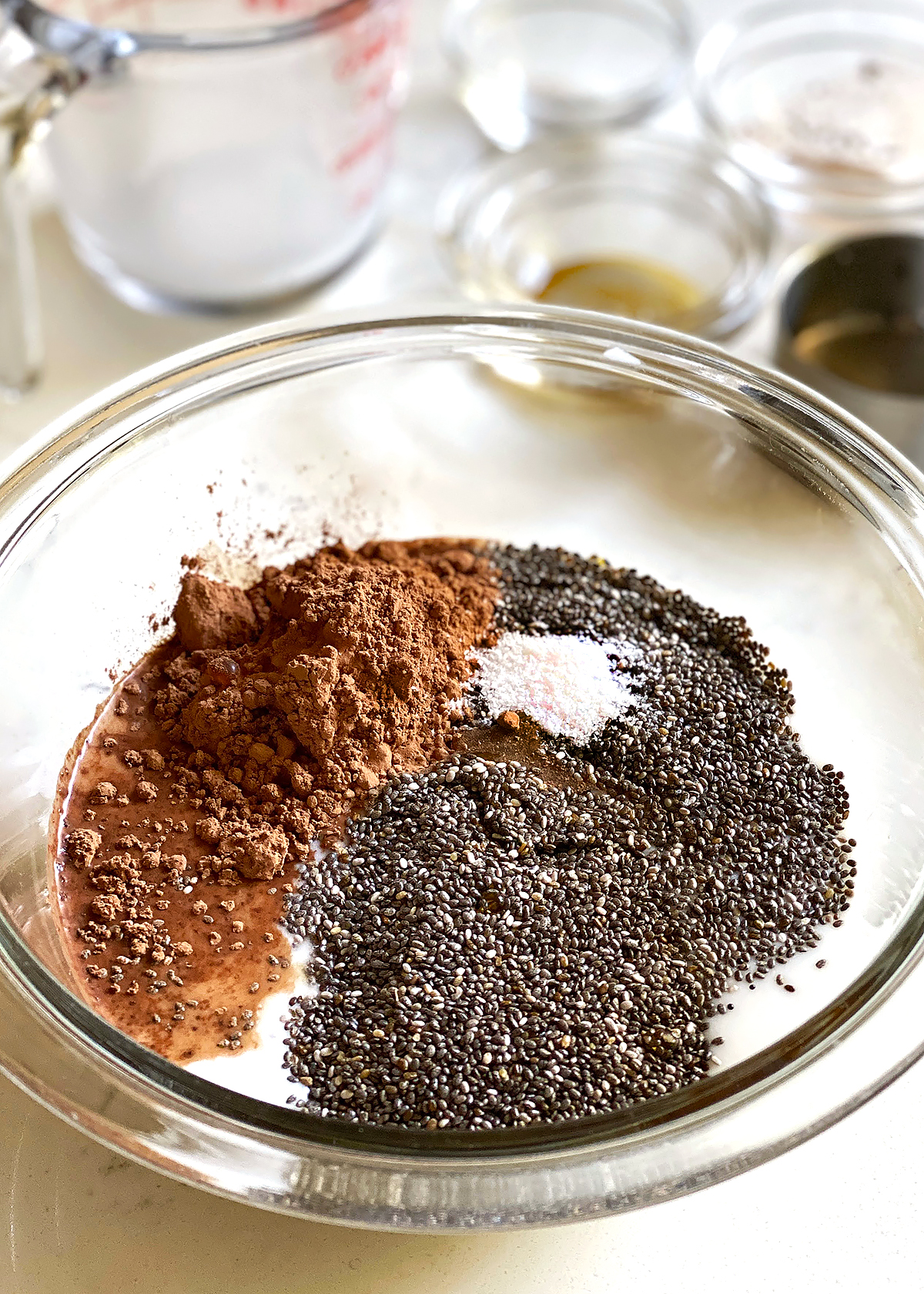 Ingredients Notes and Resources
Chia Seeds. There are a few colors of chia seeds. Black chia seeds are the most widely available. You can find organic black chia seeds as Costco!
Cocoa Powder. For this Chocolate Chia Pudding and any and all other chocolate products that come out of my kitchen, I use organic, unsweetened natural cocoa powder. Make sure it's cOcOA powder, not cAcAO powder. Both cocoa powder and cacao powder come from the cacao plant, but cocoa powder is made from beans roasted at a higher temperature so it's a little more palatable. Cacao powder is made from beans roasted at a lower temperature, so it's more bitter, but retains more of the nutritional content. Cocoa powder usually costs less than cacao powder.
Coconut Milk. Coconut milk comes in a wide variety of formats. Use a plain, unsweetened coconut milk or other alternative plant-based milk that fits into your health and dietary needs. The coconut milk we use in this recipe is sold in shelf-stable 32-ounce boxes, not the full-fat coconut milk that's partially solid and sold in cans.
Maple Syrup: A little bit of maple syrup adds that extra boost of sweetness. I use this organic maple syrup that is amber in color and more robust in flavor than lighter colored maple syrups. You can substitute with honey, though the recipe will no longer be vegan.
Vanilla. You really do need a drop or two of vanilla in the recipe to bring out the "chocolate." I use this organic brand of pure vanilla extract. Don't use imitation vanilla flavoring.
Salt. Adding salt to sweet dishes isn't meant to make them taste salty. Salt not only brings out the natural sweetness of other ingredients, it balances the sweetness, too.
Instructions for How to Make Chocolate Chia Seed Pudding
Chocolate Chia Pudding requires nothing more to do than mixing all the ingredients together.
The most "difficult" step of making Chocolate Chia Pudding is waiting for it to "gel."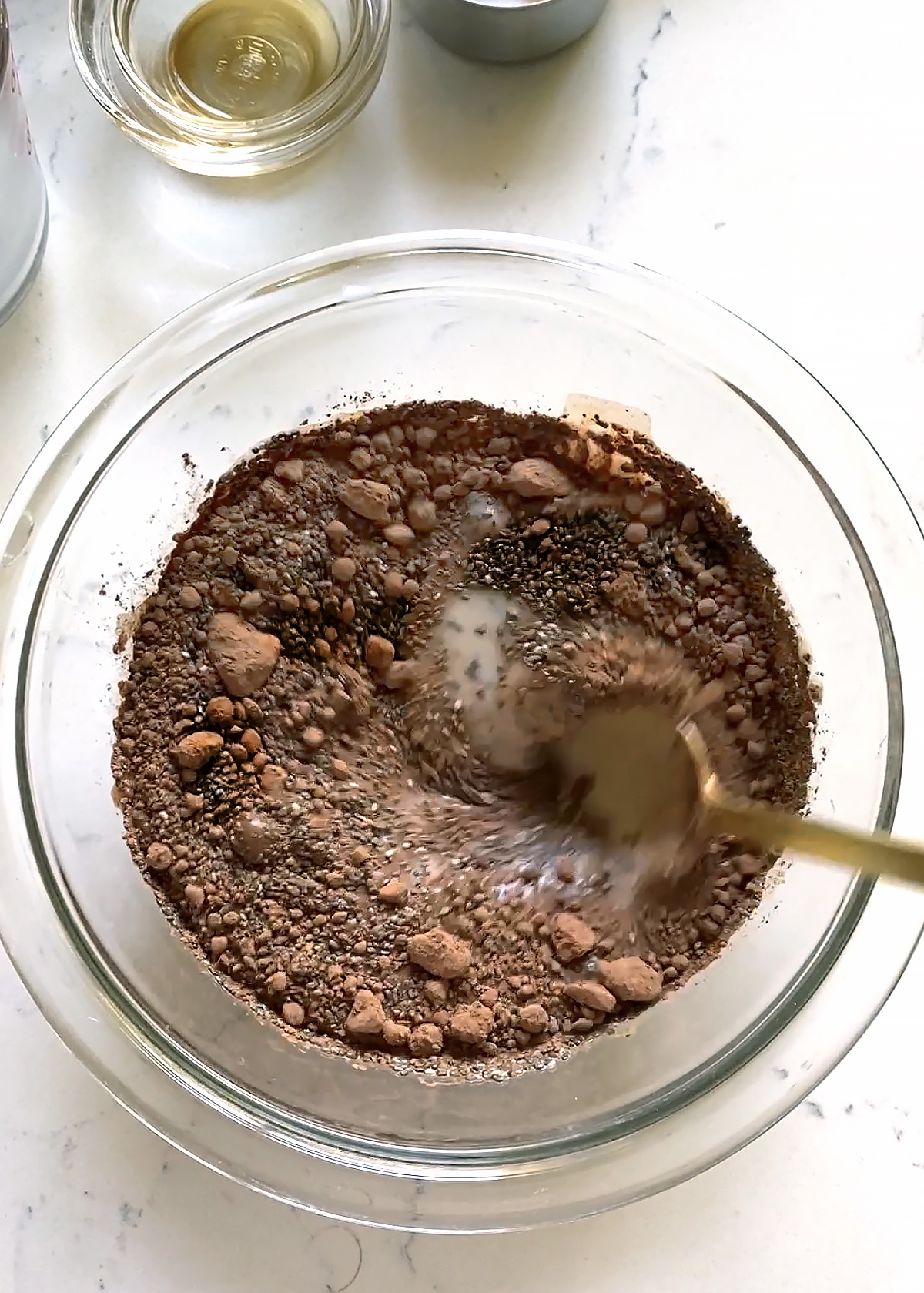 Vigorously whisk or stir together all of the ingredients together in a bowl, jar, or container that has a tight-fitting lid or that you can cover with plastic wrap.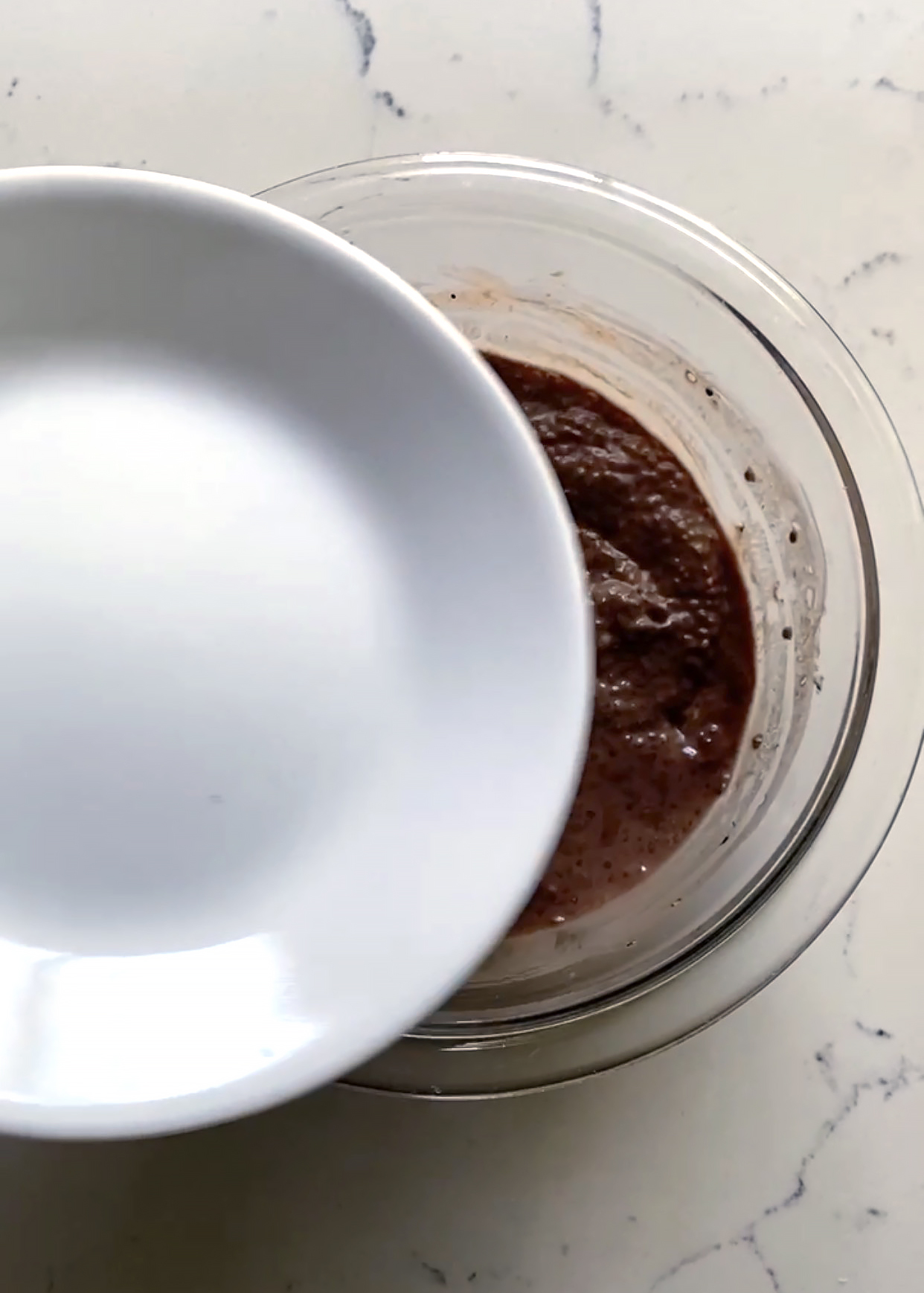 Place the covered container(s) of Chocolate Chia Pudding in the refrigerator for 1-2 hours, up to overnight.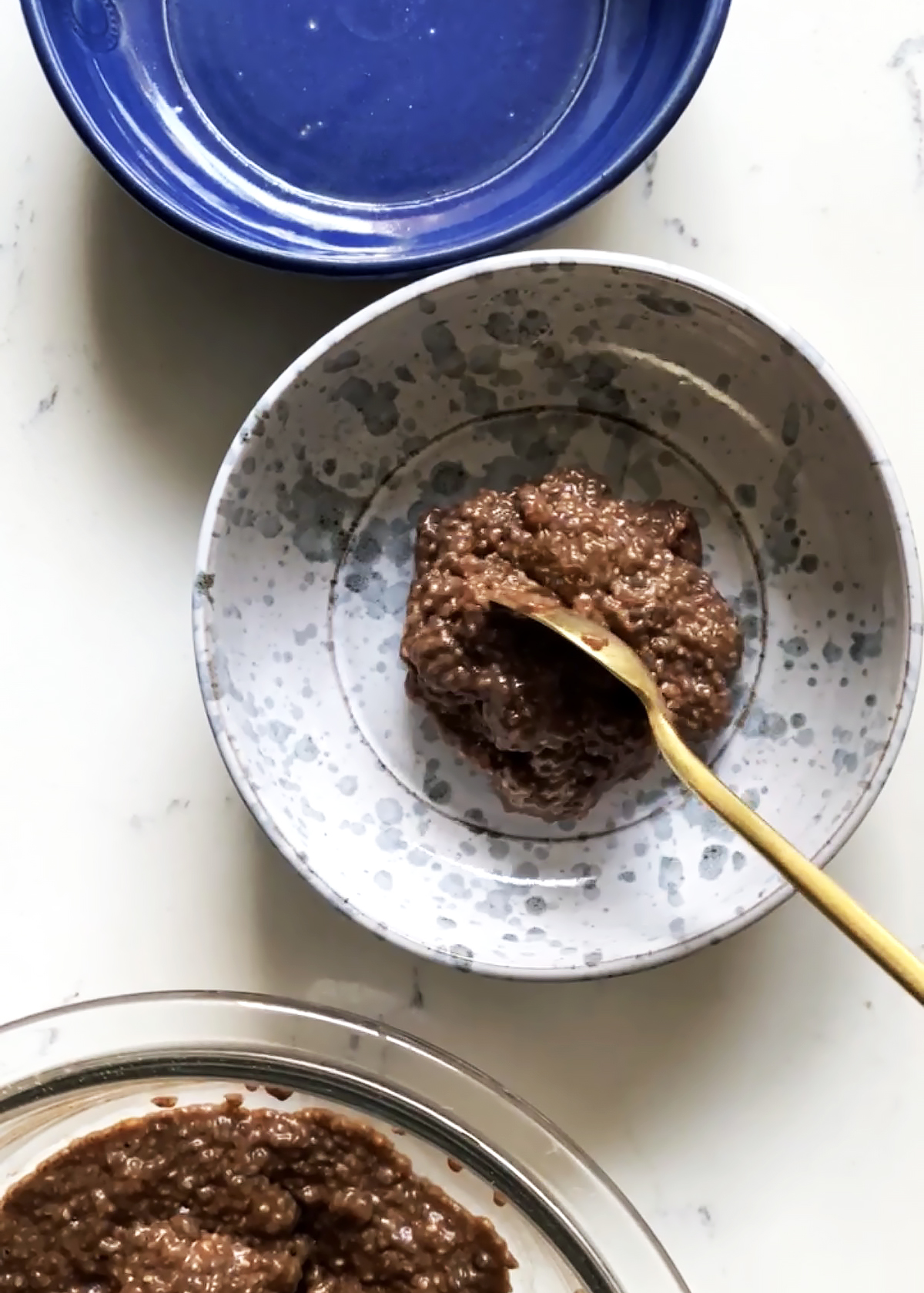 Portion about ½-¾ cup of Chocolate Chia Pudding—depending on how much liquid you added—into serving bowl or cup.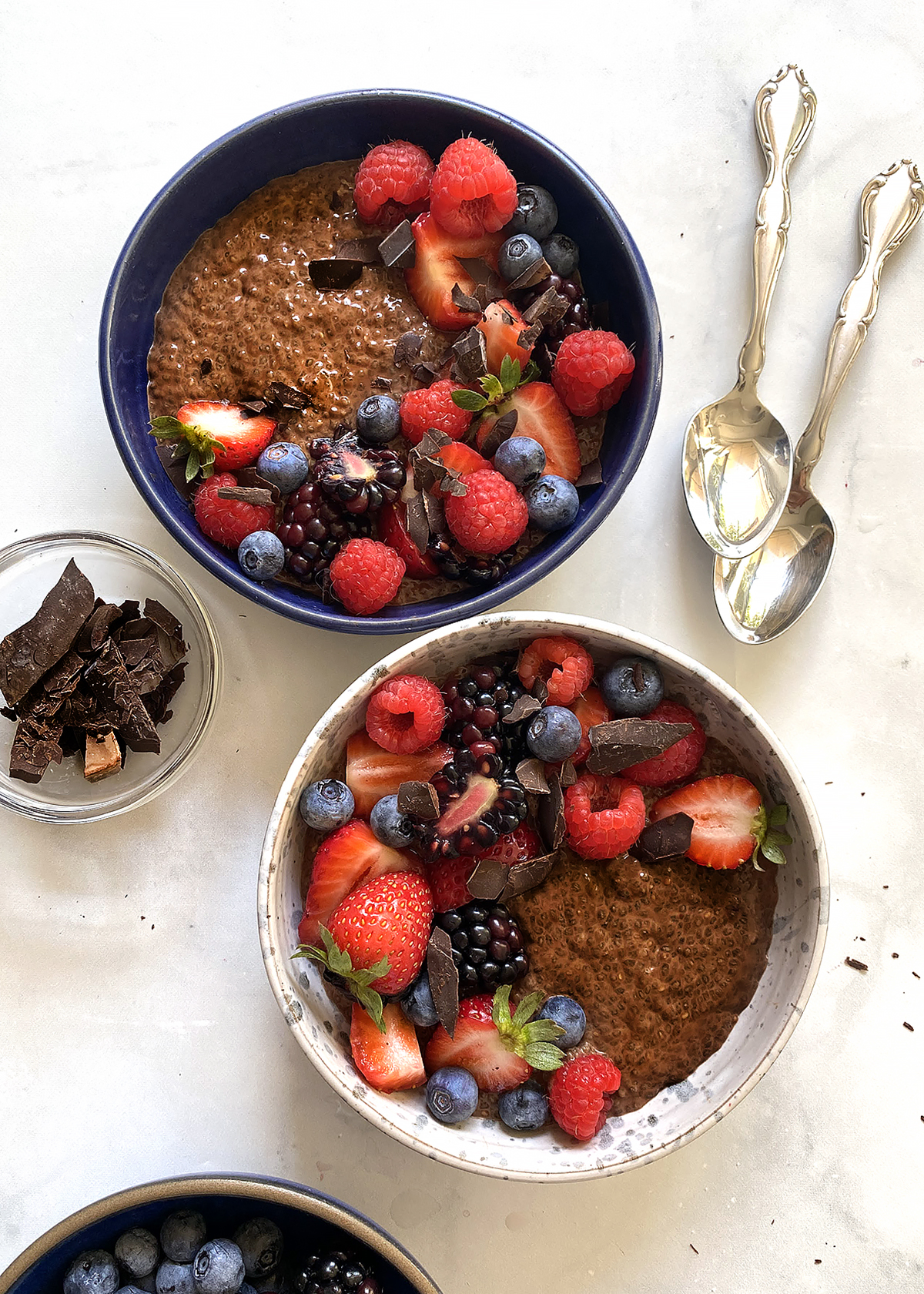 Top with fresh fruit, chocolate curls, and nuts, and enjoy!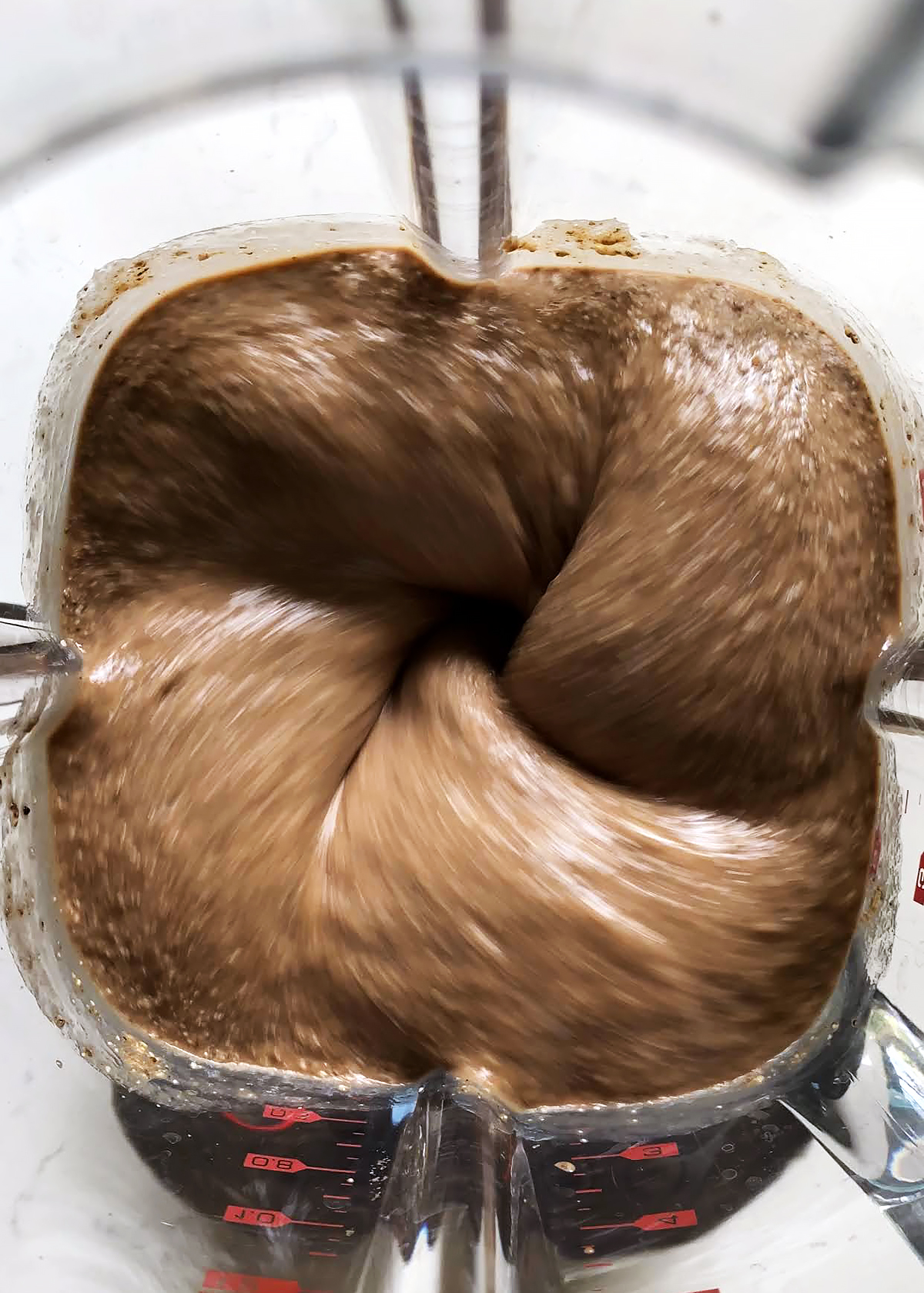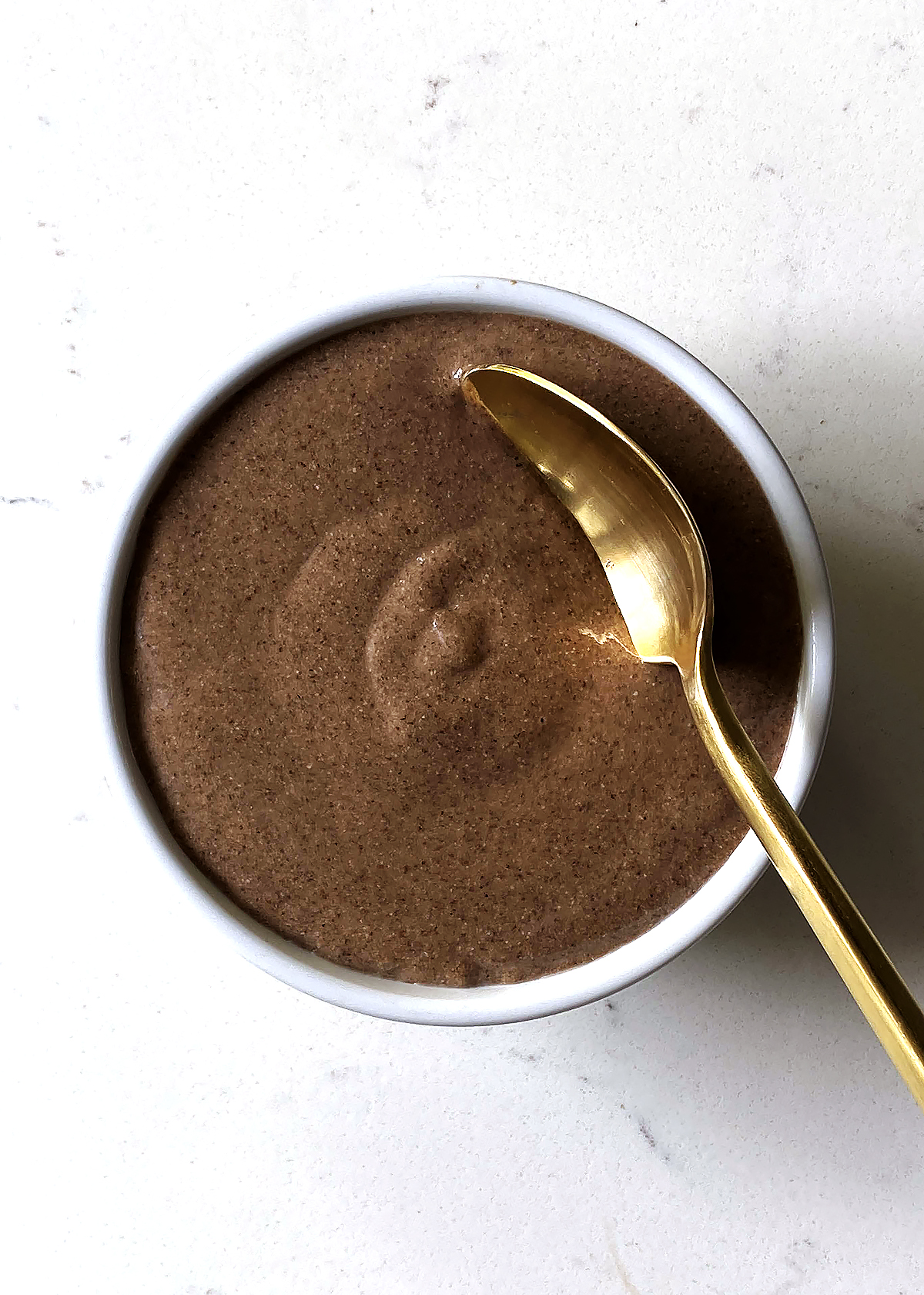 Pro Tips and Techniques for Chocolate Chia Seed Pudding
Blend for Smoother Chocolate Chia Seed Pudding. If you prefer a smoother texture to your Chocolate Chia Seed Pudding rather than the crunchy texture of whole seeds, grind the chia seeds in a blender or food processor before adding to the liquid, or blend the entire mixture in a high-power blender until smooth as pictured above.
Portion size. Make sure to watch the portion size of the actual chia seed pudding. It is tempting to fill a cereal-sized bowl with chia seed pudding, but one serving of dry chia seeds is 2 tablespoons, which expands into only about a half cup with liquid.
Use small mason jars or covered glass containers as individual servings to help with prep and portioning.
Meal Prep: Because Chocolate Chia Seed Pudding is so easy to make and will keep in the refrigerator for five days, it's a great breakfast or snack to meal prep. Make 5 days worth of Chocolate Chia Seed Pudding and either store it in a single airtight container in the refrigerator, or portion the finished Chocolate Chia Seed Pudding in smaller individual size containers (8-ounce mason jars are great for this). You can add fresh berries or different toppings just before eating.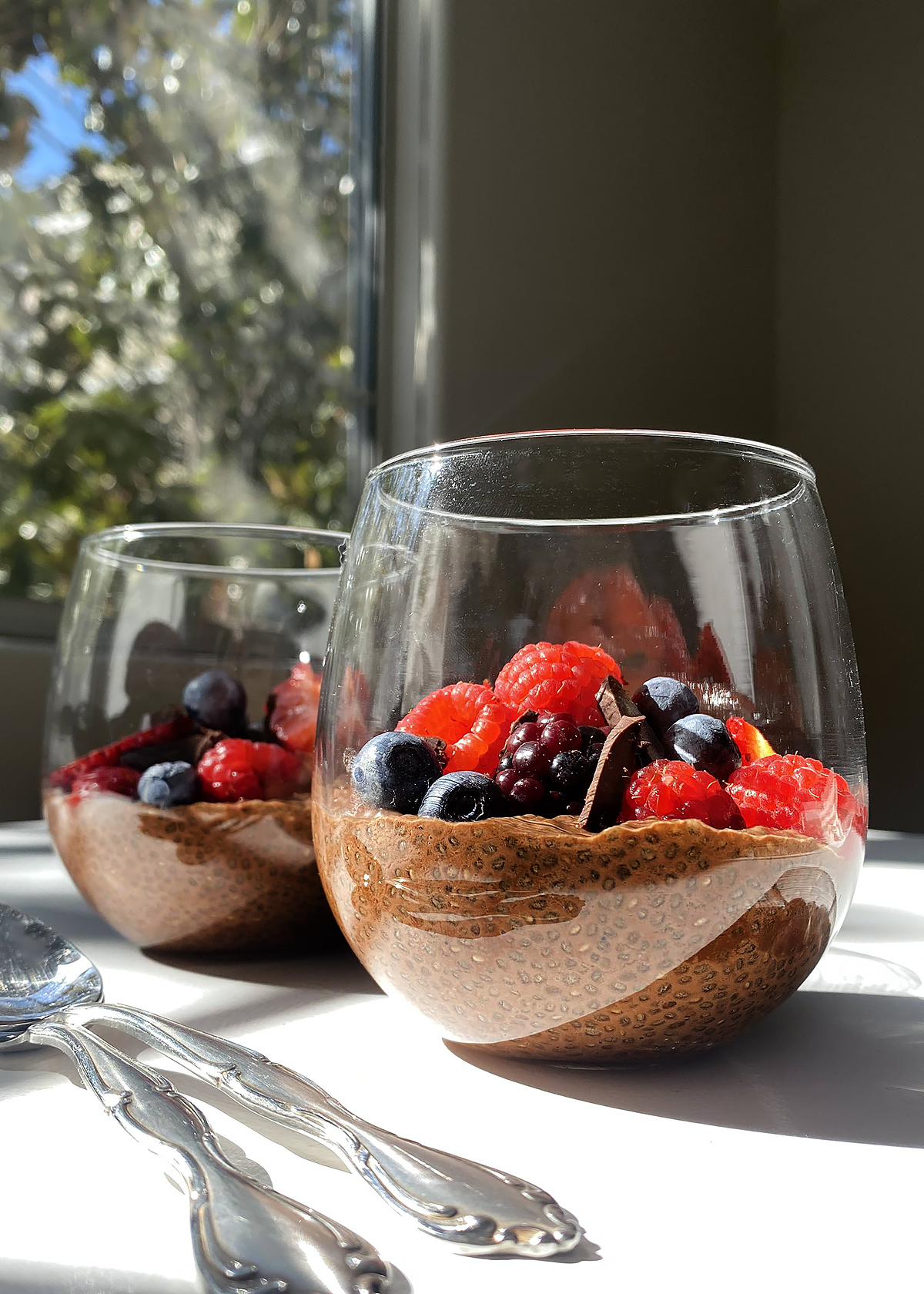 Substitutions and Variations
Chocolate Chia Seed Pudding is only one variation of endless possibilities of Chia Seed Pudding. You can use a different type of alternative milk, swap out the cocoa for another type of spice or flavoring, and substitute maple syrup with any number of natural, unrefined sweeteners. Here are some favorites:
Matcha - matcha has an intense flavor, so substitute only 1 teaspoon per serving, or 4 teaspoons in the recipe below.
Chai Spice - substitute out the cocoa for about 2 tablespoons of a chai spice blend that includes cardamom, cinnamon, ginger and turmeric.
Preserved Fruit - If fresh fruit isn't readily available, try swirling a couple of tablespoons of your favorite fruit jam or preserve instead
Original Plain Vanilla - keep it simple and leave out additional flavorings, using only chia, milk, maple syrup, and vanilla extract. You can leave out the vanilla to keep your chia pudding super simple.
Tools and Equipment
Glass mixing bowls
Whisk
Mason jars for storage
Mason jar lids
Advance Prep, Leftovers, and Storage
Chocolate Chia Pudding is perfect for advance prep and storage. Store Chocolate Chia Pudding in air-tight containers—glass mason jars with air-tight lids are perfect for this!—in the refrigerator for up to five days.
Chocolate Chia Pudding does not store well in the freezer.
FAQ
What kind of chia seeds to use for Chocolate Chia Seed Pudding
Use whichever chia seeds are available and affordable for you. There are two types of chia seeds you will see most often on store shelves, black and white, and other than their color they are virtually identical. There is a slight nutritional difference between black chia seeds and white chia seeds, but the difference is so small, it's considered negligible. Black chia seeds have marginally more protein content and white chia seeds have more plant based omega3 fatty acids in the form of ALA.
How long does it take chia seeds to set?
Chia seeds can begin to set in as little as 15 minutes, but can take up to two hours, depending on the seeds and the type of liquid.
Why aren't my chia seeds "gelling?"
If your chia seeds are not setting into a gel, there are a couple of possible reasons. You may have added either too little or too much liquid. If there is too little liquid, the chia seeds won't be able to absorb and create the gel. If there is too much liquid, the chia seeds might have gelled, but didn't absorb the extra liquid, making the entire thing seem runny. Try to stick to a ratio of 1:3 or 1:4 chia seeds:liquid.

It is also possible that the chia seeds are past their prime. Though chia seeds can last for 4-5 years even without refrigeration, make sure your chia seeds aren't too far past their prime when making chia seed pudding.
How long can I keep chia seeds?
Chia seeds last for 4-5 years without refrigeration in a cool, dry area.
Do chia seeds have to be ground?
No, chia seeds do not have to be ground into a meal or powder for maximum benefits, unlike other seeds like flaxseeds.
More "Healthyish" Chocolate Recipes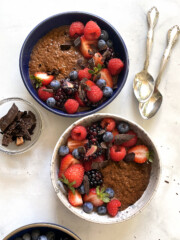 Print Recipe
Chocolate Chia Pudding Recipe
Ingredients
½

cup

chia seeds

1½

cups

unsweetened coconut milk, plus ½ cup to add for consistency

¼

cup

cocoa powder

¼

cup

maple syrup

2

teaspoons

vanilla extract

optional: pinch of sea salt
Optional Garnishes
blackberries, blueberries, raspberries, strawberries

chocolate shavings
Instructions
Put chia seeds, coconut milk, cocoa powder, maple syrup, vanilla extract, and sea salt in mixing bowl or large mason jar and stir to combine, making sure to break up any clumps of cocoa powder.

Let chia seed pudding "set" in refrigerator for at least two hours.

After setting time, if Chia Pudding is too thick, stir in extra coconut milk 1 tablespoon at a time until you get the consistency of pudding.

Spoon chia pudding into serving bowls or cups and top with optional garnishes.
Nutrition
Serving:
1
serving
|
Calories:
200
kcal
|
Carbohydrates:
26
g
|
Protein:
5
g
|
Fat:
9
g
|
Saturated Fat:
2
g
|
Polyunsaturated Fat:
5
g
|
Monounsaturated Fat:
1
g
|
Trans Fat:
0.03
g
|
Sodium:
671
mg
|
Potassium:
216
mg
|
Fiber:
9
g
|
Sugar:
12
g
|
Vitamin A:
11
IU
|
Vitamin C:
0.3
mg
|
Calcium:
163
mg
|
Iron:
2
mg