This Upside Down Walnut Olive Oil Cake with Figs is the sweetest, most delicious way to showcase sweet, ripe, luscious seasonal fruit. Because the recipe calls for ingredients you mostly already have, requires only one bowl, and is endlessly forgiving and flexible, it will become a go-to recipe in your kitchen! Shall we?
This Walnut Olive Oil Cake is a variation of one of, like, three dessert recipes I actually bake All. The. Time. Olive oil cakes are not only easy to make, but they keep well because the olive oil keeps the cake from drying out.
This version is made with fresh figs layered into the bottom of the pan and turned upside down. Use any fresh fruit that is in season and that goes well with the toasty, subtle tannic character of walnuts. You can also completely omit baking fruit into the bottom layer and opt instead to top the finished cake with a pile of fresh seasonal fruit.
Jump to:
What is Olive Oil Cake?
An Olive Oil Cake is a cake made with, wait for it, olive oil as the primary fat component as opposed to butter or another vegetable oil.
The walnut version of Olive Oil Cake replaces half the all-purpose flour with finely ground walnuts that infuse the cake with a subtle toasty nut vibe. To level up the olive oil cake, it also has fresh figs baked right into the bottom—then flipped upside down to the top—of the cake.
Because olive oil is a liquid, an Olive Oil Cake comes together in one bowl without having to wait to soften butter, or wear out your forearms to beat butter and sugar. The cake bakes as a single layer in a cake pan or a loaf pan. This is why Olive Oil Cakes are my favorite to make. Dump. Stir. Bake.
Other ingredients like a dairy component (milk, buttermilk, yogurt) and eggs sometimes, but not always, make an appearance for texture and aid in leavening. The simple blending method is forgiving so it's easy to stir in additional flavors in the form of herbs, spices, and chocolate.
Here are some of my favorite versions of olive oil cakes:
Does Olive Oil Cake Taste Like Olive Oil?
You know really good olive oil straight up is super fragrant and can have distinct, intense flavors like pepper and spice. Does Olive Oil Cake taste like, well, olive oil?
Unless you use a cold-pressed, unfiltered extra virgin olive oil that's intensely aromatic, the olive oil flavor in the final cake will not stand out. Because many olive oils have an inherently citrusy aroma, the cake will taste more like a fig newton, or whatever other "flavor" ingredient you add to the cake like orange liqueur, herbs, nuts, or chocolate.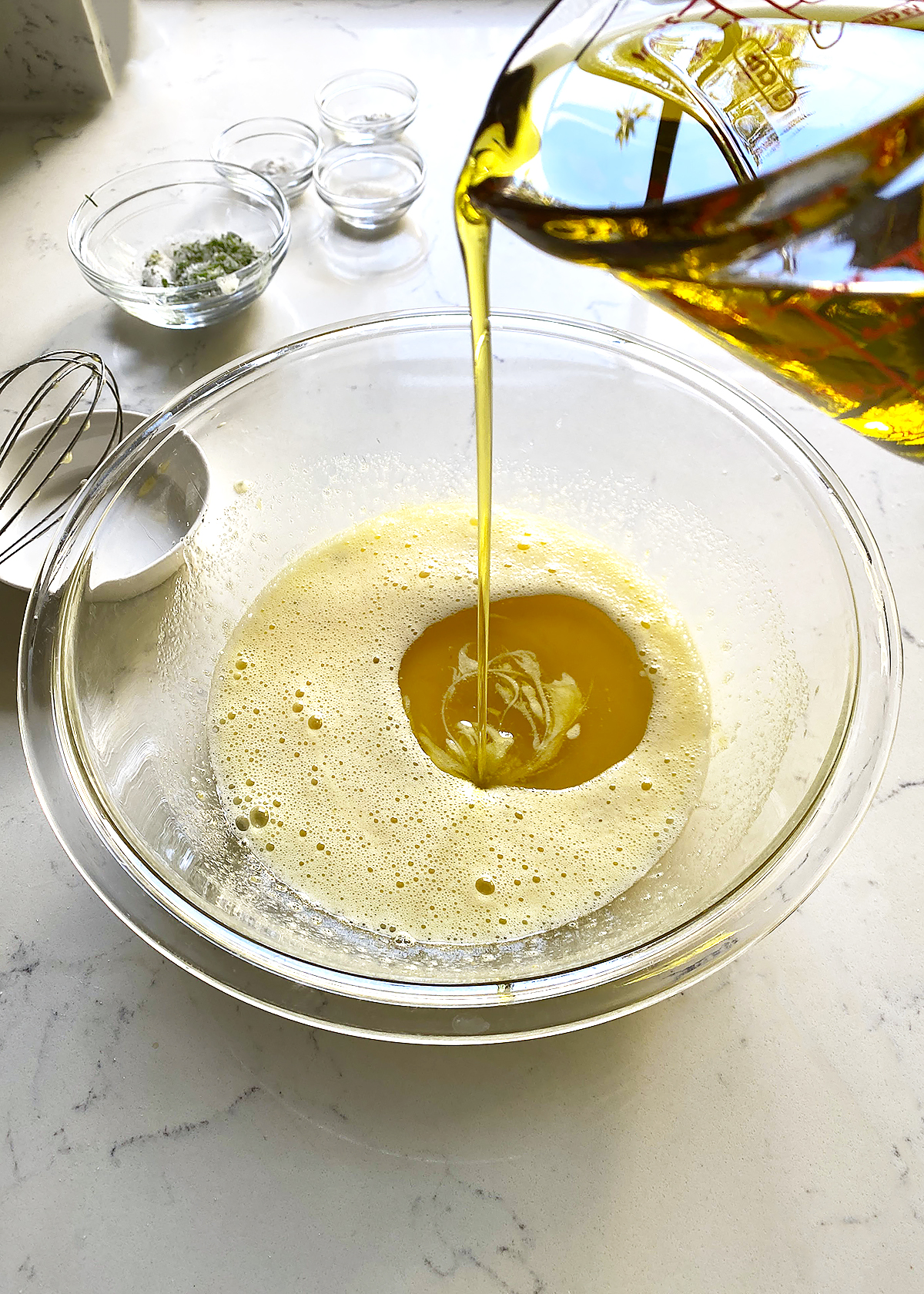 Why Use Olive Oil vs Butter in Baking Cakes
Aside from the fact that the two ingredients having very different flavor profiles, olive oil and butter render final products with different textures. Olive oil cakes are denser and moister, and stay moist for much longer than cakes made with butter.
Many lifestyles and diets consider olive oil a healthier fat choice over butter because of its omega-3 content. However, cakes and other baked goods, even with olive oil, have other ingredients like sugar, wheat flour, eggs, and dairy, that affect the nutrient density of the final dish. Which brings us to...
Is Olive Oil Cake Healthy?
As mentioned above, olive oil is considered a healthier fat choice over butter because of its plant-based omega-3 content, making an Olive Oil Cake a healthier choice over other cakes and desserts for people with certain dietary or nutritional needs.
However, cakes and other baked goods, even with olive oil, have other ingredients like sugar, wheat flour, eggs, and dairy, that affect the nutrient density of the final dish.
As a quick note, almost all of the Olive Oil Cake recipes I've shared so far are dairy-free, and it's partially by design because as a single, child-less, non-baking person, I don't usually keep milk, buttermilk or even yogurt on hand.
What Ingredients You Need for Walnut Olive Oil Cake
Because this Walnut Olive Oil Cake is something I spontaneously decide to make on some random Wednesday afternoon (usually as a way to procrastinate, surprise, surprise), I want to be able to bake it right away without having to go to the grocery store to buy additional ingredients. I almost always have flour in the freezer as well as sugar because it doesn't go bad. Of course, I always have a huge bag of walnuts in the freezer for the omega-3s, olive oil, and eggs. Here is a list of the ingredients you need:
Walnuts
Olive oil, obviously!
Eggs
Sugar
Almond milk
Vanilla Extract
Flour
Salt
Baking powder
And of course, if you want to add them for the upside down fruit part, you need figs!
What Kind of Olive Oil for this Cake
The point of this Walnut Olive Oil Cake is the walnuts along with olive oil, so use the best-tasting (to you) extra virgin olive oil you can afford. Though the flavor of the oil will be subtle in the final cake, it's best to go with extra virgin for quality, and an olive oil on the deeper, fruitier side rather than on the intense, peppery side.
Avoid using "light" olive oil for this cake, which refers to the oil's flavor and color, not the calories. Light olive oil has been processed which makes it more suitable for cooking at high heat, but also results in fewer nutrients.
I like this California-grown olive oil, but it's also VERY expensive, so I am saving that for times when I am eating straight olive oil like as a dip for bread, and using this mild, organic olive oil for the cake.
What Kind of Walnuts are Best for Baking
For this Walnut Olive Oil Cake, I used organic California-grown walnuts and ground them into a coarse flour with a blender at home. Because the walnuts are ground into a coarse "flour," there's no need to pay a premium for whole walnuts. Walnut pieces are fine.
Some specialty stores might carry pre-ground walnut flour, but the flours too will be priced at a premium, so we'll do it ourselves with a food processor.
What Kind of Figs are Best for Baking
The dark purple figs in the cake in these photos are Mission figs, which I find to be naturally sweeter than other varieties. However, any type of fig will work in this cake since the cake has some added sugar for sweetness.
The figs we are most familiar with and are most widely available in grocery stores are the dark purple Black Mission Figs and the lighter brownish-green Brown Turkey Figs. However, there are actually hundreds, maybe even thousands, of varieties of figs! Here are the varieties you might come across in grocery stores. They vary in color, flavor, and sweetness, but all of them work for the best fig recipes:
Black Mission Figs. Recognizable by their uniformly toned, very dark purple, near black skins.
Brown Turkey Figs, dark brown sometimes spotted or mottled with green, usually the largest in average size
Calimyrna Figs. a California cultivar of the light golden Mediterranean Smyrna fig
Kadota Figs, bright green skin outside, vibrant pink on the inside
Sierra Figs. a California original variety, pale green skin outside, pale pink inside, sometimes so light in color, these are called "white figs"
Tiger Stripe Figs aka Candy Stripe or Panache. Yellow green vertically striped skin outside, bright pink inside.
For garnishes and toppings where the figs are very much part of the visual aesthetic, Tiger Stripe Figs are my personal favorite because of their bright green color and stripes, though to be honest, I probably could not identify any of these figs in a blind tasting, except maybe Kadota Figs, whose vibrant pink color actually belies their somewhat neutral flavor.
A bit of trivia for your next game night: California grows 98% of all the fresh figs and 100% of the dried figs that are commercially grown in the United States!
Additional Ingredients Notes and Resources
Flour. You can use any form of wheat flour for Walnut Olive Oil Cake. I used this brand of organic, unbleached, all-purpose flour. I have made this cake with whole wheat flour and as expected, it works perfectly well. And adds a dose of fiber!
All other fresh herbs and produce from either the Santa Monica Farmers' Market on Wednesday, or Whole Foods Market when I can't find what I need at the farmers' market.
How to Make Walnut Olive Oil Cake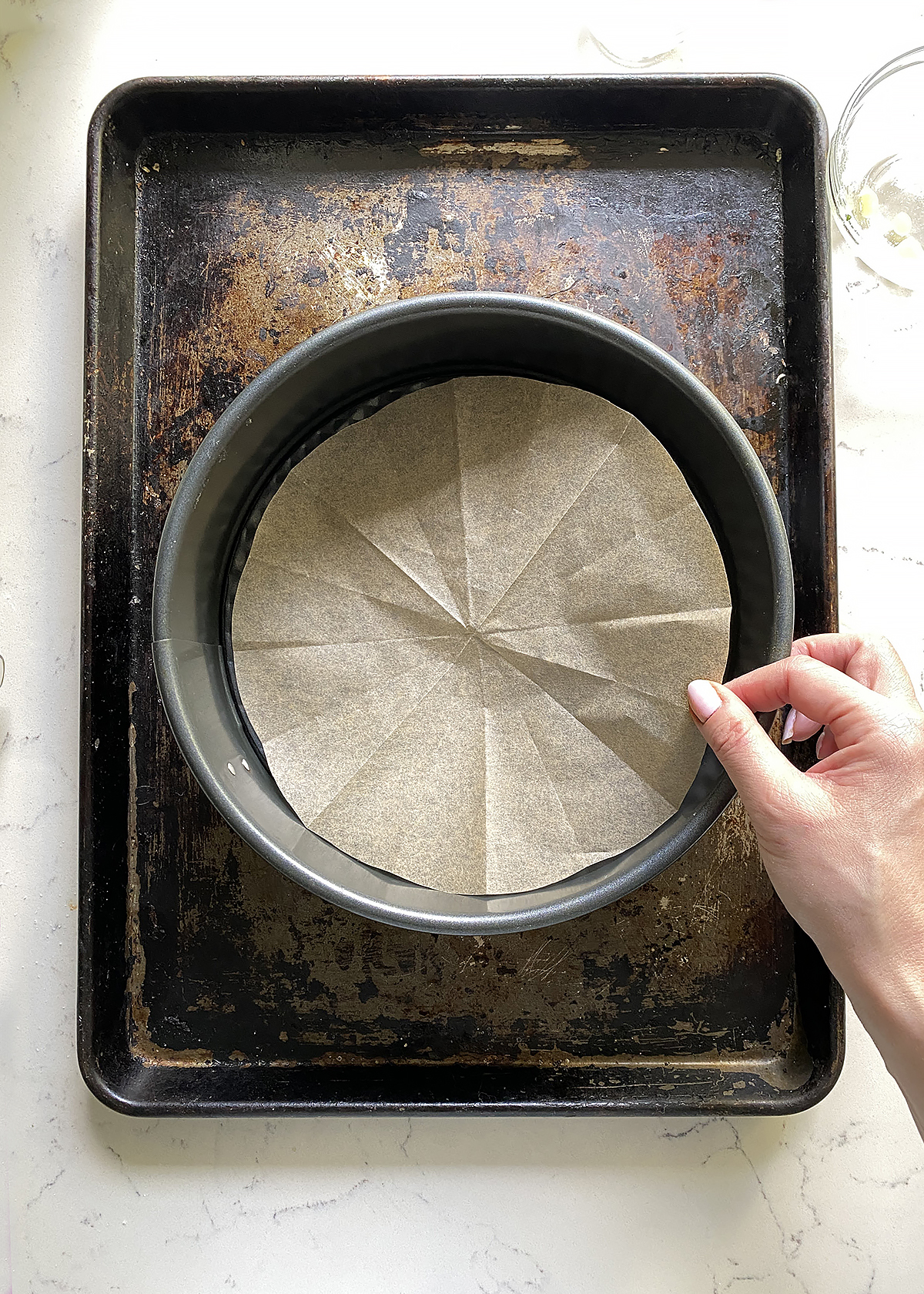 Pre-heat oven to 350°F. Line a 9-inch springform pan with parchment paper and spray sides with baking spray.
Gently wash the fresh figs and very thoroughly dry them. Cut off the stems and slice the figs in half lengthwise from stem end to fat end.
Arrange the fig halves with the cut sides down on the bottom of the pan. Make sure the entire bottom of the pan is covered.
Beat together eggs and sugar until light and pale yellow (the sugar doesn't have to dissolve). Add olive oil and remaining liquid ingredients. Beat until well-combined. You don't have to worry about over-beating.
Stir in ground walnuts.
Sift flour, baking powder, and salt directly over the bowl into the olive oil mixture.
and gently fold together until just combined. If you are using regular wheat flour, don't overmix.
Pour Walnut Olive Oil Cake batter into pan over the sliced figs, carefully so you don't move the figs around. Gently tap pan against countertop to pop air bubbles. Bake in 350°F oven for 40 minutes, start checking with wooden toothpick at 35 minutes. Total actual baking time will depend on your specific oven.
Remove cake from oven, run a knife with a thin blade around the edge, and cool in pan for 10 minutes. Release cake from pan sides, and cool cake on a wire rack for at least 20 more minutes. Invert the cooled Walnut Olive Oil Cake onto a serving plate or cake stand. Remove the pan bottom, then peel away the parchment liner.
Tools and Equipment for Walnut Olive Oil Cake
There isn't any special tool or piece of equipment required for Walnut Olive Oil Cake, and in fact, I highly encourage you to skip hauling out heavy stand mixers, or even a hand mixer for this. However, that doesn't mean there are a couple of things that might make this cake easier than it already is to get from pantry to plate.
High power blender to process walnuts into coarse flour
Food processor option for processing walnuts
9-inch round springform pan. The recipe here specifies a 9-inch springform pan and it's the one I used because that's the type of pan I have that's the right volume. You can absolutely use a regular round cake pan with minimum 2-inch high sides that's well-greased and lined with parchment paper to make removal easy. You can also use other shaped pans, see below in the FAQ.
Parchment paper to release the bottom of the cake without ripping off any of the orange slices.
Produce brush to wash the figs, which are inside the cake
Produce wash to help dissolve any natural waxes on the skins of the fruit
Baking in Different Size and Shape Pans
Can You Use a Different Size Cake Pan to Bake the Cake? Yes! Because Olive Oil Cake is generally forgiving, you can use slightly different sized and shaped pans. A slightly smaller 8-inch round cake pan will yield a taller cake, and needs to bake for a longer time. Check the cake at 40 minutes.
Can You Bake the Cake in a Loaf Pan? Yes! And if you still want to make the cake "upside down" with fresh figs or other fruit in the bottom of the pan, you will only need about ⅓ of the fruit. In an 8-inch loaf pan, bake the cake for a little longer. The cake will have a slightly deeper golden "crust" because it's in the oven for longer, but it's still cake.
Ingredients Substitutions and FAQs
Here are the pro-tips:
Different fruit besides figs? Absolutely substitute any other fruit that is 1) in season and 2) works well flavor-wise with walnuts. My suggestions are thinly sliced apples, wedges of soft ripe pears, and persimmons.
Can You Use Other Nuts Besides Walnuts? Yes! Almonds! I have made this cake with almonds ground into a coarse almond flour and it turns out perfectly!
Different Type of Flour? You can use any form of wheat flour for Walnut Olive Oil Cake. This brand of organic, unbleached, all-purpose flour is the one I use. I have made this cake with half whole wheat flour and as expected, it works perfectly well. For gluten-free flours... glad you asked! See next...
Can You Make it Gluten-free? Yes! Two baking-ready gluten-free flours my gluten-free expert friends have recommended are Measure-for-Measure by King Arthur and Pamela's, both of which you can substitute into recipes 1:1.
Can You Make it Vegan? If you replace the eggs with an appropriate plant-based egg substitute, the cake will be vegan. That being said...
Can you Replace the Eggs? I have not yet personally made this Walnut Olive Oil Cake with an egg substitute, either store-bought or something like ground flaxseeds. If you do, please let me know how it turns out!
Can You Substitute Out the Olive Oil? The point of this cake is olive oil. If you want to use a different oil or melted butter, make a different cake. (That being said, you can absolutely substitute another oil or melted butter in this recipe, it will generally have the same texture, but just taste different.)
Additional FAQs
What happens if you put the fruit on top of cake instead of bottom?
You can definitely place the fruit on top of the cake batter, which will make for a very striking pre-bake photo! But figs are fairly heavy, so they will sink no matter what you try to do. Even figs that have been sliced into quarters to make them lighter will sink. Believe me I have tried. The flavor of the cake will be the same, and the figs will end up on the bottom anyway.
Can you substitute fresh figs and dried figs interchangeably?
For certain recipes, it is possible to substitute in dried figs for fresh figs, e.g. added in poached, braised or roasted savory dishes. Depending on the recipe you may or may not have to re-hydrate the dried fig by simmering or soaking overnight in a liquid like water or wine.

However, for this recipe, dried figs are not recommended. If you do not have access to fresh figs, substitute an entirely different fresh fruit like sliced stone fruit, apples, pears, or persimmons.
Olive Oil Cake Variations and More Recipes
If you, like me, hoard olive oil by the half gallon jugs but can't remember the last time you bought butter—it was probably back during Thanksgiving tbh—olive oil cakes will be your go-to cake. Get this recipe down as a foundation, then try making these variations on Olive Oil Cake.
And yes, I love Olive Oil Cakes, why do you ask?
Wine Pairing for Walnut Olive Oil Cake
My suggested wine pairing for this Walnut Olive Oil Cake is a sweet dessert wine, Quady "Essensia" made with orange muscat grapes.
Late Harvest Sauvignon Blanc from Merry Edwards is a sweet dessert wine with notes of "honeysuckle, candied ginger, toasted almonds and lemon meringue," so it's perfect with the flavors in the cake as well.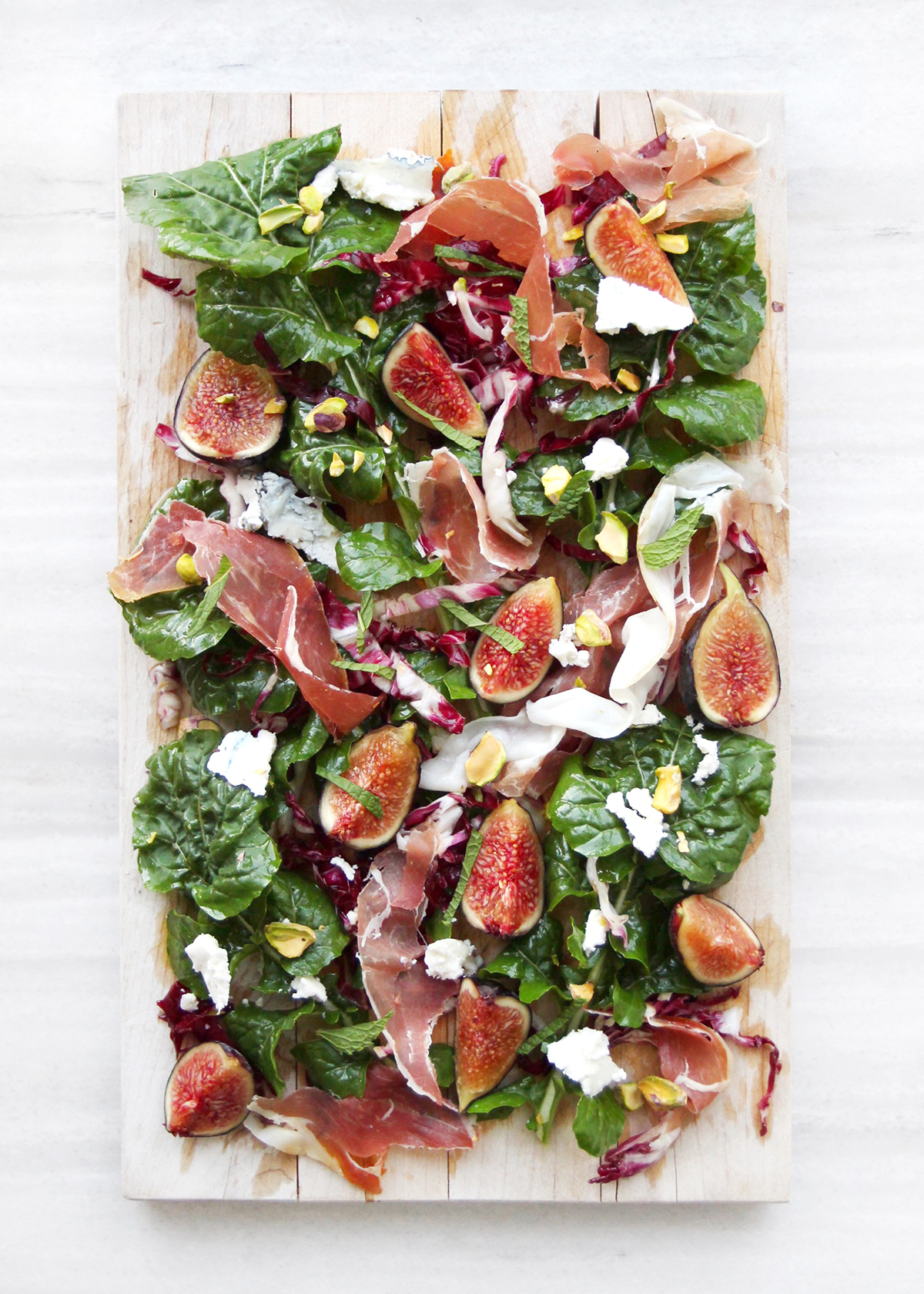 More Recipes with Figs
If you're here because you have baskets of figs, check out this list of the Best Fig Recipes, with a few of my favorites here:
Print Recipe
Walnut Olive Oil Cake with Figs Recipe
Ingredients
20-24

fresh figs

3

large eggs

1

cup

granulated sugar

¾

cup

extra-virgin olive oil

¼

cup

almond milk

1

teaspoon

vanilla extract

1½

cups

walnut pieces

toasted and processed into a coarse flour

1

cup

all-purpose flour

2

teaspoons

baking powder

¼

teaspoon

fine sea salt
Instructions
Heat Oven: Heat the oven to 350° F.

Prepare Cake Pan: Line 9-inch cake pan with with parchment paper and spray exposed sides with baking spray. Arrange cut figs in a single layer over parchment paper in concentric circles, packing them pretty close together. It's okay if they slightly overlap, and if there are small gaps.

Combine Liquid Ingredients: In a large mixing bowl, whisk eggs, olive oil, sugar, almond milk, and vanilla.

Add Walnuts: Fold in walnut flour.

Add Dry Ingredients: In a sieve or sifter directly over bowl with liquid ingredients, sift flour, baking powder, and salt. Stir into liquid ingredients until just combined.

Bake Olive Oil Cake: Pour the Olive Oil Cake batter over figs in prepared pan and bake for 50 minutes, checking at 45 minutes with a cake tester. Cake is done when top is medium golden brown and tester comes out clean.

Cool Cake and Serve: Allow cake to cool in pan for 20 minutes. Remove from pan and let cake cook completely for an additional hour.
Nutrition
Serving:
1
serving
|
Calories:
355
kcal