You know what they say.
Go fig or go home.
Ok, ok, maybe I'm the only one who says that.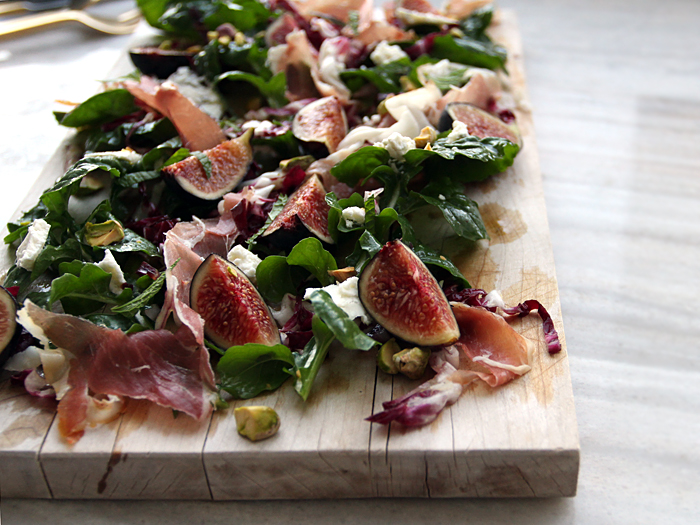 Sometimes, this is how I "cook" dinner. Especially on hot summer nights like these, which is kind of scary because it's technically still only the first week of summer and it is blazing hot outside. I don't know if I'm ready for July and, good God, August.
No real recipe. Just all the delicious things, most important of which is a few fat, summer ripe figs fresh from the farmers' market, artfully arranged on a cutting board so it's instagrammable, and drizzled with olive oil and maybe some lemon juice (light!) or thick, rich balsamic vinegar (luxe!). You could get away with adding nothing at all since each of the components hit the four major tastes: sweet from figs, salt from prosciutto and pistachios, sour from the cheese (the Humboldt Fog is ever so slightly tangy), and bitter from both the arugula and the radicchio.
I could eat this every night.
Or at least some variation of it that includes the same taste notes: salt and sour from olives and feta cheese, and a higher toned sour from pickled red onions. The bright green figs with pink seed flesh inside are my favorite.
Figs, by the way, are just starting to appear at the markets, but they aren't quite as sweet and luscious as they will be in a few weeks, or better yet, after a couple of months of swelling up in the summer sun.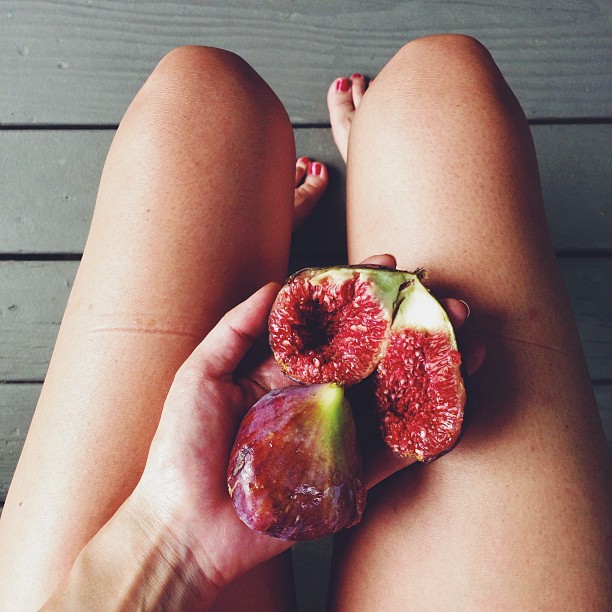 Resources
~ arugula: large leaf arugula from a single plant in my tiny garden. I bought the organic arugula already grown in a pot from Armstrong Garden Center, though the Wednesday Santa Monica Farmers' Market has a gardener who sells all kinds of gorgeous herbs and vegetables in pots
~ wild arugula (small leaves) and radicchio and all other produce, organic, from local farmers' markets (Maggie's Farm has lots of pretty, colorful lettuces and herbs) or Whole Foods Market
~ figs: Pudwill Berry Farms
~ Humboldt Fog is a soft, ripened goat milk cheese produced in Humboldt County in northern California. I bought mine at Bristol Farms, though when I am feeling fancy, I shop at the Cheese Store of Beverly Hills
~ feta cheese: I am not picky about feta cheese I will eat any kind.
~ prosciutto: from Bristol Farms out of the service deli case
~ pistachios: Santa Barbara Pistachios at local farmers' markets, but they are available in some national grocery stores
~ olives: obsessed with the big, fat, buttery green olives out of the obscenely expensive olive bar at Whole Foods Market, either Castelveltrano or Cerignola
~ pickled onions: Govind Armstrong's slightly involved Pickled Red Onions recipe here
~ olive oil: California, organic, cold-pressed, whatever producer is available off the shelf at Whole Foods
~ balsamic vinegar: I have never bought my own balsamic vinegar. Use something awesome.
{"Figs" is number 18 on my List of Things to Eat This Summer}