When fresh figs are in season, you absolutely must make this Arugula Fig Salad, dressed up with rich and tangy cheese, salty prosciutto, and crunchy pistachios. Shall we?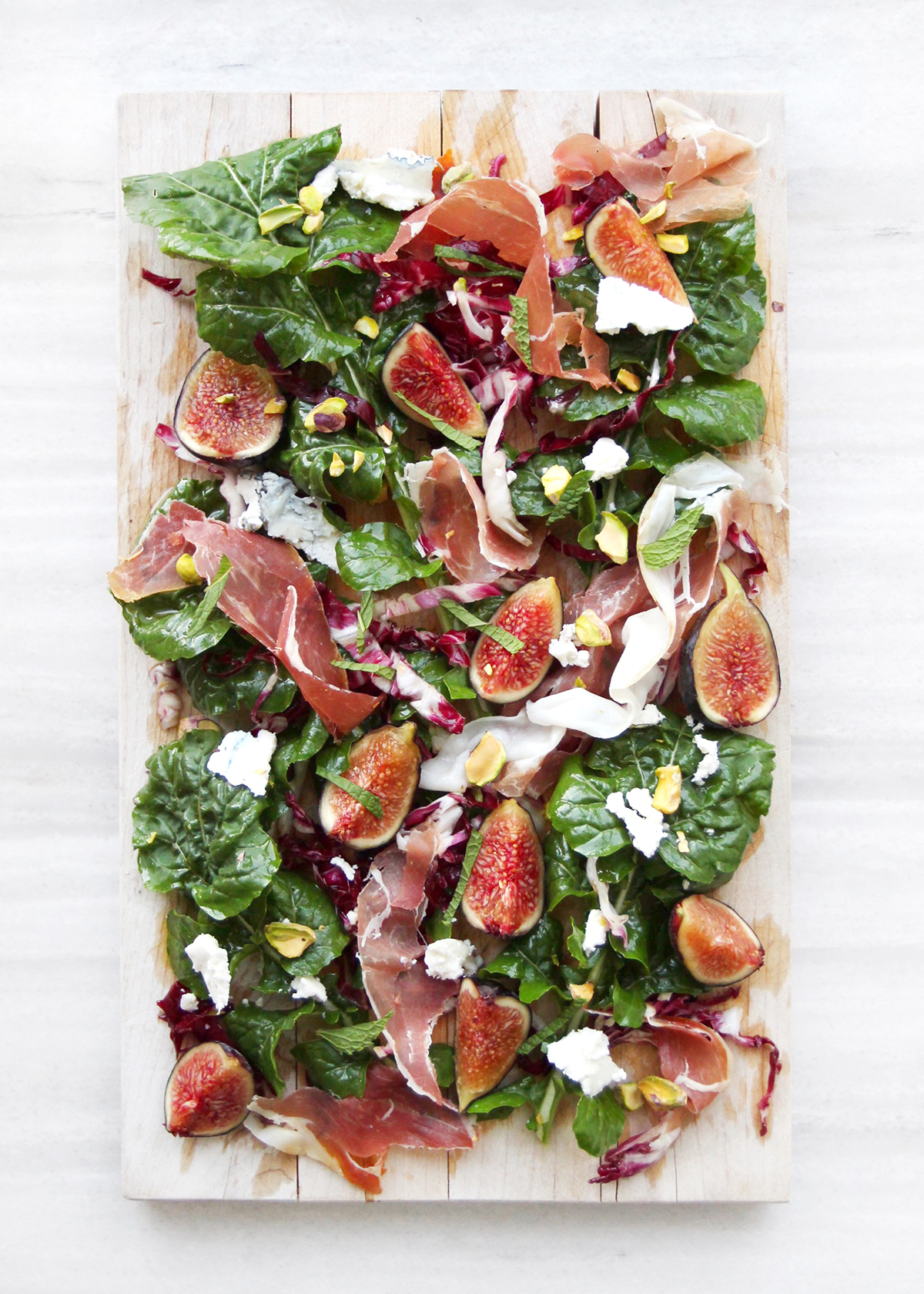 You know what they say.
Go fig or go home.
Ok, ok, maybe I'm the only one who says that.
Sometimes, this is how I "cook" dinner, an Arugula Fig Salad casually tossed onto a cutting board, not even bothering to transfer the salad to a proper bowl. Especially on lazy nights like these.
Jump to: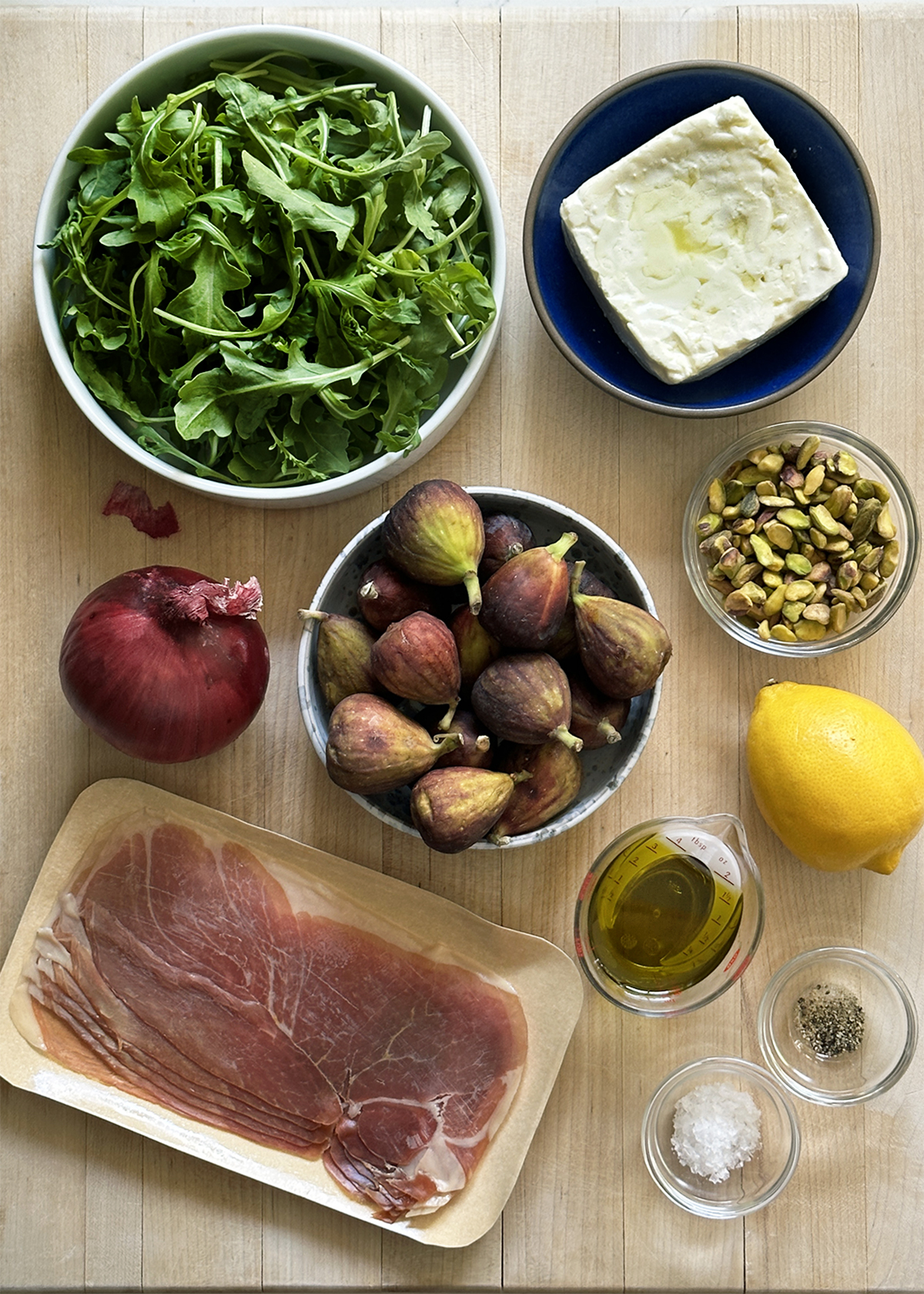 What You Need for Arugula Fig Salad
Here are the delicious things you need to make this Arugula Fig Salad, most important of which is a few super sweet, fat, ripe figs. The rest of the ingredients are infinitely customizable and flexible making this more of a recipe template:
arugula
fresh, ripe figs
goat cheese or feta
pistachios
prosciutto
red onions
the yoozh fresh lemon juice, olive oil, and salt
Every once in a while, I like to throw in radicchio, pickled onions, and/or olives. Trust your instincts and the season.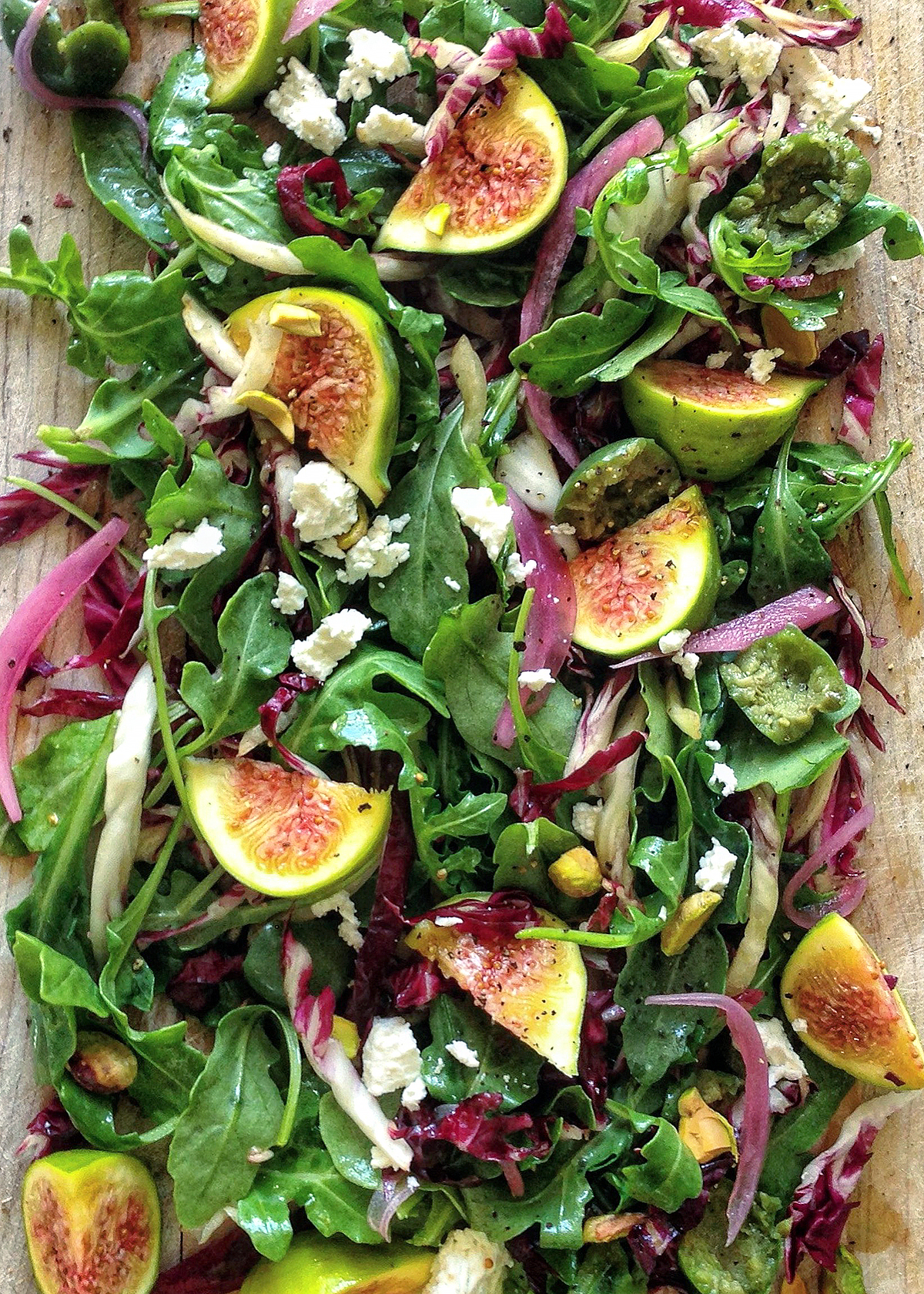 Best Type of Fig for Salad
All varieties of fresh figs work in this salad. Use whatever is available to you. The figs we are most familiar with and are most widely available are the dark purple Black Mission Figs and the lighter brownish-green Brown Turkey Figs. However, there are actually hundreds, maybe even thousands, of varieties of figs! Here are the varieties you might come across in grocery stores or at a local farmers' market. They vary in color, flavor, and sweetness, but all of them work for this salad:
Black Mission
Brown Turkey
Calimyrna Figs. a California cultivar of the light golden Mediterranean Smyrna fig
Kadota Figs, bright green skin outside, vibrant pink on the inside
Sierra Figs. a California original variety, pale green skin outside, pale pink inside
Tiger Figs aka Candy Stripe or Panache. yellow green vertically striped skin outside, bright pink inside
How to Make Arugula Fig Salad
Artfully arrange all the salad ingredients on a cutting board or serving platter with high sides so it's instagrammable. You're done!
You can absolutely get away with dressing Arugula Fig Salad nothing but a generous squeeze of lemon juice, a drizzle of olive oil, and a sprinkle of sea salt to let the flavors of the individual ingredients shine. That's because each of the components will already hit the four major tastes: sweet from figs, salt from prosciutto and pistachios, sour from the cheese—the Humboldt Fog is ever so slightly tangy—and bitter from both the arugula and the radicchio.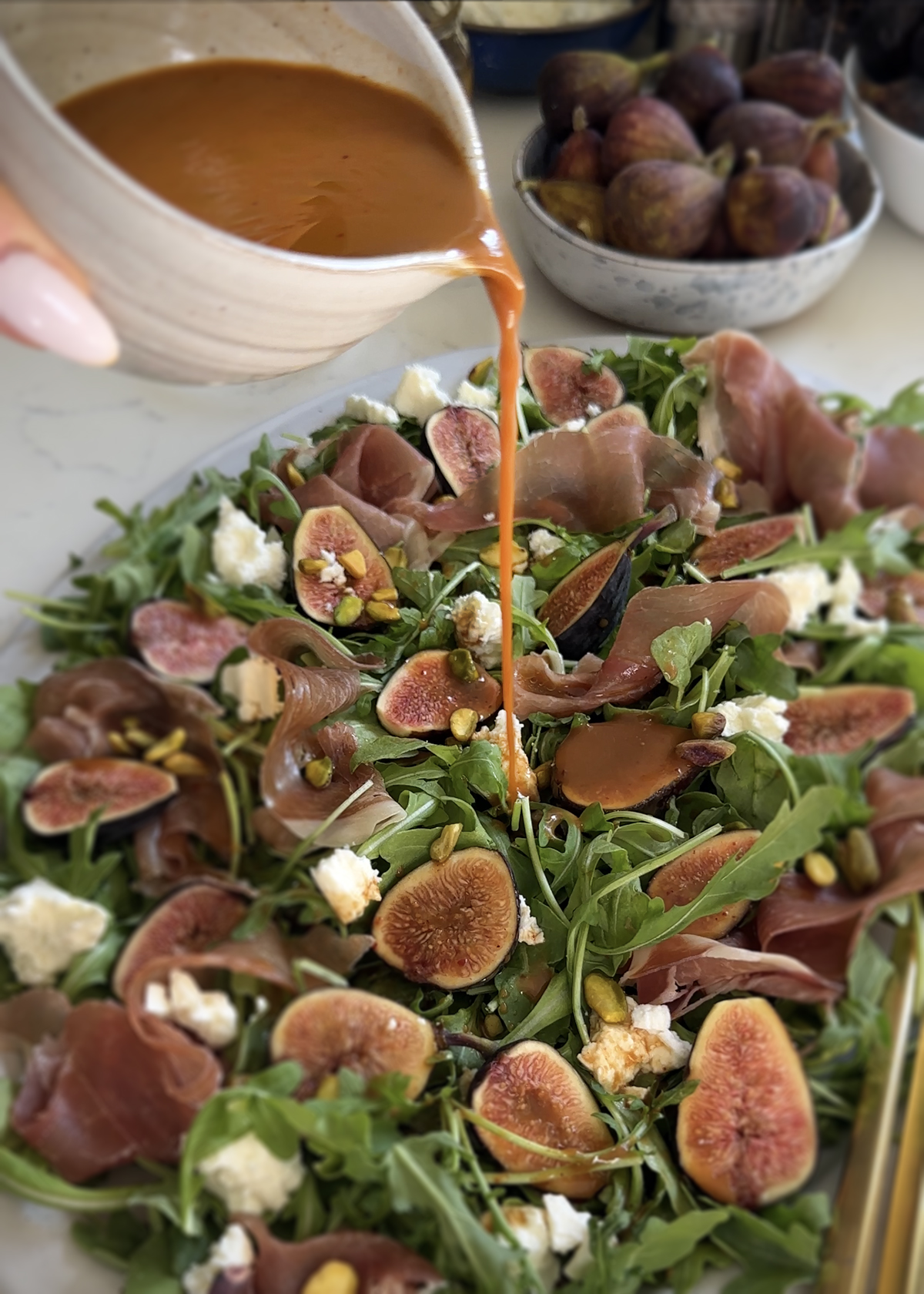 Best Dressing for Fig Salad
Balsamic vinegar based dressings are especially perfect for a salad with fruit in it like this Arugula Fig Salad. The subtle, natural sweetness of balsamic vinegar, which itself is made from fruit—grapes!—is a good match for the sweet, ripe figs. To add an extra dimension of flavor, I love using this Hot Honey Balsamic Vinaigrette for subtly sweet, sour and spicy notes!
I could eat this salad every night.
Or at least some variation of it that includes the same taste notes: salt and sour from olives and feta cheese, and a higher toned sour from pickled red onions. The bright green figs with pink seed flesh inside are my favorite.
Ingredients Notes and Resources
Wild arugula. (small leaves) and radicchio and all other produce, organic, from local farmers' markets. Maggie's Farm has lots of pretty, colorful lettuces and herbs, or Whole Foods Market
Arugula. large leaf arugula pictured in the first photograph is from a single plant in my tiny garden. I bought the organic arugula already grown in a pot from Armstrong Garden Center, though the Wednesday Santa Monica Farmers' Market has a gardener who sells all kinds of gorgeous herbs and vegetables in pots. I have never seen large arugula leaves in regular grocery stores.
Figs. from Santa Monica Farmers' Market on Wednesday, or Mar Vista Farmers' Market on Sunday.
Cheese. Humboldt Fog, my favorite goat cheese, is a soft, ripened goat milk cheese produced in Humboldt County in northern California. I buy mine from either Bristol Farms or Whole Foods, though when I am feeling fancy, I shop at the Cheese Store of Beverly Hills.
Prosciutto: from Bristol Farms out of the service deli case
Pistachios: Santa Barbara Pistachios at local farmers' markets, but they are available in some national grocery stores
Olives. obsessed with the big, fat, buttery green olives out of the obscenely expensive olive bar at Whole Foods Market, either Castelveltrano or Cerignola
Pickled onions. I make Perfect Pickled Onions every week as literally the only food I "meal prep" for the week.
Olive oil. California, organic, cold-pressed, whatever producer is available off the shelf at Whole Foods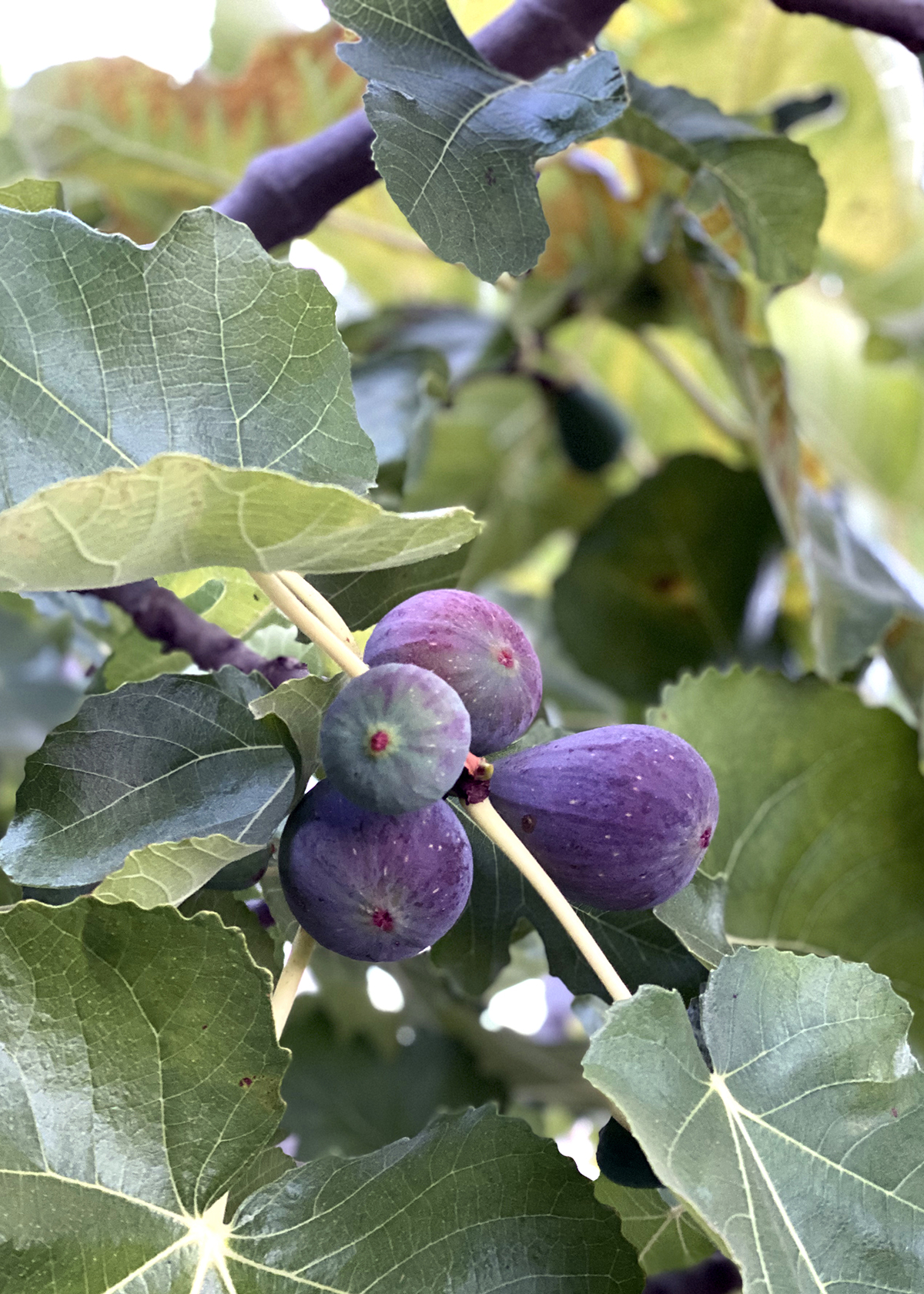 When Are Figs in Season?
Figs are in season from May to November. Earlier in the season, they aren't quite as sweet and luscious as they will be in the summer, or better yet, after a couple of months of swelling up in the summer sun.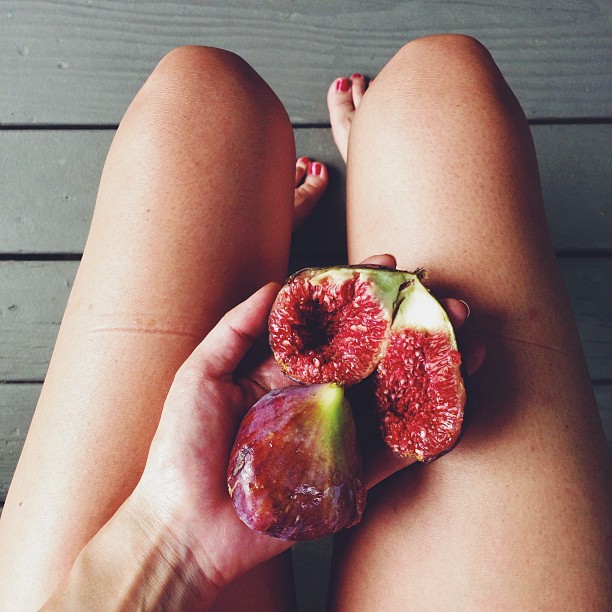 Are there Wasps in Figs?
Despite what sensationalist click-bait TikToks would have you believe, there are no wasps inside common figs grown in California. Those Black Mission, Brown Turkey, and sometimes Tiger Stripe figs you see at grocery stores? No wasps.
Figs that are self-pollinating, like those listed above, DO NOT rely on fig wasps for pollination.
However, there is one variety that does, the Calimyrna/Smyrna. This variety is being phased out of California by a similar variety of fig that is self-pollinating and will not rely on outside pollinators.
How to Prep and Store Figs
Treat fresh figs like you would berries. They are fairly delicate, so store them in their own container in the refrigerator to prevent bruising. Figs are best eaten within a couple of days of purchase. Wash them just before eating.
Ingredient Substitutions and Options
Arugula can be substituted with radicchio, or just add radicchio to the mix for color and an extra dimension of bitterness to balance super sweet figs.
Goat cheese can be substituted with feta, a parmesan-style, or a mild blue cheese for deeper funk.
Pistachios can be substituted with toasted walnuts or chopped roasted almonds.
Lemon juice can be substituted with balsamic vinegar.
More Summer and Late-Summer Salads
Take advantage of whatever is ripe and ready at the markets for this seasonal salads!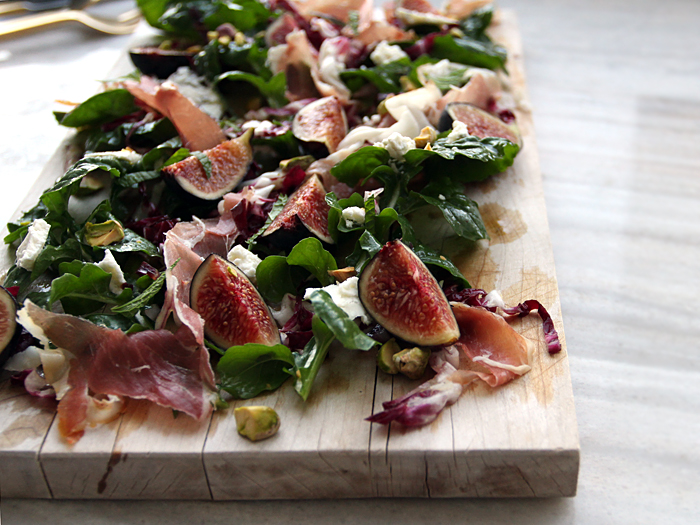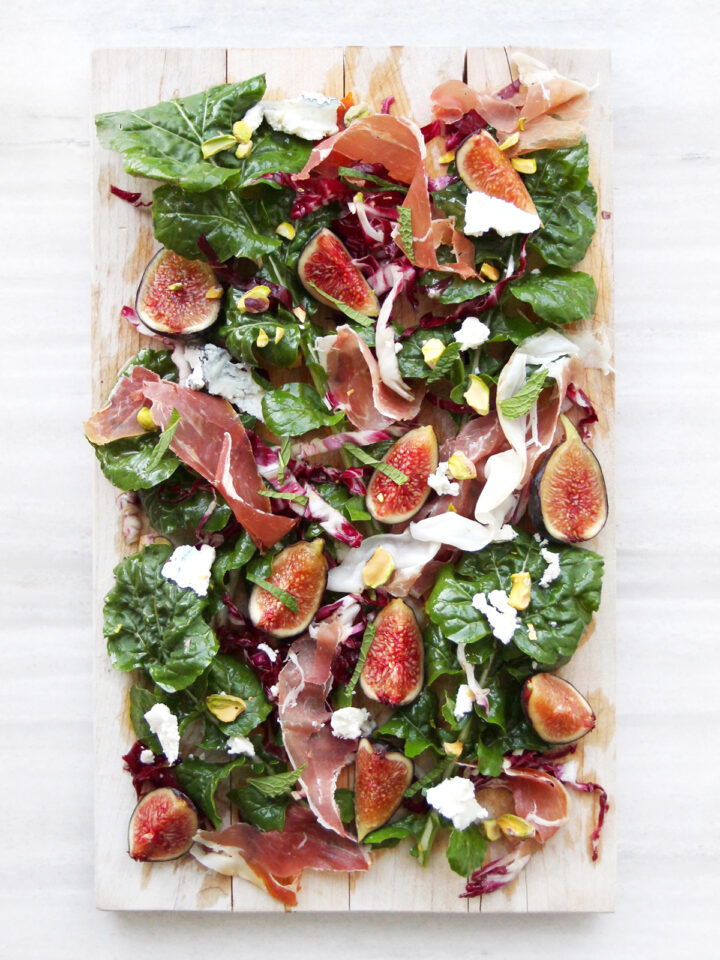 Print Recipe
Arugula Fig Salad with Goat Cheese and Pistachios
When figs are in season, they're the perfect sweet complement to bitter, peppery arugula in this well-balanced salad
Ingredients
6

cups

wild arugula

(about three generous handfuls)

6-8

fresh figs, quartered length-wise

4

ounces

goat cheese, crumbled

¼

cup

shelled pistachios, roasted

⅛

red onion, thinly sliced length-wise

1

lemon

2

tablespoons

extra virgin olive oil

½

teaspoon

sea salt

plus more to taste

optional: a few slices of prosciutto torn into small ribbons and draped over the salad
Instructions
Place arugula on a large cutting board or shallow bowl. Arrange quartered figs, goat cheese, pistachios, and red onions over arugula.

Squeeze lemon juice over salad. Drizzle with olive oil. Sprinkle with sea salt. Drape prosciutto over salad if using.

Taste for seasoning and adjust lemon juice and/or salt as needed.
{"Figs" is number 18 on my List of Things to Eat This Summer}