This dead-easy, dairy-free Lemon Olive Oil Cake is going to become a go-to recipe because you already have all the ingredients, it requires one bowl, and is endlessly forgiving and flexible. And it goes without saying it's light, lemon-y, and ultra delicious.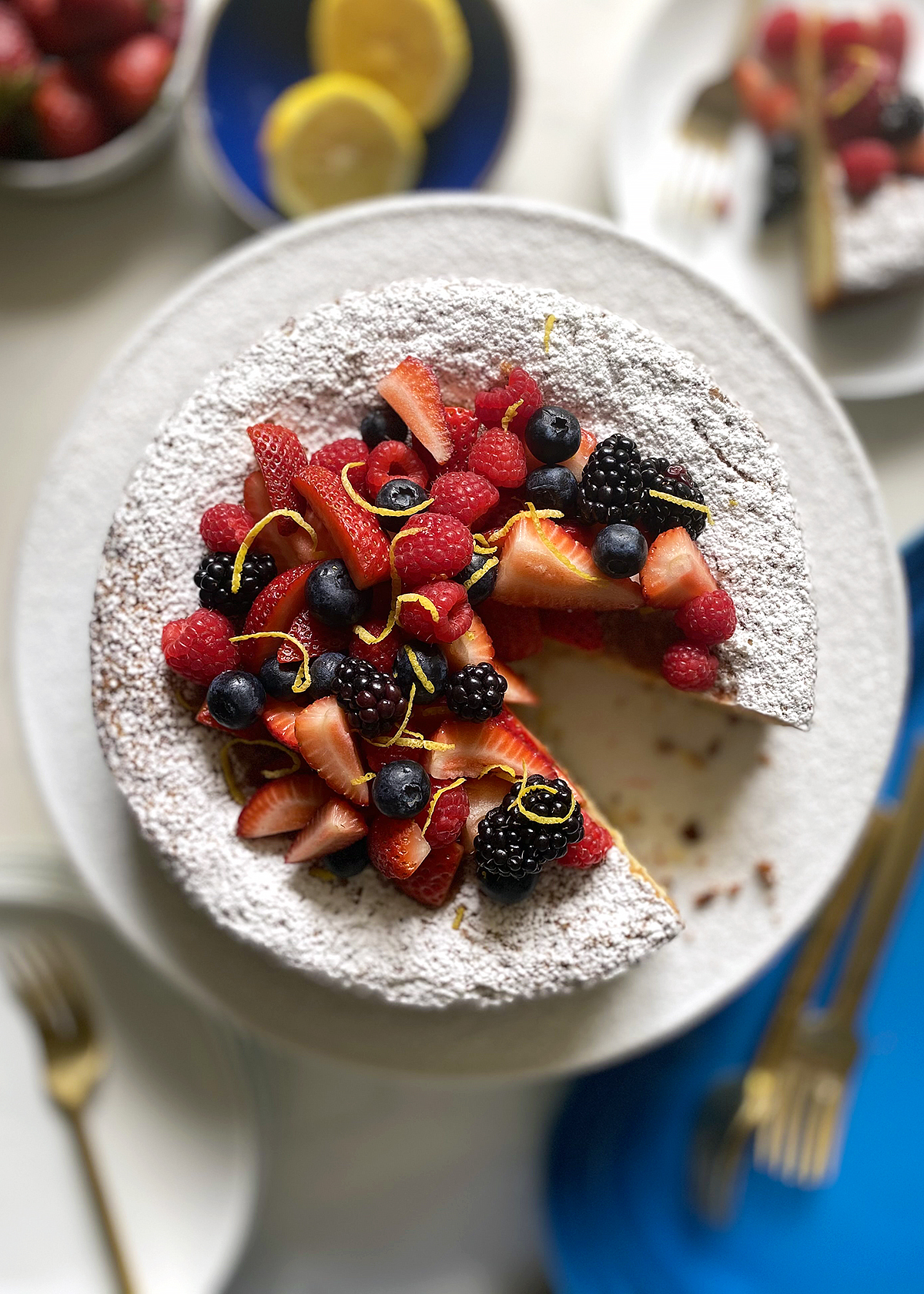 Jump to:
This Lemon Olive Oil Cake is one of, like, three dessert recipes I actually bake All. The. Time. In fact, the only other recipes for baked goods I make are essentially variations on this Olive Oil Cake (links to those recipes included), and of course, banana bread. At some point I will come full circle and bake an olive oil banana bread.
You can watch a short video of my making the cake here.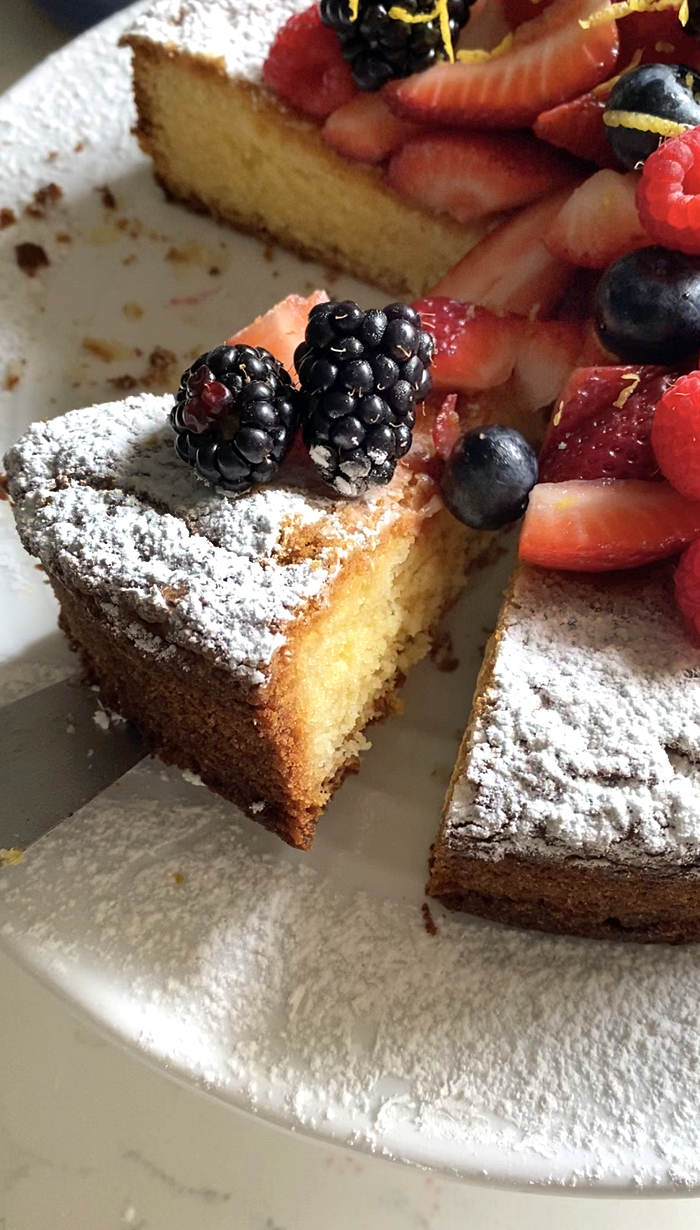 What is Olive Oil Cake?
An Olive Oil Cake is a cake, wait for it, made with olive oil as the primary fat component as opposed to butter or another vegetable oil.
Because olive oil is a liquid, an Olive Oil Cake comes together in an easy blending method, and usually in one bowl. The cakes are a single layer or baked in a loaf pan. This is why Olive Oil Cakes are my favorite to make. Dump. Stir. Bake.
Other ingredients like a dairy component (milk, buttermilk, yogurt) and eggs sometimes, but not always, make an appearance for texture and aid in leavening. he blending method is forgiving so it's easy to stir in additional flavors in the form of herbs, spices, and chocolate.
Olive Oil Cakes are usually not overly sweet, so they do best served without a sugary, heavy frosting. A light dusting of confectioner's sugar with some fresh fruit on top is a perfect, simple adornment for visuals.
The cake is generally thought of as a dessert from the Mediterranean cuisines, in which olive oil plays an important role in food and culture. The first time I ever tasted olive oil cake was in an Italian restaurant. I was hooked because unsurprisingly, it was "not too sweet."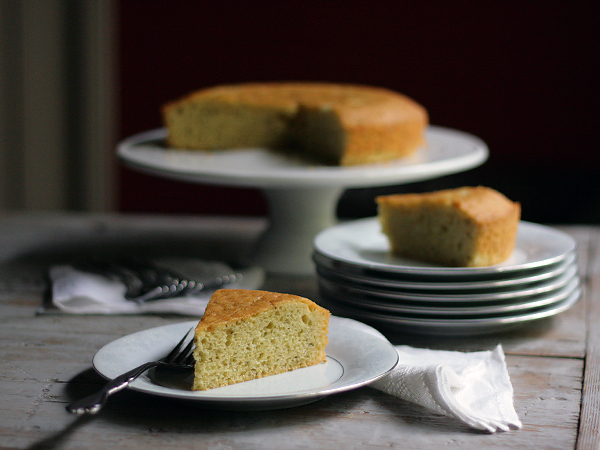 Is This the Kylie Jenner Olive Oil Cake?
That Olive Oil Cake from tiktok that Kylie Jenner (in)famously cut into weird shapes was made by a specialty Los Angeles bakery called Little House Confections. Like many businesses initially born out of pandemic ingenuity, the bakery closed once the pandemic got under control and the owners returned to their pre-pandemic jobs.
However, most olive oil cakes are essentially the same few ingredients in varying ratios. And based on my research, this recipe is probably pretty close. Minus the celebrity's shock-value cutting method, of course.
Does the Cake Taste Like Olive Oil?
Unless you use a cold-pressed, unfiltered extra virgin olive oil that's intensely aromatic, the olive oil flavor in the final cake will not stand out. Because many olive oils have an inherently citrusy aroma, the cake will taste more like lemon than olive oil, or whatever other "flavor" ingredient you add to the cake like orange, herbs, nuts, or chocolate.
Olive Oil vs Butter in Baking
Aside from the fact that the two ingredients having very different flavor profiles, olive oil and butter render final products with pretty different textures. Olive oil cakes are denser and moister, and stay moist for much longer than cakes made with butter.
Generally speaking, olive oil is considered a healthier fat choice over butter because of its omega-3 content, making an olive oil cake a more appropriate choice for people with certain health and dietary needs. However, cakes and other baked goods, even with olive oil, may have other ingredients like sugar, wheat flour, eggs, and dairy, that affect the nutrient density of the final dish. Which brings us to...
Is Olive Oil Cake Healthy
As a quick note, all of the Olive Oil Cake recipes I've shared so far are dairy-free, and it's partially by design because I don't usually keep milk, buttermilk or even yogurt on hand.
Everything else you need for this cake, you probably already have in your refrigerator and pantry. Only eight ingredients!
What You Need for Lemon Olive Oil Cake
Because this Olive Oil Cake is something I spontaneously decide to make on some random Wednesday afternoon (usually as a way to procrastinate, surprise, surprise), I want to be able to bake it right away without having to go to the grocery store to buy additional ingredients. I almost always have flour in the freezer as well as sugar because it doesn't go bad. Of course, I always have lemons, olive oil, and eggs, obviously.
Here is a list of the ingredients you need:
flour
sugar
pantry leaveners like baking powder and soda
eggs
lemons
good olive oil (obviously!)
What Kind of Olive Oil for this Cake
The point of this Lemon Olive Oil Cake is the olive oil, so use the best-tasting (to you) extra virgin olive oil you can afford. Though the flavor of the oil will be subtle in the final cake, it's best to go with extra virgin for quality, and an olive oil on the deeper, fruitier side rather than on the intense, peppery side.
Avoid using "light" olive oil for this cake, which refers to the oil's flavor and color, not the calories. Light olive oil has been processed which makes it more suitable for cooking at high heat, but also results in fewer nutrients.
I like this California-grown olive oil, but it's also VERY expensive, so I am saving that for times when I am eating straight olive oil like as a dip for bread, and using this mild, organic olive oil for the cake.
Additional Ingredients Notes and Resources
Flour. You can use any form of wheat flour for Lemon Olive Oil Cake. I used this brand of organic, unbleached, all-purpose flour. I have made this cake with half whole wheat flour and as expected, it works perfectly well.
Lemons: I generally use Meyer lemons for everything because that's what my Mom gives me from her trees, but for this Olive Oil Cake, I used organic regular yellow lemons because I like how tart they are for this cake. You can use Meyer lemons if you have them; the cake will be ever so slightly sweeter!
All other fresh herbs and produce from either the Santa Monica Farmers' Market on Wednesday, or Whole Foods Market when I can't find what I need at the farmers' market.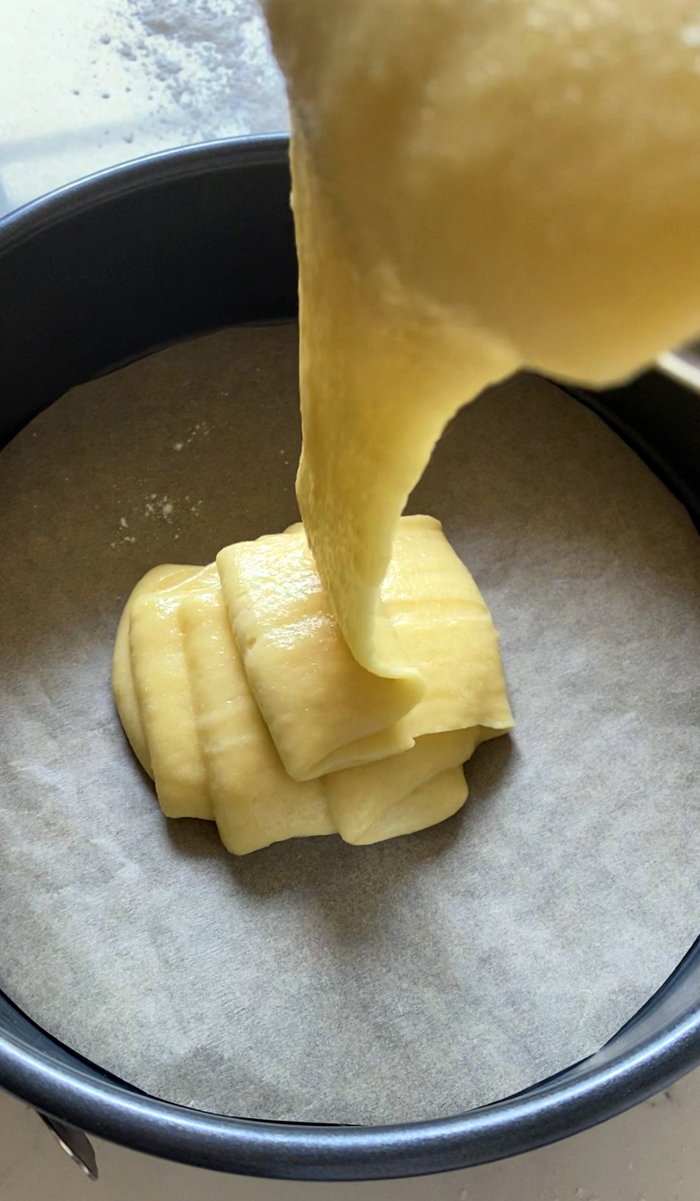 Tools and Equipment for Lemon Olive Oil Cake

There isn't any special tool or piece of equipment required for this cake. The recipe here specifies an 8-inch springform pan and it's the one I used because that's the type of pan I have that's the right volume. You can absolutely use a regular round cake pan that's well-greased and lined with parchment paper to make removal easy. You can also use other shaped pans, see below in the FAQ.
Pro Tips, Tricks, and Technique FAQs
How much lemon juice and zest come from one lemon? On average, one large, very juicy lemon yields:

1 teaspoon of lemon zest and
3 tablespoons of lemon juice.
So for this recipe, plan to use 2 lemons, but grab an extra one or two just in case. You can never have too many lemons laying around your kitchen!

How to Get the Most Lemon Zest and Juice : Zest the whole lemon first on a microplane grater. Your lemon will soften a little in your hands as you're grating. Roll the zested lemon on a countertop with some pressure to "loosen the juice" inside. Cut the lemon in half, then squeeze for juice. This way will help you get the most zest and juice from your lemons. No waste!
Can You Use a Different Size Cake Pan to Bake the Cake? Yes! Because this Olive Oil Cake is so forgiving, you can use slightly different sized and shaped pans. A slightly larger 9-inch round cake pan will yield a thinner (flatter) cake, and needs to bake for a shorter time. Check the cake at 40 minutes.
Can You Bake the Cake in a Loaf Pan? Yes! In an 8-inch loaf pan, bake the cake for a little longer. The cake will have a slightly deeper golden "crust" because it's in the oven for longer, but it's still cake.
Ingredients Substitutions and FAQs
The recipe for this cake is called "fool-proof" because it is very forgiving in terms of ingredients and measurement precision. Here are the pro-tips:
Different Type of Flour? You can use any form of wheat flour for Lemon Olive Oil Cake. This brand of organic, unbleached, all-purpose flour is the one I use. I have made this cake with half whole wheat flour and as expected, it works perfectly well. For gluten-free flours... glad you asked! See next...
Can You Make it Gluten-free? Yes! Two baking-ready gluten-free flours my gluten-free experts friends have recommended are Measure-for-Measure by King Arthur and Pamela's, both of which you can substitute into recipes 1:1.
Can You Make it Vegan? If you replace the eggs with an appropriate plant-based egg substitute, the cake will be vegan. That being said...
Can you Replace the Eggs? I have not yet personally made this Olive Oil Cake with an egg substitute, either store-bought or something like ground flaxseeds. If you do, please let me know how it turns out!
Can You Substitute Out the Olive Oil? The point of this cake is olive oil. If you want to use a different oil or melted butter, make a different cake. (That being said, you can absolutely substitute another oil or melted butter in this recipe, it will generally have the same texture, but just taste different.)
Can You Use Other Citrus Besides Lemons? Yes! The lemon is for both flavor and acid to help activate the baking soda. Use any other citrus in the same amounts for the zest and juice. I have made this cake with oranges and blood oranges as well, and they both turned out great. And gorgeous.
Olive Oil Cake Variations and More Recipes
If you, like me, store olive oil by the half gallon jugs but don't remember the last time you bought butter (it was probably back during Thanksgiving tbh), olive oil cakes will be your go-to cake. Get this recipe down as a foundation, then try making these variations on Olive Oil Cake.
Why yes, I love Olive Oil Cakes, how can you tell?
Wine Pairing for Lemon Olive Oil Cake
My suggested wine pairing for this Lemon Olive Oil Cake is a late harvest Sauvignon Blanc. Specifically, the Sauv Blanc from Merry Edwards is a sweet dessert wine with notes of "honeysuckle, candied ginger, toasted almonds and lemon meringue," so it's perfect with the flavors in the cake. If you have the bottle open while you're baking, you could even add 2 to 4 tablespoons of the wine along with the lemon juice.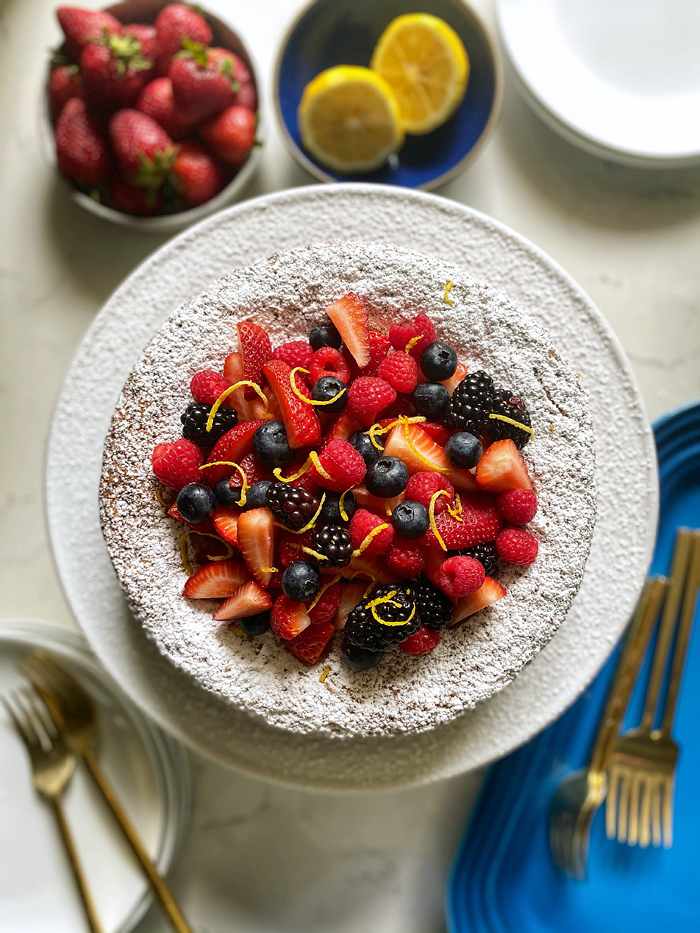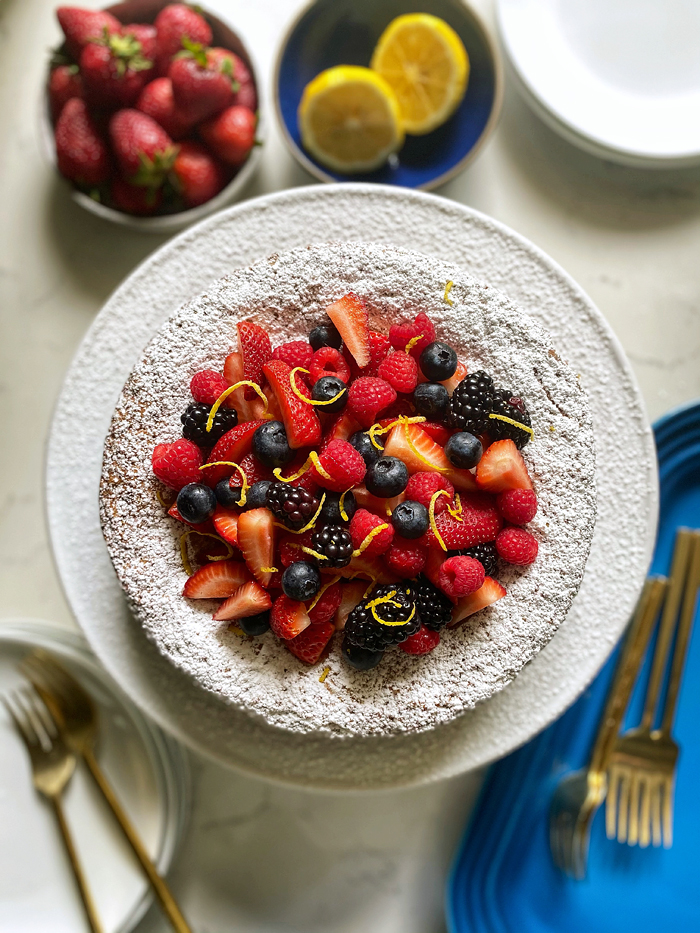 Lemon Olive Oil Cake Recipe, dairy-free
This is a simple, nearly foolproof lemon olive oil cake recipe that is endlessly flexible in terms of types of citrus and flavor additions!
Ingredients
2

cups

all-purpose flour

1

cup

sugar

1

teaspoon

kosher salt

½

teaspoon

baking soda

½

teaspoon

baking powder

1¼

cups

extra-virgin olive oil

3

large eggs

2

tablespoons

grated lemon zest

6

tablespoons

lemon juice
Optional Ingredients
optional: 1 tablespoon chopped fresh thyme or rosemary

garnish for serving: confectioner's sugar, fresh berries, lemon zest
Instructions
Heat the oven to 350° F.

Prep 9-inch cake pan with baking spray or rub with a little olive oil and line the bottom with parchment paper.

In a large mixing bowl, whisk the olive oil, eggs, lemon zest and juice. In a second mixing bowl, whisk the flour, sugar, salt, baking soda and powder. Add the dry mix to the olive oil mixture and stir until just combined. If using chopped fresh herbs (thyme or rosemary), stir in now.

Pour the batter into prepared pan and bake for 50 minutes, checking at 45 minutes with a cake tester. Cake is done when top is medium golden brown and tester comes out clean.

Allow cake to cool in pan for 20 minutes. Remove from pan and let cake cook completely for an additional hour.

To serve, dust with powdered sugar and top cake with fresh berries and lemon zest.

If you are baking this Lemon Olive Oil Cake ahead of time, wrap in plastic wrap without the confectioner's sugar and berries. You can keep it on the counter for a day, or in the refrigerator for two days.