This Easy Zucchini Bread recipe is the best one for getting fresh zucchini to fresh baked bread in the fastest, easiest way possible. It's made in one-bowl, one-pan, and less than one hour. Bonus points that it's super moist and "not too sweet." Shall we?
Jump to:
What is Zucchini Bread?
Zucchini Bread is a quick bread, similar to Banana Bread and Pumpkin Bread, made with shredded zucchini mixed into the batter. Because of its high water content, zucchini adds moisture to the batter without additional fat or calories. The shreds also help hold the bread together.
This Zucchini Bread recipe comes together in one bowl, bakes in one pan, in just about an hour. Quick and easy, which is just about the only type of baking I will ever do.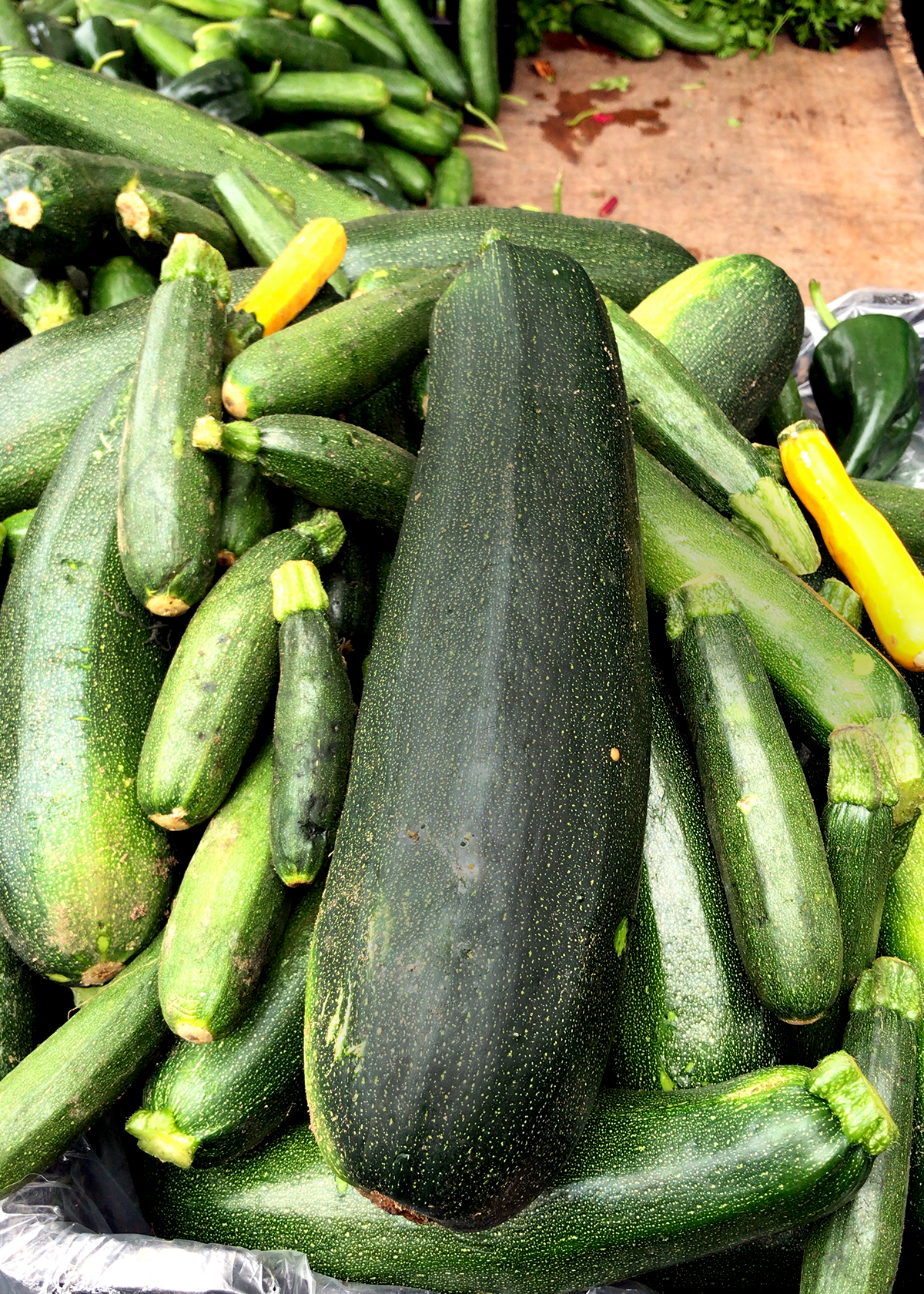 Dietary Considerations and Health Benefits of Zucchini
This Zucchini Bread recipe as published is:
vegetarian
vegan-adaptable, see Substitutions and Variations section below
dairy-free
What Ingredients You Need
Zucchini
Eggs
Sugar
Vanilla extract
Oil
All-purpose flour
Baking powder
Baking soda
Salt
Cinnamon
Nutmeg
Optional Mix-In Ingredients
This Zucchini Bread recipe is super flexible so it is open to all kinds of mix-ins at the end. Add up to 1 cup of:
dark chocolate chips
chocolate chunks
chopped white chocolate
nuts, if you must
dried fruit, also, only if you must
Fold the mix-ins into the finished batter right before pouring the batter to the pan. Note that the nutritional information per serving of the recipe changes, primarily the calories and fat, when you add chocolate chips.
Ok, now look, I know it's controversial, but I'm going to go ahead say it: nuts of any kind do not belong in Zucchini Bread, or any baked goods for that matter. However, if you are inclined to add nuts, don't. Just kidding. You can add up to 1 cup of chopped nuts by folding them into the finished batter at the end.
If you add raisins to Zucchini Bread, we are no longer friends.
Instructions for How to Make Easy Zucchini Bread
This Easy Zucchini Bread recipe is meant to be, well, just that: easy. The ingredients come together in one bowl, utilizes the "muffin method" of mixing the batter, and baked in one 9x5-inch loaf pan, rather than two. Fewer bowls to wash. Fewer pans to wash.
Before you start on making the bread itself, you will: Place a rack in the center of the oven. Preheat oven to 350°F. Line a 9x5-inch loaf with parchment paper and spray with baking spray.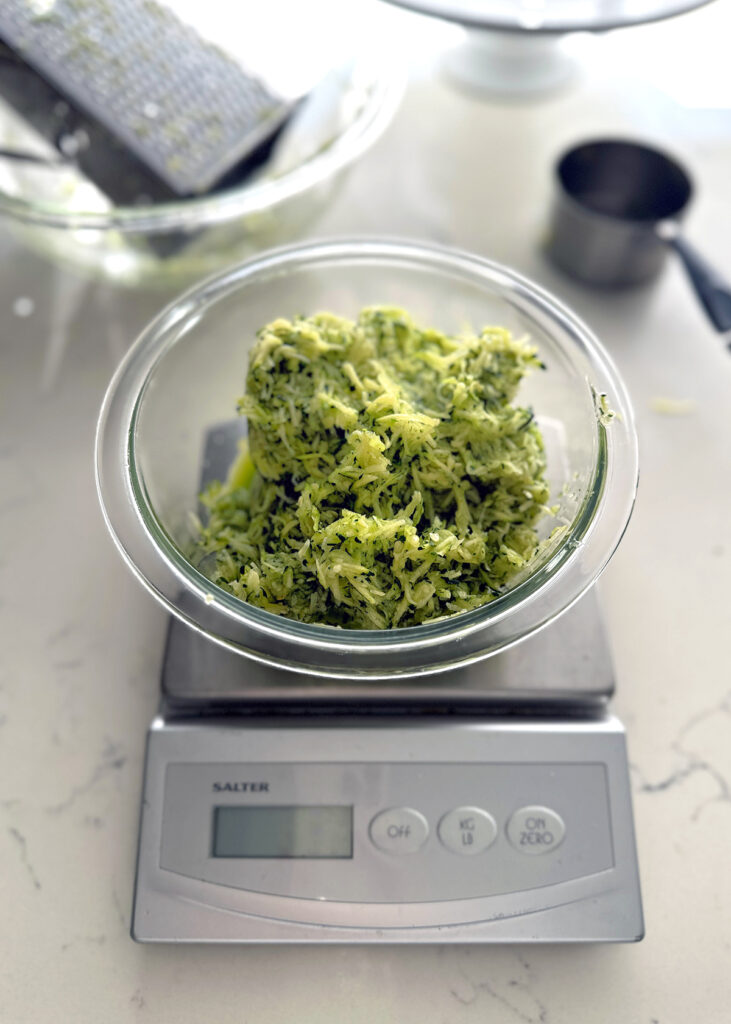 Using a box grater, shred 2 medium zucchini onto a paper towel or clean dry kitchen towel. Gently squeeze the shredded zucchini in the paper towel or kitchen to drain off any excess liquid. You do not need to wring or squeeze too hard, just enough to release excess. Set shredded zucchini aside.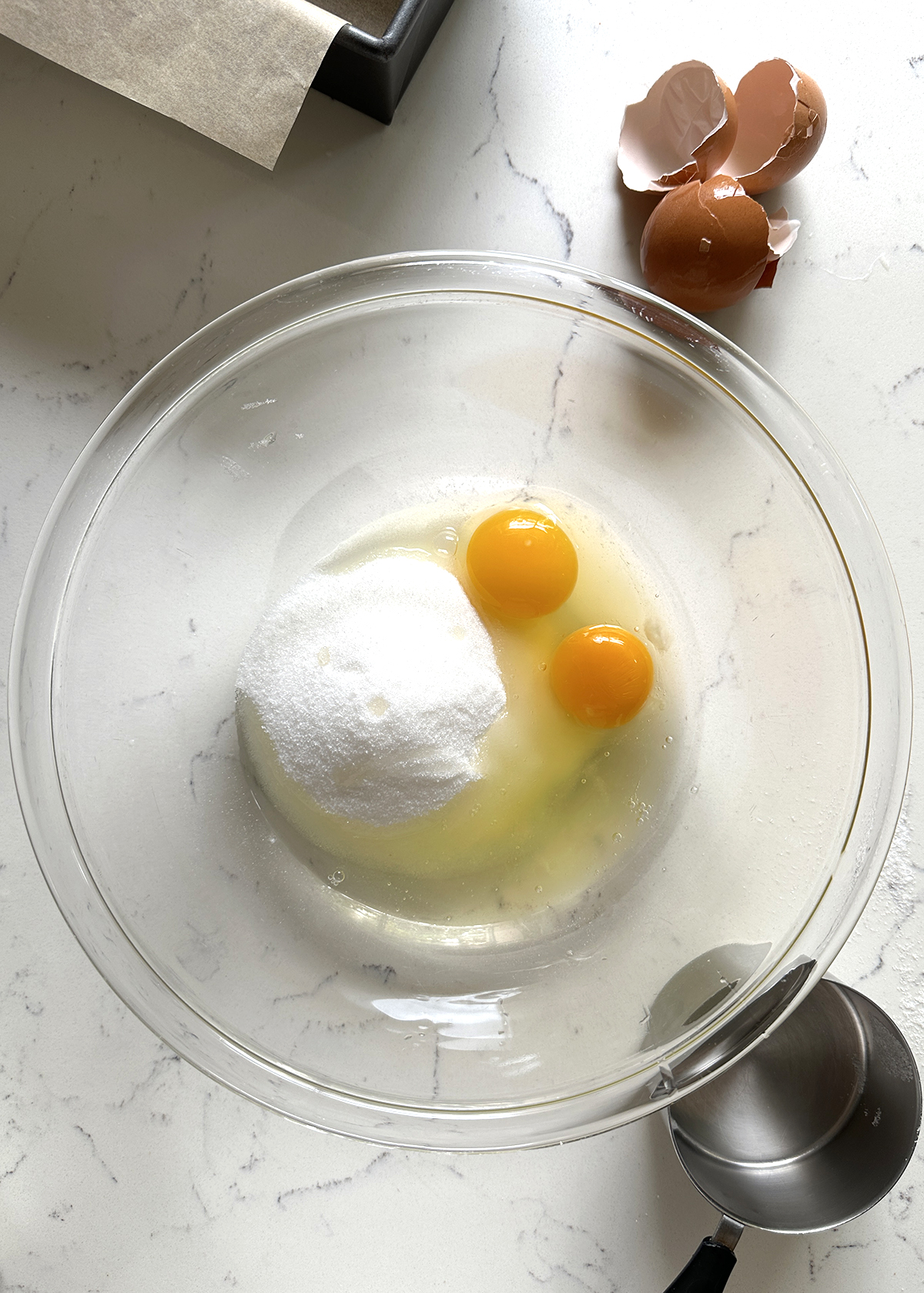 In a large mixing bowl, beat together eggs and sugar until just incorporated. The sugar does not have to dissolve.
Beat in vanilla extract and oil.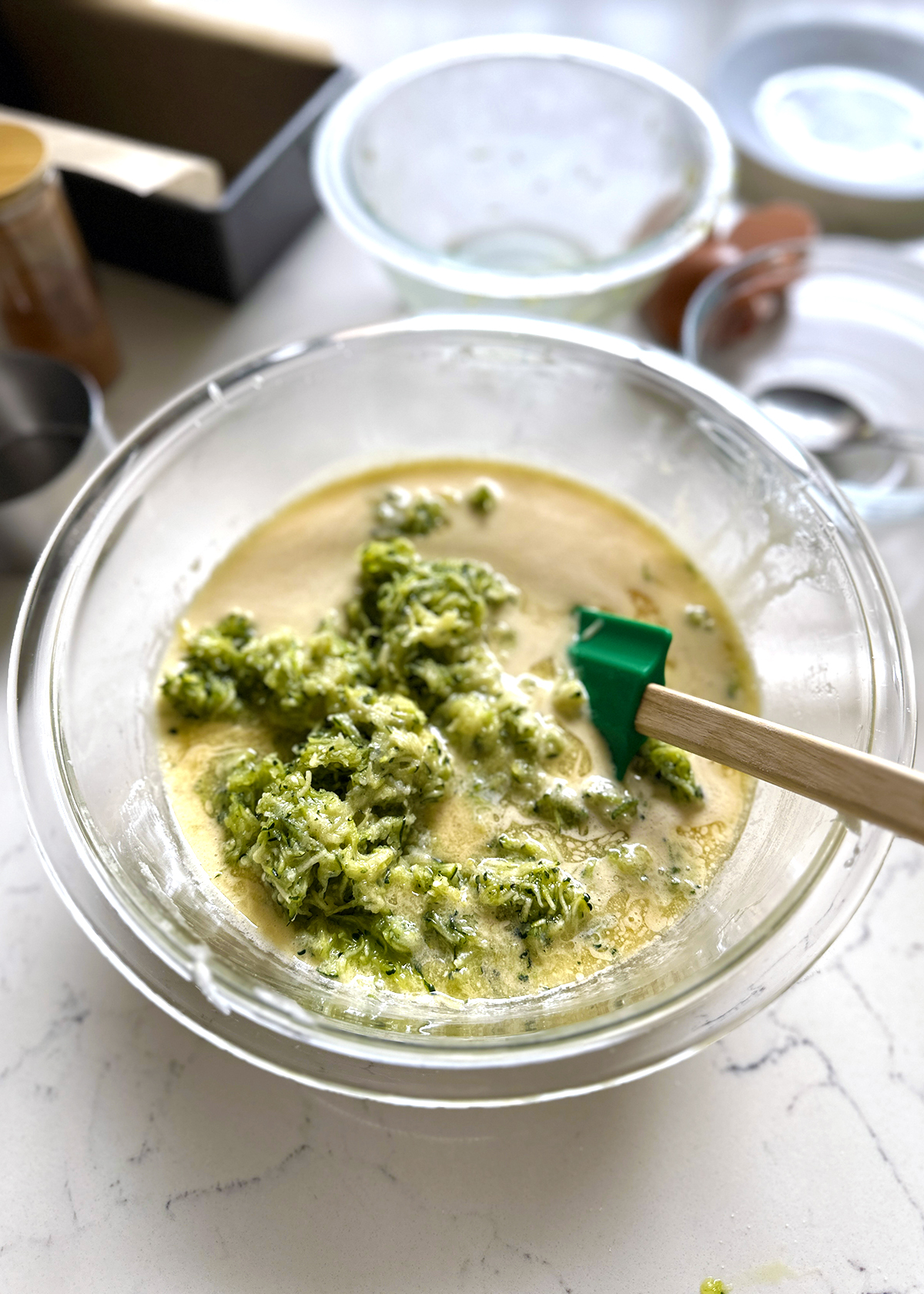 Stir in shredded zucchini, breaking up any clumps.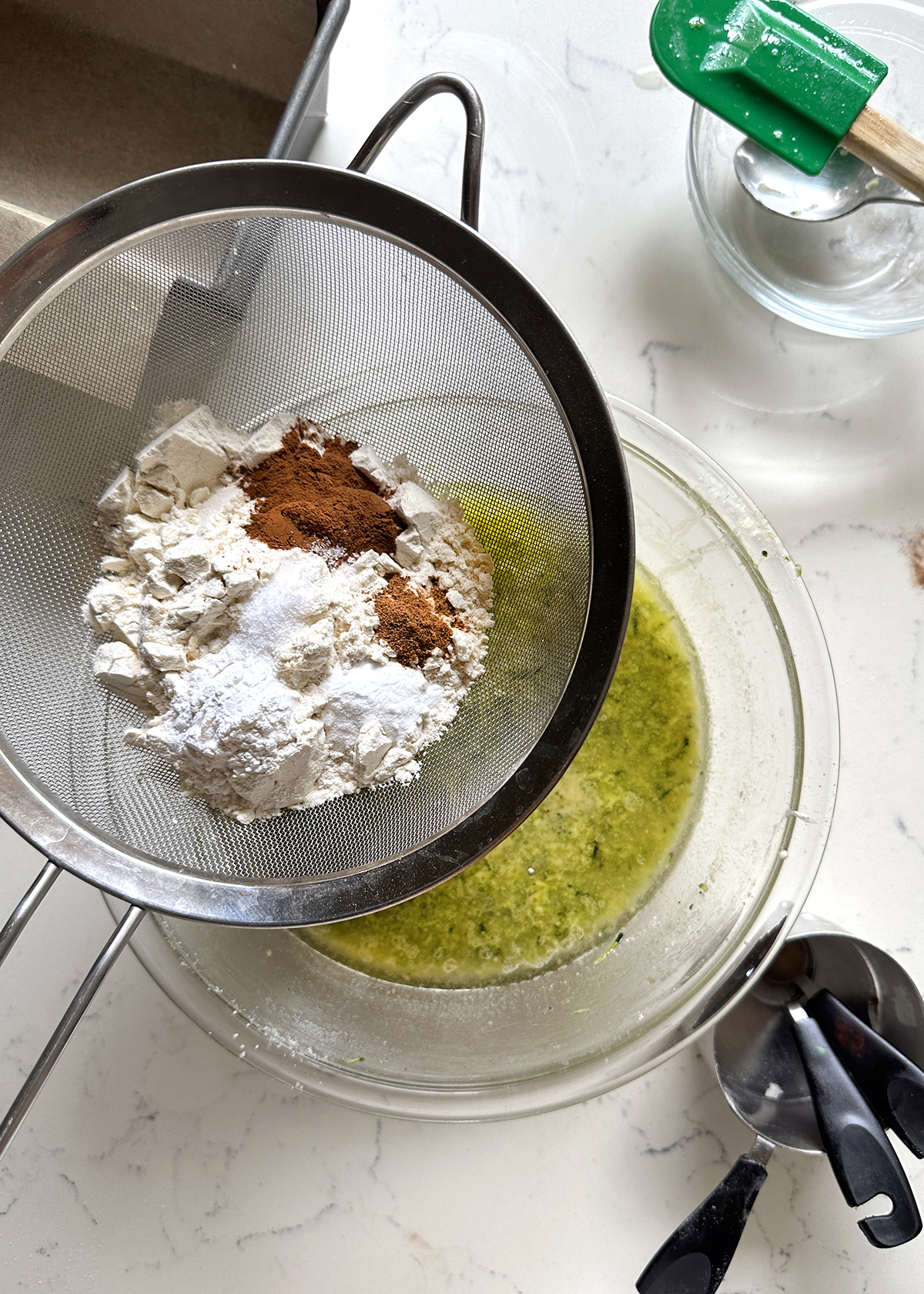 In a large fine mesh sieve or sifter set over the mixing bowl, add flour, baking powder, baking soda, salt, cinnamon, and nutmeg. Tap or sift the dry ingredients into the bowl.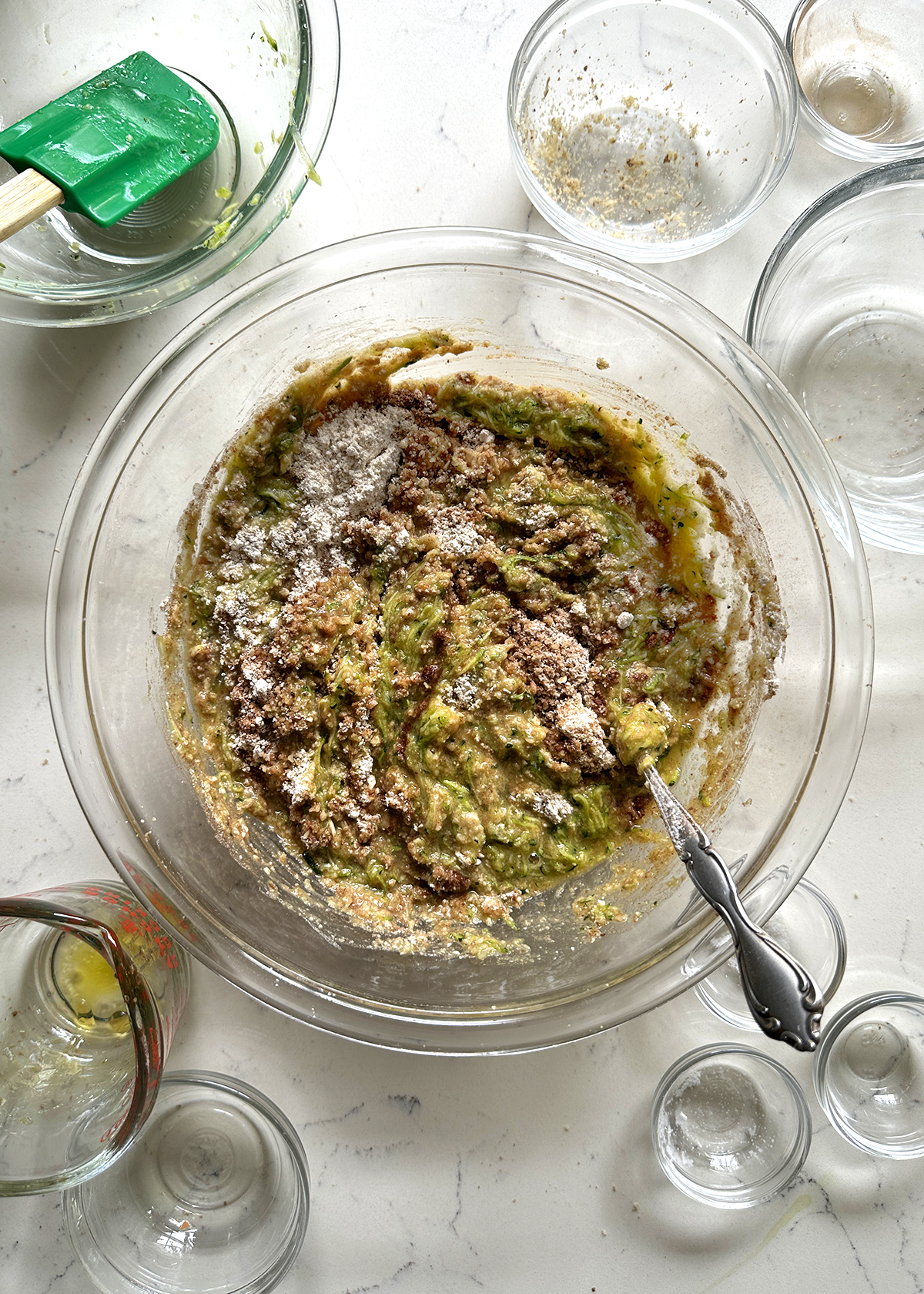 Gently stir dry ingredients into wet ingredients until dry ingredients are just incorporated and there are no big streaks of flour throughout the batter. This zucchini bread batter will be thick.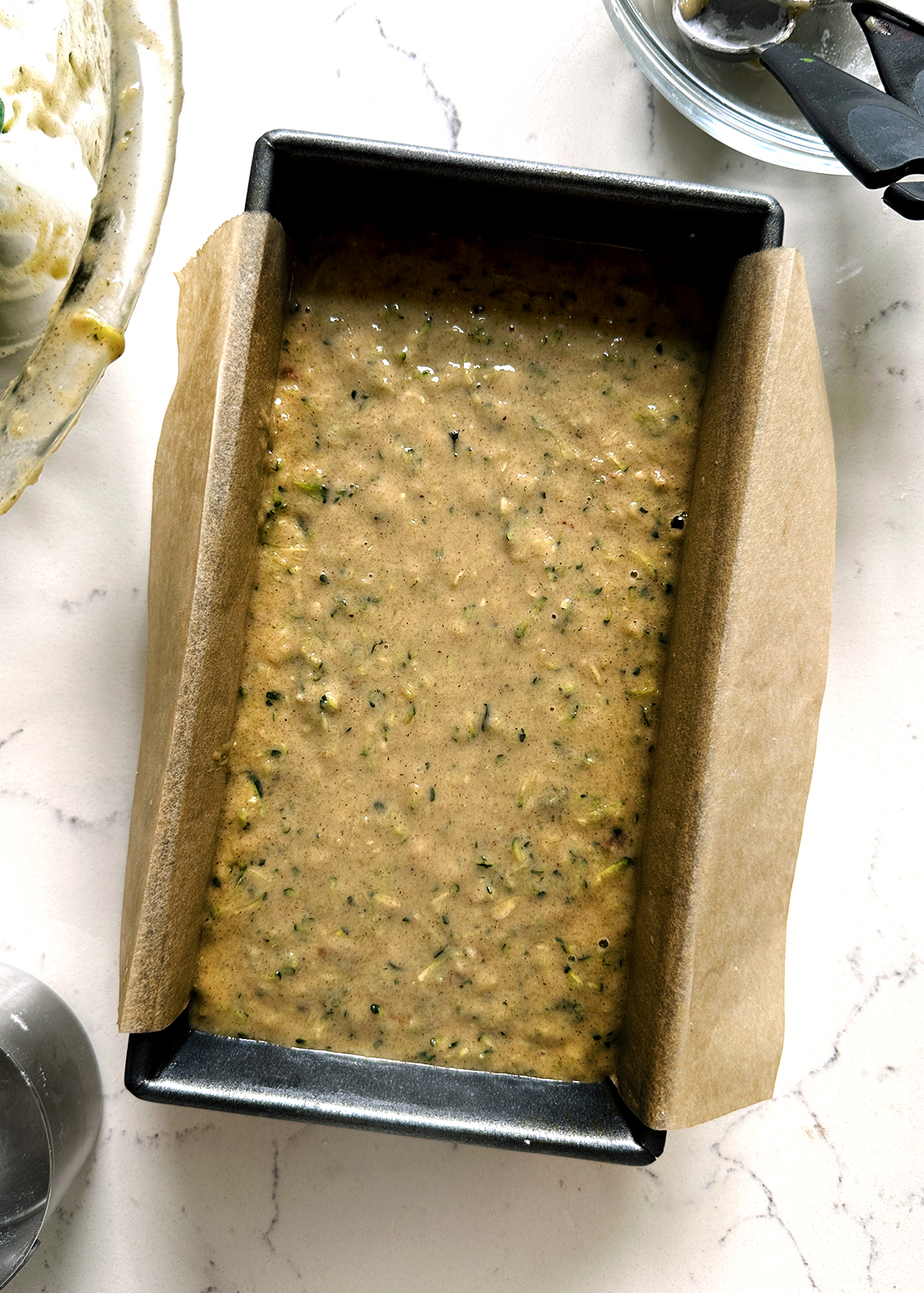 Pour batter into 9x5-inch loaf pan. Gently tap the pan against countertop to loosen any large air bubbles.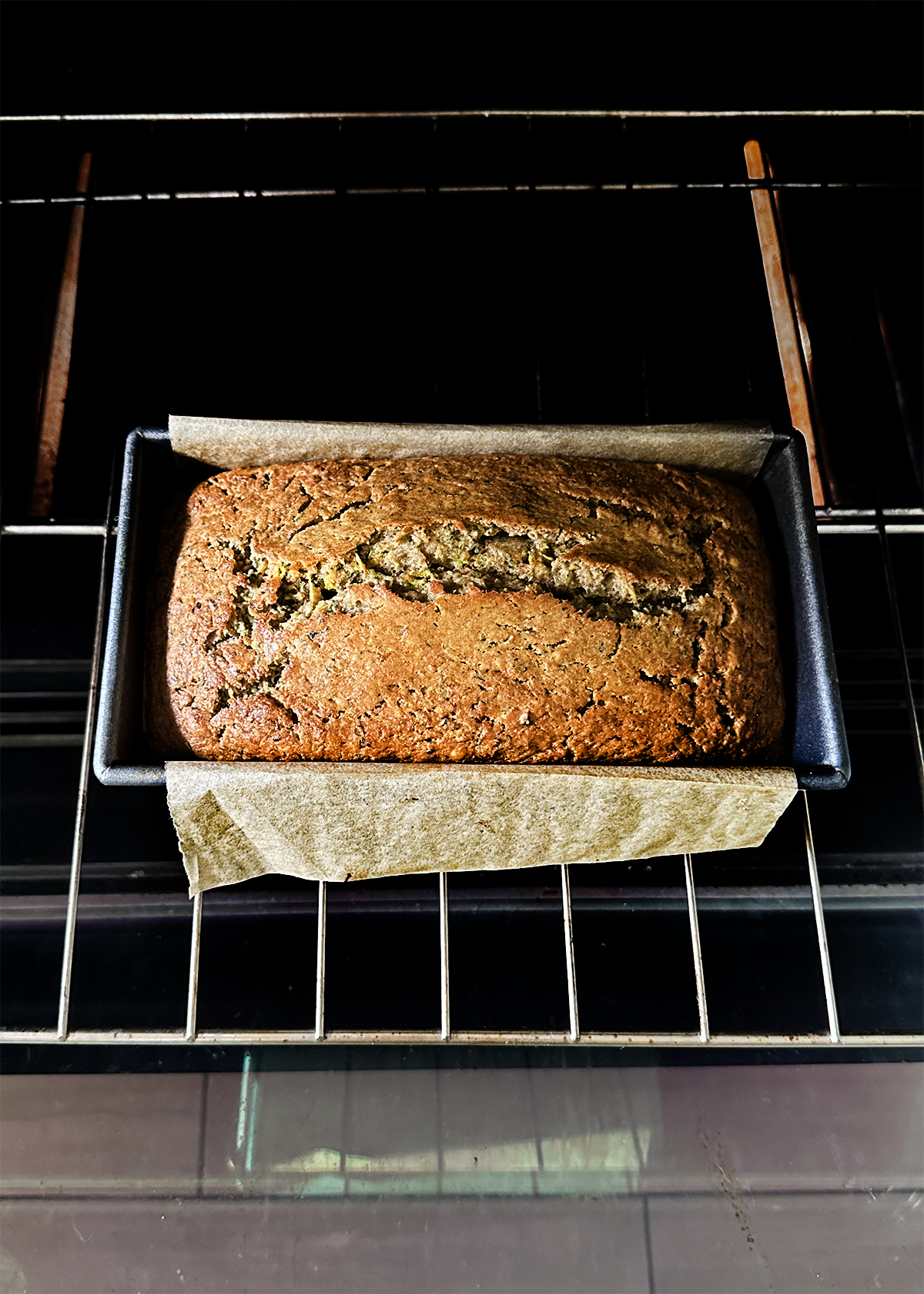 Bake on middle rack at 350°F for 55-65 minutes, until wooden tester comes out clean.
Pro-tip: Let fully baked loaf cool in the pan for 10 minutes, then carefully lift it out with the parchment paper and tip the bread onto its side. Let it cool on its side for 20 minutes to keep the center of the loaf high. You can return the zucchini bread onto its flat bottom and let the bread cool completely, a total cooling time of at least one hour, before cutting into it.
Ingredients Notes and Resources
Zucchini. You need 2 gently packed cups shredded zucchini, about 2 medium sized zucchini. Because zucchini vary so widely in size and density, use the cup measurement rather than the number of zucchini, though you won't really go too far wrong. Because we are keeping the skins on, look for organically grown, or grown by a farmer or gardener whose practices you trust.
Oil. Use any neutral flavored oil. I use avocado oil, usually this brand (not organic). If you want to use olive oil, the bread will taste and smell ever so faintly of olive oil so try using one that is lighter in flavor and color.
All-purpose flour. Use whatever organic flour is the most affordable off the shelf at my local grocery store.
Cinnamon. Cinnamon is a common spice for baking, but is unfortunately overlooked as a superfood! Anything labeled "ground cinnamon" is fine for this recipe. But if you really want something fancy, look for "Ceylon" cinnamon, which has a more delicate, complex flavor, and is great for certain cinnamon-focused applications, but might get lost in a rustic quick bread.
Nutmeg. This spice (which is not a nut) is part of the main ingredients for the recipe, but if you don't have it on hand, don't worry about it. That being said, nutmeg is a great spice to add to any kind of cooked green vegetable. You want ground nutmeg, not the whole thing.
Salt. I use this kosher salt for almost every cooking application (as opposed to a finishing/garnishing application). If you only have

regular table salt, use half the amount

in the recipe.
All other fresh herbs and produce from either the Santa Monica Farmers' Market on Wednesday, or Whole Foods Market when I can't find what I need at the farmers' market.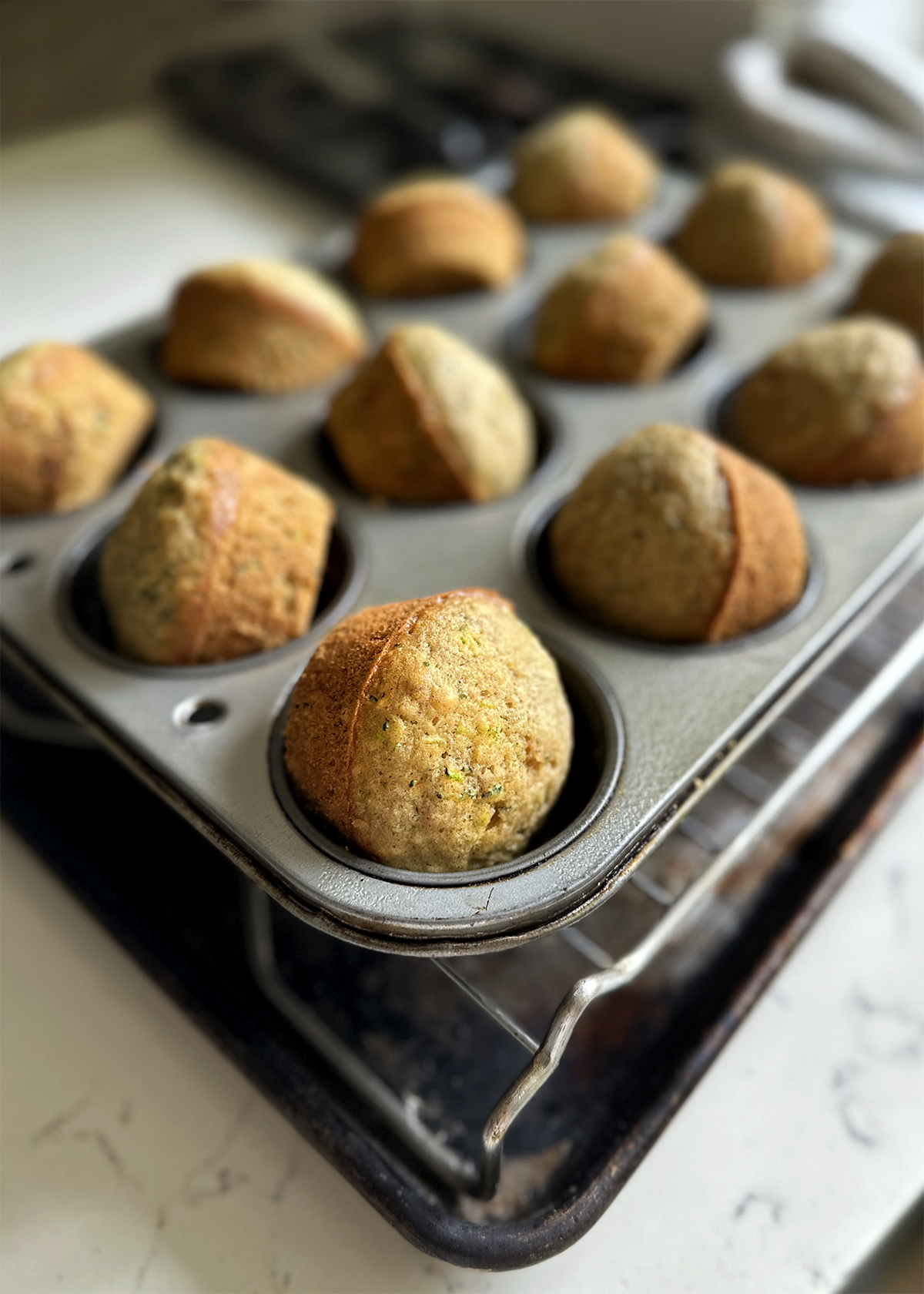 Can You Use Different Pans or Sizes to Bake Zucchini Bread?
Yes, you can bake this Easy Zucchini Bread in several different pan sizes and shapes! Part of what makes this recipe so easy is that baking in different pans doesn't require much, if any modification:
Muffin Pan— This Zucchini Bread recipe

fits perfectly

in a regular 12-count muffin tin and makes perfect muffins! Grease and flour the muffin tin or line with paper liners. Divide batter evenly among cups. Bake the muffins for 18-22 minutes.
Different Size Loaf Pan—Because this Zucchini Bread is meant to be easy, the recipe is flexible so you can use slightly different sized and shaped pans. An 8½x4½-inch loaf pan will yield a taller bread, and needs to bake for a longer time. Check the bread at 50 minutes.
8x8-inch Square Pan— An 8x8-inch square pan has similar capacity to a 9x5-inch loaf pan. The batter will spread out more, so you will need to decrease the baking time. Bake an 8x8-inch square for a shorter period of time, i.e. start checking the Zucchini Bread for done-ness at 30 minutes.
9x9-inch Square Pan—In a 9x9-inch square pan the batter will spread out even more, making a slightly thinner/flatter final product. Bake a 9x9-inch square for a shorter period of time, i.e. start checking the Zucchini Bread for done-ness at 25 minutes.
Substitutions and Variations
Zucchini Bread, as with most quick breads, is forgiving, flexible and great for customization by making ingredient substitutions or additions. I have made this recipe many times as it's presented, as well as with the substitutions and variations as noted below:
Whole Wheat Flour - Substitute in whole wheat flour for up to 100% of the all-purpose flour to add fiber to the nutritional profile and slightly more texture to the final product. I have made this Zucchini Bread with whole wheat flour and it comes out perfectly!
Almond Flour and Other Alt- Flours - Substitute up to half (50%) of the all-purpose flour in this recipe with alternative flours like almond flour, cassava flour, or coconut flour. If you'd like a completely wheat-free version, try this Healthy Zucchini Bread recipe made with oat flour and ground walnuts, or see the next section about making the recipe 100% gluten-free...
Brown Sugar—Substitute up to 50% of the granulated (white) sugar in this recipe with brown sugar for similar results in texture and a slightly "warmer" brown sugar flavor.
Reduced Sugar—You can absolutely reduce the total amount of sugar in the recipe to ¾ cup, or even ½ cup! Any less than that, however, and you will compromise the structural integrity of the bread, as sugar is not just for sweetness, but moisture and texture.
Olive Oil or Other Oil — You can use olive oil for this recipe. In fact, the savory quality of olive oil will complement the slightly more savory vegetable vibe of the zucchini in this bread. For results closest to this recipe, use a "light" olive oil, or one that is fairly mild in flavor rather than one that is very spicy or peppery.
Modifications for Dietary Needs
Gluten-free - To make this Zucchini Bread gluten-free, substitute a gluten-free flour 100% for the all-purpose flour. Two commercial baking-ready gluten-free flours my gluten-free experts friends have recommended are Measure-for-Measure by King Arthur and Pamela's, both of which you can substitute into recipes 1:1. This Healthy Zucchini Bread recipe is gluten-free if you use certified gluten-free oats, which I do!
Vegan - To make this recipe vegan, use an appropriate plant-based egg substitute or a flax egg, which is made with ground flax seeds and water. I would not leave the egg alternative out completely.
Variations with Mix-In Ingredients
As noted above, additional mix-in ingredients at the end are great for customizing your Zucchini Bread. Add up to 1 cup of any of the following into the batter at the end, with the understanding that additions will change the nutritional profile of the final recipe. Just fold into the final batter until well incorporated:
dark chocolate chips or chopped chocolate chunks
white chocolate chips or chunks
chopped toasted nuts of any kind like almonds, pecans, pistachios, or walnuts
chopped dried fruit like dried cranberries, dated, dried figs, dried plums or raisins
Tools and Equipment
As I always say, you don't need any special equipment to make almost any recipe. However, in the case of baked goods, and this Zucchini Bread in particular, you do need a couple of baking-specific tools. I'm also including a few tools that might help make the process even easier than it already is to get from farm to fork:
Box Grater to shred the zucchini!
Glass mixing bowls. Since this is a one-bowl recipe, you only need a medium-sized one!
Sieve to sift the dry ingredients together
Parchment paper to line the pan
9x5-inch Loaf Pan
Wire cooling rack
Bread knife
Glass storage container with airtight lids
Advance Prep for Easy Zucchini Bread
Because this Zucchini Bread recipe is intended to be easy and comes together so quickly, there really is no need to prep anything in advance. That being said, you can shred the zucchini up to 1 day in advance. Follow these guidelines:
Zucchini releases a lot of water after it's shredded, so shred the zucchini on the large holes of the box grater to reduce the exposed surface area
Store pre-shredded zucchini in an air-tight container in the refrigerator
Discard any liquid that the zucchini releases before using in the recipe
Let refrigerated pre-shredded zucchini come to room temperature.
Make-Ahead and Storage
Zucchini Bread, like all quick breads and muffins, are perfect for making ahead and eating over the next few days or freezing and re-heating. In fact, toward the end of the summer when zucchini is overflowing in the garden or at the markets, it's worthwhile to make two loaves at once if the oven's going to be turned on anyway. You can eat one loaf now and freeze one for later. To store Zucchini Bread, cool bread completely. Like completely. At least one hour, maybe two. Then to store:
1-2 Days. Store zucchini bread, as a loaf or sliced into individual servings, at room temperature in an air-tight container on the countertop for up to one day, maybe two days as long as it's not too hot and humid in the house.
Up to 5 Days. Store zucchini bread, as a loaf or sliced into individual servings, for up to 5 days in the refrigerator in an air-tight container.
Up to 3 Months. Slice bread into individual servings. Wrap each slice in a piece of parchment paper to protect from freezer burn and to keep slices from sticking together. Place slices in an air-tight zipper-top bag and remove as much as air as possible. Remove individual slices from freezer, unwrap parchment paper, and re-heat in a toaster oven (best option). You can also microwave the frozen zucchini bread, but the texture will be slightly sticky.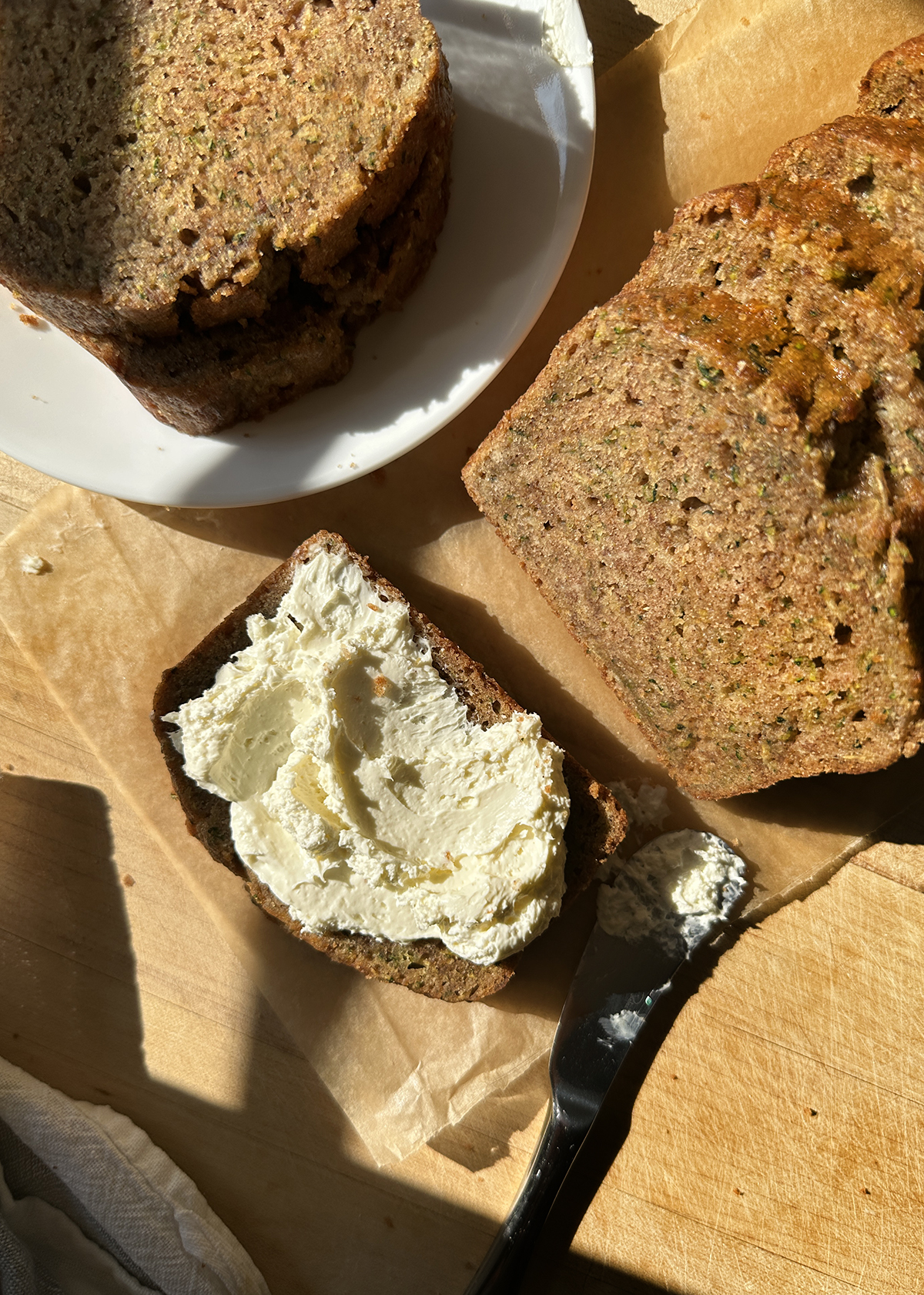 What Else to Serve with Easy Zucchini Bread
A generous slice of Zucchini Bread by itself is a perfect light breakfast or snack! If you like to make it a little more of an occasion, here are some great suggestions for what and how else to serve with Zucchini Bread:
Slather a slice, toasted or not, with whipped cream cheese; the whipped version is key as zucchini bread is tender so you want something that spread onto it gently
Spread a slice with nut butter
Drizzle the entire loaf with cream cheese icing or vanilla icing
Top the entire loaf with this Cream Cheese Frosting to transform your Zucchini Bread into a dessert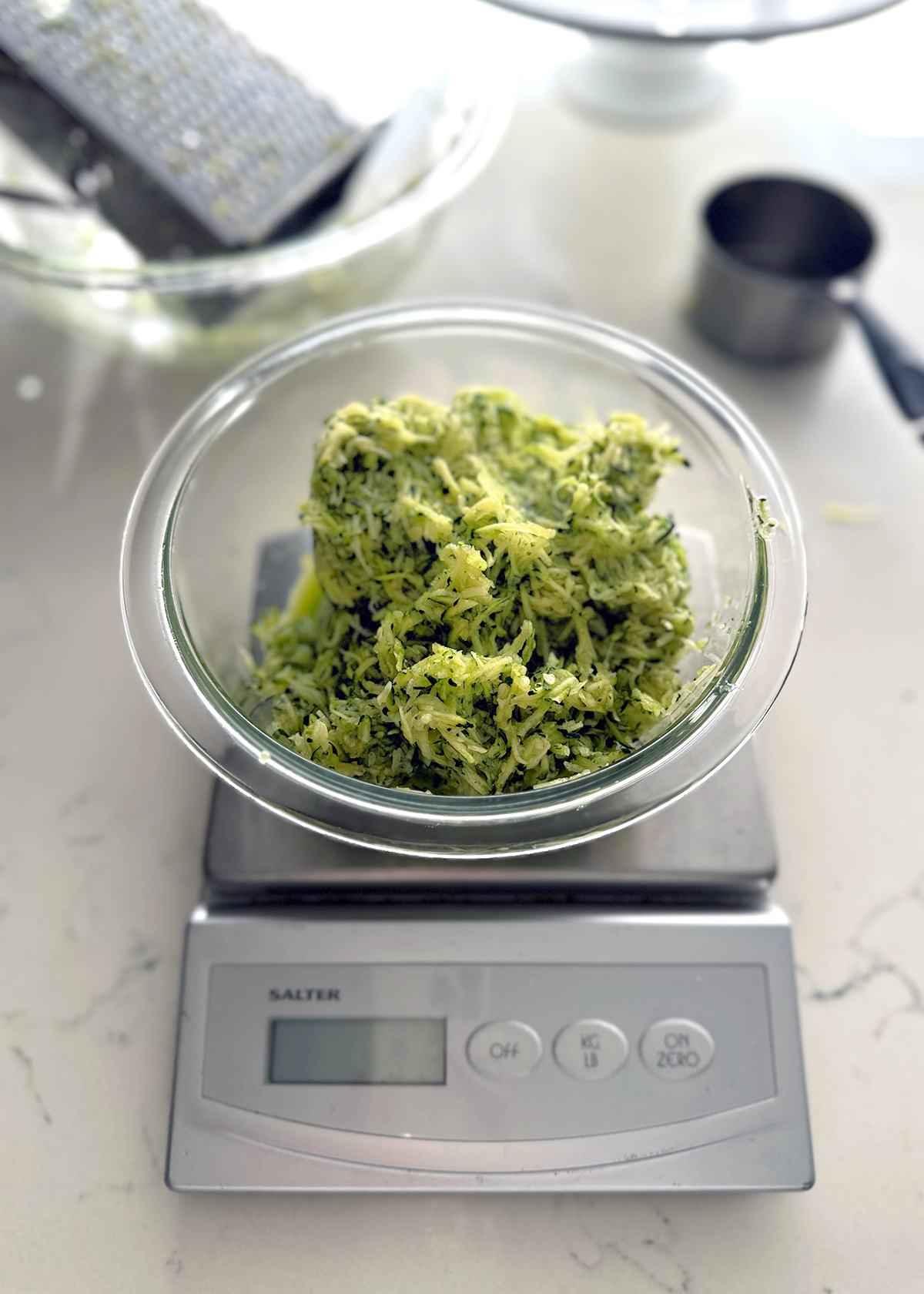 FAQ
Do you leave the skin on zucchini for Zucchini Bread?
Yes, leave the skin on for Zucchini Bread! The green skin is what gives those little green flecks that look like confetti! Not only is the color for aesthetics though, the green skin is where a lot of the nutritional benefits like fiber and antioxidants like vitamin C are.
Do you remove the seeds from zucchini for Zucchini Bread?
No, you do not remove the seeds from zucchini for Zucchini Bread. The seeds are very soft and virtually flavorless, and will shred along with the rest of the zucchini.
How fine do you grate zucchini for Zucchini Bread?
How fine the zucchini shreds are is personal preference. Grate the zucchini on the large holes of a box grater, which will make for bigger green flecks in your Zucchini Bread. If you prefer a more subtle zucchini presence in your bread, grate on the smaller holes. Slightly more water will be released when grating on the smaller holes—just discard any excess water. The finely shredded zucchini will blend more seamlessly into the texture of the bread.
How many cups of shredded zucchini comes from one zucchini?
One medium sized zucchini usually render one lightly packed cup of shredded zucchini that hasn't been squeezed and drained.
More Zucchini Recipes
If you're here because you're looking to cook with a glut of zucchini, I got you. Try these recipes, both sweet and savory: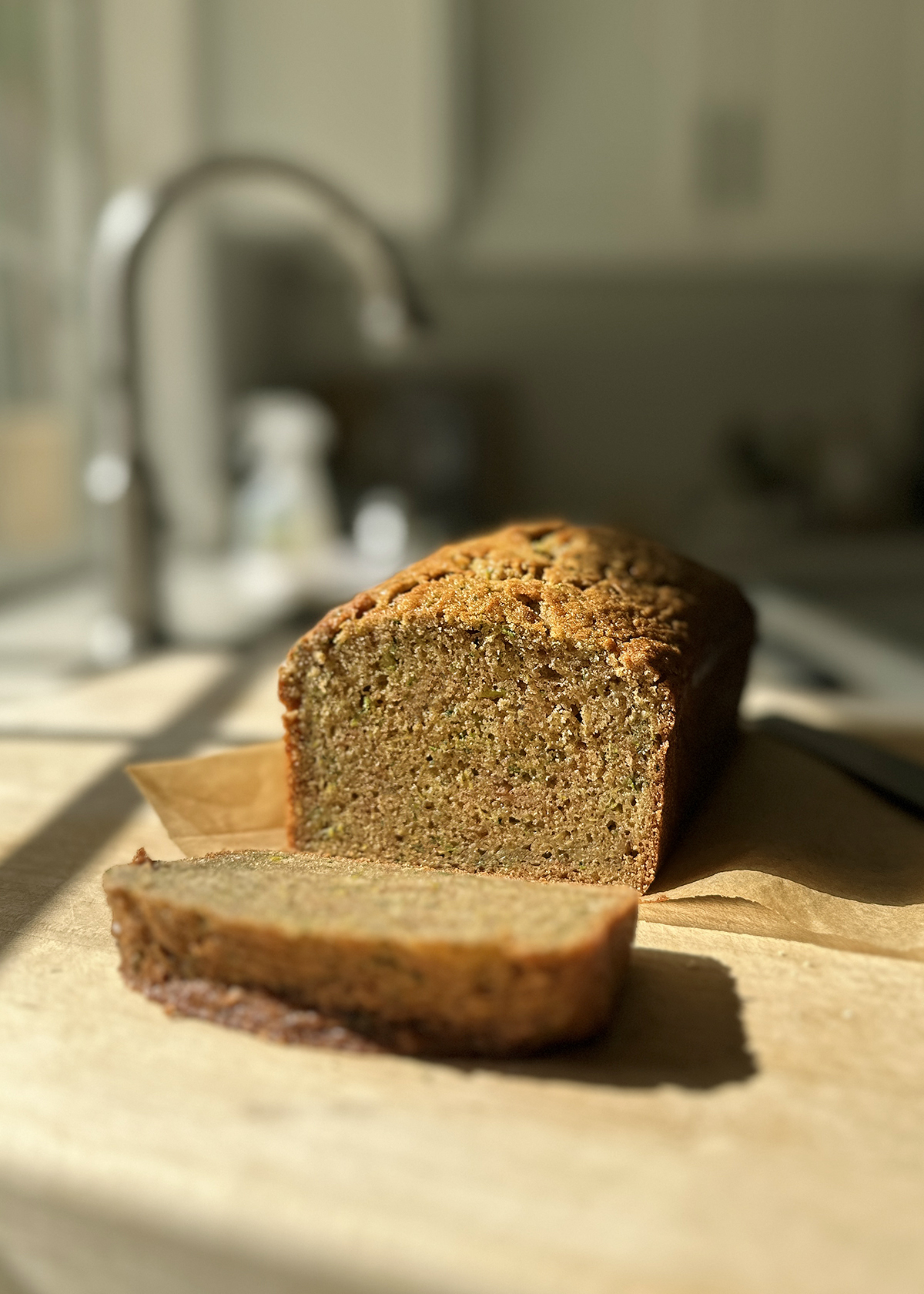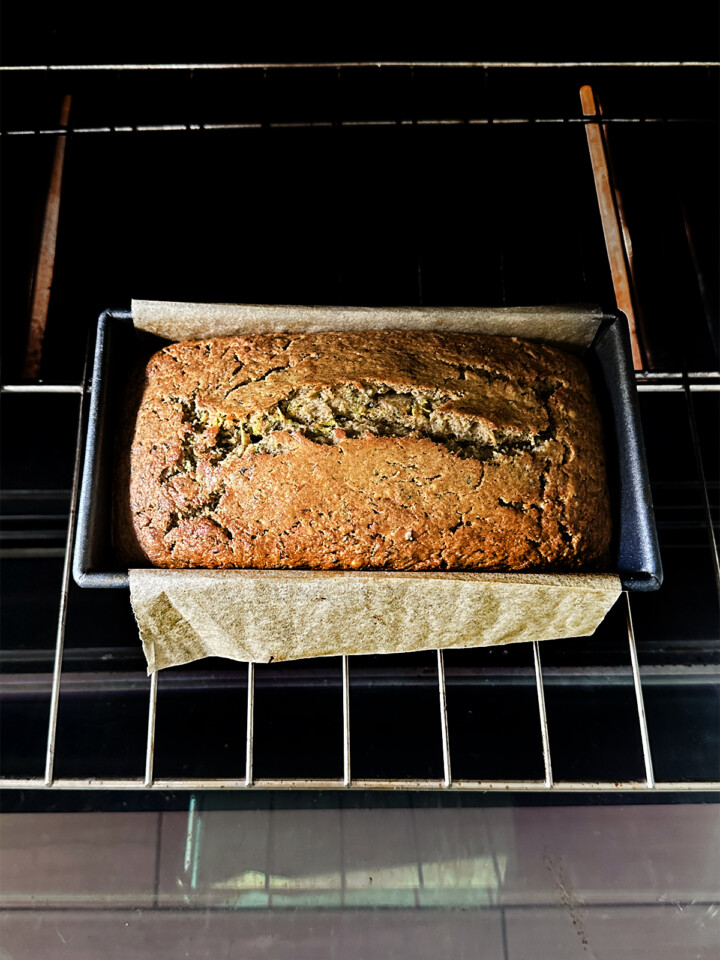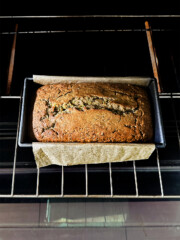 Print Recipe
Easy Zucchini Bread Recipe
One bowl, one pan, this Zucchini Bread recipe couldn't be any easier unless someone else makes it for you!
Servings:
10
¾-inch slices
Ingredients
2

eggs

¾

cup

brown sugar

(substitute up to ¼ cup granulated/white sugar)

½

cup

neutral flavored oil like avocado oil

2

teaspoon

vanilla extract

2

cup

shredded zucchini

from 2 medium zucchini, about 12 ounces.

2

cups

all-purpose flour

1

teaspoon

baking powder

½

teaspoon

baking soda

½

teaspoon

salt

1½

teaspoons

cinnamon

¼

teaspoon

nutmeg

optional: 1 cup toasted walnuts or dried fruit or chocolate chips
Instructions
Preheat oven to 350°F. Spray a 9 x 5-inch loaf pan with baking spray and line with parchment paper.

In a large mixing bowl, beat together eggs and sugar until just incorporated. Stir in vanilla extract and oil until oil is well incorporated. Add shredded zucchini, and stir in, making sure to break apart any clumps of zucchini.

In a large fine mesh sieve or sifter set over bowl with wet ingredients, add flour, baking powder, baking, soda, salt, cinnamon, and nutmeg. Tap sieve or sift dry ingredients directly into liquid ingredient in bowl.

Gently stir dry ingredients into wet ingredients until dry ingredients are just incorporated. It's okay if there are a couple of streaks of flour throughout the batter.

Pour zucchini bread batter into loaf pan. Gently tap againt countertop to get rid of any large air bubbles. Bake for 55 minutes unti wooden tester comes out clean.
Nutrition
Serving:
1
slice
|
Calories:
276
kcal
|
Carbohydrates:
38
g
|
Protein:
4
g
|
Fat:
12
g
|
Fiber:
1.2
g
Why Trust The Delicious Life?
Sarah is a professional recipe developer, writer, editor, and digital content creator with almost 20 years of experience cooking both at home and in professional kitchens, entertaining, and catering for private clients. She studied Nutritional Science in college and promotes happy healthy living through food.