This is the banana bread you throw together Sunday mornings when you have neither the alertness to remember overly specific measurements like "1¾ cup + 2 tablespoons flour" (seriously?), nor special, non-pantry-staple ingredients like sour cream or buttermilk. Shall we?
Incidentally, if you do have buttermilk, chocolate chips, and slightly more patience, try the Last Chocolate Chip Banana Bread Recipe You'll Ever Need.
Jump to:
Of all the banana bread recipes I've tested, tried, tweaked, tried again, and finally posted, THIS banana bread recipe is the best of the best because it's the simplest.
Sure, there are recipes that turn out a banana bread that's as rich and tender as cake. Of course there are recipes for banana bread that are filled with chocolate chunks or other fruit or, god forbid, nuts. And obviously, there are very specific banana bread recipes for whatever diet lifestyle you're on, whether that's keto, paleo, vegan.
But those luxuries are not really what we need right now.
What we need whilst in quarantine during a global pandemic, is a banana bread that we can throw together in a bowl when we have neither the mental energy to follow overly specific measurements like "1¾ cup + 2 tablespoons flour" (seriously?), nor special, non-pantry-staple ingredients like sour cream, Greek yogurt, buttermilk, not even regular old milk because what single, childless woman keeps fresh milk in the fridge?
This is THE banana bread recipe for the times, with suggestions for ingredient substitutions and additions.
Ingredients You Need for Basic Banana Bread
very ripe bananas
eggs
sugar
neutral oil or melted butter
vanilla extract
all-purpose flour
baking soda
salt
cinnamon
The recipe also calls for ¼ cup water, but if you actually do have a plant-based milk or can tolerate dairy and have regular milk, yogurt, or sour cream, use it, in the same amount. There is no need to actually go out and buy milk if you don't already have it though. The water is more than enough for liquid and volume.
Ingredient Resources and Notes
Bananas. Use bananas that are so ripe, they are teetering on the edge of fermenting within the deep dark recesses of their blackened peels into wine.
Sugar. If you don't have brown sugar, use white granulated sugar.
Oil. Use ANY oil for this bread, with the understanding that the bread will smell and taste like that oil, so something neutral is best. Avocado oil is my go-to neutral oil. Canola and grapeseed oils are more common, standard neutral oils. Olive oil has a distinctive scent, so use olive oil if you like that. This is the every day olive oil brand I use.
Flour. Banana bread recipes are generally pretty forgiving so you can use any flour you have, including gluten-free flour mixes, other grain flours like oat flour, bean and nut flours, with the understanding that the texture of the bread can (and will) be very different. If you have some regular wheat flour and are just trying to conserve it, use some of it with the alternative flours to "help" them. The only thing I'd stay away from is any kind of pre-made mix like pancake mix, which has other ingredients like sugar, leavers, and oils, which will be hard to account for in the rest of the Banana Bread recipe.
Baking Powder/Baking Soda. This is a substitution that you have to think about because the two ingredients are not completely interchangeable without changes to other ingredients in the Banana Bread recipe. If you have baking soda, proceed as directed. If you only have baking powder, use 2 teaspoons of baking powder.
Ingredient Substitutions and Variations
Honey or Maple Syrup. You can substitute out the sugar with honey or maple syrup. Honey is sweeter than regular sugar, so decrease the amount by about ¼ cup (4 tablespoons), and increase the amount of flour by the same amount to account for the liquid. Maple syrup is about as sweet as sugar, so substitute one-for-one with sugar here. Because it is also a liquid, just add about 2 tablespoons of extra flour to balance the added liquid. The texture of the banana bread will be slightly different with either of these substitutions and of course, will have a fragrance of either honey or maple syrup, which is definitely a very good thing.
Other Oils or Butter. You can use melted coconut oil. Softened/melted butter is a fantastic choice if you have it, but in my kitchen, butter is limited and I prefer to save it for recipes that require the very specific chemical properties of butter, e.g. chocolate chip cookies. 
Whole Wheat Flour - Substitute in whole wheat flour for up to 100% of the all-purpose flour to add fiber to the nutritional profile and slightly more texture to the final product. I have made this Banana Bread with whole wheat flour and it comes out perfectly!
Almond Flour and Other Alt- Flours - Substitute up to half (50%) of the all-purpose flour in this recipe with alternative flours like almond flour, cassava flour, or coconut flour. If you'd like a completely wheat-free version, see the next point about making the recipe 100% gluten-free...
Other Spices. If you like the flavor of ginger and/or nutmeg and already have them, add up to 1 teaspoon of ground ginger and/or ¼ teaspoon of ground nutmeg with the dry (flour) ingredients. Just know that adding ginger and nutmeg start to take the banana bread toward holiday pumpkin spice bread territory.
How to Adapt this Basic Banana Bread for Special Diets
Gluten-free - To make this Banana Bread gluten-free, substitute a gluten-free flour 100% for the all-purpose flour. Two commercial baking-ready gluten-free flours my gluten-free experts friends have recommended are Measure-for-Measure by King Arthur and Pamela's, both of which you can substitute into recipes 1:1. This Healthy Zucchini Bread recipe is gluten-free if you use certified gluten-free oats, which I do!
Vegan - To make this recipe vegan, use an appropriate plant-based egg substitute or a flax egg, which is made with ground flax seeds and water.
Baking in Different Pans
Loaf Pan. I use an 8½ x 4½-inch loaf pan, which is just ever so slightly smaller than the oft-called-for 9x5-inch loaf pan. I like the smaller size because the banana bread baked up taller. If you use a larger loaf pan, your banana bread will just be a little shorter, and will probably require less baking time, so start checking on the bread for done-ness on the earlier side, 50 minutes.
Muffin Tin. If you don't have a loaf pan, you can bake this in a standard 12-count muffin tin and makes perfect muffins. Grease and flour the muffin tin or line with paper liners. Divide batter evenly among cups. You will have more batter than a 12-cup muffin pan, so just bake it twice. Bake the muffins for 18-22 minutes.
Square Pan. An 8x8-inch square pan has similar capacity to a 9x5-inch loaf pan. The batter will spread out more, so you will need to decrease the baking time. Bake an 8x8-inch square for a shorter period of time, i.e. start checking the Zucchini Bread for done-ness at 30 minutes.
9x9-inch Square Pan—In a 9x9-inch square pan the batter will spread out even more, making a slightly thinner/flatter final product. Bake a 9x9-inch square for a shorter period of time, i.e. start checking the Zucchini Bread for done-ness at 25 minutes.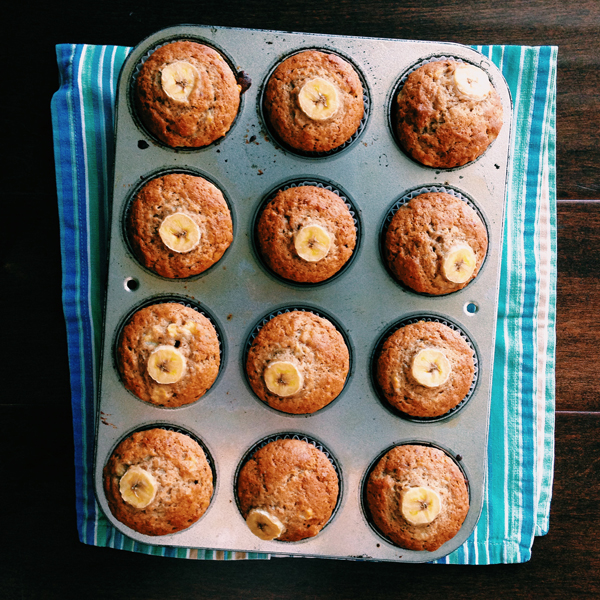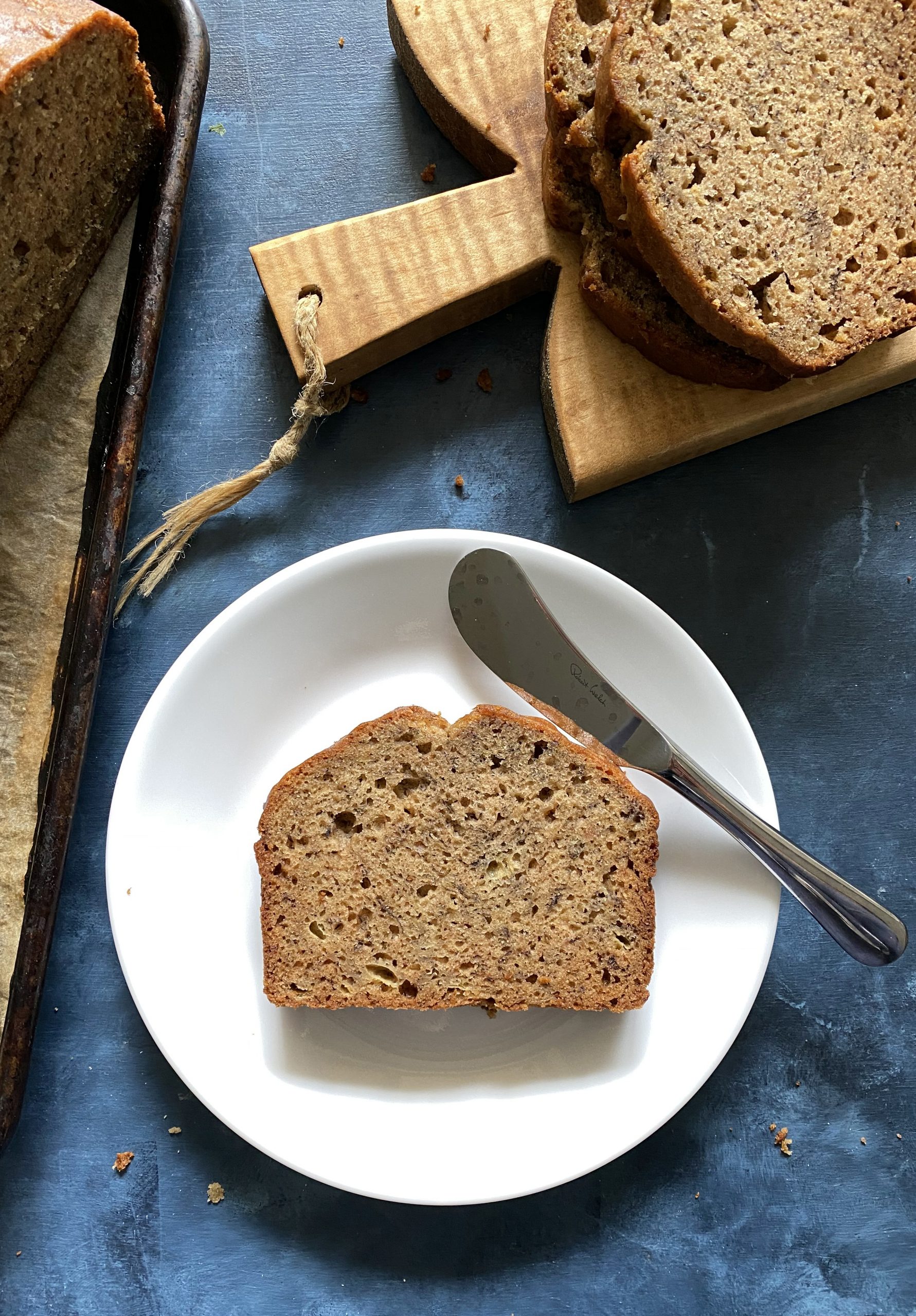 More Banana Bread Recipes
Can you tell we love a Banana Bread in this kitchen? We do, and it's because Banana Breads, like most quick breads and muffins, are simple, easy, and virtually fool-proof. Bonus points for recipes that use minimal bowls and tools to clean-up!
More Bananas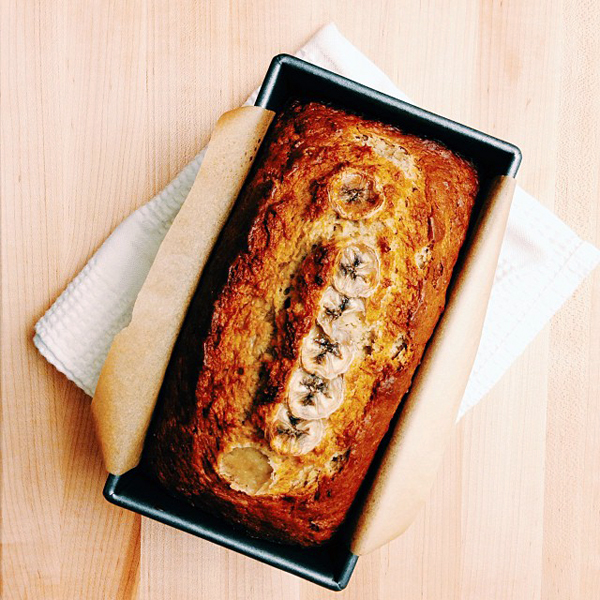 Print Recipe
Basic Banana Bread Recipe
Recipe adapted from a lot of different recipes. It's even easier if you remember it as "3-2-1" for 3 bananas, 2 cups flour, 2 eggs, 1 cup sugar. Of course, there are all those other stupid ingredients but AT LEAST THIS GETS YOU STARTED.
Ingredients
3-4

very ripe bananas

to yield about 1½ cups mashed

2

large eggs

1

cup

sugar

½

cup

neutral flavored oil

¼

cup

water

if you actually do have milk, yogurt, or sour cream, use it, in the same amount

1

teaspoon

vanilla extract

2

cups

all-purpose flour

substitute with other whole grain flour if you'd like

1

teaspoon

ground cinnamon

1

teaspoon

baking soda

½

teaspoon

salt

optional: 1½ cup coarsely chopped toasted nuts or chocolate chips
Instructions
Preheat the oven to 350°F degrees. Cut a piece of parchment paper the length of the loaf pan and about 3x the width. Place in pan with edges hanging over the side of the loaf pan, and grease the paper and the pan. (This all helps to shimmy the bread out of the pan after it's baked.) Set aside.

Mash the ripe bananas with a sturdy fork on the surface of a cutting board (this is far easier than mashing against the curved sides of a bowl).

Scrape the mashed bananas into a mixing bowl. Add eggs, liquid, oil, and vanilla extract and beat together just until well incorporated into a uniform mixture.

In a fine mesh sieve set over the wet ingredient, add the flour, cinnamon, baking soda and salt. Sift the dry ingredients into the mixing bowl over the banana mixture.

Gently combine the dry ingredients into the banana mixture until just combined and no large streaks of flour appear. Try not to over-mix the batter, the batter should be a little lumpy. Fold in optional chopped nuts, chocolate chips or whatever.

Scrape the batter into the prepared loaf pan and smooth the surface with the spatula. Add ¼-inch thick banana slices on top.

Bake until the loaf is golden brown and a toothpick inserted in the center comes out clean. Start checking at 55 minutes, up to 65 minutes.

Cool in the pan for 5 minutes, then lift the banana bread out of the pan with the parchment paper. Allow to cool fully on a wire rack. Serve warm or at room temperature. The banana bread taste great the next day and even the day after that.