Forget about every other Chocolate Chip Banana Bread recipe out there. This is the last Chocolate Chip Banana Bread recipe you'll ever need, handed down a line of professional pastry chefs, somehow ending up in my hands and now yours! Shall we?
Mary, who's had this and only this Chocolate Chip Banana Bread recipe saved for YEARS, noticed it disappeared off the site for a few weeks and emailed me immediately, so it's been revived, with notes and reviews accumulated through many iterations through the last 20-ish years. Thank you, Mary!
Jump to:
So what makes this recipe so special? The recipe calls for buttermilk or yogurt, which is, a la Tom Jones, not unusual. However, it is the method of alternating dry and buttermilk or yogurt additions to the batter that makes this the last recipe you'll ever save and use!
Ingredients You Need for Chocolate Chip Banana Bread
Almost every Chocolate Chip Banana Bread recipe has the same ingredients, and this one is right there with them. But what makes this Chocolate Chip Banana Bread recipe truly stand out are the proportions and the method of combining them.
Here are the 11 ingredients you need:
bananas, the riper and spottier the better!
chocolate chips or chunks
yogurt or buttermilk
granulated sugar
eggs
oil
vanilla
all-purpose flour
baking powder
baking soda
salt
See recipe below for exact quantities.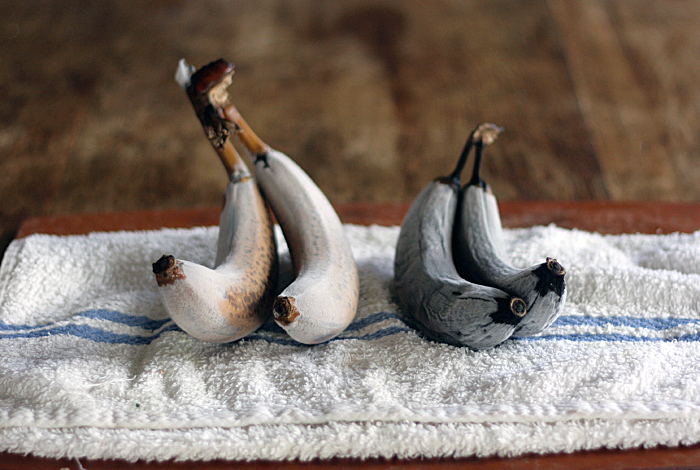 How Ripe Should Bananas Be for Banana Bread?
Because bananas serve multiple functions in Banana Bread beyond just flavor—sweetness, structure, moisture—it's best for them to be very ripe. Almost to the point you might question if they're even good to eat.
Bananas with little black dots probably need another day or two. If they have larger dark spots all over, they are ripe and ready. If the banana peels have dark streaks, even better. Completely darkened skins are probably okay, but my question to you here would be what is going on in your life that you'd let bananas get to that point in the first place?
Pro-tip: You can always throw ripe bananas, whole with skins and all, in the freezer to save and use to make Banana Bread later. The freezing and subsequent thawing process actually physically breaks down the bananas and concentrates their flavor when the melted liquid seeps out!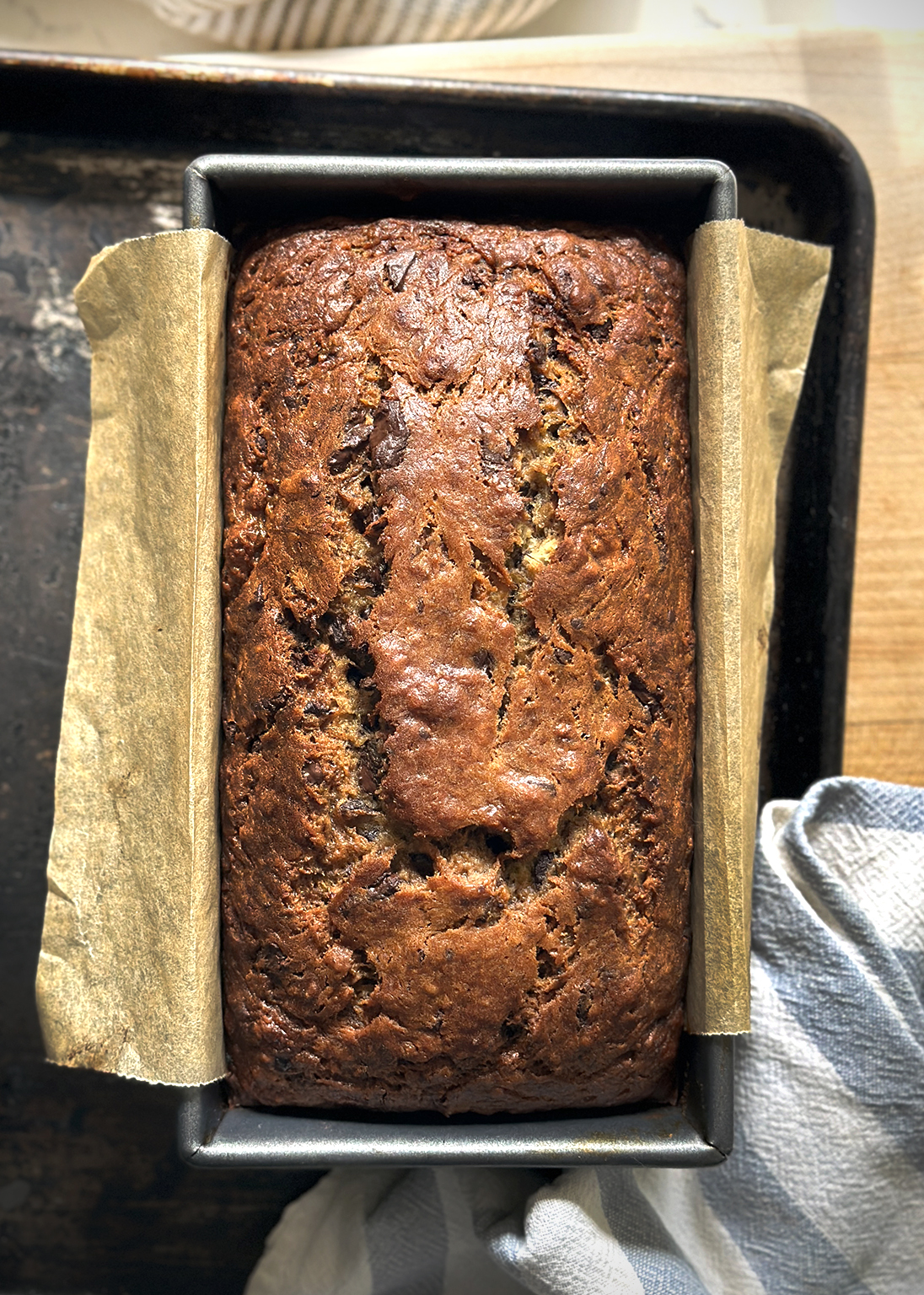 Instructions for Chocolate Chip Banana Bread
Start with the usual pre-heating of the oven to 350°F and lining and greasing of loaf pan or muffin pan with parchment paper. After that, follow these instructions for the Last Chocolate Chip Banana Bread Recipe you'll ever need: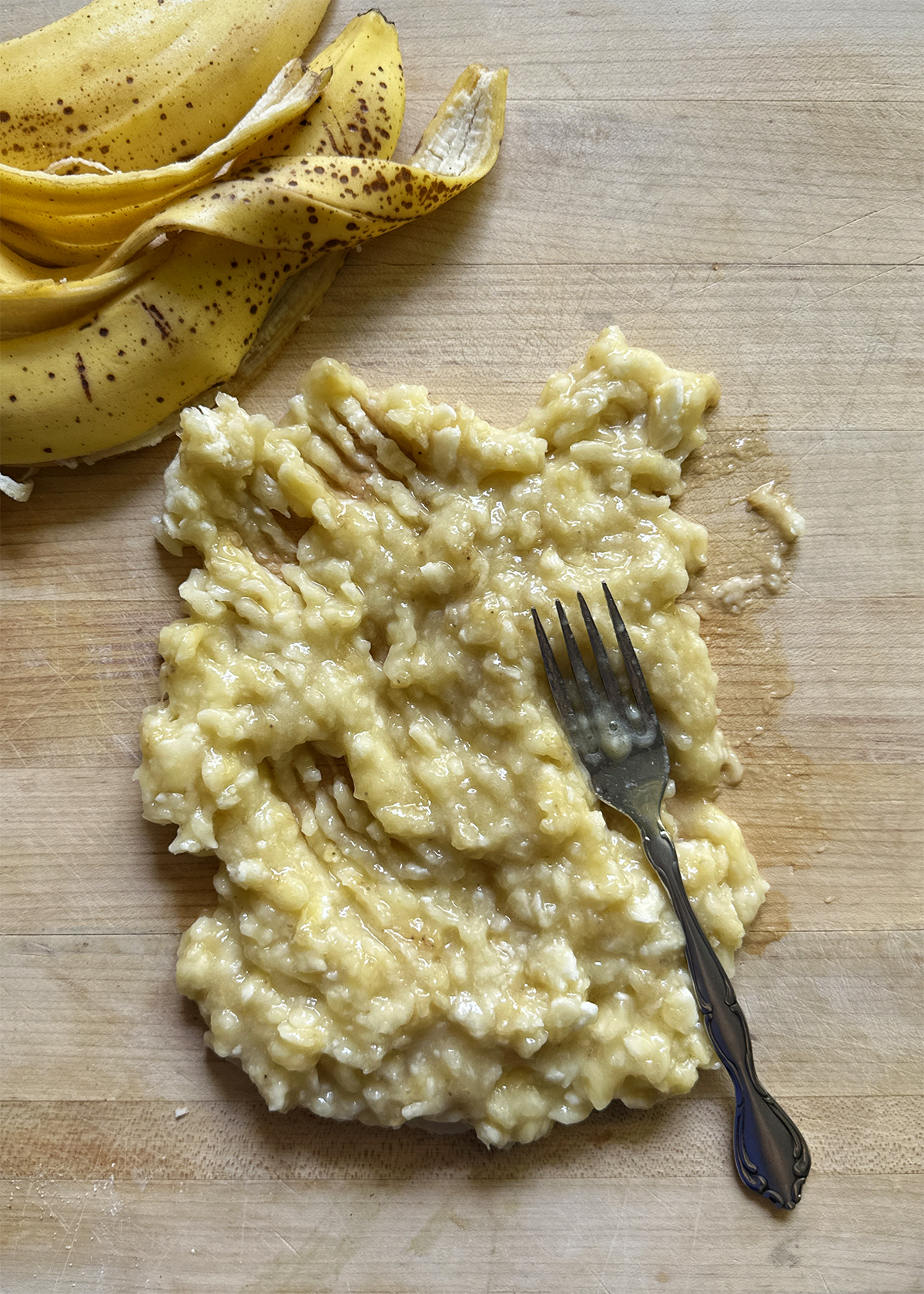 Smash ripe bananas on a cutting board with a fork, then scrape the smashed banana and any liquid into a mixing bowl.
Add sugar, eggs, buttermilk, oil, and vanilla to the mixing bowl with the bananas. Combine until liquid ingredients are well incorporated.
Sift together flour, baking soda, and baking powder and salt directly into bowl with liquid ingredients, then stir until just combined.
Fold in chocolate chips or chunks.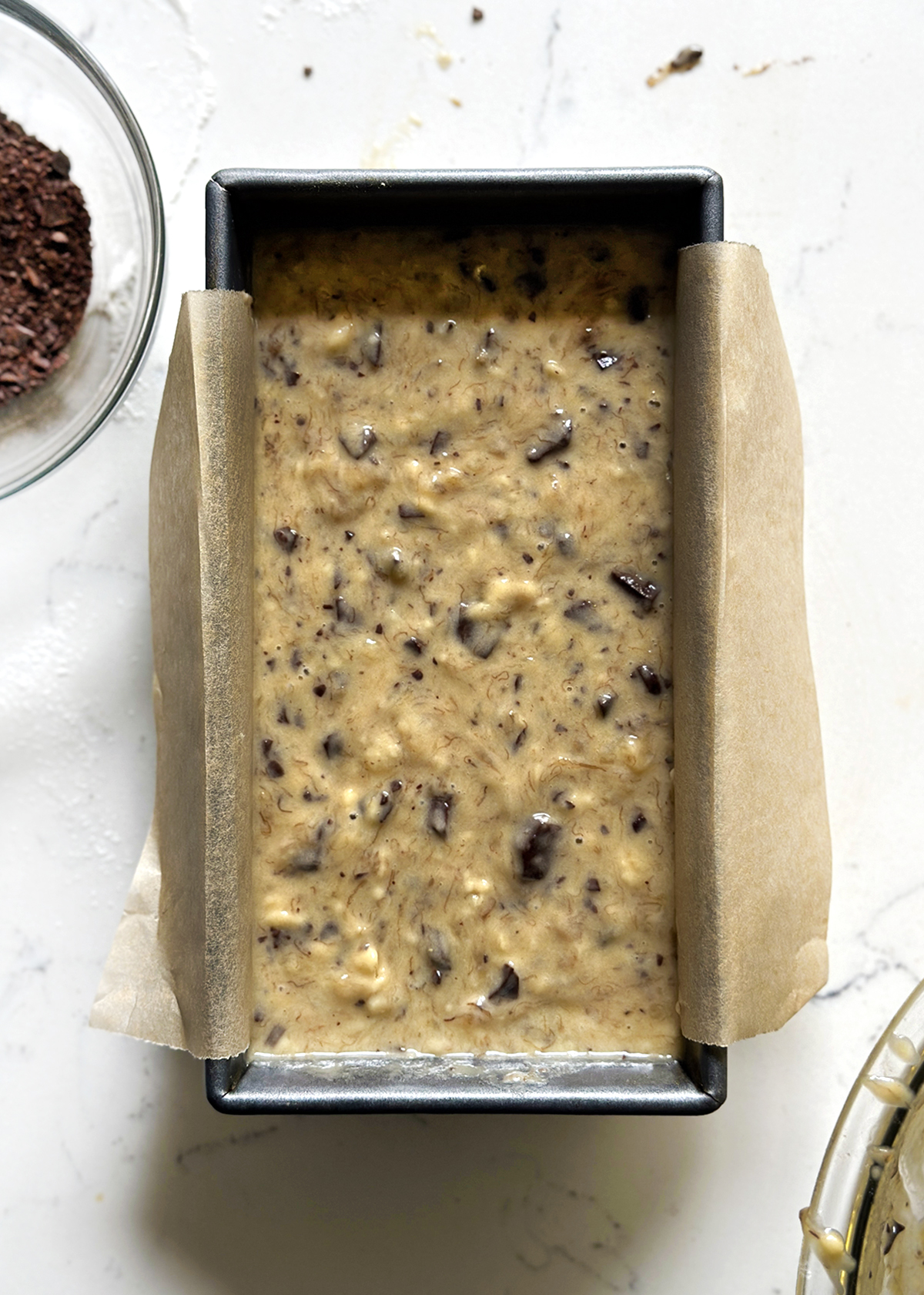 Pour Chocolate Chip Banana Bread batter into prepared pan. Place in center of 350°F oven and set timer for 1 hour.
Check bread after 1 hour. Wooden tester inserted into center of bread should come out with a few sticky crumbs. You may need to continue baking for up to an additional 15 minutes. Remove baked Banana Bread from oven, cool in pan for 10 minutes, then remove from pan and continue to cool on rack.
Pro-tip: For particularly large chocolate chips or chunks, toss with about 2 tablespoons of the dry ingredients, then fold into the batter. This will keep larger, heavier chocolate from falling to the bottom of the loaf.
Additional Ingredients Notes and Resources
Chocolate chips or chunks. For big puddles of chocolate in your Banana Bread use dark chocolate wafers or chunks. And to save some money, get a big chunk of dark chocolate and chop it yourself. Banana Bread is super sweet, so using a dark chocolate with high cacao percentage, meaning somewhat more bitter than others, is a perfect balance here.
Buttermilk. The buttermilk provides liquid for texture, but also provides acid, which works with the dry leaveners to provide lift. If you don't have buttermilk, substitute with another acidic liquid like yogurt or sour cream.
Sugar. Use plain granulated sugar for this recipe.
Eggs.
Oil. Avocado oil is my choice. Other neutral oil options are canola oil and grapeseed oil. Melted butter or ghee will add richness and that buttery flavor, obviously. Olive oil that's lighter in flavor is also a good choice.
Vanilla Extract. I use organic vanilla extract.
All-purpose flour. Use whatever organic flour is the most affordable off the shelf at my local grocery store.
Salt. I use this kosher salt for almost every cooking application (as opposed to a finishing/garnishing application). If you only have

regular table salt, use half the amount

in the recipe.
All other fresh herbs and produce from either the Santa Monica Farmers' Market on Wednesday, or Whole Foods Market when I can't find what I need at the farmers' market.
Optional Mix-In Ingredients
This Chocolate Chip Bread recipe is open to all kinds of alternative mix-ins. Add to or replace the regular dark chocolate with:
chopped white chocolate
fruit like berries
nuts, if you must
dried fruit, also, only if you must
Fold the mix-ins into the finished batter right before pouring the batter to the pan. Note that the nutritional information per serving of the recipe changes, primarily the calories and fat, when you add chocolate chips.
Ok, now look, I know it's controversial, but I'm going to go ahead say it: nuts of any kind do not belong in Banana Bread, or any baked goods for that matter. However, if you are inclined to add nuts, don't. Just kidding. You can add up to 1 cup of chopped nuts by folding them into the finished batter at the end.
If you add raisins to Banana Bread, we are no longer friends.
Substitutions and Variations
Banana Bread, as with most quick breads, is forgiving, flexible and great for customization by making ingredient substitutions or additions. I have made this recipe many times as it's presented, as well as with the substitutions and variations as noted below:
Whole Wheat Flour - Substitute in whole wheat flour for up to 100% of the all-purpose flour to add fiber to the nutritional profile and slightly more texture to the final product. I have made this Chocolate Chip Banana Bread with whole wheat flour and it comes out perfectly!
Almond Flour and Other Alt- Flours - Substitute up to half (50%) of the all-purpose flour in this recipe with alternative flours like almond flour, cassava flour, or coconut flour. If you'd like a completely wheat-free version, see the next section about making the recipe 100% gluten-free...
Brown Sugar—Substitute up to 50% of the granulated (white) sugar in this recipe with brown sugar for similar results in texture and a slightly "warmer" brown sugar flavor.
Reduced Sugar—You can absolutely reduce the total amount of sugar in the recipe to ¾ cup, or even ½ cup! Any less than that, however, and you will compromise the structural integrity of the bread, as sugar is not just for sweetness, but moisture and texture.
Olive Oil or Other Oil — You can use olive oil for this recipe. For results closest to this recipe, use a "light" olive oil, or one that is fairly mild in flavor.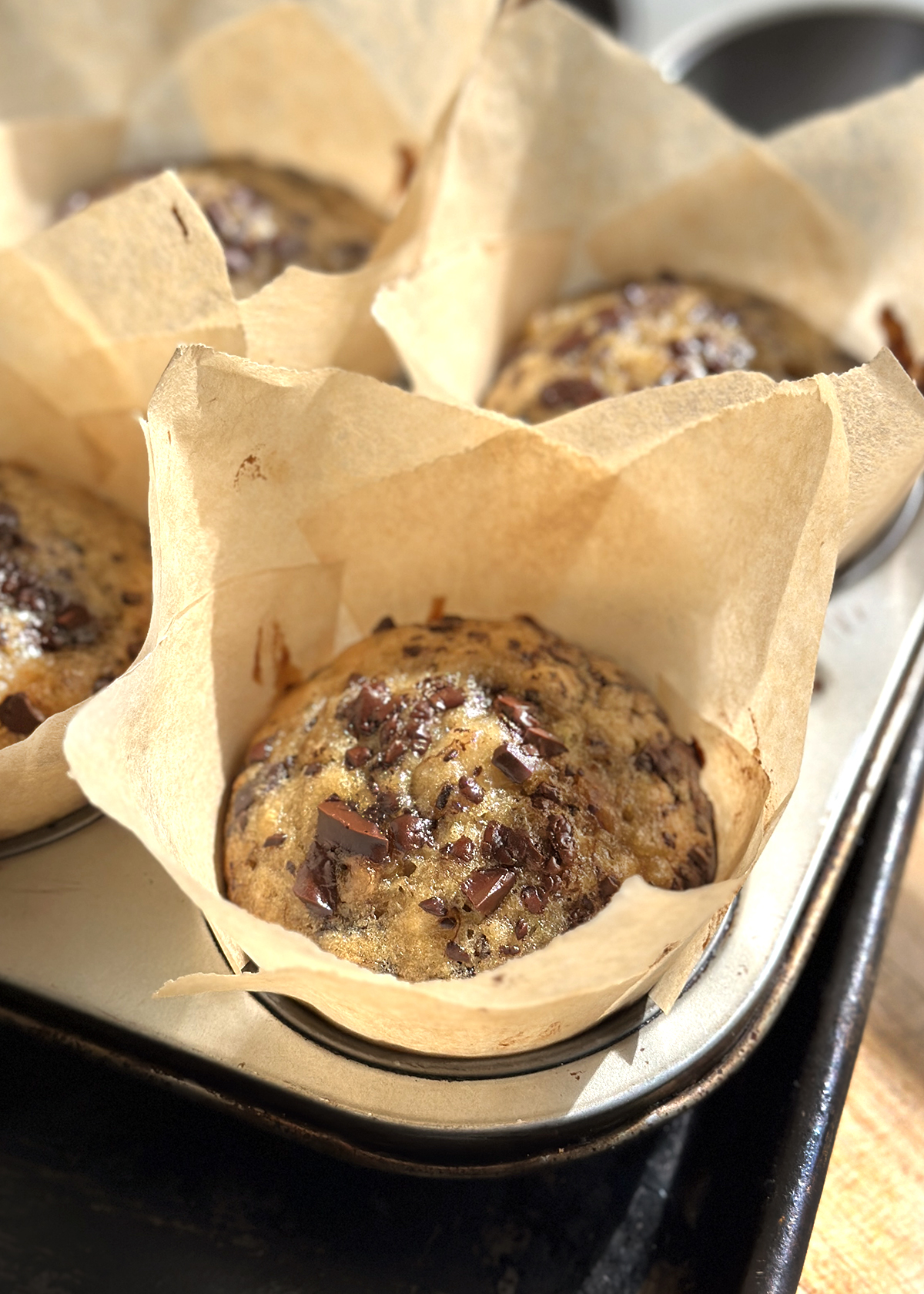 Can You Use Different Pans or Sizes?
Yes, you can bake this Chocolate Chip Banana Bread in several different pan sizes and shapes! Part of what makes this recipe so easy is that baking in different pans doesn't require much, if any modification:
Muffin Pan— This Chocolate Chip Banana Bread recipe

fits perfectly

in a regular 12-count muffin tin and makes perfect muffins! Grease and flour the muffin tin or line with paper liners. Divide batter evenly among cups. Bake the muffins for 18-22 minutes.
Different Size Loaf Pan—Because this Chocolate Chip Banana Bread is meant to be easy, the recipe is flexible enough that you can use slightly different sized and shaped pans. An 8½x4½-inch loaf pan will yield a taller bread, and needs to bake for a longer time. Check the bread at 50 minutes.
8x8-inch Square Pan— An 8x8-inch square pan has similar capacity to a 9x5-inch loaf pan. The batter will spread out more, so you will need to decrease the baking time. Bake an 8x8-inch square for a shorter period of time, i.e. start checking the Bread for done-ness at 30 minutes.
9x9-inch Square Pan—In a 9x9-inch square pan the batter will spread out even more, making a slightly thinner/flatter final product. Bake a 9x9-inch square for a shorter period of time, i.e. start checking the Bread for done-ness at 25 minutes.
Modifications for Dietary Needs
Gluten-free - To make this Chocolate Chip Banana Bread gluten-free, substitute a gluten-free flour 100% for the all-purpose flour. Two commercial baking-ready gluten-free flours my gluten-free experts friends have recommended are Measure-for-Measure by King Arthur and Pamela's, both of which you can substitute into recipes 1:1.
Dairy-free. To make this Bread dairy-free, substitute with 5 tablespoons plant-based milk any kind + 1 teaspoon apple cider or other vinegar. You can, obviously, substitute with a store-bought plant-based buttermilk or yogurt for the regular dairy buttermilk. You can also use applesauce, which will slightly change the flavor, but provides the required acid!
Vegan - To make this recipe vegan, make the buttermilk sub above, and use an appropriate plant-based egg substitute or a flax egg, which is made with ground flax seeds and water. I would not leave the egg alternative out completely.
Tools and Equipment
As I always say, you don't need any special equipment to make almost any recipe. However, that's not to say there are a couple of gadgets and tools that might make it a LOT easier to get Chocolate Chip Banana Bread from your pantry to plate.
9x5-inch Loaf Pan
8x4-inch Loaf Pan
Angled Measuring Cups.
Parchment Paper.
Sturdy Whisk.
Glass storage container with airtight lids, perfect size for storing leftover Chocolate Chip Banana Bread and Muffins!
Advance Prep, Leftovers, and Storage
Banana Bread, like all quick breads and muffins, are perfect for making ahead and eating over the next few days or freezing and re-heating. In fact, it's worthwhile to make two loaves at once if the oven's going to be turned on anyway. You can eat one loaf now and freeze one for later. To store Chocolate Chip Banana Bread, cool bread completely. Like completely. At least one hour, maybe two. Then to store:
1-2 Days. Store banana bread, as a loaf or sliced into individual servings, at room temperature in an air-tight container on the countertop for up to one day, maybe two days as long as it's not too hot and humid in the house.
Up to 5 Days. Store banana bread, as a loaf or sliced into individual servings, for up to 5 days in the refrigerator in an air-tight container.
Up to 3 Months. Slice bread into individual servings. Wrap each slice in a piece of parchment paper to protect from freezer burn and to keep slices from sticking together. Place slices in an air-tight zipper-top bag and remove as much as air as possible. Remove individual slices from freezer, unwrap parchment paper, and re-heat in a toaster oven (best option). You can also microwave the frozen banana bread, but the texture will be slightly sticky.
What Else to Serve with Banana Bread
A generous slice of Chocolate Chip Banana Bread by itself is a perfect light breakfast or snack! If you like to make it a little more of an occasion, here are some great suggestions for what and how else to serve with Chocolate Chip Banana Bread:
Slather a slice, toasted or not, with whipped cream cheese; the whipped version is key as banana bread is tender so you want something that spread onto it gently
Spread a slice with nut butter
Drizzle the entire loaf with cream cheese icing or vanilla icing
Top the entire loaf with this Cream Cheese Frosting to transform your Chocolate Chip Banana into a dessert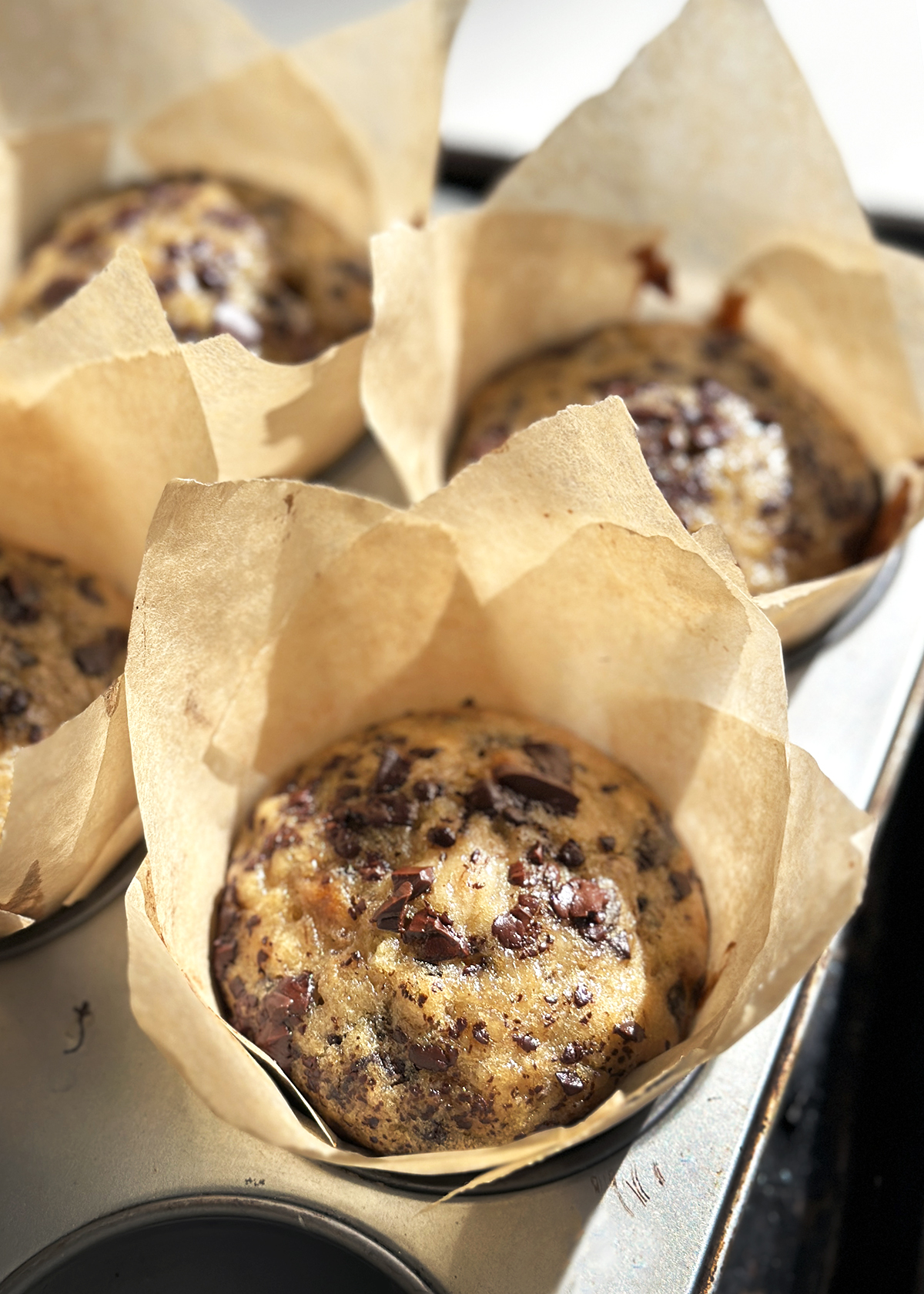 More Banana Bread Recipes
Here for Easy Quick Breads? These are my favorites:
More Chocolate Recipes
Have a bag of chocolate chips or chocolate chunks laying around? Try these: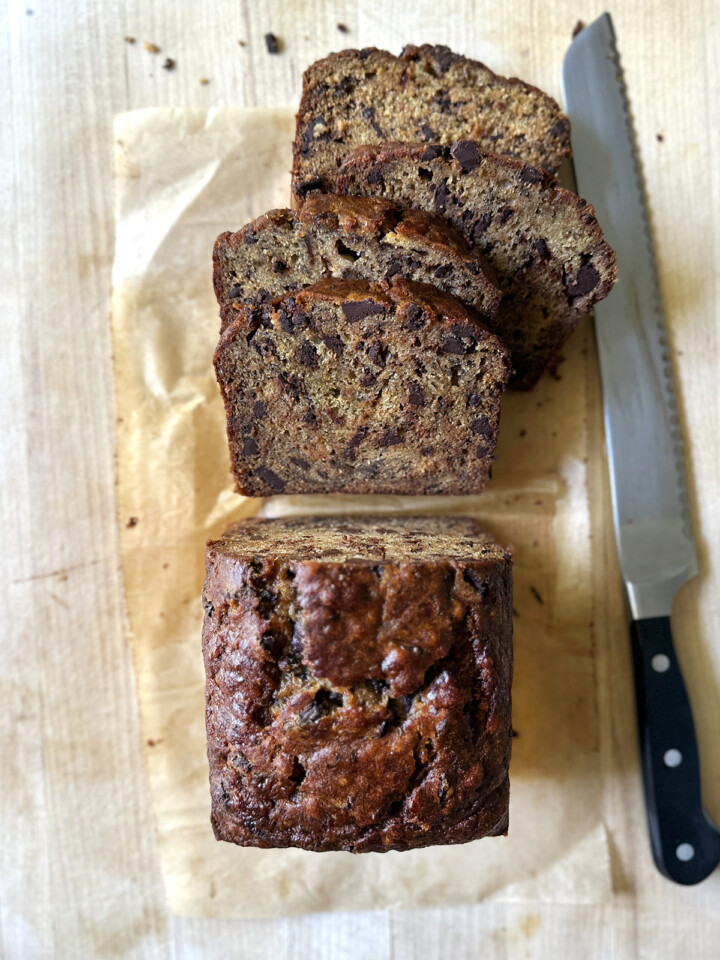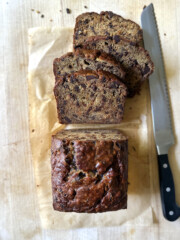 Print Recipe
Chocolate Chip Banana Bread Recipe
The last recipe you'll ever need for Chocolate Chip Banana Bread
Ingredients
2

cups

all-purpose flour

1

cup

granulated sugar

1

teaspoon

baking powder

1

teaspoon

baking soda

1

teaspoon

salt

1 - 1 ½

cup

chocolate chips

1

cup

mashed overripe bananas

2

large eggs

⅓

cup

buttermilk

½

cup

neutral flavored oil like avocado

2

teaspoons

pure vanilla extract
Instructions
Preheat oven to 350°F.

Line a 9x5-inch loaf pan or 3 mini loaf pans with parchment paper and lightly grease the exposed ends of the pan

Sift together flour, sugar, baking powder, baking soda, and salt into large bowl.

In a separate bowl, combine mashed bananas, eggs, buttermilk, oil and vanilla. Fold dry ingredients into liquid ingredients until just combined and no large streak of flour remain. Batter will appear a little lumpy.

Pour Chocolate Chip Banana Bread batter into loaf pans. Set timer for 1 hour. Check banana bread at 1 hour for deeply golden brown color and a toothpick inserted into center comes out clean. Chocolate Chip Banana Bread may take up to 1 hour and 15 minutes.
Cooks' Community Notes and Reviews
Baked Chocolate Chip Banana Bread recipe as is, split into three smaller loaf pans rather than in one regular loaf pan.
"Best. Banana. Bread. Ever." ~ Claire Bailey

"This really is the last banana bread recipe you'll ever need.  I've made this 5 times since I discovered your recipe and each time is better than the last. " ~ Miller Kristenleigh

"This was the best banana bread recipe I have ever tried. The bread came out moist and yummy. Everyone kept coming back to second and third helpings." ~ Marcia

"This is the best recipe ever. This is my first and last banana bread recipe. The first time I made it my kids and I ate a loaf within 20 minutes and started on our second one. I took a loaf to work and my co-workers went crazy. Now when I take it to work I have to sneak it in as everyone wants their own loaf and there is never enough to share. I am so happy that I have this recipe." ~ Shae

"My husband and I just fought over the last slice of banana bread and I won! Super delish, I baked it about 4 hours ago and now it's GONE! :)" ~ Christine

"...in awe of how good they are!! We love this recipe it's so easy. I'm enjoying a slice w/melted butter all over& it's pure heaven. Mmmmmm..... sooo good" ~ MHorneM

"This really is the last choc chip banana recipe I will ever need!! It is so delicious I have made it many times. Thank you so much!!" ~ Melanie Adamek
Chocolate Chip Banana Bread definitely works as breakfast if you put yogurt and creamed honey on it!
Afterthoughts
Bananas aren't a fruit that typically excites the senses or moves people in a profound way, if in any way at all. Hell, fruit in general doesn't do that. Except maybe a lychee. Lychees do something quite unnatural to me that makes me feel shameful and dirty, but that's a different blog post.
Focus. Bananas.
I don't know anyone who actually likes bananas, anyone who actually likes to eat bananas, anyone who actually likes the taste and texture of the slimy soft, sometimes stringy fruit that leaves a strange, powdery-yet-wet residue on the tongue and teeth. But every time you're tearing through the grocery produce section, nature's version of elementary school bus safety yellow catches your eye and stimulates a conditioned response. You slow down. And though the words may not make their way in literal format to your mouth, "we should get bananas" stirs in your subconscious. You don't really know why you should get bananas, you just know you should. It's just known. Should. Supposed to.
It's just one of those things in life that people should do.
Today, though, I'm finding myself a little less apathetic about bananas. Staring at a screen full of photos of blackened bananas and the browned, caramel glossy topped banana bread with deep, dark cracks and tiny craters spilling over with half melted mini chocolate chips that they became, I found myself…affected. I took those photos a little while ago.
It was after the birthday trip up to the mountains.
Vacationship
On our way up to the cabin, we stopped at the market and bought, among other things, bananas. They weren't on any grocery list, but they probably looked too perfect to pass up and hell, we're up in the mountains! We should buy bananas for nutrition or something, right? The bananas were long, a little unnatural in how straight they were, beautiful in their own, suspiciously perfect way. They were a little green, but they would ripen in time.
With places to dine out in the small mountain town, other things to eat from the kitchen adorned with small black and white Brother labels that identified everything from cupboards with "pots and pans" to "kitchen light," and the fact that vacations are a time to eat junk food, the bananas were left untouched. They moved from laying sprawled out bare on the table, to awkwardly nesting their curiously long, straight, hard bodies in a large mixing bowl, to the '70s formica countertop, trying to find their place.
On the last day, like the responsible vacation renters we were, we tidied up, took out the trash, checked the showers, peeked under the sofa cushions, and emptied the refrigerator. The bananas were still on the table. Bananas are cheap – quite literally, a little more than a dime a dozen. The first instinct was to throw them out with the rest of the food that just wasn't worth our effort to take back down the mountain, but I don't work that way. Whether by culture or necessity, it hurts my heart to waste food. I can't just throw things away, especially things that seem perfectly good.
The bananas came back home with us.
When Life Gives You Blackened Bananas
I put the untouched bananas on the kitchen countertop. Every day I saw the bananas and reminded myself to look for that banana bread recipe but I didn't look. So many other things came up. I was making excuses. "Life stuff" was moving faster, yet in a strange way, more slowly, than I could manage.
The bananas were there and I saw them, rotting right before my eyes. I wasn't ignoring the bananas. I think I was trying to ignore having to do something about the bananas. I didn't want to deal with them.
You can ignore the black, spotted bananas that are practically camouflaged against the dark granite countertop for as long as you can, but something will eventually force your hand. Maybe you pick up the bananas off the counter to make room for a bowl and the skins shred apart from the stems under the weight of decay.
Maybe you find that banana bread recipe while looking for something else.
Maybe you finally find hard evidence of lies and dishonesty that confirm what was just suspicion that laid black and heavy on your heart for months.
Bananas may not actually be, but are marketed as, Quite Possibly the World's Perfect Food. They had decomposed to just the point at which only by some act of God they could be salvaged, were stripped open, scraped from its skin, shredded, pounded and mashed into a slimy, pulpy mess, hurled into a floury fray, but finally, emerged from the heat, beautifully transformed.
This past year was one of the most uncomfortable, painful, hard, difficult, emotional, dramatic, heart-wrenching years I've lived through, but I think I've finally emerged from the heat.
I may not be beautifully transformed, but at least I got a blog post or two out of it.